Overhead DSLR Tripod Compact Aluminum Portable Travel 78"/2m Vlog Tripod Monopod 22.05lbs/10kg Load, K234A7+BH-28L (S210)
£69.99
£152.99
54% OFF
Inclusive of VAT
&FREE Shipping to United Kingdom,Ireland
Free Shipping. 30 Day No Reason Return. K&F Concept portable travel tripod features heavy duty aluminum tripod legs, 360° Panorama Ball Head, detachable monopod, easy to carry with provided case.

KF09.087

SKU:

KF09.087

69.99

https://www.kentfaith.co.uk/KF09.087_kf-concept-dslr-tripods-aluminum-travel-vlog-tripod-monopod-with-360°-panorama-ball-head-1-4"-quick-release-plate-carrying-case-loading-up-to-17.6lbs-8kg-for-canon-nikon-sony-orange
Features
* 【28mm Large 360° Ball-Head and Panoramic View】With two independent control knobs, the specially designed ball-head can rotate 360 degree allowing you to take photos at any angle with horizontally and vertically.
* 【Convenient: From 23'' to 79'' Flexible Adjustment】4-section column legs with 3 quick release flip-locks allows you to adjust the working height from 23'' to 79' in seconds.Winner in height! 19" folden size is easily took to anywhere for outdoor photography
* 【Lightweight and Portable】3.17lbs / 1.44kg tripod weight and 22lbs / 10kg maximum load weight. 79'' in height and easy-carried. This tripod can make it the best companion of your DSLR cameras and withstand heavier load compared to similar products yet remain stable.
* 【2-IN-1 Overhead Video Tripod Monopod】The tripod can be easily turned into a monopod or walking stick alone to make your photography more diverse. Multi-angles for shooting like low-angle shot and high-angle shot are allowed with this monopod as well.
* 【Multi-angle Shooting】Center Column could turn to invert situation for low angle shooting;The damping system of the ball head would set your camera at different angles easily(vertical shots or up-side shots) or and get the best shooting view. The surprise gift,trusted choice of million customers.
Shipping
&FREE Shipping to United Kingdom,Ireland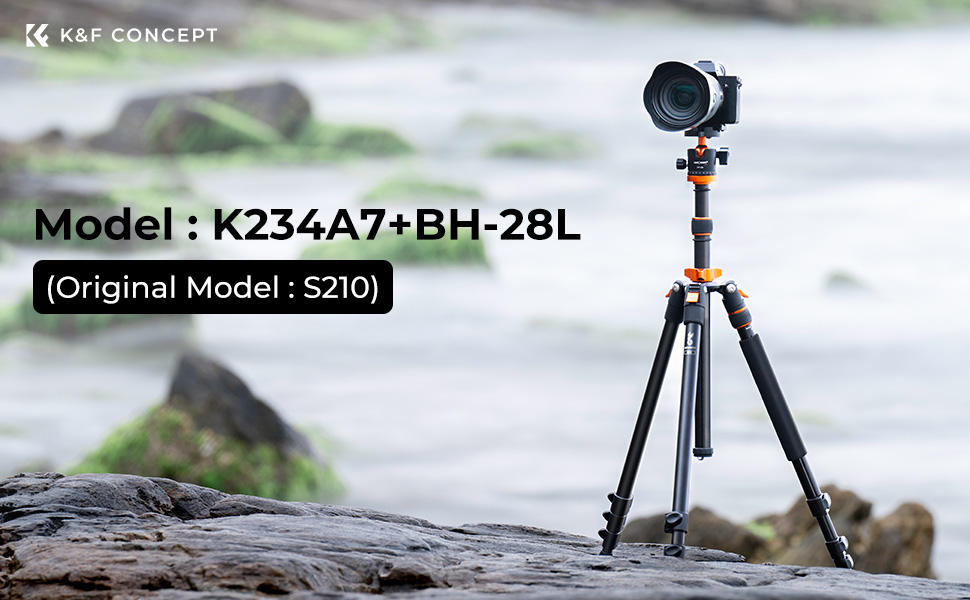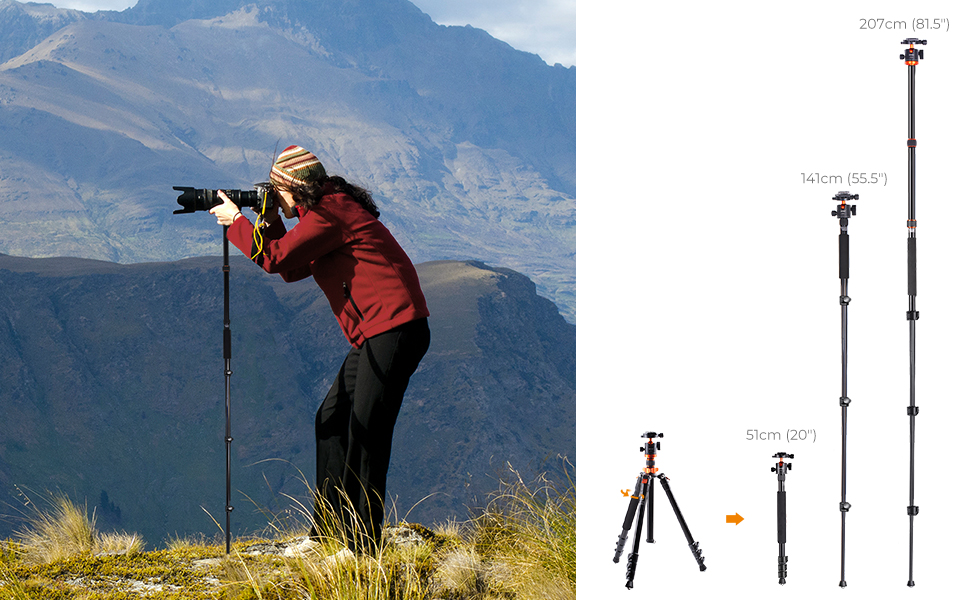 | | |
| --- | --- |
| Quick Release Plate | The size of the plate is: lenght 60mm/2.36 inch, width 37mm/1.45 inch. |
| Bubble Level | The bubble level help to judge the level and the accurate composition when shooting. |
| Quick Flip Leg Lock | Only use one hand can open and close all the buttons in a few seconds. |
| Center Column Lock | The powerful locking force makes it more stable when use the center column to extend the height. |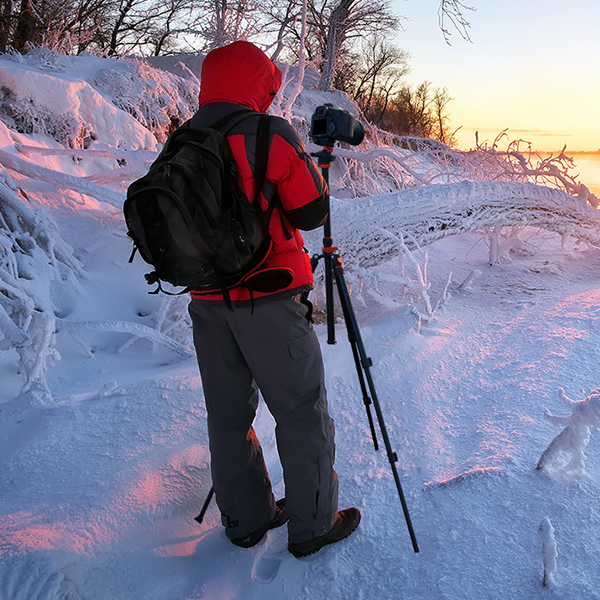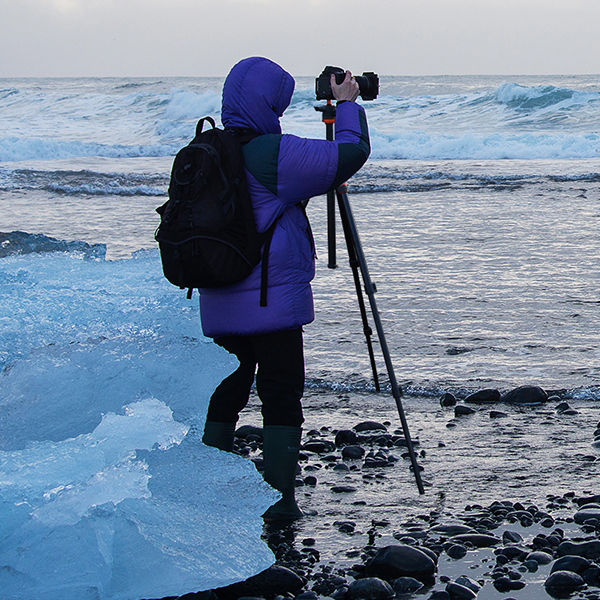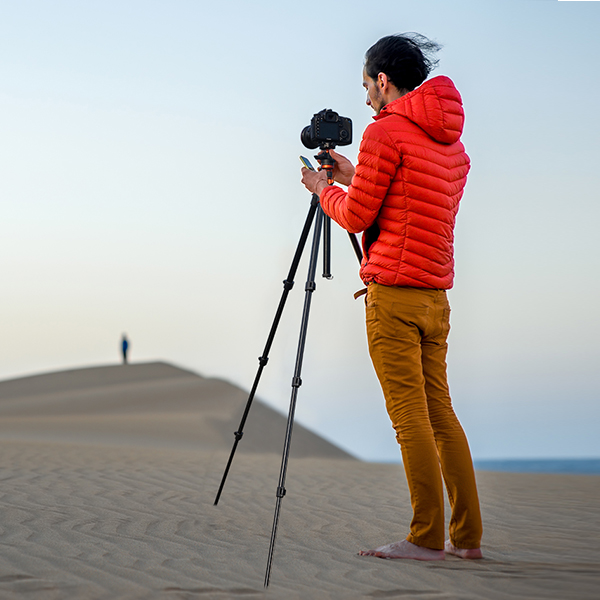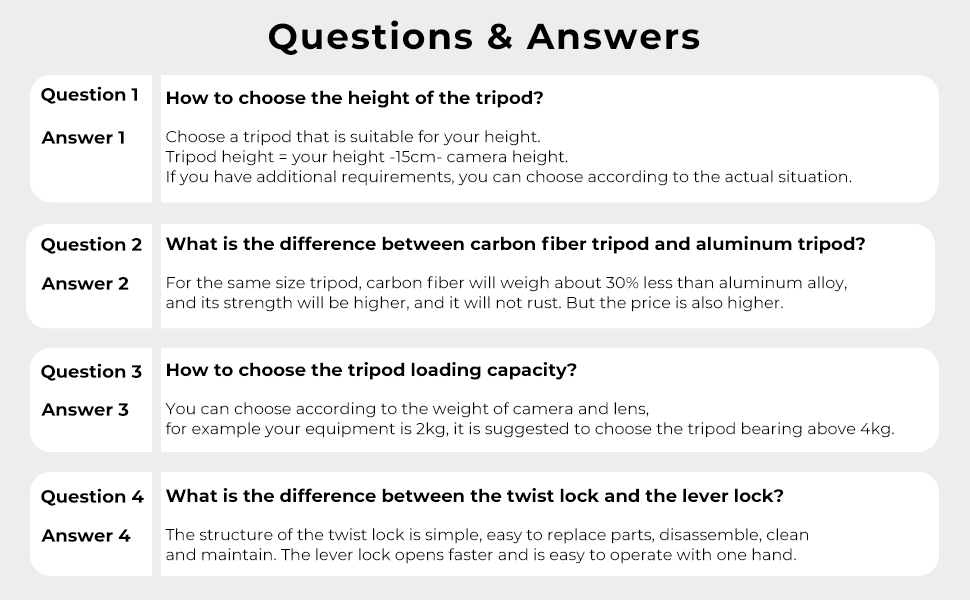 Rating

130 reviews.

103 reviews.

87 reviews.
Price

£152.99

£69.99

£122.69

£69.99

£102.99

£59.99

Model
KF09.087
KF09.083v1
KF09.084

Load Capacity

10kg/22.05lbs
10kg/22.05"
10kg/22.05lbs

Maximum Working Height

1990mm/78.3"
1710mm/67.32"
1580mm/62.20"

Minimum Working Height

580mm/22.83"
520mm/20.5"
510mm/20.08"

Folded Length

480mm/18.90"
420mm/16.54"
410mm/16.14"

Weight

1440g/3.17lbs
1500g/3.3lbs
1547g/3.41lbs

Materials

Magnalium Alloy
Magnesium aluminum alloy
Magnesium aluminum alloy

Ball Head

Ball Head
Ball Head
Ball Head

Color

Orange/Black
Orange/Black
Orange/Black

Leg Lock Type

Quick Flip Lock
Twist Lock
Flip Lock

Leg Sections

4
5
4

Leg Diameter

14-23mm/0.55-0.91"
13-25mm/0.51-0.98"
16-25mm/0.63-0.98"

Center Column Features

Center Column Inversion

Center Column Sections

2
It can easily hold a heavy zoom lens!
The best tripod I've ever used - simply in a different class. Pretty lightweight, both the legs and head of this tripod offer huge flexibility in angle and height, locking securely in place once set. It has a built in level and the camera can also be attached underneath. It pans nicely, so would work nicely as a video tripod as well as its primary purpose for photography. Comes in a nice bag and folds down surprisingly small. Excellent product.
03/05/2022
This is very stable and easy to use.
A little bulky, but... it is really stable.
Pleased that I bought it.
01/05/2022
Tall tall tall!! For real estate
This is a very nice mid-range tripod with a lot of functionality. While it does fold down, it is not a small thing, and it's great that it comes with a case but this isn't too small either so be prepared for an extra thing to lug around. This isn't going to fit in well with a compact set of camera gear.It is incredibly adjustable, extending to a height well over the height of my head so it's ideal for really tall people (alas, I am not really tall). Despite its size, it is also very lightweight, being made of aluminium. It does feel a little rattly when you are setting it up but once you have it ready with the camera on (and possibly hanging a bag/weight from it) it feels very sturdy indeed.There is no pan handle but there is a bolt you can loosen to allow panoramic panning, which is a very smooth movement. The head is also fully rotatable, moving through 360 degrees.You can also remove one leg and part of the central tube to create a monopod instead, the rubber foot of which is removable so you can use the spike instead to prevent the leg sliding along the ground.The tripod is rated to take up to 8kg in weight. One of my lenses is a Canon EF 70-200mm f/2.8L IS II USM which actually weighs close to 15kg. Add the body at another 700g and surprisingly the tripod doesn't struggle at all. They've obviously greatly undersold how well the tripod handles with greater weights loaded on it. However, this was tested with no additional weight hanging from it, and I was inside on a level hard floor at the time.All in all this is an amazing tripod for the price. Perhaps more expensive than a beginner would like to pay but it is getting on for professional quality at only a fraction of the price. It is a very good investment if you have any desire to up your photography game.
24/04/2022
Advanced and innovative design
Superb Tripod, innovative design, works perfectly, solid and sturdy excellent, not heavy just 8 kg.I needed a tripod to keep using my camera in my part time job.It has an immediate and positive impact on the quality of my photos, little or no vibration or camera shift between shots.Completely new, well packaged tripod as seen in the picures. Excellent product well worth the money.It is different to other tripod designs and it takes some time to getting used to the way it works.Has a detachable foot nail points at the bottom, with rubber ideal for all weather conditions.Great purchase, would definitely recommend it to my colleagues .
29/03/2022
It's got all the features I need
This tripod is much better than the past ones I have usedIt can be converted into a mono pod which is great for travelling versatility, sometimes you do not need a full blown tripod but you just need a bit of stability or height.The height of this tripod is amazing, it is taller than me!it comes with a nice carrying case which is good when travelling as it will not be as damaged as others without a carrying caseThe bottom of the feet are versatile too, they have rubber covers but underneath then are blunt enough metal spikes for less solid ground
19/04/2022
Amazing quality tripod!
Really well made tripod and is definitely compatible with Nikon dslr's.It feels really durable and it is super easy to assemble! It also comes with instructions and a shoulder strap attachment for the carry case.I like how you attach the camera to a separate little platform which slides into place in the stand. It really easy to make it into the monopod and isn't too heavy to hold depending on your camera size.For the price this is an amazing tripod, I've had more expensive ones that haven't been as high quality and multi-use as this one!
25/03/2022
Great value for money!
I'm pleasantly surprised by the quality of this tripod, for the price you get a lot of value. I used it with my Canon EOS 750DThe main body is aluminium which makes it resistant and strong whilst also lightweight. Some of the more expensive options use Carbon Fibre which is much lighter, but I find the compromise to be sufficient. The other components are made of rubber and plastic on the end tips and other intricate areas.When extended, this tripod can reach 2 metres in height, which is on par with many of the high-end models and opens you up to an extended rage of shooting opportunities versus a shorter tripod. When deploying the tripod, you can use the rubber feet on solid surfaces or remove them to use the spikes in grassy or softer surfaces. Each leg is adjustable individually which allows for deployment on uneven surfaces, it stays very sturdy and rigid in the position you want it to be. To help you with this, it has a small integrated spirit level which aids you in finding the perfect balance.The ball head is Arca-Swiss, and the plate is compatible, so you have some flexibility when it comes to using different components. The legs of the tripod have strong clamps to secure it into position, this is very easy to use when deploying and takes a lot of time out of screwing them. It is able to compact into a fraction of the size when deployed, making it easier to carry around and store in smaller spaces.The included carry bag is very strong and provides padding and multiple compartments to protect the tripod and also store additional items. It has a shoulder strap and a handle which make it very easy to carry and travel with.Overall, this tripod punches above its weight and is in direct competition with the high end models, it is great for beginners and the experienced alike and there are no compromises in the quality.
02/05/2022
Good enough. Does the job
Brilliant tripod for the money very stable and easy to use
28/04/2022
Sturdy and highly configurable
This is the best Tripod I have ever used. I will admit I have always thought I would not benefit from a higher quality Tripod as an Amature Photographer with a Systems Camera gear (Olympus OM-D EM5 Mark ii). I was wrong and now I will not go back to cheaper lower quality Tripods in the £20 to £30 range that I have been using.The OMD EM 5 ii quite unbalanced when used with the large and heavy Olympus 12 - 40mm 2.8 Pro lense. But with this Tripod I can even shoot in some windy conditions all I need is to just spread the legs to create a very wide base of support. I did that outside in the wind and light rain and I even tried to knock it down, it would not go down.I like that it can be converted into a tall Monopod, really handy. Making adjustments is easy and a leaflet is included for guidance. It does have a Professional look.
09/04/2022
An amazing tripod at a great price.
This is an amazing tripod. It's quite light and fairly small but extends to a massive 2mIts made from aluminium and while not as light as carbon fibre it is much cheaper. Fully extended this tripod is sturdy and could be used for long exposure shots. The tripod has rubber feet but these can be pulled off to reveal spikes which ,depending on the ground, could give better grip. The tripod comes with a very nice Arca Swiss ballhead.There is also a very strong carrying bag with an additional shoulder strap. The bag is high quality and should last a long time. The legs are adjusted by clamps rather than screw locks. This makes it quicker to deploy.After a couple of uses this weekend I can highly recommend this tripod. It's a good quality at a good price.
01/04/2022
These images belong to K&F Concept end users.
55" DSLR Tripods Aluminum Portable Travel Vlog Tripod Monopod 17.6lbs Load
How to install the Center Column ?
Wow!Brand video:K&F Concept Tripod with Phone Mount
Tripod General
Load Capacity
10kg/22.05lbs
Maximum Working Height
1990mm/78.3"
Max Height without Center Column
1400mm/55.12"
Minimum Working Height
580mm/22.83"
Folded Length
480mm/18.90"
Weight
1440g/3.17lbs
Materials
Magnalium Alloy
Ball Head
Ball Head
Color
Orange/Black
Bubble Level
Tripod Legs
Leg Lock Type
Quick Flip Lock
Leg Positions
Independent Leg Spread
Leg Sections
4
Leg Diameter
14-23mm/0.55-0.91"
Feet Features
Can be reversed 180° and folded
Tripod Center Column
Center Column Features
Center Column Sections