Video Baby Monitor Wireless with Camera Baby Monitors with Two Way Audio, 3.2 Inch Display, Room Temperature Monitor, Night Vision
£69.99
£109.99
36% OFF
Inclusive of VAT
Terms
Coupon Terms
Save 10% with this coupon
Terms and Conditions:
Coupons are valid for a limited time only. Kentfaith reserves the right to modify or cancel coupons at any time.
You must purchase the qualifying items added to your Cart when the coupon is in effect for the discount to apply.
If you later modify or cancel the subscription or delivery date for the qualifying item, the discount will not apply.
The coupon applies only to qualifying items displaying the coupon offer.
If you buy more than one item from the same coupon, the maximum discount amount of the coupon will be equal to either the percentage discount off or the face value of the coupon on one eligible item. The coupon may only be used on www.kentfaith.co.uk.
The promotion is limited to one coupon per customer.
If you return any of the items purchased with a coupon, the coupon discount or value may be subtracted from the return credit.
&FREE Shipping to United Kingdom,Ireland
Free Shipping. 30 Day No Reason Return.Listen and talk to family or pets with built-in anti-noise mic and speaker. Keep your baby close no matter where you go.

GW60.0024UK

SKU:

GW60.0024UK

69.99

https://www.kentfaith.co.uk/GW01.0277UK_baby-monitor-3.2-inch-video-baby-monitor-with-camera-and-audio-baby-kindergarten-camera-two-way-talk-room-temperature-960-feet-range-can-monitor-infants-uk-standard-vb603-with-night-vision
Features
* 【3.2 Inch LCD Color Display 】Using 2.4 GHz technology, provides high definition and interference-free connection and clear digital vision. Make sure you can hear and see your baby.Provides you with clear real-time video and audio of your baby.
* 【Infrared Night Vision】This digital camera keep an eye on baby with 15 FT distance to monitor the babies' activities clearly in the night. Equipped with night vision lights to protect your baby's eyes. Will never get hurt.
* 【Two-way Talk System 】Through the microphones, easily talk with your baby at any important moment.Take good care of your baby in another room. Watching your naughty boy while cooking.
* 【Temperature detection】 Monitor the temperature of baby's room to let you know whether should be dress or undress the baby .
* 【Smart Features & Wide Use】 Ensure you take care of your baby easy, the temperature display with temperature range alert and the time alert can remain you to feed baby or change diapers.Get notified by the warning when the unit out of range. Baby Monitors are on the list of Top 10 Baby Must-Haves For First-Time Parents, Best Gifts for New Moms.
Shipping
&FREE Shipping to United Kingdom,Ireland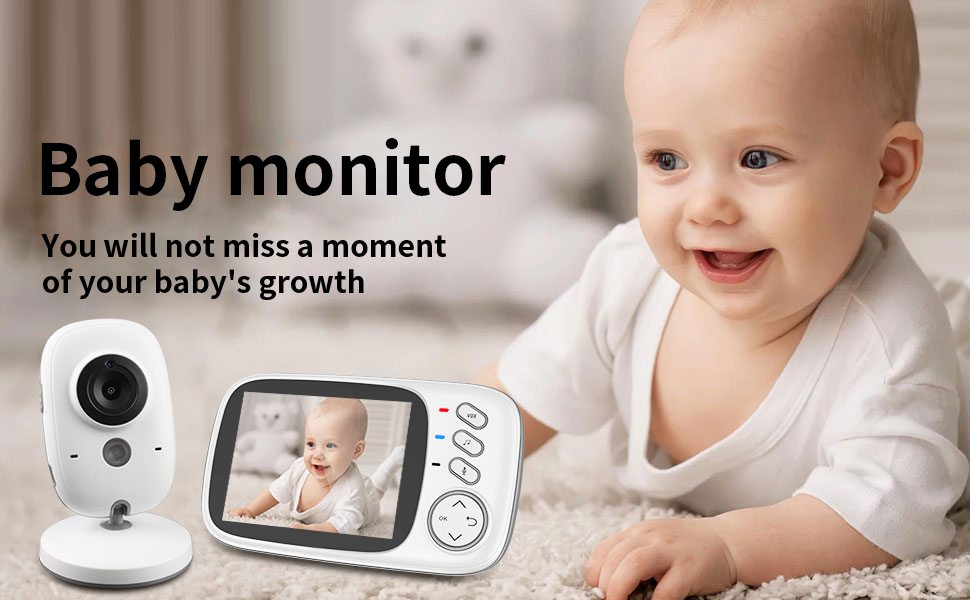 The baby monitor helps you to take care of your baby!
A baby monitor camera and a screen that let your baby sleep soundly are very easy to use, extremely useful.
Screen size: 3.2 inches;
Resolution: 320x240 pixels;
1) The maximum effective range outdoors is 260m / 250ft. It is defined under a certain test condition without interference and in a straight line of sight.
2) Walls, windows, doors and stairs can weaken the signal. As a result, the indoor transmission range differs from the maximum range that was tested under unobstructed outdoor conditions.
3) If you and your baby are on different floors, the camera may lose connection with the monitor.
4) Please Note: The connectivity of this product is a priority. If the signal is weak or there is interference nearby, the device will automatically reduce the frame rate to maintain the connection. In this case, the video may not be fluid enough.
Baby monitors have many functions so that you can avoid worry and fatigue!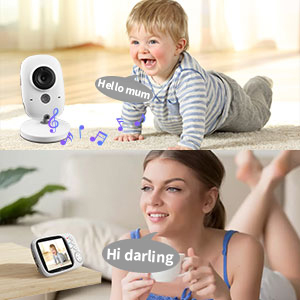 Intercom and lullabies
Baby monitors with the built-in loudspeaker allow you to speak to your baby from another room. When your baby is crying, the mother's voice is one of the most effective ways to comfort the baby. If you use a baby monitor, you will not only be able to see your baby but also hear and talk to your baby.

Baby monitor with different types of lullabies, you can start a lullaby when the baby is crying, which can help the baby calm down faster and help him fall asleep sweetly and quietly.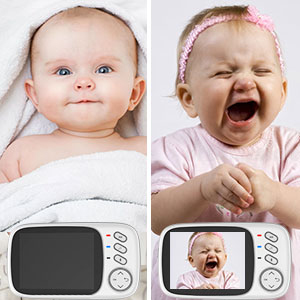 VOX function (VOX)
In VOX mode, when the environment is calm, babyphone will turn off the screen automatically and switch to power saving mode. After the baby monitor has recognized the sound, the screen switches on automatically.

According to the test results, it lasts up to 4 hours in normal mode and 20 hours in VOX mode. So it extends the battery life.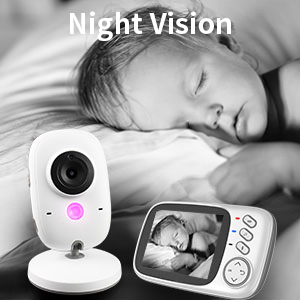 Infrared night vision
Night vision mode allows you to clearly observe your baby not only during the day but also at night. Baby monitors equipped with a high-intensity infrared sensor system can automatically switch to night vision and take clearer pictures in the dark so that you can clearly see your baby's activities in the dark.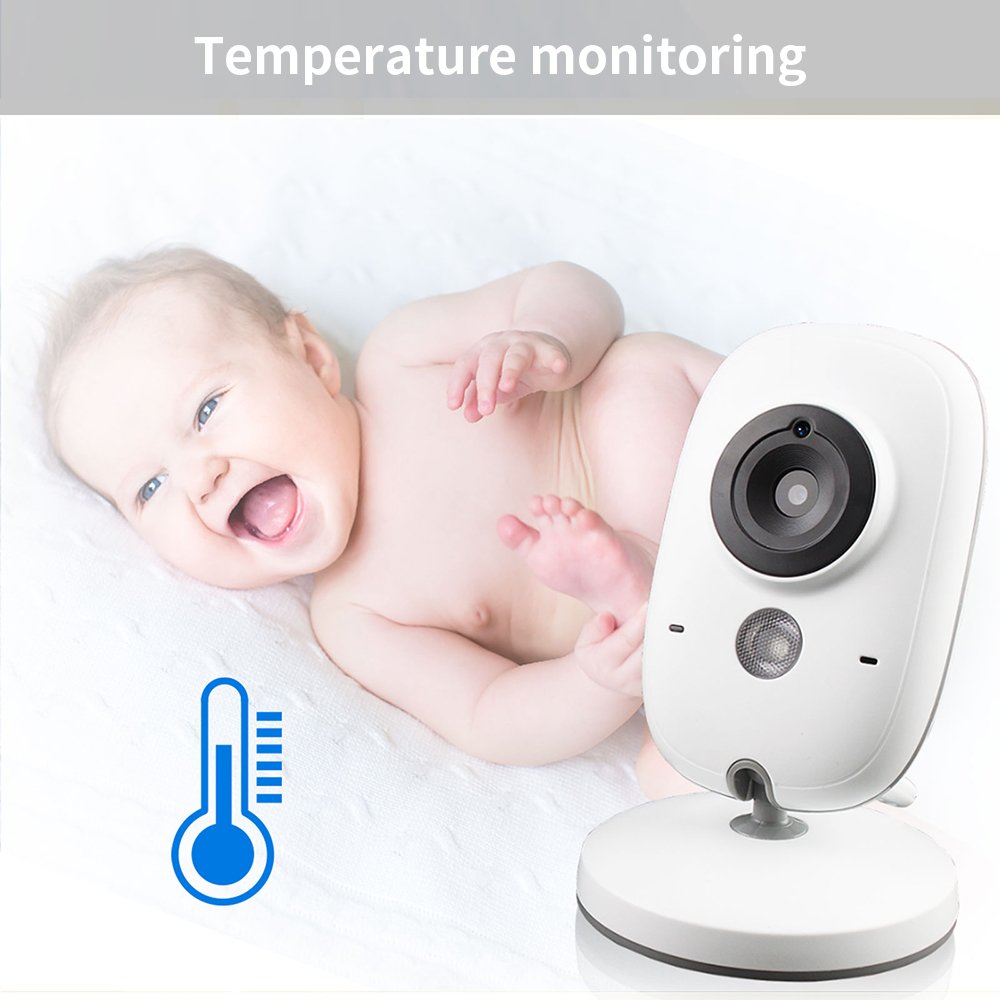 Temperature monitoring
The temperature sensor can detect the temperature change in the baby's room, see at a glance whether the baby is getting too cold or too hot, so that you can give your baby the most appropriate care.

With the temperature sensor on the camera, you can monitor the temperature of the baby room at any time so that your baby always feels comfortable and secure.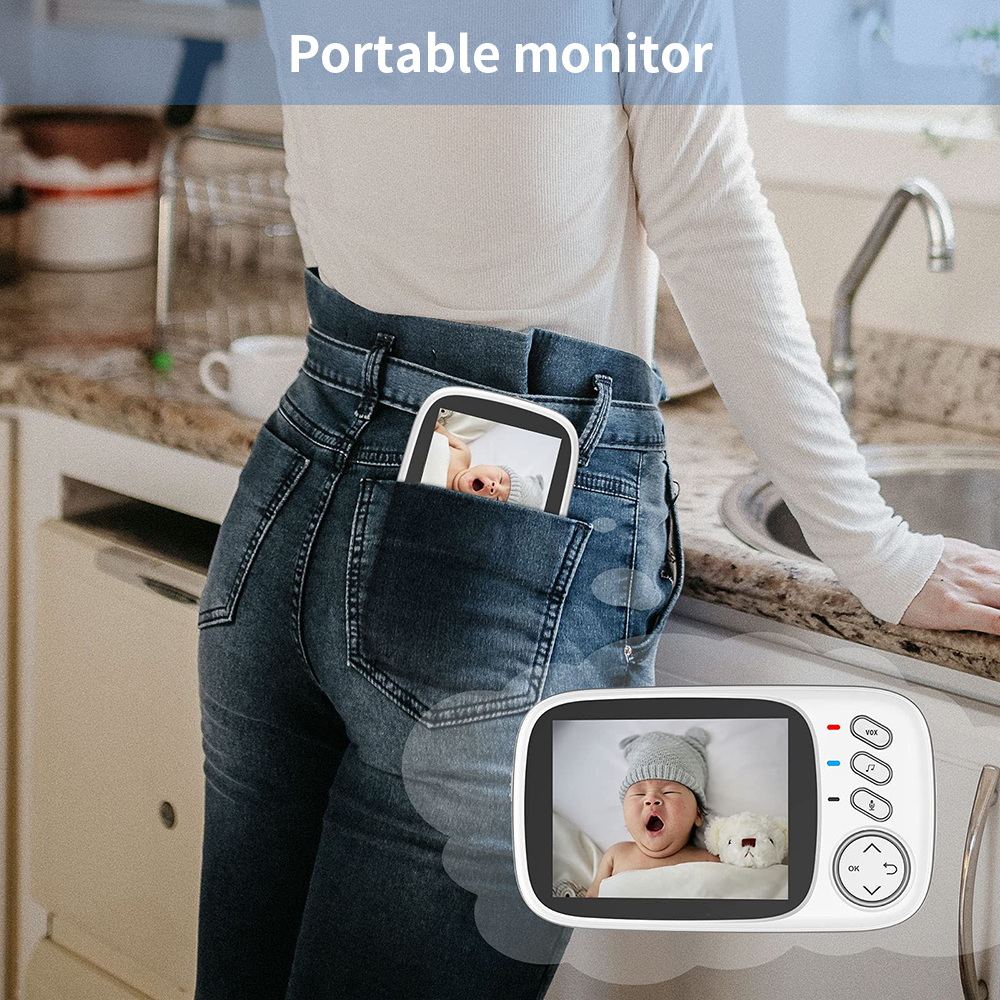 Portable baby monitor
You can take the parent's portable unit with you within the monitoring area so that you can hear, see or talk to your baby at any time.

Many functions are included in the baby monitor, intercom with your baby, room temperature control, calming lullaby.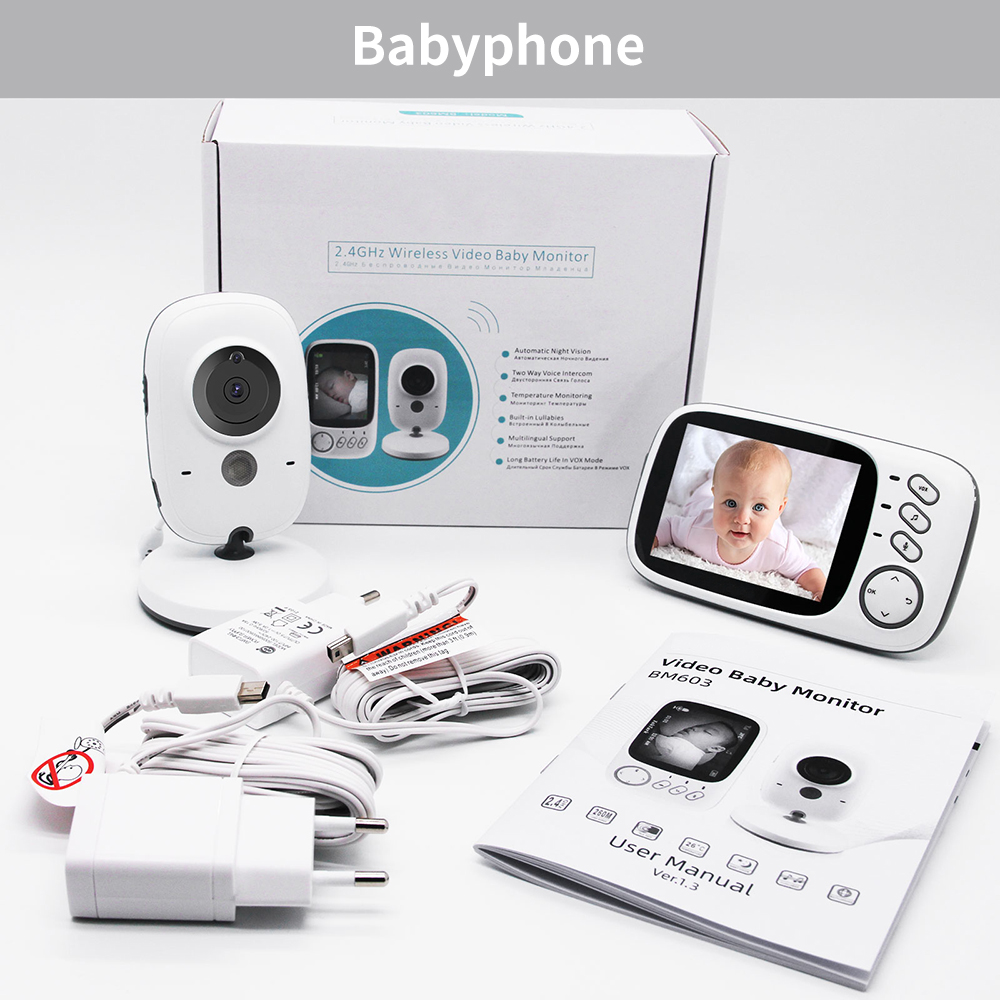 Package includes
1 x child camera (child unit)
1 x baby monitor (parent unit)
2 x power supply units
1 x multi-lingual operating instructions

Note: The baby unit can only be operated with a power cord, like most baby monitors on the market.
This baby monitor is a great option for busy parents.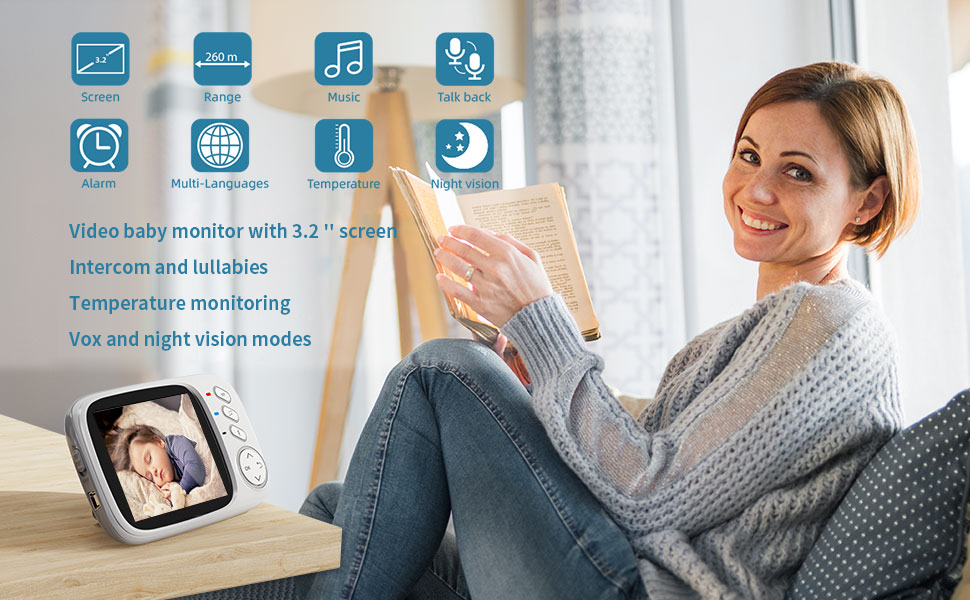 Your baby needs constant attention, but it is impossible for you to be in the baby room at any moment.
That is why our selection of baby monitors gives you the reassuring feeling of knowing that your baby is sleeping safely and peacefully in its cot at all times. Caring for your baby can be stressful. The 3.2 inch baby monitor with camera makes this operation even more convenient. Whether it is a baby, an adolescent baby, or an elderly person, they will need all of your care. When you are busy with work and you may not even be able to enjoy your free time. Therefore, our selected baby monitors give you the opportunity to reduce your anxiety and enjoy your free time! You can move around the kitchen, bedroom and bathroom without worries while relaxing in another room when your baby is happily falling asleep.
Baby monitor helps you take care of your baby!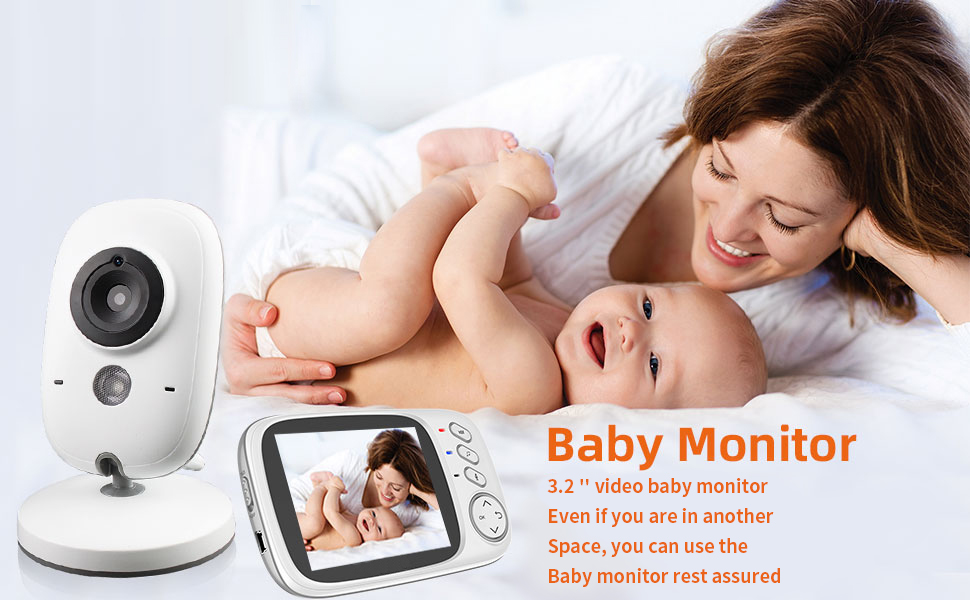 The K&F brand has specialized in baby monitoring for years. Our mission is to create a safe living environment and to make everyday life easier for parents. The child needs constant care, but it is not always possible to be next to him in his room at all times of the day. That is why we have the 3.2 "baby monitor with camera. Your search is 100% satisfactory. Your support is ours big move. Your trust is our top priority.
These images belong to K&F Concept end users.
Baby Monitor
Screen Size
3.2"
Video Resolution
320*240
Battery
750mAh
Pan Tilt
×
Zoom
1
Infrared Night Vision
√(visible)
Connect Up To
1
Night Light
×
Lullaby
8
Temperature Sensor
√