Foldable Solar Panel – 60W Portable Solar Panels with 5V USB and 18V DC for Camping,Cell Phone,Tablet and 5-18V Devices – Compatible with Solar Generators Power Stations
£99.99
£124.99
20% OFF
VAT free
New customer gift package
FREE Shipping to United Kingdom,Ireland,India,gibraltar,
malta,cyprus,South Africa,
CaymanIslands
Buy K&F Concept foldable solar panel – 60w portable solar panels with 5v usb and 18v dc for camping,cell phone,tablet and 5-18v devices – compatible with solar generators power stations online, £99.99 free shipping to UK.

GW31.0041

SKU:

GW31.0041

99.99

https://www.kentfaith.co.uk/GW31.0041_foldable-solar-panel-–-60w-portable-solar-panels-with-5v-usb-and-18v-dc-for-campingcell-phonetablet-
Features
* PORTABLE AND LIGHT WEIGHT EASY TO CARRY:Keshoyal specializes in providing green power solutions for outdoor enthusiasts and explorers. Our 60W Foldable solar panels have a thickness of 0.2 inches, 60.23*13.4*0.2 inches (unfolded), 13.4*9.5*1.18 inches (folded) , weight is 4 lbs, easy to install, transport, hoist and disassemble, there are 4 fixing clips, you can hang it anywhere.
* MULTI-PURPOSE USAGE:Foldable solar charger60W with USB output, equipped with 2* USB output port, can charge for multiple small devices at the same time, including smart phones, tablets, digital cameras etc... Equipped with 8 DC adapters, it can be used in portable power stations. Amazing outdoor activity power to prevent accidental power failure.
* HIGH CONVERSION EFFICIENCY:Our 60W monocrystalline solar cell has a high conversion efficiency of 23.5%, and its performance is better than that of polycrystalline solar panels under the condition of insufficient light.
* WATERPROOF AND DURABLE: Waterproof, corrosion-resistant, high-temperature resistant, very suitable for camping, hiking, picnics and other outdoor activities. Please note that the junction box is not waterproof, please keep it dry.
Shipping
FREE Shipping to United Kingdom,Ireland,India,gibraltar,
malta,cyprus,South Africa,
CaymanIslands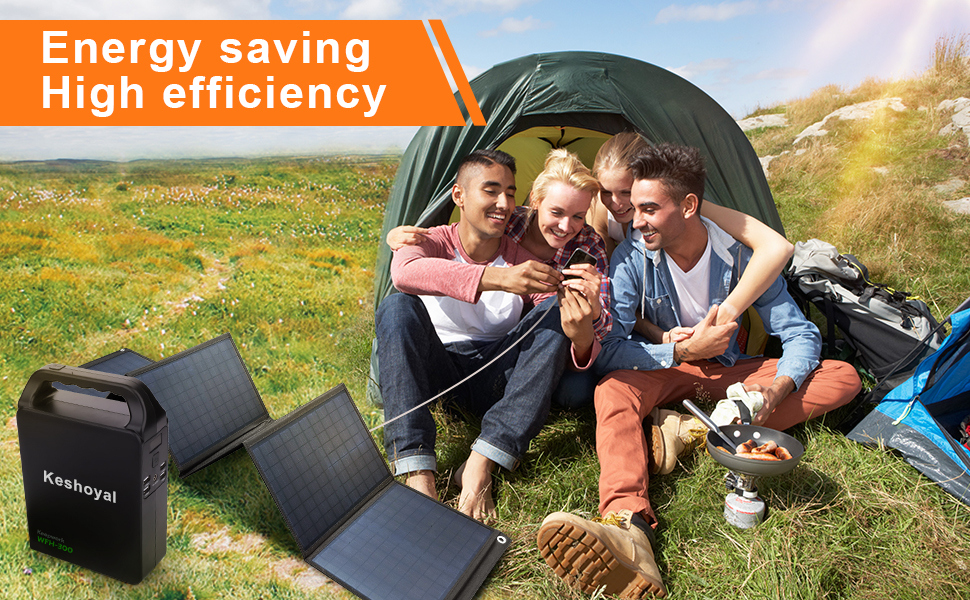 About us
Five years ago, my friend and I went on a trip to the grassland. We are very happy in the sun. When we took a photo with our cell phone, the cell phone suddenly ran out of power. It would be great if there is a portable charging tool that can charge mobile phones at this moment. Later, I shared my thoughts with our team. After unremitting efforts, they designed and developed a portable solar panel, which is very convenient. Today, I share with you the Keshoyal 60w solar panel charger,hoping to help you in your trip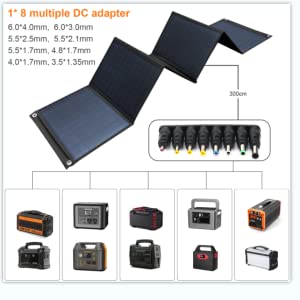 Portable Foldable Solar Panel
1.60W solar panel is foldable, portable, silent, splash-proof, and stylish. Stores easily in your backpack. Whenever your laptop 、solar generator and phone run out of juice, simply unfold the solar panel and power up your device away from the socket in a friendly way 2.60W Solar Panel for keshoyal portable generator 288Wh,It takes about 8-10 hours to fully charge in the sun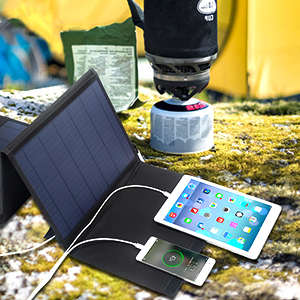 Technical Specifications
Charging Port Output: DC 18V/3.3A(Max) Dual USB: USB-A(QC3.0) & USB-B(USB 5V/2.1A) Dimensions (Unfolded): 60.23*13.4*0.2 inches Dimensions (Folded): 13.4*9.5*1.18 inches Weight: 4 lb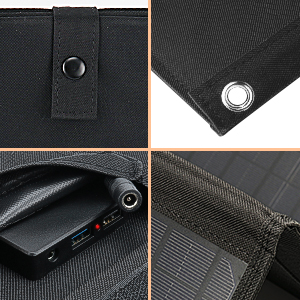 About quality
Snap button closure Buttonhole design Craftsman quality Folding design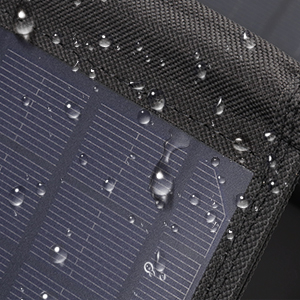 Waterproof And Durable
Waterproof, corrosion-resistant, high-temperature resistant, very suitable for camping, hiking, picnics and other outdoor activities. Please note that the junction box is not waterproof, please keep it dry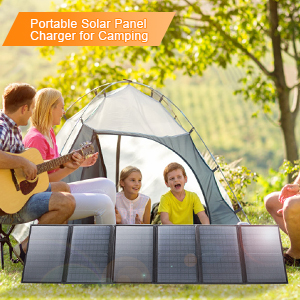 Foldable Solar Panel 60W for Camping
Our 60W monocrystalline solar cell has a high conversion efficiency of 23.5%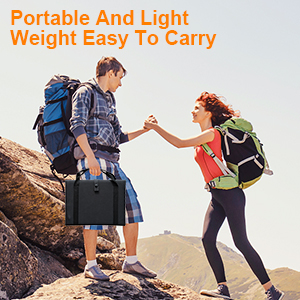 What you get
1* 1.5m DC male to male 5.5*2.1mm Cable 1* 3m DC male to female 5.5*2.1mm extension Cable 1* 8 multiple DC adapter (6.0*4.0mm, 6.0*3.0mm, 5.5*2.5mm, 5.5*2.1mm, 5.5*1.7mm, 4.8*1.7mm, 4.0*1.7mm, 3.5*1.35mm) 1* 4 clips &1* User Manua
Specification
Maximum Power
60W(±5%)
Dual USB Output
5V/2.0A, 5V/3.0A (QC3.0)
DC Output
18.0V/3.3A
Product Weight
about 1.85kg
Materials
High Conversion Efficiency Monocrystalline Chip, PET, EVA, Waterproof Cloth
Folded Dimension
340*250*30mm
Unfolded Dimension
1530*340*5mm
Accessories
DC Line, Data Line, Climbing Buckle, 8-piece Set of DC Connectors
Package Dimension
380*340*50mm
Package Weight
about 2.3kg
Lifespan
5 years
Application Range
Charging mobile phones, power banks, batteries, 5V/12V electronic products, etc.
All Reviews
Image

All Star

5 Star

4 Star

3 Star

2 Star

1 Star
Such a deal!
It came on time! Very important to me.
Packaged very well.
I got this to charge my 3 - 155 watt Enkeeo power generators. I was thrilled to see there was a connector that fit.
I used one generator about 60% and hooked it to the panels and placed outside once there was sun. I had to move it 3 times as it became partially shaded each time. It took 2 1/2 - 3 hours to charge from about 60% depleted. And it continued to charge in partial shade. I also discovered it has connectors that fit my 500 watt Aeiusny, 500 watt Pocer and 800 watt Lijukey. Super thrilled especially at the great price of under $90.00. It appears extremely well made, does not appear cheap at all. It met all my expectations very well, I was skeptical because of the price, but no need. It is a quality product. I definitely recommend.
08/11/2023
Sunny
Love it so much bought a second one. Highly recommend
06/11/2023
Solar panels
Very pleased with this product works very well .
04/11/2023
Charges Our Devices Well
This foldable solar panel is easy to fold and transport; it is very lightweight. It is sturdy and should last a long time. It is easy to use. It does a great job of charging our devices in its five usb ports which is what we want it to do. This is well made and we are very pleased.
02/11/2023
Very Good Solar Panel.
This is an excellent 60 Watt solar panel for $79.00 (the price of it as of this review and assuming you use the $10.00 discount). I have several power stations and solar panels and this one works as well as my other 60 Watt solar panel. It comes with all the connections you'll probably need, and honestly, I don't see the point of having a power station without a solar panel. During a power outage, depending upon the duration of it, having a solar panel to recharge a power station is essential. This solar panel seems to be very well constructed and folds out easily. It wants to conduct electricity even when under a regular lightbulb inside the house. It ships very well packaged.
31/10/2023
A quality reasonable price solar panel
Just received my Keshoyal 60w solar panel today and I love it. Very well made with an excellent design and very easy to use. It came with plenty of optional cables and connectors works great with my Rav power house portable charging station. The $79 price tag is very reasonable for such a superior product I highly recommend Keshoyal solar panel. Thank you
Bernice
28/10/2023
Awesome!
Thing was awesome. We camped on the beach in Hawaii for 2 weeks. Had plenty of power to charge our 80wh power bank, that charged a laptop, 4 phones, headphones. Just awesome. Worked as advertised!
24/10/2023
Wondrful Little Panel
I have numerous 100W panels, and large power stations, due to constant power outs... but I like to take a small power station on trips, and don't want to lug a big panel. This 60W is the perfect size.
It also works with my GoPowerPlus, Okpro 540, Paxcess 280, and Jackery 1000. I won't knock a star off....but wish they had the right adapter, 8mm, for the larger Jackerys. I happened to have an 8mm adapter, so could make it work. This panel worked great with everything. The USB port adapter is super too...with three different ends, including an iPhone pin adapter. Very pleased....though I just got it.... so will need more testing, but I don't anticipate any issues. Usually I will know if there are any right away.
20/10/2023
Great value for the price point
The product was above and beyond what I expected for the price I paid
18/10/2023
Tested and passed with flying colors.
I need a small solar source for my bug-out bags for my significant other and myself. This fits in a regular sized backpack. I did an early test of the built-in USB. Daytime but cloudy completely overcast day with some gray. Layed it out flat. Got a half amp on from the USB. I can fully charge my Garmin inReach satellite communicator in a few hours with that. Looking forward to testing it on a sunny day. Hope to get 2 amps from the USB.

Did a more thorough test with the raw solar output jack today. Ran it through a MPPT charge controller and charged a LiFePo4 battery. Measured current with a clamp meter. Oh YEAH! It was exactly what it should be. For my location (upstate NY), date (October), and time of day (1PM) , I got exactly what I was supposed to get ... even with the foldable panel just propped up at approximately the right angle. There is no doubt that this panel will produce 60 watts in the summer if you have an MPPT charge controller. It is sized well for my purposes even in the winter for charging a battery pack that will recharge a few flashlights, hand held radios, etc. Great product. I have 2 and am giving one to my daughter.

Added: I gave both to my daughter with the necessary cables and controllers to run the two in parallel or series. I added an inline meter so that she can see how well it's charging her lifepo4 battery pack. Now I'm looking at this as a third purchase for myself again. I know it's good stuff because I (a degreed electrical engineer) thoroughly tested it myself.
16/10/2023