Time Lapse Camera Outdoor Construction/Plant/Weather/Life 1080P, 2.4" HD TFT LCD, Waterproof Level IP66, 3000mAh battery 6 Month Battery Life, 32GB TF Card Included,Macro adjustable focus
£159.99
£199.99
20% OFF
VAT free
New customer gift package
FREE Shipping to United Kingdom,Ireland,India,gibraltar,
malta,cyprus,South Africa,
CaymanIslands
Brand:

K&F Concept

Buy K&F Concept time lapse camera outdoor construction/plant/weather/life 1080p, 2.4" hd tft lcd, waterproof level ip66, 3000mah battery 6 month battery life, 32gb tf card included,macro adjustable focus online, £159.99 free shipping to UK.

GW41.0085

SKU:

GW41.0085

159.99

https://www.kentfaith.co.uk/GW41.0085_time-lapse-camera-outdoor-construction-plant-weather-life-1080p-2-4"-hd-tft-lcd-waterproof-leve
Features
* 【Multiple Shooting Modes】In addition to the camera can automatically connect to AVI video through timed photo or timed video, it can also manually control the photo or video to form a time-lapse video. The machine's infinite loop mode can loop shooting, and the oldest file will be deleted when the card is almost full.
* 【Easy Shooting】The camera is equipped with a 2.4-inch high-definition TFT LCD screen, a 110° starlight lens and a 120° 2W white light LED. Under the starlight or moon halo lens, it can auto-focus and can shoot color and high-brightness time-lapse video files. The resolution can be 1920*1080 or 1280*720.
* 【Stable Operation】The waterproof rating of the camera is IP66. If the camera's time interval is set to 5 minutes to take one shot, 288 shots/day, it can take six months. The product can support up to 512GB TF memory card. It should be noted that when the memory card space is full, the camera will automatically stop taking pictures, video recording and turn off the LED light.
* 【Built-in rechargeable battery】The product's built-in 3000mAh rechargeable lithium battery ensures an extended shooting duration of up to 6 months (theoretically calculated based on taking a photo every 5 minutes), making it perfect for long-term time-lapse projects without worrying about the battery life.
* 【Macro adjustable focus lens】Capture every moment with stunning clarity and precision using our cutting-edge time-lapse camera. With a distortion-free lens boasting a 70° field of view, you can effortlessly capture images both close-up and far away. Plus, our manual focus system allows for easy and customizable fine-tuning, making it perfect for capturing stunning macro shots or distant landscapes with ease.
Shipping
FREE Shipping to United Kingdom,Ireland,India,gibraltar,
malta,cyprus,South Africa,
CaymanIslands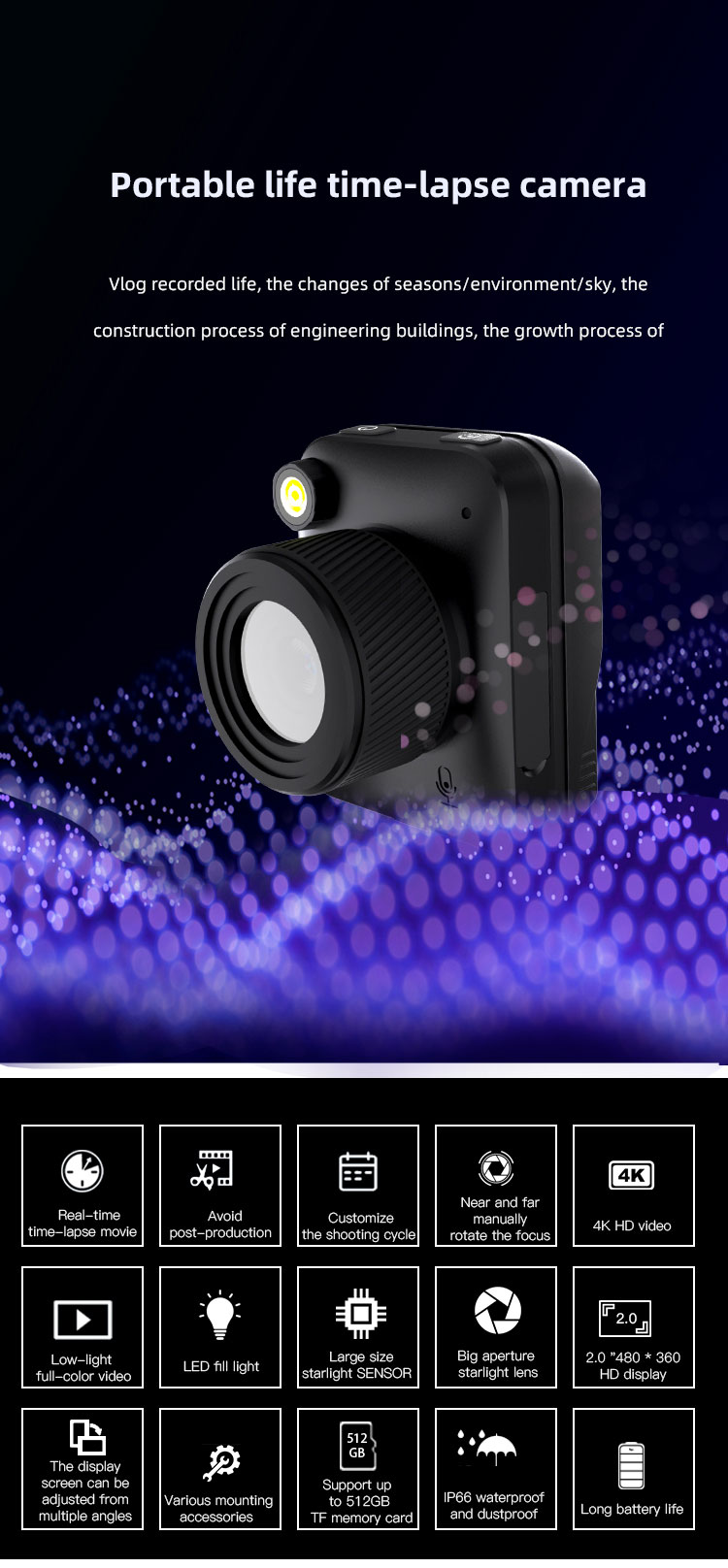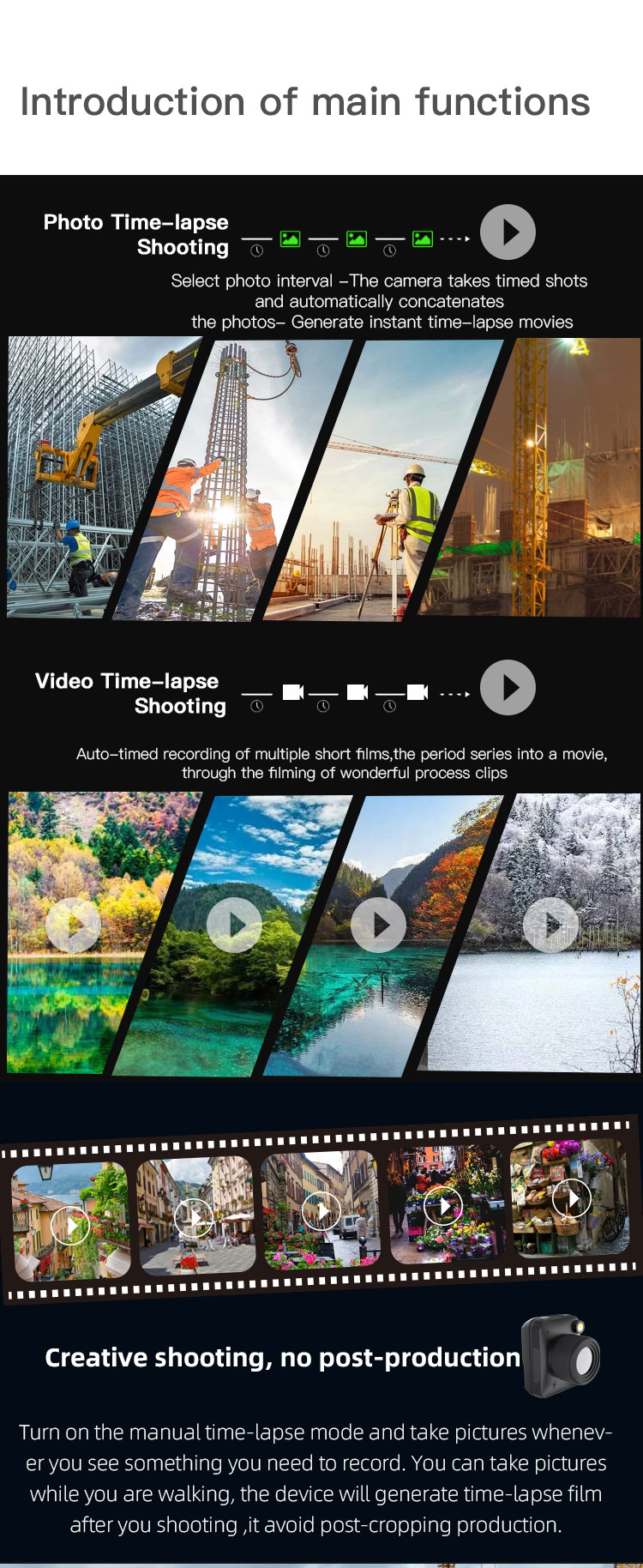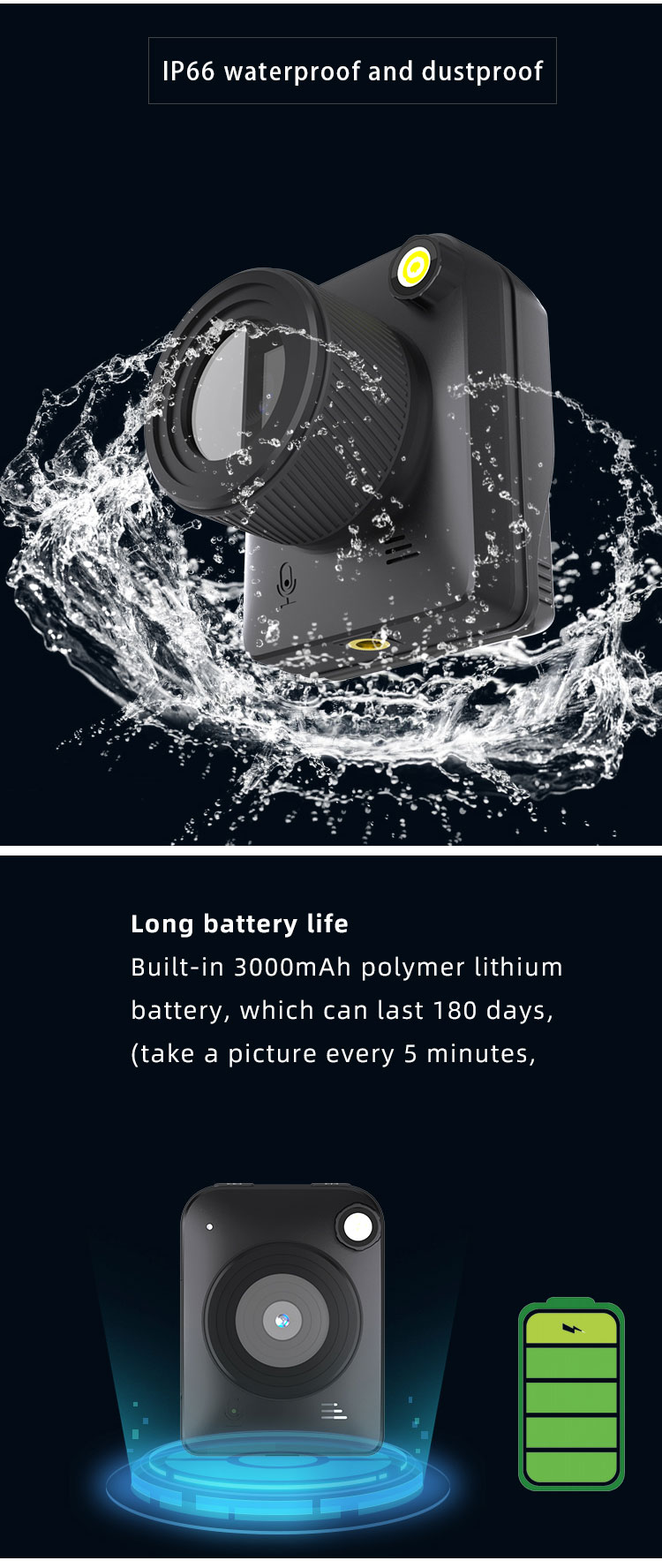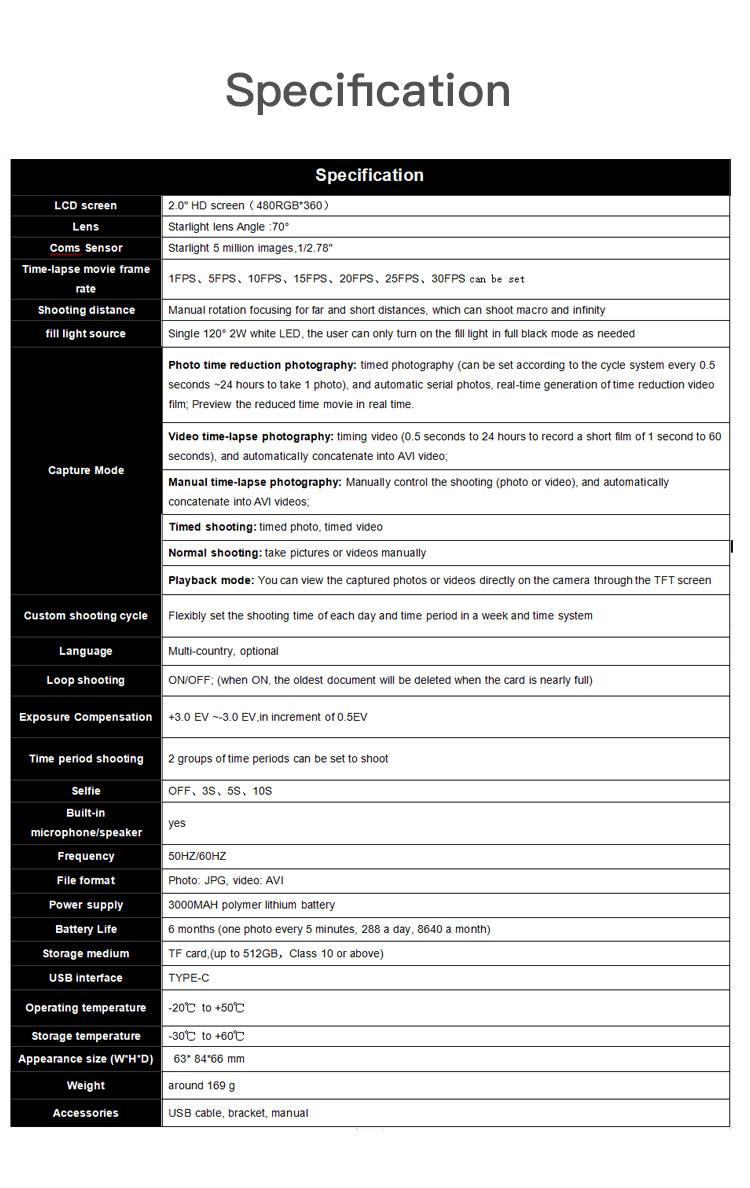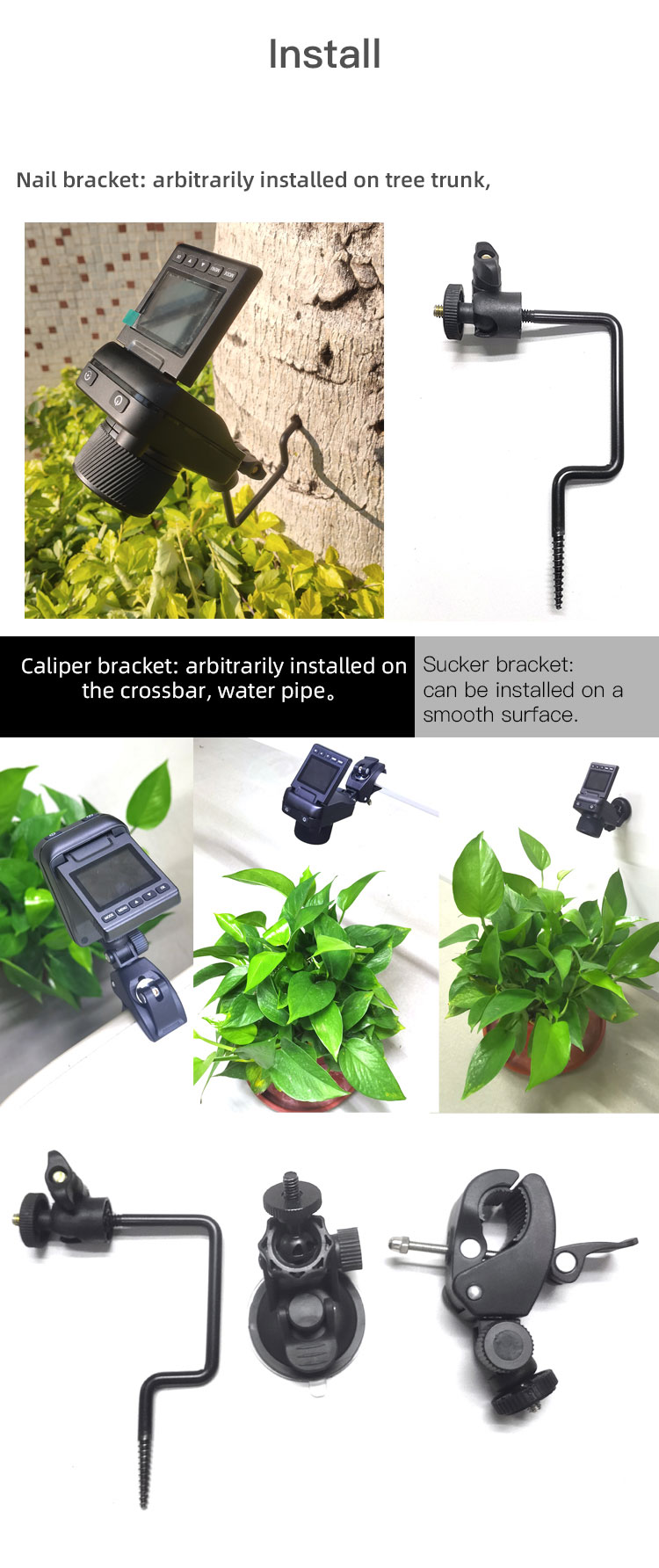 Specification
LCD screen
2.0" TFT LCD(480RGB*360)
Lens
Starlight lens Angle of view 70°
Photosensitive chip
Starlight 5 megapixels,1/2.78
Resolution of video
3840x2160/10fps;2688x1520/20fps;1920x1080/30fps;1280x720/60fps;1280x720/30fps;
Shrinkable film frame rate
1FPS、5FPS、10FPS、15FPS、20FPS、25FPS、30FPS can set
Shooting distance
Near and far manually rotate focus, can shoot macro ~ infinity
supplementary light
A single 120°2W white LED will enable the supplementary light only when the user needs completely dark
Time-lapse photography
Take photos regularly (take one or more photos every 0.5 second to 24 hours), and automatically connect photos to generate time-lapse AVI videos in real time
Time-lapse video
Regular video recording (recording a short film of 0.5 second to 24 hours every 1 second to 60 seconds), and automatically connected into AVI films;
Manual time-lapse photography
manually controlled shooting, and automatically connected to AVI films;
Timed shooting
timed photo, video, photo + video
Ordinary shooting
Manual shooting or video recording
Playback mode
you can directly view the captured content through the TFT screen on the camera
Customize the shooting cycle
Set the shooting time flexibly according to the week and time
Language
Multi-country, optional
Loop shooting
ON/OFF; (When ON, the oldest document will be deleted when the card is full)
Exposure compensation
+3.0 EV ~-3.0 EV in increments of 0.5EV
Shot in time
Two sets of shooting time can be set
Built-in microphone/speaker
yes
frequency
50HZ/60HZ
file format
JPG or AVI
Power Source
3000MAH polymer lithium battery
Battery Life
6 months (one photo every 5 minutes, 288 a day, 8,640 a month)
Storage Media
TF card (up to 512GB is supported, Class 10 or above is recommended)
USB port
TYPE-C
operating temperature
-20℃ to +50℃
Temperature of storage
-30℃ to +60℃
There are no reviews for this product.