Industrial Endoscope Dual Lens Inspection Camera 1080P HD Endoscope 4.3-inch Screen 360° Adjustable Lens 8.5mm Cable Including 32G Memory Card 1m Cable
£159.99
£234.99
31% OFF
VAT free
New customer gift package
FREE Shipping to United Kingdom,Ireland,India,gibraltar,
malta,cyprus,South Africa,
CaymanIslands
Buy now in the K&F Concept Industrial Endoscope Dual Lens ► 30 Day No Reason Return ► 1m Cable ► Fast Shipping From UK Free ► 4.3-inch Screen

GW45.0011

SKU:

GW45.0011

159.99

https://www.kentfaith.co.uk/GW45.0011_kf-industrial-endoscope-dual-lens-inspection-camera-1080p-hd-endoscope-4.3-inch-screen-360°-adjustable-lens-8.5mm
Features
* 【IP67 Waterproof】Different from other non-waterproof products, our camera supports IP67 waterproof, whether it is wet sewers or sinks, it can work perfectly.
* 【Bidirectional 180° Steering Lens】Bends 180° easily and freely on both sides, which can bring small probes into tight spaces, and then transmit vivid, clear, all-round videos and pictures on monitor screens and mobile phones at the same time through the cable. It is a recommended tightly curved endoscope camera with light.
* 【Utility】Steering Endoscope Camera with Active Head is specialized in evaluating and diagnosing car, car evaporator, engine, carbon, combustion chamber, plumbing or house problems. If you are a homeowner, electrician, mechanic, and especially someone who loves technology, it is your best partner.
* 【Large 4.3-inch IPS HD Display】The endoscope inspection camera adopts a 2.0MP 1080 HD 4.3-inch large display with built-in 8 LEDs with adjustable brightness, allowing the front camera to perfectly view the darkest inspection area. This industrial range allows viewing images, taking standard photos and recording videos.
* 【High temperature protection】The endoscopy camera is designed with unique temperature protection technology, which can cope even in harsh environments. When the temperature exceeds 95 degrees, it will automatically shut down and play a protective role.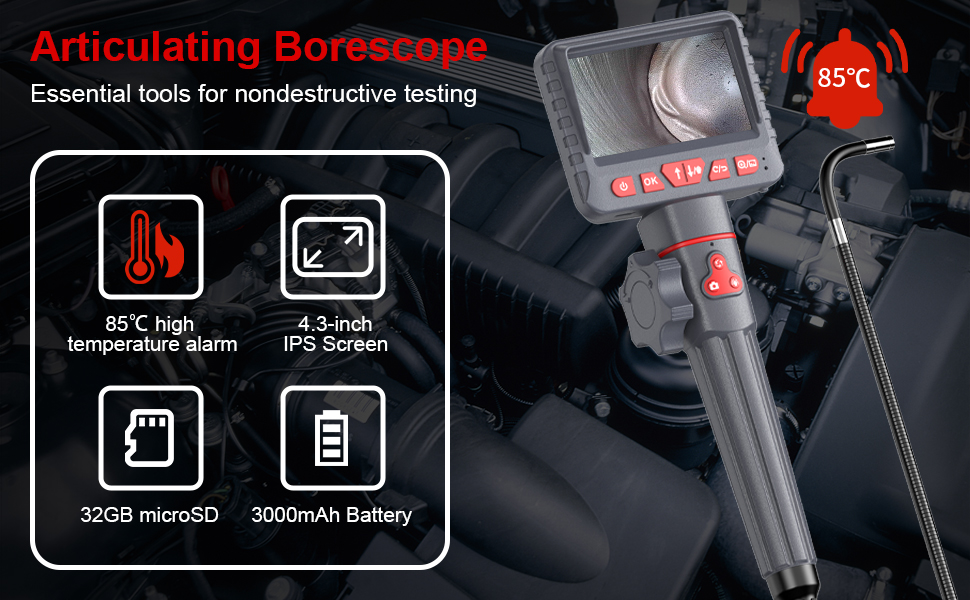 Selecting the right Inspection tool for the job is critical - different Level of A Borescope Why AGC430N is so popular among customers around world? What's the special function of it?
The most important thing is that the camera part can be controlled and turned!
Articulation bendable angle: 0°to 180°continuously adjustable and can be locked at any angle. Very easy operation: just push down the release button with the thumb to adjust the articulation angle. Greatly fulfilled the actual needs of customers of inspecting the difficult angles inside a dark closed compartment.
---
Widely used in NDT and RVI field:
Aviation aircraft, for both general aviation, business aviation, commercial aviation and military
Power generation and electricity
Energy, gas and oil
Automotive, motorcycles, and boat
HVAC
MRO services
Industrial facility and building maintenance
Manufacturing, metal machining, tube and pipe
Mining
AGC430N Articulating Industrial Endoscope - Bend At Any Angle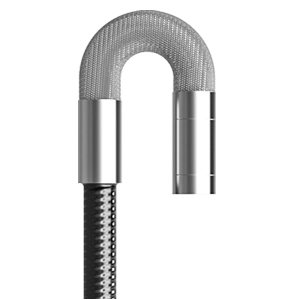 Look Back Examining the entire cylinder and valves
The articulation engine scope is able to take a close look at the piston and then turn the camera around 180 degrees while inside the cylinder to see the valves at the top of the cylinder.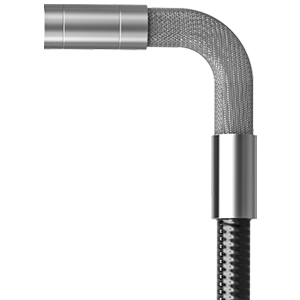 90 Degree Bend
When insert inside tube or inside wall where has mainline and branch line, such as plumbing U/H shape pipe. Have ability to turn into the branch line, won't pass by.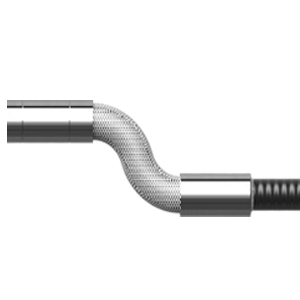 Pass Obstacle
The snake camera is 0° to 180°continuously adjustable and can be easily go through small block.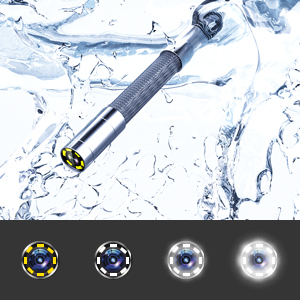 Waterproof and Oil Resistant
Greatly improve the articulating part structure, made from titanium alloy with high tungsten braided wear resistance. The camera probe and insertion tube is waterproof IP67.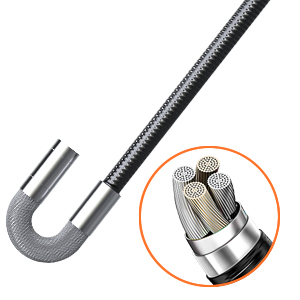 Rigid Gooseneck Probe
The AGC430N industrial endoscope adopting metal fiber optic probe, flexible and malleable enough to shape for your need, up to 80cm lifting.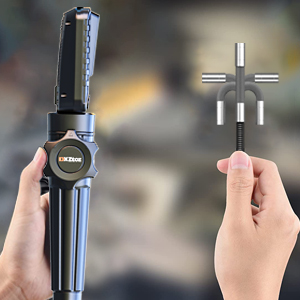 Locked at Any Angle
The scope camera's direction can be freely controlled by one whirl, and firmly locked at any desired angle.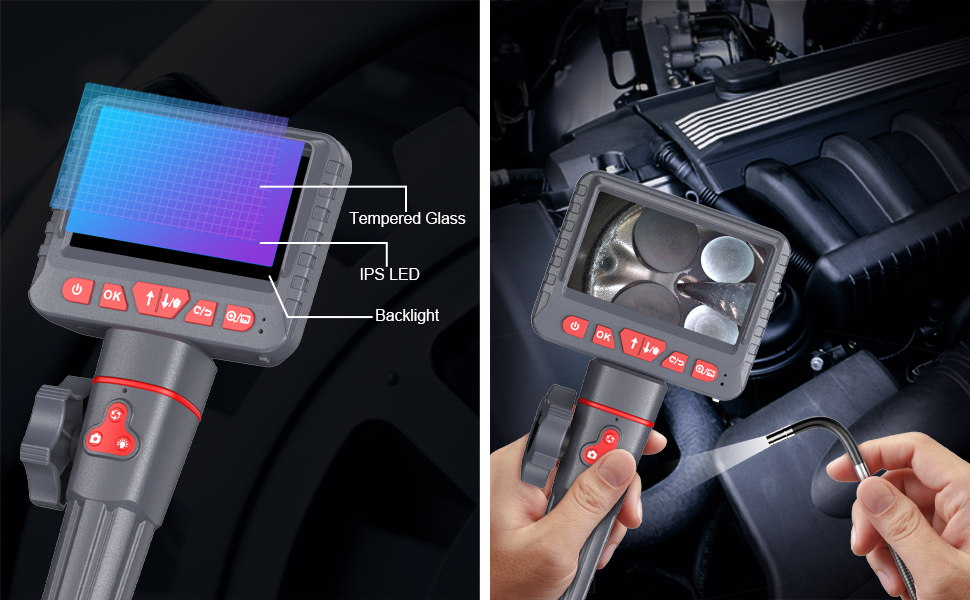 Who will need an articulating Borescope Inspection Camera?
Professionals: Aircraft/automotive mechanics, electricians, engineers, HVAC/machine technicians, building inspectors, plumbers, pipefitters, security and law enforcement officers, locksmiths, serious DIYers.
Regular Person: car owner, handy man who likes to fix things around house.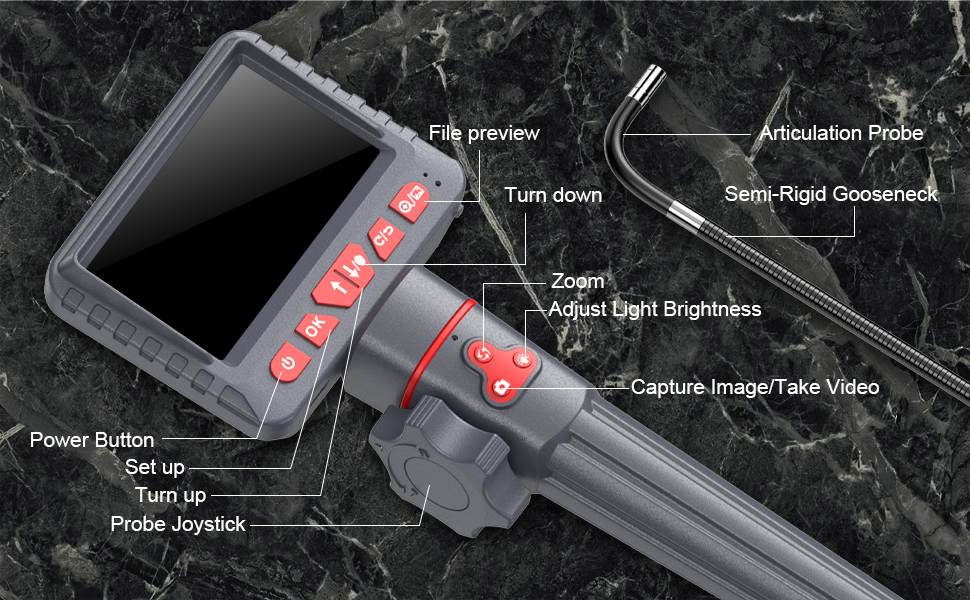 Specifications
1.Camera Diameter: 8.5mm
2.Articulating Angle: 0° - 180° Two-Way
3.Bending Ratio: 34mm
4.Monitor: 4.3'' LCD color display
5.Waterproof Grade: IP67
6.Light Source: 8 LED with 4 adjustable brightness
7.Camera Resolution: 1920*1080
8.Zoom: 8X
9.Battery: 3000mAh rechargeable Lithium-ion battery(up to 4h working time)
---
Additional Functions: Take photo, record video, saved on 32GB TF card(showed and transferred to customer).
Rating

156 reviews.

96 reviews.

89 reviews.

71 reviews.
Price

£234.99

£159.99

£73.99

£60.99

£119.99

£64.99

£165.99

£101.99

Model
GW45.0011
GW45.0020
GW45.0021
GW45.0001

Camera Design

2
1
1
2

pixel

2m megapixels
2m megapixels
2m megapixels
2m megapixels

Camera Diameter

8.5mm
8mm
8mm
5.5mm

Adjustable LED Lights

8 LEDs
6 LEDs
6 LEDs
8 LEDs

Focus distance

20mm-100mm
3-10cm
3-10cm
30-80mm

Waterproof Level

IP67
IP67
IP67
IP67

Camera Angle Adjustment

360°
/
/
/

Transmission Distance

/
/
/
/

Battery Capacity

3000mAh
2600mAh
2600mAh
2600mAh

Cable Length

1M
2m
5 m
5 M

Support System

/
/
/
/

Included 32GB Card

Contains
/
/
Contains

Wifi Support

/
/
/
No
All Reviews
Image

All Star

5 Star

4 Star

3 Star

2 Star

1 Star
Helpful for home inspectors
As a home inspector, my toolbox includes a variety of testing and measuring tools: screw drivers, nut drivers, framing square, concrete and wood moisture meters, temperaturehumidity meters, multi-meters, GFCI & AFCI testers, infrared and probe thermometers, binoculars and a couple of really nice digital cameras to document the appearance of the residence or structure.

Two hands required for a thermal temperature picture, one holding a digital IR thermometer directed at the object while aligning the camera with my other hand to "capture" the reading works well enough; however, a lightweight IR camera attachment to my cell phone is quicker and gives my client a true visual representation of temperature variance.

During a recent home inspection with the house temperature set at 75 and the exterior temperature 61 (picture 1), I felt a breeze several inches away from the chipped plaster above the receptacle and wanted to know more. Placing my anemometer meter at the opening, a 3 mph wind speed was recorded, the draft I felt several inches away. A wide view of the wall was provided by the K&F Concept IR camera that displayed a 9 degree wall temperature difference within 24" inch span (lack of or missing insulation). Removing the cover and receptacle (outlet), I was able to easily insert the lens for a look behind the wall. As the pictures captured, there was no insulation directly behind the receptacle box, above (bent the lens cable upward) and below using the side view camera. The red, yellow, blue, green IR picture is the outside (fiber cement siding). The exterior outlet aligns with the cold spot to the right of the interior outlet and the blue in the upper right corner is the interior outlet. I did not attempt to locate the source of the air leakage, annotating in my report further evaluation by a licensed contractor for options and cost. The nine pictures provided by the K&F Concept and IR camera provide a more comprehensive visual understanding than a mere draft from the outlet.

What is the water bottle for?
I drilled a hole on each end, passed the cable through secured with tape making a lens "stand off" for better observation looking in HVAC duct. With the rounded bottle, I've gone 14 feet without getting stuck.

The IR camera comes in a protective small semi-hard case, easy to use with the ability to annotate comments directly onto each picture.

The scope is lightweight and easy to use. All functions (picture, video, light, etc.) controlled by your thumb, except for the side view camera switch which is at the base of the cable. Packaged in a protective hard plastic case, with two metal latches and top and bottom foam padding cut to fit the cable, camera, USB cable and three included lens attachment options is more than adequate. A small magnet, 90 degree mirror and hook to fish wire, or "I dropped my ring in the drain" recovery tool are nice additions.

Providing two options for image transfer (one via the provided USB cable or by removing the mini SD card) gives the user flexibility.

As a home inspector, having a "third eye" is nice to answer any lingering questions regarding temperature and other issues: wall cavities, HVAC units, duct, vents, smoke chamber, chimney…

Adding the K&F Concept infrared thermal camera attachment to my tool inventory will allow more accurate reporting. Well worth the investment.
26/05/2023
For plumbers and in the automotive sector simply terrific. Must have
Great value for money for this camera. As a plumber, you can look for leaks in pre-walls, under bathtubs and showers, for example. In the automotive sector, look behind door panels, tight spaces in the engine compartment or even cylinders, pistons and valves in the engine. Have had this camera for 1 month now which has made a lot of repairs much easier to do. I used to work with an endoscope camera without a moving tip, but this camera is worlds better. I can only recommend it to every screwdriver. Processing is valuable, easy to handle, almost self-explanatory, practice a little and off you go.
19/04/2023
Amazing for tight spots!
ordered it for my vehicles. It's fortunate to be able to see places I couldn't otherwise get to. This unit is well built, sturdy. It comes with a very nice carrying case, a 32GB SD card pre-installed, a USB charging cable to charge the 3000mAh battery which lasts quite a while. I've been using it for over an hour and the percentage hasn't even dropped Head on it, controlled by up and down on the device, very helpful for looking around the area you're in. It has a 5ft length on the camera cable which is semi-rigid so you can position it however you need it, it's IP67 waterproof which means it's perfect if you need to check the plumbing around the house or others Way. Another great feature is that it supports audio which is also amazing as as a mechanic I sometimes need to hear what makes a certain noise. It supports image capture as well as video 720p or 1080p. You can stream from the device to another using the built-in WiFi for easier viewing, but that's not necessary as the built-in screen is phenomenal for viewing. In summary, if you need to take a look at a hard-to-reach spot and see what's happening, I highly recommend you get your hands on this professional tool. K&F Concept did a good job of building a solid unit. I've added a few videos on the picture quality and video quality of some random areas (one of which is my shed outside, inside a soda can, a picture of the unit itself, taken by myself,
17/04/2023
Great endoscope camera, easy to use
The device does what it is supposed to and with absolutely sufficient quality. The ability to create images and videos is a nice feature that allows you to share the results here. The gooseneck looks quite robust and can be moved using a rotary wheel and this function works just great! The endoscope comes in a fairly sturdy box with a fairly thin molded plastic shell. The device itself is really wonderfully intuitive to use. The swivel head can be easily operated mechanically via the handle. The LEDs can be controlled in 3 brightness levels (and off). Optionally, you can also load the APP "Smart Endoscope" on your smartphone and connect to the endoscope via WiFi and display it on your cell phone. The advantage, however, is that the endoscope does not necessarily require an additional device. A nice feature is the temperature sensor in the camera head, which gets quite warm due to the LEDs, but can of course quickly indicate high temperatures. The device makes a stable and valuable impression and delivers impressively good images with a very wide focus range. The LED illumination is bright and you can see everything very well and record it easily. Camera and display quality are very good. The probe is waterproof. With an articulation of 210° you get a comprehensive impression of the interior. All in all, a beautifully compact, self-sufficient endoscope with a swivel head at a fairly high price when you look at the pure USB or WLAN endoscopes. Operating the pan is very simple and can be operated with one finger on the handle. Clear buy recommendation from me...
12/04/2023
Good quality and sharp picture
The K&F Concept endoscope camera comes with a robust storage case. Instructions and a USB cable for charging are also included. The workmanship is flawless and makes a very high-quality impression. The lens head can be rotated so that you can also look to all sides in niches and gaps. The strong LED lighting allows a good picture even in the darkest areas. Everything is shown beautifully sharp on the TFT display. Optionally, you can also connect to the smartphone app to save and view videos and images directly there. The app is intuitively easy to use. The device itself is operated using the 6 buttons on the display and two buttons next to the rotary wheel for the movable tip. The display can be folded if necessary, so that you have a better picture outside with the sun. The temperature is also shown on the display. However, this increases by using the light function. I am very satisfied with the endoscope and can give it a full 5 stars for convincing quality and a good image.
11/04/2023
Price performance outstanding
I'm very satisfied. The part is very beautiful and takes good pictures. The materials are high quality and the workmanship is great. The little bag is very nicely made.
05/04/2023
Top Endoscope Camera - User-friendly
The endoscope camera from K&F Concept is well made and is of good quality overall. The scope of delivery includes the endoscope camera and a description. The endoscope camera is easy to hold, has little dead weight and is very easy to handle. The screen can be tilted so you always have a good view. In the settings menu you can e.g. select the desired language, everything is clear and easy to understand. The endoscope camera is designed to be very user-friendly, the camera can be rotated 210° without much effort, all you have to do is turn the front dial. The 5.0'' HD LCD screen is very clear and the size is absolutely sufficient. The camera offers high-resolution image and video recording, which is stored on the internal TF card. When recording a video, the image and sound are recorded. The size of the memory card is 32 GB, which should be enough for a large number of shots. But there is also the possibility to connect to your own smartphone via Wifi and save and share recordings there. With a video recording, there is also the possibility of audio recording. The endoscope camera from K&F Concept convinces with a reliable functionality, the brightness is easy to control, the camera is easy to control. The recordings and live images are pin-sharp and reproduce the smallest details well. Overall, I think the endoscope camera from K&F Concept is well designed. The quality and workmanship are neat, the functionality is optimal and reliable. Due to the good properties, I can therefore highly recommend the endoscope camera from K&F Concept.
09/03/2023
Very powerful endoscope camera. Saves a lot of time and therefore money.
The K&F Concept endoscope camera can be flexibly rotated through a 180-degree angle and can thus take live recordings from otherwise completely inaccessible places. Water resistance is at the top of the list of requirements. With IP67, the 4.3-inch camera also masters water resistance with flying colors. The 8 LED lights ensure that the waterproof pipe camera (IP67) provides a well-lit video image. The price of just under 300 euros (as of October 4, 2022: 299.99 euros) is certainly steep at first glance, but as soon as you have used the endoscope camera from K&F Concept, you save so much valuable time that the purchase quickly pays off. For example, anyone who has a small business and regularly has to carry out repairs on equipment that is very difficult to access will really enjoy this endoscope camera from K&F Concept.
22/02/2023
K&F Concept 4.3 inch IPS video endoscope
I have a couple of K&F Concept video inspection cameras and have not been disappointed with any of them. This one is no exception. A highly versatile scope, this standalone device offers excellent image quality in an easy-to-use package. Can be used for all types of inspections. This can be one of those things you didn't know you needed until you had one. From wall cavities, automotive work, gunsmithing — you name it. You will love having one of these on hand.
22/01/2023
by far the best endoscope camera I have ever had
I've been testing the endoscope camera offered here for almost a month and I'm absolutely thrilled. I have never had such a sensational endoscope camera. I particularly liked the following properties: +Very good processing quality +Rock solid +Easy to set up +Foolproof handling +Sensational recording quality +Ultra-precise control +Great display +Perfect for tube endoscopies +Very good price/performance ratio Consequently, I can't avoid buying the endoscope camera with the Maximum score of 5 stars. I would get them again anytime!
18/01/2023
Industrial Endoscope Dual Lens Inspection Camera 1080P HD Endoscope 4.3-inch Screen
endoscope
Resolution
1920*1080
Camera Design
2
pixel
2m megapixels
Camera Diameter
8.5mm
Adjustable LED Lights
8 LEDs
Focus distance
20mm-100mm
Waterproof Level
IP67
Camera Angle Adjustment
360°
Transmission Distance
/
Battery Capacity
3000mAh
Cable Length
1M
Support System
/
Included 32GB Card
Contains
Wifi Support
/