Feiyu Pocket 2-Light Handheld 3-Axis Gimbal Stabilized 4K Video Action Camera,130° View,Magnetic AL. Alloy Boby with Mic Speaker,4xZoom,12MP Photo,512G Card Slot,Beauty Effect,for YouTube TikTok Vlog
£221.99
£266.39
Inclusive of VAT
&FREE Shipping to United Kingdom,Ireland
Brand:

K&F Concept

Buy K&F Concept feiyu pocket 2-light handheld 3-axis gimbal stabilized 4k video action camera,130° view,magnetic al. alloy boby with mic speaker,4xzoom,12mp photo,512g card slot,beauty effect,for youtube tiktok vlog online, £221.99 free shipping to UK.

GW46.0013

SKU:

GW46.0013

221.99

https://www.kentfaith.co.uk/GW46.0013_feiyu-pocket-2-light-handheld-3-axis-gimbal-stabilized-4k-video-action-camera-130°-viewing-angle-magnetic-al.-alloy-boby-speaker-with-mic-4xzoom-12mp-photo-512g-card-slot-beauty-effect-for-youtube-tiktok-vlog
Buy 2 get 5% off, Buy 3 get 10% off, buy 4 get 15% off
Features
* 【3-Axis Motorized Stabilizer】 Feiyu Pocket 2 is an integration of 4K action camera and 3-axis gimbal stabilizer. With the 3-axis camera it is possible to shoot smooth video on the move, as the gyroscope keeps feeding back the new position as the camera moves/shakes, and Feiyu Pocket 2 requires 3 motors to adjust to the original state on 3 axes.
* 【Capture Anytime, Anywhere】 Super pocket size, can be held in the palm of your hand, and weighs only 0.28 lbs. 220 minutes of battery life for 1080p/30fps video. Portable and reliable.
* 【High Quality】 HDR 1/2.3 inch sensor captures images up to 12MP for photos and 4K videos. The 130° lens provides ultra-wide angle and detailed content. 4x digital zoom helps you focus and express.
* 【Amazing Video Shooting】 Breakpoint shooting allows you to organize your content effectively and creatively; Built-in MIC and external MIC input interface to meet your sound quality requirements; With built-in speakers, you can view your shooting anytime, anywhere.
* 【One-hand operation】 5-dimensional joystick direction control and common working mode switching. The capture button can easily be used to capture, record and turn on Wi-Fi. With a 1.3-inch touch screen, you can preview video, shoot, mode settings and configure all parameters by swiping.
Shipping
&FREE Shipping to United Kingdom,Ireland
Sale
Buy 2 get 5% off, Buy 3 get 10% off, buy 4 get 15% off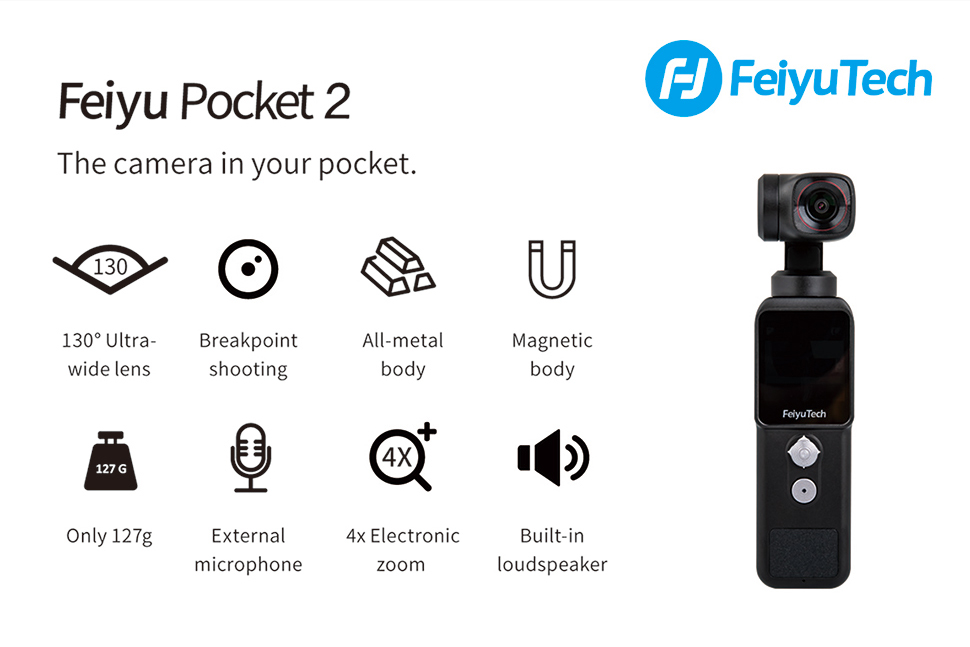 Universal:
Dimensions: 124.6*40.6*29.8mm (Working)
Net Weight: 127g
Display Screen: 1.3''/IPS/240*240
Communication Way: WIFI Connection, built-in WIFI module, Easily realize remote monitoring
Support:
Supported SD Cards: Micro SD,Max. Capacity 512G (Suggest working with U3 and higher speed SD Card)
Supported File Formats: FAT32、exFAT
Video Formats: MOV, MP4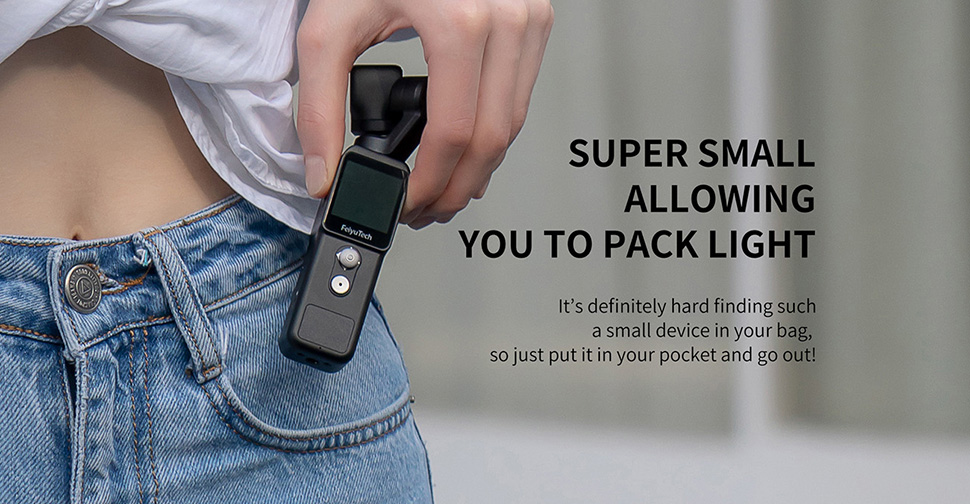 Gimbal:
Transmission and storage: 2.4GHz WIFI, Broadband: 20MHz
Max. Controllable Speed: 180°/S
Controllable Range: "Tilt:-95° to +50° Roll: ±45° Pan: -220° to +40°"
Audio Output: 48KHz, AAC
Camera:
Electronic Shutter Speed: 16s-1/8000s,Suitable for long exposure
Max. video storage stream: 120Mbps
Equivalent Focal Length: 16mm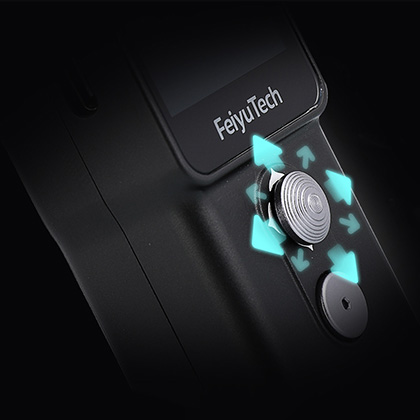 GET INSANELY FUN IN APP
Face tracking: AI face recognition function,intelligently track a certain face.
Panorama Shooting: 2X2,3X3,180° Filming magnificent mountains and rivers, providing you with a dramatic visual experience.
Hyper-lapse: Capturing the light,shadow and the movement of the nature.
Trail Time-lapse: Recording the light and shadow through preset motion tracking.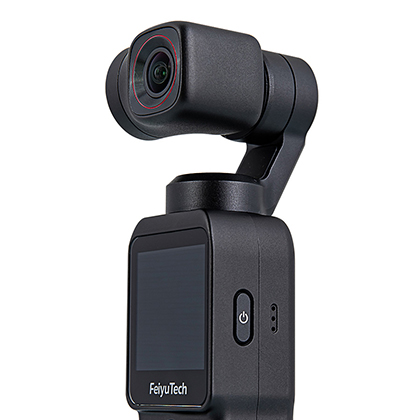 PANORAMA SHOOTING
AI face recognition function, intelligently track a certain face.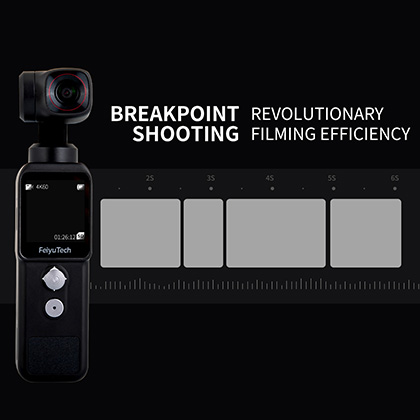 THREE-AXIS GIMBAL ALWAYS KEEPS FOOTAGE STABLE
It integrates a camera with a three-axis brushless gimbal to meet the needs of stable anti-shake and all varieties of camera movements.
Based on the 120° ultra-wide angle of the first generation, FeiyuPocket 2 has been up-graded to a 130° ultra-wide-angle HD lens, which could bring a broader vision to incorporate as much scenes as possible into the camera frame. With AI anti-deformity, you can easily get an extraordinary vision and broaden the beauty of heaven earth.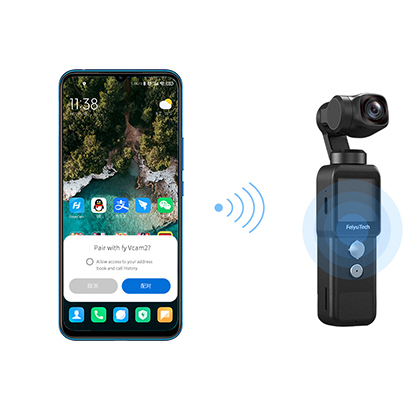 Ergonomically designed Sling Design
With the ergonomically designed Sling mode, WEEBILL S provides an effortless shooting experience for anyone.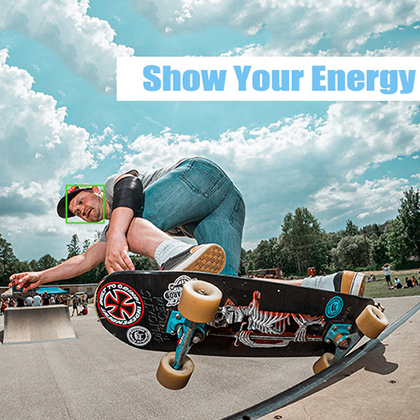 Three Axis Lock
Newly-designed lock switch on each axis makes balancing and storage much easier and convenient.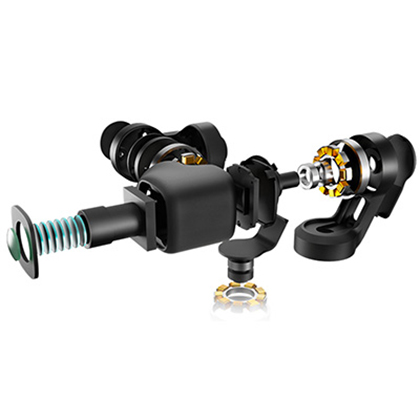 Two-in-One Quick Release System
WEEBILL-S adopts the popular two-in-one quick release plates (Manfrotto/Arca-Swiss), allowing easy setup and fast transition between equipment without re-balancing.
There are no reviews for this product.
There are no faqs for this product.