Baby Monitor with Night Vision , 5" Full HD Display (720p), Two-Way Audio , Temperature Sensor , 8 Built-in Lullabies
£102.99
£124.99
17% OFF
Inclusive of VAT
&FREE Shipping to United Kingdom,Ireland
Brand:

K&F Concept

Free Shipping. 30 Day No Reason Return. Baby Monitor with Night Vision Video Camera, 5" Full HD Display (720p), Two-Way Audio , Temperature Sensor, 8 Built-in Lullabies, Perfect for Your Babies Nursery

GW50.0026UK

SKU:

GW50.0026UK

102.99

https://www.kentfaith.co.uk/GW50.0026UK_sm952-video-baby-monitor-with-camera-and-audio720p-5"-hd-display-night-vision-4x-zoom1000ft-range-two-way-audiotemperature-sensorlullabies
Features
• Full HD Night Vision Camera: This high-definition Baby Monitor features a full HD camera that provides a crystal-clear image of your baby, during both the day and night. The wide field of vision and ability to pan and zoom the camera ensures you can always clearly see your child.
• 5" Large Full Colour HD Display: The extra-large 5" wireless display with full colour 720p HD resolution, provides a larger and clearer image of your child.
• Clear Audio & Two-Way Audio: Utilises advanced 2.4 Ghz internet-free transmission technology to deliver a clear and secure video and two-way audio link without interferences or delays common in Wi-Fi baby monitors. Send your child to sleep with 5 built-in lullabies.
• Temperature Monitoring & Alarm: The innovative temperature mode monitors your baby's nursery, if the temperature is hotter or colder than the thresholds set by you, an alarm will sound. The feeding timer mode reminds you when it is time for a feed.
• Baby Monitors are on the list of Top 10 Baby Must-Haves For First-Time Parents, Best Gifts for New Moms.
K&F baby monitor is a must for parents: keep in touch with your child
Video baby monitors are a great way to keep in touch with your children. It allows you to freely handle other tasks in life, such as cooking, cleaning baby bottles, doing yoga, reading, work and sleeping.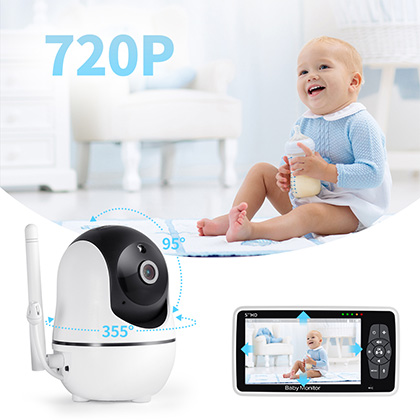 Large 5-inch LCD display:
The 5-inch high-definition 720p resolution color large screen, the picture is clear, the details are 10 times more than the ordinary 240p display baby monitor.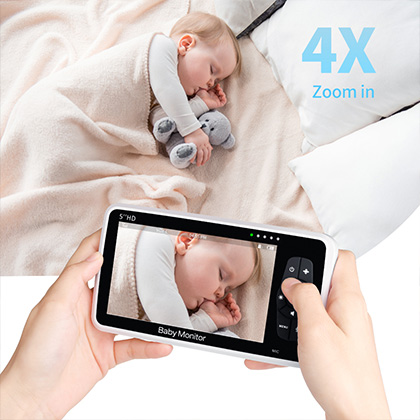 4 times magnification function:
With 2x to 4x zoom function, you can observe your baby up close.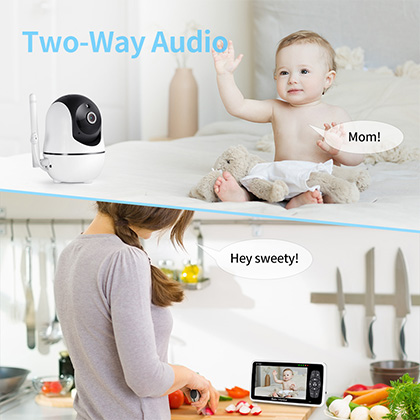 VOX mode and two-way audio:
The device supports up to 1080OP 25FPS video recording and recording, which is clearer and smoother than other 720P cameras.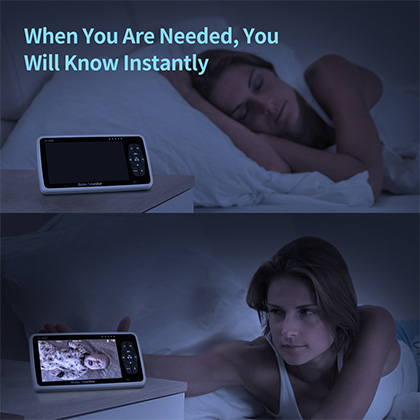 Sleep tight:
-You need to stare at your little one all night, because he will suddenly wake up in the middle of the night and cry.
-A baby monitor with clear and automatic night vision is the perfect solution.
- sleep tight. The monitor will notify you when you need it.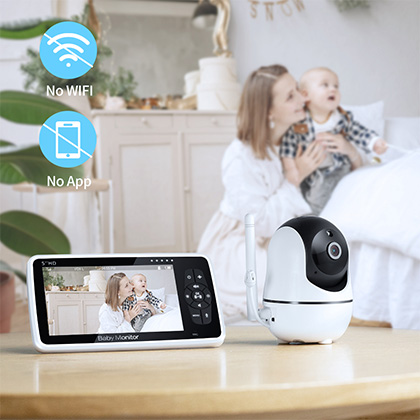 Visible to you only:
-No WiFi baby monitor is a reliable choice for 100% privacy and security.
-The K&F closed-loop system uses a secure 2.4GHz FHSS connection to stream video to the attached 5-inch display, ensuring that the secure video can only be seen by you and cannot be invaded by others. Protect your privacy, your family and your privacy.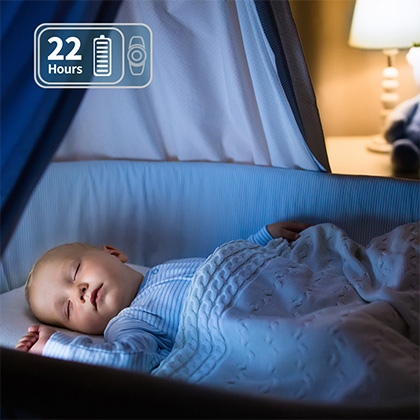 From day to night:
-Built-in 4,000mAh rechargeable battery provides 22-hour monitoring. Check your baby easily anytime.
-If the screen is turned on all day, it can last up to 8 hours.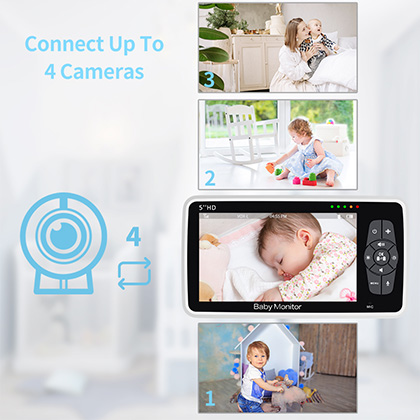 Connect up to 4 cameras:
Can connect 4 cameras at the same time to detect babies in different rooms.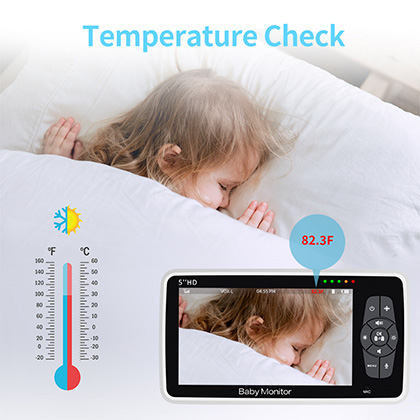 Temperature monitoring:
-Monitor the nursery temperature in real time throughout the day.
-It will notify you when the temperature is higher or lower than the setting.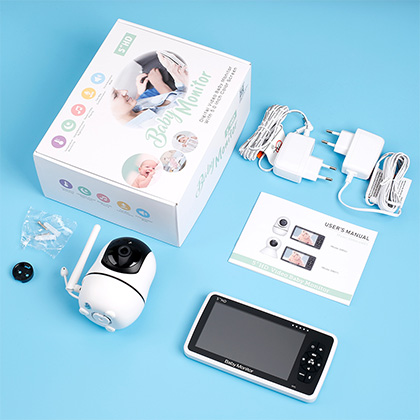 Products include:
Camera*1, receiver*1, AC adapter*2, English manual*1, installation kit*1.
| | |
| --- | --- |
| model | SM952 |
| Camera resolution | 1280*720 |
| screen size | 5.0 inch |
| Screen material | IPS |
| transfer method | 2.4G FHSS |
| Night vision | support |
| Night vision distance | 5M |
| Two-way intercom | support |
| Crying detection | support |
| Regular breastfeeding | support |
| temperature check | support |
| Lullaby | 8 songs |
| Transmission distance | Outdoor 300M, indoor 30M |
| Camera shaking head angle | X-axis 355°, Y-axis 120° |
| battery capacity | 4000mAh |
| Battery life | 8-12H |
| product weight | 120g |
| Package weight | 780g |
| Product Size | 10*8*8cm |
| Package dimensions | 22.2*18.2*9.7cm |
| Package Contents | Camera*1, receiver*1, power supply*2, English manual*1, installation kit*1 |
Rating

755 reviews.

184 reviews.

6 reviews.

6 reviews.

5 reviews.

121 reviews.
Price

£124.99

£102.99

£109.99

£74.99

£96.79

£104.99

£191.66

£104.99

£154.66

£86.99

£94.99

£54.99

Model
GW50.0026UK
GW60.0024UK
GW50.0027UK
GW50.0031UK
GW50.0032UK
GW60.0022UK

Screen Size

5"
3.2"
4.5"
5"
4.3"
2"

Video Resolution

1280*720
320*240
1280*720
1280*720
800*480
320*240

Battery

4000mAh
750mAh
2300mAh
2000mAh
2600mAh
540mAh

Pan Tilt

√
×
√
√
√
×

Zoom

4
1
1
4
4
1

Infrared Night Vision

√(invisible)
√(visible)
√(invisible)
√(invisible)
√(invisible)
√ (visible)

Connect Up To

4
1
2
4
2
1

Night Light

×
×
×
×
√
×

Lullaby

8
8
8
5
5
5

Temperature Sensor

√
√
√
√
√
√
This thing is amazing !!! Picture quality is great the sound is great, being able to control the camera and look around to see what the kids are doing is freaking awesome they can no longer hide out of view lol.....Night vision is good quality to.
10/09/2021
Great if you use white noise
07/11/2021
Very high quality device .. !!!
Very high quality device .. !!!
27/10/2021
Well worth it
Nice video quality, well worth it. Has melodies that help the baby fall asleep. Night vision is clear.
27/10/2021
Baby Monitor
Screen Size
5"
Video Resolution
1280*720
Battery
4000mAh
Pan Tilt
√
Zoom
4
Infrared Night Vision
√(invisible)
Connect Up To
4
Night Light
×
Lullaby
8
Temperature Sensor
√