K&F Concept 82mm Variable ND Filter+CPL Circular Polarising Polarizer Filter 2 in 1 Function Graduated Fader Neutral Density Filter MRC 18-Layer ND2 ND4 ND8 ND16 to ND32 No Spox X Issue
Brand:

K&F Concept

Buy K&F Concept k&f concept 82mm variable nd filter+cpl circular polarising polarizer filter 2 in 1 function graduated fader neutral density filter mrc 18-layer nd2 nd4 nd8 nd16 to nd32 no spox x issue online, £68.89 free shipping to UK.

KF01.1088

Availability:

In Stock

68.89

https://www.kentfaith.co.uk/KF01.1088_82mm-variable-nd2-nd32-neutral-density-and-circular-polarizing-filter-coated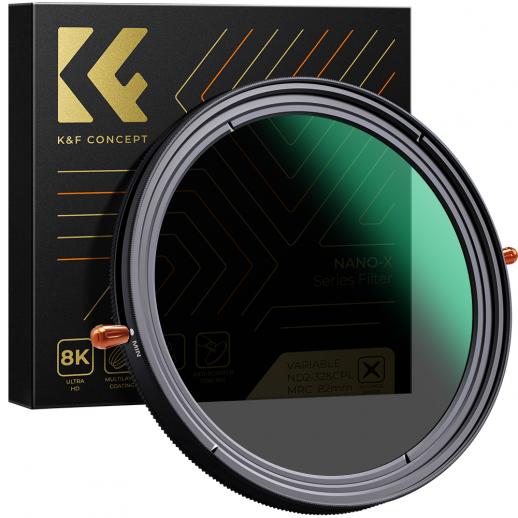 K&F Concept 82mm Variable ND Filter+CPL Circular Polarising Polarizer Filter 2 in 1 Function Graduated Fader Neutral Density Filter MRC 18-Layer ND2 ND4 ND8 ND16 to ND32 No Spox X Issue
Features
• 【ND & CPL filter 2 in 1】One filter has the ND and CPL filter features, it can not only reduce the amount of light entering the lens but also darken skies, manage reflections as the same time.
• 【No "X" cross on images】Say goodbye to the "X" cross on images, K&F utilize cutting edge technology you're going to say goodbye to this common issue with wide angle lenses and variable ND filters.
• 【Material】Made by completed professional optical glasses, Multi-layer coating, only allows 0.4% light transmittance and waterproof, scratch-resistant, which could protect your valued lens. For this 49mm ND filter,the lens cap/hood should be 55mm.
• 【Filter Frames】Filter Frames made by aluminum alloy, the serrated design of the edge of the frame makes it easy to install. There is 5 mark from Min to ND32 on frame, It is convenient for you to sure the ND filter stops.
• 【Note】This Filter is compatible with all 49mm lenses. Please verify your camera's lens thread size(usually marked somewhere on the lens barrel or printed underneath the lens cap) before ordering. The number is always preceded by a "ø" (diameter) symbol.
Frequently Bought Together
ND & CPL Filter 2 in 1
There is an ND and CPL filter combine into one filter. When you adjust the nd filter stops well, then rotate the sawtooth frame border, which can achieve the nd filter and cpl filter features as the same time,you need not use cpl ffilter add a nd filter.
No "X" cross on images
The filter has a frame self-locking technology. When rotating to the Min end or ND32 stops, the frame is automatically locked, This makes it easier to achieve effects such as a shallower depth of field or blurred motion, Avoiding "X" spot on images.
Nano Coating
Our optical engineers developed new nano coating layer technology, called nanotec, from the ground up to repel dirt, water,oil and other elements by beading rather than absorbing and smearing. Set in our workhorse and built to withstand extreme wind, salt water, dust and other abrasive conditions and elements.
Great filters, Great Price for the Quality which is up amongst the best.
At first I wasn't too sure about the price, but that quickly changed when I started using them. I had tried the K&F in the next higher price bracket but found that I couldn't justify them for my purely amateur photography.If you want great quality at a decent price these are well worth looking at. If you're of a more professional/business mind then you won't need reviews done on Amazon by amateurs like myself.All in all, I can highly recommend these filters - I'm fortunate that I only need three thread sizes for my Canon L-Series lenses, or it could become very expensive!
worth the money
Ok product for the money, not the best and not the worst worth the money
No protective case
Purchased a 67 and 82mm filter. The 67mm comes with a lovely protective case to stop the filter from being damaged, the 82mm does NOT.Disappointed by this as I can't currently place it in my bag and go shoot without risking damaging it. Like many people who would or purchase this filter, I enjoy landscape photography, and often walk/ climb with my gear. No case included rather excludes this as being an immediate inclusion in my bag
There are no faqs for this product.
These images belong to K&F Concept end users.