K&F Concept Nikon to Canon EF Lens Adapter Compatible with Nikon G (D-Type) Lens to Canon EOS EF Camera, for Rebel T3, T3i, T4i, T5i, SL1, and C300, C500
Brand:

K&F Concept

Buy K&F Concept k&f concept nikon to canon ef lens adapter compatible with nikon g (d-type) lens to canon eos ef camera, for rebel t3, t3i, t4i, t5i, sl1, and c300, c500 online, £23.99 free shipping to UK.

KF06.131

Availability:

In Stock

23.99

https://www.kentfaith.co.uk/KF06.131_nikon-g-lenses-to-canon-eos-mount-camera-adapter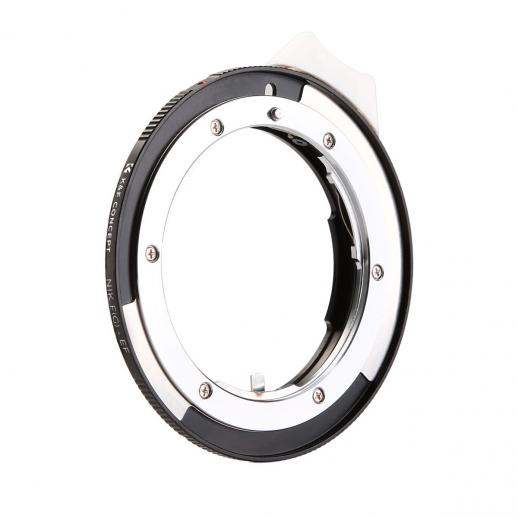 K&F Concept Nikon to Canon EF Lens Adapter Compatible with Nikon G (D-Type) Lens to Canon EOS EF Camera, for Rebel T3, T3i, T4i, T5i, SL1, and C300, C500
Features
• Allows Nikon G Lens to fit on Canon EOS EF Mount Camera Body.Suitable for: Lens: Nikon G/F/AI/AIS/D lens.
• There are no electrical contacts in the adapter ring, exposure and focus has to be adjusted manually.
• With precise design and high technology, made of brass and aluminum (not plastic).
• Work with Canon DSLR 6D 5D Mark III II 7D 60D 50D 40D 700D 650D 600D 550D 500D 450D 400D 350D Rebel T4i T4 T3i T3 T2i T2 SL1 etc.
• Please note: Infinity focus position:the position of the infinity mark 【∞】of the telephoto lens or super telephoto lens is shifted slightly to the positive side to enable focus adjustment even when focus shift is caused due to temperature changes.The shift range is denoted by an L-shaped line, Be sure to check the focus through the viewfinder even when you shoot at infinity.
Frequently Bought Together
K&F Concept design and produce full range of lens adapters to fit lenses of Canon, Nikon, Pentax, Olympus, Leica, Contax Yashica, Minolta, Tamron, T2, C mount, Exakta, M39, M42, Pentacon etc used on Camera bodies of Canon, Nikon, Sony, Fujifilm, Pentax, Micro 4 3, Leica, M42, Cinema C mount etc.

Sturdy with some imperfections
Sturdy mount. The aperture adjustment ring was a bit oily and surprisingly stiff. I'm also not convinced the gap it introduces is perfect as far away objects are not sharpest when I set my lens to infinity.
Nice adapter
Works great. Now I can use my Nikon g lenses on my Canon 6D, it also works with my Nikon ais f-mount lenses.
Great Lens Adapter
This Nikon G to canon EF lens adapter works perfectly with my Sigma 35mm prime lens. This is the only way that I would have ever been able to use this lens with my Canon T6i camera or any of my other canon cameras. I suggest this adapter to anyone who has a Nikon lens, but only has Canon cameras or even has a Nikon lens and wants to try it out on a Canon camera. This lens works best with any Nikon lens.
This item works! Which for the money is unexpected ...
This item works! Which for the money is unexpected!A simple device that allows me to use my Nikon mount lenses on my EF mount cameras.A little tricky to get the positioning correct - but once you locate the aperture control then it clicks into place.
Attachment Creates a Manual Lens
The device doesn't come with any instructions so it took a while to figure out how to get it to attach. I realized you just line up the red dots as if you were attaching a lens to a camera body. One of the things I didn't consider was although it does adapt it to your camera, it creates a manual focus. Has taught me a lot though about getting the right shot and focus!
There are no faqs for this product.
| Image | Lens | Mount | Filter Size (mm) |
| --- | --- | --- | --- |
| | 3M-5SA 500mm f/ 8.0 | Nikon F | 72 |
| | Access P-MC 35-70mm f/ 2.5-3.5 | Nikon F | 58 |
| | Access P-MC 70-210mm f/ 3.5 (one ring) | Nikon F | 62 |
| | Access P-MC 70-210mm f/ 3.5 (two rings) | Nikon F | 62 |
| | Admiral 100-500mm f/ 5.6-8 MC Macro | Nikon F | 72 |
| | Admiral G.M.C. 135mm f/ 2.8 | Nikon F | 55 |
| | Admiral MC Automatic 28mm f/ 2.8 | Nikon F | 52 |
| | Albinar ADG MC 80-200mm f/ 3.9 | Nikon F | 55 |
| | Angenieux 35-70mm f/ 2.5-3.3 | Nikon F | 58 |
| | APO ARSAT 300mm f/2.8 | Nikon F | 37 |
| Camera | Mount |
| --- | --- |
| Canon EOS 1000D/Rebel XS/Kiss F | Canon EF EF-S |
| Canon EOS 100D/Rebel SL1/Kiss X7 | Canon EF EF-S |
| Canon EOS 10D | Canon EF EF-S |
| Canon EOS 1100D/Rebel T3/Kiss X50 | Canon EF EF-S |
| Canon EOS 1200D/Rebel T5/Kiss X70 | Canon EF EF-S |
| Canon EOS 1300D/Rebel T6/Kiss X80 | Canon EF EF-S |
| Canon EOS 1500D/EOS 2000D/Rebel T7/Kiss X90 | Canon EF EF-S |
| Canon EOS 200D/Rebel SL2/Kiss X8 | Canon EF EF-S |
| Canon EOS 200D/Rebel SL2/Kiss X9 | Canon EF EF-S |
| Canon EOS 20D | Canon EF EF-S |