K&F TM2534T Lightweight Compact Tripod for Canon Nikon Camera Professional DSLR Photography 72Inch Aluminium
Brand:

K&F Concept

K&F TM2534T Lightweight Compact Tripod for Canon Nikon Camera Professional DSLR Photography 72Inch Aluminium

KF09.015

Availability:

In Stock

102.99

https://www.kentfaith.co.uk/KF09.015_tm2534t-lightweight-compact-tripod-for-canon-nikon-camera-professional-dslr-photography-72inch-aluminium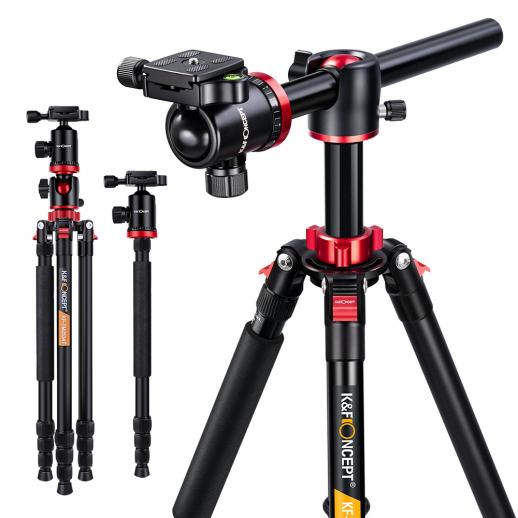 K&F TM2534T Lightweight Compact Tripod for Canon Nikon Camera Professional DSLR Photography 72Inch Aluminium
Features
• 【2-in-1】:Tripod converted to monopod by adjust center axis to satisfied different shooting idea.
• 【Portability】: Net Weight(head included):3.48lbs/1.58 kg,Folded height: 14.76" (49cm) ,plus carrying bag for easy delivery.
• 【Transverse Center Column】: Handle the central column from 0°to 180°in vertical and horizontal positions for different angle shots.
• 【Stable】:25mm maximum tude diameter with durable magnesium alloy,load capacity 10kg provide stable support for camera.A spring hook to hang additional weight.
• 【Composition】:360 °metal ball head helping to expand camera activity range when panoramic shooting.(Bubble level help to judge the level and the accurate composition).
Frequently Bought Together
KF-TM2534T
Portable and Multi-Purpose Tripod
360°HORIZONTAL ROTATION
Make it easier for photography enthusiasts to realize panorama shooting
STRONG BEARING CAPACITY
A more perfect picture and excellent bearing capacity
1.10" (36mm) BALL HEAD
Large spheres are more stable shooting
17.6lbs (8kg) LOAD CAPACITY
Rubber gasket & Back security plug capacity
360°PANORAMIC SHOOTING
More accurate panoramic synthesis.
Fix the tripod,and keep it in horizontal position,then make it rotate uniformly.
MACRO PHOTOGRAPHY
The center axis can be inverted to give you the option for shooting angles
EASY TO SHOOT
The maximum height is 67.52"(171.5cm), the maximum height of the midaxis is 57.68"(146.5cm)
4.36lbs (1.98kg) /19.29" (49cm) FOLDED HEIGHT
Tube made of high quality magnesium aluminum alloy,can be 180°reflexed, better portability.
Foldable and portable to carry
Spot on!
Very impressive, versatile and sturdy product! Have used it 2-3 times since buying last week and I'm glad I stepped up to a better quality tripod. Very happy
I had been looking for a good tripod for sometime
I had been looking for a good tripod for sometime. Good service from a good company. Folds neatly into a reasonable size, able to get down low for macro shots. Very well made and can easily take up to a 300mmm lens with pro body. I see too many pictures wasted because people continue to hand hold, when really the should be using a tripod.
Good stand but takes time to get used to it
Interesting concept for a stand, a bit tricky to use and manoeuvre, but puts camera into interesting positions
Very versatile
I just love this tripod, it's so versatile.
360 and Overhead Tripod is fantastic!
I needed a tripod to do overhead food photography and YouTube videos and this one definitely ticks the box!It's sturdy, easy to use and folds away nicely so it doesn't take up too much space.The 360 feature is great to do low shots and artistic angles and it is easy to carry around as it comes with a bag (with a removable strap).I found it a little tricky to assemble at first but that was mainly my fault because I hate to look at instructions but once I watched a YouTube tutorial I was filming and taking pictures within minutes!The delivery was fast and I highly recommend this product!
K&F Concept 72 Inch Aluminum Ballhead Tripod (TM2534T) Review
Best-selling K&F Concept® Tripods Comparison TM2324 Vs TM2534T
K&F Concept "Pro" Tripod Overview
These images belong to K&F Concept end users.