TM2324 (Orange) Aluminum Camera Tripod Lightweight 62 Inch for Canon Nikon Outdoor Travel Photography
Brand:

K&F Concept

Buy K&F Concept tm2324 (orange) aluminum camera tripod lightweight 62 inch for canon nikon outdoor travel photography online, £59.99 free shipping to UK.

KF09.029

Availability:

In Stock

59.99

https://www.kentfaith.co.uk/KF09.029_tm2324-orange-aluminum-camera-tripod-lightweight-62-inch-for-canon-nikon-outdoor-travel-photography
Buy 2+ items get
10% off
!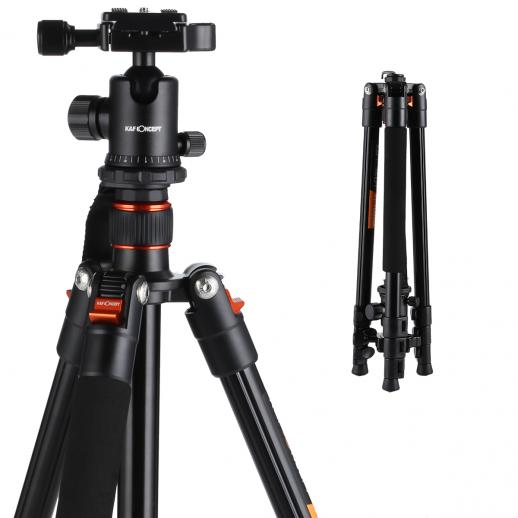 TM2324 (Orange) Aluminum Camera Tripod Lightweight 62 Inch for Canon Nikon Outdoor Travel Photography
Features
• DSLR tripod legs are made of high-quality military use metal. Can be folded 180 degrees reversely, giving it a compact size of 16.15'', save your space and make it small enough to carry everywhere(included a portable tripod carrying bag!)
• Center Column Height Reduction: The bottom part of the center column is removable. The center column is still reversible to achieve low angle shots;Recessed Center-Column Hook: A spring loaded recessed hook located in the bottom of the center-column, allows you to hang additional weight from the travel tripod's center of gravity for increased stability.
• Metal die casting ball head can be rotated 360 degrees, it helps to improve camera activity range when panoramic shooting. (Please note that: the center column is not removeable and can't be used as a monopod)
• Quick release leg locking, giving a more convenient leg handling; Pull-out button angling adjustment, ensuring single adjust of each leg Typical regulating design of elevator, offering the different damping effect depends on the weight of your camera.
• LIGHTWEIGHT: Weights 4lbs(head included), ideal for indoor and outdoor photography. You can take it anywhere making it perfect to all events, such as sports activities, camping, family gatherings and much more.
Frequently Bought Together
KF-TM2324
Portable and Multi-Purpose Tripod
360°PANORAMIC SHOOTING
More accurate panoramic synthesis
Fix the tripod, and keep it in horizontal position, then make it rotate uniformly.
STRONG BEARING CAPACITY
Amore perfect picture and excellent bearing capacity
1.10" (28mm) BALL HEAD
Large spheres are more stable
22lbs (10kg) LOAS CAPACITY
Rubber gasket & Back security plug capacity
Features
Smaller enough to help you a convenient travel.
With powerful and quick flip leg lock, only use one hand can open and close all the buttons in a few seconds.
The spring self-locking tube angle adjustment knob, only need to press, release, so that can quickly adjust the angle of the three tripod tubes.
Inverted central axis to achieve macro photography
The tripod can be folded light and easy to carry
The 3 tubes of tripod can be folded 180° reversely, which can save space and make it more convenient to carry.
Adjustable angle suitable for different locations
LIGHTWEIGHT CARBON TRIPOD FOR OUTDOOR PHOTOGRAPHY
Ideal travel tripod
Works great even if it is a tad flimsy. Nice and light for carrying
Excellent customer service!
This was bought for my son, he seems very happy with it, and the customer service from there is superb. Would definitely recommend A++++
Good quality
I would recomend this tripod for anyone.
It's fab
Love this tripod, fully flexible
K&F Concept Customer Services 100% Satisfaction
I bought a K&F Compact TM 2324 Orange Tripod over a year ago and during a field trip one of the legs with the foam grip fell off, the glue failed. I attempted to glue it back on however in doing so I must have got some glue on the top telescopic leg so it wouldn't now extend. After looking on-line I decided to contact the manufacturers to see if I could purchase a replacement leg and to my great surprise the company customer services department agreed to send me a replacement leg absolutely free. A couple of days later I received a consignment in the post containing two legs and after a short time I was able to replace the defective leg.I'd like to thank K&F Compact company for the 1st class custom service and also Jessica who dealt with my query for providing a truly world class service. I can't imagine many companies providing this high level of service.Much appreciated, best regards and thanks for everything K&F Compact
Preiswertes Reisestativ | K&F Concept | Der Test | Review | Deutsch | 2017
These images belong to K&F Concept end users.