TM2534T(Orange) 72" Travel Tripod with Aluminium Alloy Material 360 Degree Ball Head and Transverse Center Monopod for Canon Nikon Sony Pentax 1/4" Mount DSLR Cameras with Short Central Axis
Out Of Stock
Product Unavailable
No Cancellation Fee
Brand:

K&F Concept

Buy K&F Concept tm2534t(orange) 72" travel tripod with aluminium alloy material 360 degree ball head and transverse center monopod for canon nikon sony pentax 1/4" mount dslr cameras with short central axis online, £111.99 free shipping to UK.

KF09.030

Availability:

Out Of Stock

111.99

https://www.kentfaith.co.uk/KF09.030_tm2534torange-aluminium-camera-tripod-monopod-kit-72-inch-for-canon-nikon-dslr-photography
Buy 2+ items get

10% off

!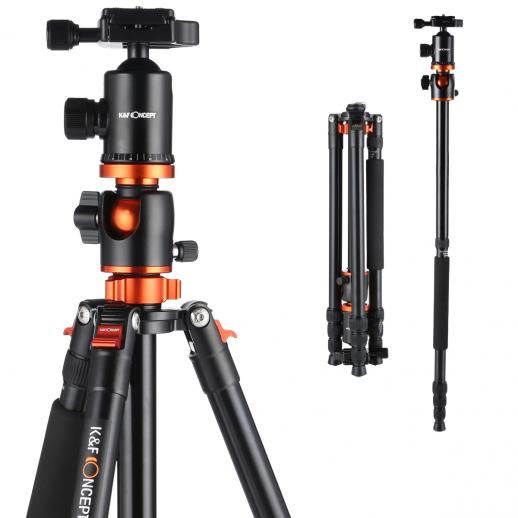 TM2534T(Orange) 72" Travel Tripod with Aluminium Alloy Material 360 Degree Ball Head and Transverse Center Monopod for Canon Nikon Sony Pentax 1/4" Mount DSLR Cameras with Short Central Axis
Features
• 25mm 4 section aluminum alloy legs adjust to 25, 50, and 80-degree angles to enable extreme low angle photography
• Compact The tripod legs can be inverted and folded back 180 degrees making it small enough to carry just about anywhere.
• Smooth fluid-like ball head rotates 360 degrees and includes a quick release plate and bubble levels . Hexagon-shaped central column moves from 0 to 180 degrees
• FOUR Leg Sections: Get the height you need and ultimate versatility. Twist Lock Legs with Anti-Rotation System: innovative rubberized locking grips combined with anti-rotation legs enable fast and fumble free set up plus weather and dust resistance .This complete tripods comes with 2 Sections Center Column: Get the height you need and ultimate versatility.
• Folded height: 14.76", Extended height: 72.24", Weight :3.48lbs/1.58 kg
Frequently Bought Together
KF-TM2534T
Portable and Multi-Purpose Tripod
360°HORIZONTAL ROTATION
Mak it easier for photography enthusiasta to realize panorama shooting
STRONG BEARING CAPACITY
A more perfect picture and excellent bearing capacity
1.10" (36mm) BALL HEAD
Large spheres are more stable shooting
17.6lbs (8kg) LOAS CAPACITY
Rubber gasket & Back security plug capacity
360°PANORAMIC SHOOTING
More accurate panoramic synthesis.
Fix the tripod,and keep it in horizontal position,then make it rotate uniformly.
MACRO PHOTOGRAHY
The center axis can be inverted to give you the option for shooting angles
EASY TO SHOOT
The maximum height is 67.52"(171.5cm), the maximum height of the midaxis is 57.68"(146.5cm)
4.36lbs (1.98kg) /19.29" (49cm) FOLDED HEIGHT
Tube made of high quality magnesium aluminum alloy,can be 180°reflexed, better portability.
Foldable and portable to carry
Why Choose K&F Concept?

1.Professional electronic accessories manufacturer.

2.Dedicated to provide products in high quality & good price.

3.All items meet Environmental Standards of RoHS, premium picked up. Shop with Guarantee.

Product Specification

• Brand:K&F Concept KF-TM2534T
• Color: Orange
• Material: Magnesium Aluminum Alloy
• Net Weight: 1.58KG(Head Included)
• Sections: 4
• Head Type: Ball Head
• Panning Range: 360 degree
• Applicable Brand: Nikon/Sony/Pentax/Canon
• Applicable Model: All
• Max Tube Diameter: 25MM
• Max Height: 1835MM
• Folded Height: 470MM
• Min Height: 375MM
• Load Capacity: 8KG

Product Features

• Ball head can be rotated 360 degrees, helping to expand camera activity range when panoramic shooting.

• Central column inverted installation to realize the lowest angling shooting, macro shooting, and special photography.

• Central column can be rotated 360 degree horizontally, making it easier for photography enthusiasts to realize panorama shooting.

• Tube made of high quality magnesium aluminum alloy, 25mm tube diameter, can be 180° reflexed, better portability.

• Spiral type locking knob makes operation easier and quicker, better locking strength; Leg with foam sheathing can be individually unscrewed to be converted to a monopod or cane.

• 3/8" standard threaded connection, can be attached to all kinds of photography; 180 degree reflexed function, reduce storage space and improve portability.

What's in the Box

1 X Packing box
1 X Tripod
1 X Carrying Bag
1 X International Standard Screw
1 X Strap for carrying bag
1 X Ball Head bag
1 X L Shape Wrench
1 X Ball head bag
1 X User Manual
1 X Desiccant
1 X PE Bag
Will have for many years. Highly recommended!!! Wish I bought as a beginner tripod.
I was expecting this to be solid and I was not disappointed. Though there is a couple of things I noticed from the first inspection which I hope will not become an issue when shooting. When the legs are fully extended there is a little bit of play from the bottom legs which may end up bending the bottom legs over time (something to watch out for). This should not be an issue as I will be placing a mark 4" up from full extension of the bottom legs and extending to here. If you are buying for the full 72" just be aware that when at its max it may be susceptible to a bend or damage. There is a 3.75" extension bracket that comes with so probably best to use this when max height is required!The mono leg that separates from the tripod could become an issue as you must remove the ball head completely and fix it on the mono. If you are hard pressed for timing this will be an issue, a spare ball head might be worth getting if this is the case.The ball head is really good to work with though another thing I will say is the horizontal extension has a little bit of a wobble in it. When everything is locked up and vertical it is solid! A really excellent tripod overall. Would highly recommend. Taken from experience: a cheap tripod will disappoint.... This is nearly double that of the cheaper brands but it will keep its value for sure!Edit: Missing the shoulder strap off the carry bag. Emailed support who very promptly replied and sent the strap out at no extra charge. Best customer service I have had in a long time, no messing about.
Excellent Quality
This is my first "expensive" tripod - I have historically been using cheaper alternatives. I now see where I have been going wrong. This tripod, while not being wildly expensive, is far more superior to the ones I've used before - and it shows. The build quality is exceptional; everything just works perfectly and it's rock solid. That's not to mention it's versatility! Brilliant!
Very happy
Very good quality
Lightweight and very sturdy
An amazing tripod with lots of angles possible.Very easy to put up on a hurry and goes very high and full height and still stable.The extension of the top allows the top to swing 360° with ease.Very sturdy bit of kit and isn't heavy at all so can be carried around.Easily packed up when I'm a hurry also.
Love It!
I purchased this tripod to pair up with my Sony A7 III in May 2019, and I have been able to test it thoroughly.It comes in a carrying case which is useful to store the tripod in and put it in your check-in luggage. I have taken a lot of long exposures with this tripod and haven't faced any issues with camera shake.I wanted a tripod which wouldn't break the bank yet had different features which could come in handy in the future. For instance one of the legs can screw off to become a mono-pod, and the centre column can be turned horizontally and the camera can be faced down to take some flat lay shots.Earlier this year I purchased a few items all together from K&F just before my trip to the Middle East, this included the tripod, some filters and step up/down rings. I had never used K&F before this purchase but decided to go for it. To be honest I couldn't be more happier. They are a solid company and have some great products.
These images belong to K&F Concept end users.