K&F 72 Inch Camera Tripod, S211 Transverse Center Column Aluminium Tripod with 360 Degree Ball Head,Detachable Monopod 10kg Load
To

United Kingdom

Expedited Shipping

3-5

business days
Brand:

K&F Concept

Buy K&F Concept k&f 72 inch camera tripod, s211 transverse center column aluminium tripod with 360 degree ball head,detachable monopod 10kg load online, £90.99 free shipping to UK.

KF09.079V1

Availability:

In Stock

90.99

https://www.kentfaith.co.uk/KF09.079_kf-concept-72-inch-camera-tripod-s211-transverse-center-column-aluminium-professional-dslr-tripod-with-360-degree-ball-headquick-release-platedetachable-monopod-10kg-load-for-travel-and-work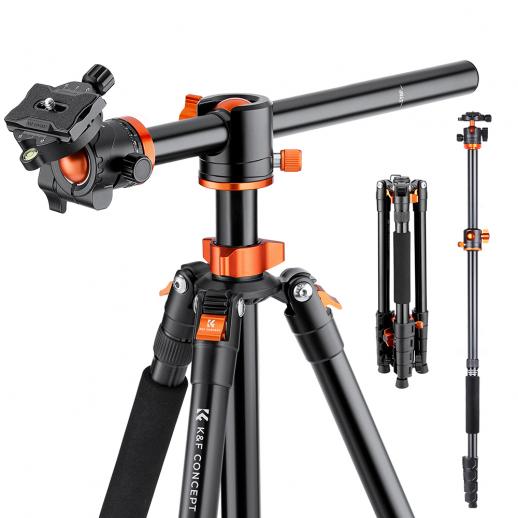 K&F 72 Inch Camera Tripod, S211 Transverse Center Column Aluminium Tripod with 360 Degree Ball Head,Detachable Monopod 10kg Load
Features
• 【Transverse Center Column】Central column moves from 0 to 180 degrees, can be rotated 360°horizontally, to realize panorama shooting.
• 【Convenient & Flexible】4-section column legs with quick release flip-locks allows you to adjust the working height from 23.6'' to 72'' in seconds; Tripod legs can be adjusted in three levels of opening angle to stabilize on varying grounds and incline levels.
• 【Detachable Monopod】This tripod can be quickly disassembled with the central axis screw and transform into a monopod, providing an alternative way of shooting with ease.
• 【360°Panorama & Ball Head】The specially designed 28mm ball-head can rotate 360° and get free angles, allowing you to get the perfect shot and amazing panorama every time.
• 【Portable】:3.99lbs / 1.81kg tripod weight and 22.04lbs / 10kg maximum load weight; It can be folded to 19.29'' compact storage size and easily carried with bag.
Frequently Bought Together
Love it
It looks great and it feels strong
Very solid without a penalty of weight
The design works perfectly. I was impressed with its stability and sturdiness. It fits in its cary case easily, unlike three legged thing.
SUPER AWESOME TOOL!!!
K&F Concept 72 Inch Camera Tripod, S211 Transverse Center Column Aluminium Professional DSLR Tripod with 360 Degree Ball Head,Quick Release Plate,Detachable Monopod 1 offers flexibility of labor by design for every possible scenario encountered by every casual and professional photographer eliminating useless bulk and complications.
Great tripod!
I am an art teacher, and working remotely I have been yearning for a tripod like this. I am constantly trying to figure out how to extend and manipulate my camera/phone/lighting to get a good clear shot. This makes the process much easier--the extending arm works great! The whole thing is very solid and sturdy.
Quality and does the job.
This is my first tripod so I don't have anything to compare. But right out of the box I could feel the quality in the material, the tripod not giving out this wiggly feeling but rather strong. I wants a tripod to scan my film so I would love if it can rotate around in various angle, and this one did just that. The tripod is quite heavy to me, so this definitely probably be staying at home, I may try to hike with it. If I did, I will definitely update you guys.
There are no faqs for this product.