51"/129cm Camera Tripod Portable Flexible Aluminium Travel Tripods 17.63lbs Load with Portable Monopod & Carry Bag for DSLR Cameras
Brand:

K&F Concept

Free Shipping. 30 Day No Reason Return. K&F Concept tripod features stable & construction, wide height ranges, compact&portable design.

KF09.097

SKU:

KF09.097

59.19

https://www.kentfaith.co.uk/KF09.097_61"-camera-tripod-portable-flexible-aluminium-travel-tripods-17.63lbs-load-with-portable-monopod-carry-bag-for-dslr-cameras
Buy 2+ items get

10% off

!
Features
• 【Lightweight & Portable】Tripod tube made of quality aluminum alloy weighs only 2.20lbs, measures 13.38" long when folded, super lightweight, and compact with a loading capacity of up to 17.63lbs / 8kg, making it ideal for indoor and outdoor photography.
• 【Convenient & Flexible】22mm tube diameter, 5-section legs with spiral type locking knob allows you to adjust the working height from 17.71"to 61" in seconds; Tripod legs can be adjusted in three levels of opening angle to stabilize on varying grounds and incline levels.
• 【Detachable Monopod】This tripod can be quickly disassembled with the central axis screw and transform into a monopod, providing an alternative way of shooting with ease.
• 【360° Panorama Ball Head】The specially designed 25mm ball-head can rotate 360° and get free angles, allowing you to get the perfect shot and amazing panorama every time.
• 【Wide Compatibility】The quick release 1/4" screw is suitable for most cameras, DSLR cameras, projectors and telescopes, etc; Your phone can be connected via an extra phone mount as well.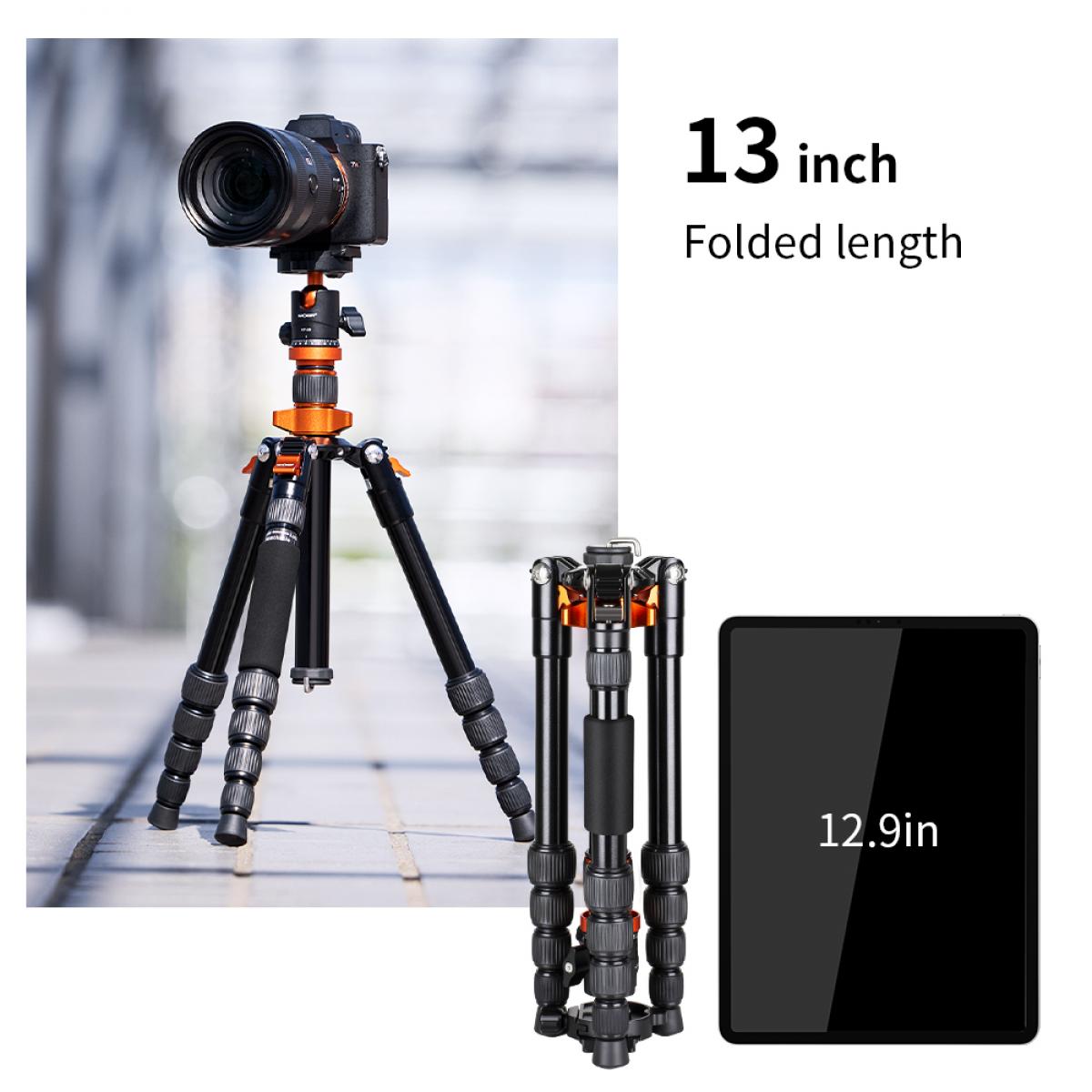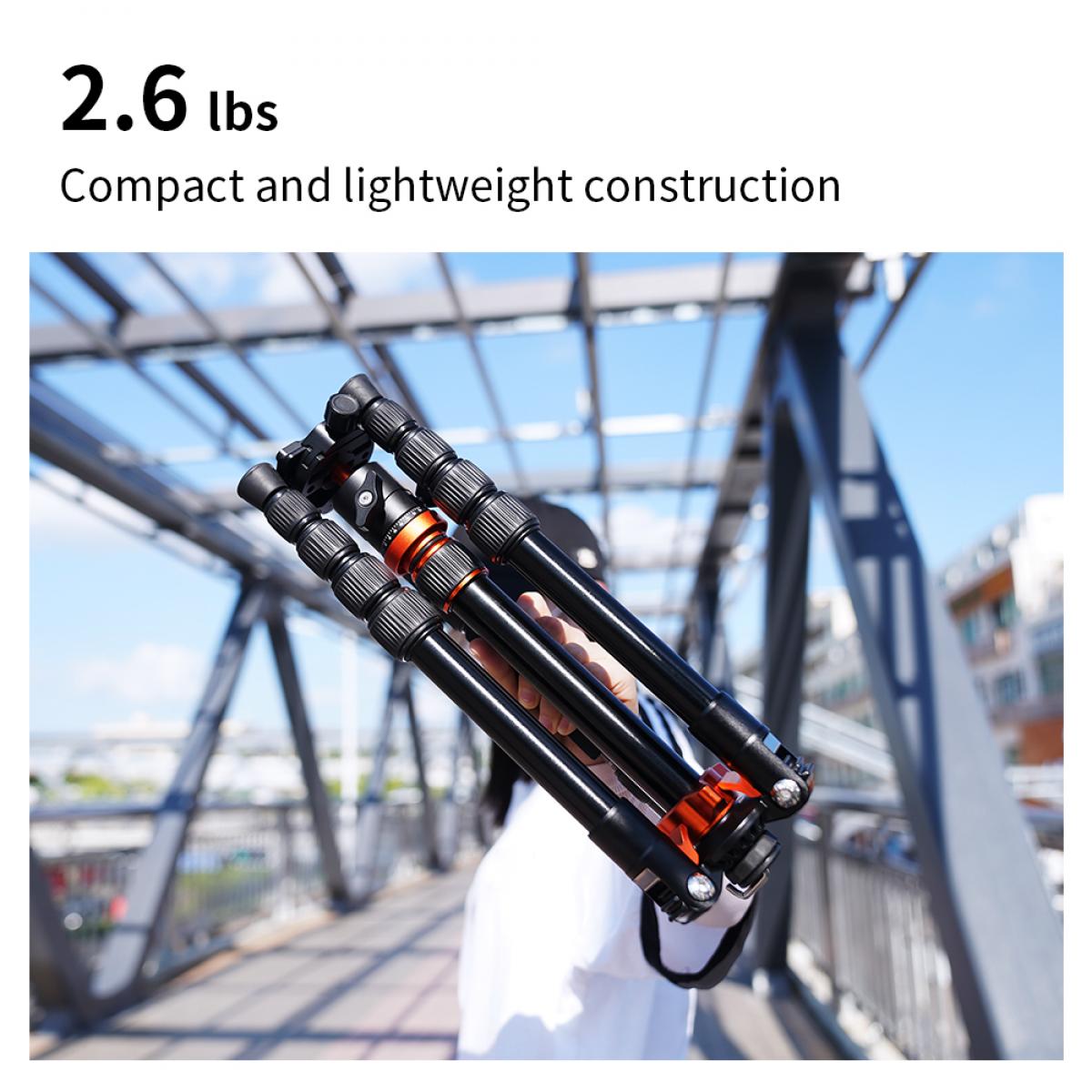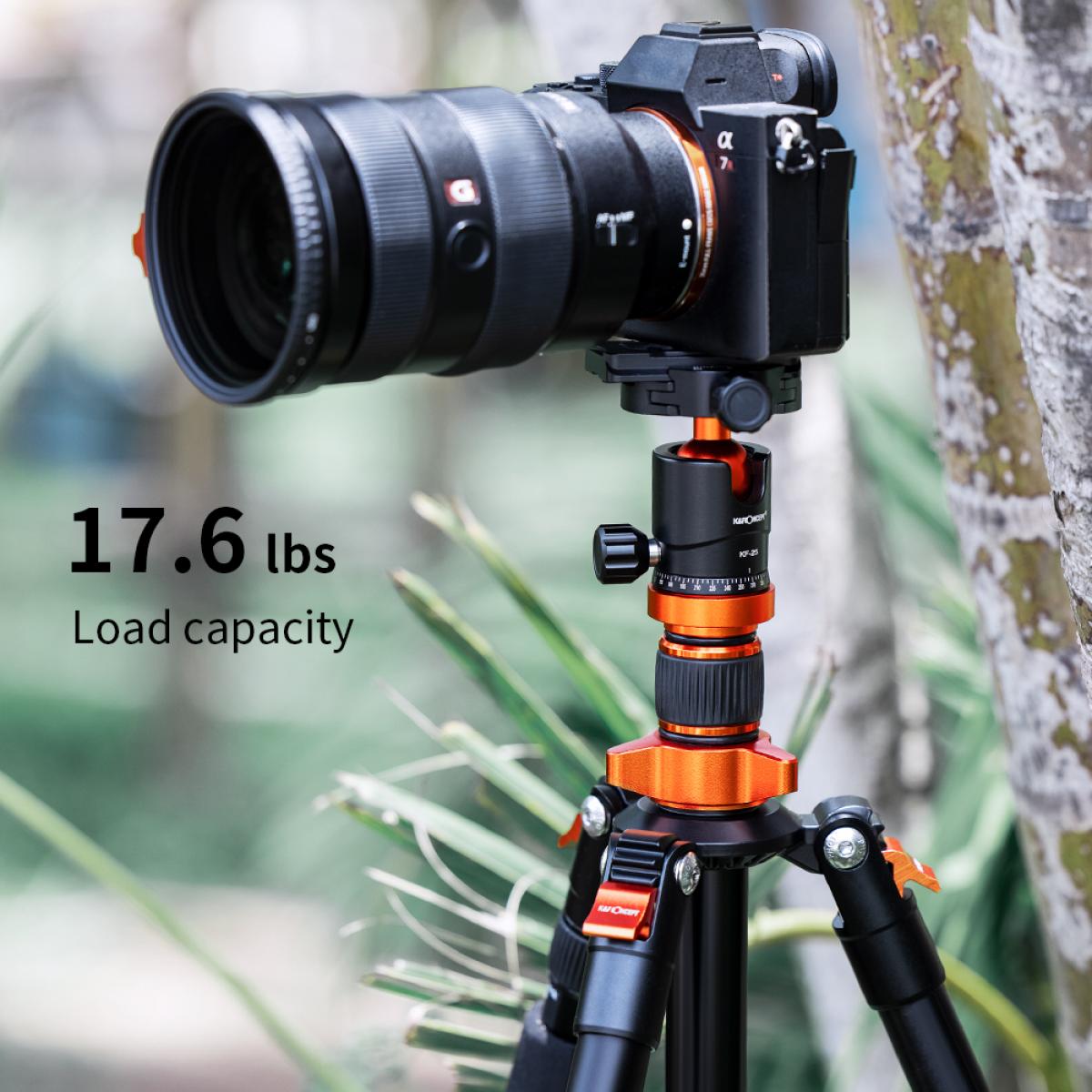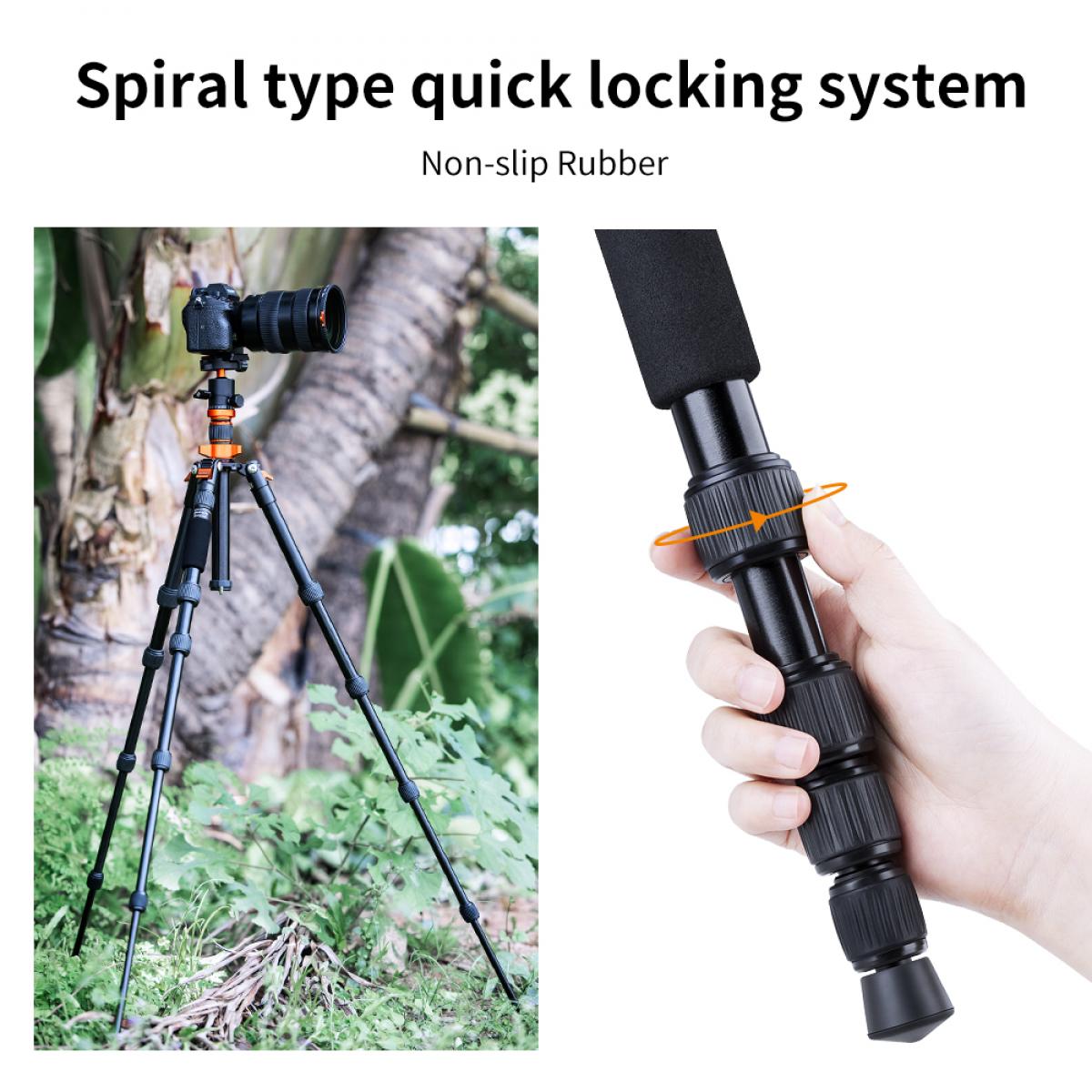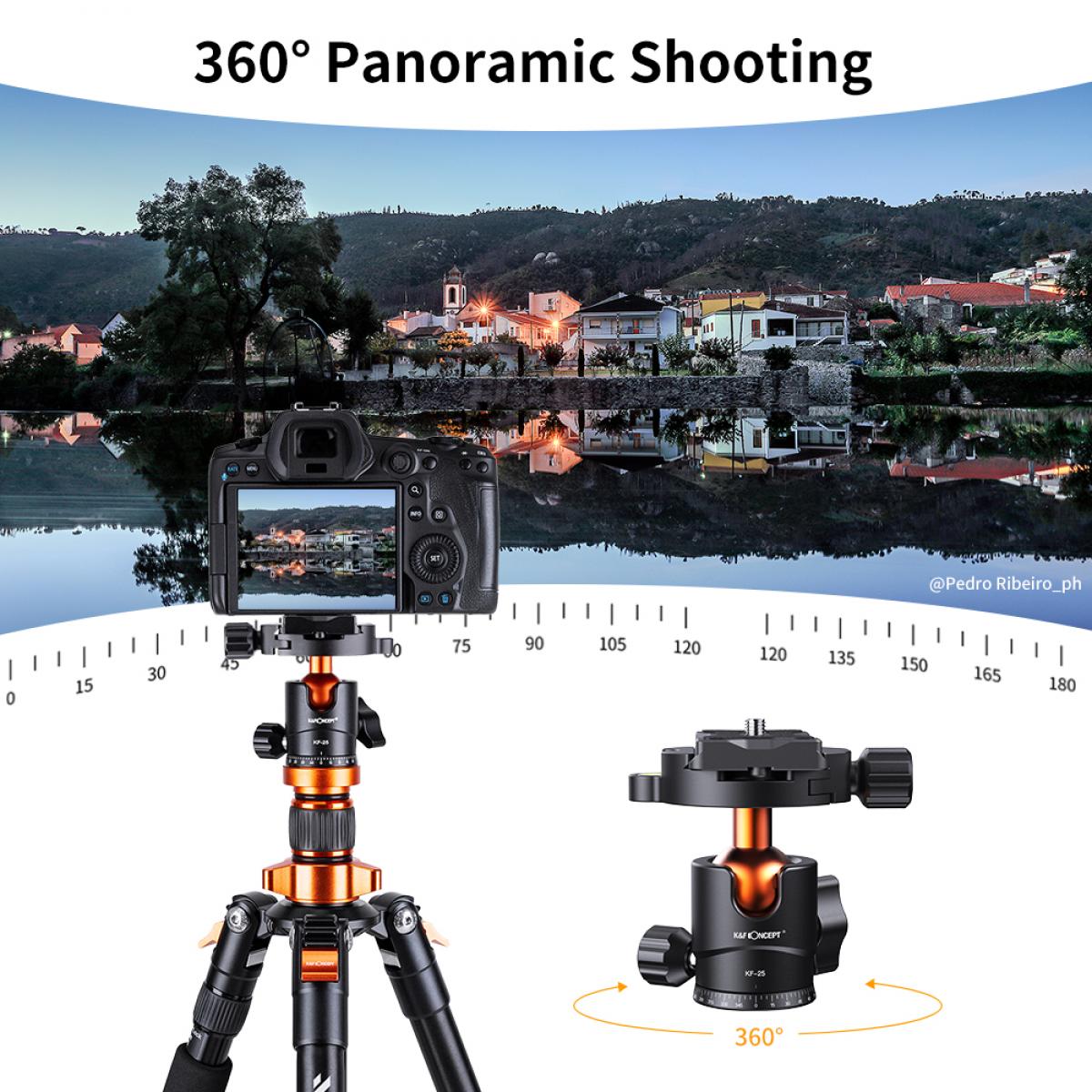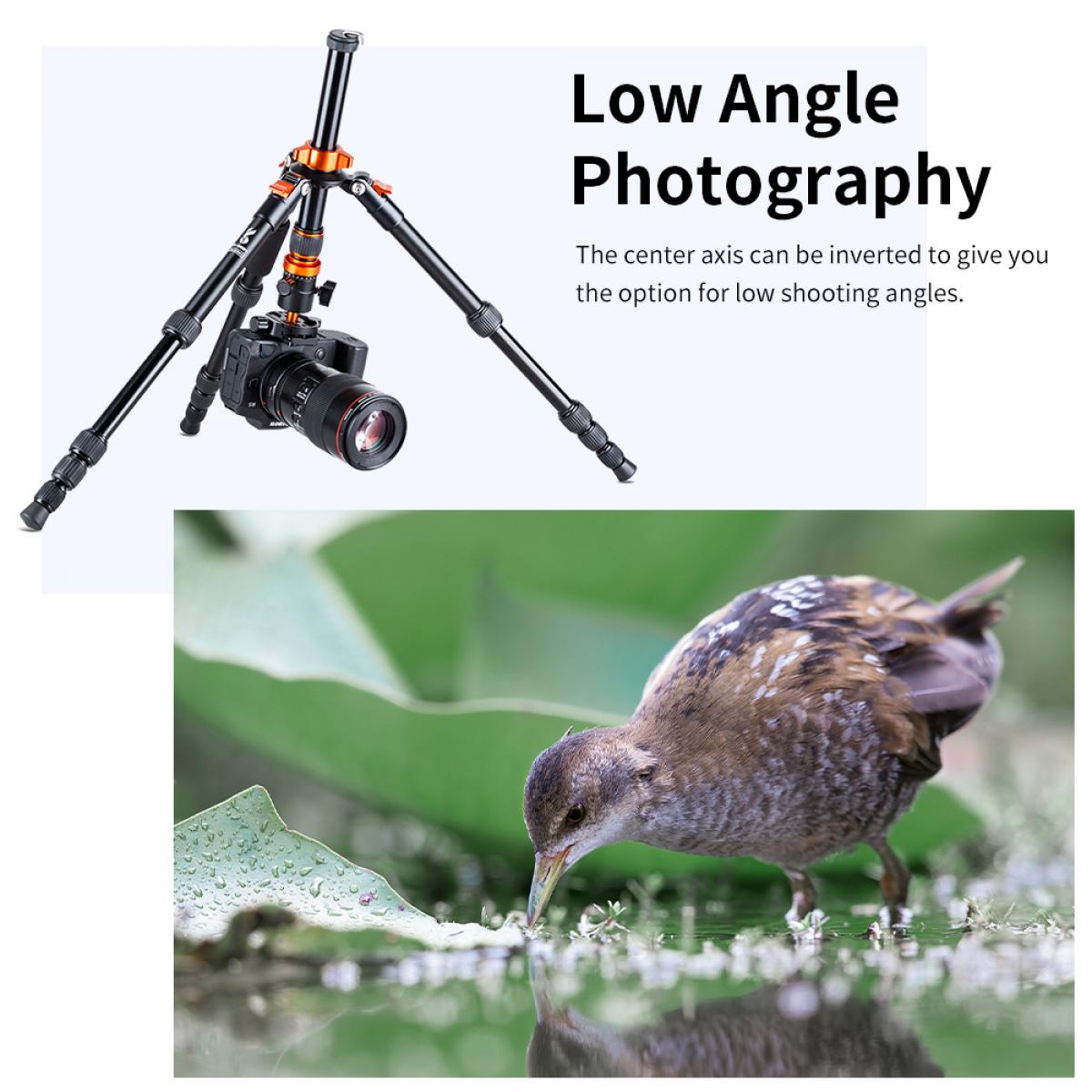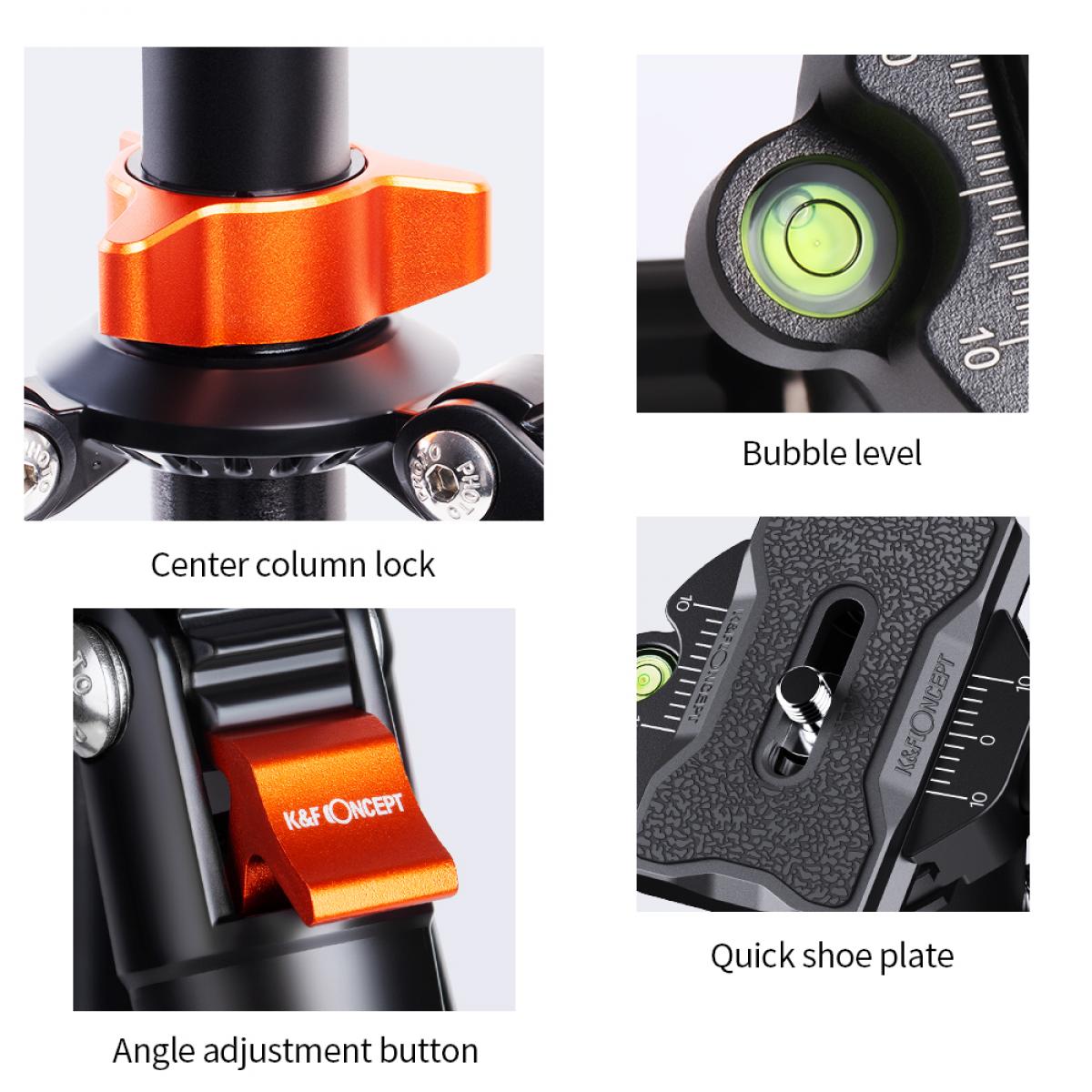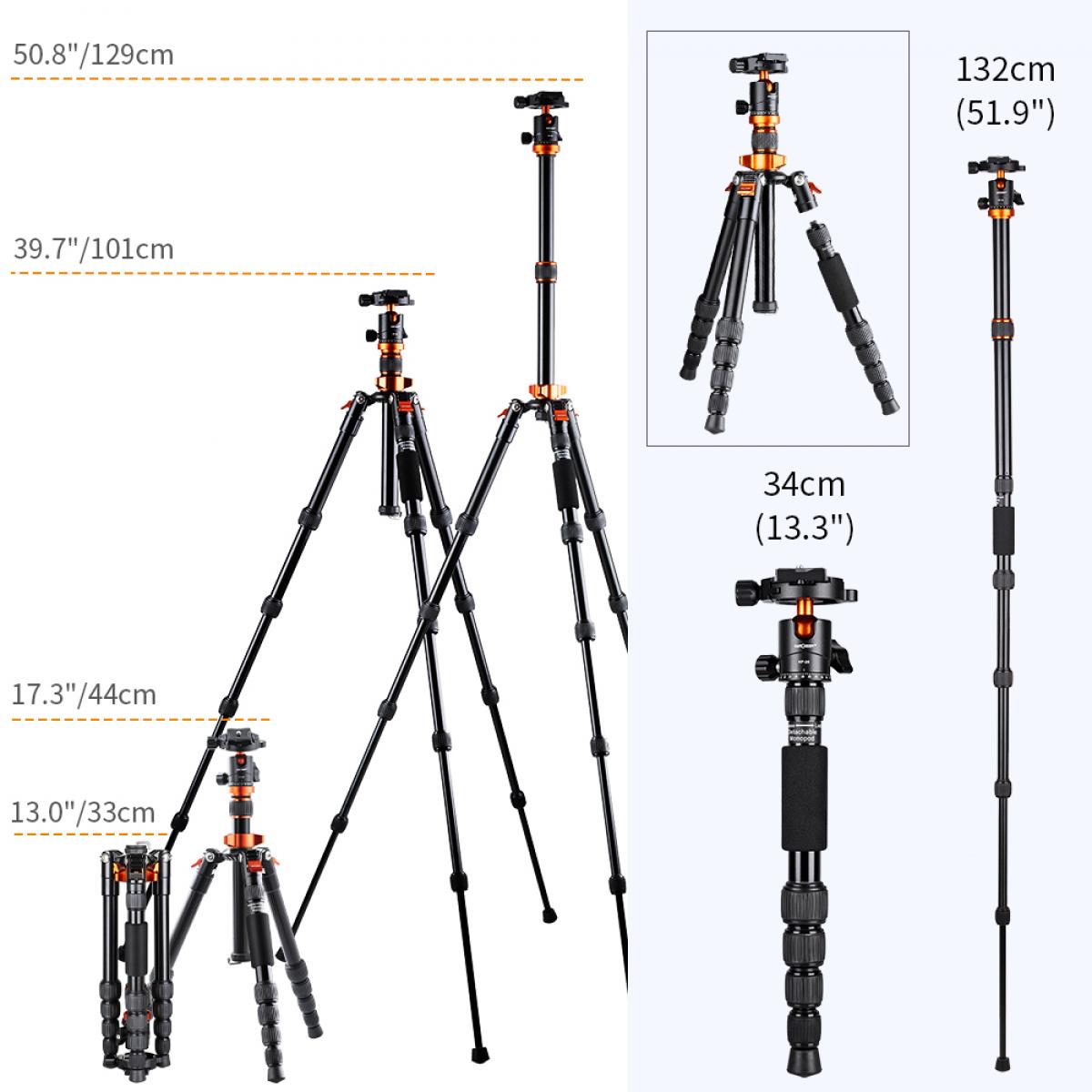 | | |
| --- | --- |
| Color | Orange, Black |
| Legs Folded for Storage | Yes |
| With Monopod | Yes |
| Centre Column can be locked at a 90° angle | No |
| Locking Type | Spiral Type Lock |
| Material | Aluminum Alloy |
| Leg Sections | 5 |
| Center Column Sections | Yes |
| Min.Tube Diameter(mm) | 10mm |
| Max.Tube Diameter (mm) | 22mm |
| Max height (With Centre Column Raised) (mm) | 61" |
| Max. Height (With Center Column Down) (mm) | |
| Min. Height (mm) | 13" |
| Folded Height (mm) | 13" |
| Load Capacity(kg) | 17.63lbs |
| Product Weight (g) | 2.20lbs |
Nice tripod strong and sturdy dose the job
26/08/2021
Very happy with this tripod
25/08/2021
Hook of shoulder strap is missed. Hope Amazon help me to change it.
24/08/2021
I bought this tripod to replace my top-quality Manfrotto, which has been a trusty companion for over 20 years of professional photography.

I needed a smaller, but still solid tripod to fit in the back box of my Honda 50, along with a large medium format camera, for local photo-trips. I measured the back box interior and noted the dimensions information that was given with the tripod, and it fits perfectly (see photo).

I was a bit dubious about the ball head holding my very heavy camera, so I replaced it with the heavy-duty pan and tilt head from the Manfrotto and it works perfectly. I've put the ball head from this one on the Manfrotto to hold a DSLR that I use for digitizing negs.

No, it's not as sold and robust as the Manfrotto (which cost 3 times as much), and that's to be expected. But it looks like it will do the job, and saves me from putting a really heavy tripod on my back when I go out on the bike!
15/08/2021
K & F products first caught my eye at the Photography show back in 2019 but I didn't really have a close look at any of their tripods as I was fixated on getting a Three Legged Thing. As it turned out I didn't buy anything and didn't get a tripod for more than a year. With finances tight I decided to take a chance on a K & F tripod figuring at that price it wouldn't be too much of a wrench if it wasn't great. I was very pleasantly surprised when it arrived to find that it was more than I expected for the money - seemingly very well built and nice and light into the bargain with a quality carry bag. There are only two negatives in my mind - why use all that lovely magnesium alloy and then stick on plastic knobs for the ball clamp and adjustment? Surely it wouldn't have increased the cost too much to make these in the same alloy? The ball clamp did click ominously one time I tightened it so I'm hoping it isn't going to be a possible weak point. Also, the tripod leg that unscrews to make up the monopod - the female thread is metal but I believe the male thread is plastic, why? I doubt I'll use this feature much so not too much of a concern. I wouldn't hold out much hope with customer services - I did email them about something and had a very strange reply. I don't think I'd even bother trying to pursue a warranty claim. TLT on the other hand are great to deal with and solved a problem with my Ellie very quickly.
It would have been nice to have detachable feet but I guess you can't have everything at this price point? The tripod has a very large height extension so unless you're over 6' 5" you won't have any problems using it. Lastly I really like the orange colour of the alloy components - it matches my Three Legged Thing Ellie L bracket perfectly! I honestly don't think you can go wrong at this price - mine will certainly suit my needs until I can upgrade to a carbon TLT in the future.
14/08/2021
These images belong to K&F Concept end users.
Tripod General
Load Capacity
8kg/17.64lbs
Maximum Working Height
1290mm/50.79"
Max Height without Center Column
1010mm/39.76"
Minimum Working Height
440mm/17.32"
Folded Length
337mm/13.27"
Weight
1168g/2.57lbs
Materials
Magnalium Alloy
Ball Head
Ball Head
Color
Orange/Black
Bubble Level
Tripod Legs
Leg Lock Type
Spiral Type Lock
Leg Positions
Independent Leg Spread
Leg Sections
5
Leg Diameter
10-22mm/0.39-0.87"
Feet Features
Tripod Center Column
Center Column Features
Center Column Sections
Comparison of similar products
Rating

10 reviews.

131 reviews.

63 reviews.

10 reviews.

33 reviews.
Price
£59.19

£102.69

£59.93

£125.43

£84.53

£148.99

£92.49

£37.69
Model
KF09.097
KF09.087
KF09.079V1
KF09.096
KF09.048v1

Load Capacity

8kg/17.64lbs
10kg/22.05lbs
10kg/22.05lbs
10kg/22.05lbs
4kg/8.8lbs

Maximum Working Height

1290mm/50.79"
1990mm/78.3"
1830mm/72.05"
1920mm/75.59"
1460mm/57.8"

Max Height without Center Column

1010mm/39.76"
1400mm/55.12"
1390mm/54.72"
1425mm/56.10"
1210mm/47.6"

Minimum Working Height

440mm/17.32"
580mm/22.83"
600mm/23.62"
615mm/24.21"
450mm/17.7"

Folded Length

337mm/13.27"
480mm/18.90"
490mm/19.29"
500mm/19.69"
490mm/18.9"

Weight

1168g/2.57lbs
1440g/3.17lbs
1835g/4.05lbs
1845g/4.07lbs
1.1kg/2.5lbs

Materials

Magnalium Alloy
Magnalium Alloy
Magnalium Alloy
Magnalium Alloy
Magnesium aluminum alloy

Leg Lock Type

Spiral Type Lock
Quick Flip Lock
Quick Flip Lock
Spiral Type Lock
Flip Lock

Leg Positions

3

Independent Leg Spread

Leg Sections

5
4
4
4
4

Leg Diameter

10-22mm/0.39-0.87"
14-23mm/0.55-0.91"
16-25mm/0.63-0.98"
16-25mm/0.63-0.98"

Center Column Features

Transverse Center Column, Center Column Inversion