Carbon Fiber Camera Tripod 25kg/55lbs Load 32mm Leg Tube 77"/1.7m Heavy Duty Compact Travel Camera Tripod EP324C
&FREE Shipping to United Kingdom,Ireland
Brand:

K&F Concept

30-day refund or replacement,Carbon Fiber Camera Tripod 25kg/55lbs Load 32mm Leg Tube 77"/1.7m Heavy Duty Compact Travel Camera Tripod EP324C

KF09.102

SKU:

KF09.102

345.99

https://www.kentfaith.co.uk/KF09.102_carbon-fiber-camera-tripod-25kg-55lbs-load-32mm-leg-tube-77"-1.7m-heavy-duty-compact-travel-camera-tripod-ep324c
Buy £100+ Save £10, Buy £200+ Save £25
Features
• 【No Center Column Mode to Maximize Stability】The center column of the carbon fiber tripod can be detached quickly in 2 seconds with K&F Concept patented locking system. Without the center column, this tripod is ideal for ground level, macro, or close-up photography.
• 【25kg/55lbs Great Load Capacity】EP324C is the first K&F Concept carbon fiber camera tripod developed for photographers who are looking for both versatility and firmness. The tripod combines a panoramic ball head and high-quality aluminum tube leg with 32mm diameter, enabling a great load capacity (holds up to 25kg/55lbs). The specially designed 35mm ball-head can rotate 360° and get free angles, allowing you to get the perfect shot and amazing panorama every time.
• 【Carbon Fiber High-Quality Material】 K&F Concept EP324C camera tripod is made of quality carbon fiber material for stronger support, 10-layer construction, more weather/corrosion/scratch-resistant, and in general, stronger than aluminum.
• 【Easy&Fast Leg Locking System】The carbon fiber tripod is equipped with K&F Concept twist locking system, which enables you to fasten or loosen tripod legs and adjust heights in 2s, fast&easy operation with one hand.
• 【Multiple Devices Connections Enabled】The camera tripod is equipped with two more 3/8" interfaces to connect to more devices, offering an amazing convenient connection for your shooting, and making it a perfect choice for work and travel for its expressive performance on stability and flexibility.
Carbon Fiber Tripod
Provide security and stability support for your DSLR camera.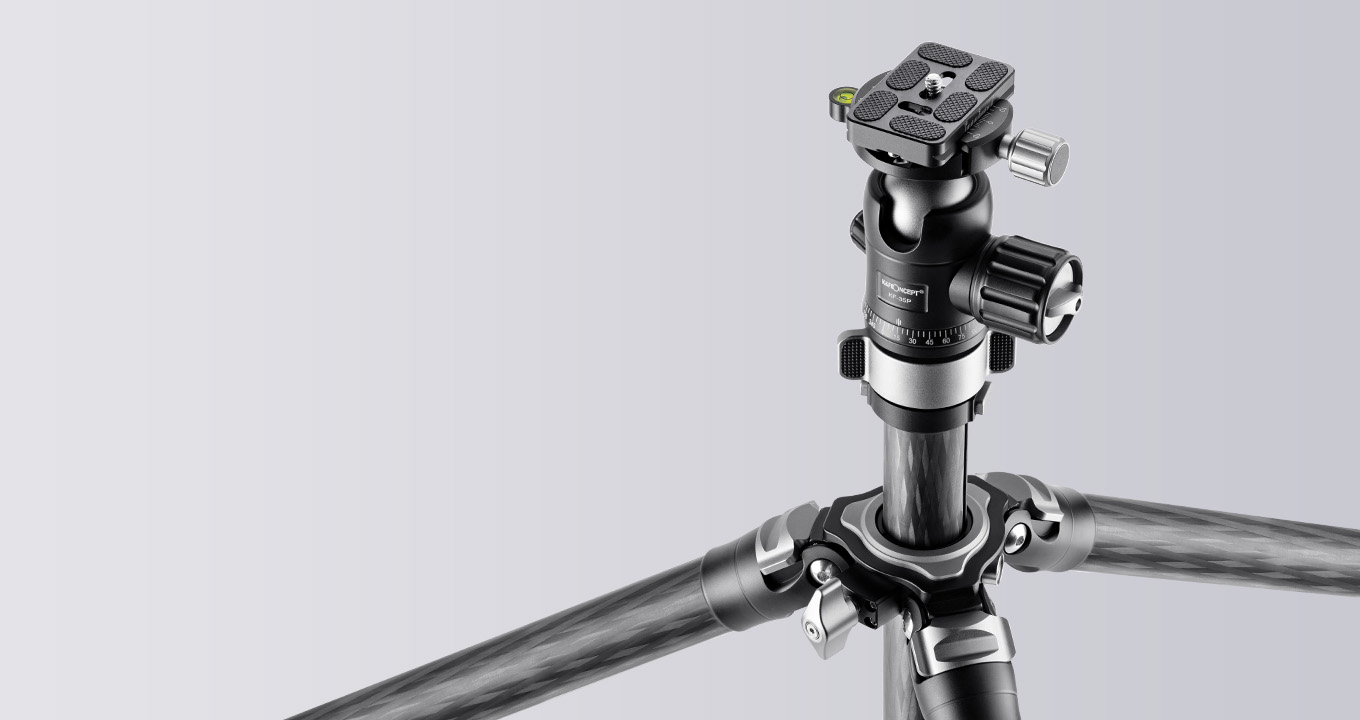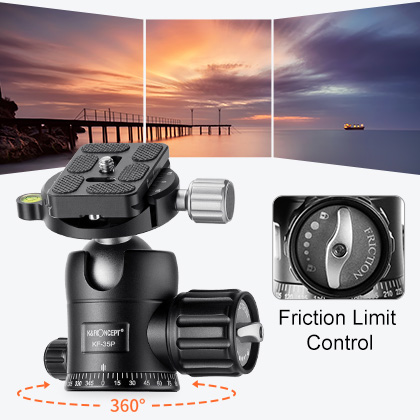 360° Panoramic Shooting
Ball-head can rotate 360° and get free angles, allowing you to get the perfect shot and amazing panorama every time.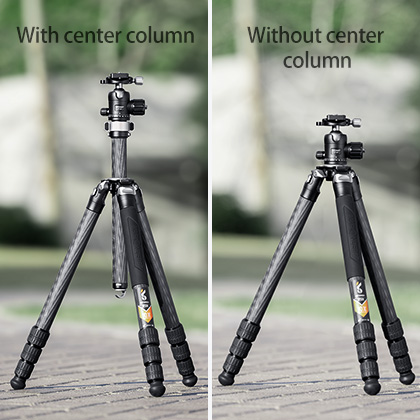 With center column / Without center column
With a center column can be flexibly adjusted, without a center column, the stability will be the best.
44lbs/20kgLoad Capacity
The 35mm ball head provides strong stability and can rotate 360° and obtain a free angle.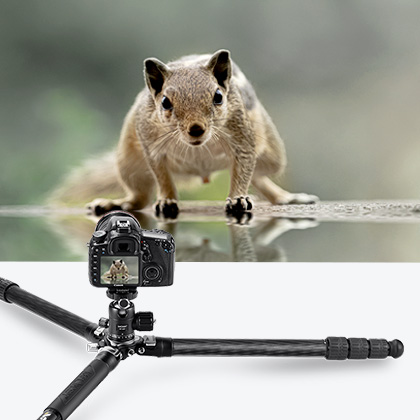 Lowest Angle Shooting
Lowest angle shooting, macro shooting, and special photography can be achieved through inverted central axis.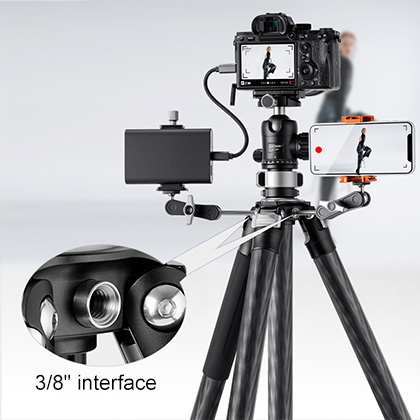 Two 3/8" Interfaces
More devices can be connected, providing amazing and convenient connections for your shooting.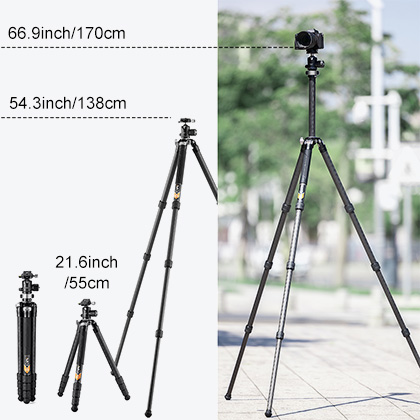 Easy to shoot
Can meet more shooting height requirements, the maximum height can reach 66.9inch (170cm).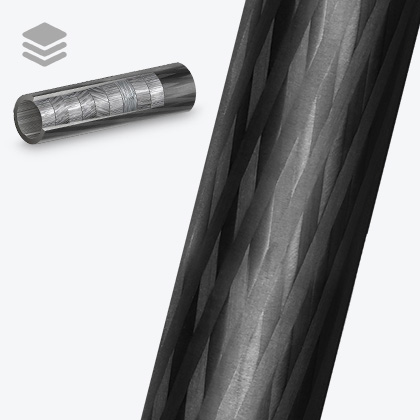 10-layer 100% carbon fiber
Made of high-quality carbon fiber material, stronger support, more weather/corrosion/scratch resistance.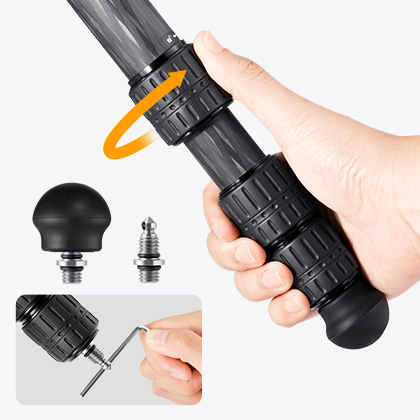 Quick lock
Tripod Leg Twist Lock Mechanism Quick lock/release with just turns.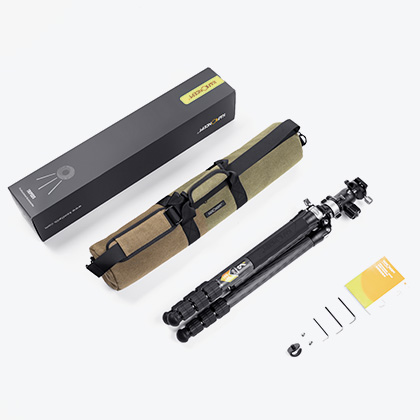 Packing list
Handbag + Tripod + Shoulder Strap + Manual + Adjusting Wrench.
Rating

0 reviews.

32 reviews.

5 reviews.

0 reviews.

36 reviews.

29 reviews.
Price
£345.99

£177.60

£146.09

£97.67

£51.39

£169.39

£140.59

£102.99

£59.19

£168.71

£100.63

Model
KF09.102
KF09.095
KF09.101
KF09.062
KF09.084
KF09.093

Load Capacity

25kg/55lbs
10kg/22.05lbs
17.64lbs/8kg
12kg/26.5lbs
10kg/22.05lbs
10kg/22.05lbs

Maximum Working Height

1700mm/77"
1640mm/64.6"
63"/1.6m
1515mm/59.6"
1580mm/62.20"
1720mm/67.72"

Minimum Working Height

550mm/21.7"
580mm/22.8"
400mm/19.68"
500mm/19.69"
510mm/20.08"
530mm/20.87"

Folded Length

630mm/24.8"
490mm/19.3"
390mm/15.35"
465mm/18.31"
410mm/16.14"
420mm/16.54"

Weight

2.14kg/4.7lbs
1710g/3.77lbs
2.56 lbs/1.16kg
1450g/3.19lbs
1547g/3.41lbs
1325g/2.92lbs

Materials

Carbon Fiber
Carbon Fiber
Magnalium Alloy
Koolstofvezel
Magnesium aluminum alloy
Carbon Fiber

Ball Head

Ball Head
√
Ball Head
None
Ball Head
Ball Head

Color

Black
Black/Orange
Orange/Black
Red/zwart
Orange/Black
Orange/Black

Leg Lock Type

Twist Lock
Twist Lock
Flip Lock
Draaislot
Flip Lock
Spiral Type Lock

Leg Sections

4
4
4
4
4
5

Leg Diameter

22-32mm/0.87-1.2"
19-28mm/0.75-1.1"
13-22mm/0.51-0.87"
28mm
16-25mm/0.63-0.98"
13-25mm/0.51-0.98"

Center Column Features

Center Column Inversion
Reversible
Center Column Inversion
Center Column Inversion
Center Column Inversion

Center Column Sections

1
2
2
2
2
There are no reviews for this product.
There are no faqs for this product.
Tripod General
Load Capacity
25kg/55lbs
Maximum Working Height
1700mm/77"
Max Height without Center Column
1380mm/54.3"
Minimum Working Height
550mm/21.7"
Folded Length
630mm/24.8"
Weight
2.14kg/4.7lbs
Materials
Carbon Fiber
Ball Head
Ball Head
Color
Black
Bubble Level
Tripod Legs
Leg Lock Type
Twist Lock
Leg Positions
Independent Leg Spread
Leg Sections
4
Leg Diameter
22-32mm/0.87-1.2"
Feet Features
Tripod Center Column
Center Column Features
Center Column Inversion
Center Column Sections
1