Outdoor Camera Backpack Large Photography Bag with Laptop Compartment Tripod Holder Waterproof Raincover Hiking Travel DSLR Backpack for Men Women
£131.99
£177.50
25% OFF
Inclusive of VAT
&FREE Shipping to United Kingdom,Ireland
Best gifts for photographers 2022.Outdoor Camera Backpack Large Photography Bag with Laptop Compartment Tripod Holder Waterproof Raincover Hiking Travel Professional DSLR Camera Backpack for Men Women Side Access.

KF13.107

SKU:

KF13.107

131.99

https://www.kentfaith.co.uk/KF13.107_outdoor-camera-backpack-large-photography-bag-with-laptop-compartment-tripod-holder-waterproof-raincover-hiking-travel-professional-dslr-camera-backpack-for-men-women-side-access
Features
* As a professional mountaineering camera bag, large capacity 33 liters, upper and lower compartments, mother-in-son bag, multi-layer, two-machine multi-lens, 17 laptop, 11-inch IPAD, mobile phone, digital product charger and wire, dry and wet clothes separated.
* Use brand new 1200D Kouji nylon, waterproof grade 5, with rain cover.
* Two upper and lower EVA compression moulded shells on the front frame are strong, durable and impact-resistant, effectively ensuring cushioning against camera impact.
* The external suspension system can carry a 60cm tripod, a drone, a tent, and the external strap can be equipped with trekking poles.
* The carrying system can support 3 levels of height adjustment (L, M, S), suitable for people of different body shapes, effectively reducing the weight-bearing feeling, ventilation, and heat dissipation. The straps can be adjusted. The waist pad can effectively tighten the contact with the body and protect the waist.
Outdoor Camera Backpack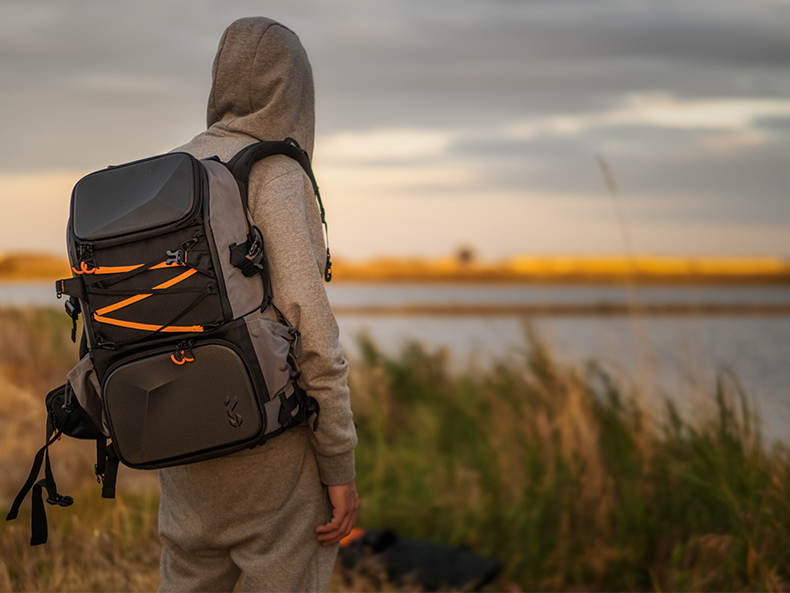 Product Size
Dimensions LxWxH (cm):34*22*54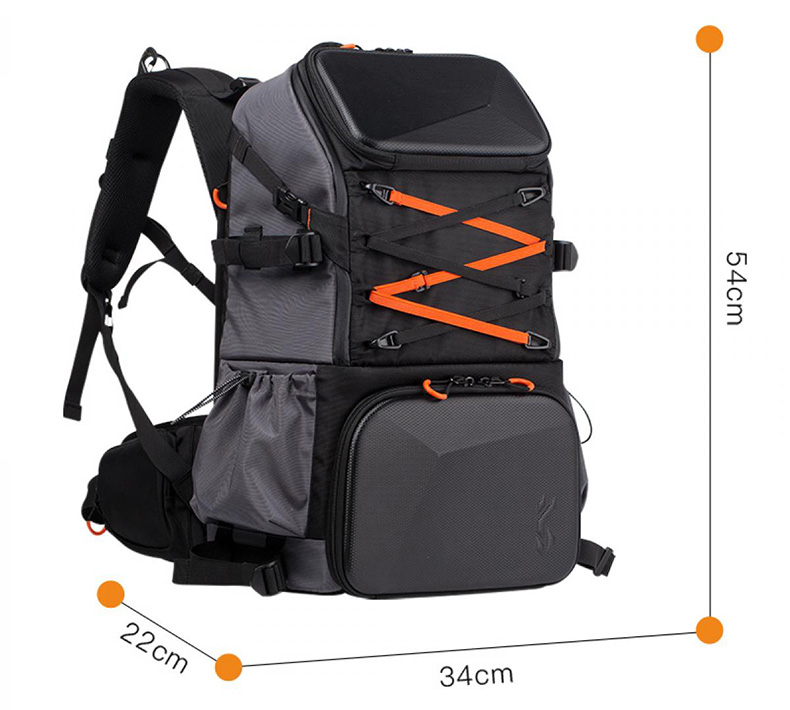 Large capacity
The upper bin has a capacity of 5-6 pieces of clothing and the lower bin has a capacity of 5 mirrors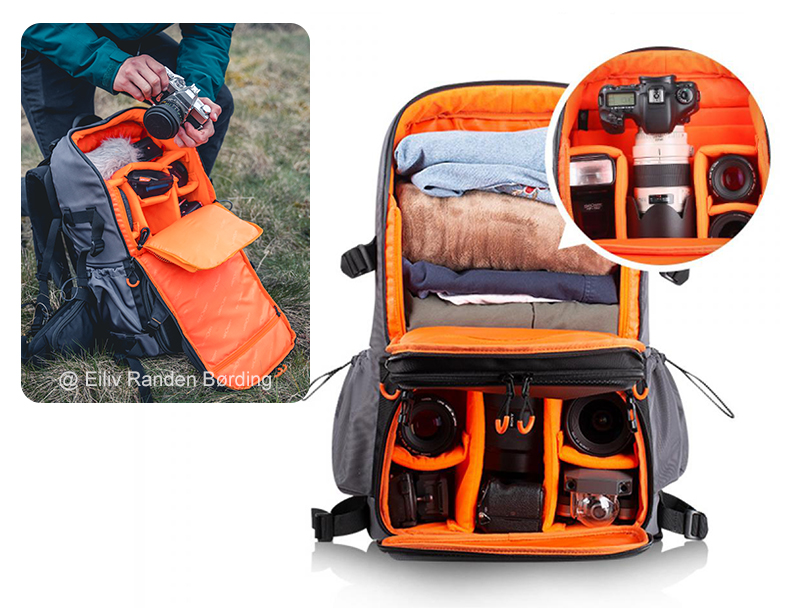 Two bag
A one-shoulder camera bag is included with the bag The shoulder bag can also be used as a waist bag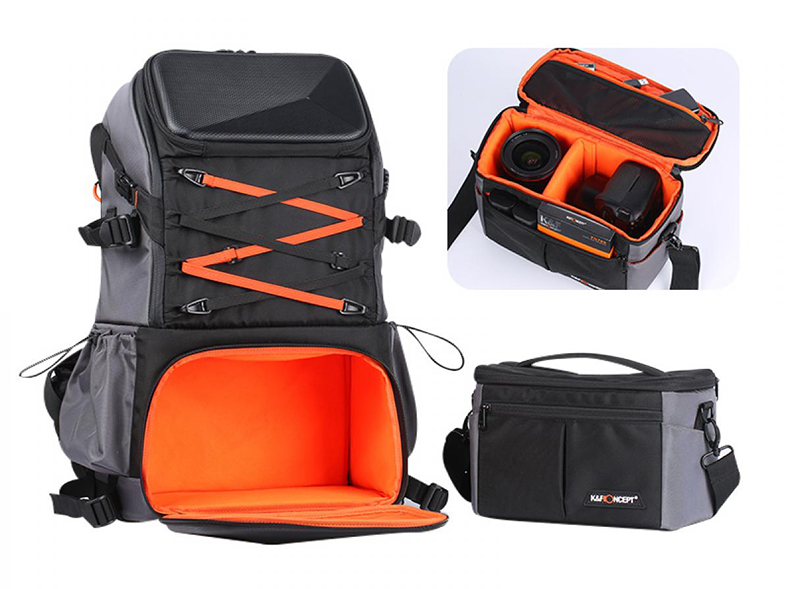 Two options
Use large bag when there are many equipment, and small bag when there are few equipment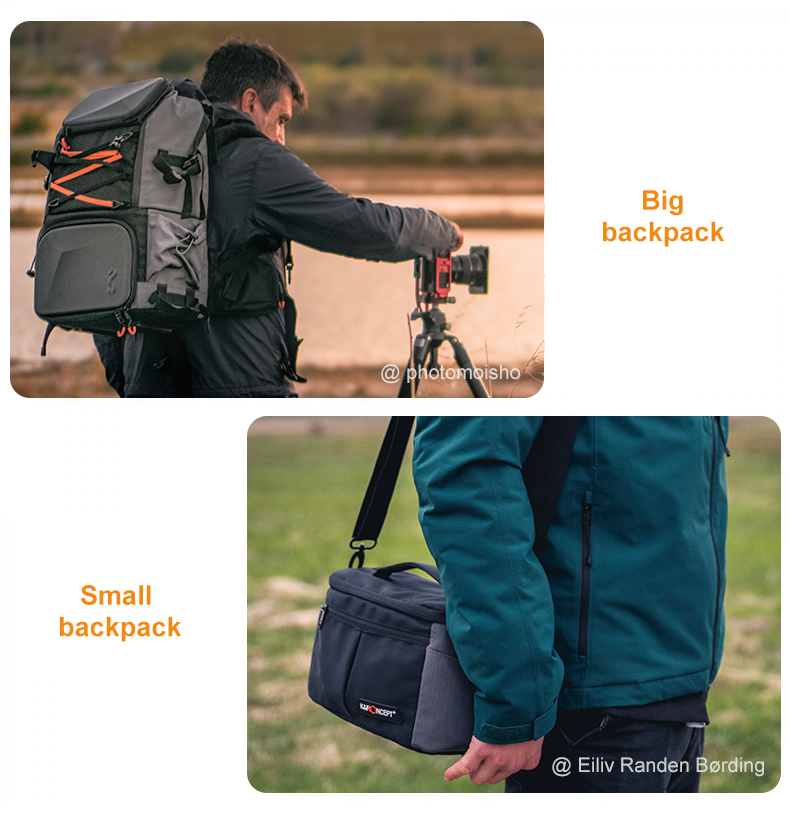 17-inch computer compartment
The upper warehouse is equipped with an ipad mezzanine to meet the needs of various equipment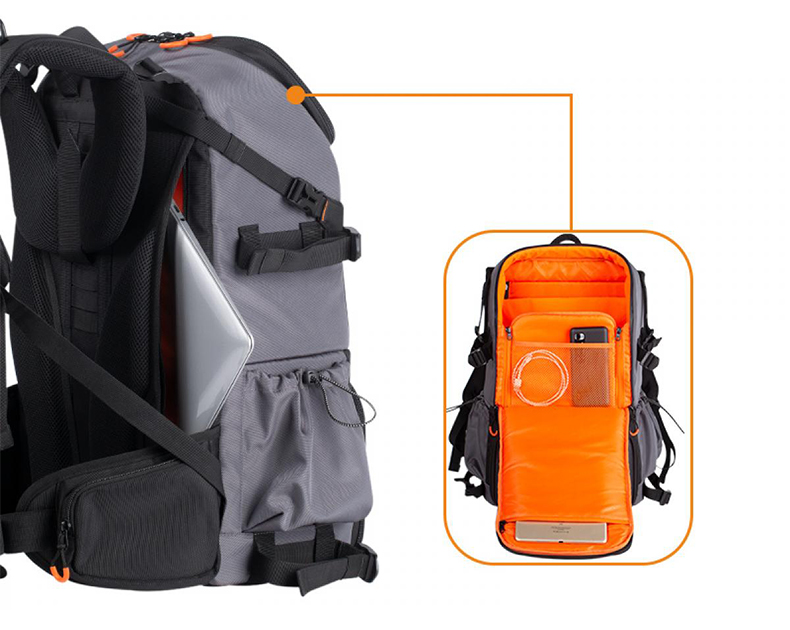 Comfortable backrest
It is filled with high-quality pearl cotton, mesh structure, breathable and comfortable and reduces the burden on the back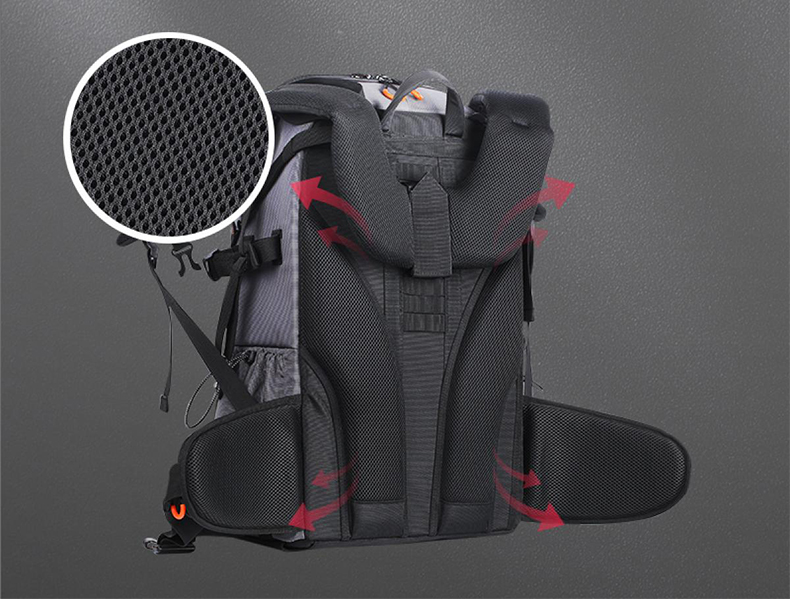 Three-speed adjustment
AC carrying system, set for different heights and body types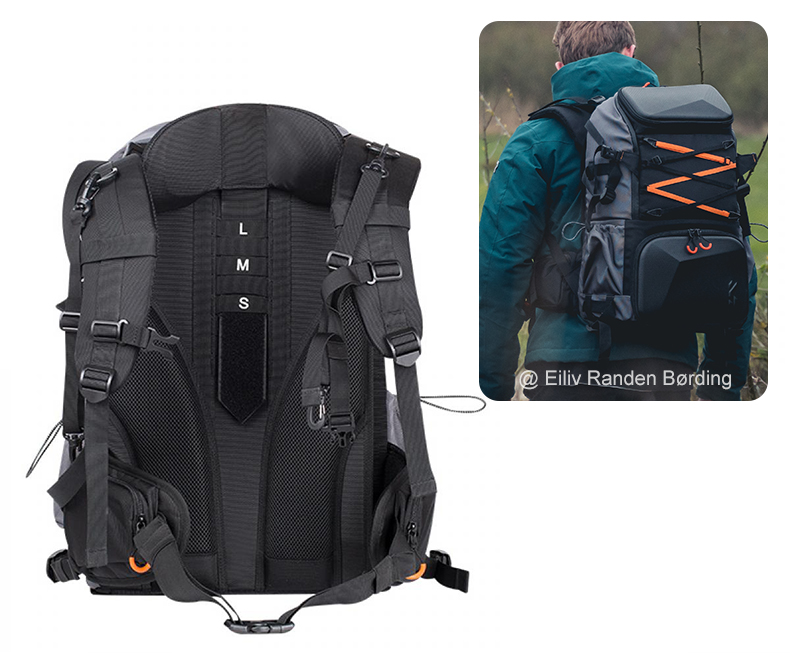 Tripod storage at the bottom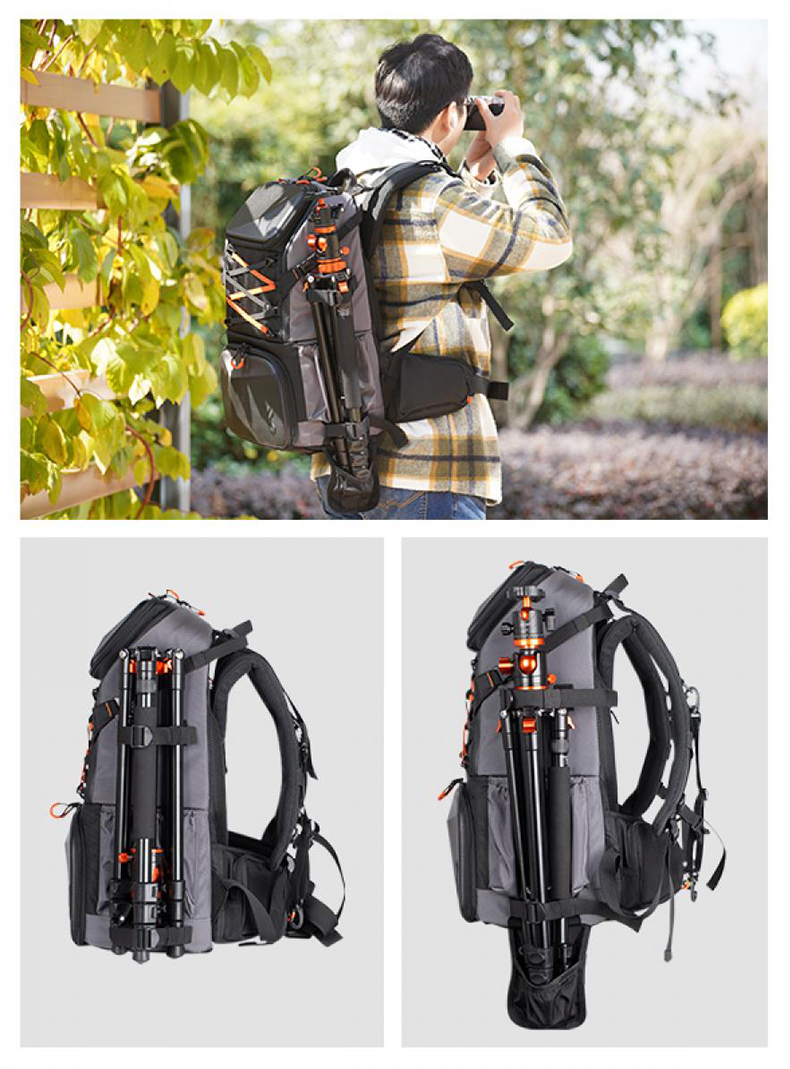 Wate repellent and teatesistant
A rain cover is provided with the package to protect your equipmen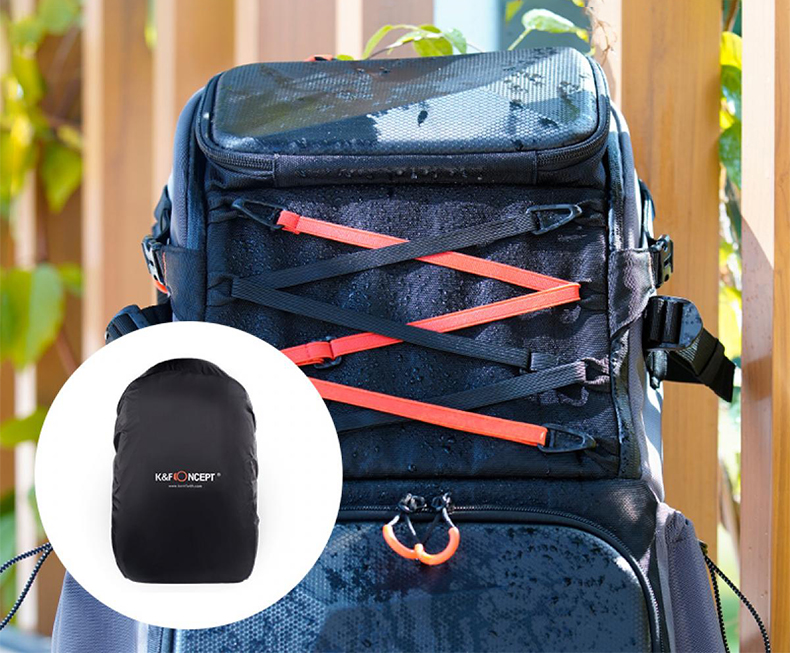 product details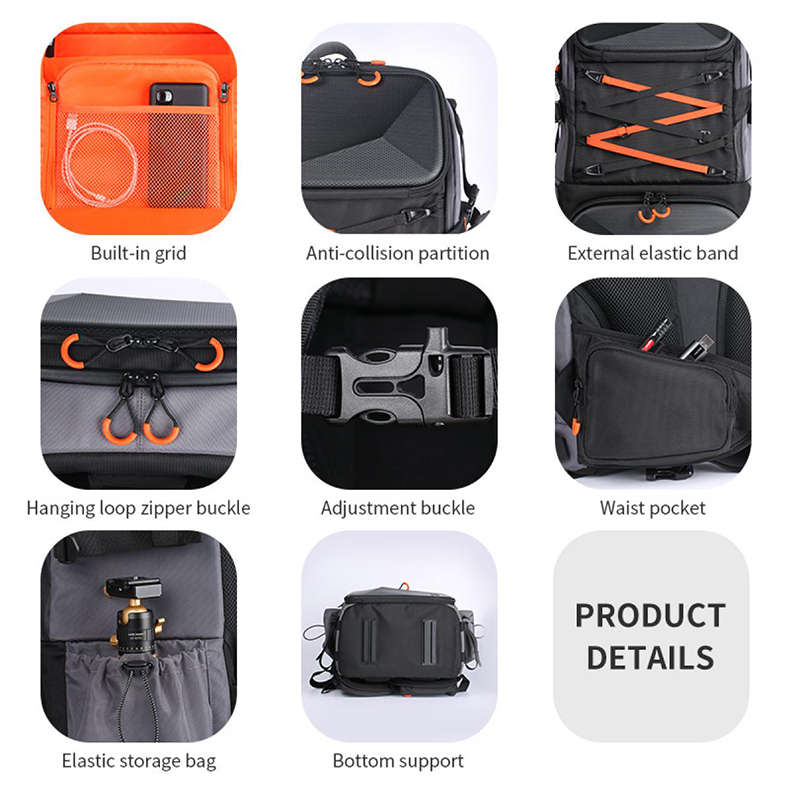 Real shot pictures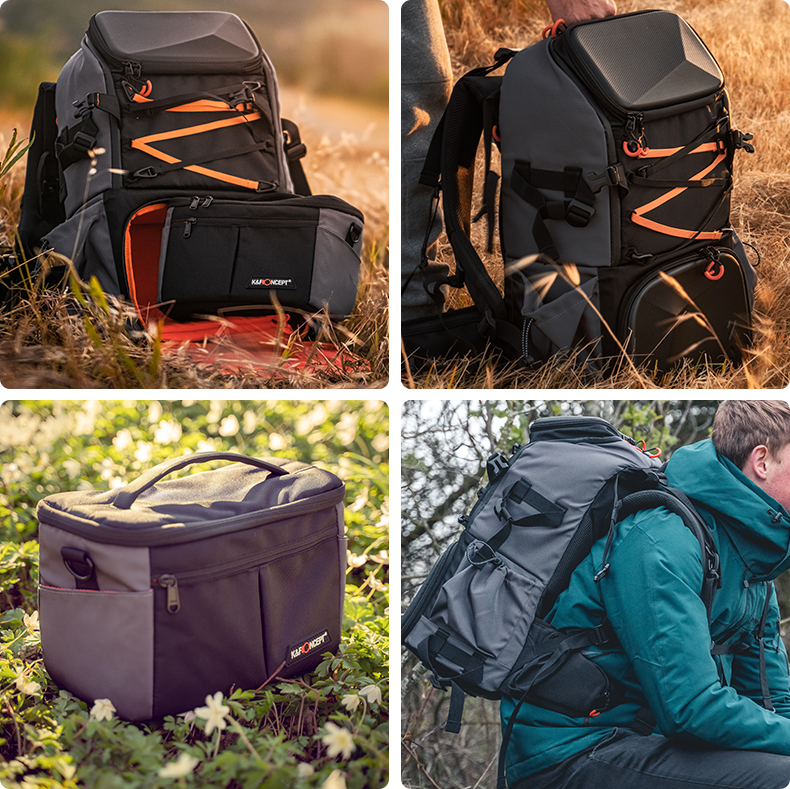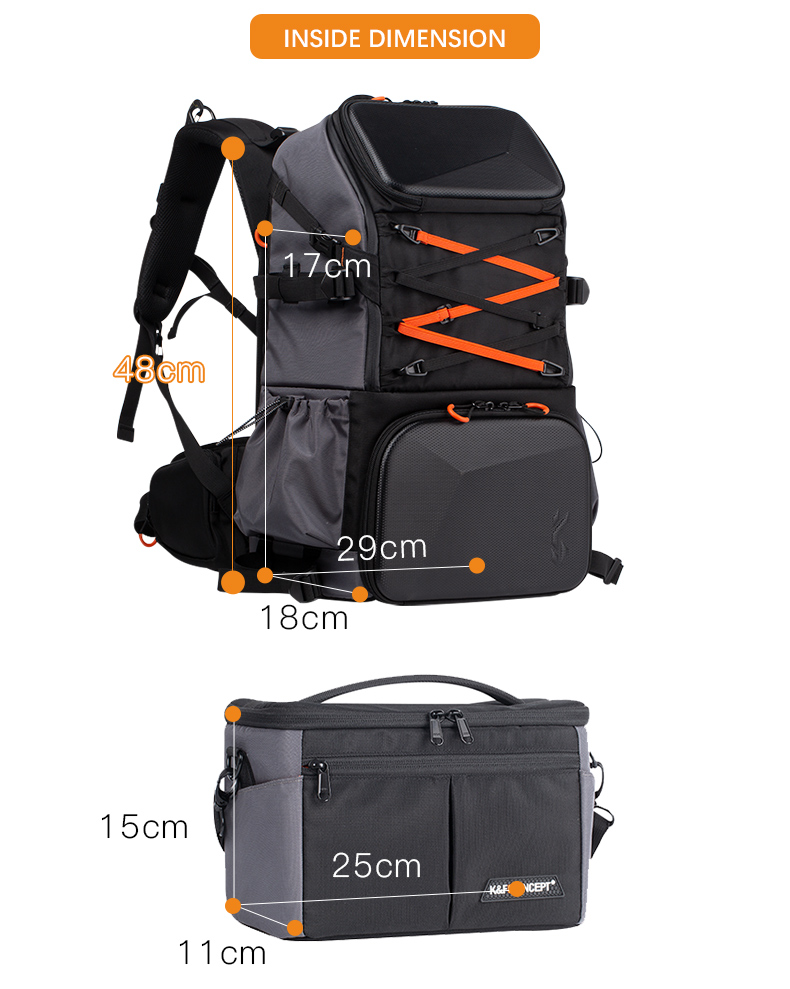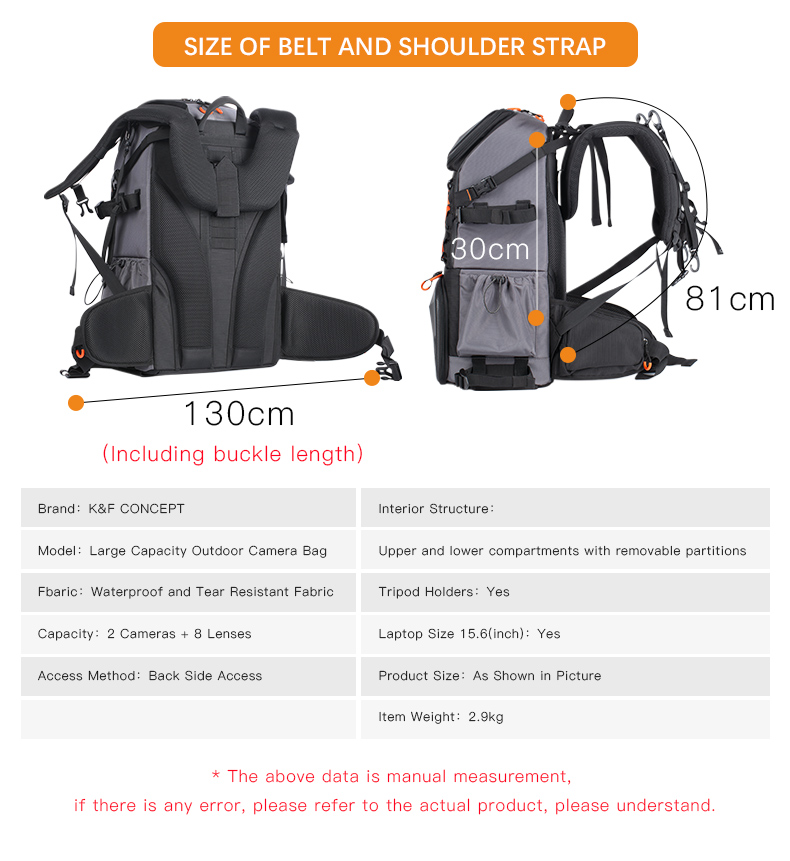 | | |
| --- | --- |
| Product Size | 34 * 22 * ​​54cm |
| Package dimensions | 36*24*55cm |
| product weight | 2.9KG |
| Package Contents | Photography bag*1, tag*1 |
The right backpack for on the go, because good comfort does not always have to be expensive
At first glance a simple but saddle-proof backpack that can be used in different ways over and over again. Due to the soft material inside and the associated Velcro fastener, this backpack cuts a fine figure. You can always change the content according to the needs of the customer. If you need more compartments, you can simply remove or close the levels with the Velcro fastener. There are plenty of zipped pockets and small places to stash your memory card or small camera. Thanks to the great solution with the tripod for the camera, you have no problems running despite the full load and you also don't miss your pelvis or a belt at all. Although I was used to that before. What was important to me: + Good comfort, which is not affected when walking and the quality is also noticeable + Lots of space and flexible handling of the content and the Velcro fastener makes some variants possible + Space for a tripod that can be attached to the outside for on the go + The backpack is waterproof + Ideal for my SLR camera A couple of things bother me after the first use: - The backpack is not very wide for larger devices, but you already know that beforehand - You sometimes have to look when you have a If you want to take a tripod with you, then you should do without a bottle and put it somewhere else. The backpack definitely makes a good impression, but you should only be satisfied with normal to smaller devices such as: SLR cameras, system lenses or normal devices. Larger items are either not portable or they don't allow you to take other items like a bottle (0.5) with you. This should be taken into account when choosing. Other than that, this backpack hasn't let me down so far.
28/04/2022
Super inconspicuous and still extraordinary
I'll just rate the backpack with a pro & con list. Pros: + Appearance: Looks like a regular backpack that could be worn by anyone, including non-photographers. Now, as a photographer, I prefer to be inconspicuous. The whole thing is of course superfluous as soon as the tripod is attached to it :). Nevertheless, I have been asked a few times by other photographers where I got this backpack from, as they found it nicer than comparable models. + Design/section: The backpack is divided like most other photo backpacks. The elements hold stable in the backpack. I find the large number of pockets particularly useful, both in the main room, since you can stow batteries and filters there, as well as on the outside to stow bottles, SD cards, etc. + Size: Very compact. The backpack looks rather small on me (1.87 m, 90 kg). However, this makes it extremely suitable for system cameras, which makes it perfect for me, as I simply don't need more space (MFT body + 4 lenses + full-size flash). I wouldn't recommend it for anything beyond APS-C though, as the lenses just get too big. + Closure of the upper compartment: At first I thought that you would have to undo the buckle every time to open the upper compartment. Then I discovered that this was solved with a fairly strong magnet. It's fast, reliable and looks good. + Carrying comfort: with my size, I find the backpack easy to carry. Certainly not a miracle of comfort, but that's what I have my hiking backpack for. However, the base plate is a bit annoying when the strap is quite tight. A little loosening fixes this. + Rain cape neutral: o some of the threads came loose at the seams after unpacking. After cutting it off and using it a few times, everything is fine. contra: - I don't notice anything negative at the moment.
06/05/2022
Optically great and practical - we are super satisfied.
Unfortunately, my old photo backpack broke during use, so it was time for a worthy replacement. Because of the great look, this one caught my eye immediately. It is robust, shows a high quality of workmanship and material and is handy. On the outside there are compartments for drinking bottles, a tripod or the like. There are also compartments where you can store something. Inside the backpack, you can move the individual compartments as you wish. That's super handy. Inside there are more compartments of different sizes. Enough space for camera, different lenses and for SD cards or cables. I really like the look of the backpack, it looks even better in real life. It can be carried well on the back. At the bottom of the backpack is a stabilizer for a safe stand. Super practical! The first time it was used, it successfully survived the first small shower and protected all my equipment from the rain. I highly recommend the backpack! A successful investment :)
05/05/2022
Perfect! Again and again!
This is my first camera backpack! I always wear one - I recently got a camera too and it's perfect! Compartment for camera is sufficient for several lenses, camera is stable inside and does not shake much. Enough space for more SD cards, spare batteries or anything else. The upper compartment can be connected to the lower one (but there is no point in doing so) because there is enough space for snacks or charging cables etc... Another recommendation! Please tap Useful!
04/05/2022
Good for on the go
got the bag for on the go. It is practical to go out because of its many different pockets. The quality and workmanship are very good. In addition, the bag is light. Carrying the bag is comfortable.
03/05/2022
Chic photo backpack: perfect for travelling
In addition to my big backpack, I was looking for a small one that would fit the most necessary equipment and, above all, that would look good! I really like the look of the backpack - the "old-fashioned" look with the leather elements is beautifully designed. The important part, the inner workings: The main compartment can be reached via 2 entrances, which is very practical because you can always get to it. There is enough space for a large DSLR and 2-3 smaller lenses and some accessories. The "head compartment", which can be opened from above, offers additional storage space for equipment or a sweater etc. There is also water protection - top protection from wind and weather. The backpack is perfect for traveling or a city trip!
02/05/2022
Just great
First of all: I've wanted this camera bag for so long, now I finally own it. As a hobby photographer, a bag for transporting all the equipment is a huge relief. The bag from K&F Concept has a number of advantages, which I would now like to go into: 1. Enough space for at least 2 large and 3 small lenses + camera. 2. Practical side pocket for quick access to the camera 3. Above the camera compartment there is a separate compartment for other things. The compartment is closed with a loop. What I would have liked very much to have wished for was a laptop compartment. But there are very few camera bags that have a compartment for my 15" laptop. I am more than satisfied with the bag.
01/05/2022
Good backpack, great magnets
The camera has an extra access to the compartment so it can be easily taken in and out of the backpack. Even while running, you don't have to put the backpack down awkwardly, but someone else can simply take the camera out quickly. Access to the back is then intended for the other lenses etc. For this you have to take off the backpack, but the effort is also very low here due to the clear division of the compartment. No more digging around for the lenses - that's great. There is an extra compartment at the top where you could put food, clothes, etc. Above all, I had stowed my flash and the self-timer as well as other small things (rechargeable batteries, etc.) there. According to my feeling, they had no more space in the back compartment, or would have made it less clear. I found that a bit unfortunate. However, if you only choose one or two lenses to take with you, you could certainly also store the battery and the like there. From the outside it also looks like it's made of waterproof material, which can keep a lot of things out, and there's also a rain tarpaulin in the "lid" - once you've found the zip, there's a neutral black rain cover there. Since we had sunshine, however, it wasn't used and I can't say anything about the functionality of the rain cover. Otherwise it seems to be of good quality. It has good seams and no unpleasant odor. What I liked best, however, is another detail. The buckles are attached with magnets and they're rock solid. Sometimes even too good, so that I had to do every now and then to even get them open. To me that also speaks for quality and even if the magnets should lose strength over time (is that what magnets do?) they should still hold up really well. Therefore: Definite purchase recommendation for people who are looking for a camera backpack and do not want to take 10 different lenses with them.
30/04/2022
BACKPACK AND CAMERA BAG IN ONE
Since my wife is more and more enthusiastic about photography
29/04/2022
Camera backpack
I've been using this backpack for about 3 weeks and it's super cool. There is enough space for camera and also for the other thing. Most importantly, this backpack is anti-theft. The color is also very nice. The backpack comes with a rain cape. This is really helpful to photograph in any weather. For me this is perfect backpack man can have.
26/04/2022
These images belong to K&F Concept end users.
There are no faqs for this product.
Gimbal Stabilizers
Axis
32*20*51cm
Bag Compartment
Carrying/Transport Options
Backpack
Camera Support Strap
Yes
Camera Compartment
2
Lens Compartment
6
Laptop Compartment Screen Size
17 inch
Bag Exterior
Exterior Color
Black + Grey
Exterior Dimensions
34*22*54cm
Exterior Material
Polyester
Type of Closure
Buckle
Rain Cover
Yes
Bag Interior
Maximum Volume
32L
Weight
2.9kg