Heavy Duty Light Stand, Adjustable Height with Maximum 220cm/86.6", Aluminum Magnesium Alloy
£36.19
£47.99
24% OFF
Inclusive of VAT
To
United Kingdom and Ireland
Expedited Free Shipping
3-5
business days
Buy K&F Concept heavy duty light stand, adjustable height with maximum 220cm/86.6", aluminum magnesium alloy online, £36.19 free shipping to UK.

KF34.009V1

SKU:

KF34.009V1

36.19

https://www.kentfaith.co.uk/KF34.009V1_kf-concept-heavy-duty-light-stand-adjustable-height-with-maximum-90.5"-2.3m-aluminum-magnesium-alloy
Features
* * 【Exclusive Patented Tripod Base】 Our light tripod has an exclusive patent at the bottom, making it more steady and improving your use experience for more occasions, indoor or outdoor.
* * 【Extended Height of 2.2m/86.6"】 Adjustable extended design with a minimum height of 55"/1.4m and a maximum height of 86.6"/2.2m, meeting your various requirements of studio/photography. The most recommended height for the light stand is 81"/2.06m.
* * 【Folded Height of 55cm/21.7"】 Special reversible tripod legs of the light stand with 4 sections, the folded height is only 55cm/21.7", portable and convenient for outdoor activities.
* * 【Quick Release Flip-Lock】 Practical flip-lock design of the telescopic pole makes it more flexible and smoother than other traditional locks, and greatly enhances convenience and quickness of operating the light stand legs.
* * 【Sturdy Material and Steady Design】 Sturdy and lightweight luminum-magnesium alloy and maximum diameter of 27mm for the lamp stand, it can also be used with sandbags to achieve most load-bearing requirements.
Shipping
To
United Kingdom and Ireland
Expedited Free Shipping
3-5
business days
Photography/Video Tripod Light Stand
For Relfectors, Softboxes, Lights, Umbrellas, Backgrounds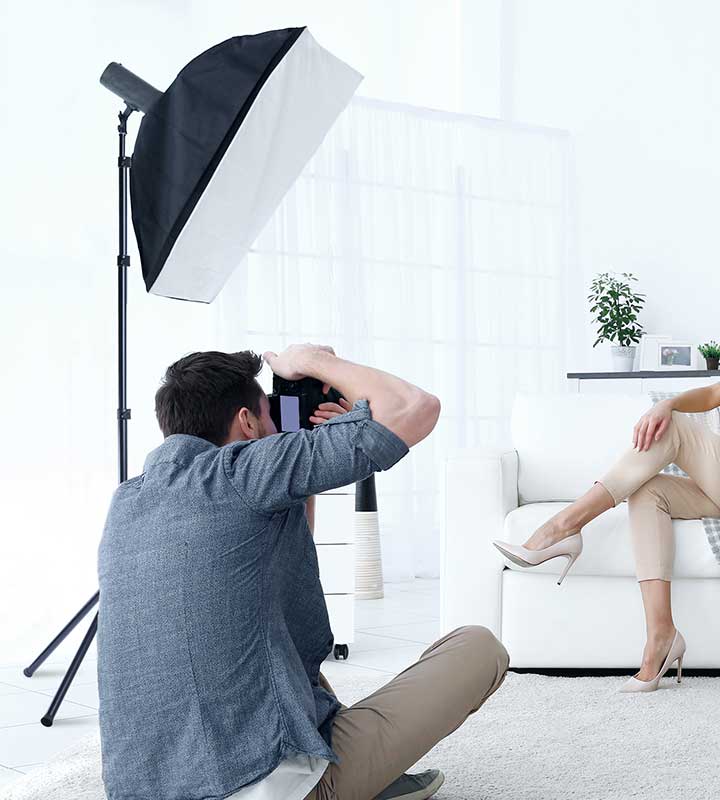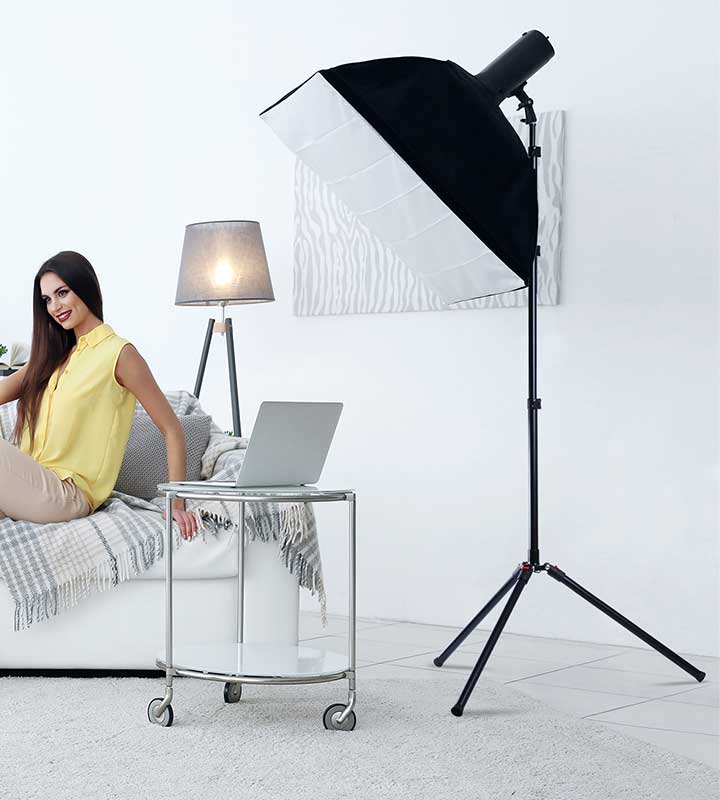 Adjustable Buckle
Can be adjusted to a suitable angle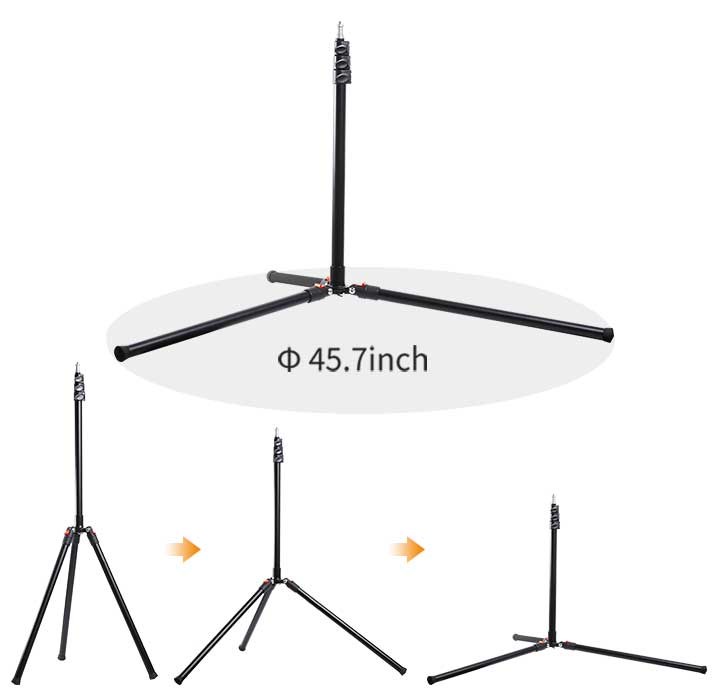 86.6 inch tripod light stand
Can effectively prevent corrosion, scratches, paint drop, etc.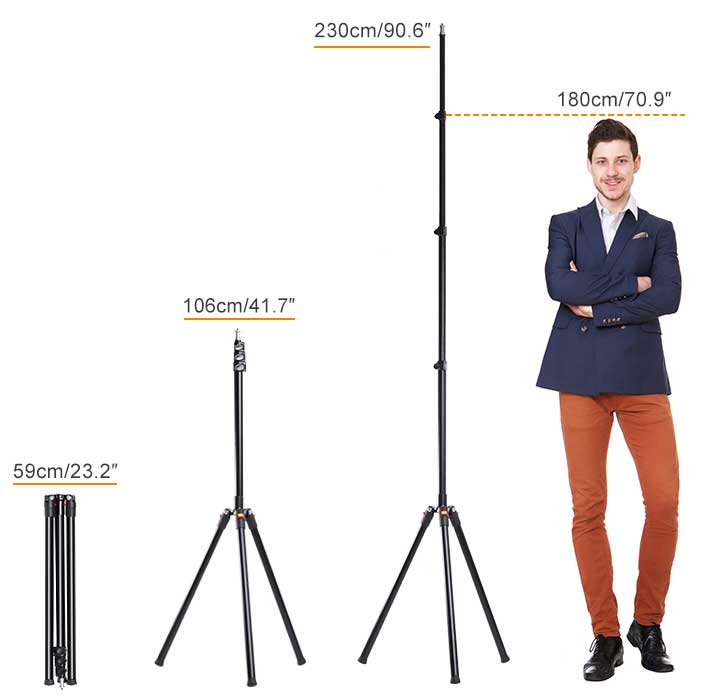 8.8lbs (4kg) Load capacity
All aluminum magnesium alloy with forged technology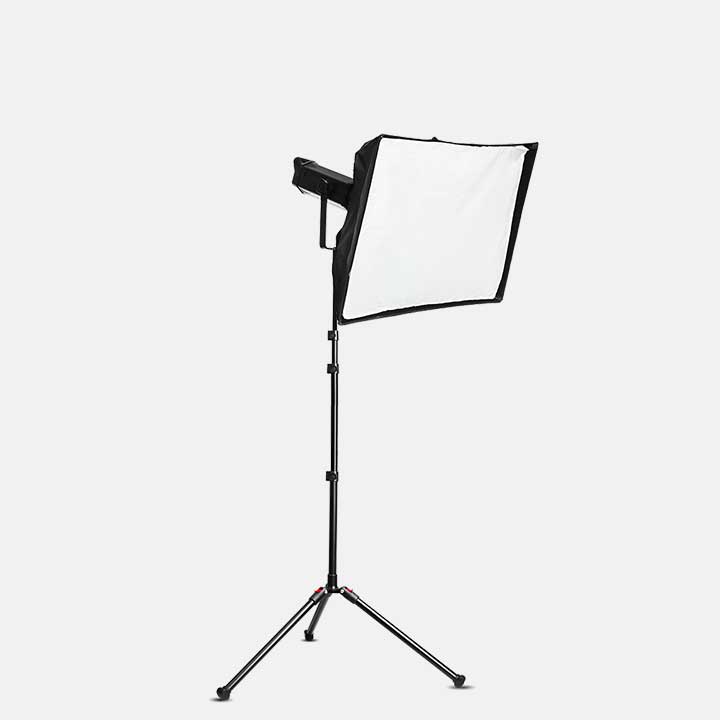 1/4″ screws
Widely applied to most photography studio devices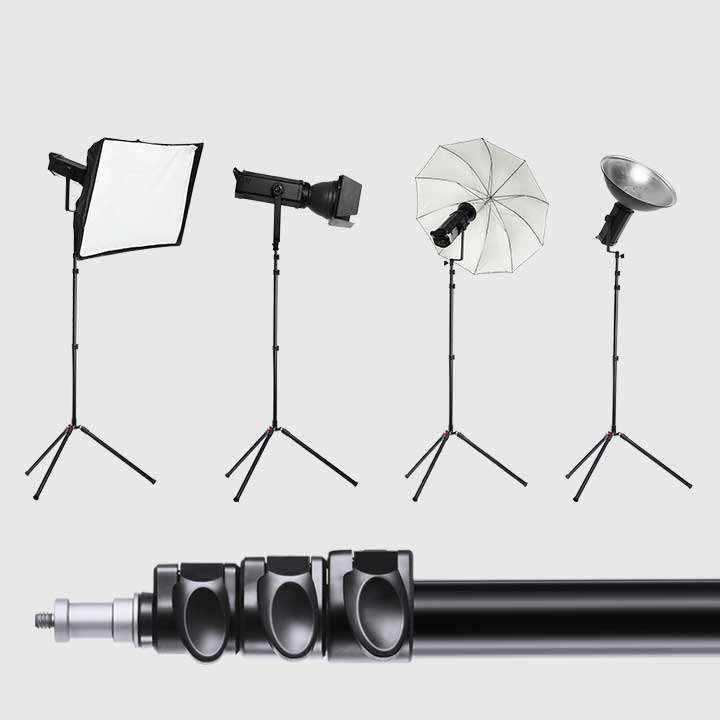 Multi-purpose
Install various photographic equipment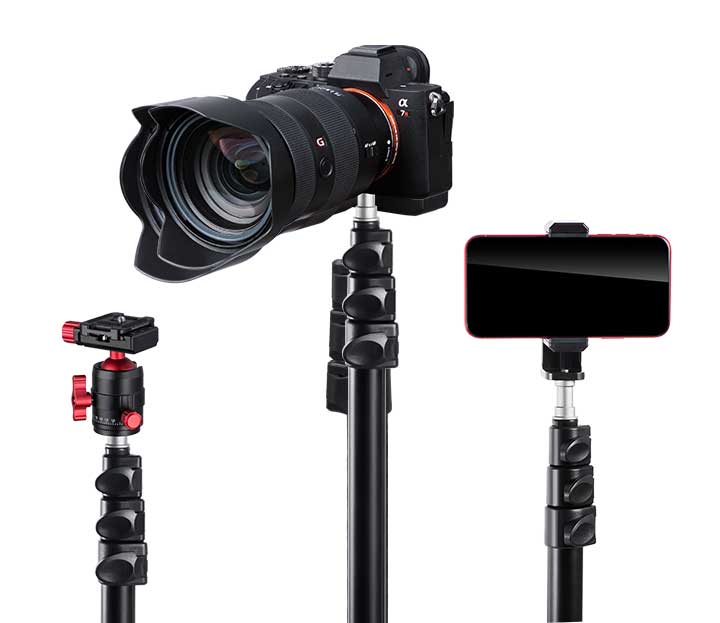 Beauty light application
Can video chat with mobile phone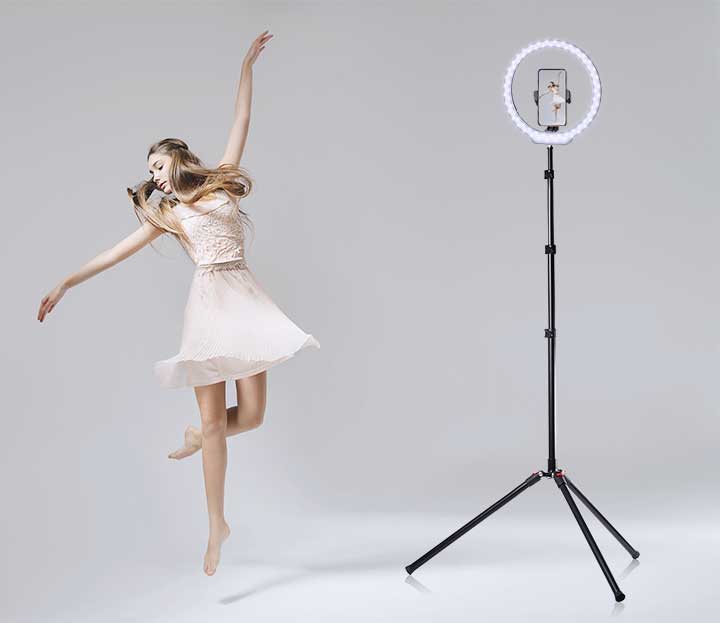 Easy to carry
All aluminum magnesium alloy with forged technology can be 180°reflexed, better portability, weight 3.37lbs/1.53kg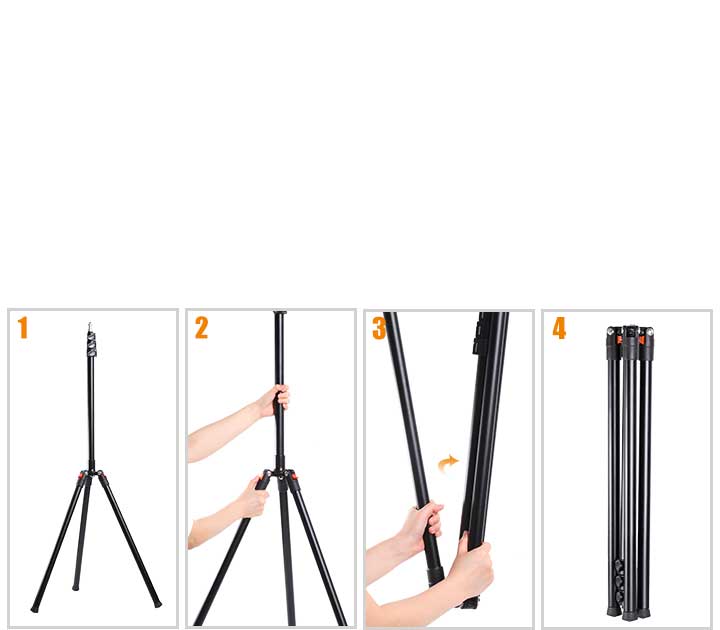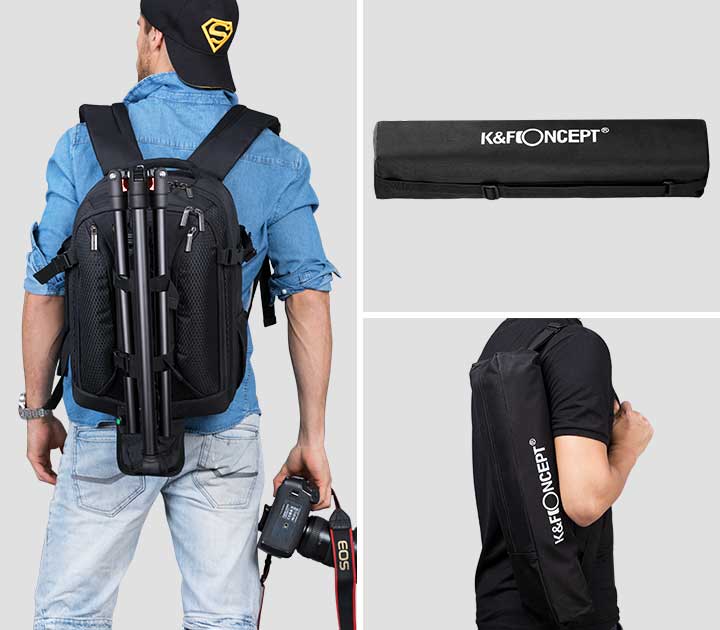 Very nice product
It looks just as good as in the pictures if not better
24/01/2022
Good
Great item and light
24/01/2022
A Very Solid Light Stand
I will use this on location for off camera flash portrait shoots. It feels a bit heavier and well made than my last one and I'm hoping a bit more safe in the wind.

I will update if I find otherwise but hoping its as good as the first impression
19/01/2022
Excellent product.
Very strong and yet nicely compact
11/01/2022
Best lightweight stands I've ever come across.
K&F seem to be becoming the new Small Rig which is a pretty good compliment! A Chinese manufacturer who deliver outstanding quality at an exceptional price but also produce brilliantly designed kit.Like Smallrig everything seems to be designed for purpose and these stands are an example in point. The legs stabilise your light perfectly and give you the height and reach you want.I normally use Arri light stands I've had over 20 years which leave everything else for dust in terms of quality and usability but they are large and quite heavy. These K&F ones are the first ones I'd use in place of the Arri ones if I have to carry them any distance which I often have to. Very impressed and as I've lots of K&F stuff now, I know they won't let me down.
06/09/2021
Lightweight and portable
Great bit of kit. Not had it long but it's light and very versatile. Very quick to assemble and will even sit on stairs because there are various (lockable) leg positions. I've attached and old ball head with an arca Swiss plate, so I can quickly attach my AD200 or my camera to use as a temp tripod, depending on the requirement. Obviously don't know it's longevity as I've only used it on a couple of shoots, but so far so good.
29/08/2021
very good
Baby received the height of the bracket can be adjusted is a good thing for photography with a very convenient and satisfying shopping like
16/11/2020
Perfect
We bought the tripod to use with a projector. It works perfectly. It's really easy to use. I felt like my dslr was well supported even at full length of lense Haven't used at full height yet but have used in uneven ground and the legs were easy to adjust
14/11/2020
very good
Baby got it. I have to say it's a great product to have in my studio. It's easy to use and you can adjust the height
14/11/2020
good
Baby received a nice and inexpensive stand and put it in my studio for easy and ajustable use like a good shopping trip
13/11/2020
These images belong to K&F Concept end users.
A
yes, however for added stability you should add counter weight at the bottom.
A
You would need a female ¼" adaptor to screw onto this male ¼"
A
I'm guessing here but I'd say its about 10lbs with the legs spread wide.
Tripod General
Load Capacity
4kg/8.8lbs
Maximum Working Height
2000mm/78.7"
Max Height without Center Column
\
Minimum Working Height
650mm/25.6"
Folded Length
590mm/23.2"
Weight
3.37lbs/1.53kg
Materials
Aluminum Magnesium Alloy
Ball Head
\
Color
Black
Tripod Legs
Leg Lock Type
\