Square Filter Kit 100mm ND1000 + 150mm GND8 + Metal Square Filter Holder Set
£83.99
£335.99
75% OFF
VAT free
New customer gift package
To
United Kingdom
Expedited Shipping
3-5
business days
The square filter set from K&F Concept SNJ51T square filter and metal square filter holder set is equipped with PREMIUM GLASS. glare protection. Metal filter holder All in one set.

SKU.1601

SKU:

SKU.1601

83.99

https://www.kentfaith.co.uk/SKU.1601_kf-concept-snj51t-square-nd1000-gnd8-metal-square-filter-holder-set
Features
* 【100x100mm 10 stops ND Filter】Square ND1000 lens filter is to prevent overexposure. reduce the light entering the lens and you can use a slower shutter to shoot or longer exposure time under normal light conditions such as blurred water flow. Applicable lens diameter is 82mm and below.
* 【100x150mm GND8 Filter】Grad ND is suitable for large light ratio contrast between the sky and the ground. If the ground is normally exposed, the sky will be heavily burdened. The soft gradient filter can effectively balance the light ratio and contrast. the applicable lens diameter is 98mm and below.
* 【Multi-layer coating】Made of Germany's top optical glass, precision grinding and double-sided polishing ensure that the sharpness will not be affected on the telephoto lens, and can provide high-definition imaging. High-tech film makes it anti-mildew, waterproof, scratch-resistant and anti-greasy.
* 【Square Filter holder】it's made of aviation aluminum, processed by CNC integration, and all nut parts are made of copper. Width 100mm x thickness 2mm; this bracket can accommodate 2 filters.
* 【8 adapters & Filter pouch】the square filter kit equipped with 49/ 52/ 58/ 62/ 67/ 72/ 77/ 82 mm 8 adapters; without deformation when used in -65°C to 210°C . Filter bag is made of leather, and the inner lining is thin sponge to protect the filter.
Shipping
To
United Kingdom
Expedited Shipping
3-5
business days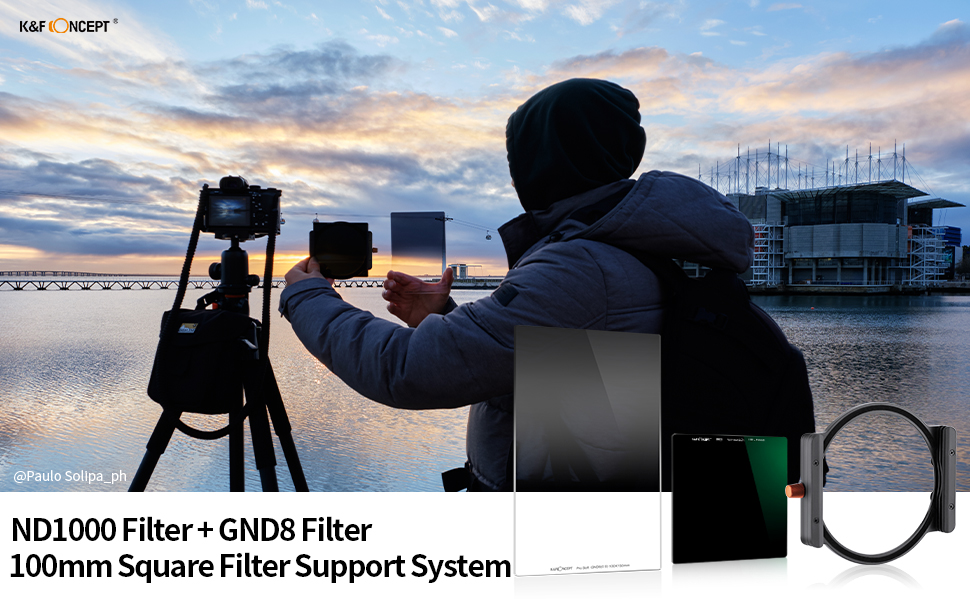 K&F Concept Square ND1000 (10 Stop) + Soft GND8 (3 Stop ) +Metal Filter Holder+ 8* Filter Adapter Rings Filter Kit with 28 Multi-Layer Coatings
Set inldudes: ND1000 + Soft GND8 + 8 * Adapter Rings (49mm/52mm/58mm/62mm/67mm/72mm/77mm/82mm)+ Leather Filter Bag
Filter Material : Import Japanese AGC Glass
ND Filter Function : Reduce the amount of light from Soft GND8 (3 stops) / ND1000(10 stops).
Filter Holder: Ultra slim(12mm thickness ) to avoid vignetting on wide-angle lens.
Coatings : 28 multi-layer coatings with double side polishing technology.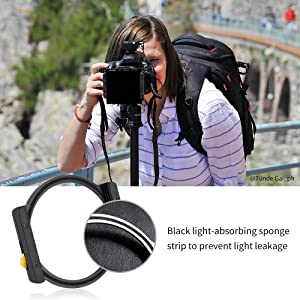 Metal Filter Holder
Made by aviation aluminum, surface using oxidation sandblasting to avoiding extra light enter in lens.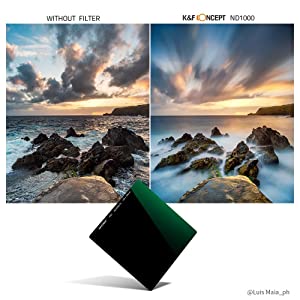 ND1000 Filter
The ND1000 filter size is 100x100mm, 10 stops (3.0), fit 82mm or smaller lens size, the filter with double side multi-layer coating , effectively reducing the filter reflect and glare came from filter itself, ensuring the first class images quality.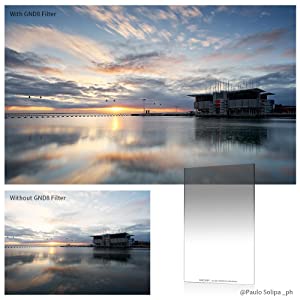 Soft GND8 Filter
The main function of Soft Graduated Neutral Density Filter (GND8) is to balancing the light between the sky and ground in shooting effectivly , the size is 100x150 x2mm,12.5% transmittance, 1.5% reflectivity, 3 stop(0.9).
Rating

142 reviews.

234 reviews.

187 reviews.

190 reviews.

169 reviews.

161 reviews.
Price

£335.99

£83.99

£1,063.99

£265.99

£249.99
£145.99
£103.99
£63.99
Model
SKU.1601
SKU.1877
SKU.1808
SKU.1878
SKU.1600
SKU.1596

Function

Light Reduction Effect
Light Reduction Effect/Remove Glare
Light Reduction Effect/Remove Glare
Light Reduction Effect/Remove Glare
Light Reduction Effect
Light Reduction Effect

Recommended Scenes

Landscape Photography
Landscape Photography
Landscape Photography
Landscape Photography
Landscape Photography
Landscape Photography

Series

X-series
X-PRO series
X-PRO series
X-PRO series
X-series
X-series

Multi-Coating

28
36
36
36
28
28

waterproof

√
√
√
√
√
√

scratch-resistant

√
√
√
√
√
√

HD

√
√
√
√
√
√
All Reviews
Image

All Star

5 Star

4 Star

3 Star

2 Star

1 Star
These images belong to K&F Concept end users.
how to check your lens size
K&F Concept Square Filter Kit ND1000 + GND8 + Metal Square Filter Holder Set SNJ51T
Filter
size
100mm/150mm
Function
Light Reduction Effect
Recommended Scenes
Landscape Photography
Series
X-series
Filter Material
Japanese AGC Glass
Multi-Coating
28
waterproof
√
scratch-resistant
√
HD
√
Transmittance
12.5% (GND8)
Antireflection
√
Filter Thickness
2mm
Shape
Square
Ring Material
Aviation aluminum alloy