EOS to Micro 4 3 Adapter,K&F Concept Lens Mount Adapter for Canon EF EF-S Mount Lens to M4/3 M43 MFT Mount Mirrorless Camera Body for Olympus PEN E-P1 P2 P3 P5 E-PL1 Panasonic Lumix GH1 2 3 4 5
Brand:

K&F Concept

Buy K&F Concept eos to micro 4 3 adapter,k&f concept lens mount adapter for canon ef ef-s mount lens to m4/3 m43 mft mount mirrorless camera body for olympus pen e-p1 p2 p3 p5 e-pl1 panasonic lumix gh1 2 3 4 5 online, £40.99 free shipping to UK.

KF06.090

Availability:

In Stock

40.99

https://www.kentfaith.co.uk/KF06.090_canon-ef-lenses-to-m43-mft-mount-camera-adapter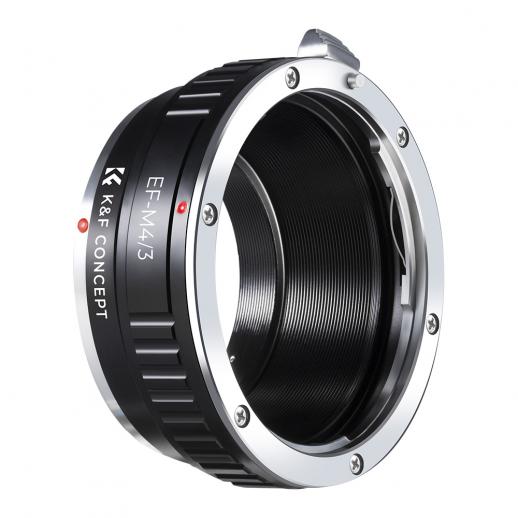 EOS to Micro 4 3 Adapter,K&F Concept Lens Mount Adapter for Canon EF EF-S Mount Lens to M4/3 M43 MFT Mount Mirrorless Camera Body for Olympus PEN E-P1 P2 P3 P5 E-PL1 Panasonic Lumix GH1 2 3 4 5
Features
• Mounts Canon EOS (EF / EF-S) D/SLR Lenses to Micro Four Thirds (MFT) mount mirrorless cameras
• Compatible Cameras (Including, but not limited to): Olympus PEN E-PL1, E-PL1s, E-PL2, E-PL3, E-P2, E-P3, E-M, OM-D, E-M5, E-M10 Panasonic Lumix DMC-G1, G2, G3, G10, GX1, GH1, GH2, GF1, GF2, GF3, GF5, GH4 Panasonic AG-AF100 Mirrorless Digital Cameras Black Magic Pocket Cinema Camera (BMPCC)
• Infinity focus function is allowed
• Manual adapter,auto diaphragm/auto-focus is not allowed
• Anodized Aluminum and Heavy Grade Brass Construction
Frequently Bought Together
K&F Concept design and produce full range of lens adapters to fit lenses of Canon, Nikon, Pentax, Olympus, Leica, Contax Yashica, Minolta, Tamron, T2, C mount, Exakta, M39, M42, Pentacon etc used on Camera bodies of Canon, Nikon, Sony, Fujifilm, Pentax, Micro 4 3, Leica, M42, Cinema C mount etc.

Great build quality
You can feel the solid build quality when picking this adapter up. It's metal rather than plastic, and feels like it can hold a good weighty lens (although I'd always use a lens support as well). I'm using this adapter to connect a Lumix GH5 to a Samyang 24mm cine lens, and it works beautifully.Just keep in mind that this is for manual lenses only. This adapter doesn't connect auto-focus or auto-aperture. For that you'd have to spend hundreds of pounds on a Speed booster.
Great Product good price
Works great dose not have auto focus but what do you expect for the price great Product A++++. Works perfect with canon lenses.
A great simple lens mount adapter
A great simple lens mount adapter. If you're looking for a simple mount adpater, then this will certainly do the job. Build quality is excellent, it feels like a premium product in hand and doesn't look out of place on the camera body.I bought this for my BMPCC enabling me to use my canon glass, and it works perfectly. Obviously this isn't a 'smart' adapter, it won't communicate auto focus or aperture controls to the lens, but this isn't what the adapter is designed for.A great quality & value accessory that I'm getting a huge amount of use out of.
Well built and does the job!
Bought to live with my speedbooster so I could use the crop factor of the sensor and effectively have two focal ranges depending on which adapter I used.Well built.
Great
Great. Does the job, build quality is great and for a good price compared to others.
Canon Objektive an MFT Kameras nutzen. Adapter für die Panasonic g70 | Deutsch
K&F CONCEPT Canon FD to MFT- M4/3 LENS ADAPTER Review
K&F Concept® Lens Mount Adapter for Canon EOS EF mount Lens to GH4
There are no faqs for this product.
These images belong to K&F Concept end users.
| Image | Lens | Mount | Filter Size (mm) |
| --- | --- | --- | --- |
| | ARAX 80mm f/ 2.8 S&T | Canon EF EF-S | 62 |
| | Bell+Howell 14mm f/ 2.8 ED Aspherical IF | Canon EF EF-S | - |
| | Bell+Howell 85mm f/ 1.4 Aspherical IF | Canon EF EF-S | 72 |
| | Bell+Howell 8mm f/ 3.5 Fish-Eye CS | Canon EF EF-S | - |
| | Belomo 17mm f/ 2.8 МС | Canon EF EF-S | - |
| | Beroflex Auto W.W. 35mm f/ 2.8 | Canon EF EF-S | 55 |
| | Bower 14mm f/ 2.8 ED AS IF UMC | Canon EF EF-S | - |
| | Bower 24mm f/ 1.4 | Canon EF EF-S | 77 |
| | Bower 85mm f/ 1.4 Aspherical IF | Canon EF EF-S | 72 |
| | Bower 8mm f/ 3.5 Fish-Eye CS | Canon EF EF-S | - |
| Camera | Mount |
| --- | --- |
| Blackmagic Pocket Cinema Camera | Micro 4/3 |
| Blackmagic Pocket Cinema Camera 4K | Micro 4/3 |
| DJI Zenmuse X5 | Micro 4/3 |
| JVC GY-LS300 4KCAM Handheld S35 mm Camcorder | Micro 4/3 |
| Kodak Pixpro S-1 | Micro 4/3 |
| Olympus Air | Micro 4/3 |
| Olympus OM-D E-M1 | Micro 4/3 |
| Olympus OM-D E-M1 Mark II | Micro 4/3 |
| Olympus OM-D E-M10 | Micro 4/3 |
| Olympus OM-D E-M10 Mark II | Micro 4/3 |