Camera Tripod 22lbs/10kg Load Flexible Travel Tripod 67"/1.7m, Aluminium Tripod for Canon Nikon Sony DSLR, T255A4+BH-28L (TM2515T1)
£99.99
£199.99
50% OFF
Inclusive of VAT
Terms
Terms and Conditions:
Coupons are valid for a limited time only. Kentfaith reserves the right to modify or cancel coupons at any time.
You must purchase the qualifying items added to your Cart when the coupon is in effect for the discount to apply.
If you later modify or cancel the subscription or delivery date for the qualifying item, the discount will not apply.
The coupon applies only to qualifying items displaying the coupon offer.
If you buy more than one item from the same coupon, the maximum discount amount of the coupon will be equal to either the percentage discount off or the face value of the coupon on one eligible item. The coupon may only be used on www.kentfaith.co.uk.
The promotion is limited to one coupon per customer.
If you return any of the items purchased with a coupon, the coupon discount or value may be subtracted from the return credit.
&FREE Shipping to United Kingdom,Ireland
Free Shipping Worldwide. 30 Day No Reason Return. K&F Concept TM2515T1 67" Camera Tripod. Transverse Center Column. Strong Stability. Compact & Flexible.

KF09.085

SKU:

KF09.085

99.99

https://www.kentfaith.co.uk/KF09.085_Camera Tripod Horizontal Aluminium Tripods Portable Monopod with 360 Degree Ball Head Quick Release Plate
Features
* 【Transverse Center Column】Central column moves from 0 to 180 degrees, can be rotated 360°horizontally, to realize panorama shooting.
* 【Strong Stability】The weight of tripod is 1.65kg. 25mm large diameter aluminum alloy tube,the load capacity can reach 22.04lbs (10kg), provide security and stability support for your dslr Canon Nikon camera.
* 【Compact & Flexible】5 sections leg can adjust the height from 15.35'' to 60.62''; the N. weight with ball head is only 3.7lbs; can be 180° reflexed to 16.9'' size, which is super portable for outdoors.
* 【Metal Ball Head】Can be rotated 360 degrees, helping to expand camera activity range when panoramic shooting.(the bubble level help to judge the level and the accurate composition)
* 【Detachable Monopod】It can be turned into a monopod or walking stick alone to make your photography more diverse. (Note: For a camera with a telephoto zoom lens, you need to buy a tripod mount ring additionally or a telephoto lens bracket for better balance) . Note: two types of quick release plates will be shipped randomly.
Shipping
&FREE Shipping to United Kingdom,Ireland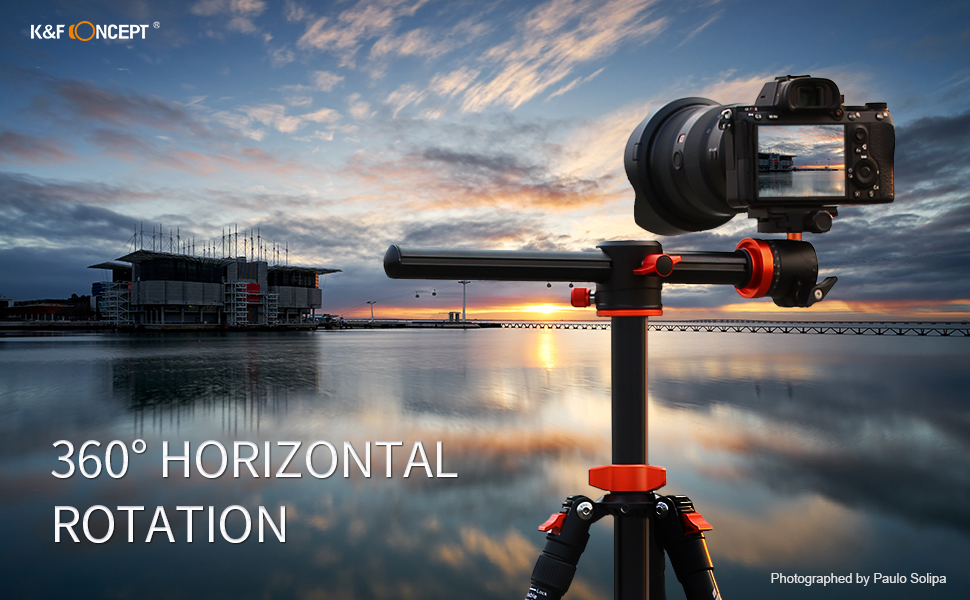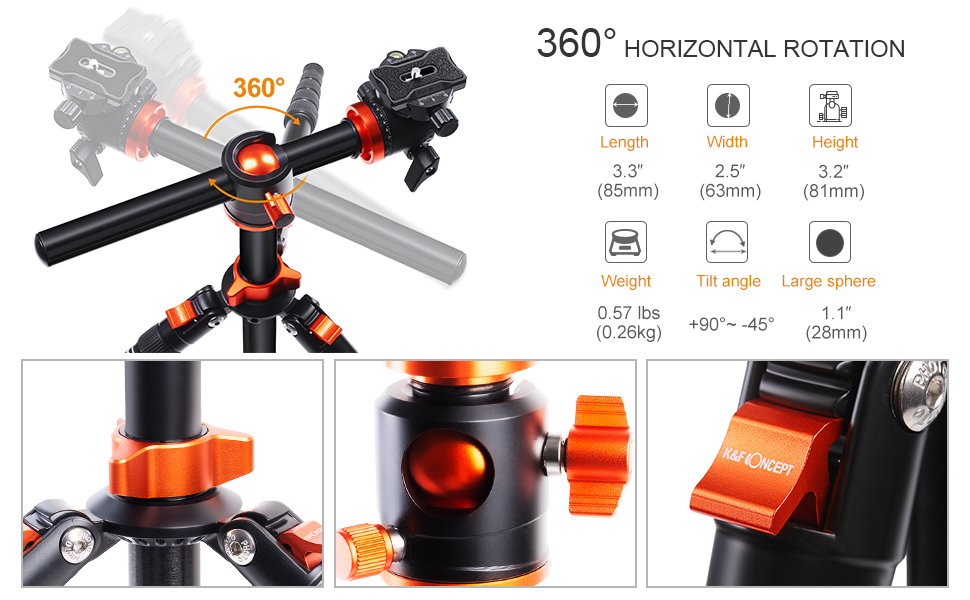 Specifications
| | |
| --- | --- |
| Material | Aluminum Aolly |
| Sections | 5 sections leg |
| Max Tube Diameter | 25mm diameter tube |
| Folded Height | 16.9 inch/43cm |
| Tripod Max Height | 67 inch/170cm |
| | |
| --- | --- |
| Load Capacity | Up to 22.04lbs (10kg) |
| Item weight with ball head | 3.72 ibls/1.69kg |
| Locking System | Metal spiral locking |
| With Monopod | Can be turned into a monopod |
| Transverse Center Column | Have Transverse Center Column Function |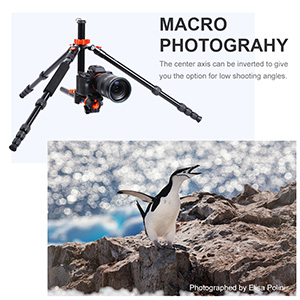 Inverted installation function
Center column inverted installation can realize the lowest angling shooting, macro shooting, panorama shooting and special photography.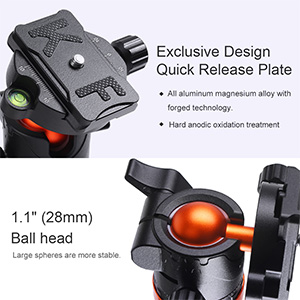 360° panorama ball head
The ball head can be rotated 360 degrees, then helps to improve camera activity range when panoramic shooting.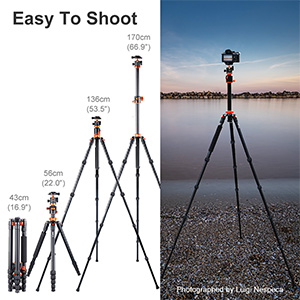 2 in-1 tripod monopod
This Tripod can be detached to be monopod and converted into alpenstock when removing one leg; Can be used in different occasions; suitable for high-angle tilt shooting and low-angle shooting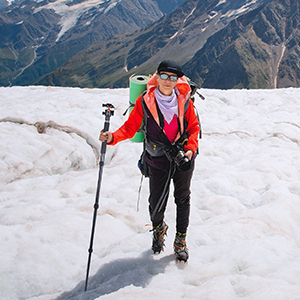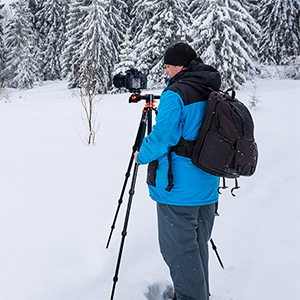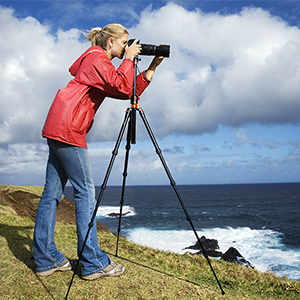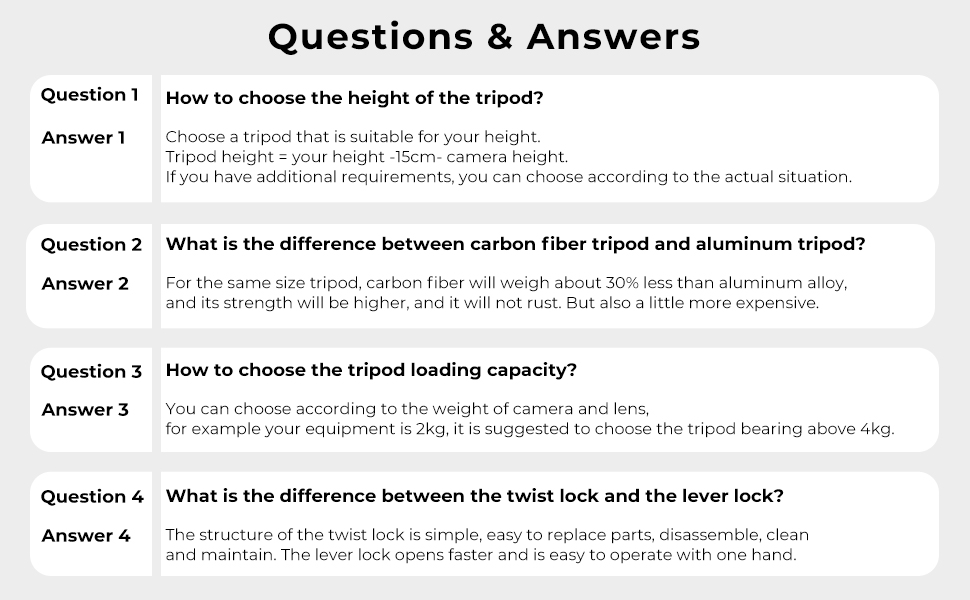 Rating

176 reviews.

20 reviews.

75 reviews.

71 reviews.
Price

£199.99

£99.99

£177.59

£91.99

£185.43

£94.99

£246.99

£102.99

Model
KF09.085
KF09.096
KF09.079V2
KF09.086V1

Load Capacity

10kg/22.05lbs
10kg/22.05lbs
10kg/22.05lbs
10kg/22.05lbs

Maximum Working Height

1700mm/67"
1920mm/75.59"
1830mm/72.05"
2385mm/93.90"

Minimum Working Height

560mm/22"
615mm/24.21"
600mm/23.62"
690mm/27.17"

Folded Length

430mm/17"
500mm/19.69"
490mm/19.29"
570mm/22.44"

Weight

1690g/3.7lbs
1845g/4.07lbs
1835g/4.05lbs
2000g/4.41lbs

Materials

Magnesium aluminum alloy
Magnesium aluminum alloy
Magnalium Alloy
Magnesium aluminum alloy

Ball Head

Ball Head
Ball Head
Ball Head
Ball Head

Color

Orange/Black
Orange/Black
Red/Black
Orange/Black

Leg Lock Type

Twist Lock
Twist Lock
Quick Flip Lock
Twist Lock

Leg Sections

5
4
4
4

Leg Diameter

13-25mm/0.51-0.98"
16-25mm/0.63-0.98"
16-25mm/0.63-0.98"
16-25mm/0.63-0.98"

Center Column Features

Transverse Center Column, Center Column Inversion
Transverse Center Column, Center Column Inversion
Transverse Center Column, Center Column Inversion
Transverse Center Column, Center Column Inversion

Center Column Sections

2
2
2
2
Fits everywhere and perfect for overhead shots.
Thanks to my friends on youtube, I got recommendation for tripod from K&F. Right after I got it, I had to test it and now I'm using it 5-8 hours every day where I see it amazing. Most important to me is extended horizontal stick, where I can use it for ground shots or shots above certain product. And how small it is when it's assembled, fits everywhere!Now after I tried tripod, I'm sure I will test more from K&F!
06/04/2022
Extremely Versatile
I have been very please with this lightweight travel tripod. It is extremely versatile and can be used in a range of configurations as shown in the attached photos. The build quality is very good, each of the legs has a latch that locks into place when extended. One of the legs is fully removable and can be used as a monopod. The tripod head has a fluid motion which is excellent for videography. Very pleased.
16/04/2022
Amazing Tripod
Does exactly what it's designed to do
02/05/2022
Great buy
My go to, travel tripod. Stays in the car for all my photographic adventutes. I love taking it on walks, the bag is brilliant. Love it.
02/05/2022
It has multiple usage options, much better than normal tripods.
This is a hell good quality piece of equipment. Even though I didnt quite figure out how to use it like "T" shape yet, it is even quite sturdy and useful for everyday use. Comes with carrying bag, quite small when folded and not very heavy. Arrived next day and made me so happy
01/05/2022
Strong and sturdy
Super strong tripod, smooth pan head, does everything they say it does, looked at thd reviews first, and wasn't disappointed. Awesome a+++
01/05/2022
Amazing quality, Versatile and Affordable
What impresses immediately in thist K&F Concept 60" Tripod is the quality and the attention to detail, beginning in the sturdy carry bag. The 39 cm tripod can open up to 154 cm. You can use the tripod in countless situations, being very versatile for shooting night shots, taking product shots, macro shots at the ground level, and even using for shooting videos. The tripod is sturdy, tight, but if is very windy it has a stand in the center to add some weight. The head have a plate with easy grip screw, is also very versatile and sturdy, making it easy to level the horizon of the camera without moving its paws, especially usefull in video shooting. Note the excellent rubber paws, non-slip and narrow to achieve stability even on dirt terrain.The set have a different short central axis that is easy to change in case you don't need to use the big one that comes assembled.When i need to put my video camera on tripod, as i use a different plate to use in a gimbal, i put a quick release plate as i show in the picture.Great value for money. An excellent tripod especially for travel but also for everyday use.
27/04/2022
Lightweight, sturdy, the tiltover head gives a special feature I wanted.
K&F concept aluminium tripod with 180 degree tiltover camera head

Summery: Lightweight, sturdy, the tiltover head gives a special feature I wanted.

I own quite a few tripods and camera mounts because I have so many cameras so this one joins my collection for a special reason which I will explain in a short while.

The model is KF-TM2515T

It has 4 part telescopic legs that extend to a give a maximum tripod height of 6o inches, the legs can be used in 3 different angle positions which is adjusted using the red button at the top of each leg, there is no central connector so each leg angle can be set individually.

The centre column is in 2 parts, the outer part can be height adjusted while the second section can not only be extended vertically but it can also be tilted over 180 degrees, it was this feature that made me decide to add this to my collection, more on that in a while.
As with a lot of tripods you can invert the centre column to allow low level and macro shooting, but the tillable section adds a little extension to give a different view than one bound to the centre, you can even make an ad-hoc slider shot by slowly moving the bar along the centre column.

The tripod head is a standard 3/8 thread panning ball-head type that are found on many of my tripods, I like ball-heads for my smaller cameras. It has an Arca-Swiss type quick release clamp with a bubble for camera levelling.

The tripod is lightweight, strong, it folds down pretty small and comes with a strong looking zipped case with straps so for general purpose use it is great, with the added tilt feature to give some extra creative assistance.

Now the reason I bought this particular tripod…..I need to be able to mount 2 cameras on one tripod properly, and this tripod helps me do just that with a little bit of extra kit.
The end of the centre bar has a small plastic cap screwed into it, when taken away a 3/8 thread is revealed, most of my tripod centre column have this, it is usually there to hold the sandbag hook screw. So by using a short 3/8 inch threaded bar and an extra ball-head I can make a double tripod. Fantastic and very useful to save space when shooting.

One leg can also be removed and used with the centre column as a monopod but I already have monopods so I will not be using that feature with this tripod.
26/04/2022
Lightweight & Versatile Tripod
Was looking for another tripod with a removable head so I can fit my Manfrotto fluid head onto. The tripod is super compact, lightweight and sturdy.This tripod has allowed me to do overhead shots and amazingly it's holding my Panasonic GH5, but obviously you have to make sure you have the supporting leg in the same direction.Overall I'm very happy with it and it's so versatile for many different scenarios.
25/04/2022
Get it now! Don't hesitate!
I've had a few different tripods over the years at different price points but this is by far the best!Being a wedding and lifestyle photographer I use it in so many different settings and it doesn't fail! Each leg is individually adjustable meaning no matter the terrain you can make it level and sturdy.I love that all the connectors move so smoothly and the whole kit is incredibly robust and yet very lightweight. It all folds up neatly into the one bag/case that I've shown in the photos.The top arm can extend to a 90 degree angle which is brilliant for taking photos of flat lays etc without the legs of the tripod being in shot.Another little extra that I like is a small spirit level on the top connector just so you can make sure everything is level before you attach your camera.The tripod has a wieght hook underneath for added sturdiness in extreme conditions and one of the legs also detaches to become a monopod!Overall this tripod is an excellent bit of kit and I have been very impressed with every aspect of it especially at under £100!So if you're looking for a reliable and versatile tripod this is the one for you!
23/04/2022
These images belong to K&F Concept end users.
67"/170cm Camera Tripod (KF09.085)
How to install the Center Column ?
Wow!Brand video:K&F Concept Tripod with Phone Mount
Tripod General
Load Capacity
10kg/22.05lbs
Maximum Working Height
1700mm/67"
Max Height without Center Column
1360mm/53.5"
Minimum Working Height
560mm/22"
Folded Length
430mm/17"
Weight
1690g/3.7lbs
Materials
Magnesium aluminum alloy
Ball Head
Ball Head
Color
Orange/Black
Bubble Level
Tripod Legs
Leg Lock Type
Twist Lock
Leg Positions
3
Independent Leg Spread
Leg Sections
5
Leg Diameter
13-25mm/0.51-0.98"
Feet Features
Can be reversed 180° and folded
Tripod Center Column
Center Column Features
Transverse Center Column, Center Column Inversion
Center Column Sections
2