Carbon Fiber Tripod with Phone Mount 67"/1.7m Max Height 22lbs Load Lightweight Travel Tripod for SLR DSLR, D255C4+BH-28L (SA255C1)
£113.99
£207.19
44% OFF
Inclusive of VAT
&FREE Shipping to United Kingdom,Ireland
Free Shipping. 30 Day No Reason Return.K&F Concept Carbon Fiber camera tripod features Compact & Portable, EASY SET UP, High Compatibility.

KF09.093

SKU:

KF09.093

113.99

https://www.kentfaith.co.uk/KF09.093_Carbon Professional Tripod Monopod with 360 Degree Ball Head
Features
* 【Lightweight & Portable】Tripod tube made of quality carbon fiber, weighs only 1.33kg / 2.93lbs, measures 42cm / 16.53" long when folded, super lightweight and compact with loading capacity up to 22.04lbs / 10kg, making it ideal for indoor and outdoor photography.
* 【Convenient & Flexible】25mm tube diameter, 5-section legs with spiral type locking knob allows you to adjust the working height from 53cm / 20.47" to 172cm / 68" in seconds. Tripod legs can be adjusted in three levels of opening angle to stabilize on varying grounds and incline levels.
* 【Detachable Monopod】This carbon fiber lightweight travel tripod can be quickly disassembled with the central axis screw and transform into a monopod, providing an alternative way of shooting with ease.
* 【360°Panorama Ball Head】The specially designed 28mm ball-head can rotate 360° and get free angles, allowing you to get the perfect shot and amazing panorama every time.
* 【High Compatibility】The quick release 1/4" screw is suitable for most cameras, DSLR camera, projector and telescope, etc; Your phone can be connected via a extra phone mount as well.
Shipping
&FREE Shipping to United Kingdom,Ireland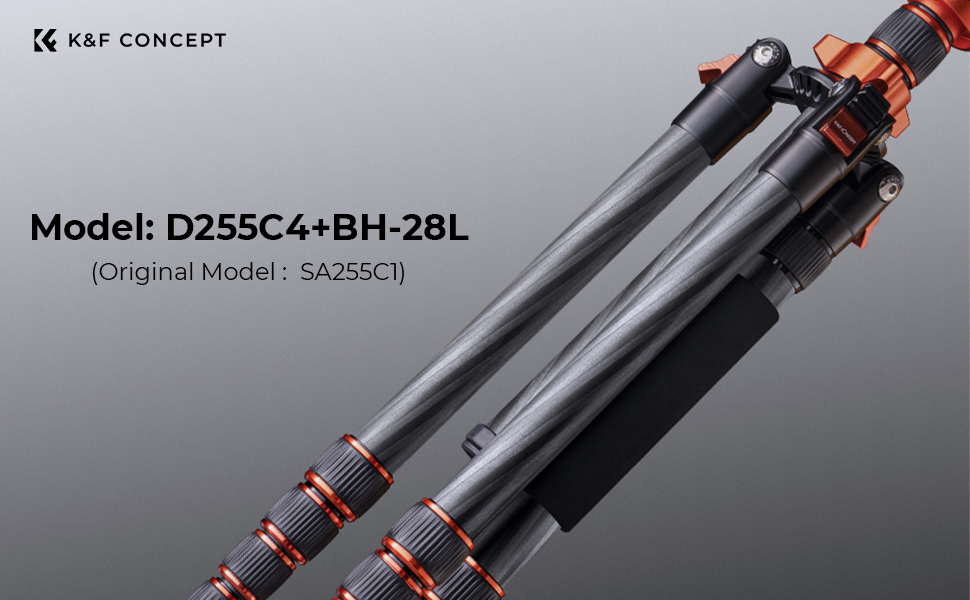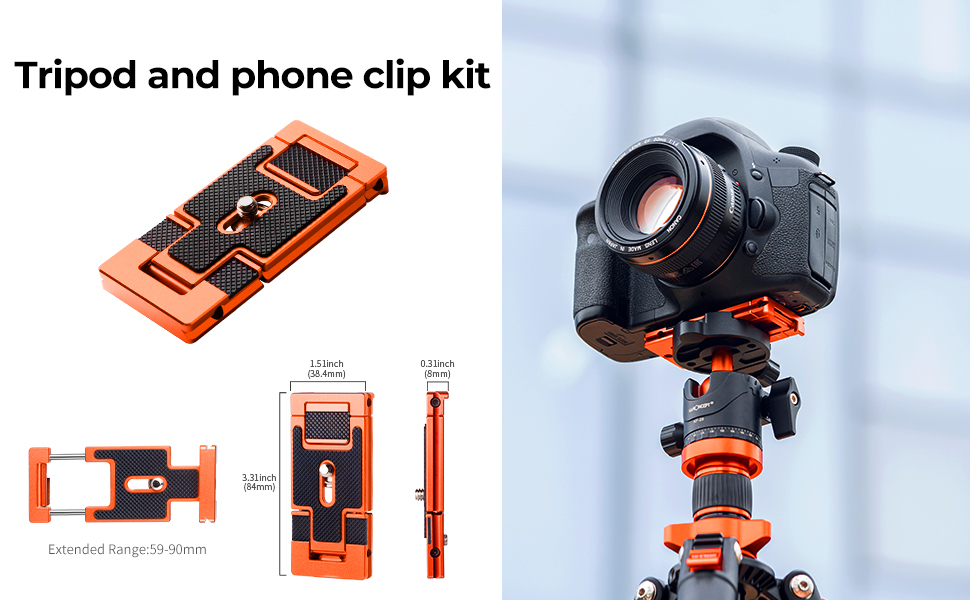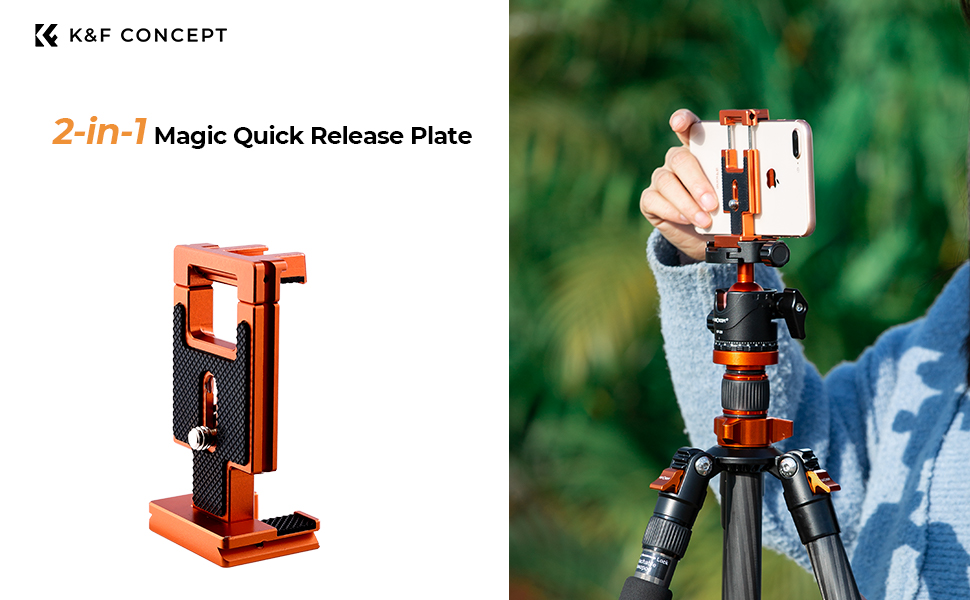 K&F Concept 68" Carbon Fiber Camera Tripod, Professional Lightweight Compact Tripod
Compact and Lightweight
---
The travel tripod is foldable,the folded size is 16.53"/42cm, allows the tripod to easily enter hand luggage or backpack, and carry on the plane. It only weighs 2.93lbs/1.33kg and the load capacity is 22.04lbs/10kg. Lowest Angle Shooting
---
Lowest angle shooting, macro shooting, and special photography can be achieved through inverted central axis. Stability Improvement
---
Comes with a hook which can hang sandbag or other heavy objects to increase the stability.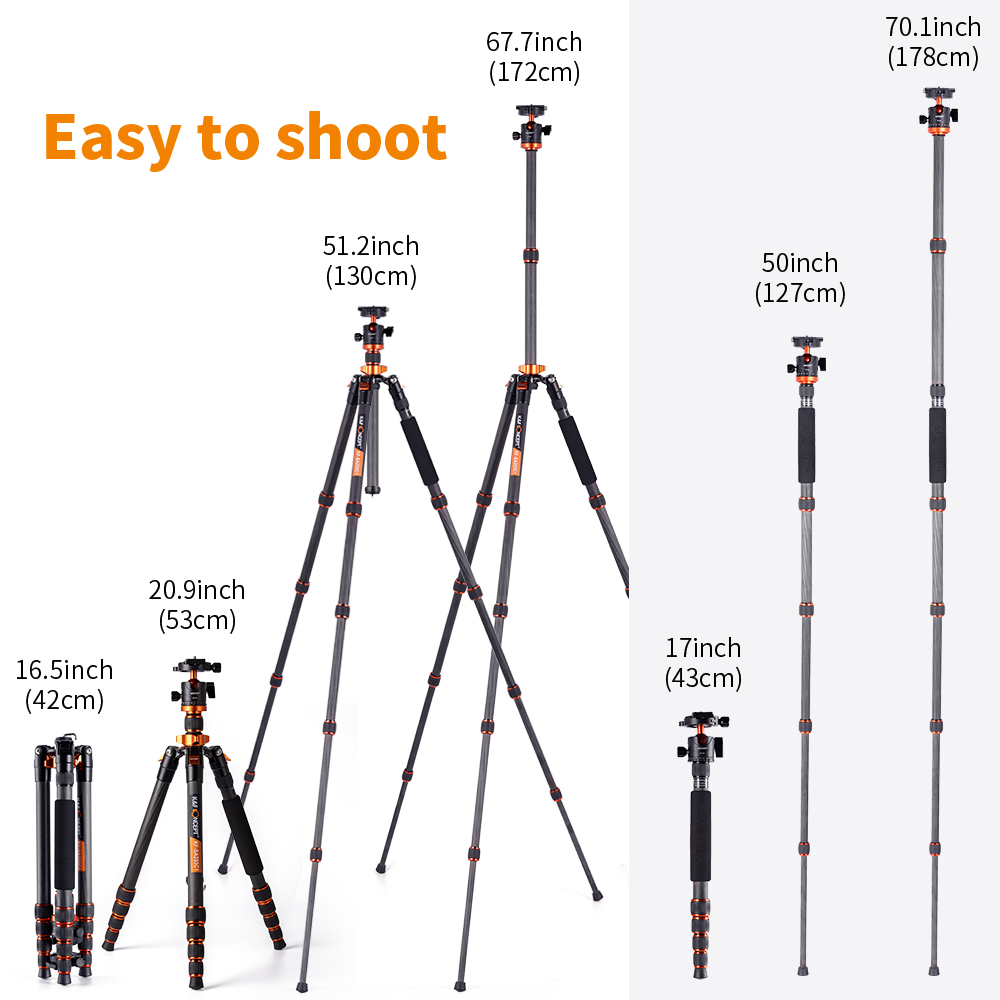 Detachable Monopod
This tripod can be quickly transform into a monopod,the Max monopod height up to 70.1 inch.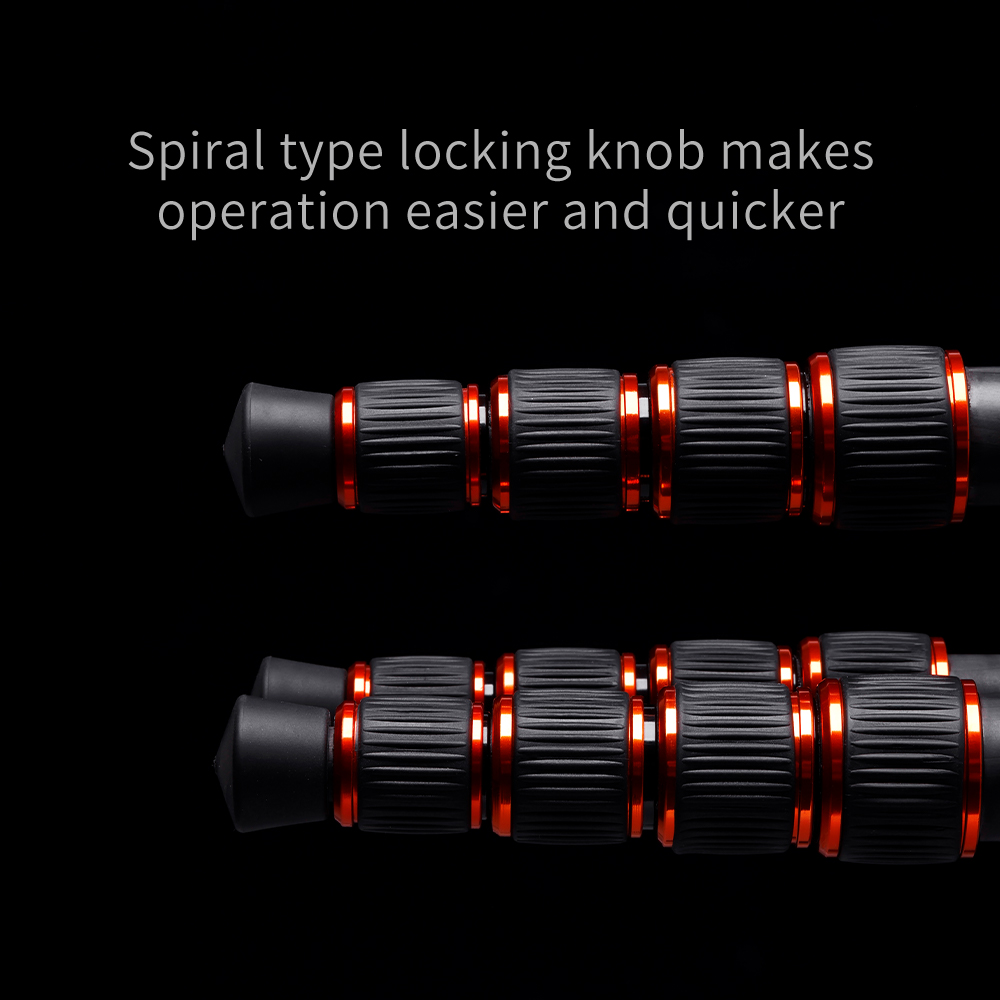 Metal Spiral Locking
The metal spiral locking knob on the leg is better for locking strength. Release clockwise and tighten counterclockwise.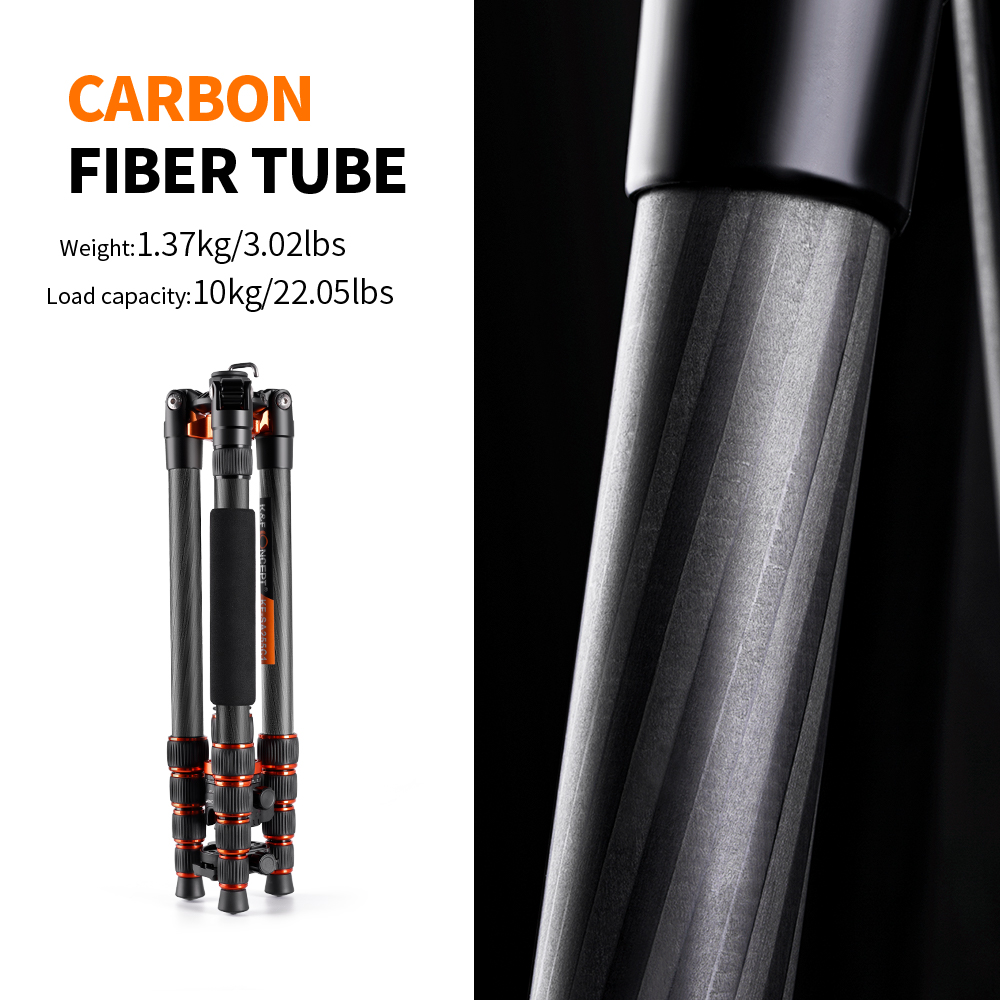 Quality Carbon Fiber
Use high-quality carbon fiber materials to reduce item weight while maintaining strong stability.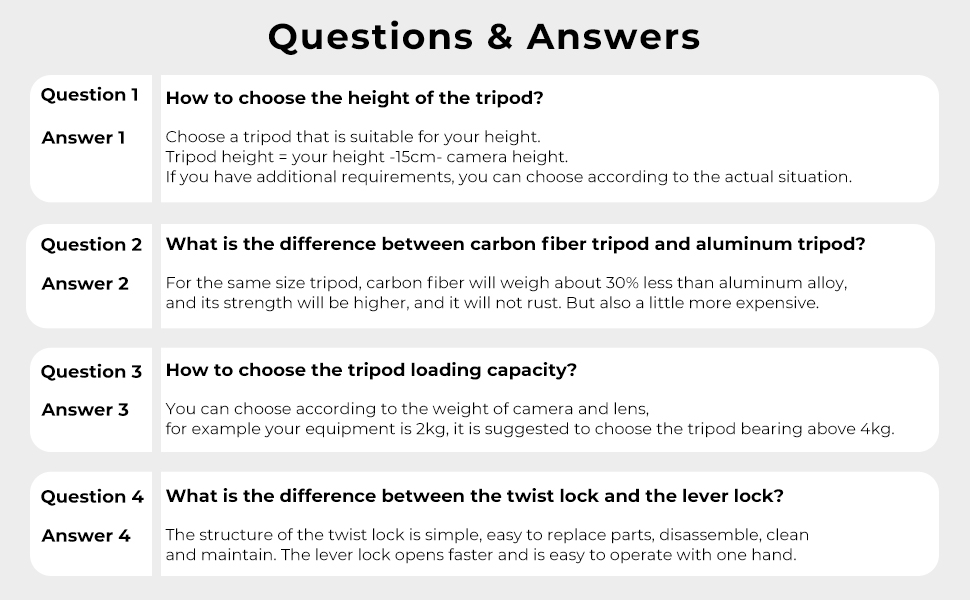 Rating

167 reviews.

122 reviews.

22 reviews.

100 reviews.
Price

£207.19

£113.99

£199.99

£118.99

£134.99

£112.99

£199.99

£119.99

Model
KF09.093
KF09.077V2
KF09.109
KF09.010

Load Capacity

10kg/22.05lbs
8kg/17.6lbs
10kg/22.05lbs
10kg/22.05lbs

Maximum Working Height

1720mm/67.72"
1520mm/59.84"
1600mm/63"
1680mm/66.14"

Minimum Working Height

530mm/20.87"
460mm/18.11"
535mm/21.06"
445mm/17.52"

Folded Length

420mm/16.54"
350mm/13.78"
410mm/16.14"
500mm/19.69"

Weight

1325g/2.92lbs
1013g/2.20lbs
1346g/2.97lbs
1507g/3.32lbs

Materials

Carbon Fiber
Carbon Fiber
Carbon Fiber
Carbon fiber

Ball Head

Ball Head
Ball Head
Ball Head
Ball Head

Color

Orange/Black
Orange/Black
Orange, Black
Gold/Black

Leg Lock Type

Spiral Type Lock
Spiral Type Lock
Flip Lock
Twist Lock

Leg Sections

5
4
4

Leg Diameter

13-25mm/0.51-0.98"
10-22mm/0.39-0.87"
16-25mm/0.63-0.98"
16-25mm/0.63-0.98"

Center Column Features

Center Column Inversion
Inversie van middelste kolom
Center Column Inversion

Center Column Sections

2
2
2
These images belong to K&F Concept end users.
Landscape Photography with the K&F Concept SA255C1 Carbon Fibre Tripod (Review)
How to install the Center Column ?
Wow!Brand video:K&F Concept Tripod with Phone Mount
Tripod General
Load Capacity
10kg/22.05lbs
Maximum Working Height
1720mm/67.72"
Max Height without Center Column
1300mm/51.18"
Minimum Working Height
530mm/20.87"
Folded Length
420mm/16.54"
Weight
1325g/2.92lbs
Materials
Carbon Fiber
Ball Head
Ball Head
Color
Orange/Black
Bubble Level
Tripod Legs
Leg Lock Type
Spiral Type Lock
Leg Positions
Independent Leg Spread
Leg Sections
5
Leg Diameter
13-25mm/0.51-0.98"
Feet Features
Can be reversed 180° and folded
Tripod Center Column
Center Column Features
Center Column Inversion
Center Column Sections
2