86mm Magnetic Lens Filter Kit UV+CPL+ND1000+Magnetic Adapter Ring 4 in 1 Quick Swap System Nano X Series
£89.99
£199.99
55% OFF
Inclusive of VAT
&FREE Shipping to United Kingdom,Ireland
Free Shipping. 30 Day No Reason Return.K&F 86mm three-piece magnetic filter MCUV+CPL+ND1000 HD waterproof, scratch-resistant, anti-reflection green film, with magnetic attachment ring, 4-piece storage bag.

SKU.1686

SKU:

SKU.1686

89.99

https://www.kentfaith.co.uk/SKU.1686_kf-86mm-three-piece-magnetic-filter-mcuv-cpl-nd1000-hd-waterproof-scratch-resistant-anti-reflection-green-film-with-magnetic-attachment-ring-4-piece-storage-bag
Features
* Quick and easy to install and disassemble. The difference from the threaded filter is that the magnetic filter does not need to be rotated, and can be installed in one second, and there will be no problem of disassembly. The installation of the threaded filter takes at least 6 seconds;
* The magnetic suction filter does not need to consider the superimposed filter behind, so it can be made very thin. When using CPL+ND1000 at the same time, the 16MM wide-angle lens will not produce vignetting;
* The magnetic MCUV filter can not only act as a protective lens but also magnetically superimpose other filters; other filters can also be superimposed when MCUV is not required;
* All filters are imported German glass, the lens surface has 16 layers of coating, with high-definition / waterproof / scratch-resistant / anti-reflection function; the edge of the frame is made of CNC bumps to facilitate installation and removal;
* Equipped with a 4-piece waterproof zipper storage bag, multi-layer storage space, with functions such as hanging buckle/velcro/waterproof zipper; it is easy to carry when going out and can be used in multiple scenarios.
Magnetic Lens Filter Kit
Install the magnetic filter in one second!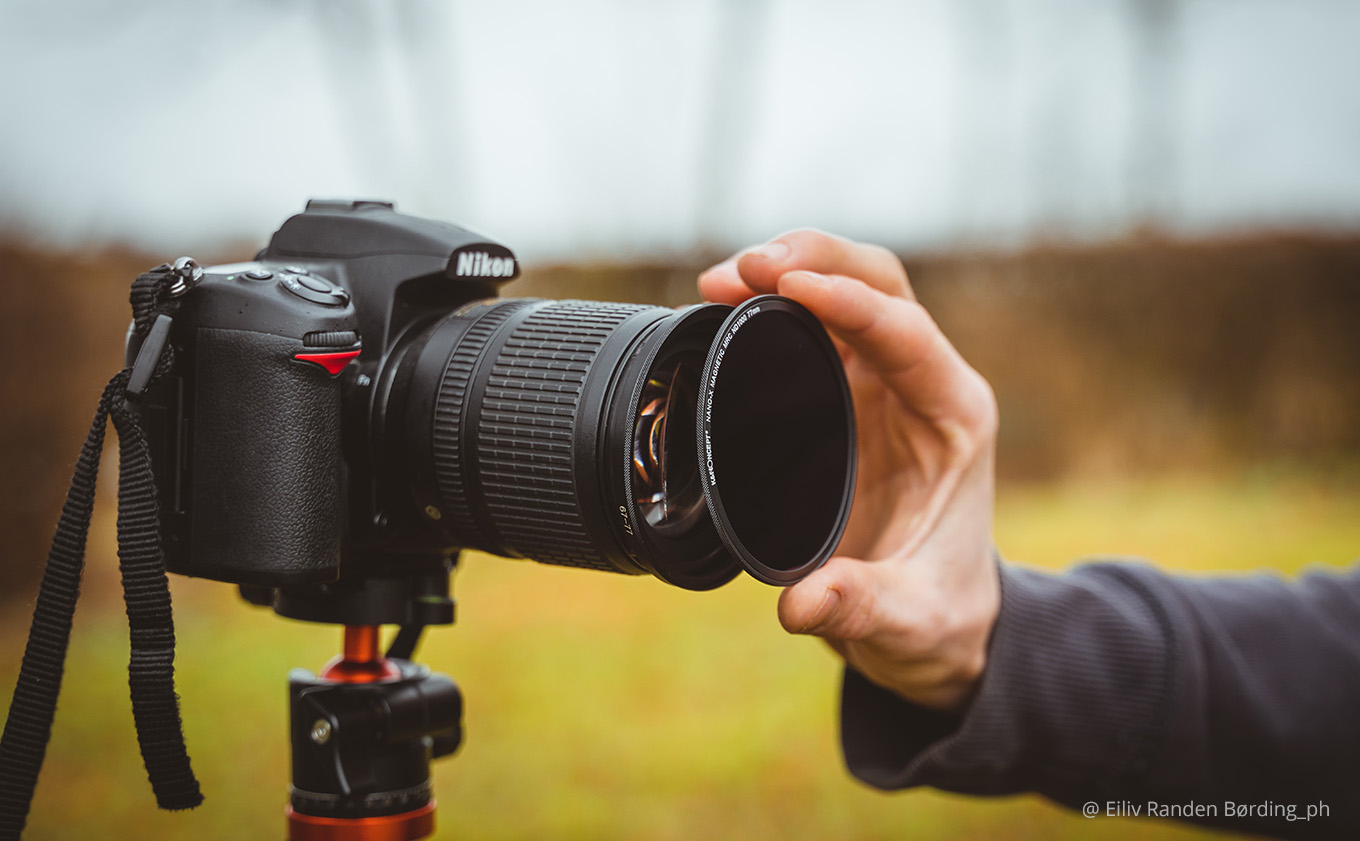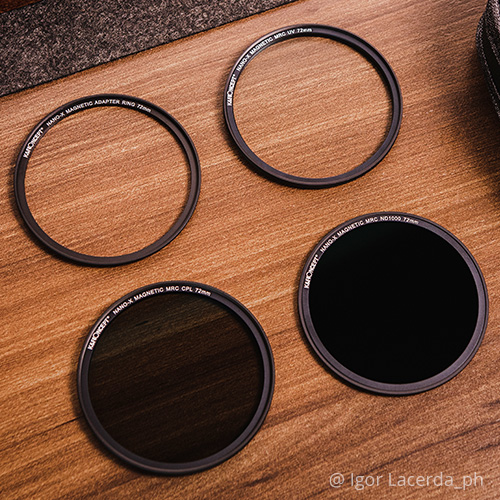 4 in 1 Filter Kit
Adapter Ring+ MCUV Filter + CPL Filter + ND1000 Filter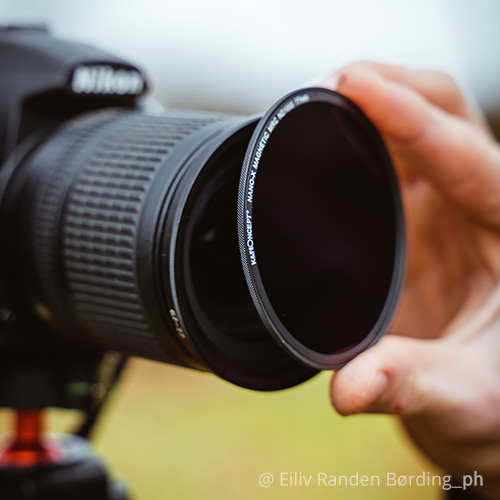 1s Installation
Quickly install and remove the filter, every second is important.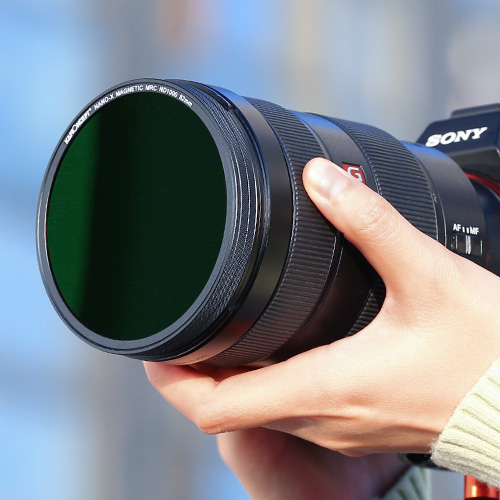 Superimposed use no vignetting
Simultaneous use of MCV+CPL+ND1000,at least 18mm wide-angle lens will not produce vignetting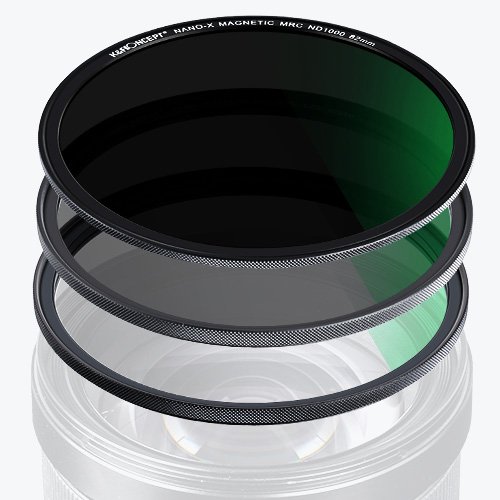 Combination method (1)
Magnetic Adapter Ring + CPL+ ND1000.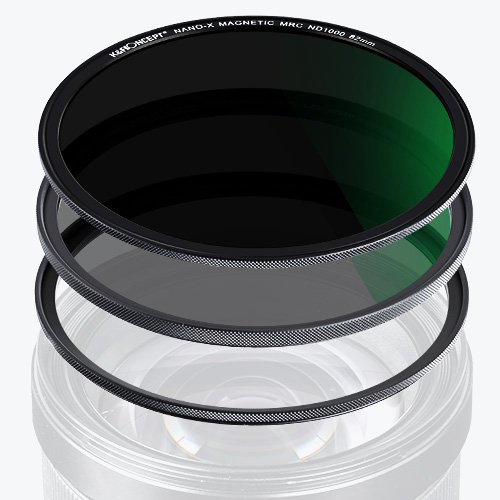 Combination method (2)
MCUV+CPL+ND1000.
Nanometer Coating
Waterproof,oil resistant,scratch resistant.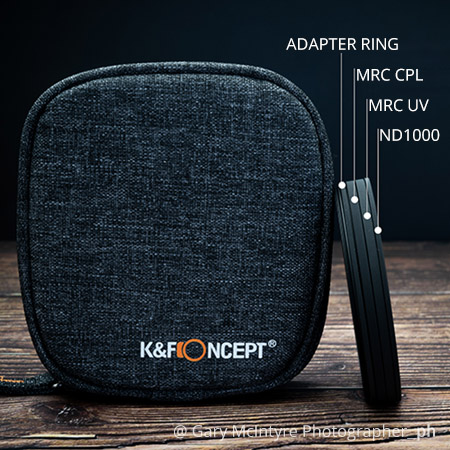 Filter Thickness
ND1000 (1.9mm), CPL (3.5mm), MCUV(3.3mm), Magnetic Adapter Ring(1.9mm).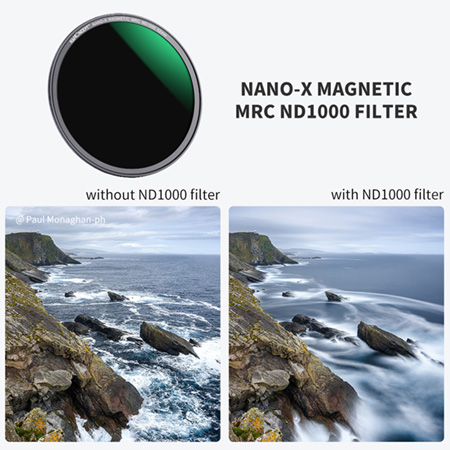 ND1000 Filter
Enables slow shutter speeds to be used to record movement in subjects such as waterfalls, providing a silky smooth affect to flowing water.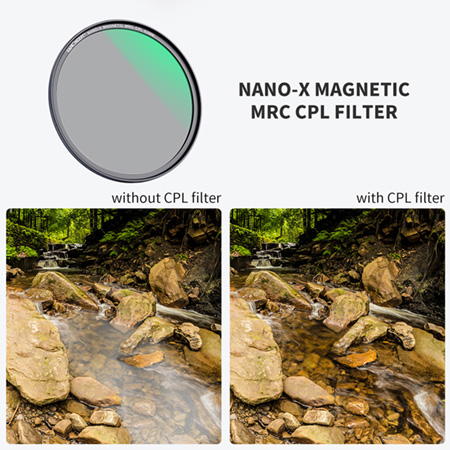 MRC CPL Filter
The CPL filter cuts the reflections caused by sunlight when taking pictures of landscapes with water.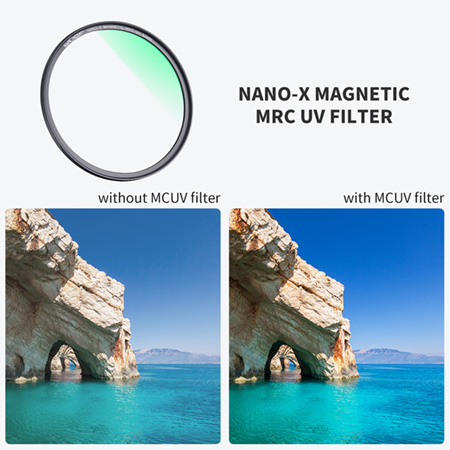 MRC UV Filter
Reduce ultraviolet rays to restore the most true colors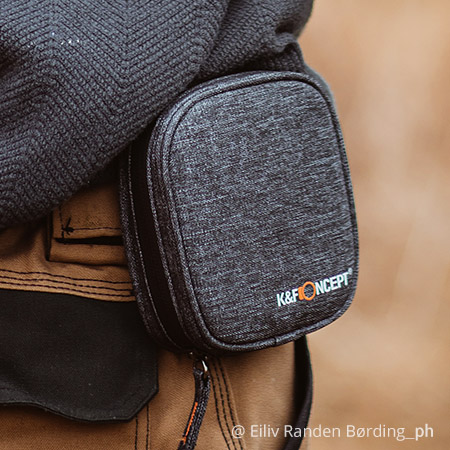 4-in-1 filter carrying case
Adsorbed on the waist, easy to carry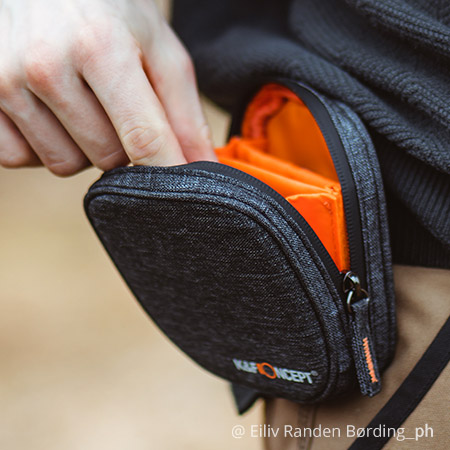 Easy to use
Quickly change the filter to take great photos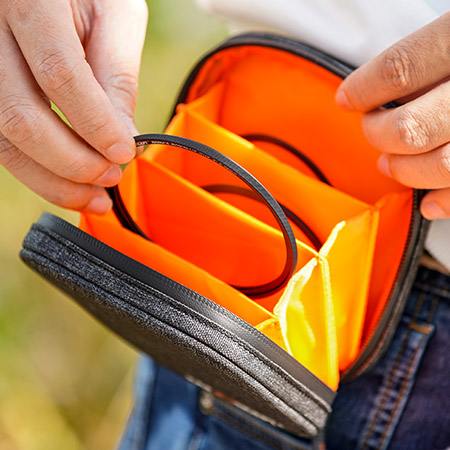 Layered partition
Each filter has its own position to avoid crushing by impact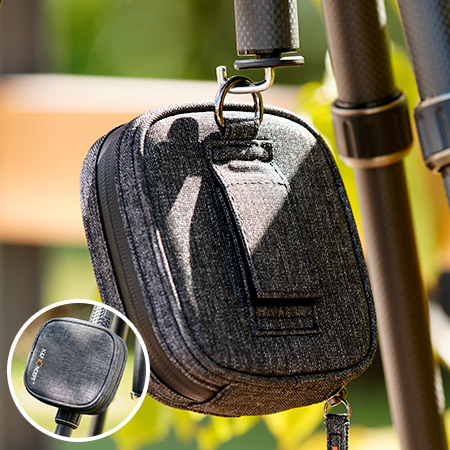 Hook and Velcro
Can be mounted on the tripod during shooting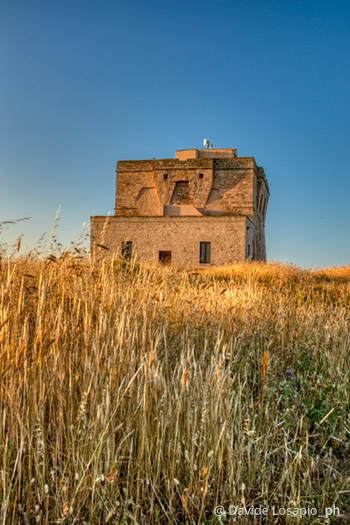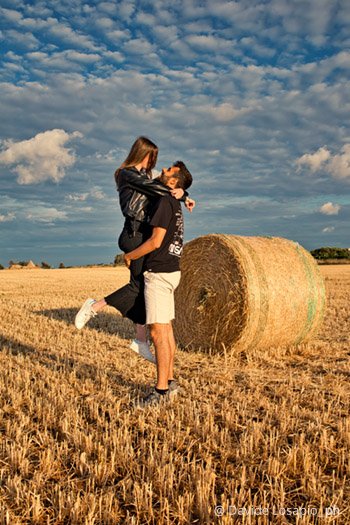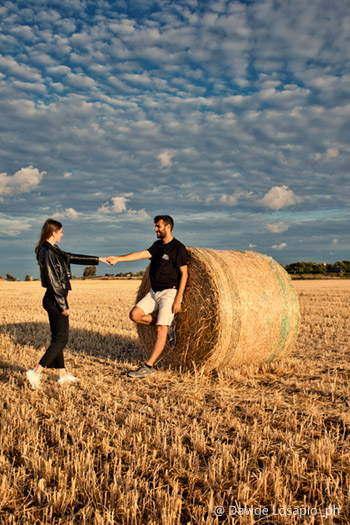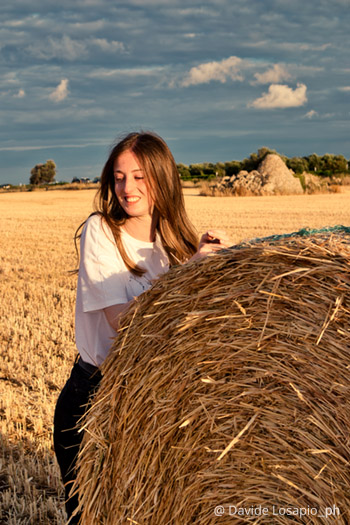 K&F Concept Magnetic Lens Filter Kit witness your happiness, photo taken by Davide Losapio
Good at an excellent price
The filter I use the most is the ND1000 and it is very easy to use. Put the parameters you consider for the photo and focus, change the camera to manual focus so that the focus remains fixed, place the ND1000. Now you will see everything dark and you will have to change the time. What time do I use? Very simple, take the time you have set and multiply it by 1000. A 1/125 photo without a filter should be taken at approximately 8 seconds to obtain a similar exposure.

If what you are looking for are good quality filters that do not negatively affect your image and that are very comfortable to transport and use, I would definitely buy magnetic ones. Carrying the squares is sometimes a nuisance and the threaded ones are much more uncomfortable for me, in addition to the risk of them falling, I am a bit of a hand and it has already happened to me several times with the threaded ones. With these at the moment no problem and very happy.

I leave you a video and some photos that I hope will help you!
16/10/2021
Great quality
After post-processing, the pictures are really world class .... There are no false colors to be found at all. It can also be used in the wild, panning for gold. A tripod is highly recommended.
16/10/2021
Perfect ND filter for photo and video recordings
The filter is mounted directly on the lens. You can always take it, it's not difficult and you get great effects with it!
15/10/2021
Perfect
Very suitable for taking pictures of silky water. Good quality glass and threads are essential for any serious photographer.
26/10/2021
Nice filter that does what it should
The filter is packed in a practical box to protect it during transport. And this filter works very well.
25/10/2021
very good
The filter arrived neatly packaged. The feel is good, it feels valuable. I didn't notice any color shifts negatively.
25/10/2021
Super
Great filter and cheaper than competitors.
25/10/2021
Works well
This ND filter made a deep impression on me, I really didn't expect it to be so useful for video production. I think it's enough for me to shoot a video on a sunny day.
25/10/2021
Great
High quality, no dreaded X or aberrations. I expected a lens of this quality to cost a lot more.
24/10/2021
Good price performance
For the price of one, I now have a well-made variable ND filter for all of my lenses - I'm very happy!
24/10/2021
A
No, the ND filter from the magnetic set is an ND1000 (increases the shutter speed by a factor of 1000). However, it would also be technically difficult to implement a magnetic, yet adjustable, ND filter.
A
Hello, there is a magnetic adapter ring included. If the MCUV filter is not required, the magnetic adapter ring can be used to attract the CPL or ND1000 filter directly.
how to check your lens size
4 in 1 82mm Magnetic Lens Filter Kit
How to remove CPL filter from a lens
Gimbal Stabilizers
Product
0.2%
Filter
Filter Material
Japanese AGC Glass
Multi-Coating
28
waterproof
√
scratch-resistant
√
HD
√
Microscope
Screen
Nano-X series
zoom range
All Scenes
Resolution
1s Switch/Protect Lens/Enhance Color & Contras