52mm Magnetic Variable ND2-ND32 Lens Filters Adjustable Neutral Density Waterproof
£49.99
£99.99
50% OFF
Inclusive of VAT
&FREE Shipping to United Kingdom,Ireland
Free Shipping. 30 Day No Reason Return. K&F Concept Lens Filters Magnetic Variable & dust-proof, waterproof & 5 stops adjustable ND & better light transmittance,optical glass clear

KF01.1847

SKU:

KF01.1847

49.99

https://www.kentfaith.co.uk/KF01.1847_52mm-magnetic-variable-nd2-32-lens-filters
Features
* Magnetic Variable ND Quick installation and removal in 1 second, 5 stops adjustable ND.
* No Black "X" Thanks to the frame self-locking technology, automatically locked at ND2, ND32.
* Optical Glass Clear, high fidelity, and restore the true colour, better light transmittance.
* 28 Layers CoatingEffectively reduce the reflection of the filter surface, dust-proof, waterproof.
* Magnetic ring Equipped with a magnetic empty ring for easy installation of other magnetic filters.
Shipping
&FREE Shipping to United Kingdom,Ireland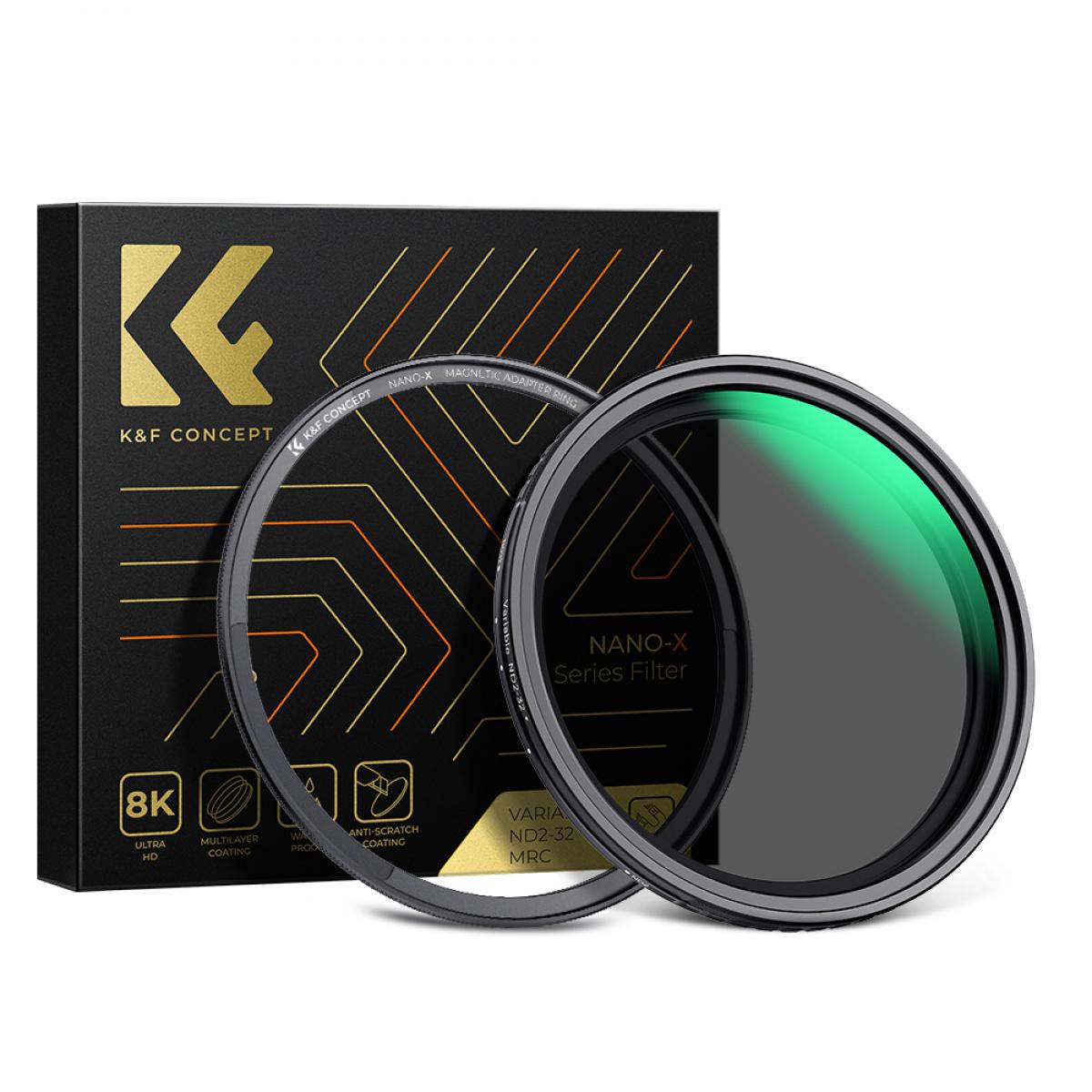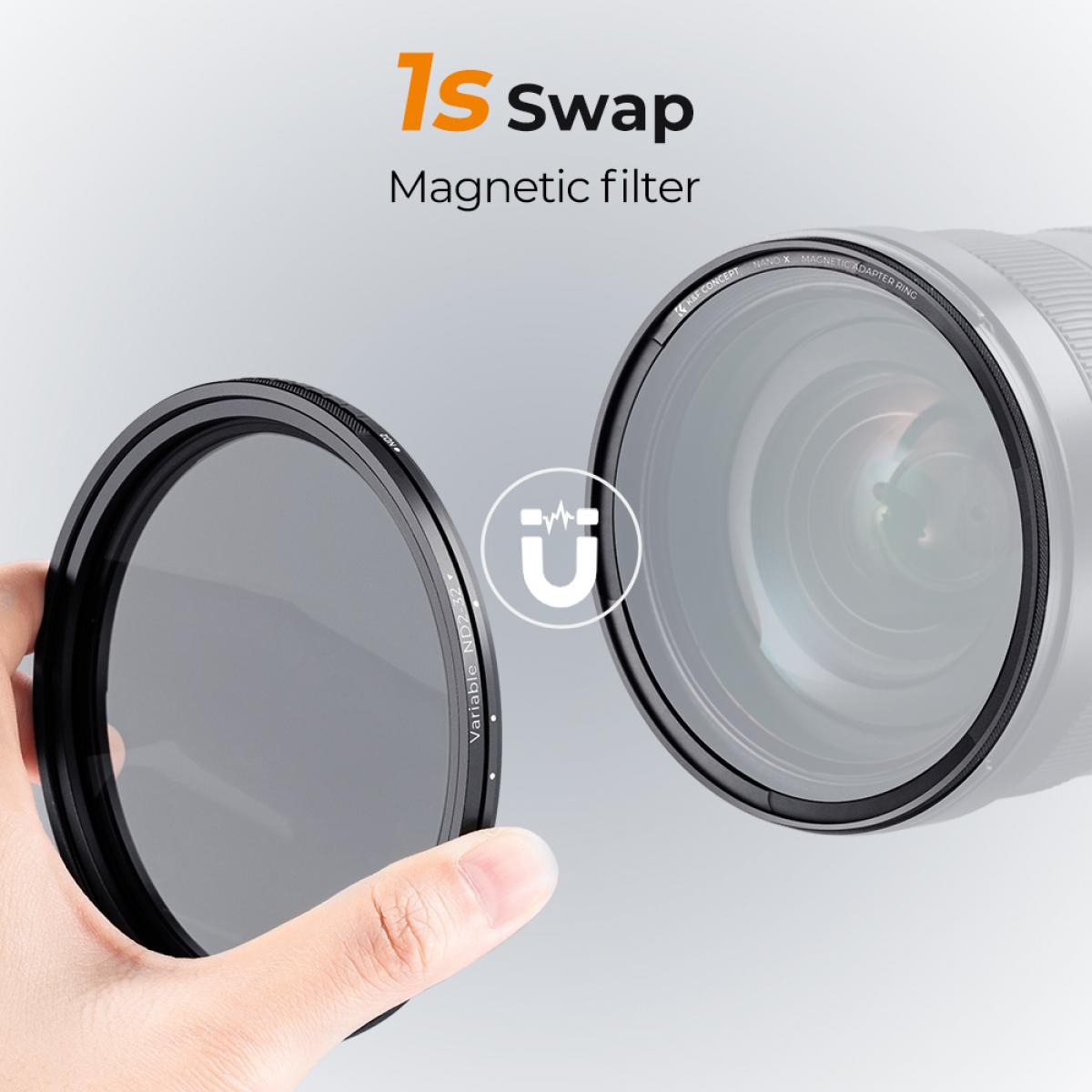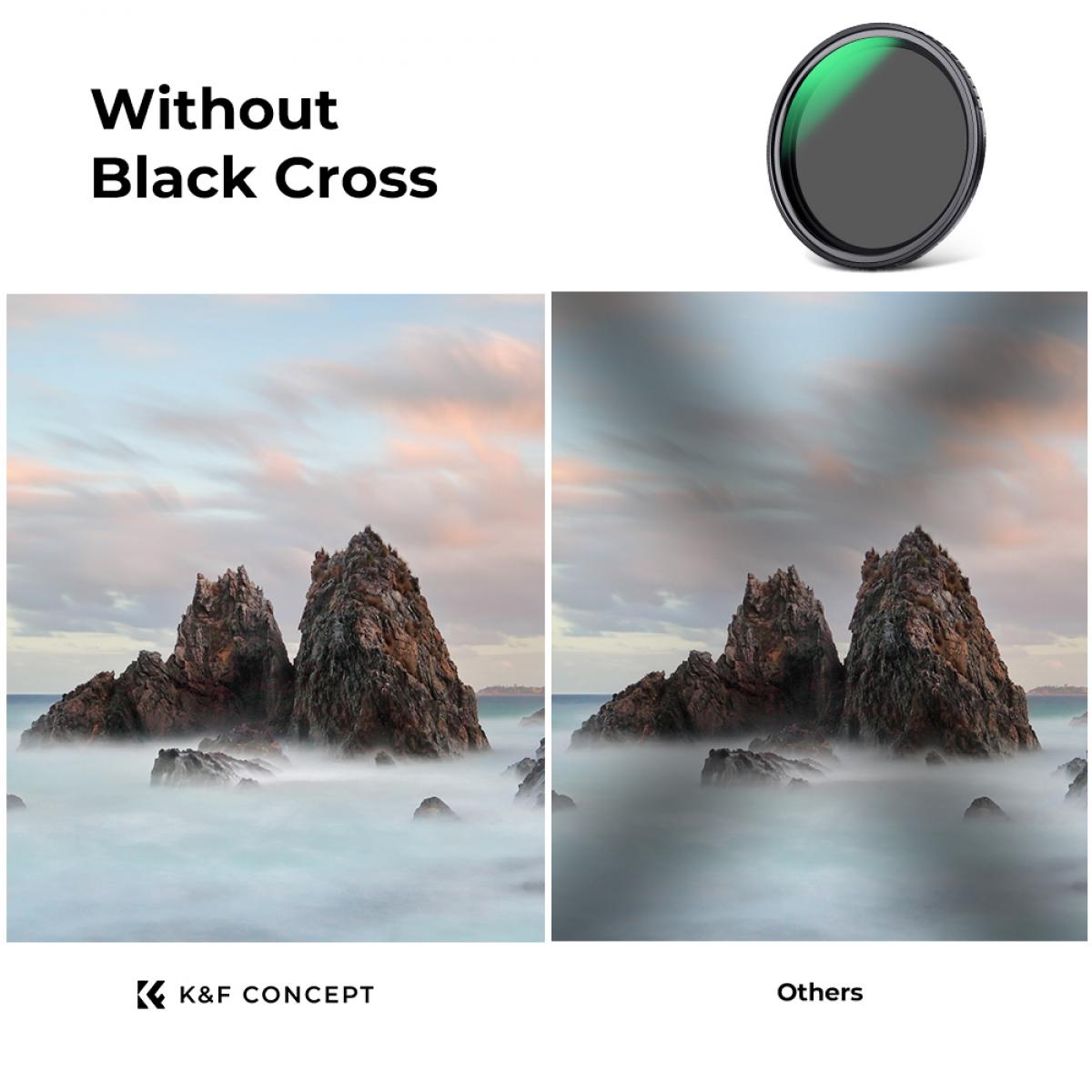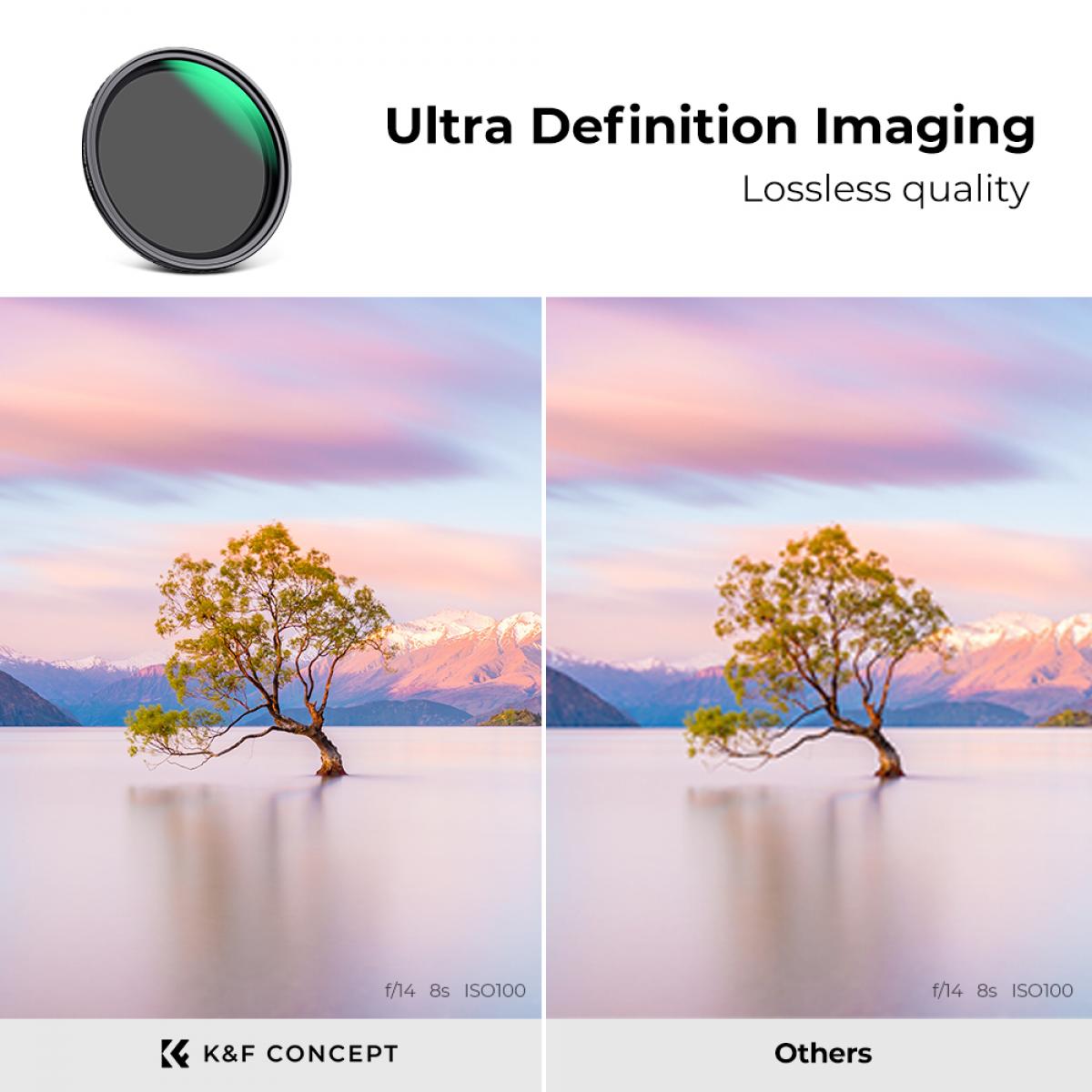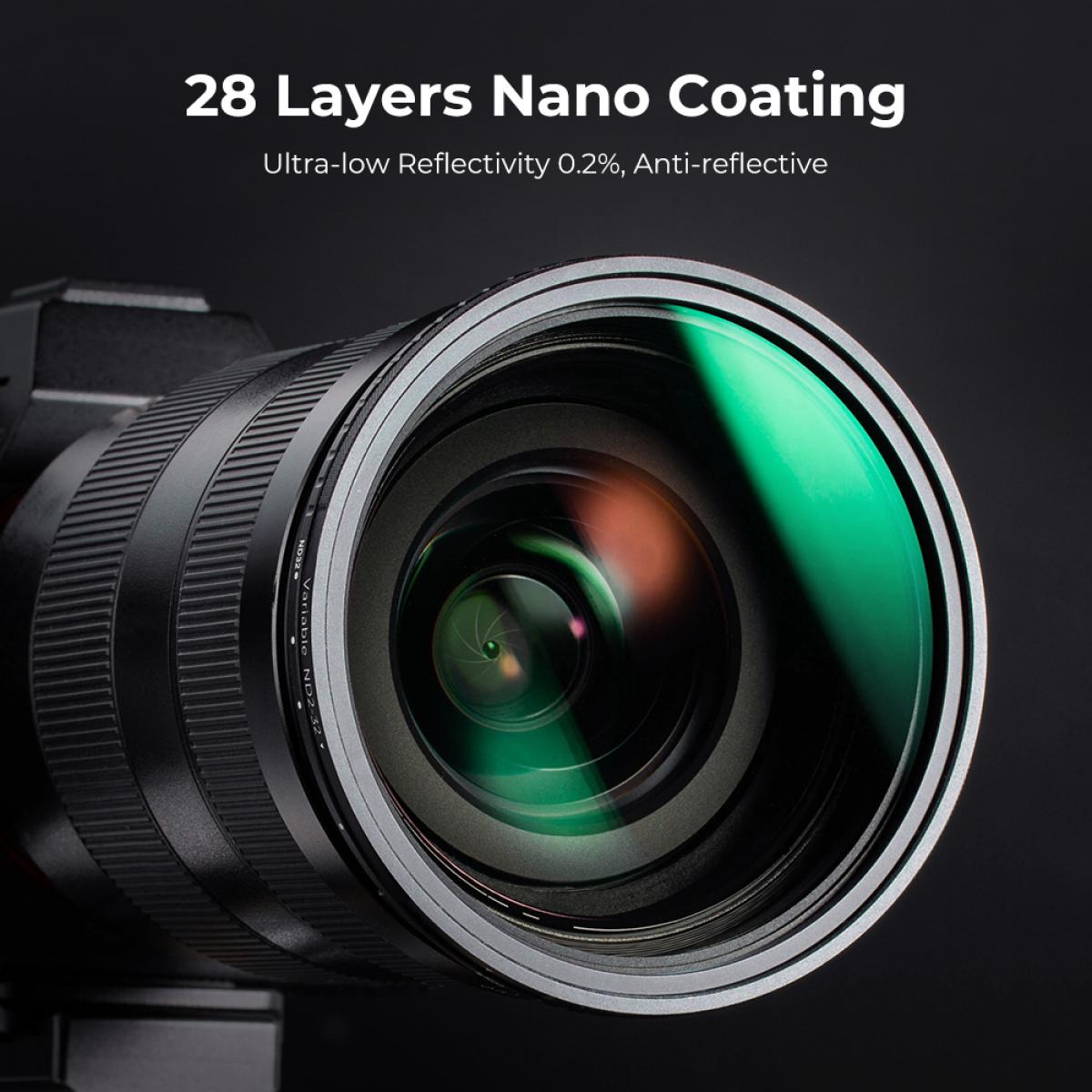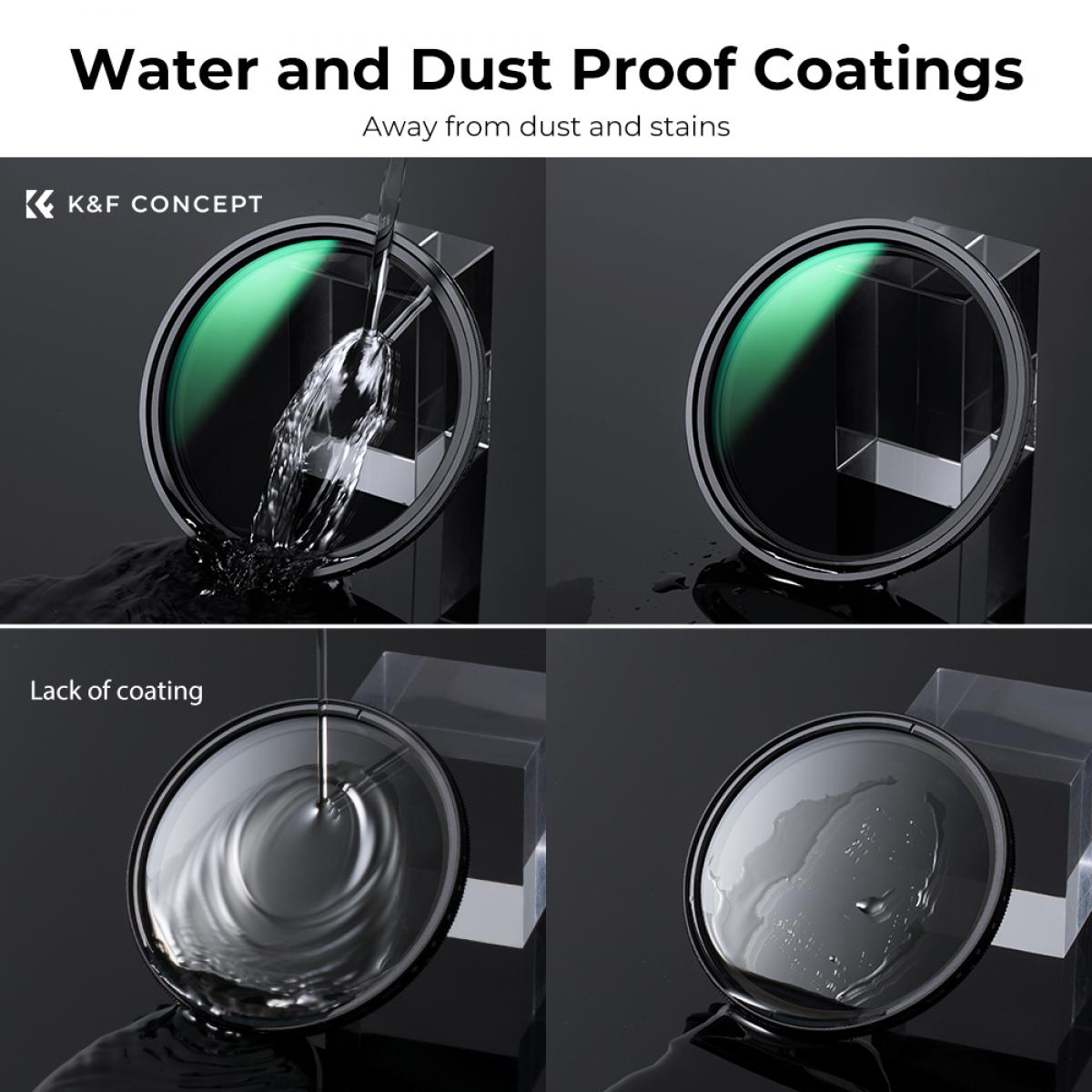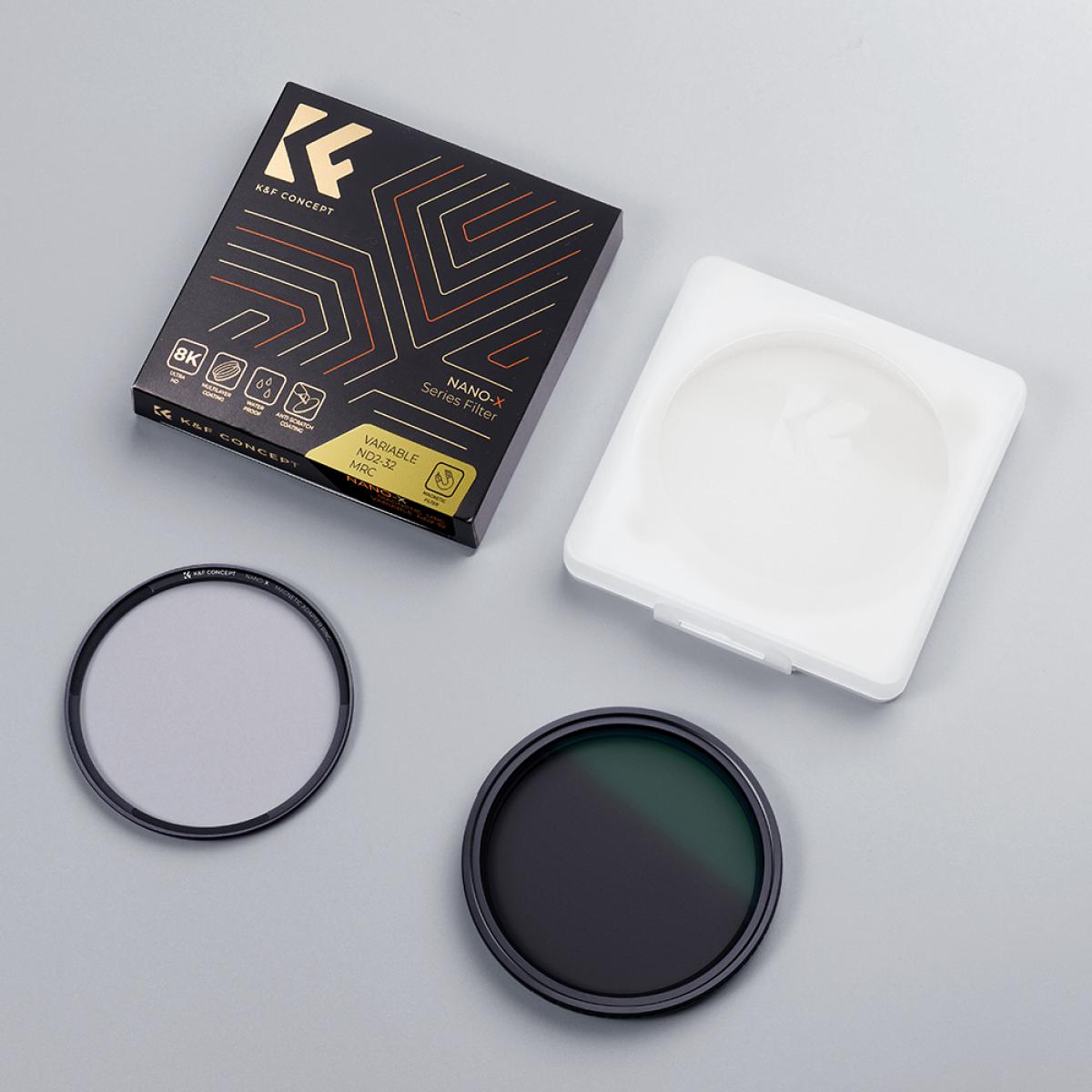 Rating

12 reviews.

112 reviews.

64 reviews.

38 reviews.

103 reviews.

27 reviews.
Price

£99.99

£49.99

£79.99

£36.99

£49.49
£53.99

£79.99

£42.99

£40.99
Model
KF01.1847
KF01.1058
KF01.1320
KF01.1809
KF01.1459
KF01.1074

Filter Material

Japanese AGC Glass
Japanese AGC Glass
Japanese AGC Glass
Japanese AGC Glass
Japanese AGC Glass
Japanese AGC Glass

Multi-Coating

28
28
28
28
28
28

waterproof

√
√
√
√
√
√

scratch-resistant

√
√
√
√
√
√

HD

√
√
√
√
√
√

Screen

Nano-X series
Nano-X series
Nano-X series
Nano-X series
Nano-X series
Nano-X series

zoom range

Video Shooting/Landscape Photograhy
Video Shooting/Landscape Photograhy
Video Shooting/ Landscape Photograhy
Video Shooting/ Landscape& Potrait Photograhy
Video Shooting/Landscape Photograhy
Video Shooting/Landscape Photograhy

Resolution

1 Second Switch/No X cross/Light reduction effect
No X cross/Light reduction effect
Remove glare/No X cross/ Light reduction effect
Soft highlight/No X cross/Light reduction effect
Light reduction effect
No X cross/Light reduction effect

light source

0.3 to 1.5(1 to 5 Stops)
0.3 to 1.5(1 to 5 Stops)
0.3 to 1.5(1 to 5 Stops)
0.3 to 1.5(1 to 5 Stops)
0.3 to 2.7(1 to 9 Stops)
0.9 to 2.1(3 to 7 Stops)
Must buy ND Filter for Video!
I use the anamorphic lens by Moment and FilmicPro to make movies using my iPhone. The 62mm K&F filter is very important to get that filmic look when I am shooting at 24fps. I have tried cheaper ND filters but they had vignetting and poor image quality. With the K&F filter the clarity is great and the build quality is solid and durable. The included case firmly holds the filter. This ND filter is a great value and much better than the other lesser ND filters I have tried. I have included photos with the same camera settings without any filter, with a cheap filter and with the K&F filter. I also included a photo of the setup I use. This filter pairs perfectly with the moment 62mm filter mount. It is a game changer for anamorphic video especially when filming outside. I could not be happier with the K&F ND filter. It is superb quality and value! I totally recommend it!
20/03/2022
Works great for video work.
I have a Sony A7III with a couple of the Tamron lenses they recently release, 67mm thread on both. I used the ND for the first time on a shoot in broad daylight mid-day and loved the results. Best part is being able to dial in very easily the amount of stops I need to make the zebras go away. Smooth operation and sturdy construction. The only negative is that the lens hoods no longer fit once the ND is on. Not a deal-breaker but be aware.

EDIT: Also took it along for a trip to Lake Tahoe and it came in very handy for those longer exposures and to get more contrast out of the sky. Awesome and so easy to use!
13/03/2022
Great affordable Filter For Your Camera
I purchased this because I didn't want to spend hundreds on other options out there and this one works very well. A little green cast but overall not too bad. It has saved me when I film outside and want to get the best looking background compression in the sun. Comes with a nice case and its built very well. Love the indicators that tell you how many stops you are adding. Would purchase again.
22/03/2022
MUST HAVE FOR BLACKMAGIC / RED USERS
Those are seriously underrated !!
Amazing VND ! Better than the tiffen for sure (but that's not hard to beat - they make terrible filters), and I think might be better than polar pro ?!
The most amazing thing about it is that it seems to have a build in IR cut !! IR cut filters cost more than this VND !
As a blackmagic camera user - I had very bad IR pollution with no DIY VND or any strong ND, I didn't see any with this one, and tried using a IR cut in front to see if there is any difference and couldn't see any on the pocket !
21/03/2022
Outer threading size not listed in the description...K&F took care of me.
Not knowing that most, if not all, variable ND filters have different size threading on the exterior side of the filter, I asked for a solution to my concern. K&F promptly contacted me and provided a more than satisfactory solution.

Thank you! Great products (this K&F ND filter and my other K&F polarizing filter) and great customer service.
18/03/2022
BEST ND FILTER! PERIOD.
I was debating between the K&F Concept ND filter and some other brands. BUT, I am really happy that I went with these because the build quality, picture quality, and performance are out of this world! Great ND Filter for videographers with hard spots.
17/03/2022
Great ND for stills and video
After reading tons of reviews and comparisons to more expensive ND filters, I settled on this one. I was not disappointed! It performs exactly as advertised. There's no dreaded "X" at higher settings. It is a high quality item and a welcome addition to my Fuji kit. I bought it to fit the largest thread size I use (Canon EF 70-200) and use step rings to use on smaller lenses. It works great!
16/03/2022
Fantastic Quality!!
Some of the Best Filters I've used! I was sent these filters to test and review but I will never review a product that I cannot give an unbiased and honest opinion on. I personally tried this filter and found it to be pretty high quality and up there with some of the more expensive brands. I would purchase this!
15/03/2022
Fantastic Quality & Build
I am so glad I bought this filter. I have a Sony a6300 that I have owned for about three years. I never dropped it until I got my K&F filter. Since then, I have dropped it on hard concrete and thank God I had my K&F filter on it. I have a $400 Sigma lens and it protected it. There are only tiny dings in the filter. BTW - the ND is fantastic. I really love the quality and strength of this filter. Fantastic filter and well worth buying many more in the future for me.
14/03/2022
Amazing
The magnetic lens system is the absolute best for me, the lens quality is good. I am very satisfied.
13/03/2022
A
As long as the lense is 52mm it will work
A
Yes , this filter can be used on Canon XA11.
K&F Concept Magnetic 1/4 Black-Mist Filter Kit +Adapter Ring+ Alloy Lens Cap
Gimbal Stabilizers
Product
0.2%
Filter
Filter Material
Japanese AGC Glass
Multi-Coating
28
waterproof
√
scratch-resistant
√
HD
√
Microscope
Screen
Nano-X series
zoom range
Video Shooting/Landscape Photograhy
Resolution
1 Second Switch/No X cross/Light reduction effect
light source
0.3 to 1.5(1 to 5 Stops)