95mm Magnetic Lens Filter Kit UV+CPL+ND1000+Magnetic Adapter Ring 4 in 1 Quick Swap System Nano X Series
£108.99
£212.99
48% OFF
Inclusive of VAT
&FREE Shipping to United Kingdom,Ireland
Free Shipping. 30 Day No Reason Return. 3 in 1 95mm Magnetic Filter MCUV+CPL+ND1000 Lens Filter with Magnetic Attachment Ring & Storage Bag.

SKU.1687

SKU:

SKU.1687

108.99

https://www.kentfaith.co.uk/SKU.1687_kf-95mm-three-piece-magnetic-filter-mcuv-cpl-nd1000-hd-waterproof-scratch-resistant-anti-reflection-green-film-with-magnetic-attachment-ring-4-piece-storage-bag
Features
* Quick and easy to install and disassemble. The difference from the threaded filter is that the magnetic filter does not need to be rotated, and can be installed in one second, and there will be no problem of disassembly. The installation of the threaded filter takes at least 6 seconds;
* The magnetic suction filter does not need to consider the superimposed filter behind, so it can be made very thin. When using CPL+ND1000 at the same time, the 16MM wide-angle lens will not produce vignetting;
* The magnetic MCUV filter can not only act as a protective lens but also magnetically superimpose other filters; other filters can also be superimposed when MCUV is not required;
* All filters are imported German glass, the lens surface has 16 layers of coating, with high-definition / waterproof / scratch-resistant / anti-reflection function; the edge of the frame is made of CNC bumps to facilitate installation and removal;
* Equipped with a 4-piece waterproof zipper storage bag, multi-layer storage space, with functions such as hanging buckle/velcro/waterproof zipper; it is easy to carry when going out and can be used in multiple scenarios.
Magnetic Lens Filter Kit
Install the magnetic filter in one second!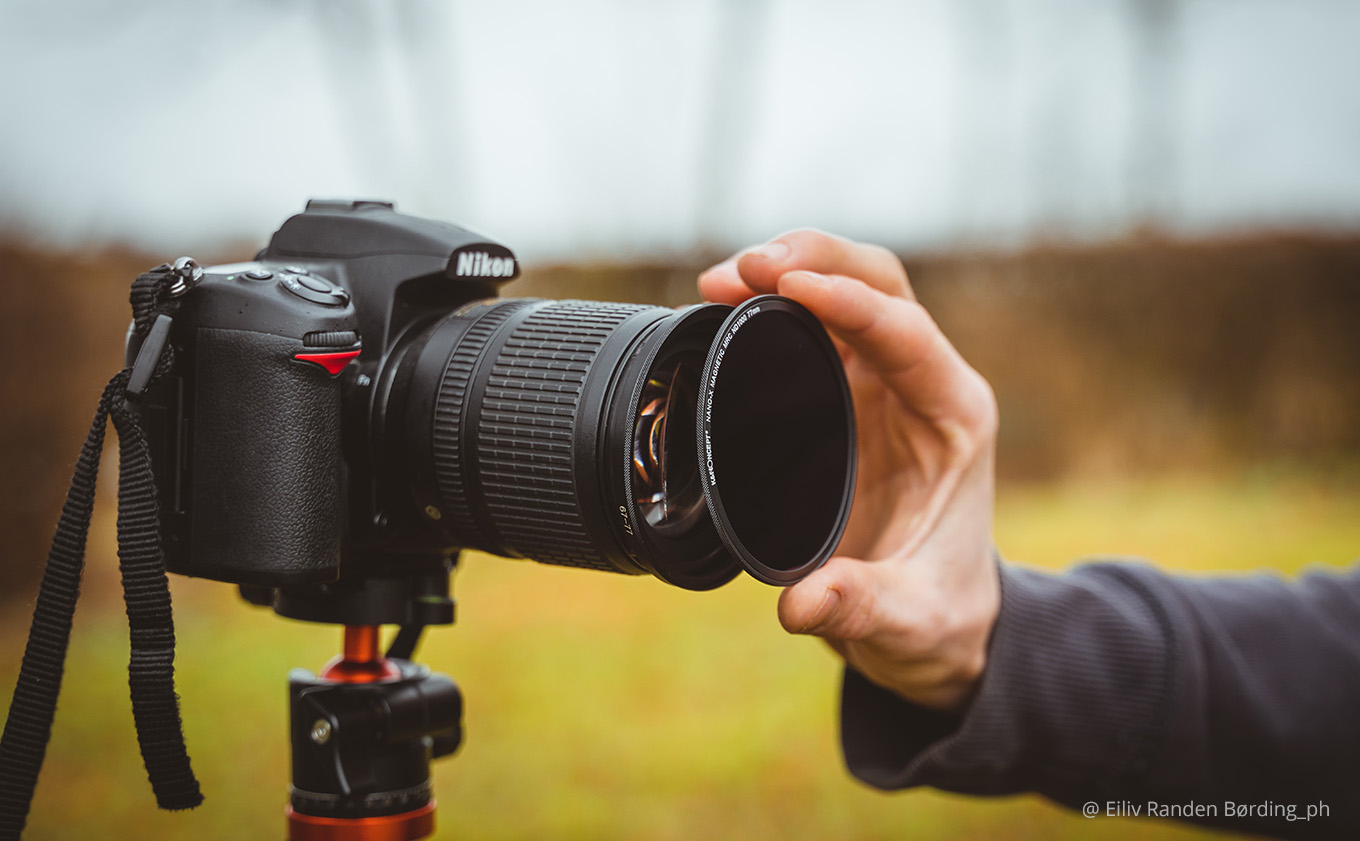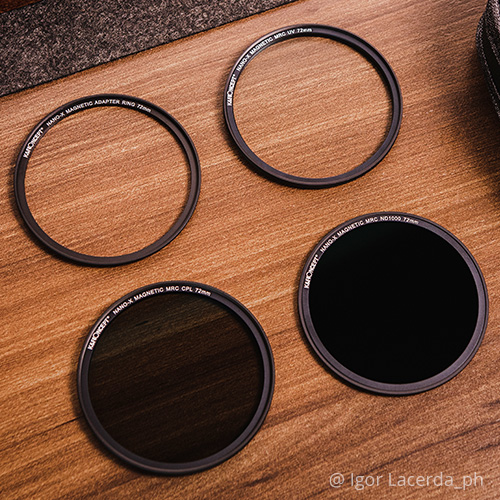 4 in 1 Filter Kit
Adapter Ring+ MCUV Filter + CPL Filter + ND1000 Filter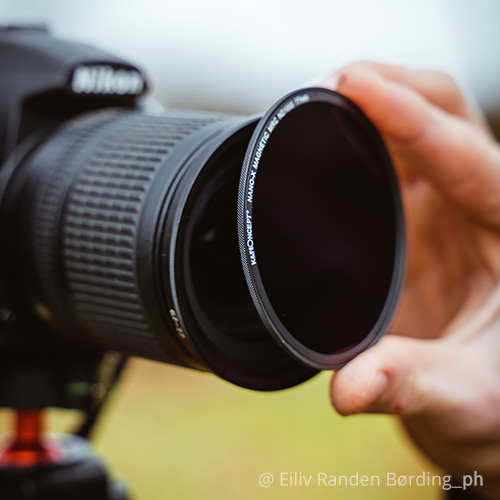 1s Installation
Quickly install and remove the filter, every second is important.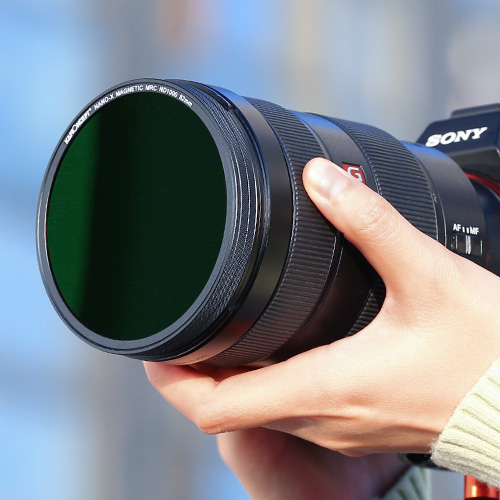 Superimposed use no vignetting
Simultaneous use of MCV+CPL+ND1000,at least 18mm wide-angle lens will not produce vignetting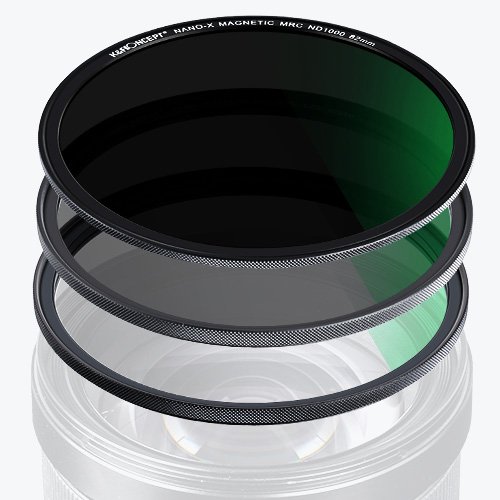 Combination method (1)
Magnetic Adapter Ring + CPL+ ND1000.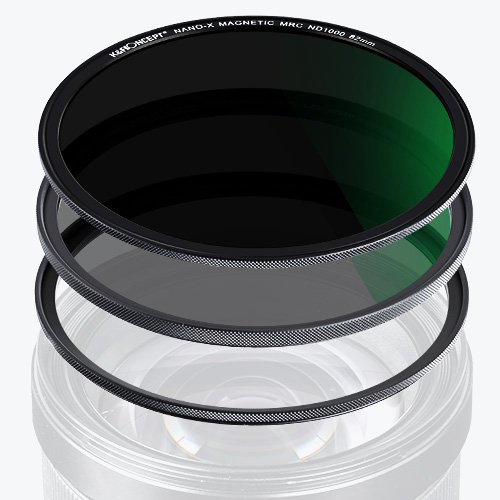 Combination method (2)
MCUV+CPL+ND1000.
Nanometer Coating
Waterproof,oil resistant,scratch resistant.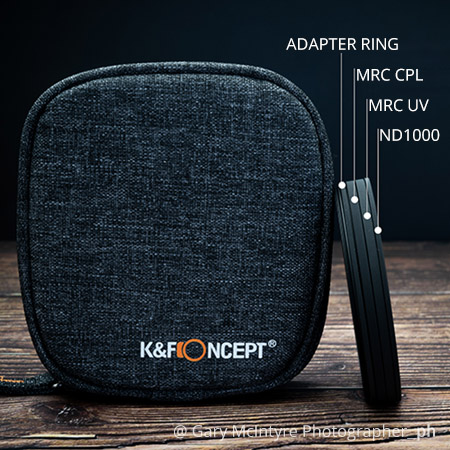 Filter Thickness
ND1000 (1.9mm), CPL (3.5mm), MCUV(3.3mm), Magnetic Adapter Ring(1.9mm).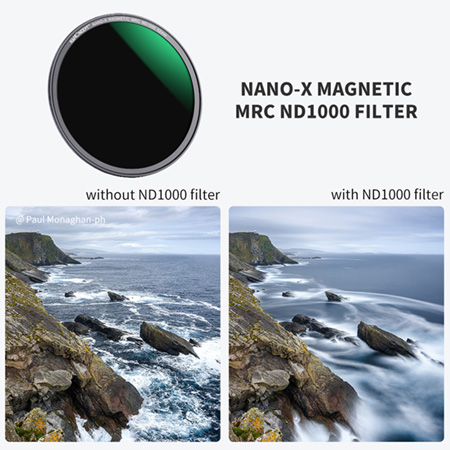 ND1000 Filter
Enables slow shutter speeds to be used to record movement in subjects such as waterfalls, providing a silky smooth affect to flowing water.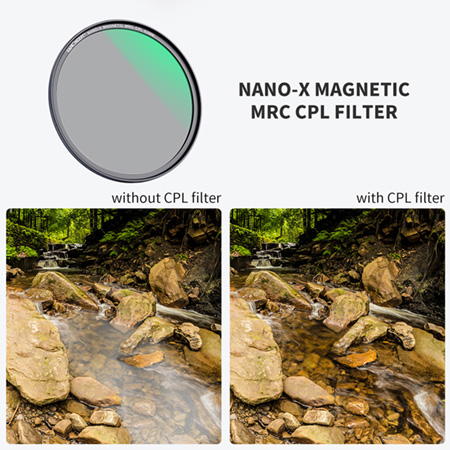 MRC CPL Filter
The CPL filter cuts the reflections caused by sunlight when taking pictures of landscapes with water.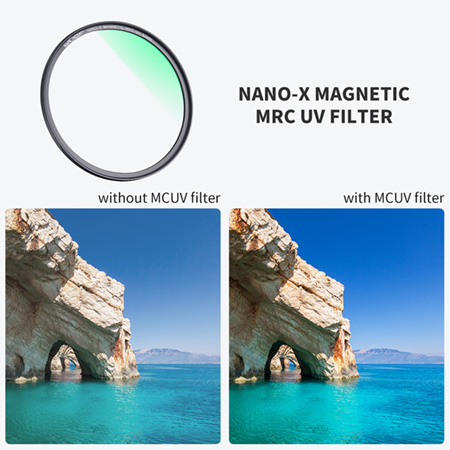 MRC UV Filter
Reduce ultraviolet rays to restore the most true colors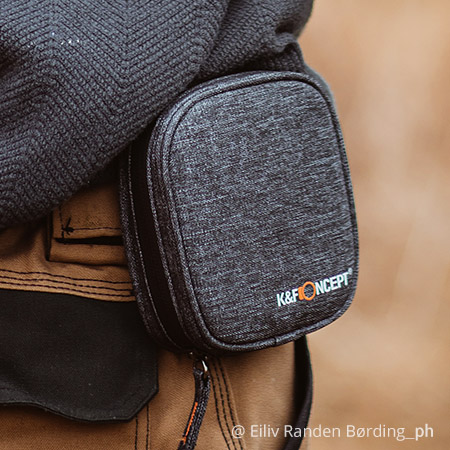 4-in-1 filter carrying case
Adsorbed on the waist, easy to carry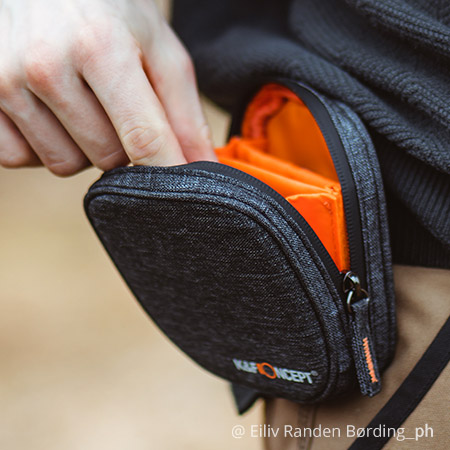 Easy to use
Quickly change the filter to take great photos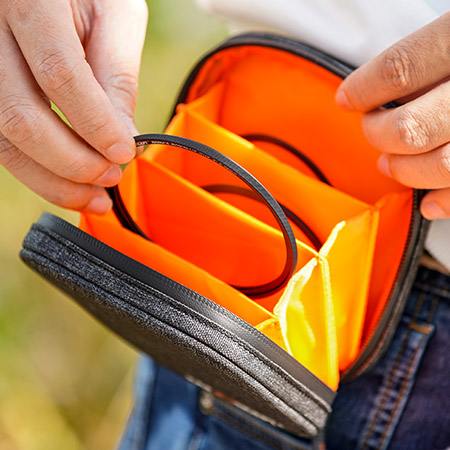 Layered partition
Each filter has its own position to avoid crushing by impact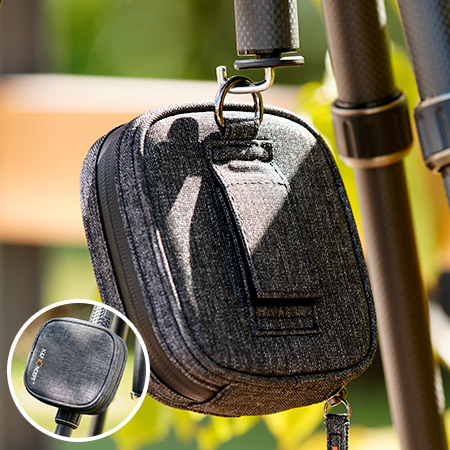 Hook and Velcro
Can be mounted on the tripod during shooting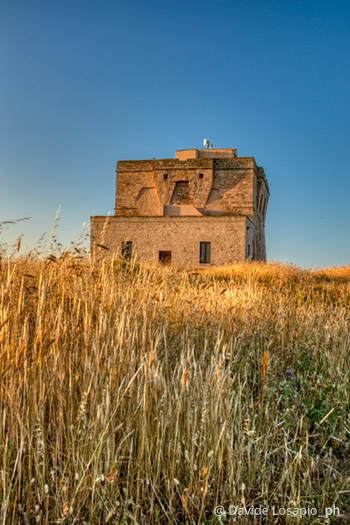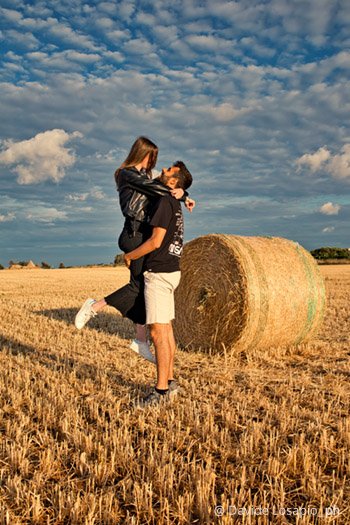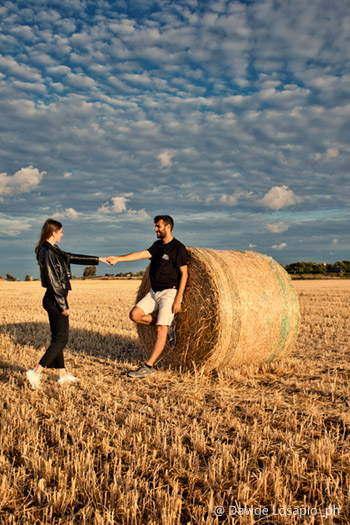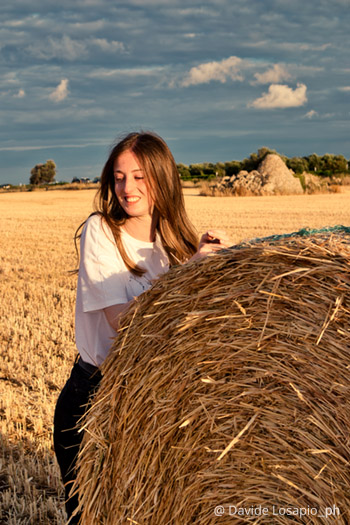 K&F Concept Magnetic Lens Filter Kit witness your happiness, photo taken by Davide Losapio
Excellent, practical and light filters
As a landscape photographer, I found this filter system really interesting. Unlike screw filters, these filters are applied and removed in a fraction of a second, while unlike plate filters they are much less bulky, lighter and, of course, much quicker to install.

PACKAGING AND CARE OF DETAILS

The filters are delivered in a convenient and very well made case with four compartments. The case, in the back, has a hook and loop buckle that we can use to attach it to our tripod or our trousers and, in addition, a metal ring so that it can be attached to our backpack, tripod column or wherever we prefer. Finally, the zip closure of the case is resistant to rain or water infiltration.
The filters are contained and protected individually inside special sachets so as to avoid any potential damage.

CONSTRUCTION

These magnetic filters from the K&F Concept Nano Series are made of optical glass that is perfectly resistant to water, oil and dust. The external frame is in slightly knurled aluminum to allow an excellent grip.
They are extremely thin and, even by mounting all three filters at the same time (UV, CPL and ND1000), the thickness is extremely low.

UV FILTER

In the photographs I took with the UV filter there are no color alterations, no loss of sharpness and details and no dominants of any kind.

POLARIZING FILTER

This polarizing filter provides a pleasant overall contrast to the image, increases the contrast between individual colors and saturates them without exaggerating. In addition, it provides a very slight warm cast which, personally, I don't mind but which is easily corrected in post-production.

FILTER ND1000

The first thing that stands out from using this ND filter is that it produces a slight - but present - warm cast. Personally I think it is not a problem as it can be removed with a click in post-production. The overall sharpness as well as the details of the image, finally, are not altered.

FILTER CPL + ND1000

I think the combination CPL + ND1000 is very interesting. In fact, the effect of polarization reduces the warm dominant of the ND1000 filter and in addition provides a pleasant saturation and a soft contrast overall and between the colors of the final image.
In terms of sharpness and details, there are no significant deteriorations. Instead, there is a slight vignetting.

CONVENIENCE

The K&F Concept Nano Series magnetic filter kit is extremely practical. The case that contains the filters has a compact size, which allows us to carry it in our backpack sacrificing very little space.
The weight is extremely light, which is really useful for those on long hikes where the weight of the equipment, after several hours, starts to be felt.
The installation and removal of the filters is nothing short of lightning-fast; in a matter of seconds you can easily assemble all three filters and, in just as many seconds, you can remove them.
The tightness of the magnets is really good and therefore there is no fear of finding yourself with filters that fall during the shooting or transport phase.

WHO IS IT RECOMMENDED

In conclusion, I would highly recommend this great value for money filter kit at:

- those looking for a first kit of filters to start experimenting with their creativity;
- those looking for an excellent relationship between quality, size and weight;
- those looking for maximum convenience in shooting and composition.

P. S. The filter comparison photos have not been edited and, therefore, are the original file directly exported from the machine from RAW to JPG format.
15/10/2021
Great quality
After post-processing, the pictures are really world class .... There are no false colors to be found at all. It can also be used in the wild, panning for gold. A tripod is highly recommended.
16/10/2021
Perfect
Very suitable for taking pictures of silky water. Good quality glass and threads are essential for any serious photographer.
26/10/2021
Nice filter that does what it should
The filter is packed in a practical box to protect it during transport. And this filter works very well.
25/10/2021
very good
The filter arrived neatly packaged. The feel is good, it feels valuable. I didn't notice any color shifts negatively.
25/10/2021
Super
Great filter and cheaper than competitors.
25/10/2021
Works well
This ND filter made a deep impression on me, I really didn't expect it to be so useful for video production. I think it's enough for me to shoot a video on a sunny day.
25/10/2021
Great
High quality, no dreaded X or aberrations. I expected a lens of this quality to cost a lot more.
24/10/2021
Good price performance
For the price of one, I now have a well-made variable ND filter for all of my lenses - I'm very happy!
24/10/2021
A
No, the ND filter from the magnetic set is an ND1000 (increases the shutter speed by a factor of 1000). However, it would also be technically difficult to implement a magnetic, yet adjustable, ND filter.
A
Hello, there is a magnetic adapter ring included. If the MCUV filter is not required, the magnetic adapter ring can be used to attract the CPL or ND1000 filter directly.
how to check your lens size
4 in 1 82mm Magnetic Lens Filter Kit
Do You Know How Your K&F Concept Filters be Produced? | One-day Tour in Production Line
Gimbal Stabilizers
Product
0.2%
Filter
Filter Material
Japanese AGC Glass
Multi-Coating
28
waterproof
√
scratch-resistant
√
HD
√
Microscope
Screen
Nano-X series
zoom range
All Scenes
Resolution
1s Switch/Protect Lens/Enhance Color & Contras