43MM UV Filter Ultra Slim Japan Optics Multi Coated Ultraviolet Protection Lens Filter
£9.99
£19.99
50% OFF
Inclusive of VAT
&FREE Shipping to United Kingdom,Ireland
Free Shipping. 30 Day No Reason Return. K&F UV filter features Japan imported glass, uv protection lens filter,super slim and lightweight aluminum frame, minimizing the amount of ultraviolet, reduces haze and improve contrast.

KF01.K43

SKU:

KF01.K43

9.99

https://www.kentfaith.co.uk/KF.K43_43-mm-mc-uv-filter-slank-frame-met-multi-resistente-coating-voor-cameralens
Features
* ★High Quality★: Built with Japan Optics glass for top level light transmittance, increasing optical clarity and colour fidelity. Multiple coated filter allows 99% transmittance compared to 90% transmittance of normal UV filters on the market.
* ★Fully Protection★: Multi-coated glass blocks and prevents the harmful effect of UV rays and eliminates haze that can register a bluish cast from scenic shots. Protect your expensive lens from dust and scratch while not lowing your photo quality.
* ★Ultra Slim★: Double threaded yet only 3mm in depth, avoid vignetting on wide angle lenses. Extra tough aluminum frame ensuring great durability and jamming prevention. The lens filter fits snugly to the lens and has a threaded front element for lens cap etc.
* ★Easy Installation★: These MC UV filters frame is designed with CNC trapezoidal pattern, ensuring more friction when screwing. Very easy to install.
* ★Notice★: This filter is compatible with all 43MM lenses. Please verify your camera's lens thread size before ordering. Your camera's lens thread size will be marked somewhere on the lens barrel or printed underneath your lens cap.
Shipping
&FREE Shipping to United Kingdom,Ireland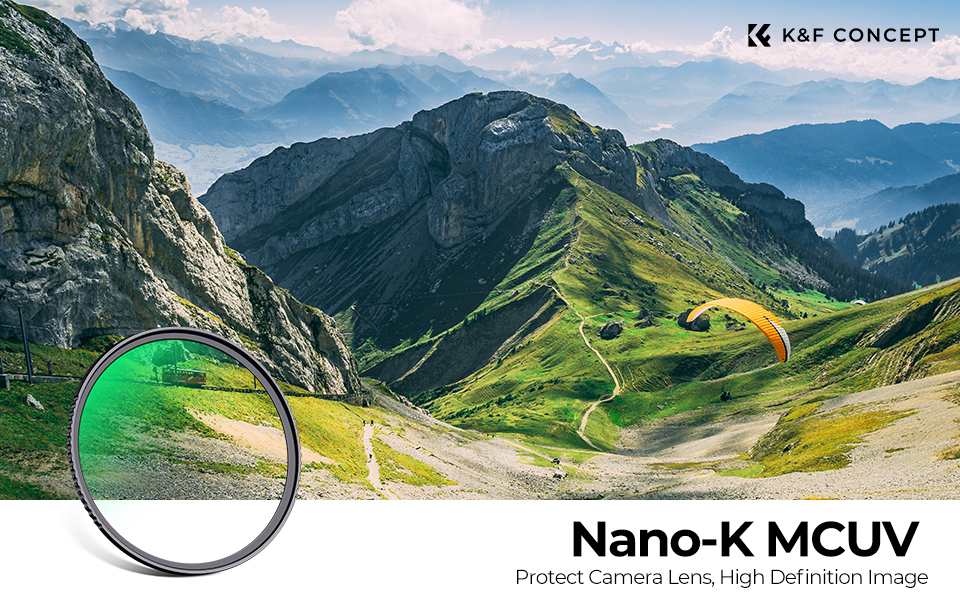 K&F Concept UV Filter Ultra Slim MC UV Protection Filter with 18-Multi-layer Coatings for Camera Lens
1.Professional camera accessories manufacturer.
2.Dedicated to provide products in high quality.
3.Absorbs the ultraviolet rays which often makes outdoor photographs hazy and indistinct.
4.This multi-purpose, all-around filter can serves as a permanent lens protector.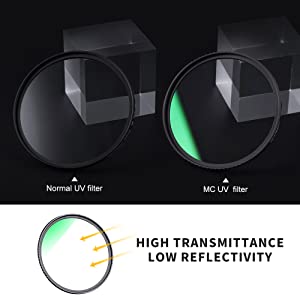 Effectively Anti-Reflective
• Anti-reflective purple coating, filter ultraviolet light and effectively reduce filter surface reflection, substantially improve light transmittance and color balance.
• Win polishing lens, yet photos retain clear when shot by telephoto lens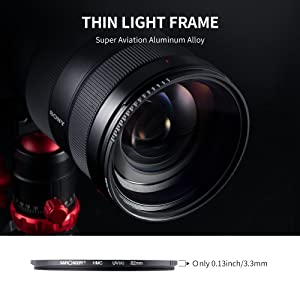 Import Optical Glass
K&F UV filter made with imported glass for 99% transmittance. It is a cost effective solution for protecting your digital camera lens against dust, moisture, fingerprints, scratches and damage. This filter can be kept on your camera lens at all times.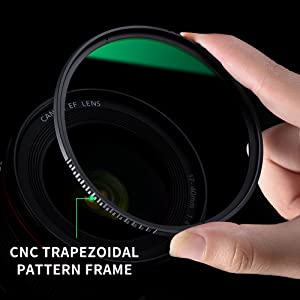 CNC Non-Slip Design
• Super slim and lightweight aluminum frame, maximum reduce impact on light and effectively avoid dark corner for wide-angle shooting.
• Note: Please DOUBLE confirm your lens size before purchase via checking your lens thread size instead of camera model name,Your camera's lens thread size will be marked somewhere on the lens barrel. This number is always preceded by a "Ø" (diameter) symbol. Eg. Ø37=37mm thread size.


Rating

51 reviews.

46 reviews.

51 reviews.

4 reviews.
Price

£19.99

£9.99

£29.99

£15.99

£11.99

£39.99

£22.99

Model
KF01.K43
KF01.981
KF01.1308
SKU.1935

Filter Material

Japanese AGC Glass
Japanese AGC Glass
Japanese AGC Glass

Multi-Coating

18
28
18
18

waterproof

/
√
/
/

scratch-resistant

/
√
/
/

HD

/
√
/
/

Screen

Nano-K series
Nano-X series
Nano-K series
Nano-K series

zoom range

All Scenes
All Scenes
Landscape Photograhy
All Scenes

Resolution

Protect Lens
Protect Lens/Obsord UV Ray
Remove Glare/Enhance Color & Contrast
Protect Lens/Enhance Color & Contrast/Light Re
Great Filter
I bought this UV protection filter for my Sony 28-70 kit lens, it good fit and great protection filter. I can not tell the difference between filter and no filter in the most shots. It is also pretty light. I am really satisfied with this good made and high quality UV filter.
13/07/2021
Great UV filters
I recently got back into shooting film. Modern digital cameras don't need UV filters due to modern day lens coatings. However, I have quite a few vintage lenses that have quite a bit of haze due to older or absent lens coatings. It really helped with my Jupiter 8 and Super Takumar lenses. The multi-coating really helps reduce haze and increase contrast.
05/07/2021
Actually improves the Sigma 150-600 E-Mount!
I am usually against UV/haze filters as I am concerned about their effect on image quality. However, I plan to use my Sigma 150-600 DG DN Sport (Sony E-Mount) in pretty harsh conditions such as coastal bird photography, surf photography, and sports. So, I caved and purchased this filter to provide protection for the lens front element.
However, given that this K&F filter would probably be considered "mid-tier" in terms of price, I wanted to test if it in fact had any effect on image quality. The attached image of a $20 dollar bill was taken under the same exact circumstances - 600mm at ISO 100, tripod with OS off. As you can see from the screenshot taken in the compare view of my photo editing software, the image on the right (with filter) is clearly sharper with better contrast.
I'm shocked! I had fully expected to remove the filter when I wanted a better image. Now I can leave it on 100% of the time, and easily wipe off any splashes or dust without worrying about scratching the front element. Strong recommend!
13/10/2021
Perfect for Lumix fz80
Fits my lumix fz80 perfect . Lens cap fits over the filter so the filter never needs to be removed. A GREAT BUY.
07/08/2021
Bought for M50 Mark2 kit lens
Great protective lens. Really easy to install. Just screws into place at the front of my EF-M 15-45mm f/3.5-6.3 IS STM lens. So much cheaper than buying one at the camera shop. Don't need to be quite as worried about scratching my lens now. Haven't noticed any difference in the picture quality. Lens cap still fits over it perfectly too.
26/04/2022
Perfect protection and enhanced utility
My Olympus 60mm Macro lens now has this great filter attached. The lens comes with no hood, a poor front cap and obviously no filter. This one is now aboard together with a decent front cap and a third party lens hood. 46mm is a bit small and fiddly, but this has a really good knurled ring that is easy to grip. The thread is also very smooth and positive. The colour balance is undetectably different, so does not interfere when picture taking in well lit close up situations. I love the enhancement of this brilliant lens. Ricky.
26/04/2022
Value for money
This is a very reasonable priced filter and does what i bought it for. It stops glare, job done
26/04/2022
Perfect fit
This is the second time I am using a uv filter and the reason I bought it was for my upcoming trip to Bali where I am planning a long photo shoot session. Being in the wilderness and in a country with strong sun rays I thought buying a new UV filter to protect my lens is the best thing. Now this is K&F product, same as my ND filter and the tripod I recently purchased because I am like that and like to buy loads from one company. It came really nicely packed and feels like really good quality and it fits perfectly. I am really happy with the product and look forward to using it and abusing it.
25/04/2022
Great for protecting camera lens.
I bought this filter to protect my camera lens from dust and the elements.
It fits my lens perfectly and comes packaged in a protective plastic case. Really pleased with the additional protection this filter provides to my camera lens.
25/04/2022
These images belong to K&F Concept end users.
how to check your lens size
Gimbal Stabilizers
Product
0.6%
Filter
size
43mm
Filter Material
Japanese AGC Glass
Multi-Coating
18
waterproof
/
scratch-resistant
/
HD
/
Transmittance
0.94
Antireflection
Pattern
√
Filter Thickness
3.3mm
Shape
Cirkel
Ring Material
Luchtvaart aluminium legering
Microscope
Screen
Nano-K series
zoom range
All Scenes
Resolution
Protect Lens