Professional Carbon Fiber Tripod 15kg/33lbs Max Load 156cm/61.4" Max Height, Compact & Portable, with 360° Ball Head & Detachable Monopod, A255C2+BH-35L
£169.99
£299.99
43% OFF
Inclusive of VAT
Terms
Coupon Terms
Save £20 with this coupon
Terms and Conditions:
Coupons are valid for a limited time only. Kentfaith reserves the right to modify or cancel coupons at any time.
You must purchase the qualifying items added to your Cart when the coupon is in effect for the discount to apply.
If you later modify or cancel the subscription or delivery date for the qualifying item, the discount will not apply.
The coupon applies only to qualifying items displaying the coupon offer.
If you buy more than one item from the same coupon, the maximum discount amount of the coupon will be equal to either the percentage discount off or the face value of the coupon on one eligible item. The coupon may only be used on www.kentfaith.co.uk.
The promotion is limited to one coupon per customer.
If you return any of the items purchased with a coupon, the coupon discount or value may be subtracted from the return credit.
&FREE Shipping to United Kingdom,Ireland
Buy K&F Concept professional carbon fiber tripod 15kg/33lbs max load 156cm/61.4" max height, compact & portable, with 360° ball head & detachable monopod, a255c2+bh-35l online, £169.99 free shipping to UK.

KF09.103

SKU:

KF09.103

169.99

https://www.kentfaith.co.uk/KF09.103_professional-carbon-fiber-tripod-15kg-33lbs-max-load-156cm-61.4
Features
* 【Compact and Portable】As a professional camera tripod, the K&F Concept A255C2+BH-35L tripod weighs only 1.3kg/2.9lbs and is 49cm/19.3" long when the legs are reversed and folded. Thanks to its 10x carbon fiber construction, such a small and lightweight tripod can be carried in most camera bags, easily and carefree.
* 【Enhanced Stability】K&F Concept Professional Carbon Fiber Tripod A255C2+BH-35L features two forms, with a center column and without. Without the center column, the carbon fiber tripod performs well on stability. With the center column, the tripod enables a higher view for a better shooting angle.
* 【360° Ball Head 15kg/33lbs Max Load】A255C2+BH-35L carbon fiber tripod uses K&F Concept BH-35L Ball Head (KF35 Series), with a max load capacity of 15kg/33lbs, which meets most photographers' need. Made of aluminum alloy, the ball head uses a 3/8" screw to connect tripods, while a 1/4" screw for cameras, mobile phone mounts, VCR, and ring lights. It is compatible with Canon Sony Nikon and other brands' mirrorless cameras with zoom lenses and DSLRs on the market.
* 【Wide and Flexible Height Adjustment】From the minimum working height of 48cm/18.9" to the max working height of up to 156cm/61.4", the tripod can be adjusted easily and quickly by one hand through the smooth yet secured twist locks of the three legs. When shooting, it only takes seconds to set up the tripod and you are able to catch the perfect scene.
* 【2-IN-1 Overhead Video Tripod Monopod】The tripod can be easily turned into a monopod or walking stick alone to make your photography more diverse. Multi-angles for shooting like low-angle shots and high-angle shots are allowed with this monopod as well.
Shipping
&FREE Shipping to United Kingdom,Ireland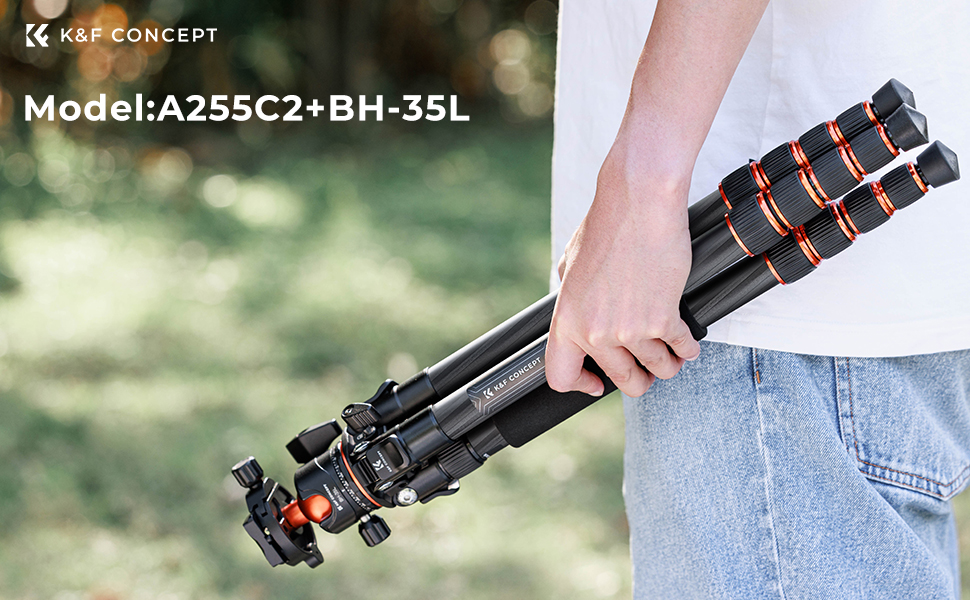 K&F Concept Professional Carbon Fiber Tripod A255C2+BH-35L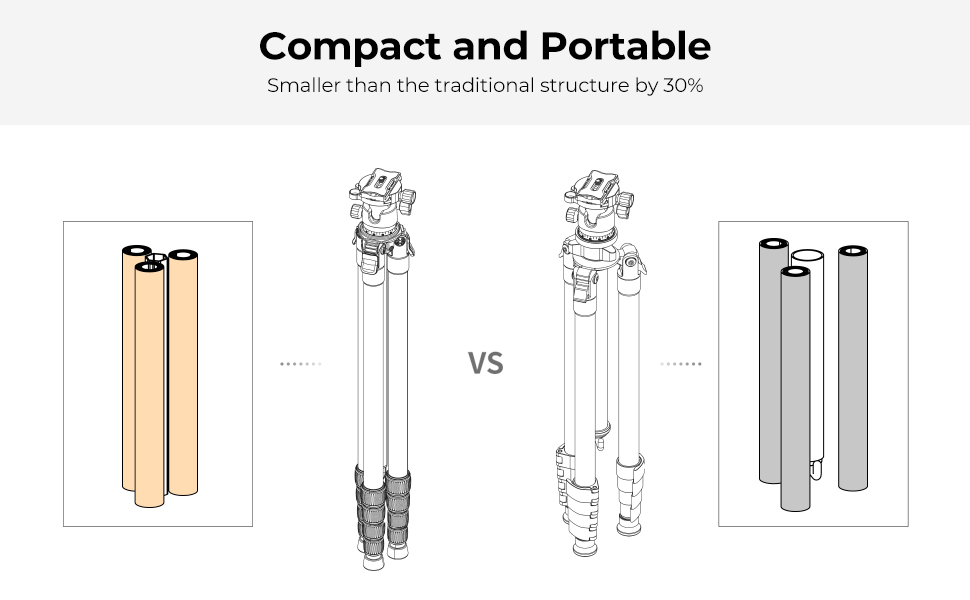 Compared to traditional camera tripods, K&F Concept A255C2+BH-35L tripod features a special center column which decreases the volume of the tripod by 30%. Easy to carry with one hand.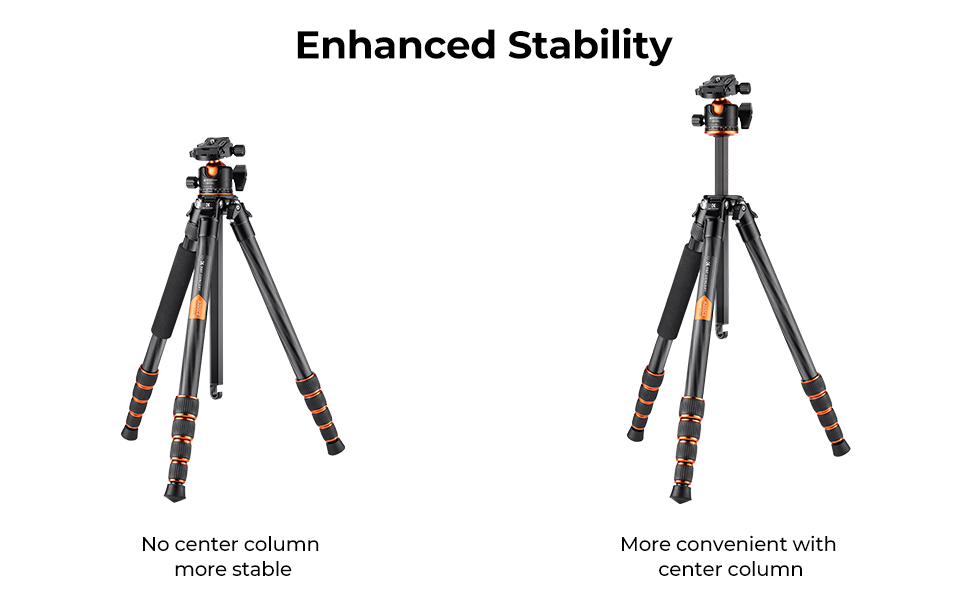 This tripod has two forms, with and without the center column. With the center column, the tripod is more convenient. Without the center column, the tripod is more stable.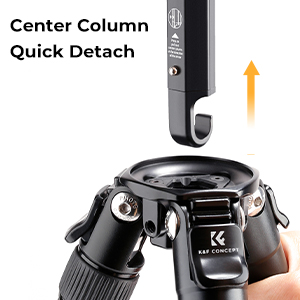 To help catch the perfect scene, the center column can be detached quickly through the locking knob.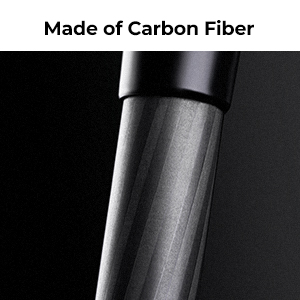 Cabon Fiber material makes the tripod lighter and stronger than aluminum tripod. The tripod with ball head weighs only 1.3kg/2.9lbs.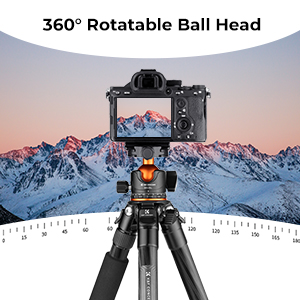 360° rotatable ball head helps to shoot grand landscape easier. A max load capacity of 15kg/33lbs, meets most photographers' need.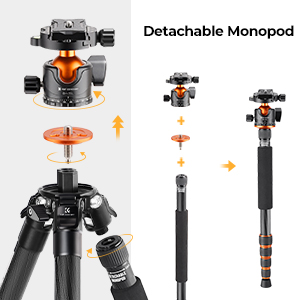 The tripod can be easily turned into a monopod or walking stick alone to make your photography more diverse.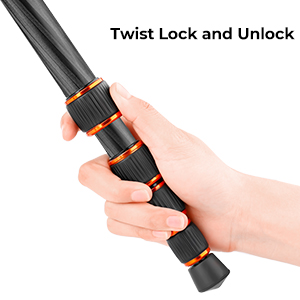 The tripod can be adjusted easily and quickly by one hand through the smooth yet secured twist locks of the three legs.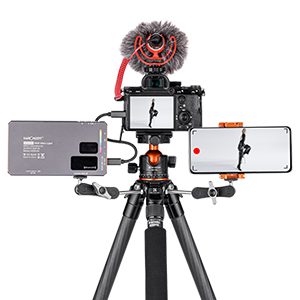 The tripod has 1/4" two extra interfaces, which allow magic arm, phone clip, etc. to be mounted.
Rating

21 reviews.

167 reviews.

22 reviews.

31 reviews.
Price

£299.99

£169.99

£207.19

£113.99

£134.99

£112.99

£199.79

£159.99

Model
KF09.103
KF09.093
KF09.109
KF09.098

Load Capacity

15kg/33lbs
10kg/22.05lbs
10kg/22.05lbs
15kg/33.07lbs

Maximum Working Height

1560mm/61.4"
1720mm/67.72"
1600mm/63"
1750mm/68.90"

Minimum Working Height

480mm/18.9"
530mm/20.87"
535mm/21.06"
540mm/21.26"

Folded Length

490mm/19.3"
420mm/16.54"
410mm/16.14"
585mm/23.03"

Weight

1323g/2.9lbs
1325g/2.92lbs
1346g/2.97lbs
1395g/3.08lbs

Materials

Carbon Fiber
Carbon Fiber
Carbon Fiber
Carbon Fiber

Ball Head

Ball Head
Ball Head
Ball Head
Ball Head

Color

Orange, Black
Orange/Black
Orange, Black
Orange, Black

Leg Lock Type

Twist Lock
Spiral Type Lock
Flip Lock
Twist Lock

Leg Sections

5
5
4
4

Leg Diameter

13-25mm/0.5-0.98"
13-25mm/0.51-0.98"
16-25mm/0.63-0.98"
16-25mm/0.63-0.98"

Center Column Features

No-center-column form for enhanced stability
Center Column Inversion
Center Column Inversion
Center Column Inversion

Center Column Sections

1
2
2
1
Compared to cheap tripods..
Foreword:

Hello friends, I have been involved in photography for about 2 years and this has also become my everyday hobby. That's why I wanted to improve my existing equipment. At the beginning I had a tripod for 20€ and gained my initial experience with it. Like many of you, I also wanted more possibilities and more comfort in photography. Now I would like to describe my experiences and the differences to a 20€ tripod for beginners. So you can get your own idea of ​​whether a more expensive tripod is worth it for you.

Quality and differences to cheap tripods:

After the product arrived I noticed the first difference, the material of the bag was a bit thicker and of higher quality. After I unpacked the tripod, I assessed the workmanship and how much play the tripod had. I have absolutely nothing to complain about the processing of the metals and this is at a very high level. A few plastic elements show that not everything is perfectly processed. Compared to my cheap tripod, the legs can be unfolded individually, which in my opinion gives me many more options. The ball head can also be adjusted much easier, more specifically and, above all, more comfortably than on my cheap one. Here I have to adjust 2 axes separately with the lever, which gets a bit annoying in the long run. However, what fascinated me the most was the possibility to turn the tripod around and get very close to the ground. These possibilities are usually not offered with cheap tripods. So I can finally take calm macro shots and take pictures from completely new perspectives. In addition, the pack dimensions were decisive for my purchase because I would like to use them when traveling. The attachment that is screwed into the camera has a very good rubber coating with a profile so that the camera does not turn out by itself even if it is rotated 90° on the tripod and is equipped with a large lens (some of you will probably know this). ). Due to the compact size, K&F has also come up with a solution for windy days, because this tripod is equipped with a hook at the lower end of the neck, to which you can attach your bag or the like. Overall, I see many advantages in this tripod compared to the tripods in the lowest price range:

+ Individually fold-out legs = More options
+ Ball head for more comfortable adjustment
+ Small pack size and light
+ Overall very stable even with the neck extended
+ New perspectives possible by rotating the neck by 180°
+ Well thought-out and convincing design
17/06/2022
good height
I personally prefer twist locks for the tripod legs, although this is definitely a matter of personal preference. The legs can also be extended outwards using the quick release buckle for an even lower height. This can be especially helpful when trying to achieve a lower angle of view for artistic reasons, e.g. B. when focusing on the foreground.
17/06/2022
A great tripod
Wanted a more compact tripod to replace a cheap chip tripod which I have used for many years as I wanted to do some more landscape photography, this would be much easier to carry. Based on the reviews this seemed perfect.
It arrived very well packaged with a nice little pouch that covers the head to protect it, the tote also has the added option of a shoulder strap and I like that one of the legs has a foam coating to protect your hands slightly warmer when wearing in winter. The Reise is very compact, light and very robust in windy conditions.
It says it's a quick release which for me means flick a little lever and it's released, you have to screw it around the plate to tighten it, ok just a few seconds but if your hands are freezing that is screwing and unscrewing something is not always easy to do!
For me, that was just a small flaw that I was happy to live with, as I was impressed with the tripod.
16/06/2022
A solid price-performance tripod!
The tripod came with a carrying case and was very easy to set up. As a beginner photographer/videographer I am very happy with the quality of the product but also with the flexibility and design of the product. It folds into a compact form and has a number of other uses like tilting, rotating and setting up that I have yet to explore.

I am very happy with the tripod and especially appreciate the attention to detail of rubber bumpers to protect the camera and grip the tripod legs!
16/06/2022
A really impressive tripod. Strong, stable and many professional-level features.
A surprisingly good tripod for the price. It has many features you'd typically only find on more expensive tripods, like a weight hook and an easy-to-rotate base under the ball head to make panoramic photos easier and more level. The tripod has a good weight but is t too heavy. It's perfect for an amateur photographer, especially since it comes with a really high-quality case. Even the suitcase has a few different carrying options. There is a two piece handle that can be clipped together to keep the bag closed and
16/06/2022
Very stable for the size
Bought this tripod as a travel tripod because of its light weight and small pack size. I've tested a Canon 70D and an EOS RP, each with a 100mm lens, on this tripod, and I'm surprised at how stable it is. Now I put away my little Manfrotto travel tripod and just use the K& F, because it folds smaller and is more stable with almost the same weight.
15/06/2022
High quality
I am very satisfied with this K&F tripod. I use their lenses and they make really great products. This tripod uses metal joints and locking points.
15/06/2022
Very high quality and professional
For a long time I had only ever used a cheap tripod because I thought why spend so much money on it. I often had the problem that my old tripod was unstable and eventually even broke due to poor quality. This tripod here, however, makes the difference. On the one hand, it can be adjusted much higher and the solid iron legs ensure a good stand, even in strong winds. So it's really worth the money.
15/06/2022
Chic and reliable
The tripod meets all the requirements I have. Since the ball head is included, it can really be moved anywhere and is very inexpensive for this quality. The tripod can also be easily opened thanks to the rotating system, which I already know from my hiking poles.
15/06/2022
Super tripod with endless possibilities
Ordered the tripod with great anticipation. What can I say? Just awesome.

Shipping great. The tripod is packed in a very sturdy carrying case.

Despite the Chinese or English instructions, the assembly is super easy. All materials are of high quality and do not show an 0815 product.
I'm already looking forward to using it, whether I want to use it at my height or deep down in macro photography. Yes, it is super versatile and I would recommend this tripod to anyone.
14/06/2022
A
For center column installation, see this video https://youtu.be/3BvJKWNElRg.
Tripod General
Load Capacity
15kg/33lbs
Maximum Working Height
1560mm/61.4"
Max Height without Center Column
1325mm/52.2"
Minimum Working Height
480mm/18.9"
Folded Length
490mm/19.3"
Weight
1323g/2.9lbs
Materials
Carbon Fiber
Ball Head
Ball Head
Color
Orange, Black
Bubble Level
√
Tripod Legs
Leg Lock Type
Twist Lock
Leg Positions
Independent Leg Spread
√
Leg Sections
5
Leg Diameter
13-25mm/0.5-0.98"
Feet Features
Can be reversed 180° and folded
Tripod Center Column
Center Column Features
No-center-column form for enhanced stability
Center Column Sections
1