20x50 High Power Binoculars,BAK4 Prism, FMC Lens, Waterproof Binoculars Telescope for Bird Watching Hunting Travel
£28.99
£36.86
21% OFF
Inclusive of VAT
&FREE Shipping to United Kingdom,Ireland
Brand:

K&F Concept

Free Shipping. 30 Day No Reason Return. K&F binoculars feature wide field of view, multi-layer coating, BAK4 prism, portable & non-slip handle, easy to adjust and wide use.

KF33.023

SKU:

KF33.023

28.99

https://www.kentfaith.co.uk/GW01.0284_20x50-adult-high-power-binoculars-with-low-light-night-vision-bak4-prism-fmc-multilayer-coating-lens-anti-fog-and-daily-waterproof-very-suitable-for-bird-watching-travel-concert-outdoor-sports-with-mirror-bag-and-lanyard
Features
• [Wide field of view] The magnification is 20 times, which can provide you with a field of view of 168/1000m; the diameter of the eyepiece is 22 mm, and the diameter of the objective lens is 50 mm; the wide-angle field of view, more light, a wider field of view, and higher brightness.
• [Multi-layer coating, BAK4 prism] FMC multi-layer high-definition coating provides up to 99.5% of light transmittance and minimum distortion, which minimizes the light loss caused by reflection; BAK4 prism's excellent refractive index can effectively avoid vignetting , The image is clear, bright without dark edges.
• [Portable and non-slip handle, durable and waterproof] Rubber-wrapped mirror body, delicate touch, snowflake-shaped anti-slip texture, thumb anti-slip design, making the grip more advantageous; ergonomic design, comfortable grip; environmentally friendly rubber, with excellent Sealing performance, wear-resistant, moisture-proof, waterproof and anti-fog, shock-resistant, and very durable outdoors. But please do not immerse the binoculars in water.
• [Easy to adjust]-Fast and high-precision focusing can be achieved through the central focus knob, and the diopter can be adjusted by slightly rotating the right eyepiece. It can be used with a tripod (the tripod is not standard and needs to be purchased separately), which is very suitable for long-term viewing.
• [Wide use] Provide a lanyard, which can be fixed on the binoculars, convenient to take the binoculars anywhere; this is specially designed for bird watching, hiking, hunting, mountain climbing, traveling, football basketball or sports games, concerts design. Tips: The binoculars have low-light night vision function and can be used at night, but they cannot be used in a completely dark environment.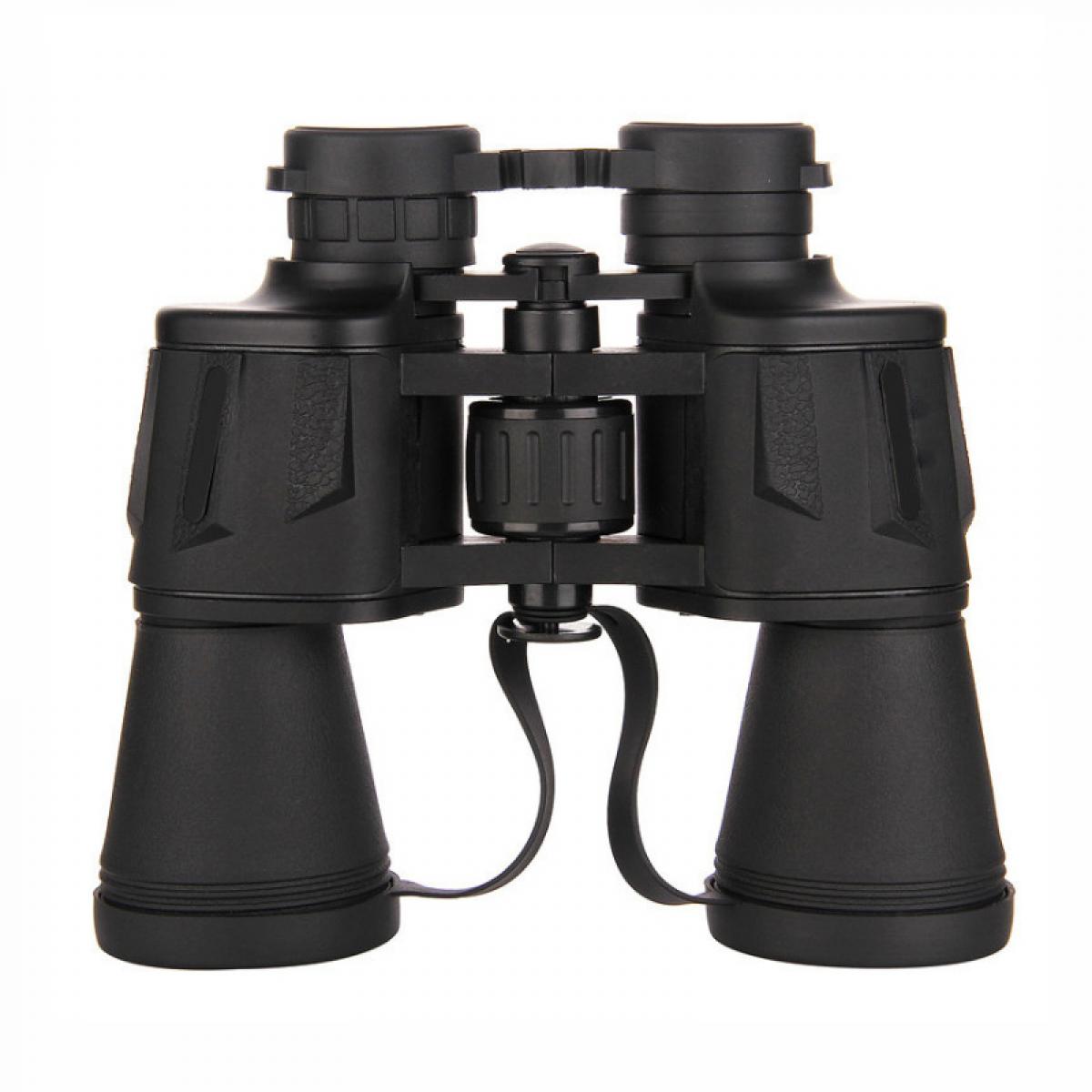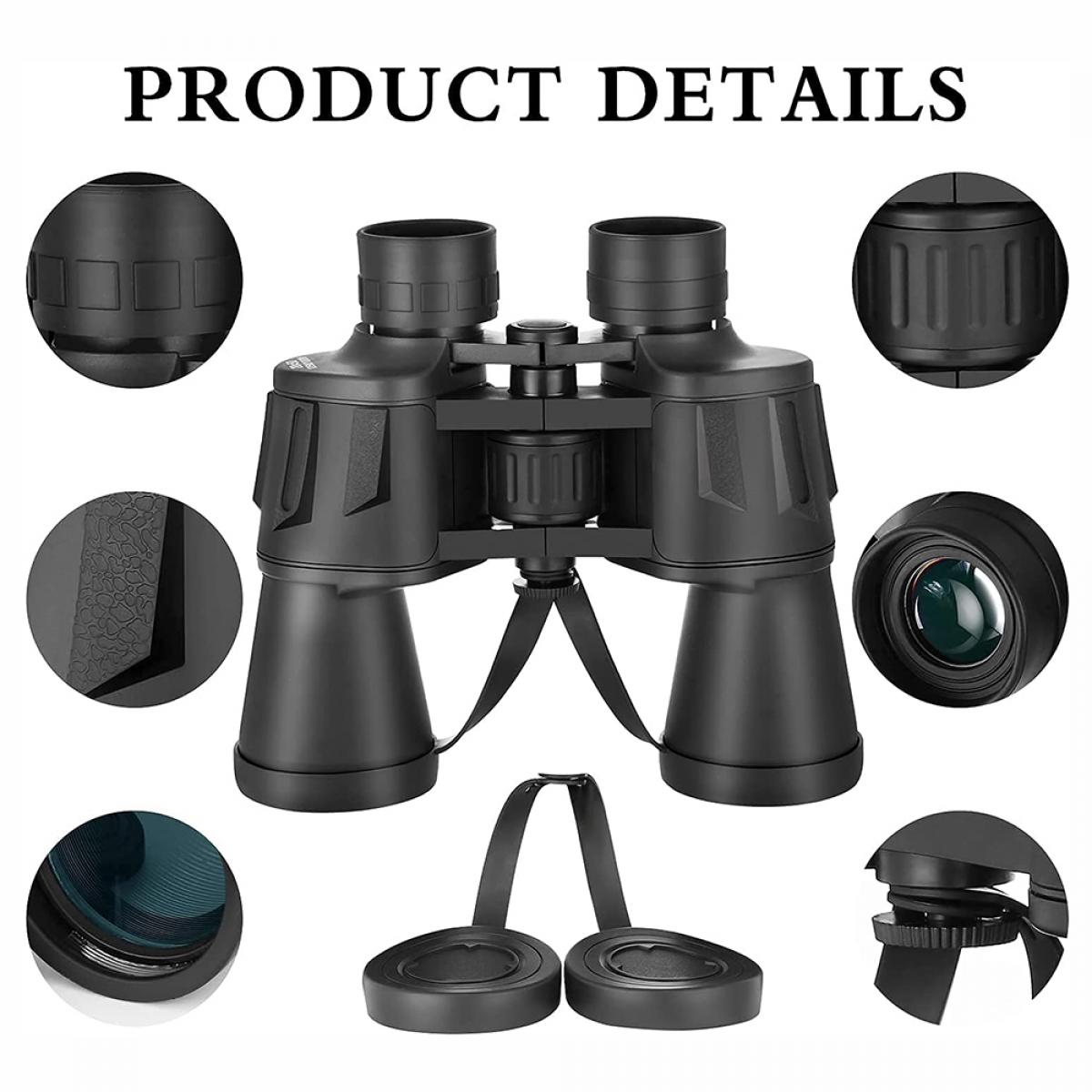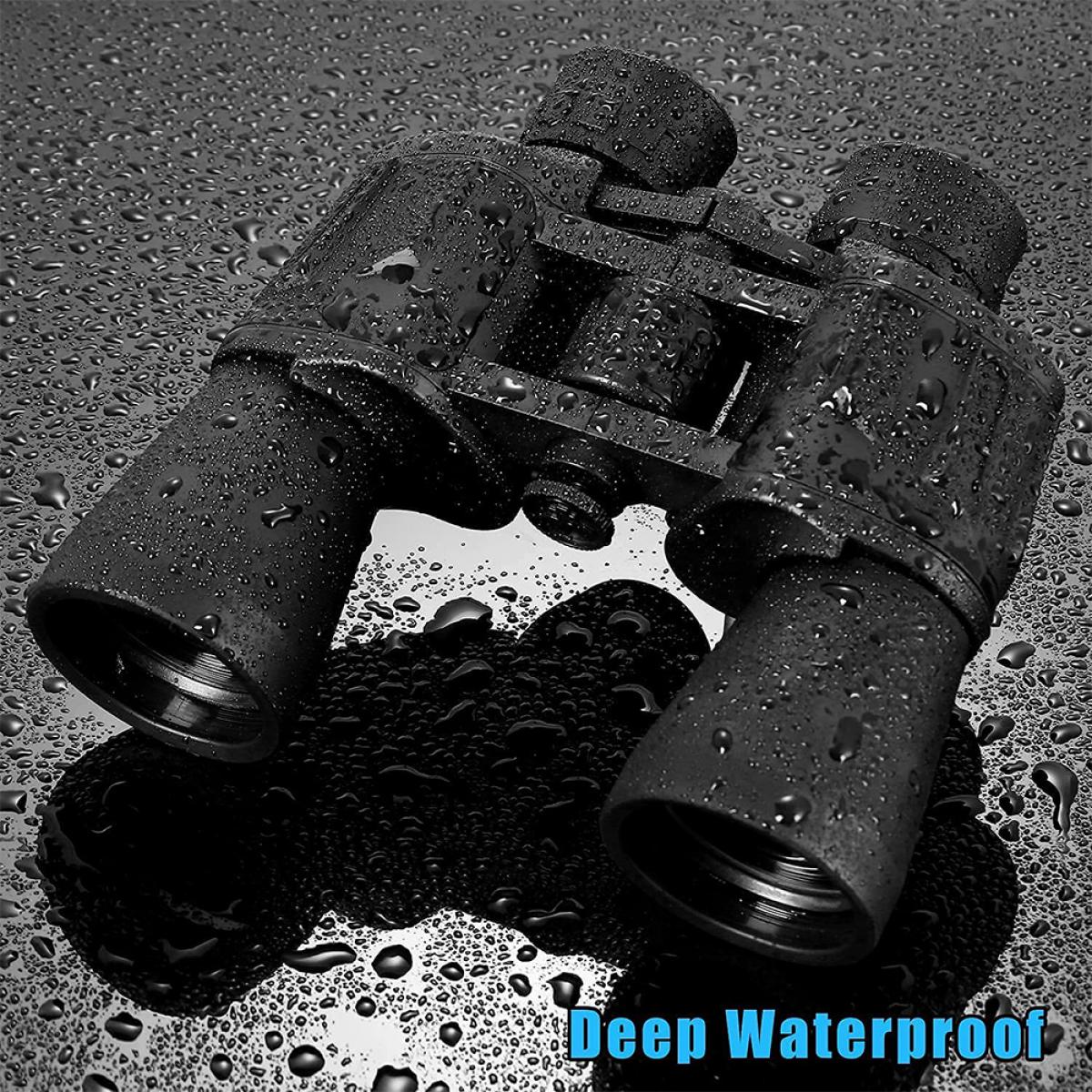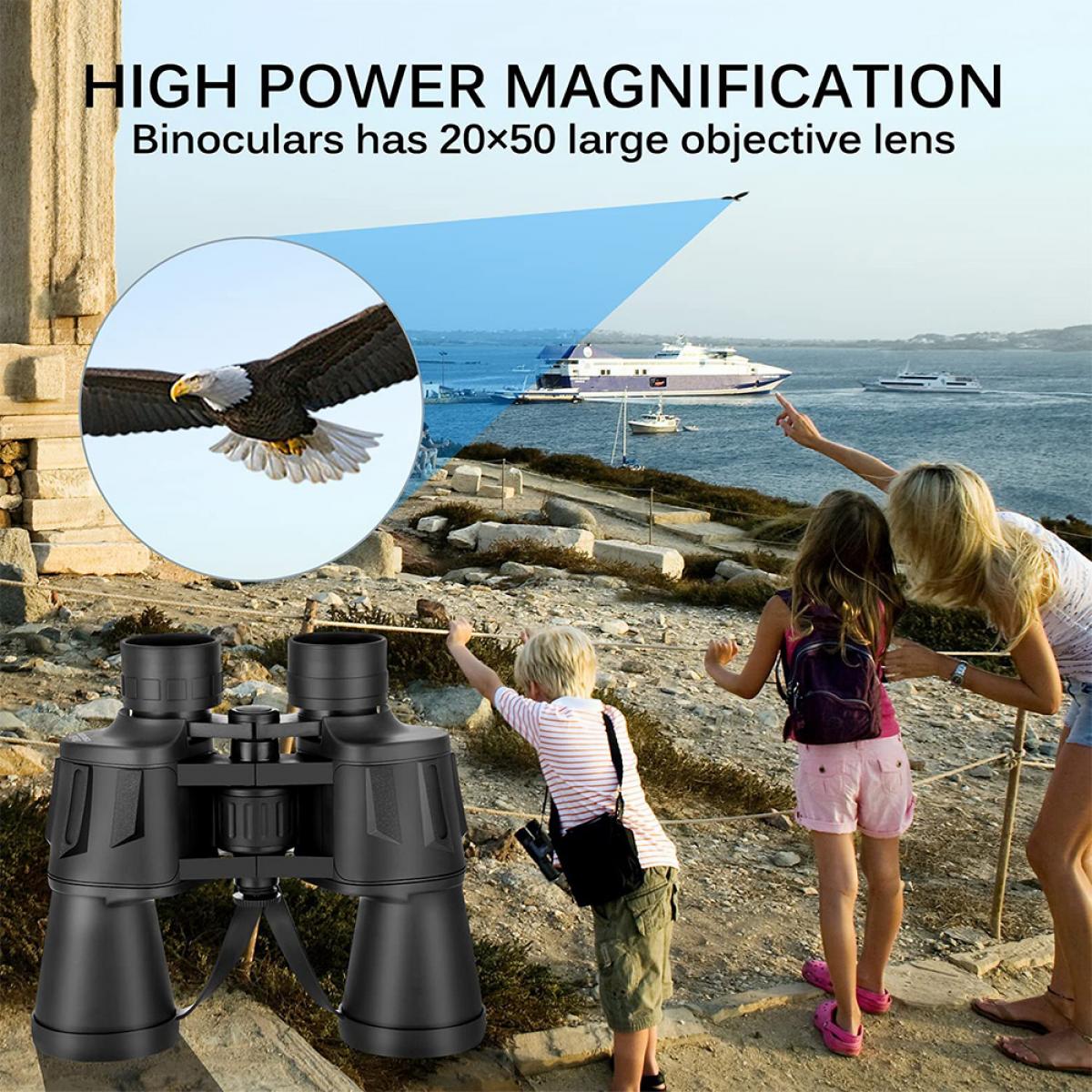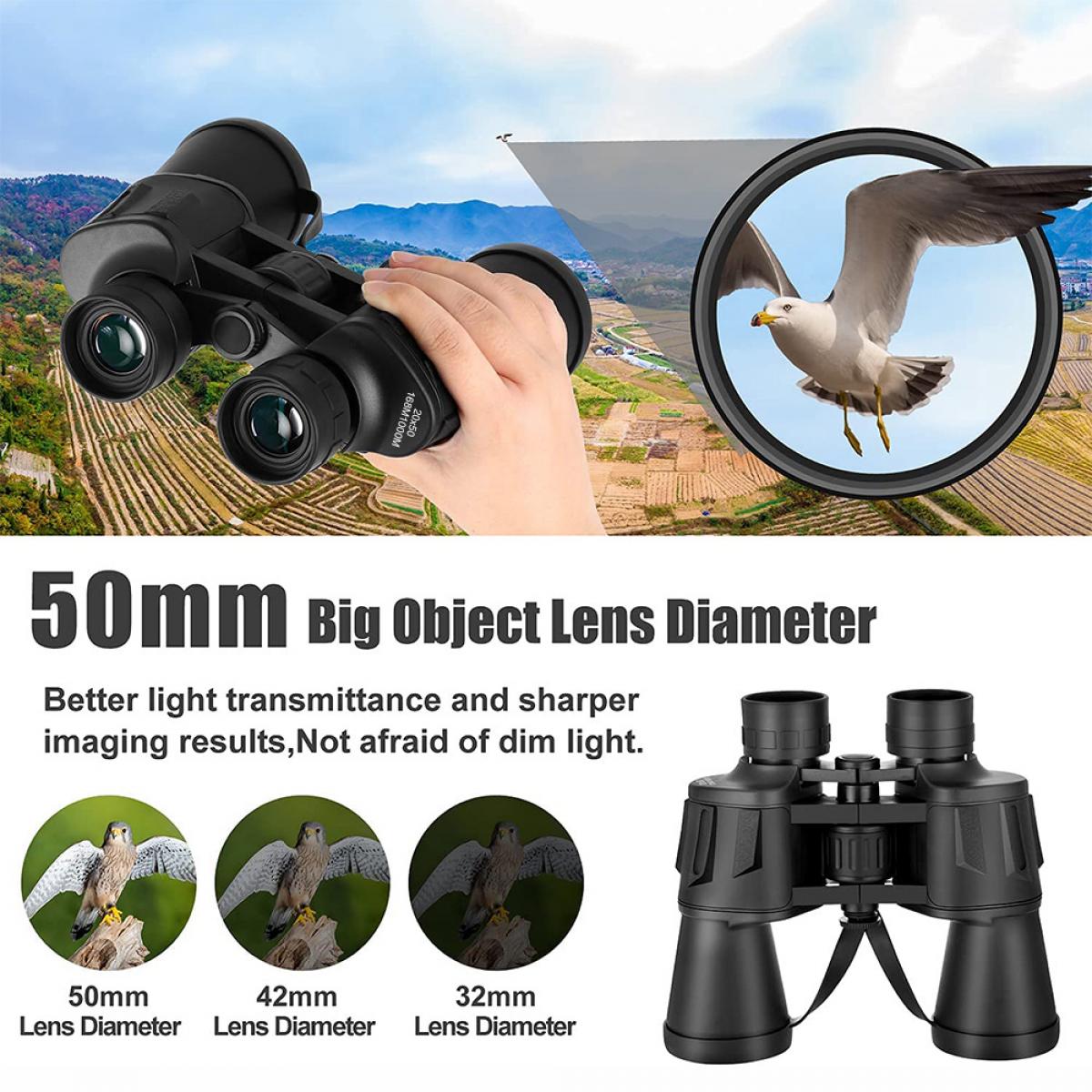 | | |
| --- | --- |
| product name | 20*50 |
| gain | 20X |
| Objective lens aperture | 50mm |
| Eyepiece caliber | 22mm |
| Prism material | BAK4 |
| Prism system | Porro |
| Focusing system | Central focus |
| Field of view | 168/1000m |
| Product Size | 18.3*17*5cm |
| Product Weight | 730g |
| Package dimensions | 20*20*8cm |
| Package weight | 800g |
| packing list | Telescope *1 |
Rating

94 reviews.

5 reviews.

5 reviews.

84 reviews.

31 reviews.

3 reviews.
Price

£36.86

£28.99

£128.56

£59.49

£37.69

£53.99

£36.99

£42.62

£22.19

£57.71

£31.68

Model
KF33.023
KF33.022
KF33.038
KF33.001
KF33.039
KF33.026
Worth the price paid
Very convenient to see through the view finder. Doesn't hurt eyes. I enjoy bird watching with this.
10/07/2021
Worth buying
Wow! These binoculars left a deep impression on me. At first I was skeptical about these binoculars. I am not sure if such a cheap price is accompanied by high quality.Because I have owned a Nikon 12x50 binoculars before, and the price is about three times that of these binoculars. Unfortunately, I lost it in an accident. This made me frustrated for a long time.But now I am happy again. This binoculars not only has a matte high-grade metal texture in appearance, but also has excellent optical properties. The clear and bright eyepiece with a large field of view brings a more comfortable observation experience.It's equipped with a cleaning cloth, a small backpack and a neck strap. There is a small suggestion. If the neck strap can be thicker, I believe it will make me hang around my neck more comfortably.Anyway, this is a very cost-effective binoculars, I have recommended it to my neighbors.
30/12/2020
Great for Holiday
Light Binoculars, Not heavy at all. Lens are well protected and it comes with a carry case and a belt to go around the neck.I recommend them.
02/04/2019
Nice binoculars.
Nice binoculars, clear image, light and easy to use.
25/10/2021
Clear view
Crystal clear view.
23/10/2021
These images belong to K&F Concept end users.
A
Has a 1/4 threaded connection for use with a tripod
A
For this binocular 20x50, as the diameter of the objective lens is 50mm, for binoculars, the larger the diameter of the objective lens, the more light it collects and therefore can be seen more clearly in dimmer places. Please note, however, that dim/low light ≠ night vision and cannot be used in total darkness.
A
The binoculars are made of natural and environmentally friendly rubber material, a little smell is normal and will not harm your health, we recommend you to ventilate the binoculars for 24 hours when you open the package for the first time.