Lavalier Microphone,Plug & Play Wireless Microphone for iPhone & iPad, YouTube Facebook Live Stream, Auto-syncs Mic for Vloggers
£42.99
£77.16
44% OFF
Inclusive of VAT
&FREE Shipping to United Kingdom,Ireland
Free Shipping. 30 Day No Reason Return.Lavalier Microphone,Plug & Play Wireless Microphone for iPhone & iPad, YouTube Facebook Live Stream, Auto-syncs Mic for Vloggers .

KF10.033

SKU:

KF10.033

42.99

https://www.kentfaith.co.uk/GW01.0428_ep033-mini-plug-play-microphone-wireless-lavalier-mic-for-iphone-ipad
Features
* 【Plug & Play】With advanced transmitters and receivers, lavalier microphone will connect automatically, no Adapter/Additional APP/ Bluetooth needed. Just plug the receiver into the devices (Lightning port) and play it directly.
* 【Advanced Noise Cancellation】High-performance wireless microphone, stable signal, obstacle-free distance of more than 20 meters, unlimited free recording; built-in noise reduction chip, strong anti-interference ability, effectively identify the original sound, and can still record clearly in noisy environments.
* 【Get Rid Of Messy Cables】Designed for YouTube/Facebook Live Stream, TikTok Creators, Vloggers, Bloggers, YouTubers, Podcasters, Interviewers and other video recording lovers.Compatible with a variety of devices, support mobile phones, cameras, notebooks, etc., devices with microphone ports can be easily connected and used.
* 【Long Working Time Hours & Portable】 Built-in 80mah battery, long-term battery life of 10 hours, short video recording, easy to cope in various noisy environments, worry-free shooting, to meet your needs for a day; wireless lavalier microphone, easy to wear, stable signal, clear sound, easy to record high Quality audio.
* 【360°Omnidirectional Pickup】High-density spray sponge, high-sensitivity microphone, 360° no dead angle radio, fast response, fine radio, reduce the interference of the surrounding environment, and record every detail of the sound.
Shipping
&FREE Shipping to United Kingdom,Ireland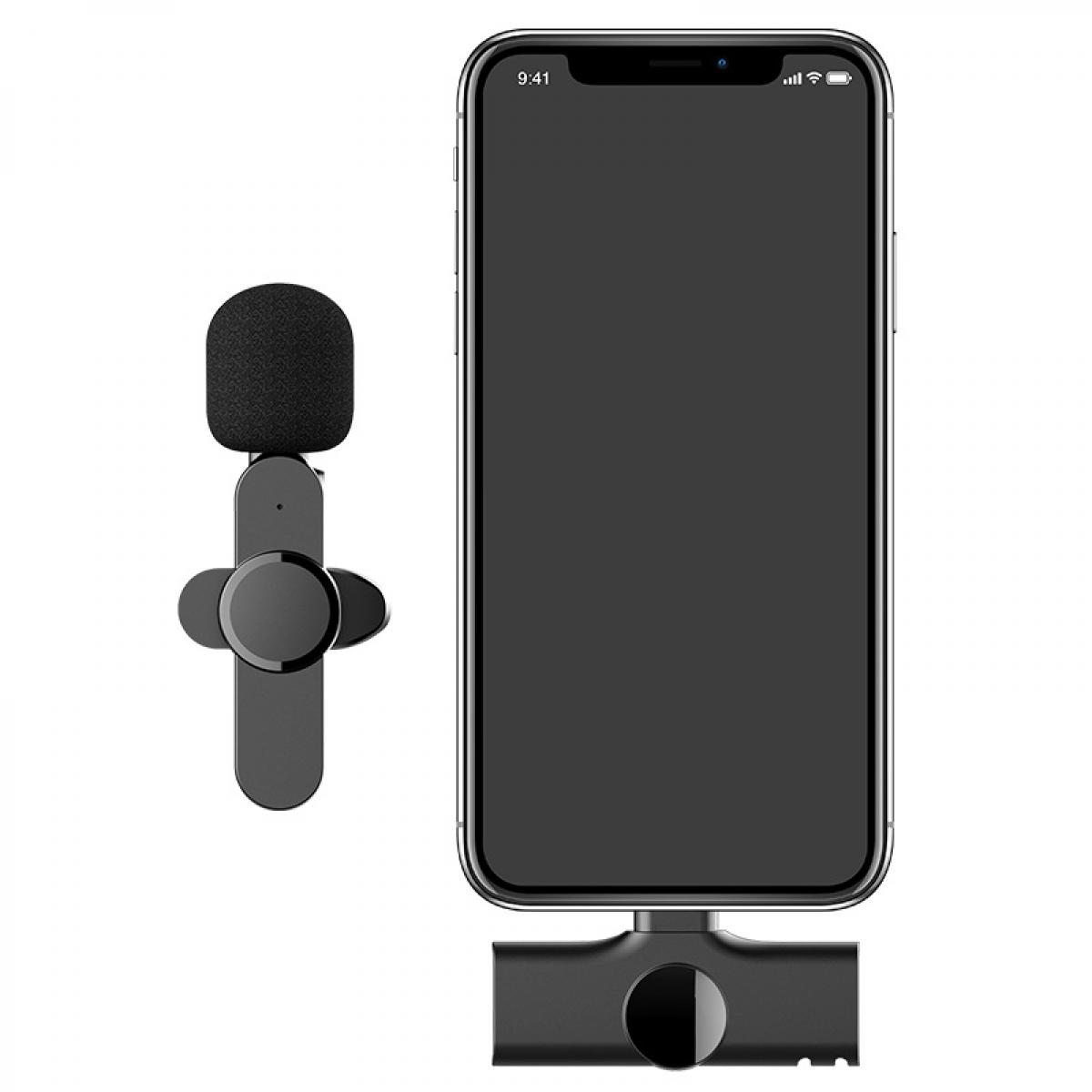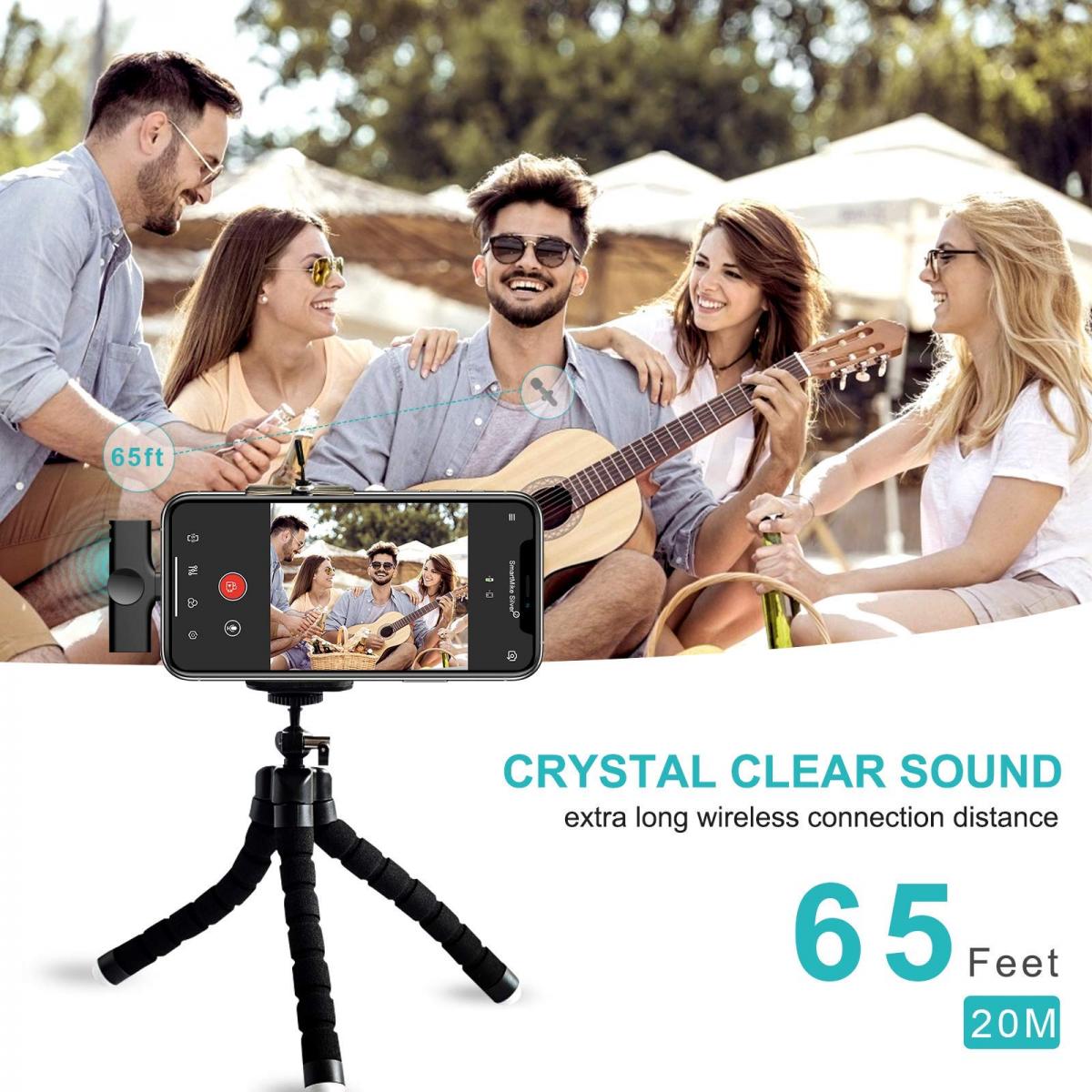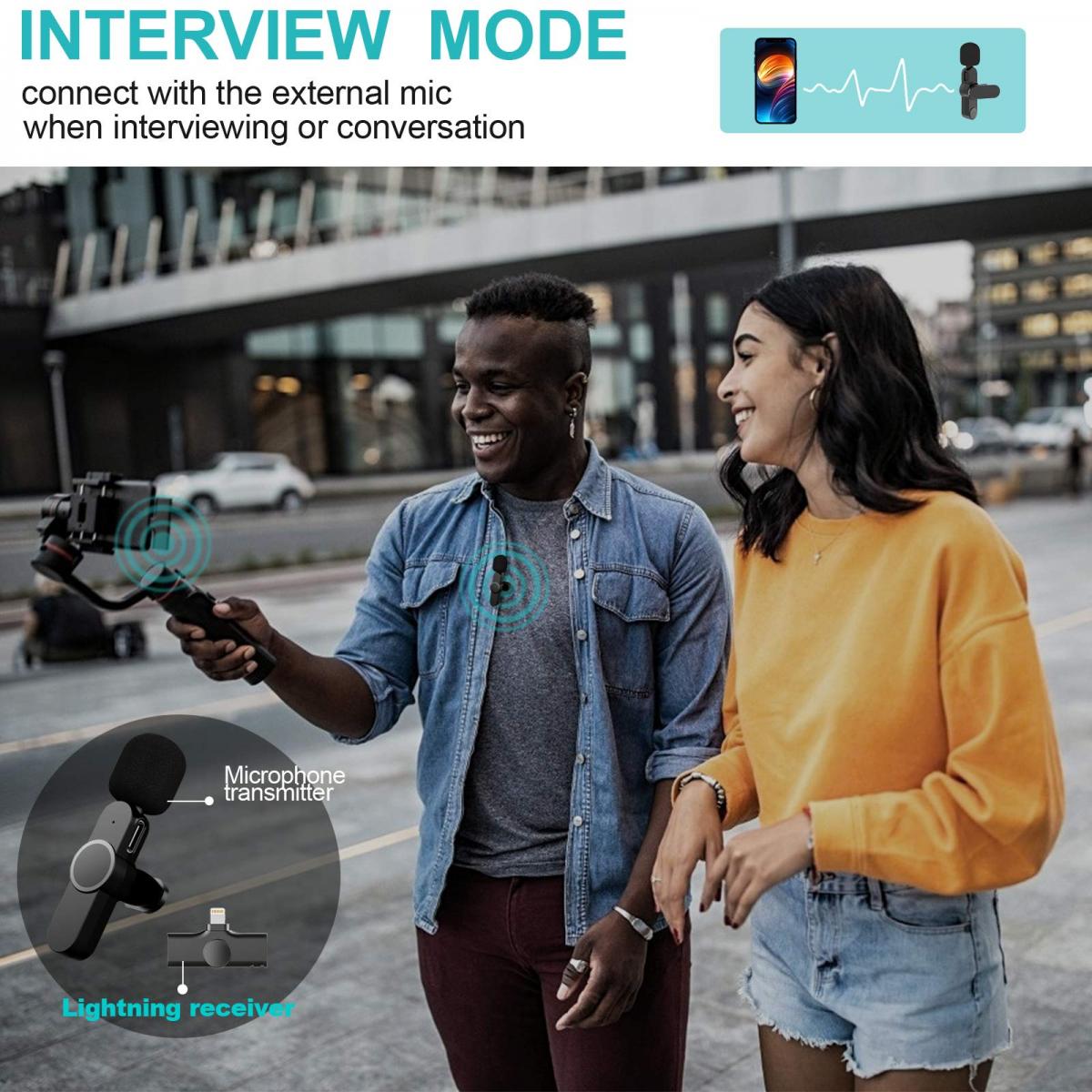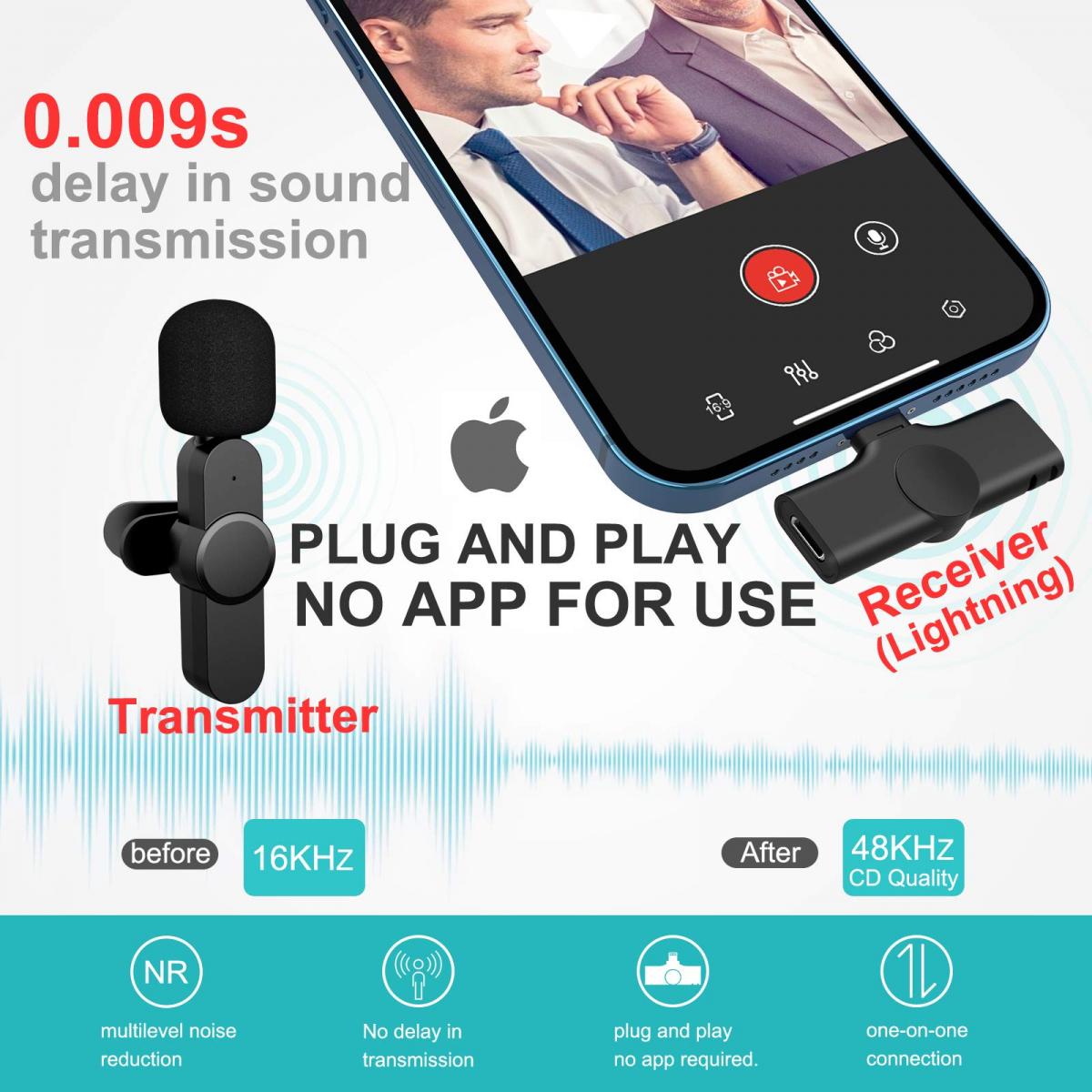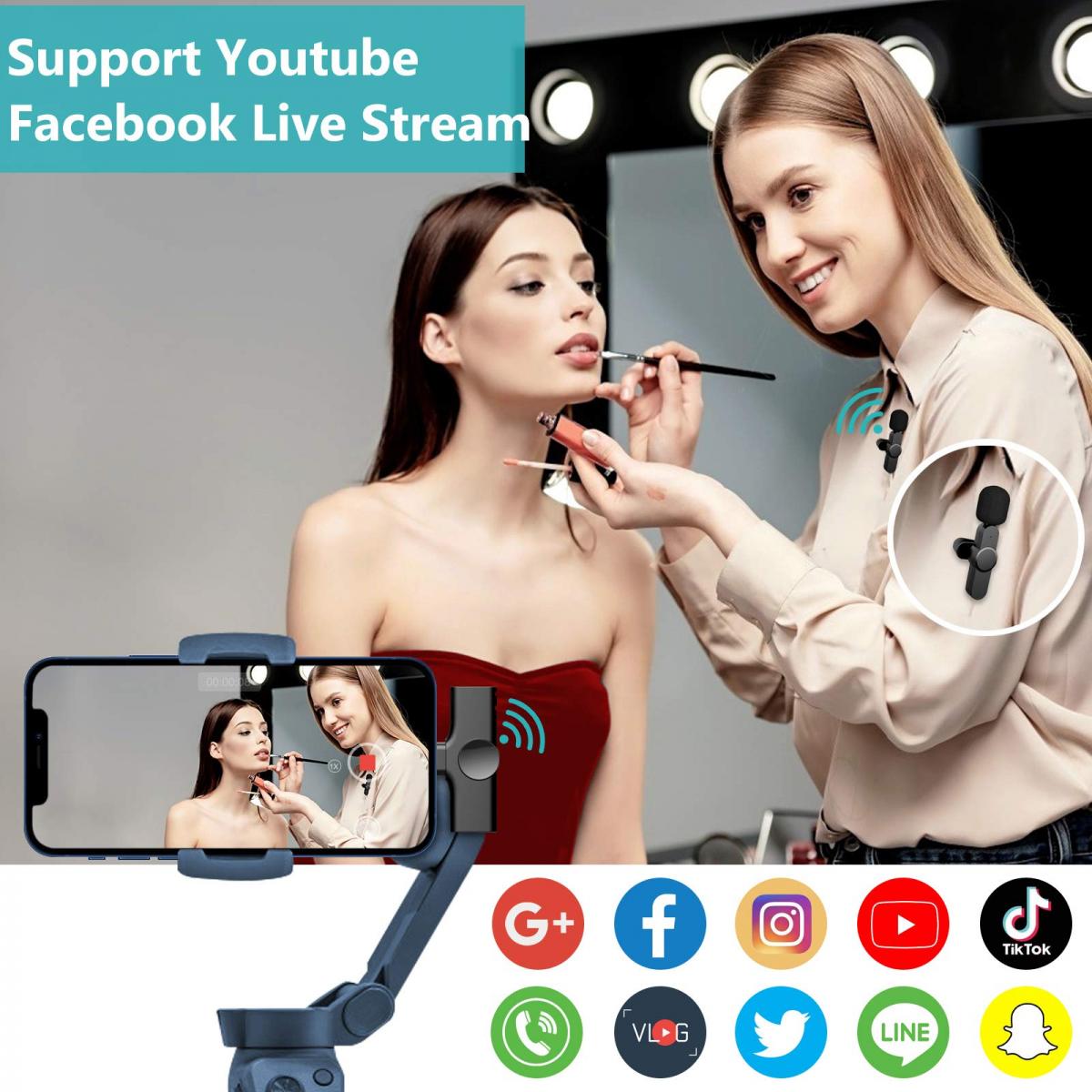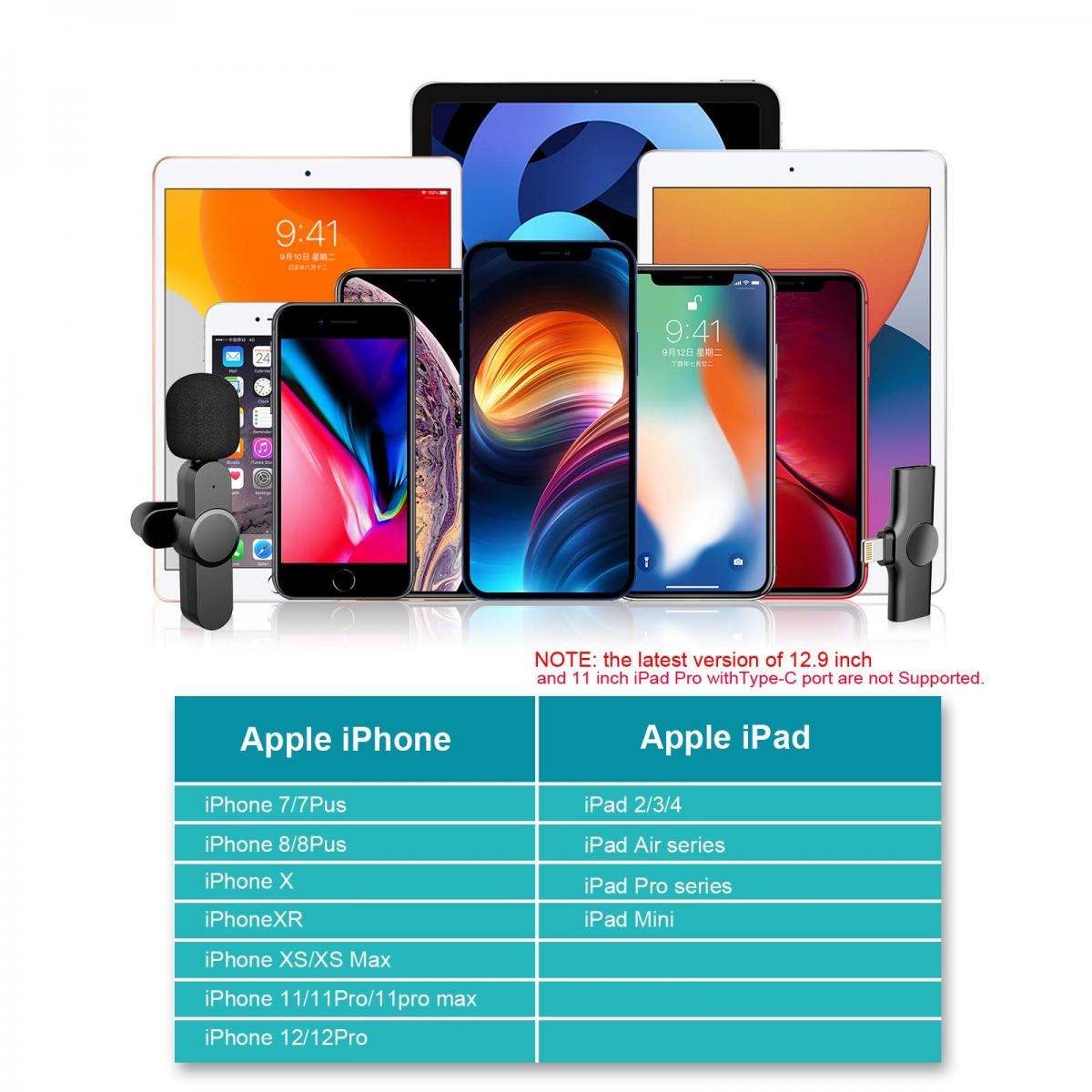 A poets dream!
I love how portable this is and the little pouch it comes with is so handy!It was pretty straightforward to use and the audio quality was a huge improvement compared to using my phone on its own (iPhone). I'm a poet and my recordings had such clarity. I see myself using this more and the freedom to record wherever...I'm excited :)
02/12/2021
Background noise vanished for my callers
I work in a noisy environment but still need to make many phone calls, I bought earbuds which improved things greatly for me, however my callers still struggled to hear me over my background noise, a friend suggested buying a microphone, seems to do a great job and callers say my voice is vastly clearer,
02/12/2021
Quality item
I purchased this for work calls due to not getting on with headsets or headphones, it's perfect and colleagues can hear me clearly without picking up keyboard sounds. What I didn't expect was how much my daughter would enjoy using it use with her iPhone/iPad to do Instagram video calls and social media videos!It's smaller than I expected, maybe I should have viewed the photo's better, but, it's incredibly powerful and the fact it's so small and discrete is also a major plus.Great features and long battery life. This is a quality item and will enhance videos, video calls and conference calls. Perfect.
02/12/2021
nice
Very easy to set up.
01/12/2021
Very useful
It works really well and has very good sound quality and I really like it.
01/12/2021
Great for recording audio. Perhaps useful for podcasting?
As someone who dabbles in film and music I've always relied on a wired lavalier microphone when working on my projects and while they are brilliant for recording audio, the reduced movement that they give you is very limiting to what you can accomplish. This product solves that.If you're on an IPhone and need something like this I would highly recommend. I expected when I ordered this for it to drain my battery quickly but I was quite surprised that it didn't. The only negative side to this product I can find is it's size. The microphone is perfect and the sound quality is excellent but the receiver you plug into your phone is quite chunky and adds around an extra centimetre of length to your phone. If you're storing it in a bag no problem but probably not one for when you're wearing skinny jeans!
01/12/2021
Great microphone for iPhones
The first thing to say is how compact the microphone is and if you keep it in its pouch it can easily fit into your pocket.The microphone integrates and functions well with my iPhone. I have only used it a few times with Instagram videos but it cut out any background noise which is a key and important feature.The microphone has a clip built into it and it firmly attaches onto your shirt or jacket lapel. It's tiny and very lightweight so you hardly notice it's there. The microphone is very sturdy and won't break easily if you accidentally drop it. It does come with a spare clip and microphone cover.A fully charged microphone should last around 6 to 8 hours based on my experience so far.The transmitter is a lightning connector and it fits snugly into the iPhone. Note: this microphone is for iPhones only.In summary, this microphone functions well with an iPhone and is compact, light and sturdy. Buying one of these microphones will save you equipment space and money.A great little microphone that I am very pleased with and expect to use for many happy hours.
30/11/2021
Ease of use and quickstart from plug in
Ordered this product as i was looking for a beginner friendly microphone.i have used this for recording my voiceover and it does the job, it was easy to install and use.it comes with a charging usb and extras.the recording sound was good, better than most i have used in the past.Would recommend using this as a starter for beginners.
30/11/2021
Super clip on microphone.
I sent for this wireless microphone as a Christmas present for my granddaughter.I had to try it out with my iPhone to make sure it worked.So easy to set up. Plug in the receiver into the phone charger socket. Then started to record from the microphone. I left the phone in the living room and wandered all around the house whilst talking into the microphone. The recording was crisp and clear and better than I expected from such a small bit of kit.I've photographed it by the side of a ruler so that you can get some idea of how small it is.I'm sure she'll be happy with it while she's doing her sing and dance routine.
30/11/2021
Great little microphone
This little microphone is quality, the sound is crisp and very clear.It has a fantastic range and my little daughter has enjoyed using it whilst chatting to granny.The battery has lasted well, overall I am very impressed.
30/11/2021