4.3 inches IPS Inspection Camera, Dual Lens Borescope-Endoscope Camera, Snake Camera with 5.5mm Metal Cable, Gadgets for Men
£104.99
£129.99
19% OFF
Inclusive of VAT
&FREE Shipping to United Kingdom,Ireland
Free Shipping. 30 Day No Reason Return. 4.3 inches IPS Inspection Camera, Dual Lens Borescope-Endoscope Camera, Snake Camera with 5.5mm Metal Cable, Gadgets for Men.

GW45.0001

SKU:

GW45.0001

104.99

https://www.kentfaith.co.uk/GW45.0001_kf-endoscope-dual-lens-inspection-camera-1080p-hd-borescope-5.5mm-snake-camera-endoscopic-with-metal-cable-4.3'ips-hard-screen-8-led-lights-plumbing-camera-32ggadgets-for-men
Features
* 【5.5mm/0.21 Inch Probe】This 5.5mm inspection camera is the latest industrial inspection endoscope, ideal for inspection in pipes or areas not visible to the naked eye, it can easily pass through small pipes in large mechanical equipment, photography and recording video is more clear and stable, providing great convenience for after-the-fact re-examination and discussion.
* 【Upgraded Semi-Rigid Cable】This snake endoscope cable has been newly upgraded, the inner layer is wrapped in special metal materials, enhances the toughness and plasticity of the rope, can more effectively through various angles of the pipe or sewer, the outermost rubber tightly wrapped inner tube, our camera and cable waterproof level reached more than IP67, rest assured that the sewer inspection work.
* 【1080P Dual Lens 】Our plumber inspection borescope features a new camera on the side of the front camera, six led lights on the front camera, two led lights on the side lens, and an upgraded CMOS chip that can capture clearer pictures and fluent video, even can quickly switching front and side cameras when recording. No mirror is needed, perfectly solve the problem of glare and blur in the side-view mirror of the old endoscope. letting you record down the full-view situation.
* 【4.3 Inch IPS Color Screen】The focal range of this sewer inspection endoscope camera is 3-10cm/1.2-3.9 inches, the frame rate is 30fps/s, and 30 pictures are generated every 1 second, which allows you to directly watch real-time HD images on the colour IPS screen.
* 【Wide Applications】This IPS Inspection Camera comes with a 32GB memory card that supports JPG images and AVI video and is widely used with a variety of life and industrial inspections. Can be used for HVAC inspection, refrigerator inspection, sewer/drainage pipe inspection, wall structure inspection, house maintenance, car maintenance, industrial machinery inspection, drain pipe maintenance, aircraft inspection, etc. is a family and the company must have excellent inspection tools.
Shipping
&FREE Shipping to United Kingdom,Ireland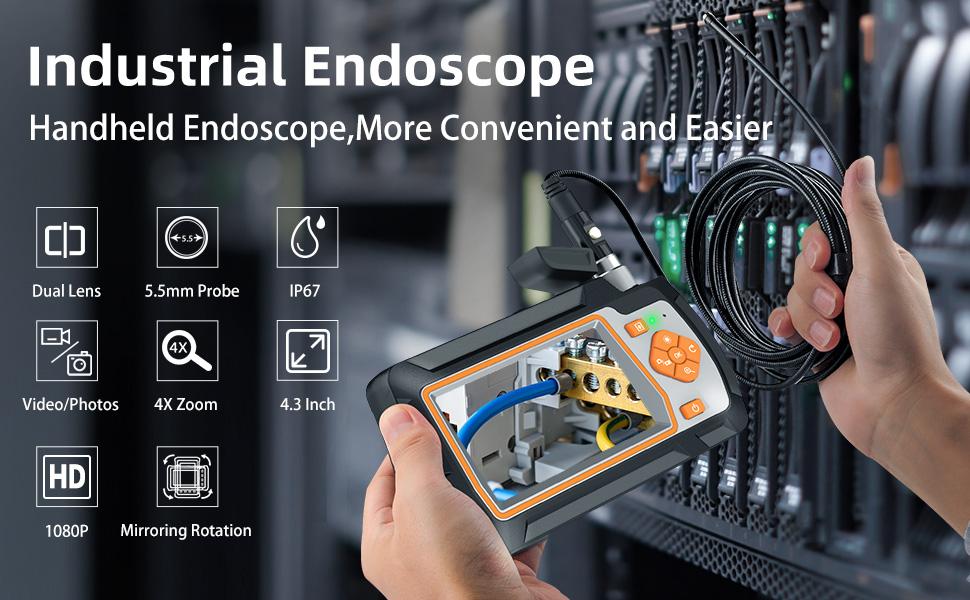 Why Do We Choose Leading IPS Hard Screens?
Our Two Camera Boroscopes have adopted the advanced liquid crystal panel technology. IPS hard screen is not only "harder", but also has better picture quality.

1.Fast Response Speed: The difference in the arrangement of the liquid crystal molecules, the IPS screen also changes the two vertical electrodes of the soft screen into a horizontal arrangement, which speeds up the deflection speed of the liquid crystal molecules, thereby improving the response speed of the screen. Solved the long-standing smear problem of LCD screen, and the motion pictures are clear and smooth. The viewing angle of the IPS hard screen panel can reach 178 degrees.
2.Wider Viewing Angle: This means that there is no obvious difference in the color and clarity of the picture regardless of whether you view it from the front or from the side.
3.The Colors Are More Realistic: IPS hard screens are purer than soft screens when displaying pure black images, and the images show rich layers and high contrast. The IPS screen can provide clearer black scene images through smooth grayscale levels.
4.The Screen Is Firmer: Due to the unique horizontal molecular structure of the IPS hard screen, it has no water streaks, shadows and flashes when touched. The screen quality is extremely stable, and the lifespan will be improved compared to soft screen. The 50,000 hours of the screen has increased to more than 70,000 hours.
5.Environmental Protection And Power Saving: The IPS hard screen reduces the thickness of the liquid crystal layer and changes the light transmittance of the liquid crystal screen. The reduction of the backlight source power achieves the effect of energy saving and environmental protection.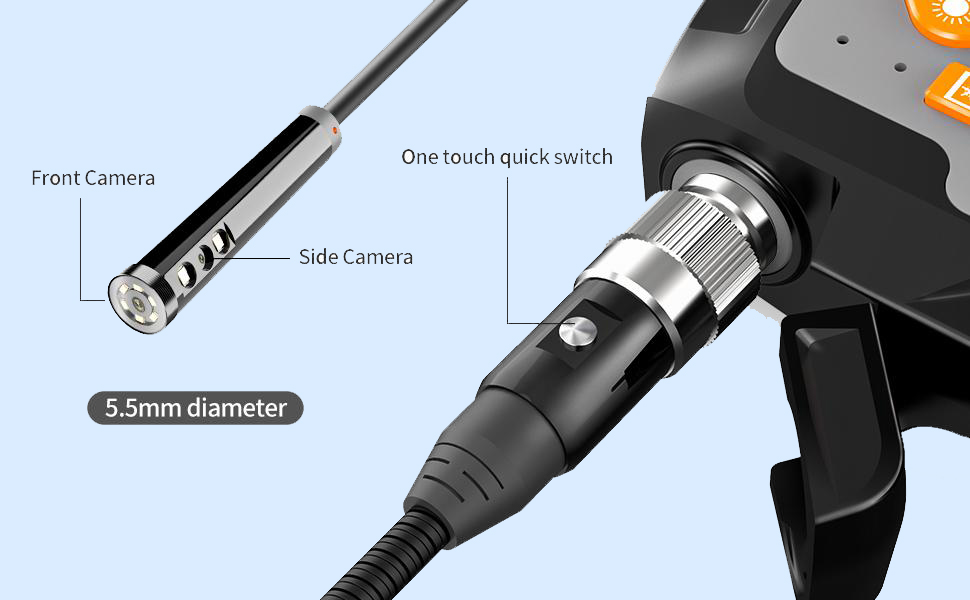 ULTRA-EXPENSIVE & HEAT-RESISTANCE SNAKE CAMERA CABLE--BEST WIRE ON THE MARKET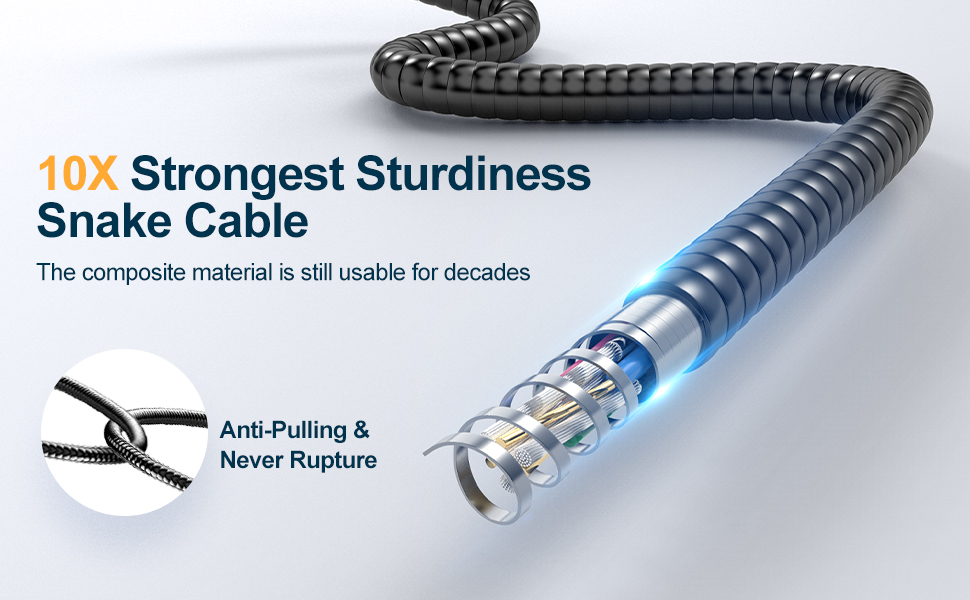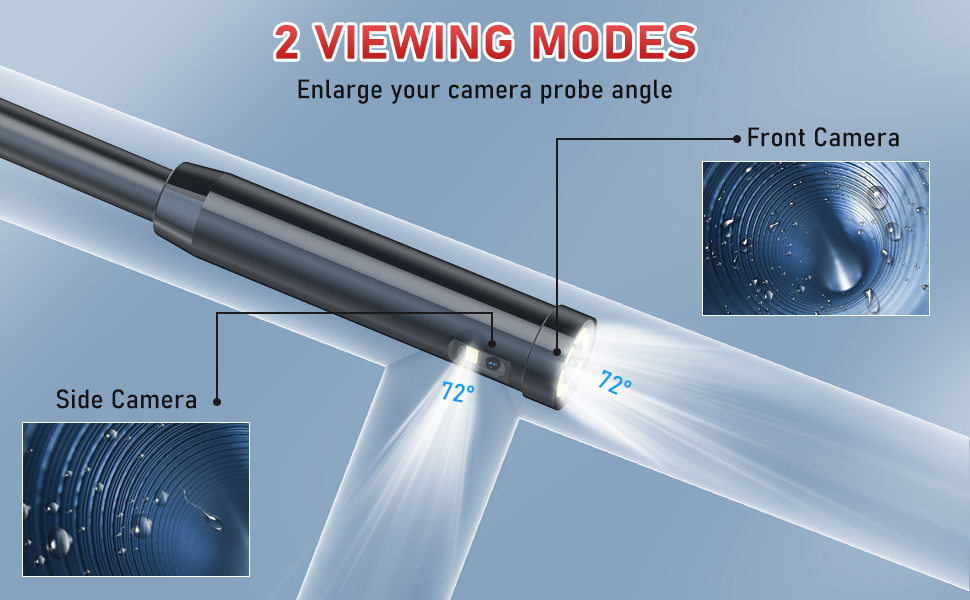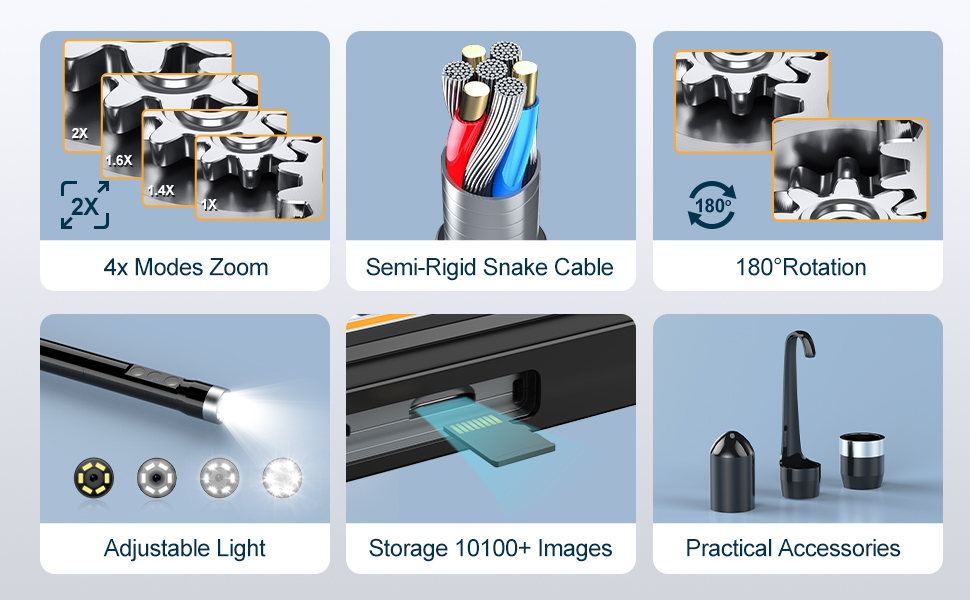 What Makes This Endoscope Unique From Others?
Heat-Resistance: Cable--32°F to 221°Fmax(0°C to 105°C), recommended to use below 176 °F; Camera--32°F to 150°F(0°C to 65°C), Perfect for mechanic work like car engine/cylinder/HAVC/electronic equipment.
All Round Protection: We specially wrap the cables in nylon bags. Not only protect the cable and lens during transportation, but also protect the lens from scratches and keep the cable clean during use. The host has covered with silicone protective shell, the screen has protective film and you will get the protective cap for front lens.
Time-Saving: No need APP, Phone, Bluetooth or Wifi. Just use the monitor to real-time work.
Humanized Design: The ergonomic design and friendly user interface and simple button icons, make it perfect for quick and proficient one-handed operation. Also comes with a lanyard for easily carry.
IPS Screen Better Than LCD: Anti-blur 2.0 and ensure grabs ultra-clear picture; Upgraded color flipping and brightness conversion to view the real high-quality images; Thinner monitor panel, improve display effect; Full-view angle.
Anti-Interference Signal Transfer: Enhanced signal transfer, giving you smooth and fluid video without latency.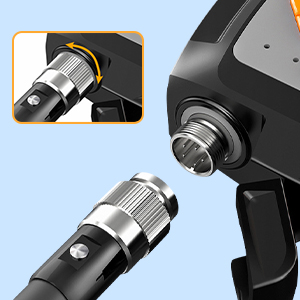 Industrial-Grade Aviation Connector
Compared with other ordinary plastic wires(cannot be plugged or unplugged). Our detachable & professional aerospace connector is perfect fixed with threaded knobs, making your data transmission more stable and faster. Bring you device stronger and more durable than others on the market.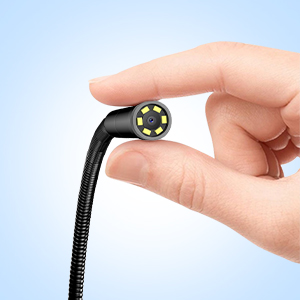 0.21 inch Ultra-Slim
Compared to other probes, our flexible wire is very sturdy and it holds its shape like a fish tape. And 5.5mm tiny camera probe make it easily access a wide variety of confined place or somewhere cannot be reached by the naked eye.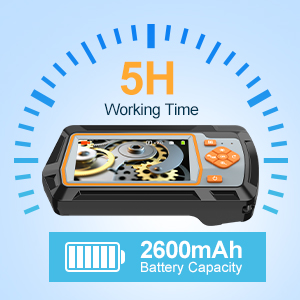 Rechargeable Battery
Our waterproof borescope battery is rechargeable, will work for up to 4-5 hours depend on different situations. And the standby time is up to 6 months. Ideal plumbing tool for outdoor work.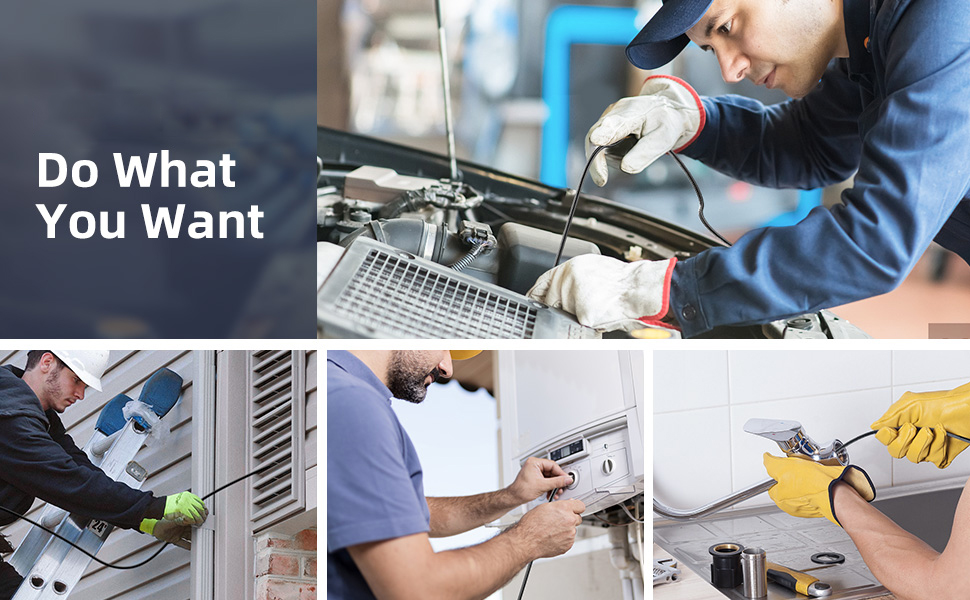 Multifunctional Application:
Industrial Use: Aviation Aircraft, Automotive, Motorcycle Engine Checking & Maintenance, Furnaces, Pistons, Gears, Compressors, Boilers, Condenser Tubes; Plumbing, Heating Vents, AC Vent Pipe, Machine Equipment Inspection; Building & Construction, Cable Routing, Refrigeration, Sailboat/Diesel Inspection.
Daily Use: Household DIY, Air Conditioning, HVAC inspection; Swimming Pool, UnderWater & Bathroom Pipeline, Sewer Line, Wall Inspection; Toilet Passages, Roof Leaks, Water Leakage or Blockage Troubleshooting, Camping Equipment etc.
Science Research Use: Biological Plants Viewing, Small Animal Viewing, Bird Nest Viewing, Lab Equipment etc.
WHAT YOU GET?
1 x 4.3 inch Endoscope Host(Lanyard, Silicone Protective Case, Screen film)
1 x 16FT Retractable Cable
3 x Auxiliary Accessories(Hook, Magnet, Protective lens Cap)
1 x Exquisite Box
1 x Charging Cable
1 x User Manual
1x 32GB TF card

Rating

14 reviews.

14 reviews.

5 reviews.
Price

£129.99

£104.99

£138.99

£109.99

£218.99

£189.99

Model
GW45.0001
GW45.0002
GW45.0003

Resolution

1920*1080
1920*1080
1280*720

Number of cameras

2
2
1

Camera

2 million
2 million
2 million

Camera diameter

5.5mm
5.5mm
8mm

Light

8 adjustable LEDs
8 adjustable LEDs
8 adjustable LEDs

Camera angle adjustment

/
/
360°

Transmission distance

/
/
/

Battery capacity

2600mAh
2600mAh
1800mAh

The length of the line

5M
10M
1M

Support system

/
/
Android/iOS 4.2 (above iOS8.0)/Windows/Mac

If you want to support wifi

no
no
Yes
What you need, functional & very good quality
Very good quality - in terms of feel, built-in materials, recordings and also very functional to control the side camera with its own LEDs in three stages, just like the upper main camera. A reasonable purchase with high quality and no unnecessary frills functions. Simply a convincing product !
25/01/2022
2 camera system for fast work.
The two cameras allow quick and easy switching between front and side views.
24/01/2022
great quality
I'm thrilled, had previously ordered a cheaper camera, but the additional price was worth it. no comparison to the other camera
23/01/2022
Top endoscope
Top menu navigation, simple brightness control, better camera and optics and a case for the equipment. Only to recommend.
23/01/2022
highly recommended....
The image quality is very good. I use the part more often and, for example, cylinders are easy to endoscopy.....
22/01/2022
For more what gets what right.
Good endoscope. I made the experience that you only get something decent for a little more. It has two lenses. 5 inch screen. What more do you want. The main thing is that it works and it does. So it's better to spend a little more and get something decent in return. My opinion.
22/01/2022
Everything OK
I am happy.
21/01/2022
Top device at a fair price
Does this device meet all expectations, especially in terms of quality of workmanship and image quality! Clear purchase recommendation!
20/01/2022
AjWc88
This endoscope is the best I've used, even compared to the big mainstream brands that have a high price. The images are clear. It's easy to use. It has everything you need in the box.
20/01/2022
A
Our wireless endoscopic cameras work with cars/vehicles. Such as carbon deposits on line valves, removing missing bolts in engine compartments, inspecting cylinder walls and pistons, gearboxes, exhaust pipes, etc.
A
Our plumbing inspection cameras are plug-and-play and require no additional phone or computer connections. You can watch the video to learn about the simple operation and functions of our borescopes. Hope this helps you.
A
Our wireless endoscopic cameras work with cars/vehicles. Such as carbon deposits on piping valves, removing missing bolts in engine bays, inspecting cylinder walls and pistons, gearboxes, muffler pipes, etc.
Endoscope Camera with 2 lenses, 1080P HD, 5.5mm snake camera, with metal cable-UK
endoscope
Resolution
1920*1080
Number of cameras
2
Camera
2 million
Camera diameter
5.5mm
Light
8 adjustable LEDs
Waterproof level
IP67
Camera angle adjustment
/
Transmission distance
/
Battery capacity
2600mAh
The length of the line
5M
Support system
/
If you want to support wifi
no