5 in 1 Light Reflectors (43 Inch/110cm) Reflector Photography Portable Foldable for Camera Reflector Studio Light Diffuser
£22.99
£37.79
39% OFF
Inclusive of VAT
&FREE Shipping to United Kingdom,Ireland
Best gifts for photographers 2022.Free Shipping. 30 Day No Reason Return. Reflector is a wireless mirroring and streaming receiver suitable for photography studio lighting and outdoor lighting.

GW52.0004

SKU:

GW52.0004

22.99

https://www.kentfaith.co.uk/GW52.0004_5-in-1-light-reflectors-43-inch-110cm-reflector-photography-portable-foldable-for-camera-reflector-studio-light-diffuser-permeable-silver-gold-white-black
Features
* Easy to use-there are two comfortable handles on the reflector, allowing you to use it with just one hand. Provide a better experience than traditional reflectors.
* Portable-Folding size is only 15 inches, with a carrying case, suitable for travel or storage. Suitable for outdoor photography activities.
* Durable-multiple high-quality layers and raised texture design. This makes the life of the reflector nearly 80% longer than ordinary reflectors, and the reflectivity can reach 90%!
* Multifunctional—4-color cover and translucent panel, suitable for different photography needs. Help you improve the efficiency of photography creation.
* The multi-layer design saves 80% of the pigment loss compared with ordinary reflectors. Gift Guide for Valentine's Day Shoot.
Shipping
&FREE Shipping to United Kingdom,Ireland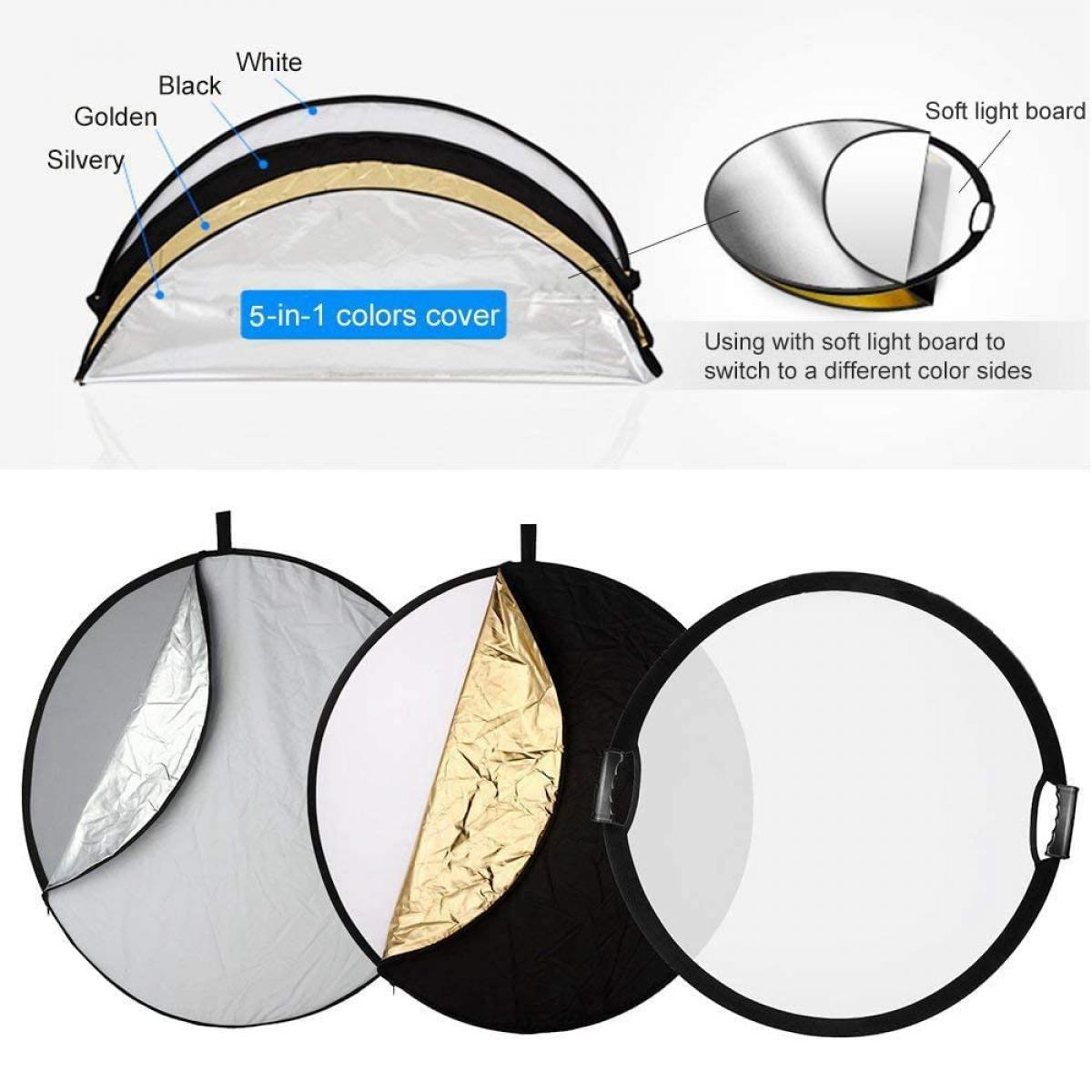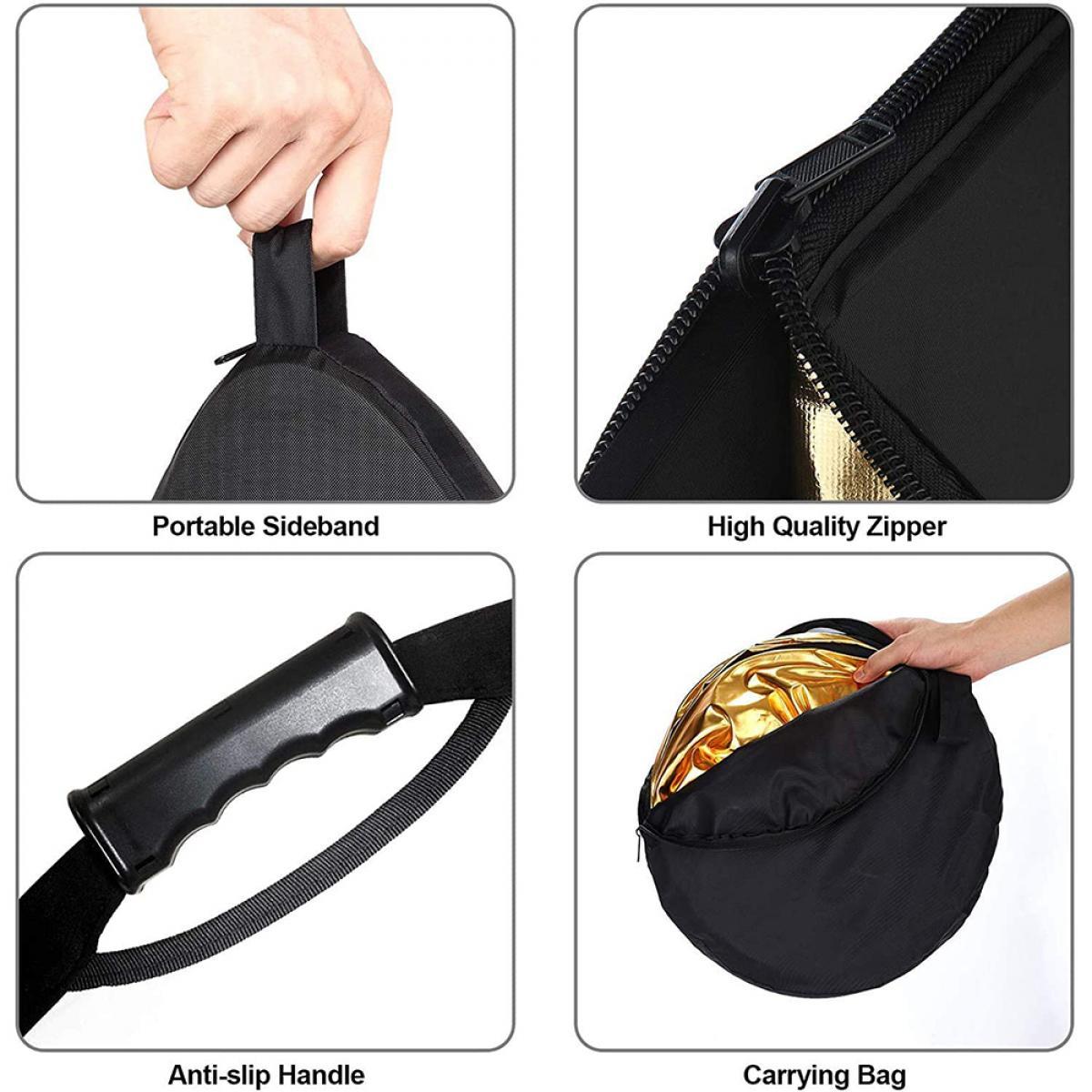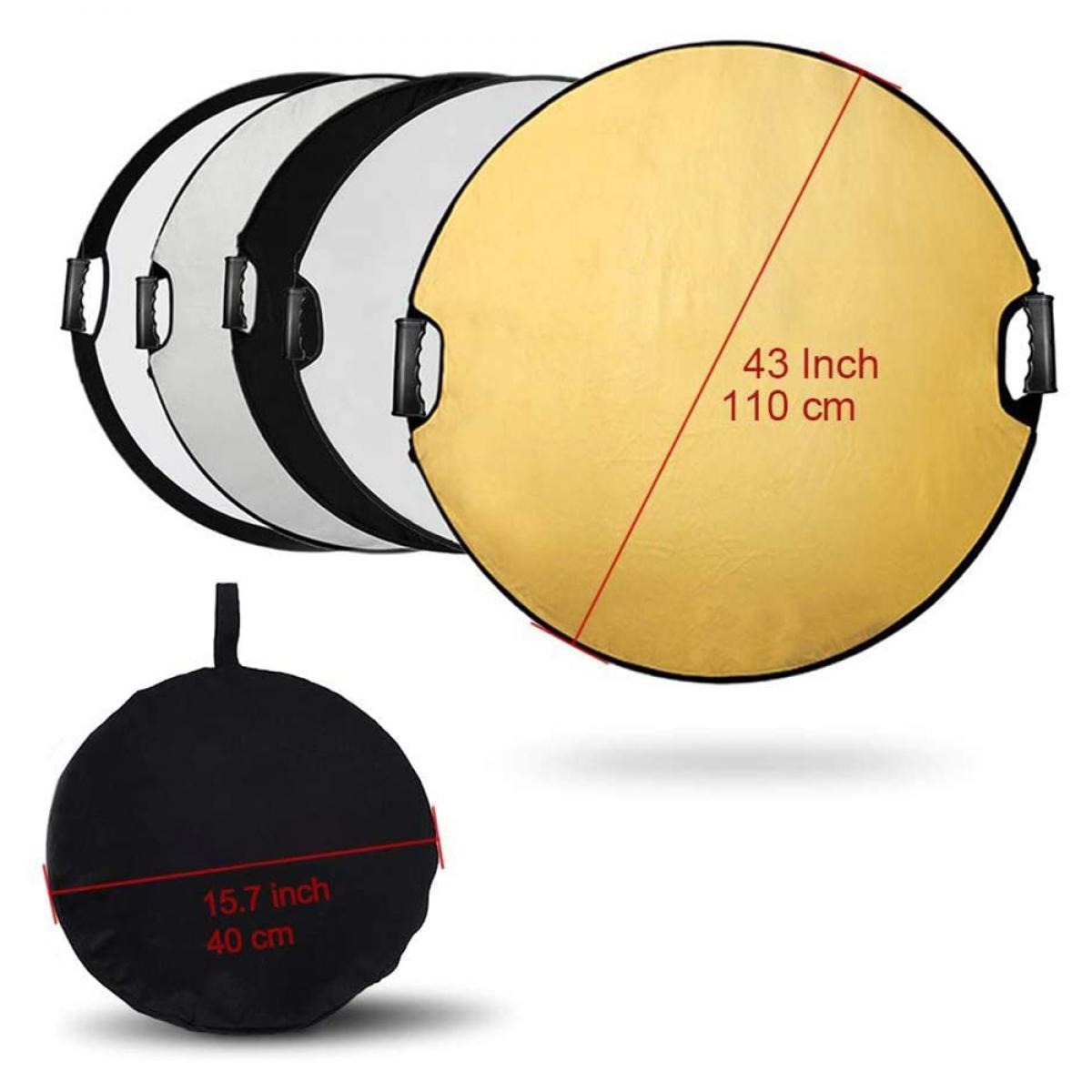 | | |
| --- | --- |
| name | 5 in 1 folding reflector material |
Perfect!!!Nice and big
You don't realize you need the handles until you don't have them. As a photographer, I have a few reflectors in different sizes/brands depending on the price they were, but this one I use the most. Your hands don't get as tired holding this as they do holding one without the handles, if that makes sense. If I'm working alone, it's much easier to hold the reflector and camera at the same time too. Good quality zippers, grips and material.
31/03/2021
Works great for price
These reflectors are perfect for the price and I love the versatility that it comes with. I used these reflectors for my short film on youtube. The packaging was great. I love the fact they have handles on them and they handle light really well. They also come with a zip up bag. I will probably get a bigger size next time. Considering the price, the product is of sturdy construction. It is wrinkled, but any travel diffuser will be.
31/03/2021
Not a particularly heavy duty reflector. I'm surprised at the lack of QC at Selens since I've used their products for years without complaint, but recently the things I've bought have felt a lot cheaper.
Still, this WAS cheap to buy, so that's a bonus.
30/09/2021
Good quality reflector that I've been using at weddings and portrait shoots. It's also quick to change to color of choice.
26/09/2021
Light reflector
I used this to vounce light to my small.light box, it worked well.
28/06/2021
Best value for money
All good for the money. Very creased but works well
07/03/2021
Good value
Excellent product. Only opened it a few minutes ago. Can't figure out how to collapse it correctly yet
06/02/2021
Excellent product
Exactly what I needed!
05/02/2021
Good value
Brilliant! Multifunctional, saves space and time. Light weight, carry case is fab - really pleased with this purchase.
27/01/2021
There are no faqs for this product.