4K adult night vision binoculars, 3-inch display, 7-stop infrared night vision adjustment, 5x digital zoom, support video recording and photo shooting, suitable for day and night hunting, camping, surveillance
£69.99
£129.99
46% OFF
VAT free
Terms
Terms and Conditions:
Coupons are valid for a limited time only. Kentfaith reserves the right to modify or cancel coupons at any time.
You must purchase the qualifying items added to your Cart when the coupon is in effect for the discount to apply.
If you later modify or cancel the subscription or delivery date for the qualifying item, the discount will not apply.
The coupon applies only to qualifying items displaying the coupon offer.
If you buy more than one item from the same coupon, the maximum discount amount of the coupon will be equal to either the percentage discount off or the face value of the coupon on one eligible item. The coupon may only be used on www.kentfaith.co.uk.
The promotion is limited to one coupon per customer.
If you return any of the items purchased with a coupon, the coupon discount or value may be subtracted from the return credit.
FREE Shipping to United Kingdom,Ireland,India,gibraltar,
malta,cyprus,South Africa,
CaymanIslands
Brand:

K&F Concept

Buy K&F Concept 4k adult night vision binoculars, 3-inch display, 7-stop infrared night vision adjustment, 5x digital zoom, support video recording and photo shooting, suitable for day and night hunting, camping, surveillance online, £69.99 free shipping to UK.

KF33.061

SKU:

KF33.061

69.99

https://www.kentfaith.co.uk/KF33.061_4k-adult-night-vision-binoculars-3-inch-display-7-stop-infrared-night-vision-adjustment-5x-digital-zoom-support-video-recording-and-photo-shooting-suitable-for-day-and-night-hunting-camping-surveillance
Features
* 3-inch large high-definition display: Equipped with a 3-inch LCD screen, the digital screen is directly displayed, the picture is stable, and the display effect is clear and intuitive, allowing you to obtain a more comfortable and broader visual experience. 5x digital zoom, which can magnify distant objects in the dark, it can help you capture and record the most exciting moments of the day or night;
* Full HD 4K video and 36MP pictures: Night vision binoculars can achieve 4K full HD video and 36-megapixel photo shooting. The captured video and photos can be exported to a computer for viewing using a data cable, or stored in a memory card. Support 32GB expansion memory, so you can review the wonderful moments at any time. (Note: memory card not included).
* Motion Detection Stabilization: This day and night night vision binoculars capture clear photos and videos in 100% darkness. When shooting videos of running animals, you can turn on the motion detection function, and there is also an anti-shake function when shooting photos;
* 7-speed infrared lighting night vision function: 7-speed infrared night vision adjustment, you can choose the suitable gear according to the ambient light, see farther and clearer;
* A variety of power supply methods: built-in 4000mah rechargeable battery power supply, mobile power supply or DC power supply. Don't worry about changing batteries all the time, saving and environmentally friendly. It can be your good helper for hunting, camping, fishing, outdoor adventure, search and rescue, wildlife observation, bird watching, and taking landscape photos.
Shipping
FREE Shipping to United Kingdom,Ireland,India,gibraltar,
malta,cyprus,South Africa,
CaymanIslands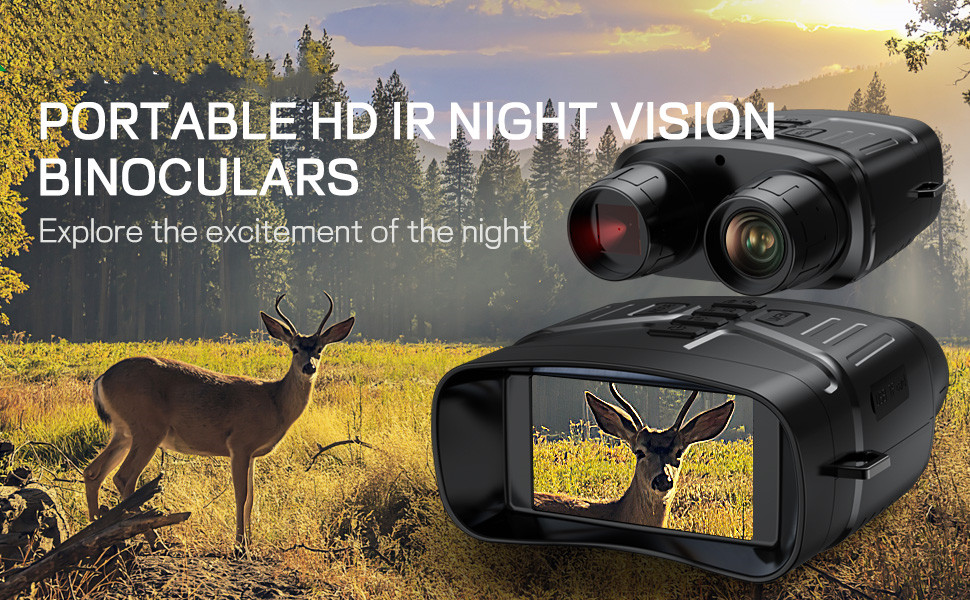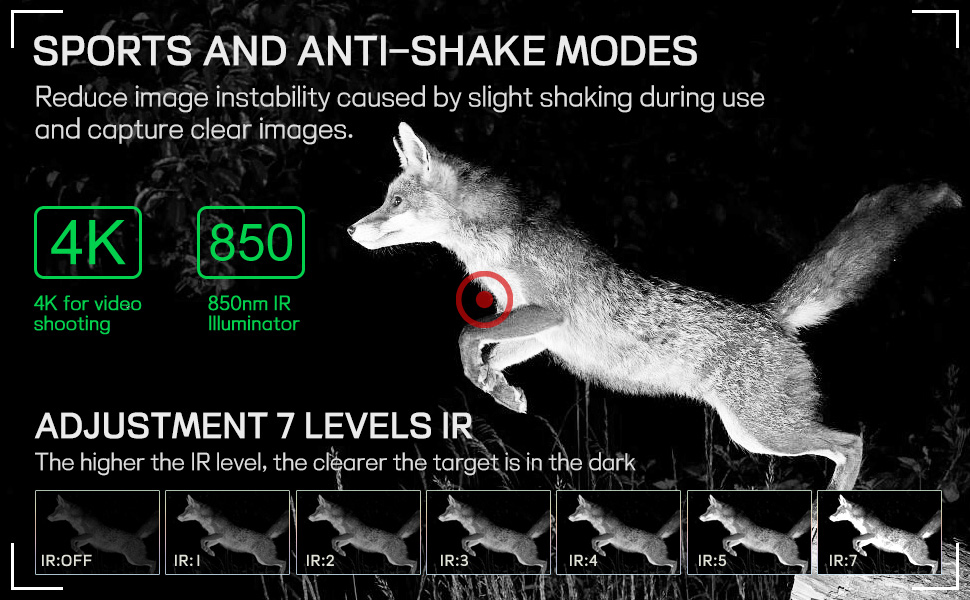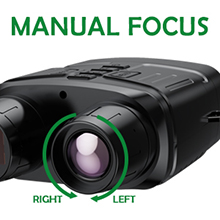 Manual Focus
Take a easy rotate to adjust the best focal length according to the actual observation distance till target is clear.
If the observation distance is far, please rotate the lens to left. If the distance is near, rotate the lens to right.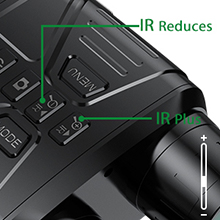 7 Levels IR Illumination
Short press IR+ button to turn on. Short press the IR+ or IR- button to adjust the infrared intensity level.
Note: If the battery voltage is not enough, the IR LED level will down automatically. IR level can up to 7 levels when the battery power is full.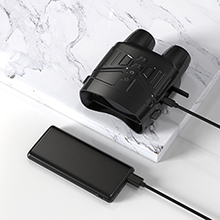 4000mAh Rechargeable Battery
Support mobile power or car charger charging, no longer worry about the problem of battery power.
Use the MODE button to easily switch between photo and video modes. Can download to computer to save and share your best moments.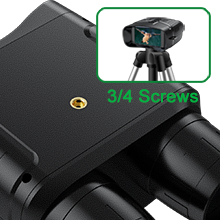 Screw Thread for a Tripod Hole
The base of the night vision device has a standard tripod slot so as to fix the night vision device on the tripod.
These night goggles work great on a tripod or when laying still, observing wildlife.

All Reviews
Image

All Star

5 Star

4 Star

3 Star

2 Star

1 Star
Great gift for my husband!
I bought this for my husband. Our property backs up to a forest preserve, and we have a lot of wildlife that can be seen. We often hear animals at night but can't see them- now we can! The night vision is really great. As an added bonus my husband got to brag about the gift to all his friends who also thought it would be cool! We highly recommend these night-vision binoculars!
27/04/2023
Works great
Great for primitive camping. It's cool to see the wildlife out at night and be able to take pics and vids. Buttons could be a bit better though.
26/04/2023
Good value for what you get!
I had read all the great reviews before purchasing and was a bit skeptical but went ahead and ordered them anyway. So glad I did. No it's not $2000 thermal imaging but yes you can really see objects in total darkness. I've been having lots of problems with wild hogs tearing up my pastures and needed to be able to spot them before they did me. A spotlight even with a red or green lens was scaring them off before I could get in range but this doesn't seem to bother them at all. Am able to get close and then flip on the spotlight for some efficient predator control. The night vision picture in the review was taken on a very dark night (overcast) and I couldn't see a ft in front of me. The trees in the background were about 150 yards away. Could definitely see if any critters were out and about. On a moonlit night the view is almost like looking in daylight. Unbelievable night vision. The next two pictures were of a mineral feeder about 300 yards away (zoomed all the way out and then zoomed in) You can see the photo gets pretty pixelated zooming in but that's really what I purchased them for so it doesn't bother me. I am very pleased with the purchase. Would definitely purchase again.
26/04/2023
Redeem $20 gift card
Love the night vision binoculars
25/04/2023
Great product! I would buy again
I actually bought it as a gift for my father-in-law. He lives out in the country
so he wanted it in order to see the animals in the woods. He loves it and uses it all the time
25/04/2023
Great product
Super nice night vision binocular. Once you get familiar with the modes and buttons it is very intuitive. The 5x Zoom it is awesome, videos and pictures.....for this price you cannot as for more. I highly recommend it
25/04/2023
Very clear night vision googles
I bought these night vision googles for my husband for his birthday and he absolutely loves them. They are excellent choice for hunting, exploring or other outdoor activities. The image quality is really good, they are very clear and easy to use. I was amazed how much more and how clear you can see at night. You can also record and take a photos.
This is a great product and I would highly recommend to anyone who need night vision goggles.
25/04/2023
Great product
Very clear picture, easy to use!!
24/04/2023
Helpful night vision
Overall a satisfactory product. The night vision mode is very helpful and clear. Not a bad quality for the price point, but also very different from traditional binoculars. The night vision is the star here.
24/04/2023
Night Vision Goggles
screen size
3.0" HD TFT
digital zoom
5x
Visible range
150-200M
Battery
Built-in 4000MAH lithium battery
storage bag
×