Automatic chicken coop door, solar powered chicken coop door, with timer and light sensor, all aluminum weatherproof multi-mode poultry coop door, with anti pinch design
£119.99
£149.99
20% OFF
VAT free
New customer gift package
FREE Shipping to United Kingdom,Ireland,India,gibraltar,
malta,cyprus,South Africa,
CaymanIslands
Brand:

K&F Concept

Buy K&F Concept automatic chicken coop door, solar powered chicken coop door, with timer and light sensor, all aluminum weatherproof multi-mode poultry coop door, with anti pinch design online, £119.99 free shipping to UK.

GW60.0030

SKU:

GW60.0030

119.99

https://www.kentfaith.co.uk/GW60.0030_automatic-chicken-coop-door-solar-powered-chicken-coop-door-with-timer-and-light-sensor-all-aluminum
Features
* Solar powered automatic chicken coop door: This waterproof automatic chicken coop door is made of high-quality aluminum alloy and AES material, and can work in snow, rain, and dust from -15 ° F to 140 ° F. Because its sturdy material can also protect your poultry from predators;
* Multiple power options: This automatic chicken coop door opener uses solar energy and can be charged through both solar and power sources. It is recommended to install the solar panel in a place with direct sunlight, which means that regardless of the weather, your door will remain in optimal working condition and your chicken will always be safe;
* Multiple modes of use: light sensing mode (automatically turned on in the morning and automatically turned off at night). Timer mode (set on/off time through programmable timer). Remote control or manual mode (always open/close the chicken coop door) You don't need to worry about wind and rain, nor do you need to worry about going out or getting up early, as this automatic door will take care of you;
* Easy to install: This automatic chicken coop door does not have complex wiring issues, and installation is simple and fast. It is equipped with complete assembly accessories, and the installation time for the door does not exceed 10 minutes. Note: In light sensing mode, it will close and open the door quite sensitively based on the intensity of the light. Please avoid strong lights such as flashlights and streetlights. We recommend using timer mode more.
* Widely used: This multifunctional chicken coop accessory can also be used as a door for ducks, geese, guinea pigs, rabbits, and other poultry. You can enjoy stress free weekends and holidays, and know that your chicken is safe.
Shipping
FREE Shipping to United Kingdom,Ireland,India,gibraltar,
malta,cyprus,South Africa,
CaymanIslands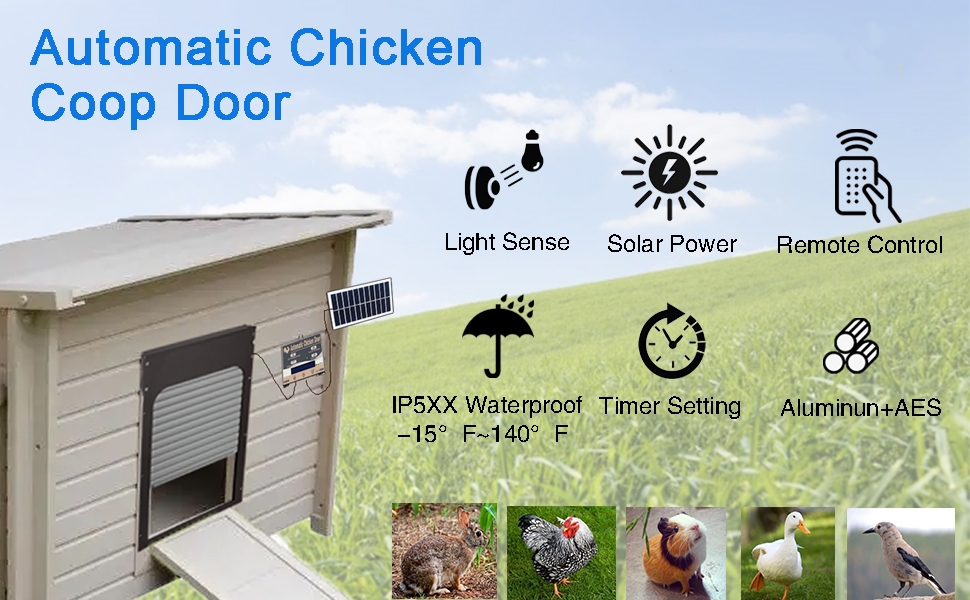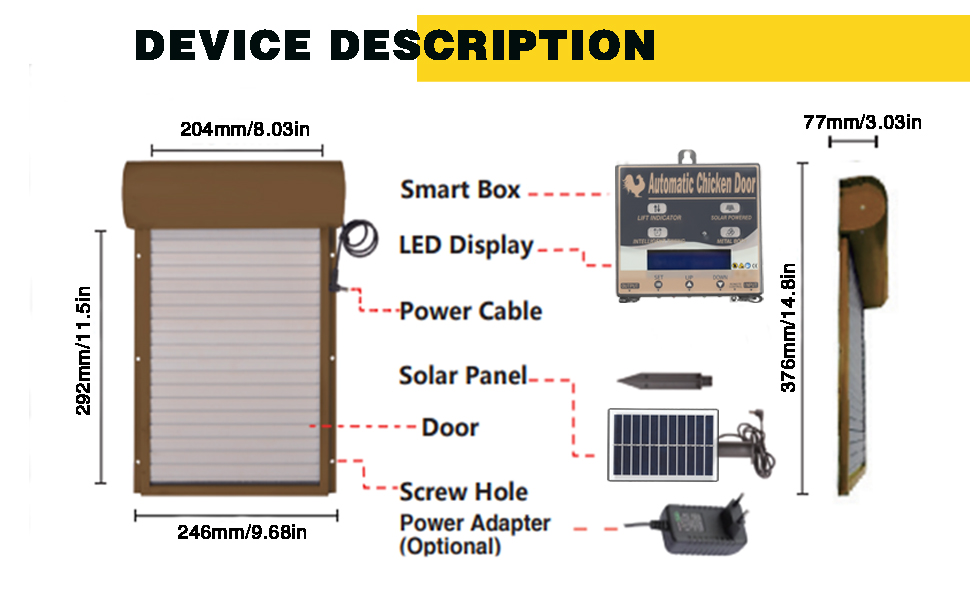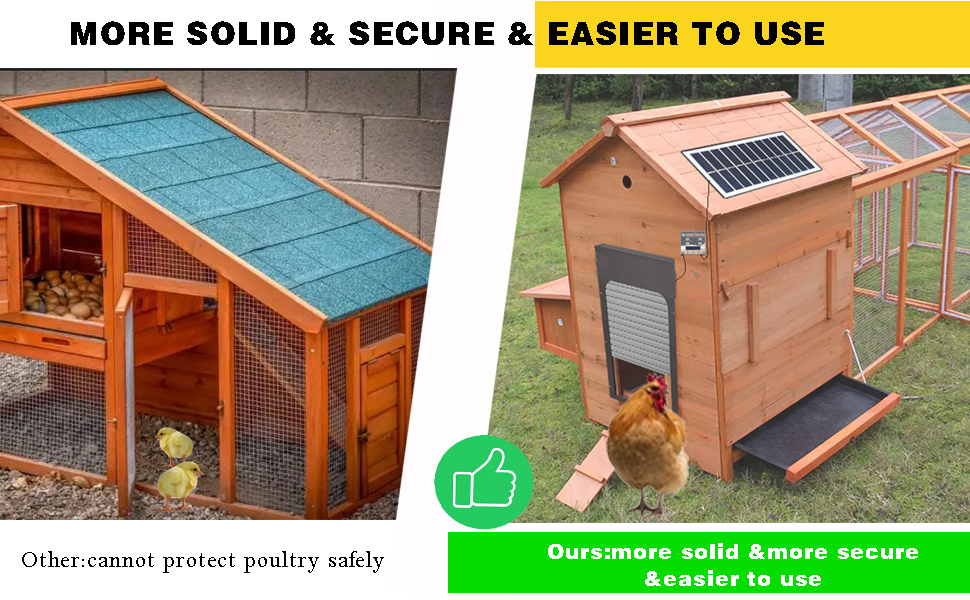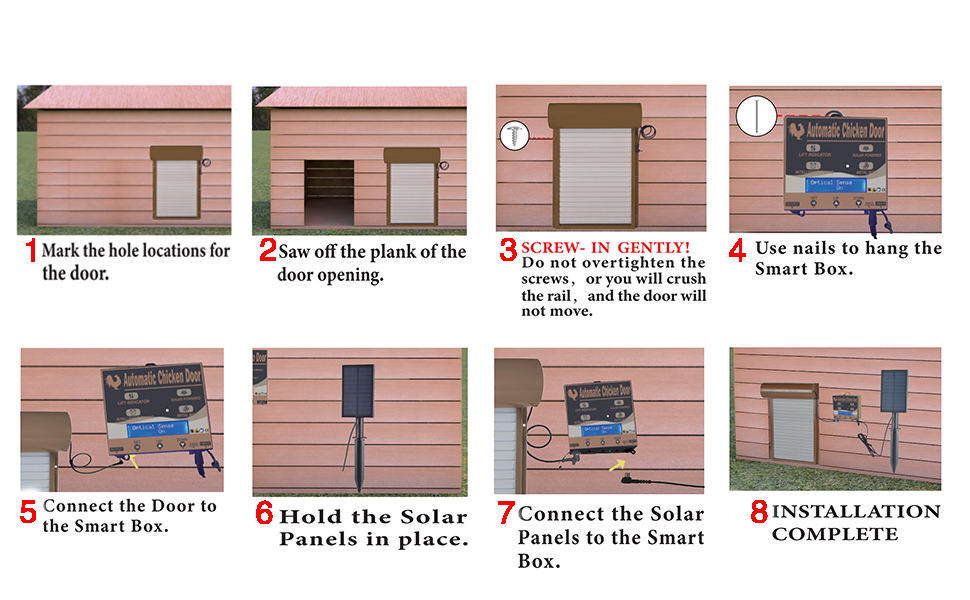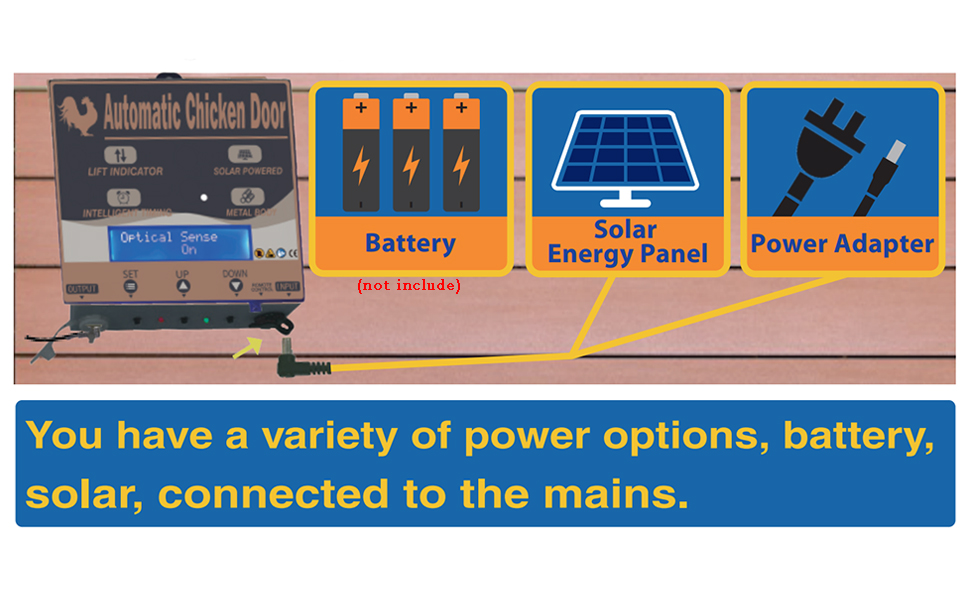 Specification
Packaging size
41 * 27.3 * 10.3cm
Packaging weight
2700g
Packaging List
Remote control * 1, timing * 1, light sensing * 1, manual * 1, solar energy * 1, adapter * 1
There are no reviews for this product.