94"/2.4m Overhead Camera Tripod aluminum video Tripod Transverse Center Column 22lbs/10kg Load with Detachable Monopod for DSLR SLR, T254A8+BH-28L (SA254T1)
£121.99
£484.99
74% OFF
VAT free
New customer gift package
To
United Kingdom
Expedited Shipping
3-5
business days
Free Shipping Worldwide. 30 Day No Reason Return. K&F Concept 94" 22lbs Travel Tripod features 360° Ball Head & Quick Release Plate for DSLR SLR. Stable & easy to set up.

KF09.086V1

SKU:

KF09.086V1

121.99

https://www.kentfaith.co.uk/KF09.086_kf-sa254t1-lightweight-compact-tripod-for-canon-nikon-camera-professional-dslr-photography-93inch-aluminium
Features
* 【Transverse Center Column】Reddot design award,Central column moves from 0 to 180 degrees, can be rotated 360°horizontally, to realize panorama shooting.
* 【28mm Large 360° Ball-Head and Panoramic View】With two independent control knobs, the specially designed ball-head can rotate 360 degree allowing you to take photos at any angle with horizontally and vertically.
* 【Strong Stability】25mm large diameter aluminum alloy tube, load capacity 22.04lbs (10kg) provide stable support for camera. A spring hook to hang additional weight.
* 【Detachable Monopod】This tripod can be quickly disassembled with the central axis screw and transform into a monopod, providing an alternative way of shooting with ease.
* 【Easy Set Up】4 sections tube leg and the max diameter is 25mm. Spiral type locking knob allows you to adjust the working height in seconds. The height without column reaches 67.7'' and the height with 2 sections center column is 93.8'', making standing shooting easier.
Shipping
To
United Kingdom
Expedited Shipping
3-5
business days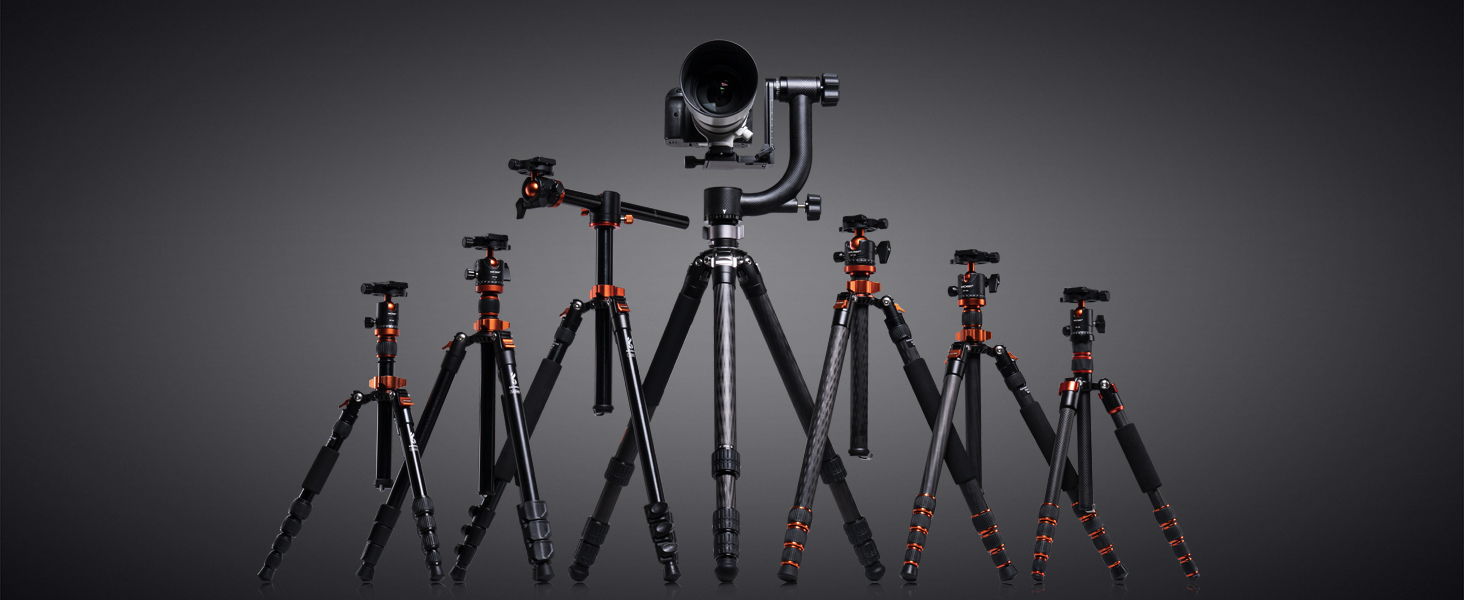 Maximum height 2.38m
360°panoramic shooting
Overhead shooting
Low angle creative shooting
Inverted shooting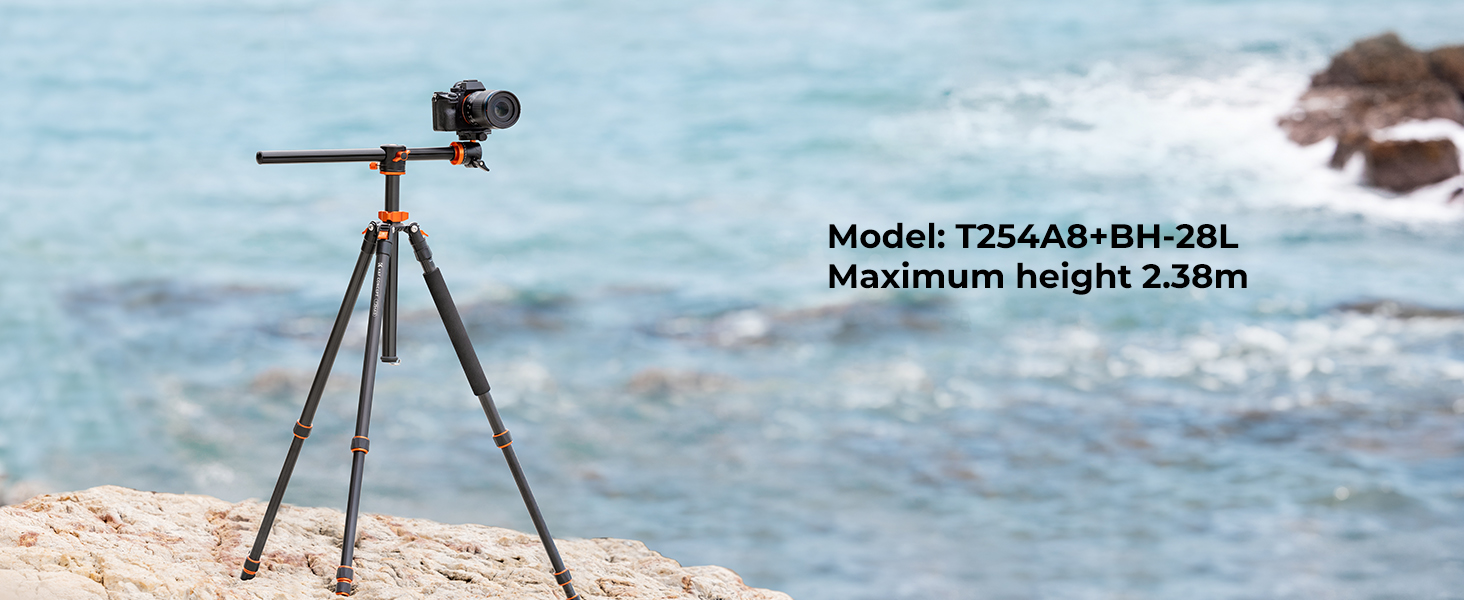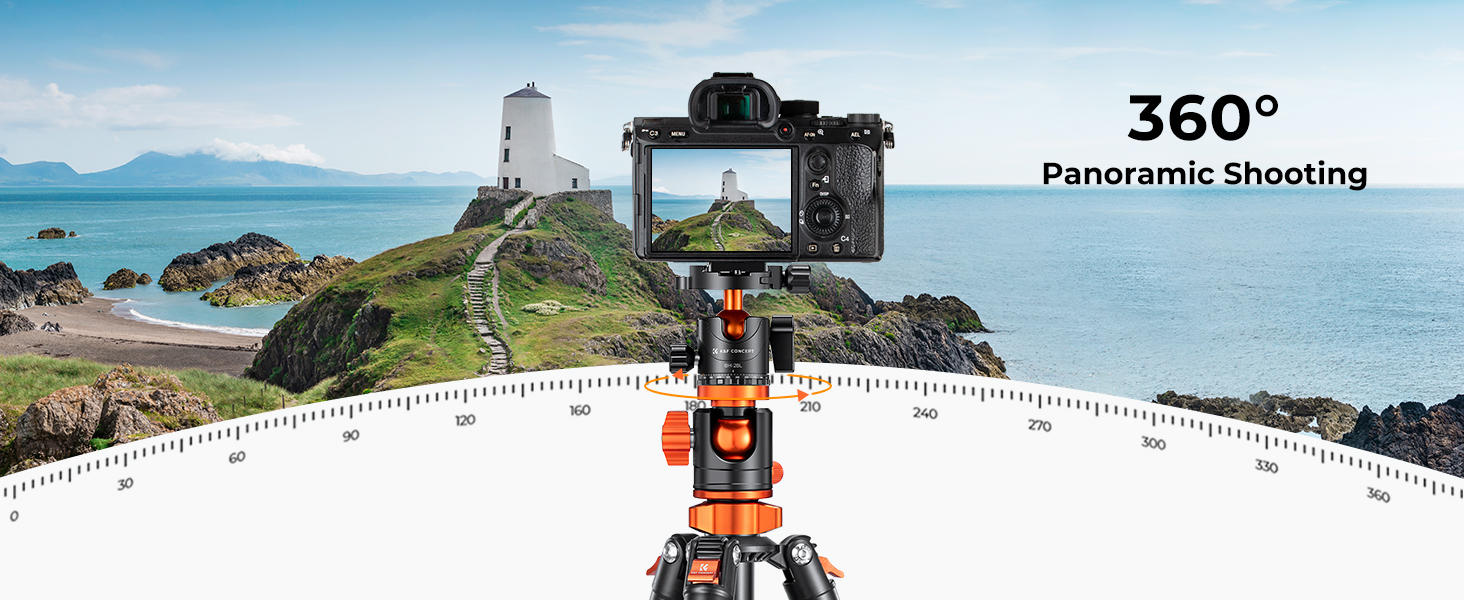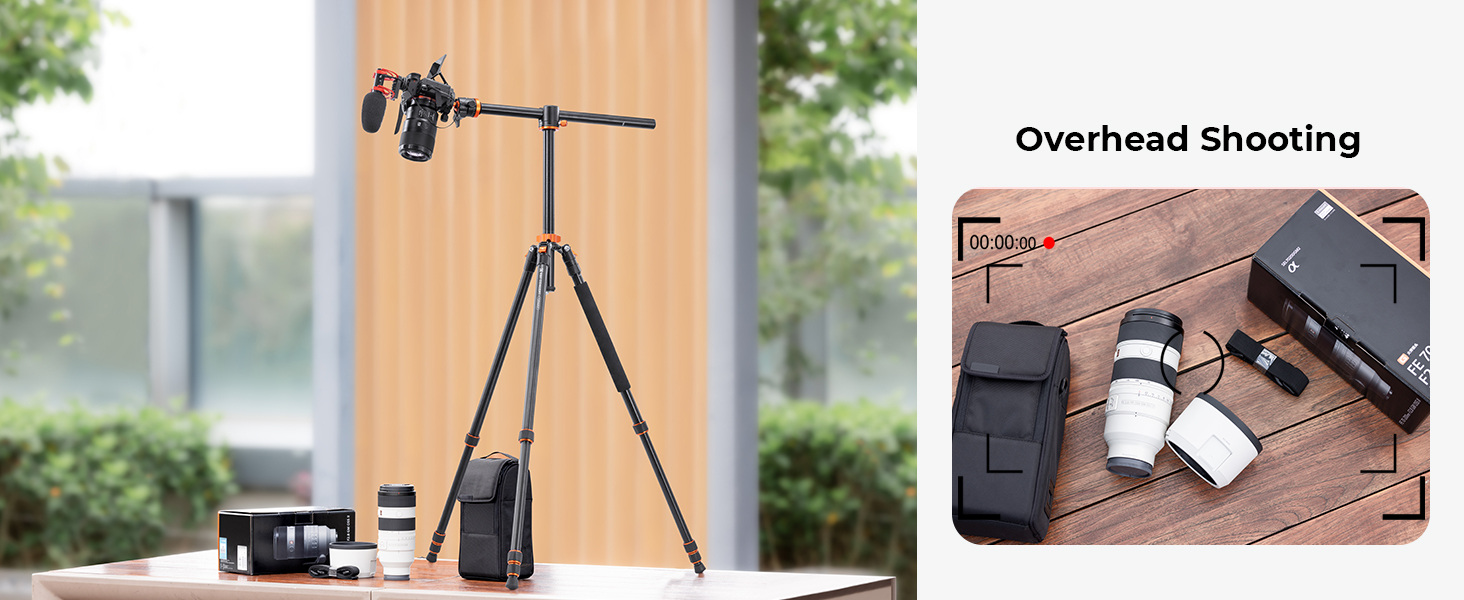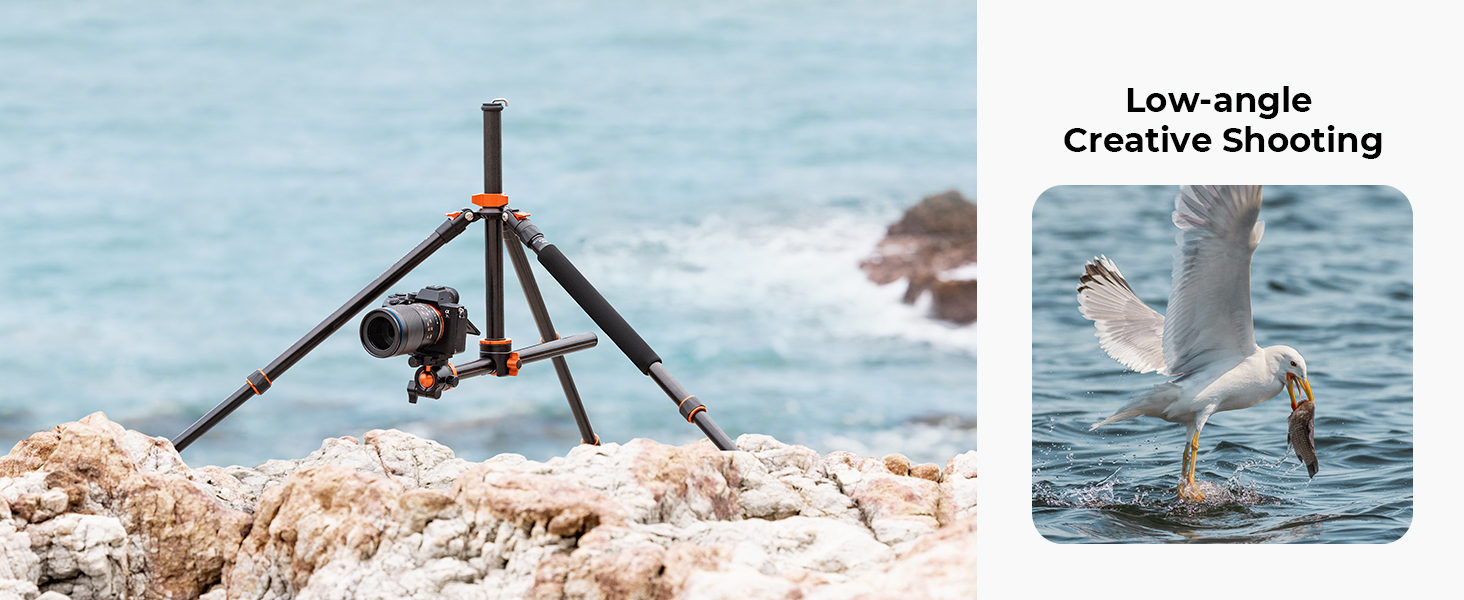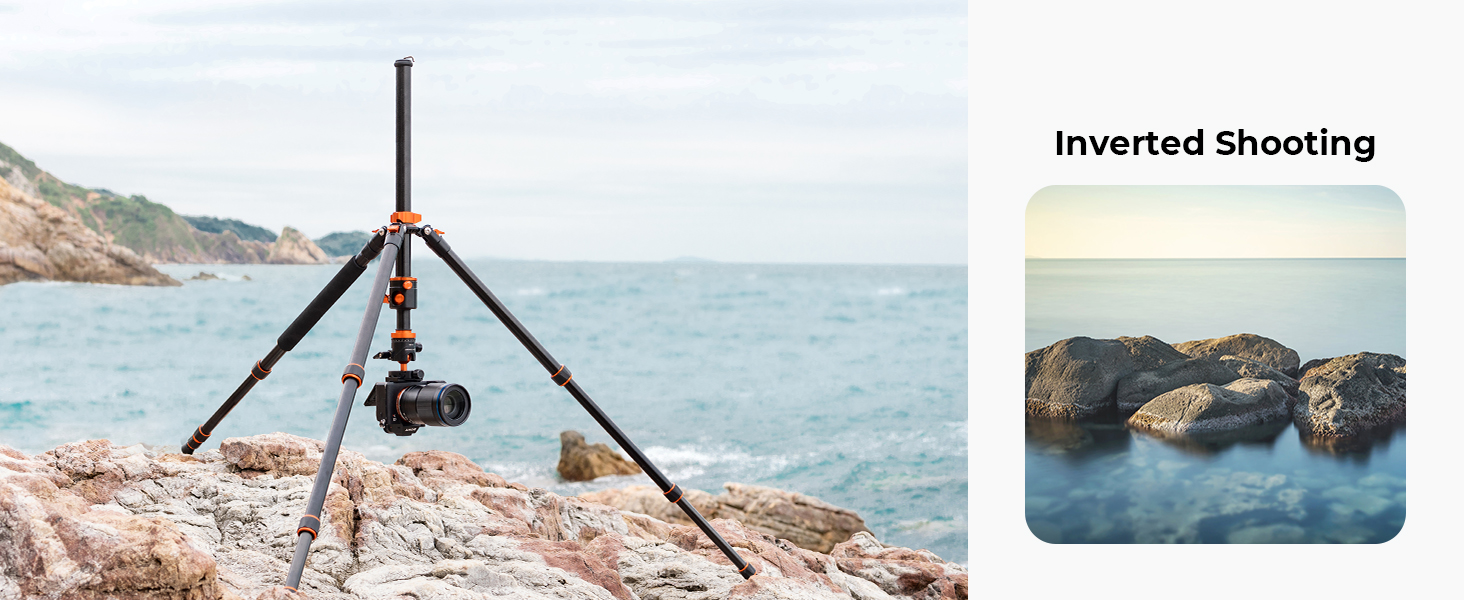 Previous
Next
Fast horizontal placement
28mm center column
360°horizontally
360°rotatable perfect
Multi functional accessory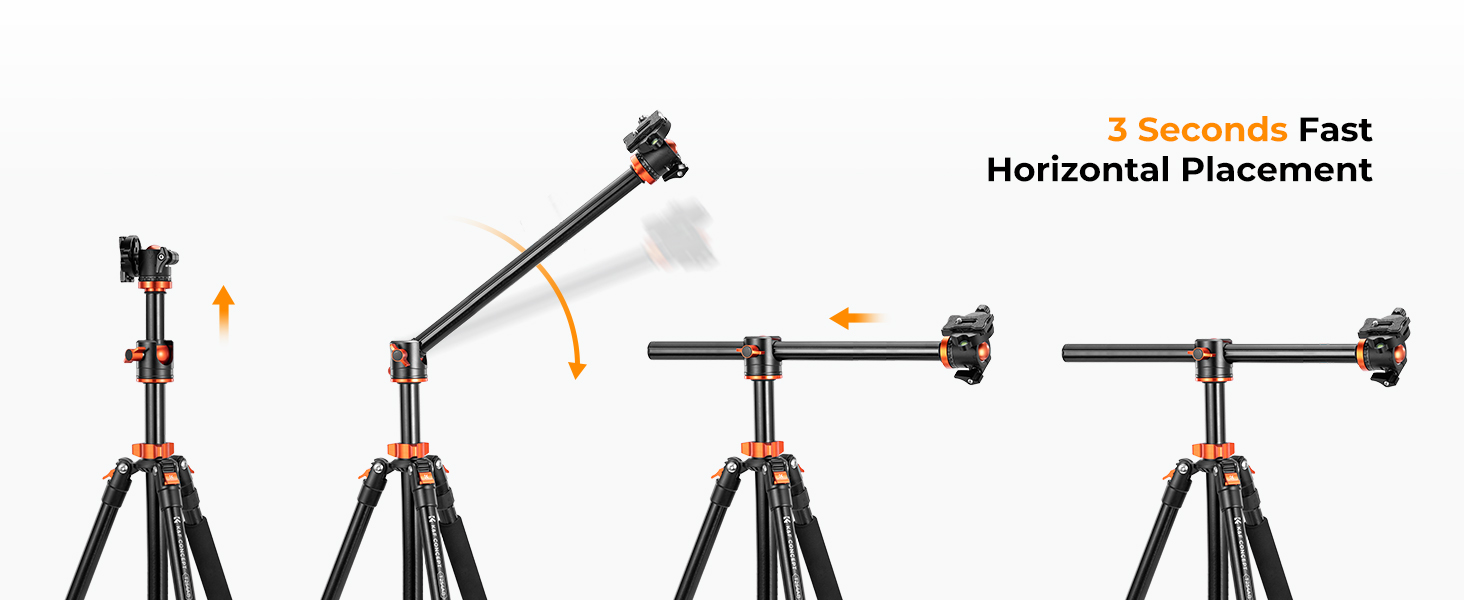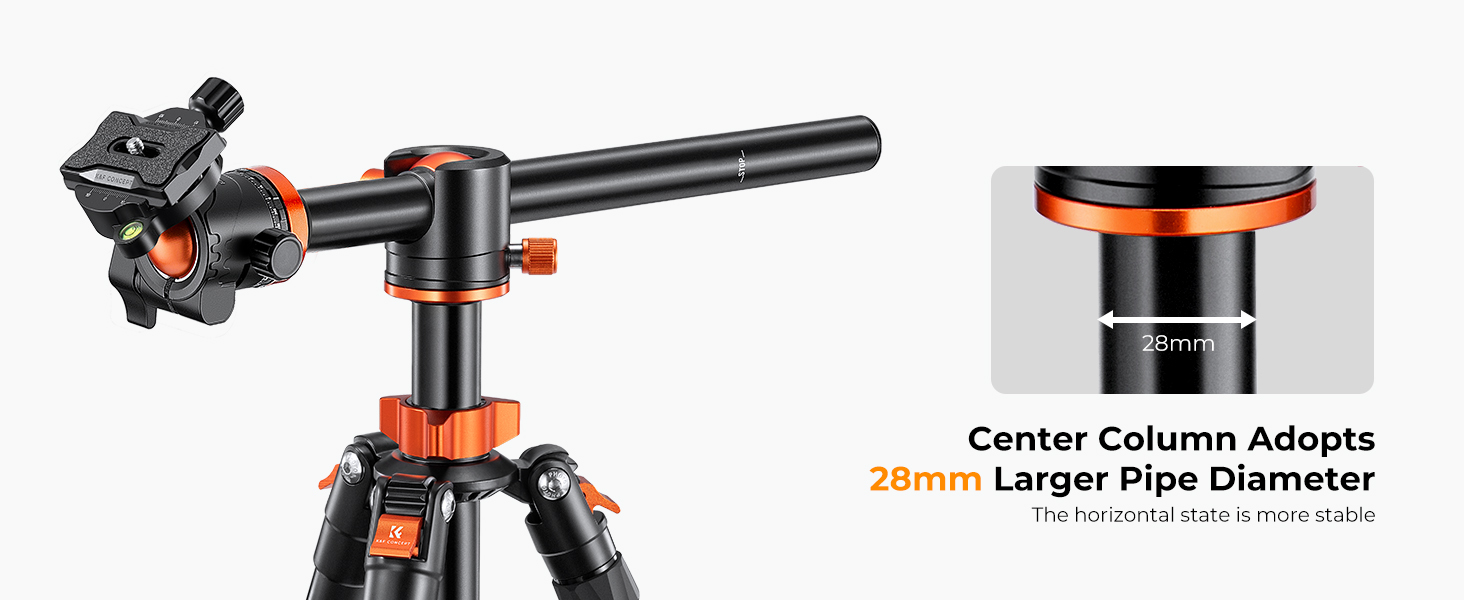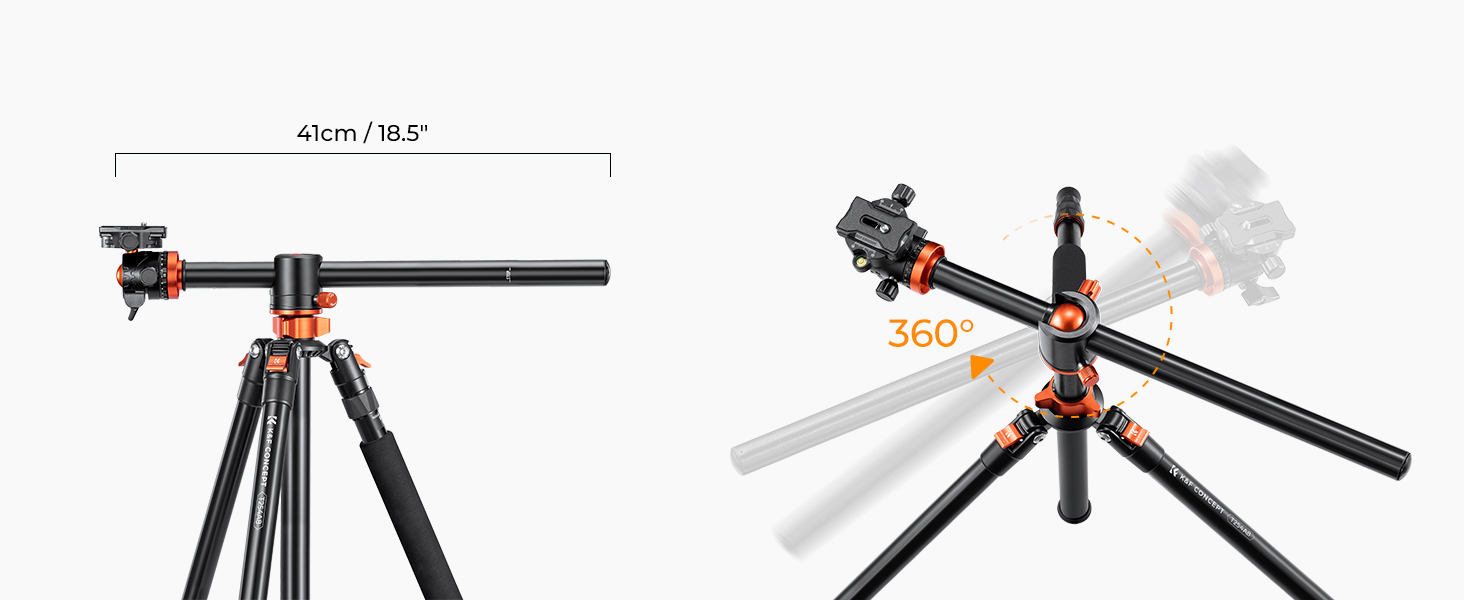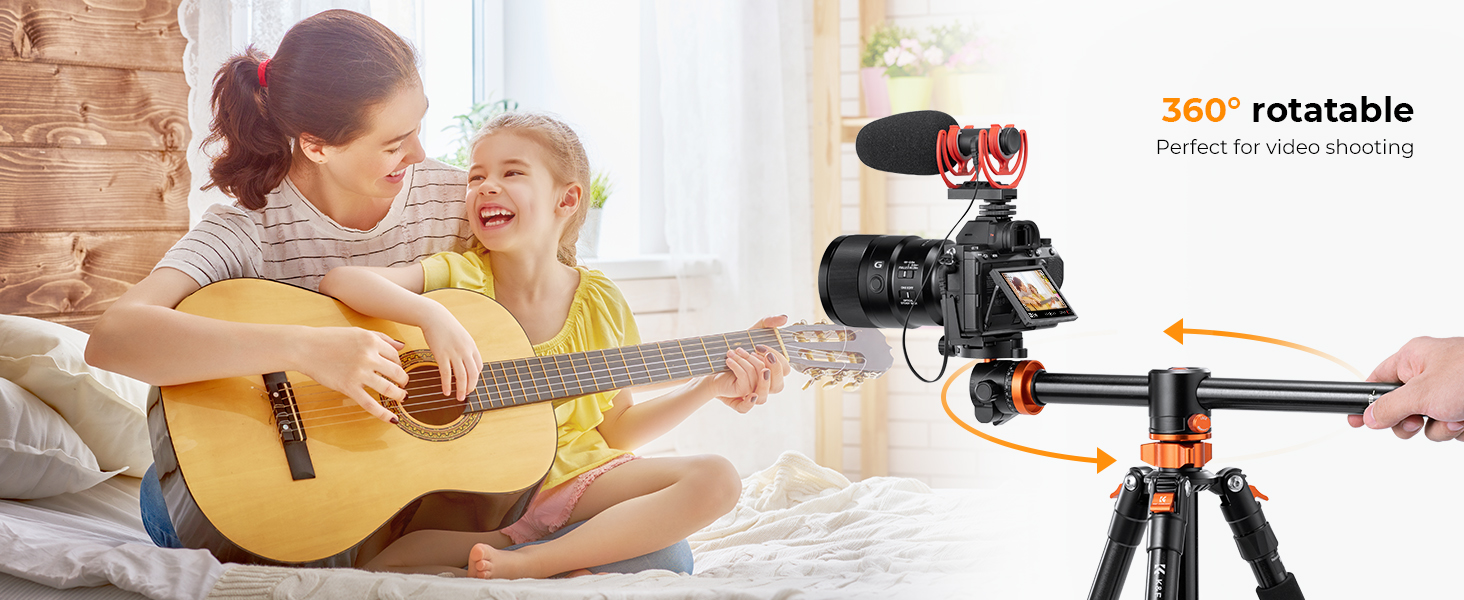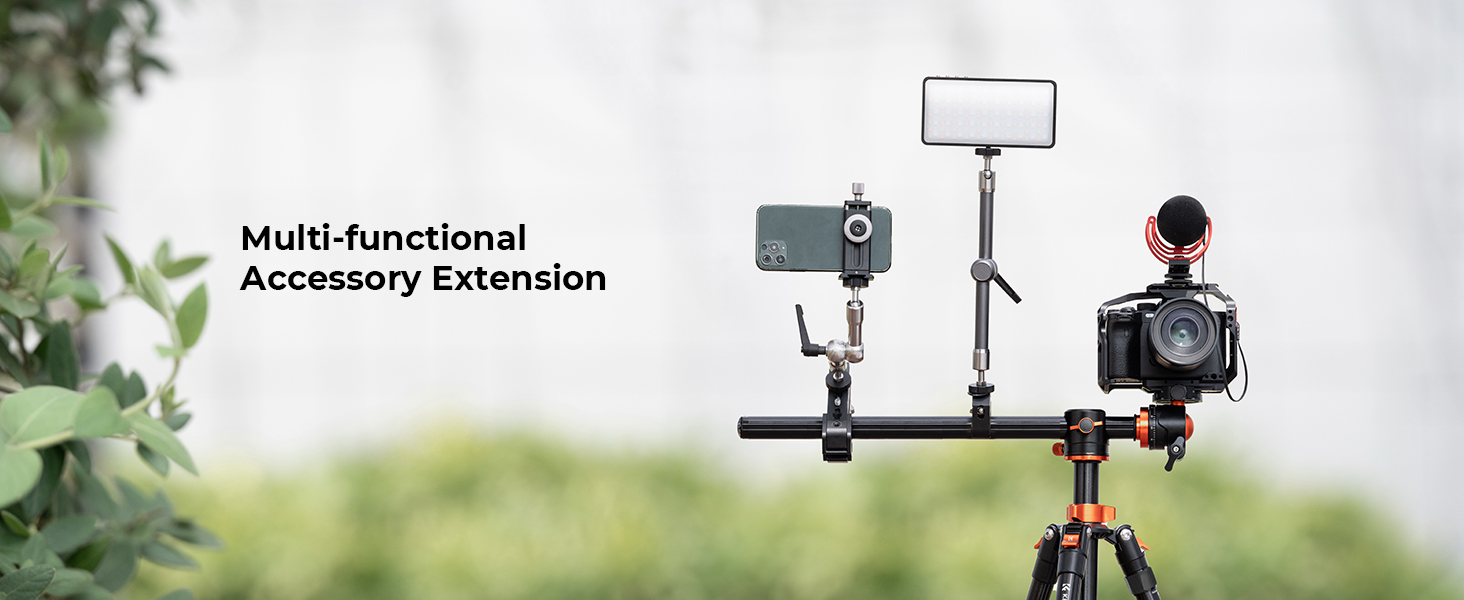 Previous
Next
Rating

227 reviews.

179 reviews.

233 reviews.

122 reviews.
Price

£484.99

£121.99

£142.99

£87.99

£149.99

£87.99

£177.59

£121.99

Model
KF09.086V1
KF09.079V2
KF09.085
KF09.096

Load Capacity

10kg/22.05lbs
10kg/22.05lbs
10kg/22.05lbs
10kg/22.05lbs

Maximum Working Height

2385mm/93.90"
1830mm/72.05"
1700mm/67"
1920mm/75.59"

Minimum Working Height

690mm/27.17"
600mm/23.62"
560mm/22"
615mm/24.21"

Folded Length

570mm/22.44"
490mm/19.29"
430mm/17"
500mm/19.69"

Weight

2000g/4.41lbs
1835g/4.05lbs
1690g/3.7lbs
1845g/4.07lbs

Materials

Magnesium aluminum alloy
Magnalium Alloy
Magnesium aluminum alloy
Magnesium aluminum alloy

Ball Head

Ball Head
Ball Head
Ball Head
Ball Head

Color

Orange/Black
Red/Black
Orange/Black
Orange/Black

Leg Lock Type

Twist Lock
Quick Flip Lock
Twist Lock
Twist Lock

Leg Sections

4
4
5
4

Leg Diameter

16-25mm/0.63-0.98"
16-25mm/0.63-0.98"
13-25mm/0.51-0.98"
16-25mm/0.63-0.98"

Center Column Features

Transverse Center Column, Center Column Inversion
Transverse Center Column, Center Column Inversion
Transverse Center Column, Center Column Inversion
Transverse Center Column, Center Column Inversion

Center Column Sections

2
2
2
2
All Reviews
Image

All Star

5 Star

4 Star

3 Star

2 Star

1 Star
Black Friday Bliss
I've been Black Friday shopping for years, but this website has blown me away! The Black Friday deals are unbeatable, and the user-friendly experience makes it a breeze to find and purchase the best products. Highly recommended!
21/11/2023
game-changing
Wow, the Black Friday discounts here are a game-changer! I couldn't resist the amazing deals, and now I have all the products I've been wanting at a fraction of the cost. Black Friday shopping couldn't be any better!
20/11/2023
Black Friday Deals-Early Birds Score
I purchased goods in advance on this website during Black Friday this year, and the prices were much lower. I will introduce my friends to buy them.
20/11/2023
good price
Black Friday shopping has never been this good! The prices on this site are jaw-dropping, and the selection is fantastic. I snagged some incredible deals, and I'm thrilled with my purchases!
19/11/2023
Has A Lot Of Versatility
This is the most adaptable tripod I've ever seen.First off, It's extremely tall. I'm 6'3", and when it's fully deployed I can't reach the camera button to take a picture. If I wanted to get a crane shot with whatever I had on hand, this is what I would use. I might actually get some use out of the remote I purchased with my camera years ago.The monopod option feels a bit gimmicky, but if I had just enough room to take one (pod?) with me and felt like I might need a tripod, or a monopod, this is really the only thing I've ever seen that can be both.It has a 90 degree joint so I can get those top down product shots, and it even comes with a ball mount so I don't have to attach my own head. Speaking of the ball mount, it has a great smooth motion, so if I wanted to (and you have steady enough hands) I could use it as a steady axis for panning and tilting motion shots.On top of all that, the legs splay way out, so not only can I get extremely high shots, I can use this as a very low tripod that holds the camera inches away from the ground. With the 90 degree elbow arm, I can even hold the camera out to the side, and swing it upside down with the ball mount holding it at nearly ground level.The legs deploy fairly well. I've used legs with smoother action, but they're not bad.It's light and with the bag it's easy to carry around.The only thing left to talk about is the sturdiness. I'd call it mostly sturdy. I'd trust it to hold my camera, but on a windy day there will be motion in the shot. I can feel a bit of wiggle, and there's more with it fully extended. If I was using it for long exposure photography, I'd want to throw some sand bags on the hook.Overall a great tripod for anyone looking for an all-in-1 solution.Highly recommended.
25/08/2023
Great budget version of more expensive tridops.
Joints are sloppy, especially the leg joints. The ball joint either holds or the camera flops over. I'm not yet sure the saving is enough to offset the lower quality. Similar tridops can be more expensive but are probably a better option based on quality and ease of use.
23/08/2023
Sturdy and great quality for the
This thing is just what I needed for my setup,I am really happy that I received it on the third day of my purchase and I am very satisfied with Black Friday's delivery service
16/08/2023
Brilliant
Buscaba a tripod for my reflex camera, that no fuera muy grande, para que plegado pudiera llevarlo en la mochila. Me recomendaron este, y estoy encantada con él. It adapts perfectly to any type of photo camera that makes me happy. Lo recojo en un momento y fácilmente, tiene buena calidad de materials y trae su funda protectora, por cierto bastante buena. Puedo regularlo a la altura que deseo. En la parte de arriba lleva una patula qu'allowe hacer qualquier movimiento con la cámara, como puede vers en las photos. También quiero destacar que apenas pesa, es muy ligero y estable, da seguridad a la hora de poner mi cámara en el. Los materiales son de buena calidad, está todo diseñado y pensado al milímetro para sacarle el mayor partido. Estéticamente es negro, con detalles naranjas, que hace sea vistoso.
12/08/2023
good
excellent quality product and good design comes with a medium quality transport bag and a carry bag, comes in a box the tripod measures about 42 cm when it is closed for transport and the minimum height is about 56 cm, its maximum height 1.70 cm The higher the height, the lower the stability. I recommend a counterweight to keep it stable and not raise the ball, which with more weight could fall. Although it is tight, it can also fall. In addition, the maximum weight supported is 10 kilos. Keep in mind that you should always put 2 kilos less on it to prevent it from falling. fall or break under the weight.
If it is your first tripod, it is worth being careful with the wheels and not tightening them too much because they could break just by turning when you arrive and not tightening it, the rubber bands on the legs will wear out over time so do not be surprised when they break even so The model is quite good and I consider it to be in the middle of its longest, largest and most expensive 2-meter model and its 1.30 m model, which is the smallest, this one is in the middle, its weight is 1,690 aluminum, I highly recommend it, but have Note that it will end due to wear because each joint where the balls are will wear out due to use, it is just an observation. I highly recommend it.
03/08/2023
67"/170cm Camera Tripod Horizontal Aluminium Tripods Portable Monopod with 360 Degree Ball Head Quick Release Plate
230cm/90" Overhead Tripod Monopod with Horizontal Rotatable Center Column Arm 360 Degree Ball Head SA254T1 for DSLR SLR
How to install the Center Column ?
Tripod General
Load Capacity
10kg/22.05lbs
Maximum Working Height
2385mm/93.90"
Max Height without Center Column
1720mm/67.72"
Minimum Working Height
690mm/27.17"
Folded Length
570mm/22.44"
Weight
2000g/4.41lbs
Materials
Magnesium aluminum alloy
Ball Head
Ball Head
Color
Orange/Black
Bubble Level
Tripod Legs
Leg Lock Type
Twist Lock
Leg Positions
3
Independent Leg Spread
Leg Sections
4
Leg Diameter
16-25mm/0.63-0.98"
Feet Features
Can be reversed 180° and folded
Tripod Center Column
Center Column Features
Transverse Center Column, Center Column Inversion
Center Column Sections
2