K&F Concept Lightweight DSLR Camera Backpack Water Resistant Nylon Multipurpose Bag for Canon Nikon Fuji and Other Cameras Laptop Ipad
£59.99
£75.99
21% OFF
VAT free
New customer gift package
FREE Shipping to United Kingdom,Ireland,India,gibraltar,
malta,cyprus,South Africa,
CaymanIslands
Free Shipping. K&F Concept camera backpack features large capacity, sturdy material, ergonomic design, wide compatibility, long service life, exquisite design.

KF13.044

SKU:

KF13.044

59.99

https://www.kentfaith.co.uk/KF13.044_large-dslr-camera-backpack-for-travel-outdoor-photography-fit-canon-nikon
Features
* 【Large Capacity】: 2 Cameras + 5 Lenses + 13.3" laptop + flashes and other accessories to suit your needs.
* 【Main material】: Made of special nylon for prevent damp weather, ripping and abrasion for longer service life.
* 【Convenient Access】Front access for Easy & Quick Access to Camera and Accessories with a tripod hanging solution.
* 【Comfort on the Go】Ergonomic shoulder harness and waist belt provide excellent support and even weight distribution for all day shooting.
* 【Measurements】Size L x W x H: 17.3*6.3*11.4 inch Weight:1.21kg.The bag with spacious compartment can be a daypack or travel bag after removing padded interior. size L x W x H: 17.3*6.3*11.4 inch. Compatible with Nikon D500 D5500 D3200 D7200 D7100 D5100 D3100 D5300 D5200 D5300 D3400 D3300 COOLPIX P900 P610 P600 P530 P520 P510 L840 L830 L820 L810 L330 L310, DL24-500 Digital Camera, Canon EOS T6, T6i, T6s, T5, T5i, T4i, SL1, 80D, 70D and more DSLR
Shipping
FREE Shipping to United Kingdom,Ireland,India,gibraltar,
malta,cyprus,South Africa,
CaymanIslands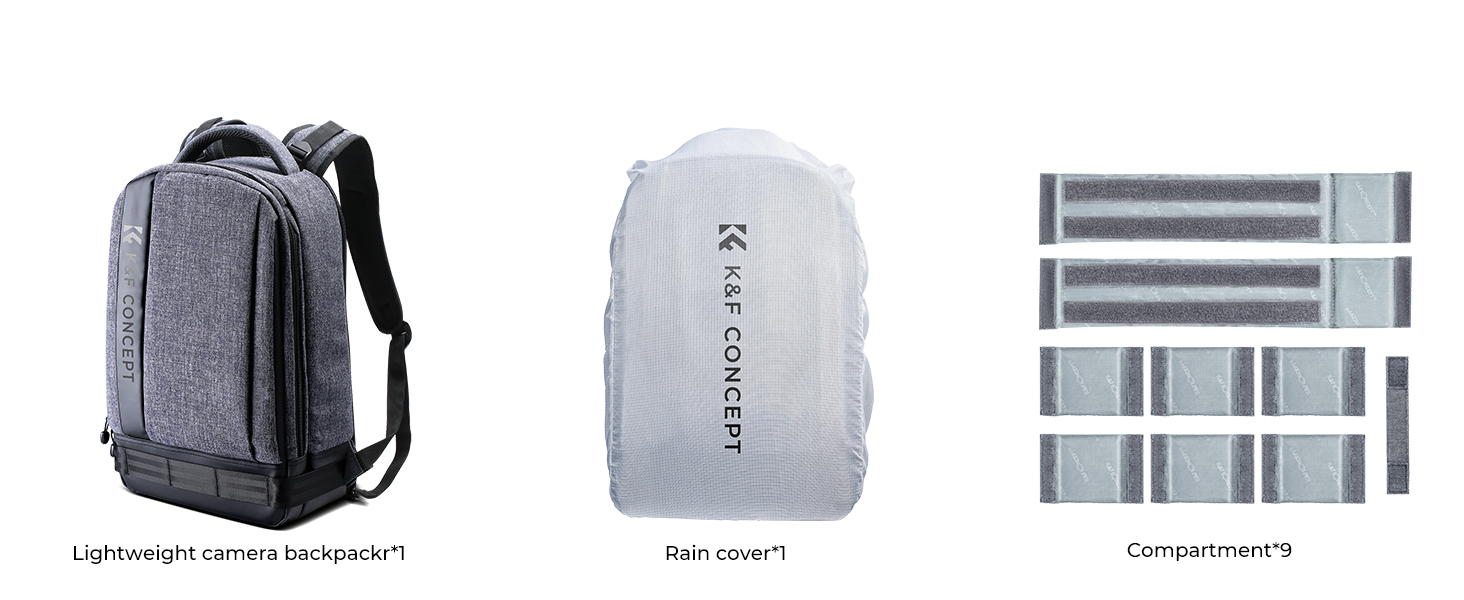 All Reviews
Image

All Star

5 Star

4 Star

3 Star

2 Star

1 Star
An excellent, well thought out and good looking bag at a fantastic price.
The K&F Lightweight measures in at a 17"x11" and consists of two main compartments; a smaller front compartment for laptops, tablets, accessories and a much larger rear compartment for cameras, flashes and lenses. The main internal camera compartment is plenty big enough to hold 2 cameras and up to 5 lenses. It's roughly 4.5" deep so it's deep enough to hold most 35mm and 50mm lenses stood upright and full frame bodies and all the internal inserts are removeable so you can reconfigure it until your hearts content. You may struggle however, if you have a Battery Grip on your camera (or use a Canon 1dx etc) as the compartment may not be quite deep enough but for most, it'll be plenty. There are also two small sleeved compartments (one of which is zipped) for memory cards and other small accessories. In my own use, I've managed to fit a Canon 6D with 70-200 attached, Tamron 35mm, Canon 28mm, Sony A7 with 35mm, Sony 85mm, Mavic Air and Mavic Air Remote with room to spare. It's also worth noting that this main compartment is located at the back of the bag and there is no quick access panel. If you need to retrieve anything from this compartment you need to take the bag off completely. This will be a deal break for those who need quick access to their equipment however, it does make the bag very secure as your expensive gear is completely inaccessible while the bag is on your back. Which is more important to you, speed or security? The front compartment comprises of two padded sleeves for tablets and laptops (up to 13") and a mesh sleeve for accessories etc. It's a decent size and will hold a Surface Pro and 10" tablet with ease. It's well padded too. Lastly there is a small compartment on the front of the bag for any additional smaller items and on the left side there is a very small side pocket for memory cards and an incredibly useful tripod strap/pocket. Fold out the pocket, slide your tripod through the strap and insert one of the tripod legs into the pocket, tighten the strap and you're good to go. Simple, elegant solution.
22/06/2023
Compact, well made and with lots of details!
I'm a professional photographer and I was looking for a second camera backpack, I own a classic lowepro one and I was looking for something that doesn't look like you are carrying a camera inside, so I found this one perfect for me. The backpack is compact and with a smart look but have a lot of details hidden. Basically has 3 main compartments to store your equipment. First one is for notebooks, documents and a gray card. Below you can find the second one where you can carry your laptop (specifically designed for that) and any other small or flat things. In the other side, close to your back there is the camera and equipment space. Definitely you can fit two cameras there is plenty of space for lenses and accessories. The backpack is built in waterproof material and it's really comfortable to carry. Also have space in one side to place the tripod. I'm really happy with this new piece which I'm using now more than my old and classic camera backpack. Recommended for traveling and working when you don't need to carry all your gear.
17/06/2023
Excellent camera bag
I'm very impressed with this bag for the price, it feels like it's a quality item and it's durable.You can fit a DSLR and 9 lenses in the man compartment and the dividers are Velcro so you can adjust the sizes to suit your kit. The main compartment is accessed from the back, so you would have to take the bag off to access your kit, which I like for security reasons.In the back compartment there is space for a laptop and maybe a book, with another thin compartment for accessories. It has a small zip up pouch for memory cards, and it has quite a cool strap and pouch for carrying your tripod.It looks more stylish than your average plain black camera bags. This is a good buy.
12/06/2023
Solid, durable and an air of quality
Have been very pleased with this camera ruck sack, the materials used are those of quality and the grey is an attractive colour. The camera section of the ruck sack has a large number of dividing compartments which hold all of my camera equipment very well. It has a good depth which means heavy equipment can be housed very well indeed. There is also another section for my laptop which ensures I have everything I need on my travels. The ruck sack also keeps my equipment me nice and dry as the material is completely waterproof. All in all a quality item that does the job very well indeed, very happy with my purchase.
12/06/2023
Amazed by the quality
I've now been using this bag for about two years, and honestly, it's amazing! It has gone through such weights when I overloaded it for plane travels, through quite a bit of rainy weather without getting my gear wet, through things it wasn't designed for like a bigger laptop or sliding in an LED light that just barely fits. And through it all it's still durable and doesn't seem like it will fall apart any time soon. I would definitely recommend! Especially with the gear facing towards your back, might seem like a small detail but I always know I don't have to worry if someone is standing "too close" behind me with possible intentions to steal, as none of it can be stolen unless bag is off your back. But then again, you are trading speed for changing lenses etc. So, pick your bag for your needs and environment, this one is definitely good for travel and going to unknown places.
08/06/2023
perfect for me.
Love this pack, small lightweight and perfect size for my Fuji xt3 with 100-400mm lens with hood attached. It works well for me as I walk long distances looking for wildlife, my other packs are just too heavy. I love that i can just leave this lens-on and quickly open it with really easy glide zippers. Top job, light weigh, not too much protection, but that means it is light. Well made good quality bag.
15/05/2023
A quality and lightweight backpack that doesn't scream camera bag
It's a well made bag that does what it says. It is lightweight and I like the security feature where your equipment can only be accessed once you take the bag off.One issue I found was if you have a lens or camera that is more than 4.5 inches tall, it will protrude into your back and may make it a bit uncomfortable. Other than that, there is more than enough adjustable compartments to suit most needs.I agree with other users that when you open the front flap, if you have anything stored in the upper section, it tend to fly out. I can't understand why it is not zipped like the lower section is. A DIY solution may be to use velcro strips to keep it closed?Other than that, it's a good looking bag that is not obviously a camera bag.
11/05/2023
I'm using this backpack since the very first day.
It's the best backpack that I ever had. This item is a very high quality and it deserve more than 5
07/05/2023
Wonderful bag for travelling with Camera
I used to carry a normal backpack for my camera and would often struggle for finding the lens or other equipments but this backpack is so useful as it addresses all the issues. Design which is robust, rectangular shape and wont loose its shape so all the equipment will be safe. Interiors for lens and other equipment is flexible which can be adjusted as per need. I liked the grey color option which is really cool looking. Very nice, elegant, comfortable backpack for my camera and gear.
01/05/2023
The bag feels so sturdy and well built.
I can only say that this bag is absolutely excellent quality and reasonable price, its absolute size is huge, it is perfect for many reasons.That being said, the bag costs less than £50 and is worth it.
29/03/2023
These images belong to K&F Concept end users.
K&F Concept Camera Backpack Review
MOCHILA PARA FOTOGRAFÍA | K&F Concept
K&F Concept Kamera Rucksack L - Testbericht - 11.09.2017
Bag Compartment
Carrying/Transport Options
Rugzak
Camera Support Strap
Yes
Camera Compartment
1
Lens Compartment
6
Laptop Compartment Screen Size
14 inch
Bag Exterior
Exterior Color
Dark Grey
Exterior Dimensions
28*15*43cm
Exterior Material
Polyester
Type of Closure
Buckle
Rain Cover
No
Bag Interior
Maximum Volume
13L
Weight
1.23kg