Camera Lens Bag, Protective Lens Pouch Bag, 2-in-1 Neoprene Lens Carry Case Compatible with Multiple Sizes Camera Lens 10*18cm
£12.99
£23.99
45% OFF
Inclusive of VAT
&FREE Shipping to United Kingdom,Ireland
Buy K&F Concept camera lens bag, protective lens pouch bag, 2-in-1 neoprene lens carry case compatible with multiple sizes camera lens 10*18cm online, £12.99 free shipping to UK.

KF13.121

SKU:

KF13.121

12.99

https://www.kentfaith.co.uk/KF13.121_camera-lens-bag-protective-lens-pouch-bag-2-in-1-neoprene-lens-carry-case-compatible-with-multiple-sizes-camera-lens-10-18cm
Features
* 【Adjustable Compact Pouch】 Dual-purpose lens pouch with adjustable height, provides more compact protection for your lenses. Upper part can be folded down to save space for neat storage.
* 【2-in-1 Drawstring Design】 Independent drawstring design for inner and extended pockets,, makes it easy and convenient to access. Folded Inner pocket of 10*13cm for short lens and extended one of 10*18cm for long lens, two storage sizes in one pouch.
* 【Widely Compatible Capacity】 Suitable for most regular lenses with lens hood, including Canon Nikon Tamron lenses and so on. An adjustable buckle on the top helps adapt to large-diameter lens hood.
* 【Soft and Protective Material】 Premium neoprene material outside for blocking off water drops and dust. Flocking material inside with soft touch and great shock absorption, prevents your lens from scratches in the pouch.
* 【Well-padded Bottom】 Sponge mat at the bottom of the lens pouch, effectively enhance cushion and protection to your lens, avoiding damages caused by accident hits and squashes. Gift Guide for Valentine's Day Shoot.
Shipping
&FREE Shipping to United Kingdom,Ireland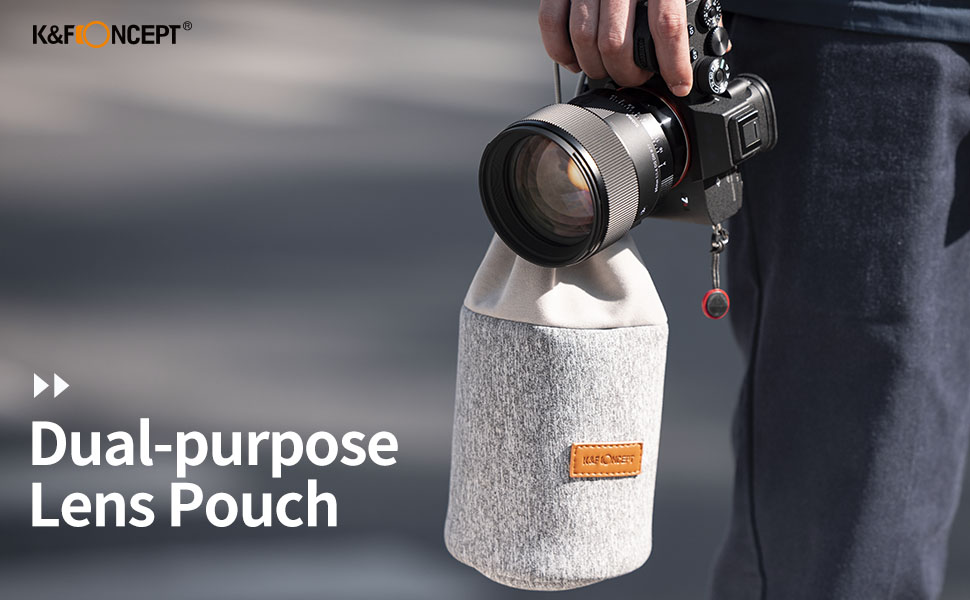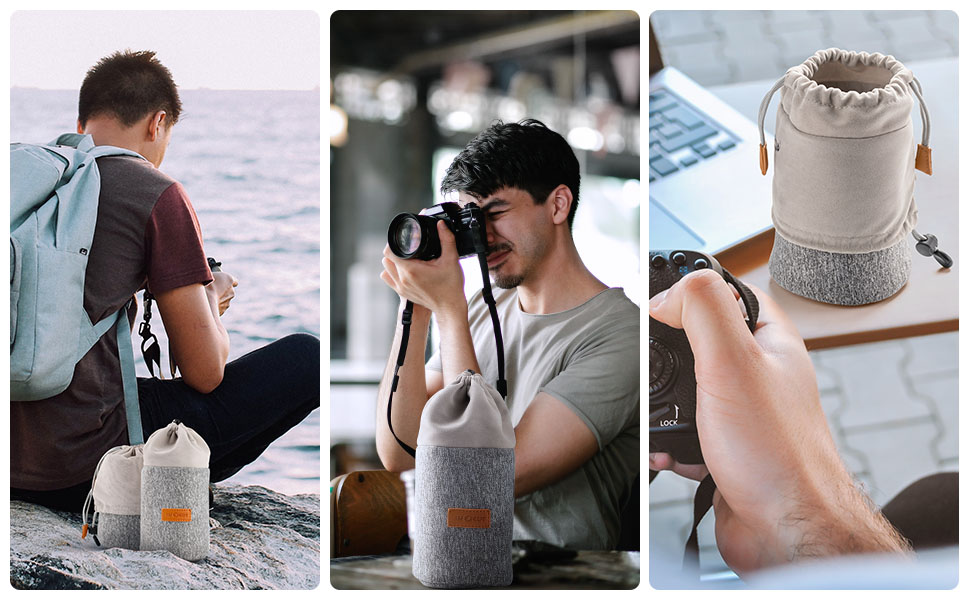 Carry It Your Way Lightweight and Comfortable
Can be carried separately,can be also attached to backpacks and straps,ideal for outdoor travel and everyday photography。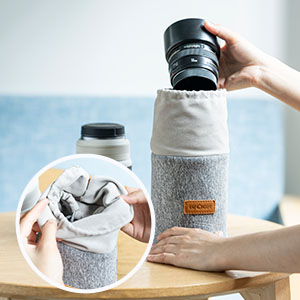 Flocked Microfiber Lining
The flocked microfibre has a delicate and soft feel, so you don't have to worry about scratching your equipment。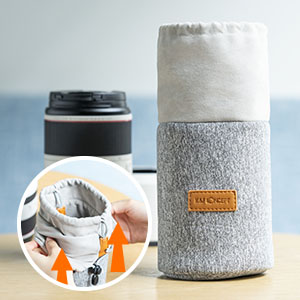 2 IN 1 LENS POUNCH CASE
Designed for lenses of 2 different sizes, simply pull up the outermost cloth of the lens pouch to place larger lenses。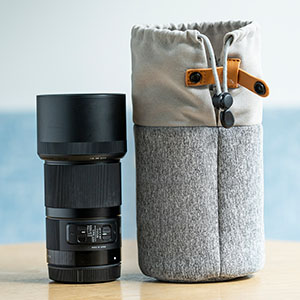 2 Separate Drawstring Designs
The inner and outer pockets have a drawstring design and 2 separate drawstrings to protect the lens and allow for quick and easy access in seconds.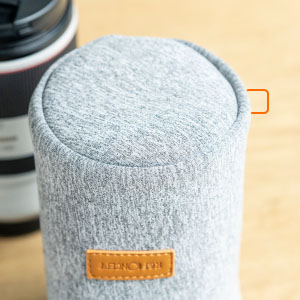 SUPERFINE FIBER
Soft lining and dust-free protects your lens from scratch and shock.
| | |
| --- | --- |
| Product Size | 32*18*45cm |
| product weight | 1.76KG |
| Package Contents | Photography bag*1, tag*1 |
It's a simple carry bag and does the job.
I'm satisfied. I find it expensive for what it is though, since I have a backpack which is way more comfortable and complex at the same price.
08/12/2021
Recommended
I have been searching for bags like this and this was the best i could find for the price.
I recommend it as it is whati wanted and the quality is very good.
07/12/2021
Keeps camera dry
Great works well
06/12/2021
The best one for safari
It's light enough and can carry extra battery and charger
28/11/2021
Good to keep lens stored away safely
Good to keep lens stored away safely.
26/11/2021
A
It is enough. When unpacking or packing it is then more fluid.
Introducing the K&F Concept Protective 2 IN 1 Lens Pouch Bag KF13.121
Bag Compartment
Carrying/Transport Options
Camera Lens Bag
Camera Support Strap
/
Camera Compartment
2-in-1
Lens Compartment
2-in-1
Laptop Compartment Screen Size
/
Bag Exterior
Exterior Color
Grey + white
Exterior Dimensions
24.5*10.5cm
Exterior Material
Polyester + SBR
Type of Closure
Sokuchi Rope
Rain Cover
/
Bag Interior
Maximum Volume
<24*10cm
Weight
0.1kg