Aluminum Alloy 360 Degree Panoramic Gimbal Tripod Head with 1/4'' Standard Quick Release Plate
£64.99
£259.99
75% OFF
VAT free
New customer gift package
FREE Shipping to United Kingdom,Ireland,India,gibraltar,
malta,cyprus,South Africa,
CaymanIslands
30-day refund or replacement,K&F Concept Professional Gimbal Head Heavy Duty Metal 360 Degree Panoramic Tripod Head with Standard 1/4'' Quick Release Plate and Bubble Level for Digital SLR Cameras Up to 20KG/44LBS

KF31.033

SKU:

KF31.033

64.99

https://www.kentfaith.co.uk/KF31.033_kf-concept-professional-heavy-duty-metal-360-degree-panoramic-gimbal-bird-watching-head
Features
* Rugged design and construction, smooth, fast tracking horizontally and vertically. Loading up to 20KG/44LBS.
* Horizontal adjustment of the lens platform allows precise positioning to find the center of gravity of any size lens and camera system.
* Calibrated scale for repeatable positioning of lenses.
* The panning base and vertical arm capable of 360 degree rotation (horizontal and vertical), can meet the photography demand of different Angle.
* Includes arca type standard 1/4'' quick release plate and bubble level. Non-Skid slip design on standard quick release plate.
Shipping
FREE Shipping to United Kingdom,Ireland,India,gibraltar,
malta,cyprus,South Africa,
CaymanIslands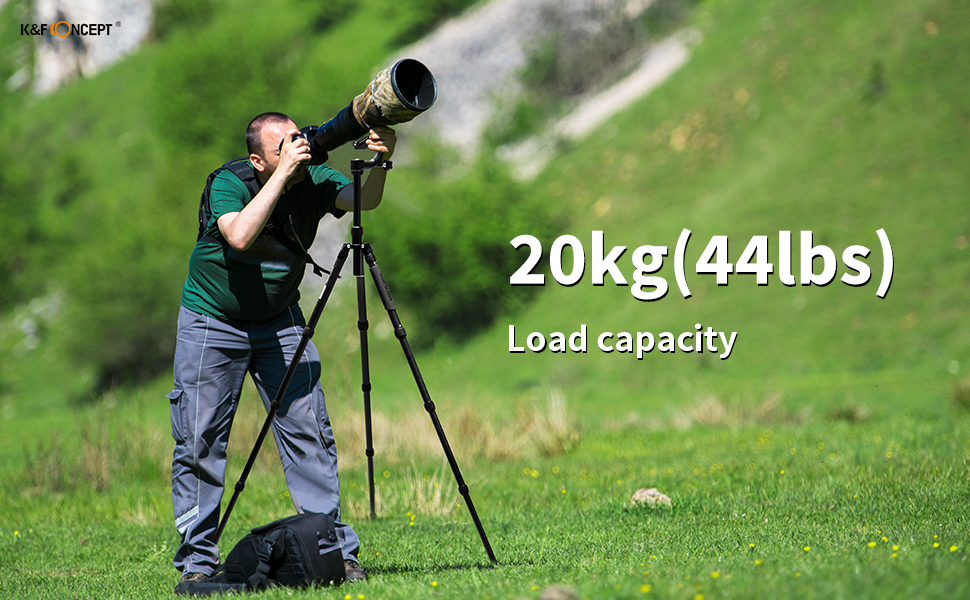 K&F Concept Professional Heavy Duty 360° Panorama Gimbal Tripod Head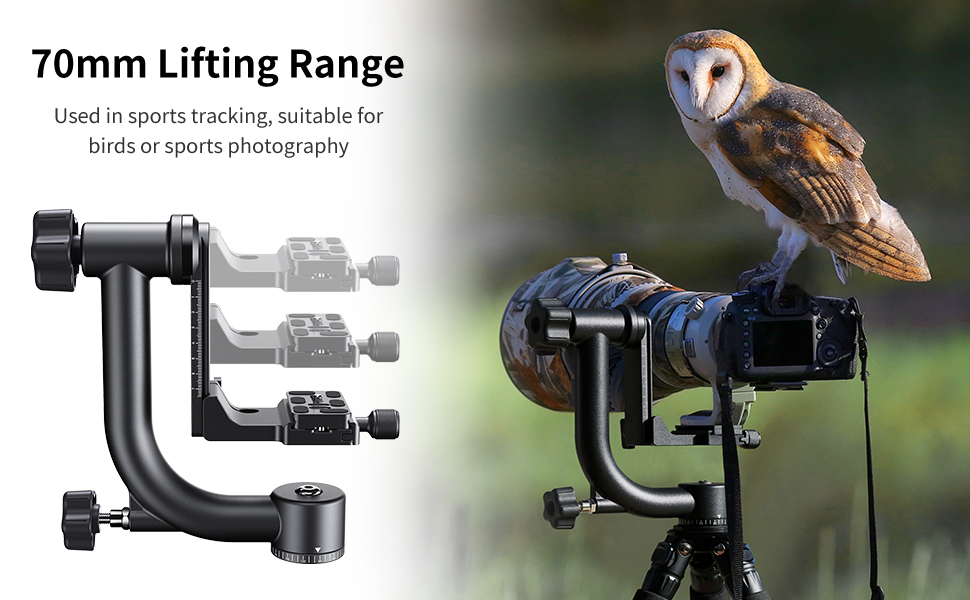 ·Robust and durable: Made of high-quality aluminum alloy, it provides a solid support point for your camera.
·High load capacity: This static head can hold up to 20 kg. Allows you to capture more beautiful moments in animal and sports photography
·Versatile rotation: The swivel base and vertical arm can be rotated 360° (horizontal and vertical) to meet the photographic requirements of different angles.
·Precise adjustment: Large knobs with spirit levels are easy to use, and numbered scales along the swivel base and vertical arm allow you to easily repeat your settings for different lens and camera combinations.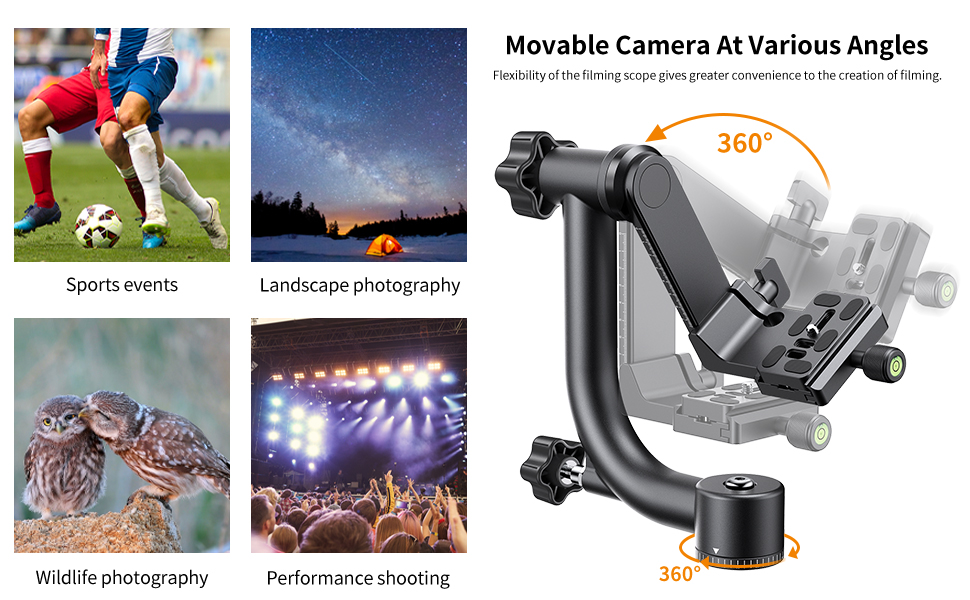 Tripod product specifications.
Material: Aluminum AlloyLoad Capacity: 20 kg. Height: 23 cm. Width: 19 cm standard 1/4 inch camera winch
Note: For cameras with telephoto zoom lens, you need to buy a tripod ring for it to work properly and for better balance.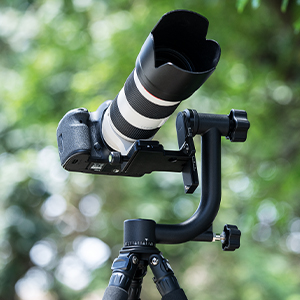 The swivel arm (horizontal and vertical) can be rotated 360 degrees for low angle and overhead shooting.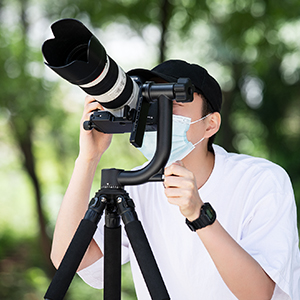 It's suitable for sports photography, wild bird photography, starry sky landscapes and stage photography.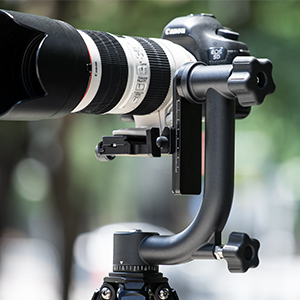 Adjust the height by 70 mm with the mounting plate to take a suitable position for shooting.
Rating

204 reviews.

14 reviews.

25 reviews.

5 reviews.

8 reviews.
Price

£259.99

£64.99

£116.99

£99.99

£42.99

£39.99

£22.41

£34.99

£22.99

Model
KF31.033
KF31.052
KF31.035
KF31.023V1
KF31.029V3

Tripod Head Type

Gimbal Tripod Head
Gimbal Tripod Head
35mm Ball Head
28mm Ball Head
25mm Ball Head

Maximum Weight

20kg/44lbs
20kg/44lbs
33lbs
22lbs
17.63lbs

Item Weight

1428g
1265g
295g
252g
203g

Item Dimensions LxWxH

9.06 x 7.48 x 1.57 inches
9.06 x 7.48 x 1.57 inches
3.94 x 3.54 x 2.76 inches
3.15 x 3.15 x 2.36 inches
3.14 x 2.36 x 2.75 inches

Material

Aluminum alloy
CNC Aluminum alloy
Aluminum alloy
Aluminum alloy
Aluminum alloy
All Reviews
Image

All Star

5 Star

4 Star

3 Star

2 Star

1 Star
Black Friday Bliss
I've been Black Friday shopping for years, but this website has blown me away! The Black Friday deals are unbeatable, and the user-friendly experience makes it a breeze to find and purchase the best products. Highly recommended!
21/11/2023
game-changing
Wow, the Black Friday discounts here are a game-changer! I couldn't resist the amazing deals, and now I have all the products I've been wanting at a fraction of the cost. Black Friday shopping couldn't be any better!
20/11/2023
Black Friday Deals-Early Birds Score
I purchased goods in advance on this website during Black Friday this year, and the prices were much lower. I will introduce my friends to buy them.
20/11/2023
good price
Black Friday shopping has never been this good! The prices on this site are jaw-dropping, and the selection is fantastic. I snagged some incredible deals, and I'm thrilled with my purchases!
19/11/2023
A good solid Tripod Head!
It's a good, solid tripod head! It replaced the head of my Opus OT-1018BH tripod! The extra screw adapter allowed it to fit the tripod perfectly!
17/09/2023
Well built, works well.
This gimbal head gives me the stability I need for taking those wildlife photos. It's build quality fit and finish is very nice, happy I got it. Defitnitely a great tool to have specially if you are using a bigger lens.
13/09/2023
An all round good product.
I ordered this gimbal tripod head as a hobby photographer. Received promptly – the shipping worked out well with no hold ups and the product was received in good condition. Once unpackaged, there is nothing to complain about in terms of quality. It doesn't wobble or have any excessive play. My camera fits perfectly into the holder. I have also tried it with a camera light attached without issue.
09/09/2023
Holds bombproof
I bought the ball head for my homemade barn door tracker.
In my opinion the quality is top. It can be completely adjusted and once you have everything fixed, it is rock solid.

I will definitely buy the tripod from K&F Concept because if the quality is the same you can't go wrong.
31/08/2023
Spot on!
Build quality is spot on. It's heavy, but that is perfectly in line with its intended usage. I use it on a super stable, heavy duty tripod with lockable feet which I believe is very important when using the Gimbal. It needs a bit of a learning curve if you have never used one before, but the results are always good and it is well worth it if you want precision photography.
16/08/2023
Inspires confidence
It seems more sophisticated to me than a classic kneecap. The tightening of the various wheels makes the adjustment very firm. In addition, the weight of 10 kilos supported is a guarantee of safety.
03/08/2023
Wow!Brand video:K&F Concept Tripod with Phone Mount
Tripod Head
Tripod Head Type
Gimbal Tripod Head
Maximum Weight
20kg/44lbs
Item Weight
1428g
Item Dimensions LxWxH
9.06 x 7.48 x 1.57 inches
Material
Aluminum alloy