4G LTE solar wildlife camera, Hunting Infrared Night Vision Camera,2.7K HD 0.2s fast trigger, solar and battery powered, UK/EU Version SIM card without contract
£119.99
£149.99
20% OFF
VAT free
New customer gift package
FREE Shipping to United Kingdom,Ireland,India,gibraltar,
malta,cyprus,South Africa,
CaymanIslands
Brand:

K&F Concept

4G LTE solar wildlife camera, 2.7K HD 0.2s fast trigger, solar and battery powered, UK Version SIM card without contract

KF35.138EU

SKU:

KF35.138EU

119.99

https://www.kentfaith.co.uk/KF35.138EU_4g-lte-solar-wildlife-camera,-hunting-infrared-night-vision-camera
Features
* 【4G cellular network, view your camera anywhere, anytime】The camera uses 4G/LTE cellular network, so you can remotely control your camera anywhere, anytime, the camera product comes with a 4G international traffic card, get the camera and insert it to use:. 4G network: LTE FDD/LTE TDD/WCDMA/TD-SCDMA
* 【Low power consumption endurance】Tracking camera low sleep under low power consumption, 3 high performance lithium batteries with 4W solar panel, can be wireless endurance, do not worry about your camera miss every wonderful moment.
* 【HD pixels and fast trigger】Tracking camera up to 4MP shooting pixels, 2.7K HD video effect, using the latest 3.6mm HD lens technology; tracking camera with sensitive trigger speed of 0.2 seconds, accurately capture every exciting moment, using a lightweight and compact unique design, easy to carry and apply to any place.
* 【High sensitivity passive infrared sensor】Tracking camera captures every exciting moment with a detection range of up to 90 degrees and a range of 50 feet/15 meters; Equipped with 2pcs 940nm micro LEDs allows you to record incredible video and photos so as not to disturb or scare your hunting target.
* 【Rugged protection for ekf35.138.pdfasy handling】With IP66 waterproof, dustproof and drop-proof plastic housing, it can withstand harsh working environments such as desert or tropical rainforest at temperatures from -10°C to 50°C. This is an indispensable guarantee of a long service life, simply insert an SD card (up to 256GB, 32GB~64GB recommended) and you are ready to go. You can then set your personal requirements in the menu and finally use the fixing straps to complete the installation.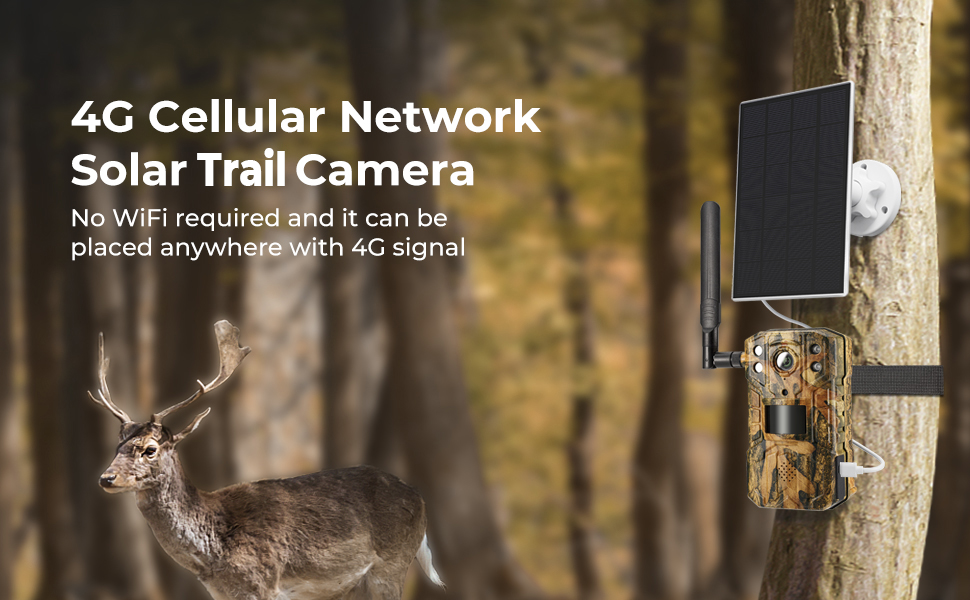 K&F CONCEPT 4G Cellular Network Solar Trail Camera
• Never buy batteries again: the combination of the 3-cell lithium battery pack inside the camera and the included 4W solar panel sets a new standard for battery life and saves customers millions of dollars a week over the life of the product Buy batteries to use.
• Cellular network with SIM card: The camera uses 4G/LTE cellular network, allowing you to remotely control your camera anytime, anywhere. It is equipped with a 4G international traffic card (SIM card), which can be used after you get the camera.
• Easy to use: You only need to insert the SD card (need to be purchased separately) and the SIM card, download the UCon application, adjust the camera monitoring position, and start using it.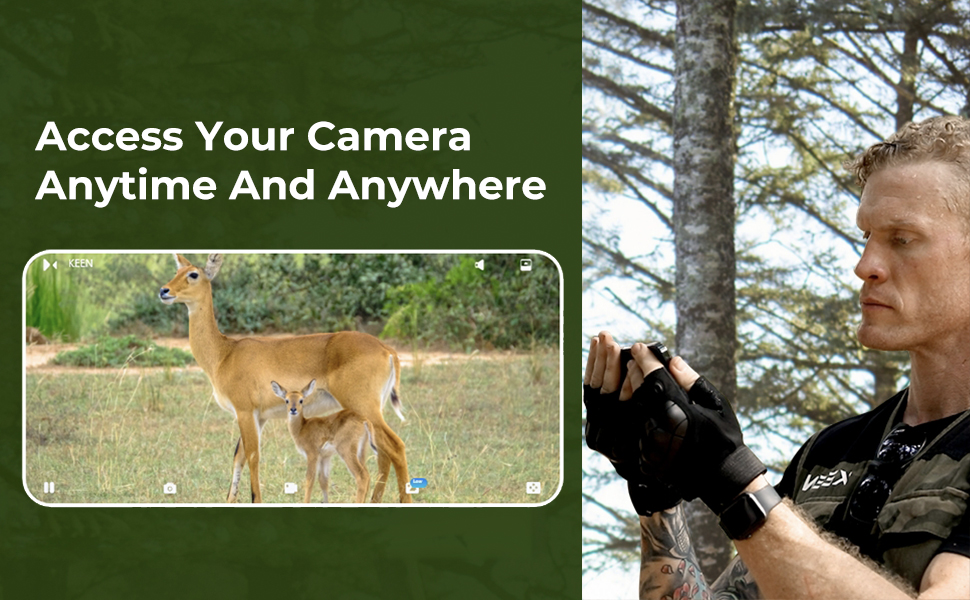 The camera uses 4G cellular network, allowing you to view real-time images and video recordings at any time.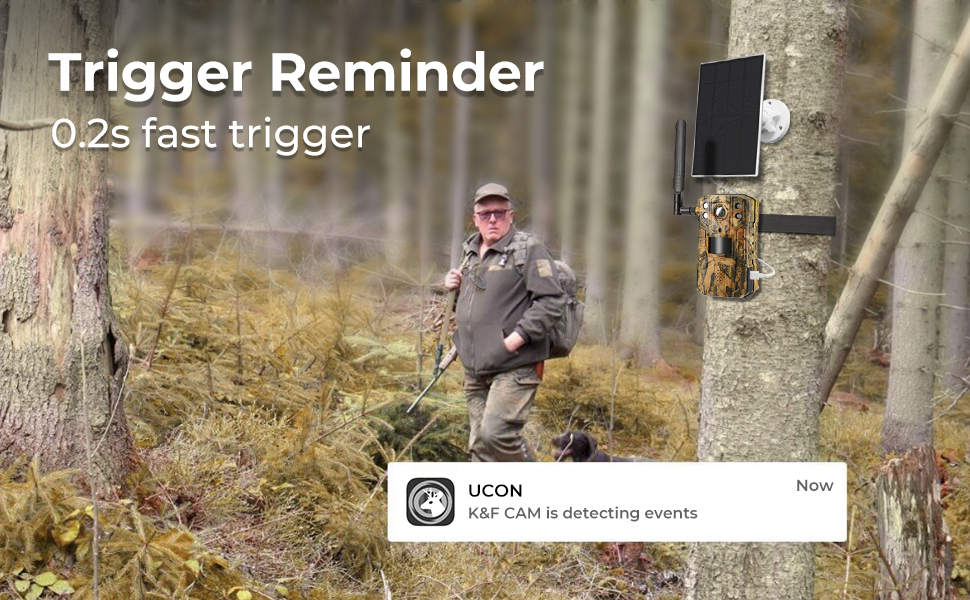 Animals or people can trigger the camera to shoot, and send event reminders to your mobile phone.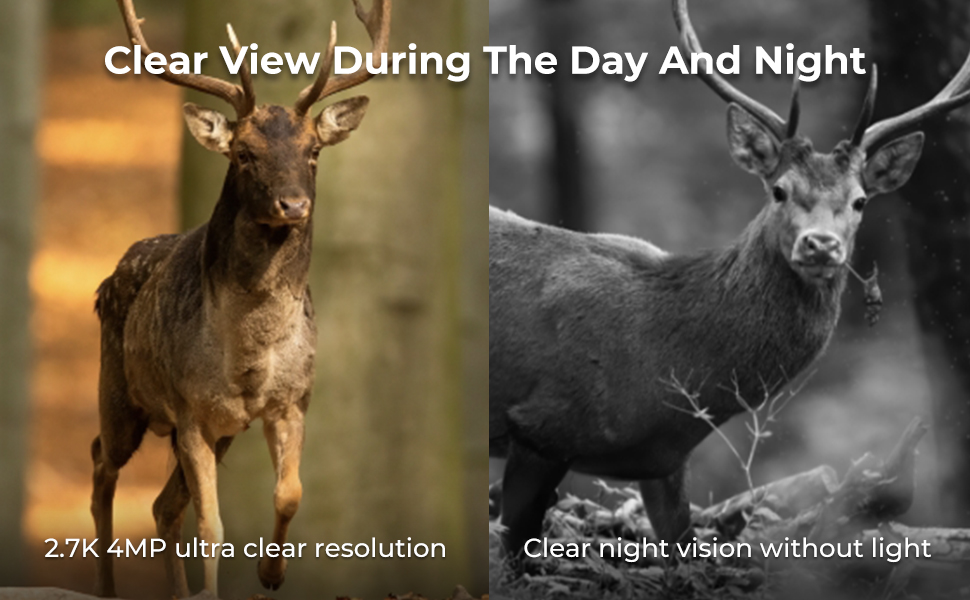 360° Real 2K 4MP Live View
The camera with 4MP native resolution can pan 355° and tilt 140° to help you track animals and see sharp details. In crisp true 2K UHD 360° live view and recording, every pixel is real. Interpolating pixels wastes no extra data or storage space.
Clear night vision with non-glow infrared LEDs
Watch and track animals in crisp 2K video, even at night. The camera can capture animals clearly in the dark without startling or scaring them. Its non-emitting infrared LEDs illuminate the surrounding environment without revealing its presence.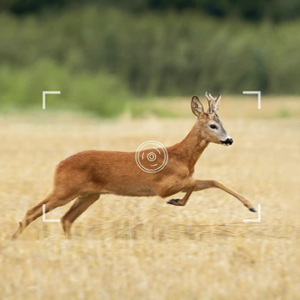 Faster trigger speed - only 0.2 seconds
The camera adopts a sensitive trigger speed, which can accurately capture every exciting moment in 0.2 seconds.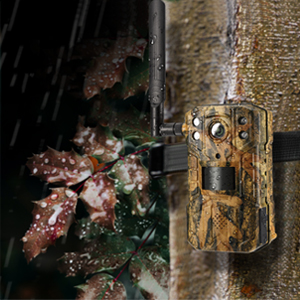 IP66 waterproof
Excellent waterproof effect, suitable for outdoor use.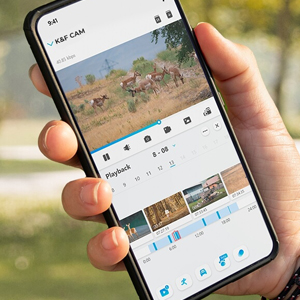 Micro SD card storage and cloud storage
One of the storage methods can be selected to view and trigger record playback at any time.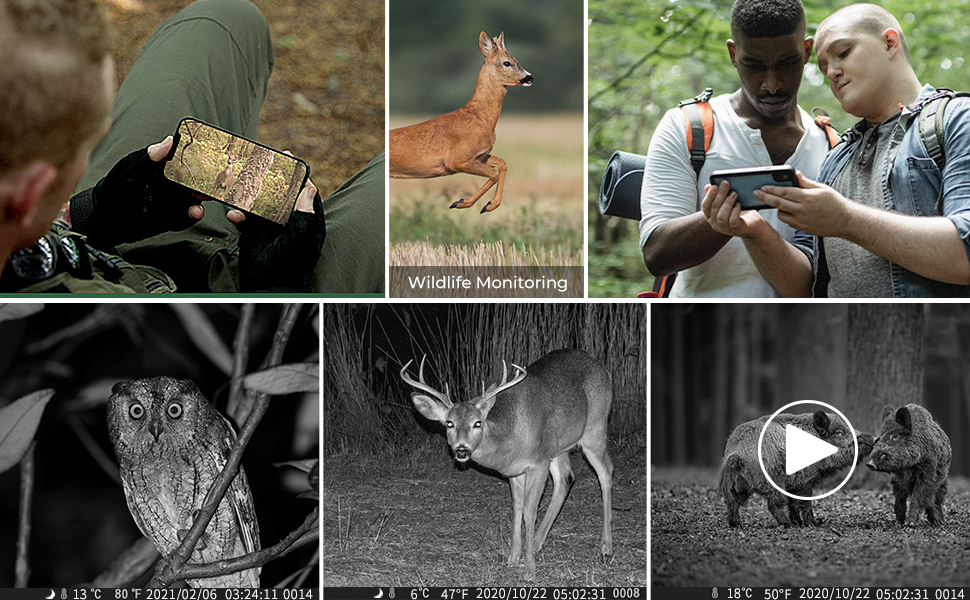 Rating

54 reviews.

30 reviews.

30 reviews.
Price

£149.99

£119.99

£119.99
£129.99
Model
KF35.138EU
KF35.154EU
KF35.154EUS1

Video Resolution

2.7K

Power Supply Method

Solar/internal battery

Built-in Battery Capacity

7800mh

Storage

Micro SD (up to 64G), cloud storage

Pan & Tilt

120° 1 induction

Motion Detection

/

Motion Detection Range

15m/49.2ft

Waterproof IP Rating

IP66

Night Vision

Infrared night vision

Night Vision Range

15m/49.2ft

Alarm Method

×

Two-way Talk

√

Connection Method

4G LTE

Max. Storage

512GB
128GB

Image Resolution

4MP
16MP

Screen Size

No Screen

Video Resolution

2.7K/30fps
Up to 2K
2K

WIFI+Bluetooth

4G
4G

Amount of infrared lamps

2pcs (940nm)
Quantity 8 (940nm, no glow)
8pcs (940nm)

Amount of PIR SENSORS

1pcs
1pcs

Detection Range of PIR sensors

90°
Angle 120°/distance 15 meters
120°

Trigger Distance

20m/65ft (night) 24m/80ft (day)
20m/65ft

Trigger Speed

0.2s
0.2s
0.2s

Waterproof IP Rating

IP66
IP66
IP66

No Glow Night Vision

Yes
Yes

Battery Capacity

3*2600mah
3*2600mah
All Reviews
Image

All Star

5 Star

4 Star

3 Star

2 Star

1 Star
Black Friday Bliss
I've been Black Friday shopping for years, but this website has blown me away! The Black Friday deals are unbeatable, and the user-friendly experience makes it a breeze to find and purchase the best products. Highly recommended!
21/11/2023
game-changing
Wow, the Black Friday discounts here are a game-changer! I couldn't resist the amazing deals, and now I have all the products I've been wanting at a fraction of the cost. Black Friday shopping couldn't be any better!
20/11/2023
Black Friday Deals-Early Birds Score
I purchased goods in advance on this website during Black Friday this year, and the prices were much lower. I will introduce my friends to buy them.
20/11/2023
good price
Black Friday shopping has never been this good! The prices on this site are jaw-dropping, and the selection is fantastic. I snagged some incredible deals, and I'm thrilled with my purchases!
19/11/2023
Fair price. Excellent quality camera. Easy to set up.
The kf concept is used at my hunting lease. I have a string of older trail cams that keep me driving over 100 miles three times a week. No I am delighted to see from my tripod which game are consuming corn. I can collect feeding times in real time and plan my next trip.
I love the simplicity of the k&f camera. I was able to set it up in no time. And it worked the first time out of the box. Picture quality is great day or night. I'll be adding a solar power pack soon.
I'm a happy hunter!!
14/09/2023
Lots of settings
admit that I haven't played with all the settings. I was in a hurry to clear this up and follow up on a specific event. Yeah, that's not a trail, it's the back of my house. I set the wildlife cam behind the house facing the driveway and fence. The above images are just an example, there is one in heavy rain, one at night (pavilion solar lights are on), one image where my motion detector light is off (guy in driveway), and one on a nice afternoon. I was impressed with the quality of the 4G camera for the price. It has a wide field of view.
11/09/2023
very good trail camera
fast delivery. simple and user-friendly operation. Relatively good camera for a game camera, sharp picture and doesn't even work badly at night. Motion sensor reacts very reliably. good value for money!
10/09/2023
Very pleased with my new Glassraven 4G
I found this camera very easy to set up and get going. I have had it for about a week now and couldn't have asked for more. I live in the mountains of Colorado and cell phone reception can be a little spotty at times. I was concerned about the cell reception but haven't had any problems with that. It steadily sends pictures to my email just like clockwork. I have a lot of birds in the area and initially thought the camera was taking pictures without wildlife in them. On closer inspection I found birds in the pictures. I am undecided on whether or not I will turn down the camera sensitivity. I would definitely recommend this game camera to a friend.
05/09/2023
I am just setting up my camera now
I have waited almost 10 years to have a TrailCam, so I am very excited. I have not yet used it so I cannot comment yet or rate the camera itself, although it seems promising (although a bit complicated right now!) I am a photographer/ filmmaker living in the countryside now. I primarily want to use the camera for video at night to capture the many varied and wonderful animals that I reside with here. I will be using these images in a film I am making about an artist whose work is filled with the natural world and the human balance within it
30/08/2023
Great camera & outstanding customer service
Bought this for monitoring a property and testing it out while it's close before we deploy it. Camera didn't take very long to set up, although I did have to play with it to figure out how to get it to take a photo initially, but the instructions are really great (make sure and read the small handout first!), including directions on how to troubleshoot (which is what I used to check whether it was able to send photos). My biggest compliment goes to the outstanding customer service and rapid response to my questions. Looking forward to getting a lot of use out of this!
27/08/2023
4G LTE solar cellular Wildlife Camera
Surveillance Cameras
Video Resolution
2.7K
Power Supply Method
Solar/internal battery
Built-in Battery Capacity
7800mh
Storage
Micro SD (up to 64G), cloud storage
Pan & Tilt
120° 1 induction
Motion Detection
/
Motion Detection Range
15m/49.2ft
Waterproof IP Rating
IP66
Night Vision
Infrared night vision
Night Vision Range
15m/49.2ft
Alarm Method
×
Two-way Talk
√
Connection Method
4G LTE
Trail Camera
Max. Storage
512GB
Image Resolution
4MP
Screen Size
No Screen
Video Resolution
2.7K/30fps
WIFI+Bluetooth
4G
Amount of infrared lamps
2pcs (940nm)
Amount of PIR SENSORS
1pcs
Detection Range of PIR sensors
90°
Trigger Distance
20m/65ft (night) 24m/80ft (day)
Trigger Speed
0.2s
Waterproof IP Rating
IP66
No Glow Night Vision
Yes