4G LTE Outdoor Security Camera Wireless Solar and Battery Powered PIR Motion Detection Waterproof, 2K Infrared Night Vision 2-Way Audio, UK/EU Version 4g camera + SIM card without contract
£135.99
£299.99
54% OFF
VAT free
New customer gift package
To
United Kingdom
Expedited Shipping
3-5
business days
K&F Concept 4G Camera LTE Security Wireless Camera, 24h non-stop power by solar and 10400mAh battery, PIR Motion Detection Waterproof 2K Infrared Night Vision, 2-Way Audio, Uninterrupted Power Supply, and 360° Full Coverage, Color Night Vision, PI

KF50.0026EU

SKU:

KF50.0026EU

135.99

https://www.kentfaith.co.uk/KF50.0026EU_4g-ite-security-outdoor-camera-system-wireless-solar-battery-powered-sim-card-without-contract
Features
* 【PIR Human Detection and Instant Alerts】PIR sensors and AI humanoid detection alarms are used to detect human bodies more accurately and reduce false alarms caused by light or insects. Supports instant alerts and logging. You can instantly see what's going on from your phone.
* 【Uninterrupted Power Supply and 360° Full Coverage】The 4G solar security camera is equipped with a solar panel, and the built-in 10400mAh battery provides uninterrupted power, no need to remove the camera from the roof to charge. It achieves 355° viewing through 355° horizontal and 100° vertical rotation, 4X digital zoom, and 360° without blind spots. Application: Ubox APP
* 【2K Full HD and Spotlight Color Night Vision】K&F Concept 4G Solar wireless security camera outdoor equipped with 3.6mm lens, provides 2K HD decent images and videos. The built-in spotlight flashes bright light to switch to night vision mode, helping to see true-color night vision in real-time and see-through darkness up to 98 feet even in very low light conditions.
* 【PIR Human Detection and Instant Alerts】PIR sensors and AI humanoid detection alarms are used to detect human bodies more accurately and reduce false alarms caused by light or insects. Supports instant alerts and logging. You can instantly see what's going on from your phone.
* 【Optional Storage and Data Encryption Protection】The K&F Concept 4G LTE solar battery-powered outdoor security camera can be used for cloud storage or MicroSD card (up to 128G, not included) to provide you with flexible ways to save data. You can freely stream videos anytime, anywhere via the cloud (with an additional subscription fee). Mobile apps can be downloaded from the Apple App Store/Google Play
Shipping
To
United Kingdom
Expedited Shipping
3-5
business days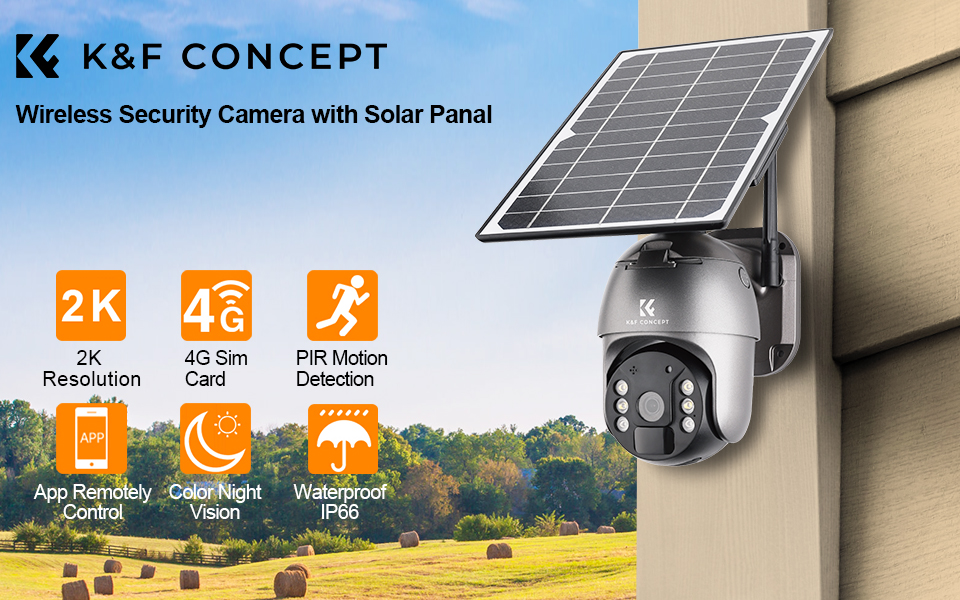 4G Solar Cell Outdoor Camera Color Night Vision
· 8W high-efficiency solar panel with adjustable angle.
· Built-in 10400mAh high-capacity power battery storage.
· HD 1080P all-round coverage of any corner Pan 355°Tile 120°
· Local TF card slot & cloud storage, support Class 10 8G to 128G (not included)
· IP66 waterproof, weather resistance from -4°F to 140°F (-20°C to +60°C)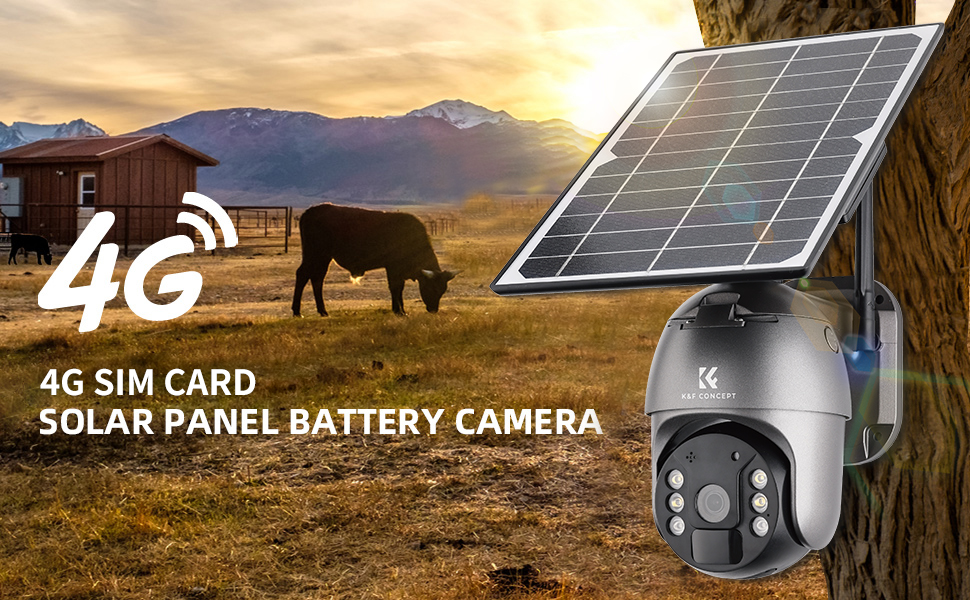 Why choose 4G Solar Security Camera:
1. No wiring, save money: 4G solar security cameras can get the job done without connecting cables to remote areas, saving you a lot of money and trouble.
2. No need for a WiFi network: One of the biggest advantages of a 4G solar security camera is that it is independent of a WiFi network, and it does not need to transmit video by wire or wireless at all.
3. Sensitive to motion: built-in PIR motion sensor + Ai humanoid detection alarm, reducing a large number of false alarm natural elements.
4. Remote real-time viewing and notification: Support remotely viewing and control the direction at any time with the UBox APP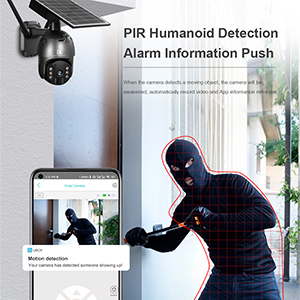 PIR motion detection and alerts
Get active alerts when something unusual happens so you know if anything happens while you're away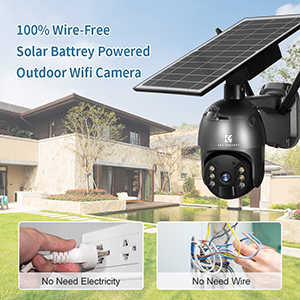 Solar-powered 100% wireless
Built-in high-capacity rechargeable lithium battery and 8W solar panel, no need to worry about battery life and low power, keep it fully charged, and achieve 100% wireless outdoor safety.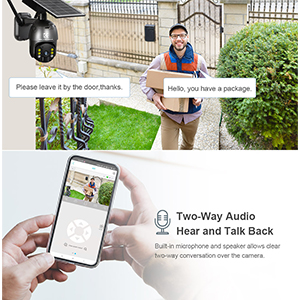 Two-way talk
Built-in enhanced microphone and speakers make it easy to communicate even when you're outside.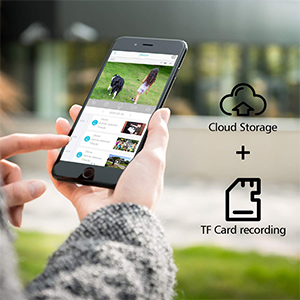 SD card storage and cloud storage
Support SD card storage, up to 128G (not included), cloud storage (optional)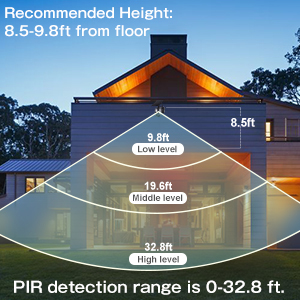 PIR human detection distance
The monitoring distance of K&F solar security cameras is up to 10m/32.8ft and will trigger instant alarm notifications through the APP. The ideal installation height is 8.5-9.8 feet above the ground.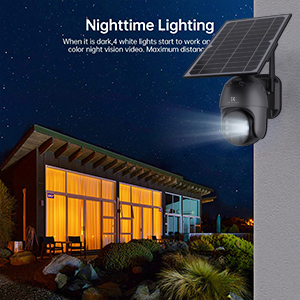 White light
Featuring 4 illuminated LED spotlights, enabling color night vision for clear video recording and 98ft live streaming.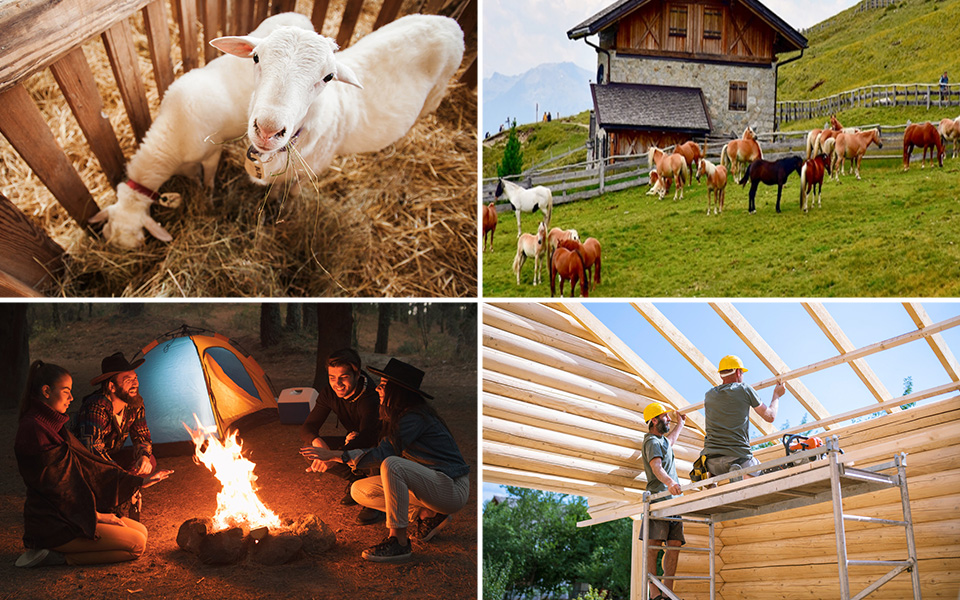 Suitable for home security/farm/construction site, etc. (built-in battery, please charge it with 5V2A adapter for more than 8 hours before first use)
Rating

494 reviews.

496 reviews.
Price

£299.99

£135.99

£299.99

£179.99

Model
KF50.0026EU
KF50.0025EU

Video Resolution

2K
2K

Power Supply Method

Solar / Built-in Battery
Solar + Battery

Built-in Battery Capacity

10400mAh
28800mAh

Storage

Micro SD card (up to 128G/cloud storage)
Cloud storage/micro SD (maximum 128G)

Pan & Tilt

Horizontal 355°/Vertical 120°
Horizontal 355°/Vertical 100°

Motion Detection

PIR
PIR

Motion Detection Range

10m/32.8ft
12m39.4ft

Waterproof IP Rating

IP66
IP66

Night Vision

Night Vision
Infrared Night Vision

Night Vision Range

20m/65.6ft
12m39.4ft

Alarm Method

×
Alarm Information Push

Two-way Talk

√
√

Connection Method

/(4G LTE)
4G
All Reviews
Image

All Star

5 Star

4 Star

3 Star

2 Star

1 Star
High-quality workmanship and excellent image and video quality
4G cameras don't usually hold a signal, NOT this one. NOT a cheap plastic camera toy, it's an important part of a no wifi security plan. The mounting bracket and solar panel are excellent, as is the battery life. Very easy to set up. Don't buy a cheaper version, this one has great PTZ. Good sound quality. The app is reliable and free. With a small annual fee, you get a year of cloud service. I'm about to start the second one.
21/09/2023
Impressed!
was pleasantly surprised by this security camera. Since it runs solely on solar power, it works remarkably well. When I took the camera out of the box I noticed that it was a good weight and felt of pretty good quality. Setup was straightforward - the instruction manual includes a QR code that you can scan to download the app. Just register an account and then the app will search for the camera. Then it's time to move the camera to the desired position. The camera comes with the screws and plates needed to drill it, but I'm lazy so I used gorilla tape. If you haven't used the stuff yet, it's time to get to know it. It's double-sided tape that sticks permanently both inside and out. I've used it to hang solar lights, camera doorbells and now this camera with no problem and with total security. Wait... I should check the camera... Anyway, the picture quality is really great for a solar powered device. I'm sure you could get better picture quality with other cameras, but then you'd be paying a lot more and it would probably have to be wired. It depends on what you're really looking for, but this camera is ideal for our needs. We have a summer house in the garden, so we use it to keep an eye out for potential intruders. There is a monthly subscription that you need if you want to capture footage automatically. You will also need an SD card for storage. However, without the above, you can view the feed and manually press record when you see something going on. The camera sends a notification to your phone when it detects motion, which is a handy feature. However, it is very delicate and has often picked up the tree blowing in the wind. However, you can adjust the sensitivity of the motion detection feature if you want. Overall super happy with this device and would happily recommend it
19/09/2023
Absolutely wonderful surveillance camera, completely wireless..
An absolute gem with the latest and most innovative technology. It's the best security camera I have that is completely wireless, self-sufficient and has a solar panel to charge the battery so I don't have to take it off to charge every 2 months. What a lovely design as the plastic used for this unit is a high quality material and it comes with all the hardware including a paper template for drilling holes to ensure a perfect installation. It also comes with an extra USB cable just in case you need to charge it with a USB charger, but my camera arrived 100% charged showing no battery drain when it's off and the battery does not discharge itself. What I love most is that it has a fully motorized head, so you can use your phone to pan your head in all directions to check what's going on outside. I am very impressed with this feature as all 4 security cameras I have are only fixed in one direction so you can only see in one direction. So I had 2 cameras in the front and one on the back and side of the house. This one camera will cover the front and/or back of my entire house. No waste of expensive electricity either, as it is completely self-sufficient in power thanks to the included solar panel, which doubles as a shield or canopy to protect it from harsh weather. The only thing missing from this pack is a Micro SD/TIFF card and you're good to go. Very easy and uncomplicated installation. Just make sure your router is set to 2.4 wireless protocol during installation. *PS I did not receive an SD card or a SIM card specified in the description. I am very impressed with the design and functionality of this high quality wireless and solar powered camera from K&F Concept. I would give 10 stars
18/09/2023
Great 4G LTE security camera!
Easy setup, great functions and features, A+++ customer support! Great picture/video quality and you can communicate via the app/camera! Money well spent and works great although there is only 1 bar for the signal most of the time. We recommend!! I needed support to resolve my connection issues, but as it turned out I had run out of free data. However, refilling the SIM card was very easy! Photo and video taken from the app. Had a few people camping at my off-grid property. Overall very happy with this camera. Time to retire my Spypoint junk!
17/09/2023
Good picture. App easy to use
The camera is relatively cheap. It comes in a sturdy outer packaging and arrived undamaged.

The app has a clear and user-friendly design. However, the camera requires internet (important to know if you want to monitor a remote part of your own property, for example) and a power connection. You should consider this when making a purchase decision and can possibly be a KO criterion.

The camera is easy to assemble, basic knowledge of DIY is enough.

The picture is relatively clear in daylight. At night the picture with light is fine.
13/09/2023
Crack a little bit of kit
For the price this is a great kit, easy install, good picture quality, motion detection is brilliant, the camera will follow you as you move through the area, also has the function to send notifications when something is detected and around that To top it off, it has two-way audio so you can yell at any unwanted guest, while it lasts it's a decent bit of kit. The only thing I don't like is that the movement is inverted, the setting hasn't been corrected yet, but I would definitely recommend it.
05/09/2023
good cam
This surveillance camera can be connected to the WLAN network. It has a two-way audio system so you can talk to the other person.

The sound quality is okay. The camera has infrared night vision and delivers a very good black and white picture on the phone. In daylight you get a sharp and high-contrast color image.

The surveillance camera is also Alexa-compatible, but I hadn't been able to establish a connection and actually don't need it.

The camera also has motion detection and can then send a message to the recipient.
You can use the camera with an SD card up to a maximum of 120 GB, this is unfortunately not included in the scope of delivery.

After installing the app, for which you unfortunately have to register again, you can also rent cloud storage for a fee (the first six months are free). This means you can keep an eye on everything at home, even when you're on the go, no matter where you are in the world.

The camera can rotate 120° vertically and 355° horizontally. This can all be controlled via the app. That worked fine right away.

I would recommend this camera, it was fairly easy to set up and the images are of excellent quality. So I'm happy to give it five stars and a buy recommendation.
29/08/2023
Very compact and great camera
The delivery was lightning fast and the package was very well packed. What I didn't notice was that the package was placed in my mailbox even though I was on the 1st floor and I entered a detailed address. The app is very easy to install and I was able to easily connect the camera and router. The picture quality, resolution and motion control were better than I expected. I am very satisfied, but for the long-term consequence, I cannot comment. For example, how would the view be under rain or wind. How would communication be or how would the motion sensor work are the other questions from my side.
21/08/2023
Professional outdoor surveillance camera
For readers in a hurry, the conclusion comes first:
Conclusion
If you are aware of the safety, you can't go wrong with this camera.
It is easy to use and has all the functions you need.

Test report
The power pack, drilling template, screws, dowels, instructions and of course the camera are supplied.
Functions:

The connection cable is permanently installed with the camera.
This may be unfavorable if you want to lay the cable through a wall, so our products are battery-powered or solar-powered.

Alarms are stored on the SD card, you can view them later in the app.

The app is always required for configuration. You have to register there first.
The easy configuration in the app is a plus.
Motion and sound detection are possible. You can also set motion tracking, which also works, but the camera rotates horizontally and vertically. Depending on where the camera is mounted, 2 axes are actually required for motion tracking.

The camera also has a speaker, you can talk through the app. That also works very well.
However, you cannot limit your field of vision in advance, you always have a full field of vision.
You have to be careful with outdoor recordings, since public areas are not allowed to be recorded.

It is very good that the camera can be controlled via the app. Zoom works too.
You can also have your cell phone alert you to movement or noise. It is important here that the app has the appropriate permissions.

Night vision is good, with the integrated LEDs it can also illuminate the surroundings.

Security:
With such cameras that can be accessed via the Internet, you have to trust the manufacturer, because you cannot make any security settings yourself. One must also hope that the manufacturer will react quickly when security gaps are found and update the firmware.
18/08/2023
Top 4G camera!
Top article! I can only recommend this camera to everyone! Finally no dependence on W-LAN and electricity! I have the camera for the garden shed in the allotment. Now my things are well monitored!!! A big movie theater ! Bravo!!!!
12/08/2023
4G surveillance camera Android international card recharge process
4G surveillance camera ios international card top-up process
KF50.0009A installation and use video
Surveillance Cameras
Video Resolution
2K
Power Supply Method
Solar / Built-in Battery
Built-in Battery Capacity
10400mAh
Storage
Micro SD card (up to 128G/cloud storage)
Pan & Tilt
Horizontal 355°/Vertical 120°
Motion Detection
PIR
Motion Detection Range
10m/32.8ft
Waterproof IP Rating
IP66
Night Vision
Night Vision
Night Vision Range
20m/65.6ft
Alarm Method
×
Two-way Talk
√
Connection Method
/(4G LTE)
Microscope
Take pictures and videos
UBOX