55mm ND4, ND8, ND64, ND1000 Lens Filter Kit for Camera Lens+ Filter Pouch
£49.99
£99.99
50% OFF
Inclusive of VAT
&FREE Shipping to United Kingdom,Ireland
Photographer's New Year Wishlist 2022.30-day refund or replacement,55mm ND4, ND8, ND64, ND1000 Lens Filter Kit for Camera Lens+ Filter Pouch .

SKU.1630

SKU:

SKU.1630

49.99

https://www.kentfaith.co.uk/SKU.1630_kf-concept-55mm-nd4-nd8-nd64-nd1000-lens-filter-kit-for-camera-lens-filter-pouch
Features
* 55mm Fixed ND Filter Kit: ND4(2 stop), ND8 (3 stop), ND64 (6 stop), ND1000 (10 stop) and 1 x filter pouch.
* Neutral Density filters Slow down the shutter speeds for high speed films or digital cameras to record blur or moving subjects such as waterfall, clouds, fountain, or any fast moving subject. Decrease the depth of field by allowing wider apertures to be used, which helps separate subjects from their background.
* HD Optical Glass: Double-side nano coating with almost zero light distortion. Also effectively reduce filter surface reflection and ghosting while making the filter anti-scratch, water repellent, oil and dust resistant.
* Slim aluminum filter frame, maximum reduce impact on light and effectively avoid vignetting for wide-angle shooting.
* Includes a padded protective pouch for safe storage and travel.
Shipping
&FREE Shipping to United Kingdom,Ireland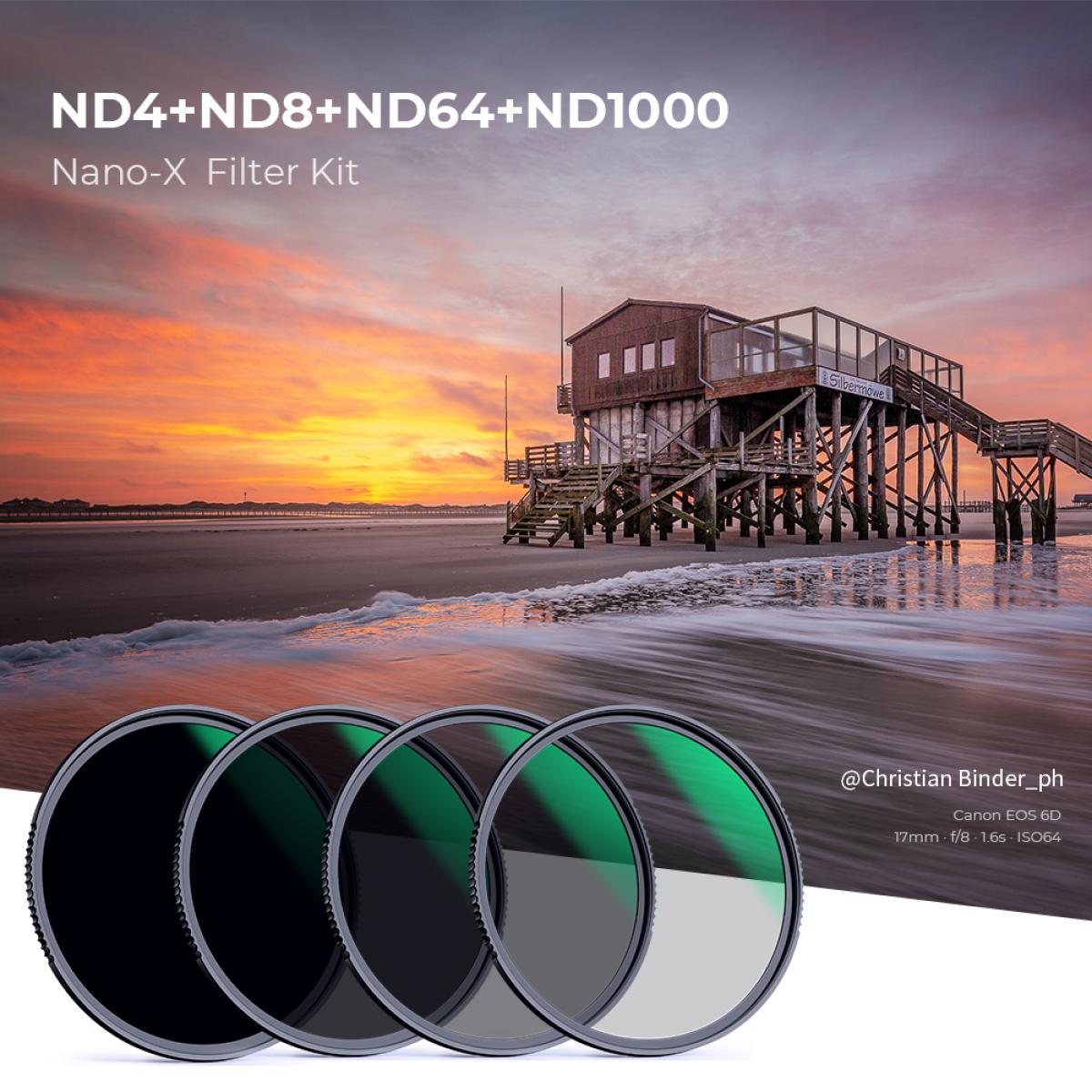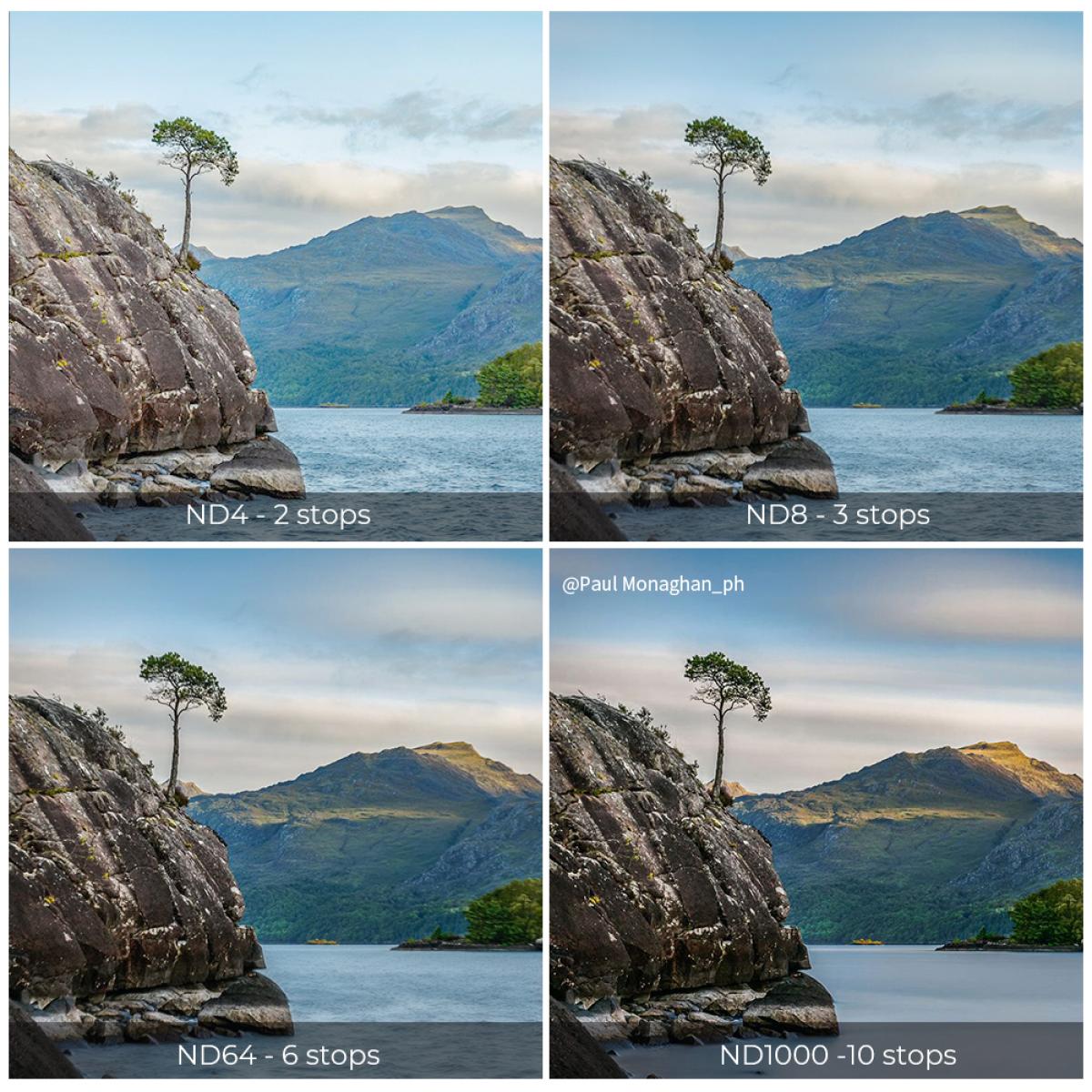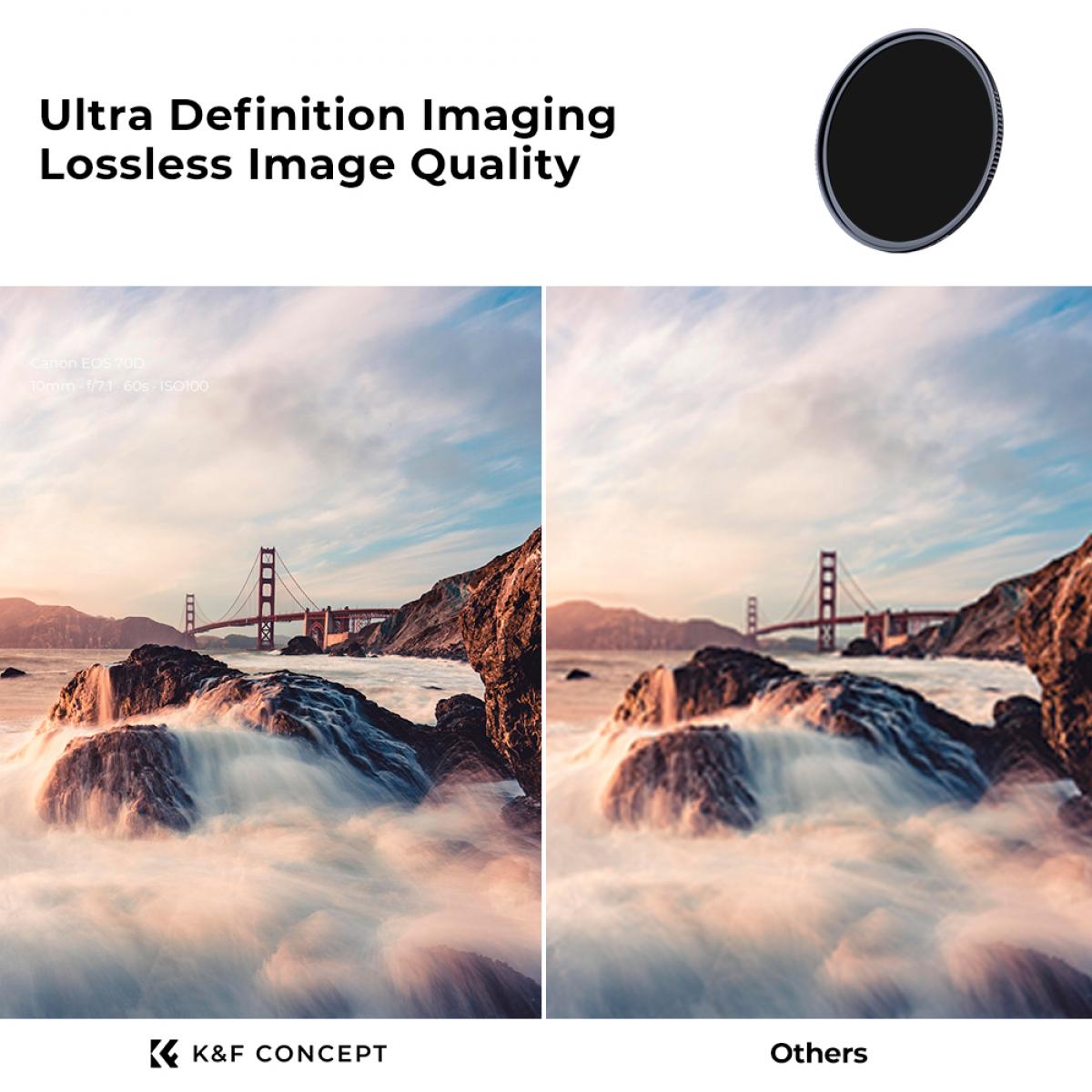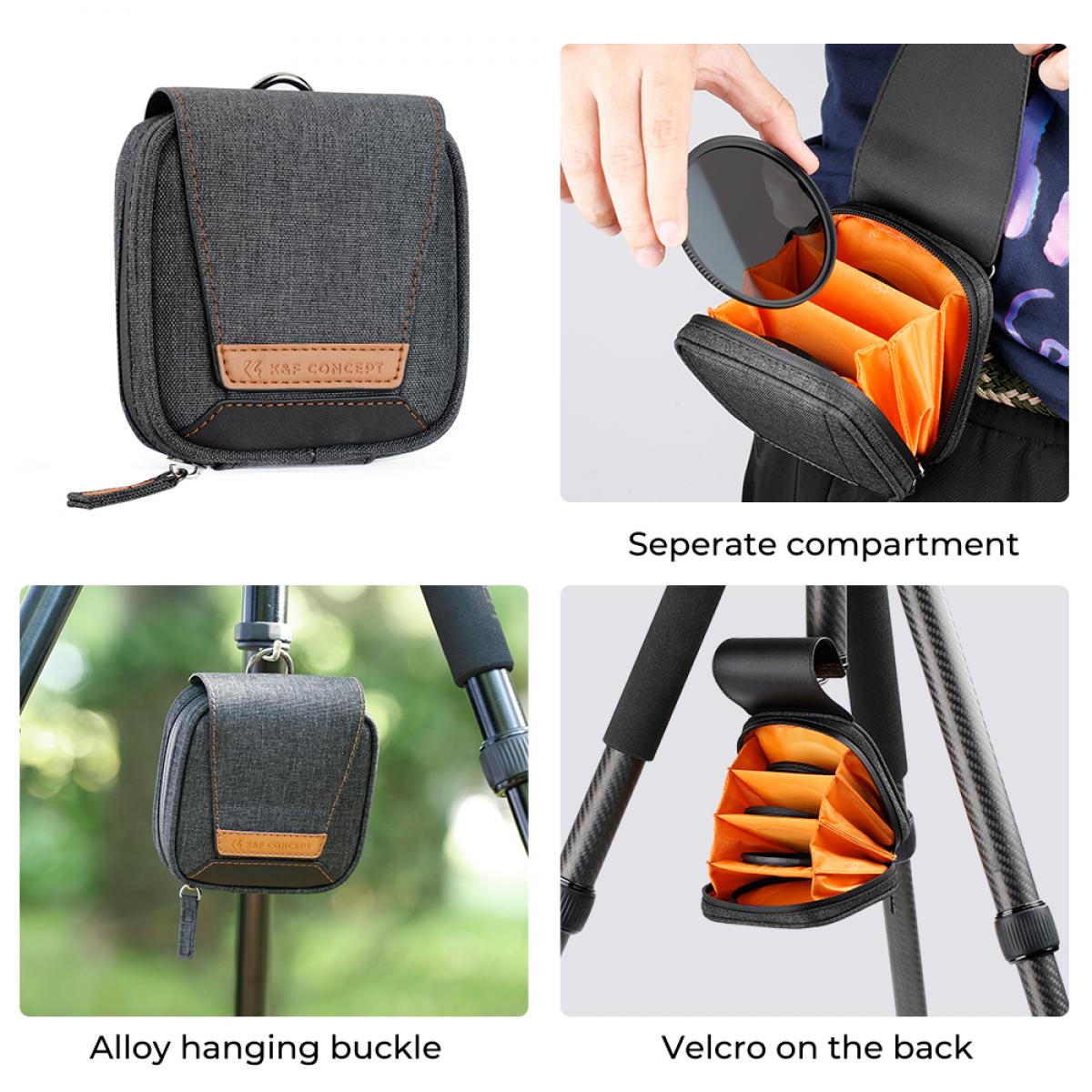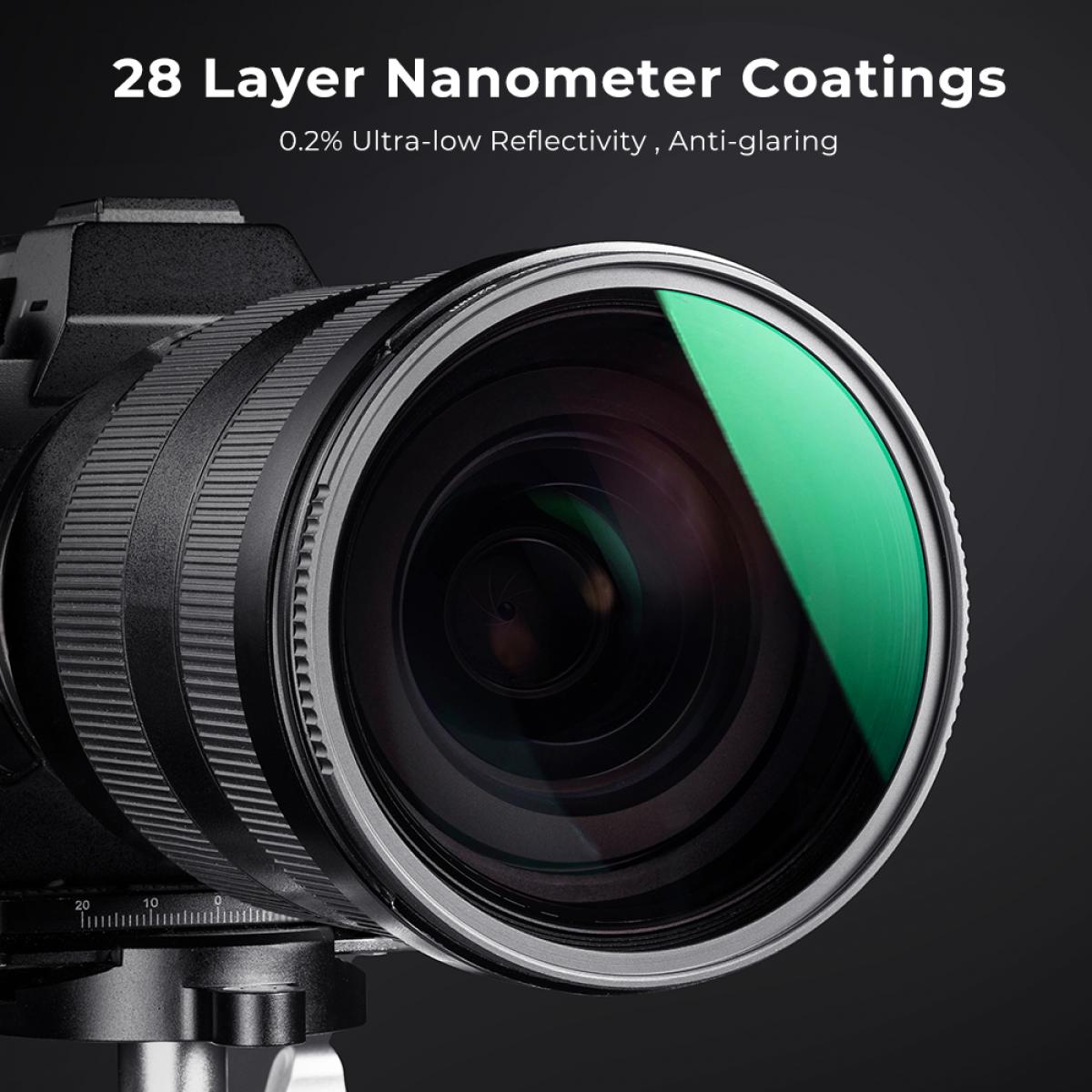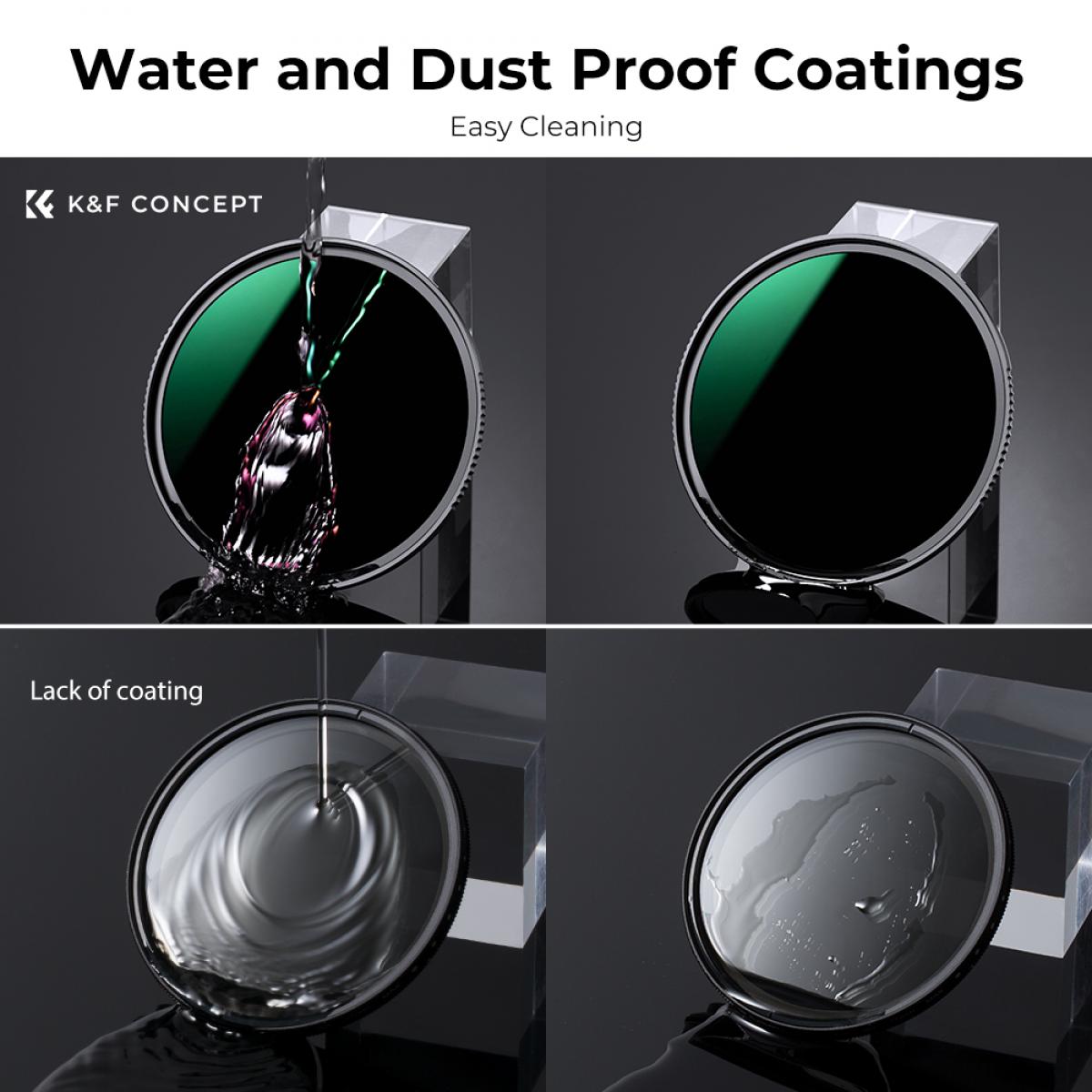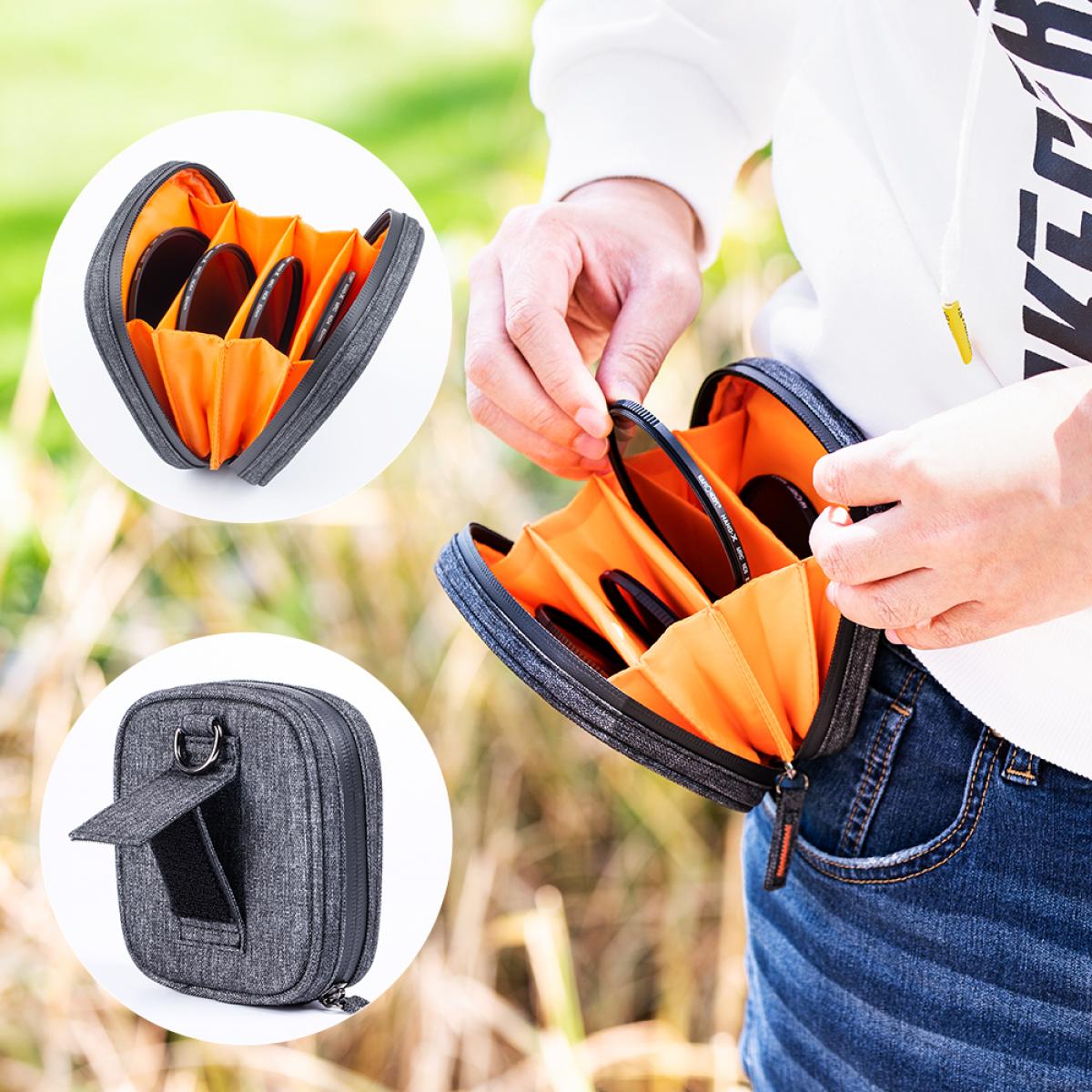 Rating

43 reviews.

37 reviews.

21 reviews.

15 reviews.

5 reviews.
Price

£99.99

£49.99

£62.99

£54.99

£69.99

£36.99

£48.99

£36.99

£99.99

£39.99

Model
SKU.1630
SKU.1621
SKU.1660
SKU1547
SKU1534

Filter Material

Japanese AGC Glass
Japanese AGC Glass
Japanese AGC Glass
Japanese AGC Glass
Japanese AGC Glass

Multi-Coating

28
28
28
24
24

waterproof

√
√
√
√
√

scratch-resistant

√
√
√
/
/

HD

√
√
√
√
√

Screen

Nano-X series
Nano-X series
Nano-X series
Nano-D series
Nano-D series

zoom range

Video Shooting/Landscape Photograhy
All Scenes
All Scenes
Video Shooting/Landscape Photograhy
Landscape Photograhy

Resolution

Light Reduction Effect
1s Switch/Protect Lens/Enhance Color & Contras
Protect Lens / Remove Glare / Enhance Color & Cont
Improve color contrast/Light reduction effect
Improve color contrast/Light reduction effect
The metal variable ND filter helps with long exposures and manages to reduce several stops. Of course, it is not as strong as an ND 1000, but for shots that are not taken in direct sunlight, it is enough to smooth out water, for example. The workmanship is top and you can achieve beautiful shots with it. Incl. cleaning cloth - and a super case in which the ND filter is not damaged in any way. (For those who don't know: the diameter of your lens is written directly on your lens). The filter is also perfect for keeping to the 180° shutter rule when filming with DSLR /DSLM. We are convinced! Simply screw on the ND filter - done! The protective cap of the lens also fits on it :)
12/09/2021
Fleet filter
There are nerves for å kjøpe these siden all he veldig kresen på kvalitet and results. Etter å has settled on a nylig YouTube registration, kjøpte everyone. De fungerer utmerket. Lite fargeskift and completely near the påståtte stoppreduksjonen. Consistent. Ser ikke noe tap i Bildekvalitet sammenlignet med objektivet alene. Ingen vignett av betydning. Jeg foretrekker linser i case foreign for poser. Vanskelig å come out of å berøre. Any connection and objective cover and details are given together for each of the details. Afloat sett. Vil Anbefale.
18/10/2021
Great value for money set
I am absolutely satisfied with the overall package price-performance ratio is definitely right here the magnet is strong enough and I could not find any gaps as described in other recessions the bag offers good protection and can be easily attached with the double Velcro fastener and the eyelet for a hook I would buy the magnetic filter set again at any time
19/11/2021
Sett med mye for pengene
Anything he holds fornøyd med the total package pris-ytelse-forholdet definitely accurate from magnets he sterk nok and any kunne ikke finne noen hull as described in other lavkonjunkturer posen gir god beskyttelse and can enkelt fixed for the doble boryen Every lot of the magnetic filters are connected to something else
19/11/2021
This company is amazing ...
I never write reviews ... but I couldn't let this happen ... this company is amazing! The products are seriously good and very good value for money. The Sony to Canon mount I just received is incredible quality at a third the price of others. But I bought these filters, the quality and color rendering are fantastic, as good as many "top" brands that are considerably more expensive. However, one of the sets had a broken thread. Within the week I had a perfect replacement. I highly recommend K&F and they will be my first port of call for anything. 6 stars if I could.
20/10/2021
Dette selskapet he fantastisk ...
Jeg skriver aldri anmeldelser ... men any kunne ikke la dette skje ... dette selskapet er fantastisk! Products are reputable and valid for pengene. Sony to Canon-festet any nettopp motto he utrolig kvalitet to en tredjedel av other prices. Men always know that these filters, qualifications and color schemes are fantastic, like gods that have some "top" markers that are specifically dyrere. Et av settene hadde imidlertid en brukket tråd. I løpet av uken had any perfect reimbursement. Any incident K&F on the strongest, and will be min. 6 stjerner hvis jed kunne.
20/10/2021
Great kit
The bag is great
19/11/2021
Very good quality - nice set and good price
Very good quality - nice set and good price
19/11/2021
Great product
I bought this for my Nikon D3300. My daughter was really into photography so slowly I upgraded the equipment. These filters were fun and easy to use. Got some great photos of waterfalls and rapids. Great price for the quality.
19/11/2021
Good!!
I've wanted to try out these K&F Concept magnetic filters since they announced it, Glad I bought these, they're great, Super easy to use and change when in the field, just attach the magnetic ring to your lens and then need to You simply attach and replace the filters, no annoying screwing and unscrewing of the filters, this is an absolute game changer in my opinion, I own quite a bit of K&F equipment and these are, as always, of excellent quality. I have the k & f square filter kits but these are a lot simpler, the case that comes with it is very nice too, they are not cheap but you get what you pay for, overall I am very happy
19/11/2021
how to check your lens size
Gimbal Stabilizers
Product
0.2%
Filter
Filter Material
Japanese AGC Glass
Multi-Coating
28
waterproof
√
scratch-resistant
√
HD
√
Microscope
Screen
Nano-X series
zoom range
Video Shooting/Landscape Photograhy
Resolution
Light Reduction Effect