12x50 High Definition Monocular Telescope,Day & Low Night Vision,BAK4 Prism for Wildlife Bird Watching Hunting
£25.07
£104.99
76% OFF
Inclusive of VAT
&FREE Shipping to United Kingdom,Ireland
Brand:

K&F Concept

Free Shipping. 30 Day No Reason Return.The Monoculars Phase and Dielectric Coated BaK-4 Prisms – Waterproof & Fogproof , it is the best Birthday and Christmas gift for your family or friends.

KF33.021

SKU:

KF33.021

25.07

https://www.kentfaith.co.uk/GW01.0234_waterproof-and-anti-fog-monoculars-12x50-high-power-high-power-single-lens-telescope-with-smartphone-holder-and-tripod-bak4-prism-suitable-for-wild-animals-hunting-camping-trip-wild-animals
Features
* [12X50 HD High Power Monocular Telescope 】This Monocular Telescope provides 12x magnification(The most scientific and clearest magnification) with 50mm objective diameter wide lens, and have the best vision distance 367ft/1000 yards, provides a clearly, bright image and different fields of view. It's a "MUST HAVE MONOCULAR TELESCOPE" for adults and kids, perfect for bird watching, hunting, hiking, camping, traveling, wildlife, scenery, etc.
* [High Contrast and Resolution Image] The zoom telescope is equipped with BAK-4 prism and full multi-coated (FMC) lens to ensure excellent light transmittance and brightness. The light transmittance reaches 99.5%. With low-brightness night vision function, it can help you see things in low light (you can't see anything in complete darkness), providing you with an amazing viewing experience. The adjustable eye mask also allows you to rotate up and down easily and quickly, allowing you to get the b
* 【Waterproof,Fogproof,Dust-proof,Shockproof】 Nitrogen-filled and waterproof, this monocular binoculars built-in lens dust cover can prevent the lens from being affected by dust/moisture/debris, ensuring that you see all clear details. Its rubber surface is impact resistant, protecting it from drops and falls, and durable external protection enables it to withstand harsh weather conditions.
* 【Monocular Widely Compatible With Smartphone】All attached accessories are upgraded, more rigid and durable.Comes with a smart phone holder, suitable for almost all other smart phones on the market. Easy to install, provide high-definition images or videos to share with friends.
* 【Full Satisfaction Guaranteed 】It is a perfect monocular telescope for adults and kids, best gift for your family and friends.Choose KF,capture beauty view and share happiness with others!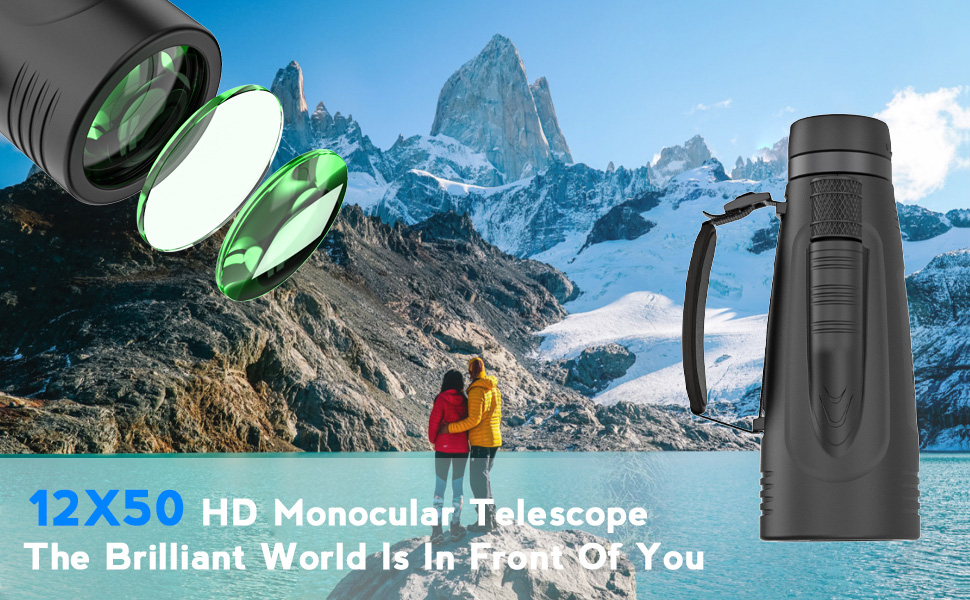 Enjoy magnifying and Sharing!
12X50 HD High Power Prism Monocular specially designed for any outdoor enthusiast, this monocular is perfect for hiking, hunting, climbing, bird watching, watching wildlife and scenery and other outdoor activities.It brings the world closer and provides high-resolution images with extremely accurate colour reproduction.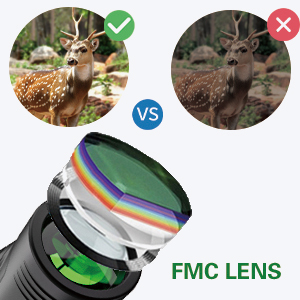 Upgraded BAK-4 & FMC Lens
BAK-4 prisms, full multi-layer objectives and large eyepieces ensure high-definition vision, excellent light transmittance up to 99.9%.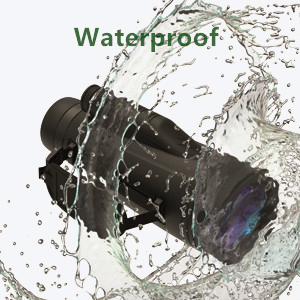 Waterproof And Fogproof
Prevents moisture, dust, and debris from getting inside the monocular - designed to inhibit internal fogging. Great for any weather and any environment.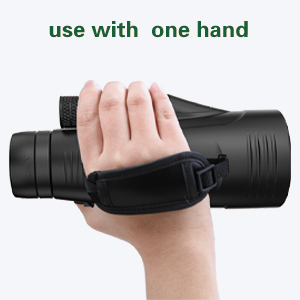 Fast Focus With Hand Straps
Ergonomically design for comfortable grip, you will get a magnificent view easily and fast with just one hand.Added a hand strap to make your using more convenient and comfortable.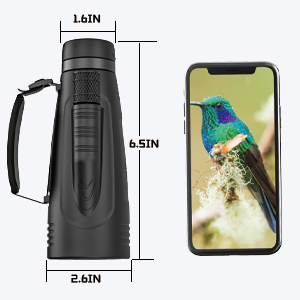 Compact Monocular
Just half size of the binoculars and only 0.8 lb, super lightweight and portable, you can take it anywhere.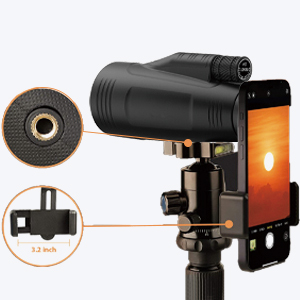 *1/4"-20 Stand Tripod Threads
1/4"-20 tripod threads hole/ Brass screwed hole is built in at the bottom of the monocular - You can connect it to a camera tripod.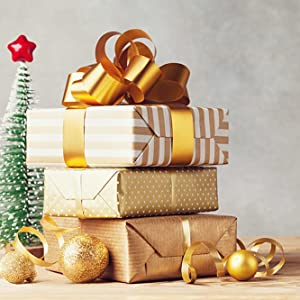 Choose Us,The Coolest Gift
It is a perfect monocular telescope for adults and kids, best gift for your family and friends.Choose KF,capture beauty view and share happiness with others!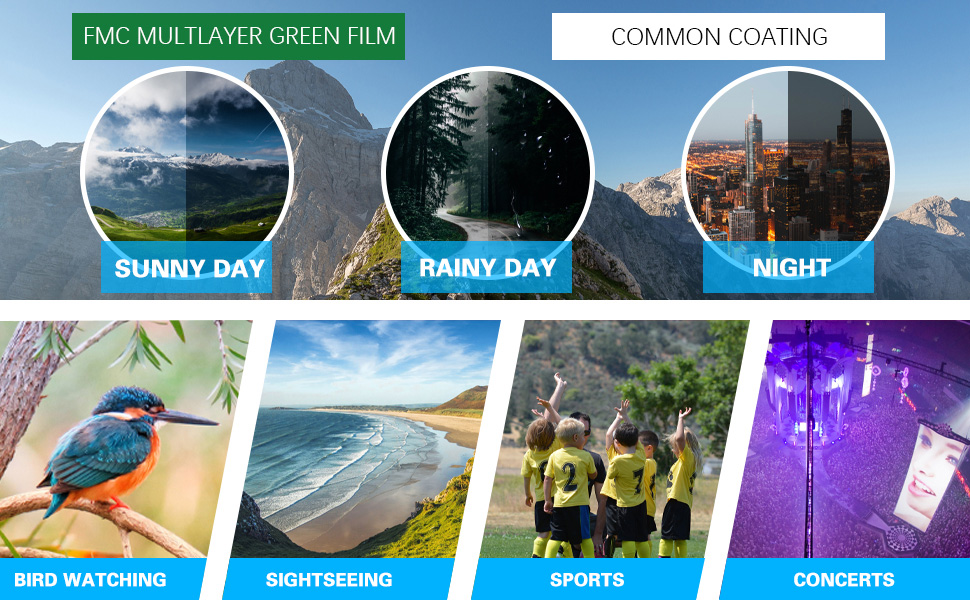 | | |
| --- | --- |
| model | M26 |
| colour | black |
| Material | PVC |
| Lens material | BAK-4 |
| Magnification | 12 times |
| Objective lens aperture | 50 mm |
| Exit pupil diameter | 5 mm |
| Exit pupil distance | 14.2 mm |
| Field of view | 6.5 |
| Field of view | 96m/1000m |
| Product Size | 15.7×6.2cm |
| Package dimensions | 17.5*9.5*8CM |
| product weight | 480g |
| Package weight | 852g |
| packing list | |
Rating

50 reviews.

32 reviews.

20 reviews.

10 reviews.

201 reviews.

7 reviews.
Price

£104.99

£25.07

£36.99

£15.19

£54.69

£27.15

£51.79

£37.99

£72.99

£43.43

£266.39

£91.19

Model
KF33.021
KF33.031
KF33.008
KF33.040
KF33.013
KF33.032
This is a really high quality Monocular Telescope. The device is compact with very good optics, it has indeed 24mm eye lens,has caps for both ends, very well packaged and is super simple to use. The rubberised outside is easy to grip, I belive it has natural rubber because it doesn't smell and the large tripod is very practical and adjustable, I am using it as a phone holder as well when I cook from a recipe.
I recommend anyone to purchase this device, it is very well accessorised, it's simplicity and quality is all you need. I got my phone connected to this device ( a Galaxy S10 Plus) and aligned it with my camera, focused and was amazed for the quality. Having my phone mounted makes it easy to see targets clearly.
The ability for it to have eyecup converting twist in and out, for use with glasses or not, is very handy. Quality item for good price
17/08/2021
Good budget monocular/telescope
Before proceeding, let's be clear and set expectations: At under £30 we're talking budget telescope/monoculars here...So it arrives and and seems reasonably well made, with a protective bag.In terms of optics, they're actually pretty reasonable in daytime and 12x50 is pretty decent.Now I don't know why they claimed "night vision", because it clearly doesn't have any, and the optics for star gazing are definitely nothing special.The included tripod and smart phone adaptor, are a nice gesture, but the quality of them is poor in my opinion and they'd been better off reducing the price by and couple of pounds and not including them!It's let down a little by the misleading nightvision claim and cheap accessories. However it's still a decent enough monocular for the money that I'd give it my recommendation.
19/06/2021
Bit of a challenge and don't expect too much, particularly night vision
I was really looking forward to getting this monocular as it quite clearly states the two things I wanted: night vision, and smartphone adaptor.The "instructions", take the form of a small piece of paper with barely anything useful printed on it.The 'scope itself is light, easily held in one hand, and easy to focus using the knurled wheel on the top, but I'm puzzled by the markings on the end of this: 211FT * 1000YDS. What does this mean? Is this the distance range? Why is one if feet and one in yards?It's not particularly well made, the covers on the lenses are sloppy and easily come adrift. The rubber ring which holds the large one in place is too big and quite stretchy, and although the smaller cap – the one for the eye piece, has a loop, presumably for attaching it to the 'scope, there is nothing to attach it to.What disappoints me most , though, is that this does not have night vision. I've had one or two family members test this to see if I've been going wrong somewhere, but no, definitely no night vision. Interestingly, the list which indicates what this can be sued for includes no night time activities, such as star gazing, which is what I wanted it for.The second disappointment is the plastic screw which should enable to smartphone connection is so badly deformed, it is rendered totally useless. There are no instructions for attaching this to the device, so – assuming you get one with a working screw, you'll just have to follow your nose.In conclusion this monocular can be used in the daytime without a smartphone and therefore provides only 50% of its claims, and as such is too expensive.
07/06/2021
Great value for money. Easy set up n easy to use. Great view. Lightweight. Will recommend x
26/10/2021
These images belong to K&F Concept end users.
A
yes,this monocular with low light night vision.
A
Yes, you can with the attachment they include. It's a great product. I am totally satisfied with it, and with the pictures it allows me to take. Money well spent
A
Yes,the images are very clear on this model and mine is well made.