Compact Travel Tripod Aluminium Alloy Camera Tripod 15kg/33.07lbs Load 70"/177cm Max Height Portable & Flexible for Travel and Work (ball head not included) SP4022M2
£122.99
£142.99
13% OFF
Inclusive of VAT
&FREE Shipping to United Kingdom,Ireland
Brand:

K&F Concept

Buy K&F Concept compact travel tripod aluminium alloy camera tripod 15kg/33.07lbs load 70"/177cm max height portable & flexible for travel and work (ball head not included) sp4022m2 online, £122.99 free shipping to UK.

KF09.104

SKU:

KF09.104

122.99

https://www.kentfaith.co.uk/KF09.104_compact-travel-tripod-aluminium-alloy-camera-tripod-15kg-33.07lbs-load-70"-177cm-max-height-portable-flexible-for-travel-and-work-ball-head-not-included-sp4022m2
Features
* 【Special-shaped Compact Design】K&F Concept Mutate Series M1 Tripod features a compact & portable body as its fold size is less than 500mm/20" and ultra lightweight at 1819g/4lbs. Fold diameter is less than the volume of regular water bottle. No matter for travel and work, the tripod's compact design makes it easy to fit in any camera bag, or luggage.
* 【Pro-Level Stability】To ensure the tripod with the same stability as a tripod without a center column, the tripod is designed with an embedded locking base so the tripod legs can be locked tightly and provide amazing pro-level stability.
* 【Macro Photography】Mutate Series M1 Travel Tripod's center column can be detached or assembled in 3 steps 3 seconds, saving you time when doing macro or close-up photography on the ground.
* 【Quick Flip Leg Locking System】Quick flip locking system to unlock legs and extend to a maximum height of 70"/1770mm or collapse the 4-sections of the leg in a quick and timely manner.
* 【Portable and Flexible for Travel and Work】Quick flip locking system retracts the 4-section legs to a reasonable folded length of 20"/500mm and spreads from max height 70"/177cm to 18"/460mm. With a load capacity of up to 15kg/33.07lbs, the tripod's outstanding stability and performance-based features meet the needs of both professionals and enthusiasts.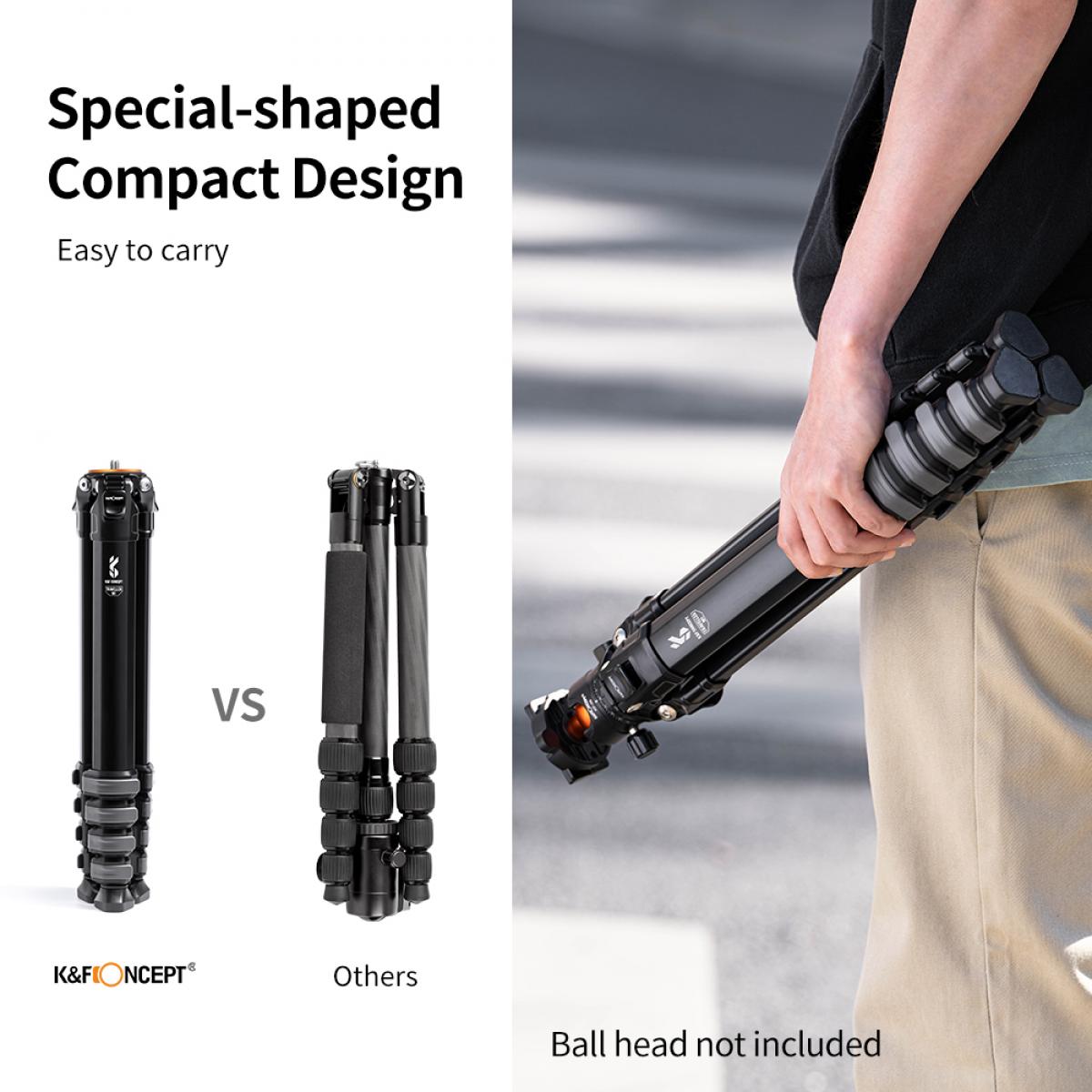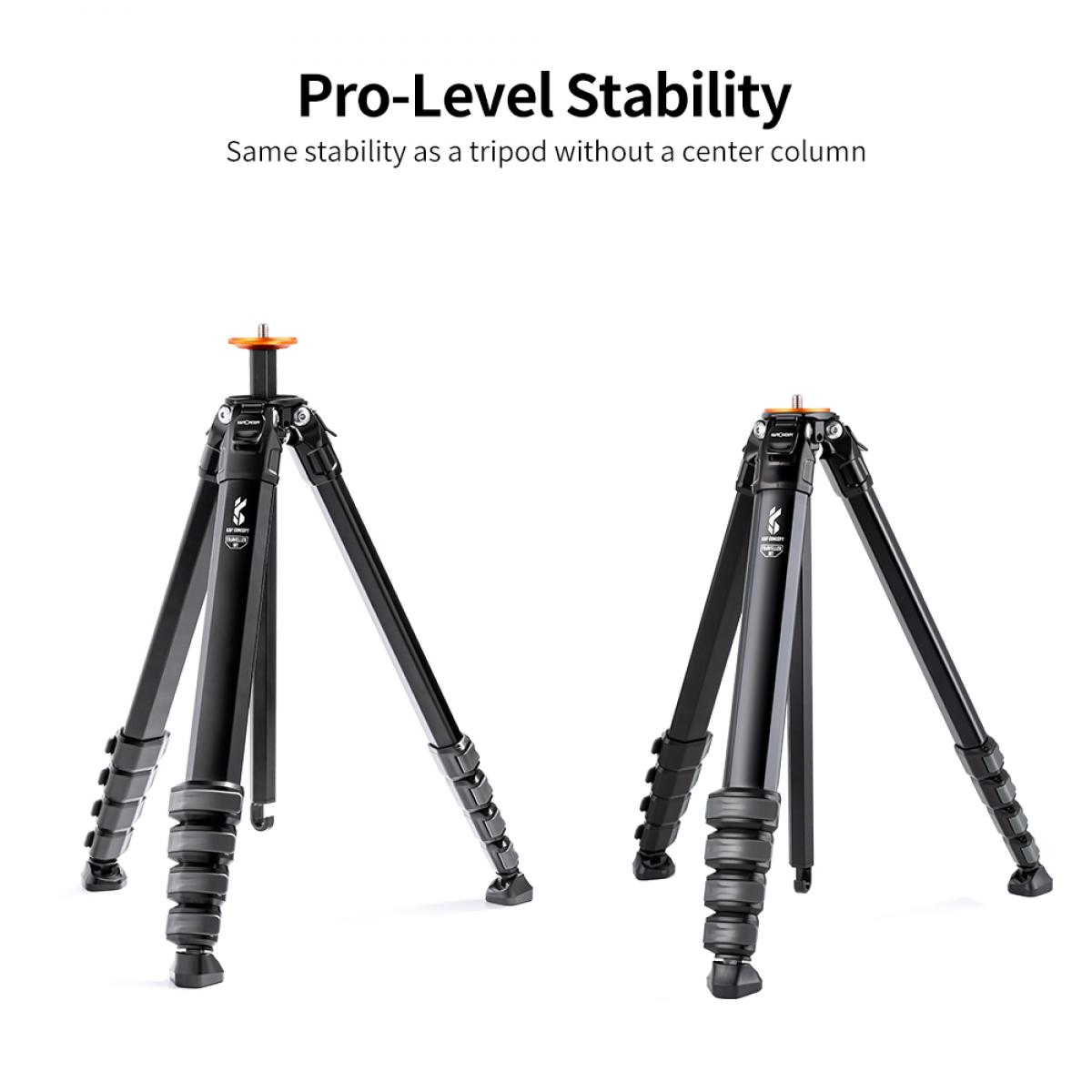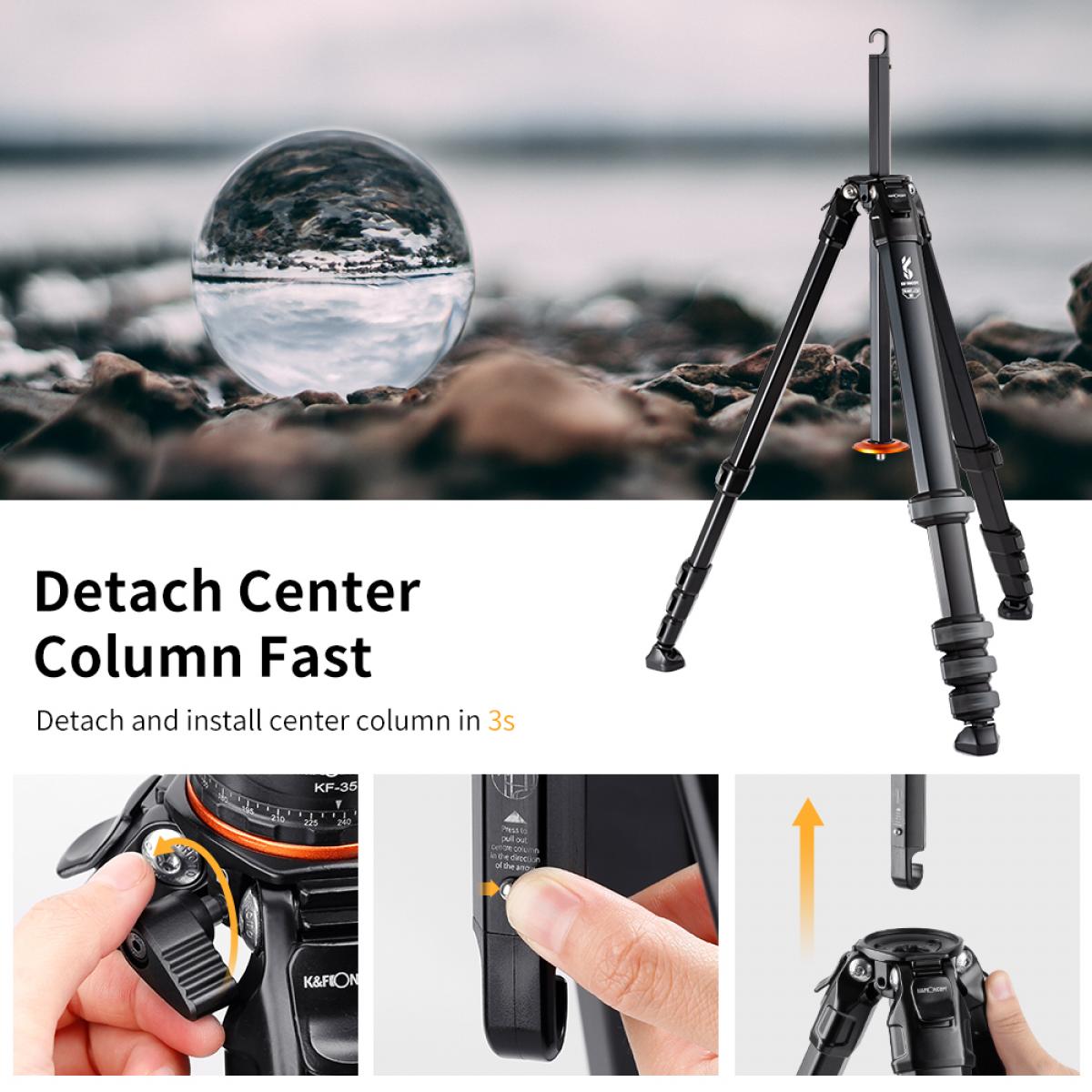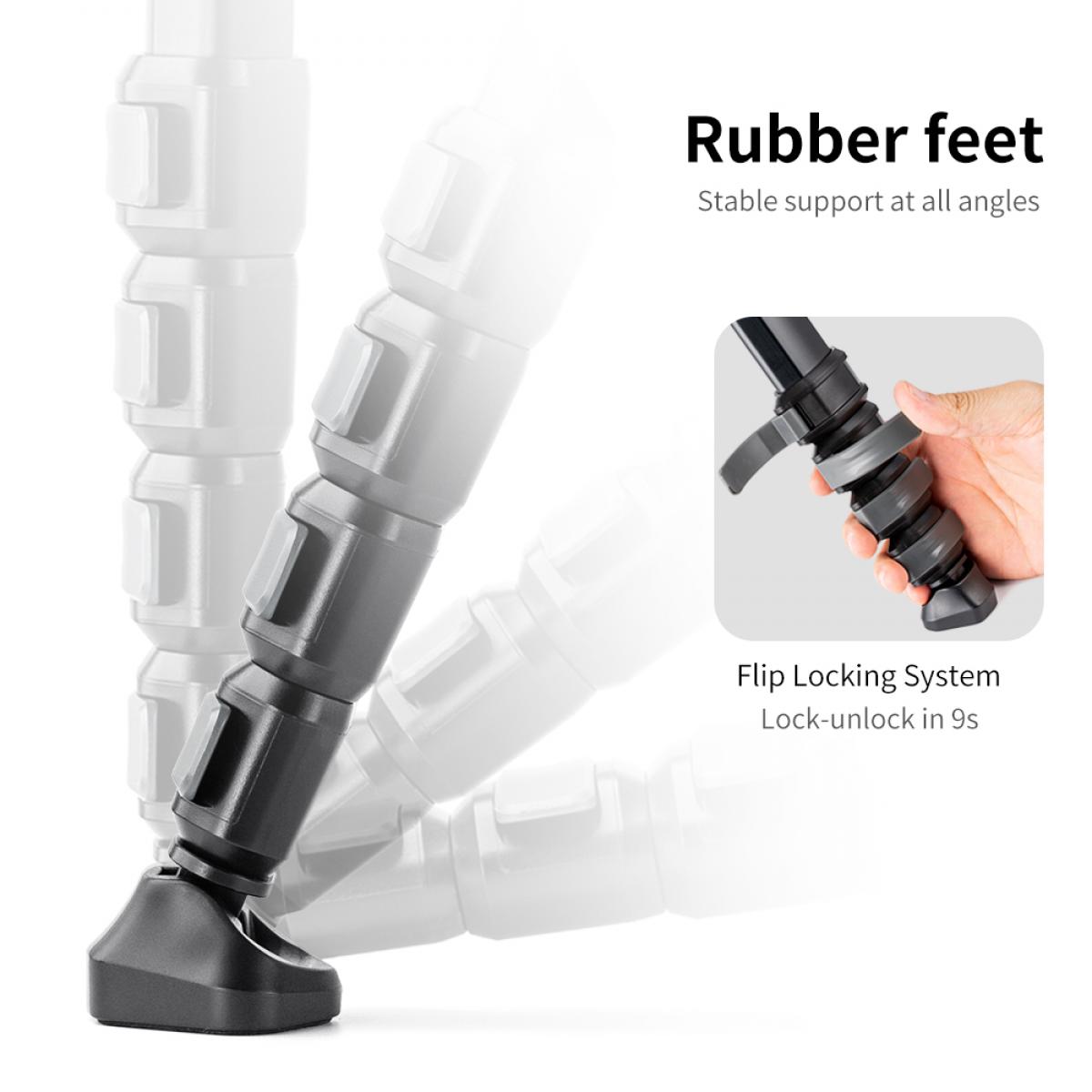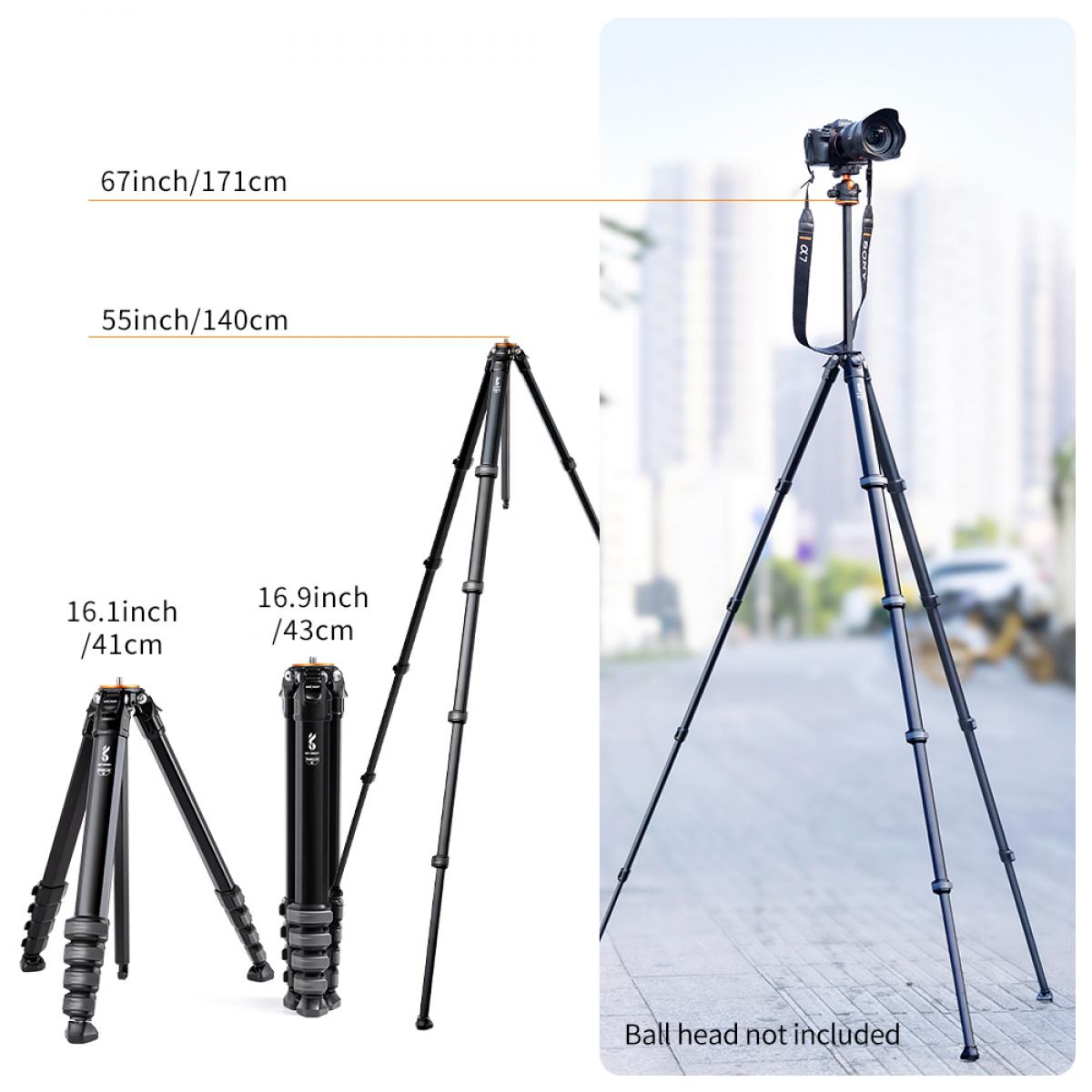 Rating

0 reviews.

63 reviews.

583 reviews.

3 reviews.

33 reviews.

63 reviews.
Price

£142.99

£122.99

£122.69

£63.07

£89.99

£49.94

£345.99

£147.99

£102.99

£125.43

£84.33

Model
KF09.104
KF09.083
KF09.007
KF09.102
KF09.077V2
KF09.079V1

Load Capacity

\
10kg/22.05"
10kg/22.05lbs
20kg/44lbs
8kg/17.6lbs
10kg/22.05lbs

Maximum Working Height

1600mm/63"
1710mm/67.32"
1570mm/61.8"
1700mm/67"
1520mm/59.84"
1830mm/72.05"

Minimum Working Height

480mm/18.90"
520mm/20.5"
550mm/21.7"
550mm/21.7"
460mm/18.11"
600mm/23.62"

Folded Length

500mm/19.69"
420mm/16.54"
460mm/18.11"
630mm/24.8"
350mm/13.78"
490mm/19.29"

Weight

1500g/3.31lbs
1500g/3.3lbs
1266g/2.79lbs
2.14kg/4.7lbs
1013g/2.20lbs
1835g/4.05lbs

Materials

Alumium Alloy
Magnesium aluminum alloy
Magnesium aluminum alloy
Carbon Fiber
Carbon Fiber
Magnalium Alloy

Ball Head

Not included
Ball Head
Ball Head
Ball Head
Ball Head
Ball Head

Color

Orange, Black
Orange/Black
Gold/Black
Black
Orange/Black
Red/Black

Leg Lock Type

Flip Lock
Twist Lock
Flip Lock
Twist Lock
Spiral Type Lock
Quick Flip Lock

Leg Sections

5
5
4
4
4

Leg Diameter

\
13-25mm/0.51-0.98"
14-23mm/0.55-0.91"
22-32mm/0.87-1.2"
10-22mm/0.39-0.87"
16-25mm/0.63-0.98"

Center Column Features

Center Column Inversion
Center Column Inversion
Center Column Inversion
Inversie van middelste kolom
Transverse Center Column, Center Column Inversion

Center Column Sections

1
1
2
2
There are no reviews for this product.
There are no faqs for this product.
Tripod General
Load Capacity
\
Maximum Working Height
1600mm/63"
Max Height without Center Column
1400mm/55.12"
Minimum Working Height
480mm/18.90"
Folded Length
500mm/19.69"
Weight
1500g/3.31lbs
Materials
Alumium Alloy
Ball Head
Not included
Color
Orange, Black
Bubble Level
Tripod Legs
Leg Lock Type
Flip Lock
Leg Positions
Independent Leg Spread
\
Leg Sections
5
Leg Diameter
\
Feet Features
Tripod Center Column
Center Column Features
Center Column Inversion
Center Column Sections
1