DSLR Camera Backpack for Travel Outdoor Photography 44*29*17cm
£66.99
£267.99
75% OFF
VAT free
New customer gift package
FREE Shipping to United Kingdom,Ireland,India,gibraltar,
malta,cyprus,South Africa,
CaymanIslands
DSLR Camera Backpack for Travel Outdoor Photography 29*17*44cm

KF13.066V10

SKU:

KF13.066V10

66.99

https://www.kentfaith.co.uk/KF13.066V10_dslr-camera-backpack-for-travel-outdoor-photography-31-22-45cm
Features
* The size is 44*29*17cm, which can hold a 15.6 "computer, 2 sets of clothes, a camera and multiple lenses.
* 10mm high-density EPE shock-proof pearl cotton, effectively protect your machinery and equipment from damage in all aspects.
* Rightside access lets you get your gear without putting the bag down. And also design professional tripod straps on the left.
* Multifunctional adjustable partition, which can be arbitrarily changed with equipment accessories. Equipped with nylon material rain cover design, diversified storage space (water bottle, drawstring pocket, front pocket, storage mesh bag, small pocket).
* Waterproof material and nano cooling material, physiological curve design. This camera backpack is a good partner for photographers and can also work as a transit bag during a long journey.
Shipping
FREE Shipping to United Kingdom,Ireland,India,gibraltar,
malta,cyprus,South Africa,
CaymanIslands

K&F Concept Waterproof Camera Backpack
· Multi-functional camera backpack,can hold 1 camera and multiple lenses, flashlight and other small items. This bag is divided into two parts,the upper compartment is designed for clothes and the lower one for gears.
· The inside increases the protective cotton board, improve the loading space, also adds protection for the equipment; Four small pockets inside the main compartment with high-quality Velcro can keep batteries and SD cards.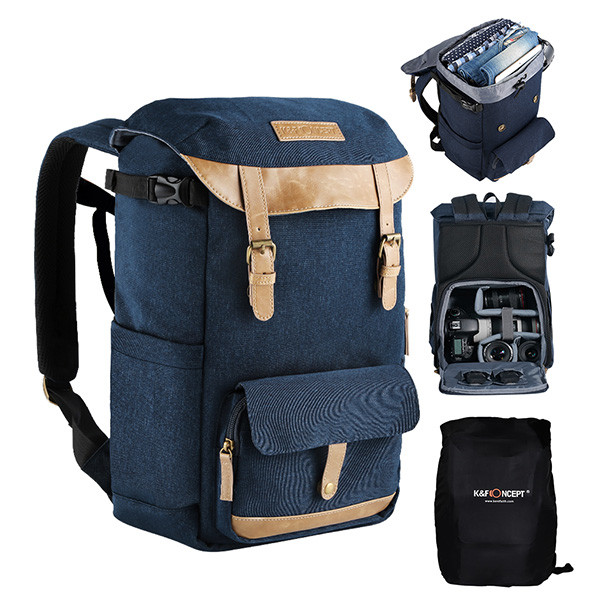 Practical Capacity
Fine divided compartment,removable PE board allows you to adjust the space freely; backside access provide the protection of your gear,anti-theft.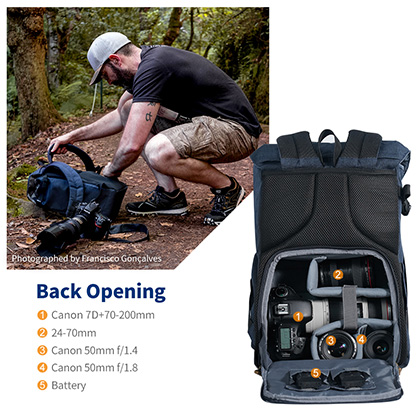 Back Opening
10mmThickened and adjustable dividers can be more effective to protect your photographic equipment.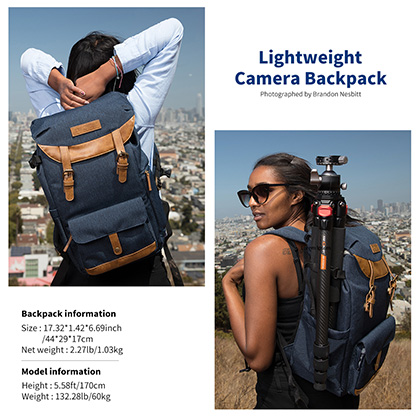 Lightweight camera backpack
Large capacity, light and easy to carry, it is a good partner for photographers and can be used as a transit bag on long trips.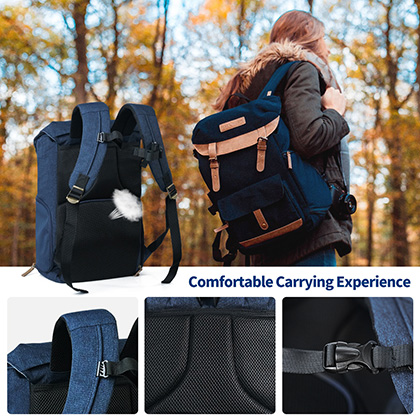 Breathable air-mesh
Waterproof material and nano cooling material free your shoulders for a more comfortable fit.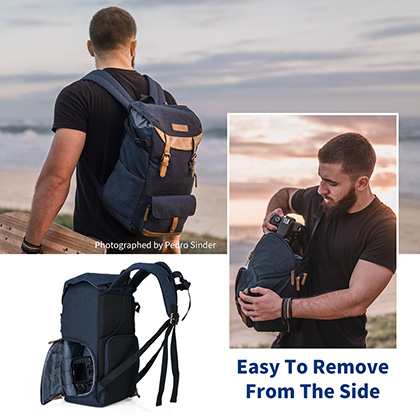 Quick Access
Bodyside access offers quick access to your camera, lenses and accessories without having to take it off.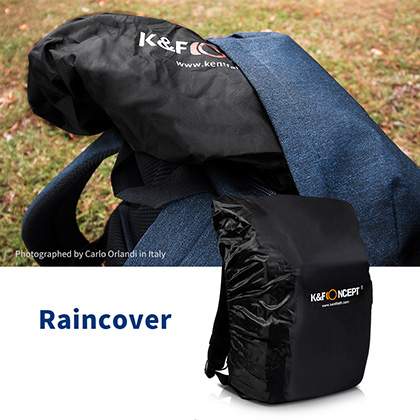 Rain cover
Protects your camera from water, dirt and dust.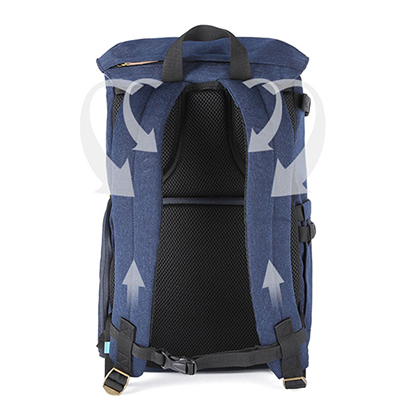 S-shaped shoulder strap
Adjustable comfortable shoulder strap.
All Reviews
Image

All Star

5 Star

4 Star

3 Star

2 Star

1 Star
A backpack that inspires! Well thought out and highly recommended for longer tours.
The material looks very well made everywhere and is also very high quality. You don't have to worry about rain. But an additional rain cover was also included. Even the zippers are specially sealed. They really thought through things here. So far the best camera backpack I've ever had! The camera compartment can be accessed through a zipper on the side. There is an extra tray where everything sits safely and securely. This means you don't have to worry about something breaking if the backpack falls down.
07/09/2023
Great design, great quality
I ordered the backpack because of the good reviews and the design. The first impression of the backpack is really good. It is manufactured to a very high quality. The seams and leather applications make a high-quality impression. Personally, I really like the look of the backpack, it goes with every outfit and in every situation and is also protected from water thanks to the rain cover. At second glance, you notice the well-thought-out access options. You can get to your things really quickly here! Like that. The variable camera compartment simply looks well thought out.
04/09/2023
Good backpack, great magnets
The camera has extra access to the compartment so it can be easily put in and out of the backpack. Even while running, you don't have to put down your backpack, but someone else can simply take out the camera quickly. From the outside it also looks like it's made of waterproof material, which can keep a lot of things out. There's also a rain cover in the "lid" - once you've found the zipper, there's a rain cover in neutral black. Since we had sunshine, it wasn't used and I can't say anything about the functionality of the rain cover yet. What I liked best, however, is another detail. The buckles are attached with magnets and they are bombproof. Sometimes even too good, so that I had to sometimes even get it open. For me, that also speaks for quality, and even if the magnets lose strength over time (do magnets do that?) they should still hold up really well.
01/09/2023
Top price performance
When I unpacked it I smelled: Nothing! No unpleasant smells. The seams were all perfectly done, all the zippers and the Velcro fasteners were PERFECT! Top. I think it's great that the backpack (or where the camera and lenses belong) opens at the back, meaning you can't just steal your beloved equipment... My Macbook Air 13" fits wonderfully, as well as the charger, mouse, etc in. Since I always take photos with a bag and pack, it was important to me to take a travel tripod with me. K&F came up with a clever solution for this. A fold-out flap makes transport much easier than with my old backpack. A first outdoor use The backpack and the interior survived drizzle conditions very well, no moisture in the interior. I held my Lowepro Slingshot next to it for the comparison, almost identical size on the outside, but the K&F is simply built more cleverly. I will give the K&F Concept a thorough review Test it in the next few weeks and months and then post updates here. So far I'm happy to have decided on this backpack. Conclusion: For price-conscious people it's a great alternative to the "big" brands. Everything I want in it fits in. Quality impression is great.
30/08/2023
Excellent
Our son uses the backpack to transport his Yugioh deck cases as well as card albums etc. Multifunctional thanks to the changeable compartments that can be adapted to the cases. The Yugioh play mat also fits in. Thanks to the rain cover, things are also protected during transport in the rain. Perfect and certainly better than the specially designed backpack from another manufacturer, which is many times more expensive.
27/08/2023
Stylish
I liked this backpack. Looks stylish and stores a lot of stuff. Also has a place for the camera mentioned by the seller, which can be accessed from the bottom without opening the entire bag. But you have to remember that the stuff fits in really well so that it doesn't slip out when you take the camera out.
26/08/2023
Very good daypack backpack with plenty of storage space
The backpack is definitely a space saver, you get a Sony A7III with a mounted 70-200mm f4.0 comfortably for horizontal use, there is also space for two more full-format lenses and you can also stow various accessories - and then that's just it Main compartment full. There is a slot for a laptop or tablet that can be accessed via the top compartment. A sweater or a thin jacket can also fit into the compartment, along with a small jacket or a filter system. There is a holder for a tripod on one side, which can hold the tripod securely. On the other side there is an access to the main compartment. In addition, the backpack has smaller pockets in various places for storing batteries, SD cards, etc. It is quite comfortable to wear and you are supported by a chest strap when carrying it. The material makes a very robust impression. If it rains, a rain cover is included in the delivery, which is in the top "lid" of the backpack.
20/08/2023
Stylish camo backpack with camera compartment!
I bought the camera backpack from K&F mainly because of its chic design and shape. The backpack can easily be used as a daypack for the city or for hikes, etc. It is accessible from above as well as from the sides. For example, you can pack normal things like a jacket in the upper part and still be able to get your camera out of the backpack on the side. The outside of the backpack is decorated in a dark green camouflage while the inside is lined in a bright, neon orange. The contrast itself fits together very well. Otherwise the backpack is very well made. It is made of a thick nylon fabric on the outside and soft microfiber on the inside. All in all, I am very happy with the backpack. It is super stylish and offers all the necessary functions.
18/08/2023
Simply a TOP camera backpack!
just think the backpack is great. The compartment for the camera and lenses is really very variable. Thanks to the good idea of using Velcro straps on the sides of the dividers, there are endless possibilities for storing your camera equipment. You can also completely remove the dividers to create a large space. The separators for the camera and lenses etc. are also very well padded, so that nothing can happen to the often very expensive camera accessories. The option to take a tripod with you on the side is also brilliant. Many small items can also be stored in the smaller front pocket. I also like that the mesh pocket in the large bag can be closed with a zipper so nothing gets lost. In my opinion, the back and the carrying straps are very well padded, so that they are comfortable to wear even on a longer trip. All seams are very well made and appear to be of very good quality. In my opinion, the zippers are also very good and can be opened in both directions. I also think it's very good in terms of appearance and color and you can easily use it as a normal backpack for school or leisure.
15/08/2023
Perfect backpack for photography equipment
The quality of K&F meets professional requirements. The room dividers with Velcro fasteners are particularly practical, allowing you to optimally adapt everything to your own equipment. Overall, many compartments and pockets with plenty of storage space.
14/08/2023
These images belong to K&F Concept end users.
Gimbal Stabilizers
Axis
25*14*43cm
Bag Compartment
Carrying/Transport Options
Backpack
Camera Support Strap
Yes
Camera Compartment
1
Lens Compartment
2
Laptop Compartment Screen Size
15.6 inch
Bag Exterior
Exterior Color
Blue
Exterior Dimensions
26*16*44cm
Exterior Material
Polyester
Type of Closure
Buckle
Rain Cover
Yes
Bag Interior
Maximum Volume
18L
Weight
1.03kg