67mm Magnetic Lens Filter Kit UV+CPL+ND1000+Magnetic Adapter Ring 4 in 1 Quick Swap System Nano X Series
£65.99
£85.99
23% OFF
VAT free
New customer gift package
To
United Kingdom
Expedited Shipping
3-5
business days
Best gifts for photographers 2022 .K&F 67mm magnetic filter MCUV+CPL+ND1000, waterproof, scratch-resistant, anti-reflection green film, with magnetic attachment ring and case bag

SKU.1624

SKU:

SKU.1624

65.99

https://www.kentfaith.co.uk/SKU.1624_kf-67mm-magnetic-filter-mcuv-cpl-nd1000-waterproof-scratch-resistant-anti-reflection-green-film-with-magnetic-attachment-ring-and-case-bag
Features
* 【Magnetic Quick Swap System】Changing filters is now an easy one-handed operation with no more screwing! Using the Magnetic UV or empty adaper ring as the base, then you can add CPL and ND1000 Neutral Density Filters in 1 second.
* 【Germany HD Optical Glass】16 layers double-side coating with almost zero light distortion. Also effectively reduce filter surface reflection and ghosting while making the filter anti-scratch, water repellent, oil and dust resistant.
* 【Ultra Slim Filter Frame and Lightweight】Slim aluminum frame, maximum reduce impact on light and effectively avoid vignetting for wide-angle shooting.
* 【Filter Functions】Lens Filter FunctionUV filters: Absorb ultraviolet rays and provide protection to your lens. CPL: Featured with top level of filter function, effectively eliminate reflective light. Neutral Density filters: Used to reduce the quantity of light that reaches the sensor of the camera.
* 【What you will get】MCUV+CPL+10 stop ND+Magnetic Filter Adapter Ring+Waterproof Filter Pouch
Shipping
To
United Kingdom
Expedited Shipping
3-5
business days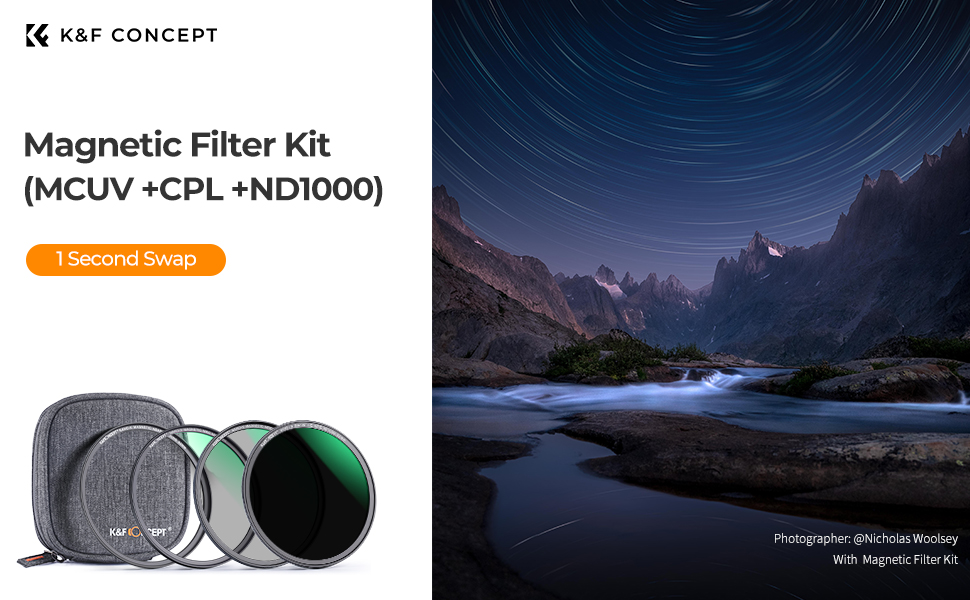 K&F Concept 4-Pack Magnetic ND/CPL/UV / ND1000 Filter Adapter Ring Kit with 28 Multi-Layer Coatings for Camera Lens
How does it help?
---
Now switch your filters in the seconds with K&F Concept Magnetic Quick-Swap Kit.
---
As a photographer, you know all about the waiting game: those times when utmost patience is required to capture that once-in-a-lifetime image. Every second is important to you, meanwhile, your heart is racing because you know you have just milliseconds to win your race against time or tide.
---
K&F Concept has announced a magnetic camera filter kit system to reduce the time it takes to swap out lens filters literally in seconds, a 1second swap, never missing any wonderful moment.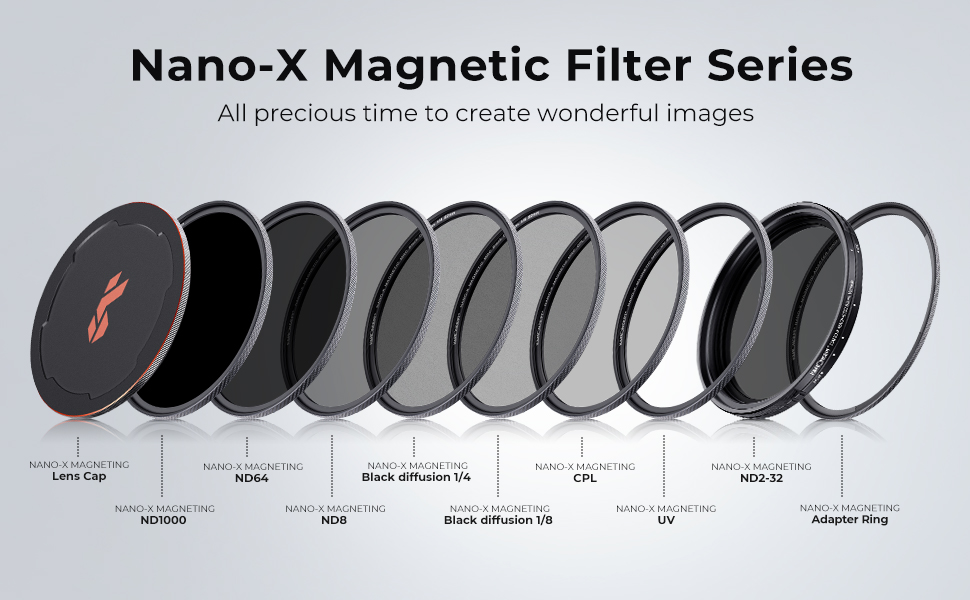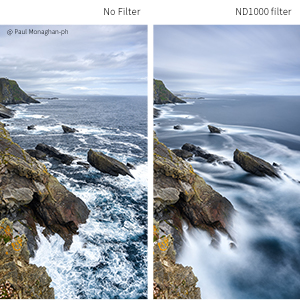 ND1000 Filter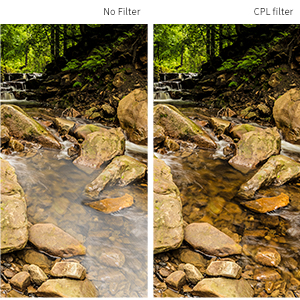 CPL Filter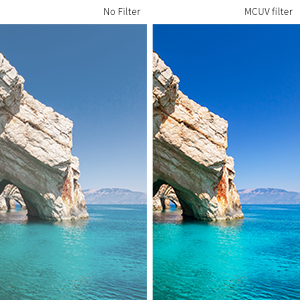 UV Filter

Rating

93 reviews.

34 reviews.

30 reviews.
Price

£85.99

£65.99

£70.99
£65.99
Model
SKU.1624
SKU.1633
SKU.1663

Function

1s Switch/Protect Lens/Enhance Color & Contras
Light Reduction Effect
Protect Lens / Remove Glare / Enhance Color &

Recommended Scenes

All Scenes
Video Shooting/Landscape Photograhy
All Scenes

Series

Nano-X series
Nano-X series
Nano-X series

Filter Material

Japanese AGC Glass
Japanese AGC Glass
Japanese AGC Glass

Multi-Coating

28
28
28

waterproof

√
√
√

scratch-resistant

√
√
√

HD

√
√
√
All Reviews
Image

All Star

5 Star

4 Star

3 Star

2 Star

1 Star
Black Friday Bliss
I've been Black Friday shopping for years, but this website has blown me away! The Black Friday deals are unbeatable, and the user-friendly experience makes it a breeze to find and purchase the best products. Highly recommended!
21/11/2023
game-changing
Wow, the Black Friday discounts here are a game-changer! I couldn't resist the amazing deals, and now I have all the products I've been wanting at a fraction of the cost. Black Friday shopping couldn't be any better!
20/11/2023
Black Friday Deals-Early Birds Score
I purchased goods in advance on this website during Black Friday this year, and the prices were much lower. I will introduce my friends to buy them.
20/11/2023
good price
Black Friday shopping has never been this good! The prices on this site are jaw-dropping, and the selection is fantastic. I snagged some incredible deals, and I'm thrilled with my purchases!
19/11/2023
"Must-have Accessory: Magnetic Lens Filter"
"The Magnetic Lens Filter from K&F Concept is a must-have accessory for any photographer. Highly recommended! 糟"
18/09/2023
"Convenient and Easy-to-use Magnetic Filter"
"Say goodbye to the hassle of screw-on filters! The Magnetic Lens Filter is so convenient and easy to use. Love it!"
17/09/2023
Wow...really surprised with these. K&F working wonders here
These are so easy to use and the quality is fantastic - both the build quality and the picture quality. I can't see any colour cast whatsoever from both the CPL & ND filter. I think you would really need to pixel peep to see any sharpness difference, and even then I'm not sure there is.
Being able to attach the filters to both the UV filter and filter ring is really clever - I keep the UV on my 24-70 F4 and the filter thread ring on 16-35 F4 so it makes it even faster to clip on the filters no matter what lens I use.
Since the ND isn't variable, there's no dark X. And no vignetting at 16mm, unlike when I use my square filter set.

The downsides that I see at the moment:
- You can't replace the filter thread on its own, so if you break or lose it, you have to buy a new set. I contacted support but was asked to pay $16 for delivery of a new thread....
- The range of NDs isn't as big as a square filter system (yet) and again I'm not sure if you can buy them as singles or whether it's just part of these kits
16/09/2023
Super comfortable to use and very good quality!
Delighted with my 55mm magnetic filter kit. It is made up of 4 components, an adapter, a UV filter, a polarizing filter and an ND1000 filter. Both the polarizer and the UV have a thread, so they can be screwed onto the front of the lens, but they also have a magnetized part, so the rest of the filters can be placed magnetically on them.

The combinations to use CPL and ND1000 can be:
-Adapter+CPL, Adapter+ND1000 or Adapter + CPL + ND1000
-UV Filter + CPL, UV Filter + ND1000, UV Filter + CPL + ND1000

They come in a padded cover with an inverted zipper to prevent some water from getting inside in case of rain. It can be clipped on your belt or anywhere else for convenient wearing or carrying.

I have several types of filters, threaded, square and these. Without a doubt, the magnetic ones are my favorite filters, I am super happy with them because they are very comfortable to use, especially for that reason, because of the ease of use. It is very easy to put on and take off any of the filters. You leave the UV or the adapter and it is instant to place or remove any of the others. I always have the UV, which also has a thread on the outside to be able to put the lid on, the thread is fine, but the lid remains fixed and does not fall off. In this way, I always have the camera ready to put any of the other filters quickly and easily.

In terms of image quality I have little complaint, I have not appreciated any loss of sharpness or any color cast. I have been able to use both the UV+CPL+ND1000 up to 12mm on my APSC camera without vignetting.

The filter I use the most is the ND1000 and it is very easy to use. Put the parameters you consider for the photo and focus, change the camera to manual focus so that the focus remains fixed, place the ND1000. Now you will see everything dark and you will have to change the time. What time do I use? Very simple, take the time you have set and multiply it by 1000. A 1/125 photo without a filter should be taken at approximately 8 seconds to obtain a similar exposure.

If what you are looking for are good quality filters that do not negatively affect your image and that are very comfortable to transport and use, I would definitely buy magnetic ones. Carrying the squares is sometimes a nuisance and the threaded ones are much more uncomfortable for me, in addition to the risk of them falling off, I am a bit of a hand and it has already happened to me several times with the threaded ones. With these at the moment no problem and very happy.

I leave you a video and some photos that I hope will help you!
12/05/2023
►Easy to use filters
►This is something that I never expected to see since I use DSLR and lenses.
Honestly now, it makes a massive difference.
I am not talking about the filters because you can find these any time, I am saying here about the system itself which I find to be absolutely brilliant!

How easy is now? Very very easy and I explain why.
I use filters for filming outside which sometimes can be challenging because of the light, the sun comes up from the clouds, manual settings, everyting over exposed which is very bad for video.

►My lens diameter is 67mm so I got those. You have to screw the ring and then based on what you want to get you just have to attach the filters.........you DONT have to screw them one by one which saves you a lot of time.

Now, the advantage?
You avoid moving your camera is you want to change the filter!!! This is the most important feature I would say!!
I keep my camera in one spot and 100% doesnt have to move AT ALL!! So with this magnetic system i just remove one filter and add another, easy as that. I dont have to screw anything!!!

►What you get? A nice pouch, a filter ring(the magnetic one), 1 uv filter, 1 cpl and one ND1000. You already know what they do because you are all photographers so its easy.

Build quality? Good, clean design, slim filters, nice pouch(has a ring so you can attach it to the bag, tripod and so on.

►VERY IMPORTANT!!
You cannot attach all 3 filters at the same time!!
ONLY one by one so dont try to attach more because they might fall and you damage them.

How strong is the magnet?
Once attached to the lens even if you run with the camera in your hand you will not lose the filter so dont worry.

►Easy to remove? I would recommend to use both hands to make sure you remove the filters properly.
The most interesting filter for my type of work is the ND1000, makes a massive difference. I dont have to explain things like filming at f2.8 when it is bright outside + shutter at 60 for 30fps because you already know what I am talking about.

Make sure you choose the right filter size, check and double check your lens size.

►Overall experience?
Impressive techology!!

If this helped you in any way, please click on the helpful button below. Thank you
09/05/2023
Excellent, practical and light filters
The K&F Concept Nano Series magnetic filter kit is really extremely practical. The kit that contains the filters has a compact size, which allows us to carry it in our backpack, sacrificing very little space. The weight is extremely light, which is really useful for those who do long hikes where the weight of the equipment, after several hours, begins to be felt. Installing and removing filters is nothing short of lightning; in seconds you can easily mount the three filters and in as many seconds they can be removed. The grip of the magnets is really good and therefore there is no fear of ending up with filters falling off during the shooting or transport phase. WHO IS RECOMMENDED TO In conclusion, I highly recommend this value for money filter kit to: - anyone looking for a first filter kit to begin the creative experience; - those looking for an excellent relationship between quality, size and weight; - those looking for maximum practicality during filming and composition. PS The filter comparison photos have not been edited and therefore are the original file directly exported from the machine from RAW to JPG.
27/04/2023
how to check your lens size
4 in 1 82mm Magnetic Lens Filter Kit
Do You Know How Your K&F Concept Filters be Produced? | One-day Tour in Production Line
Filter
Reflectivity
0.2%
Function
1s Switch/Protect Lens/Enhance Color & Contras
Recommended Scenes
All Scenes
Series
Nano-X series
Filter Material
Japanese AGC Glass
Multi-Coating
28
waterproof
√
scratch-resistant
√
HD
√