Wildlife Trail Camera with Night Vision 0.2S Trigger Motion Activated 32MP 4K IP67 Waterproof Hunting Camera for Outdoor & Home security
Buy 99£-15£,199£-35£, 299£-55£, 599£-130£
New customer gift package
FREE Shipping to United Kingdom,Ireland,India,gibraltar,
malta,cyprus,South Africa,
CaymanIslands
Buy now in the K&F Concept Wildlife Camera 4K 32MP Hunting Camera ► 30 Day No Reason Return ► 120° wide-angle*0.2S trigger ► Fast Shipping From UK Free

KF35.051

SKU:

KF35.051

73.99

https://www.kentfaith.co.uk/KF35.051_4k-32mp-tracking-hunting-camera-100°-wide-angle-motion-sensor-triggering-in-0.2-seconds-46pcs-940nm-low-light-led-lights-ip67-waterproof-with-2.31-inch-display
Buy 99£-15£,199£-35£, 299£-55£, 599£-130£
Features
* 【QUALITY IMAGE】 This FHD trail camera has 32MP pixel, image 4K/2.7K/1080P/720P/480P resolution video and audio. Also built-in 2.31" TFT color screen for viewing photos and videos in the camera. Accepts SD cards up to 512GB.
* 【100° WIDE ANGLE LEN】The Hunting Game Camera is equipped with a 100° PIR detection range, giving you a wider field of view. 46 non-emitting infrared LEDs make it a stealth device that does not invade its natural habitat. Even on rainy days, it records any animal movement you want with a wide-angle lens.
* 【0.2S TRIGGER SPEED】Incredibly Faster 0.2sec Trigger Speed ​​- Trigger Distance Up to 25m (85ft) Once motion is detected, lightning fast 0.2sec trigger speed and 1 to 3 capture selections ensure fast and accurate pre-shooting Capture every detected motion exposed to this game tracking camera hunting ground.
* 【IP67 Waterproof】Using high-grade IP67 waterproof materials, everything from the seal to the probe lens is extremely durable. Protect your tracking camera from rain, drop, dust, and make sure it can work in harsh environments like rainforests or deserts.
* 【EASY OPERATION】Hunting with the included mounting strap, it's easy to mount this rugged tracking camera. You can use your hunting camera for wildlife observation and hunting, home/property security, farm area monitoring, remote crops.
Shipping
FREE Shipping to United Kingdom,Ireland,India,gibraltar,
malta,cyprus,South Africa,
CaymanIslands
Sale
Buy 99£-15£,199£-35£, 299£-55£, 599£-130£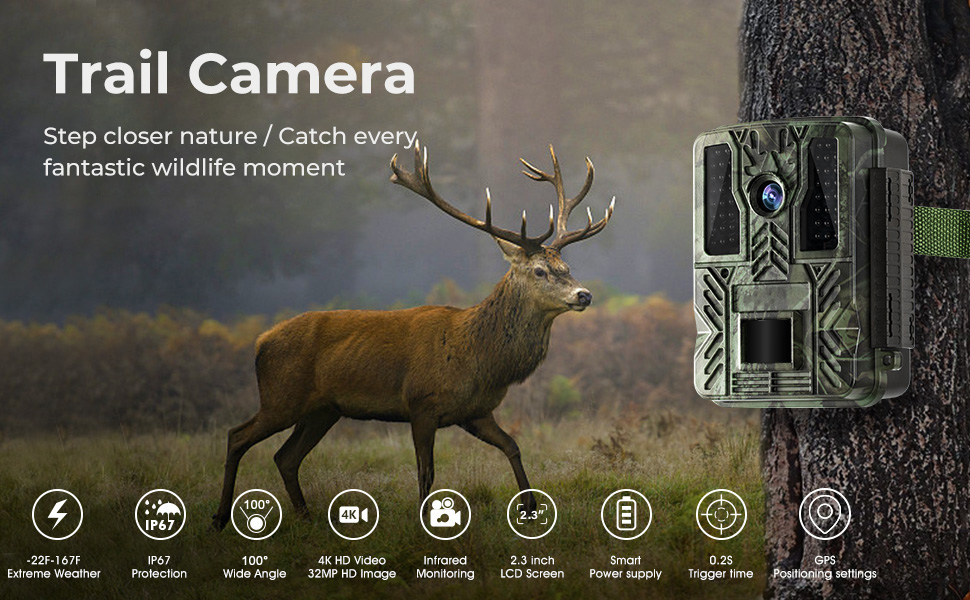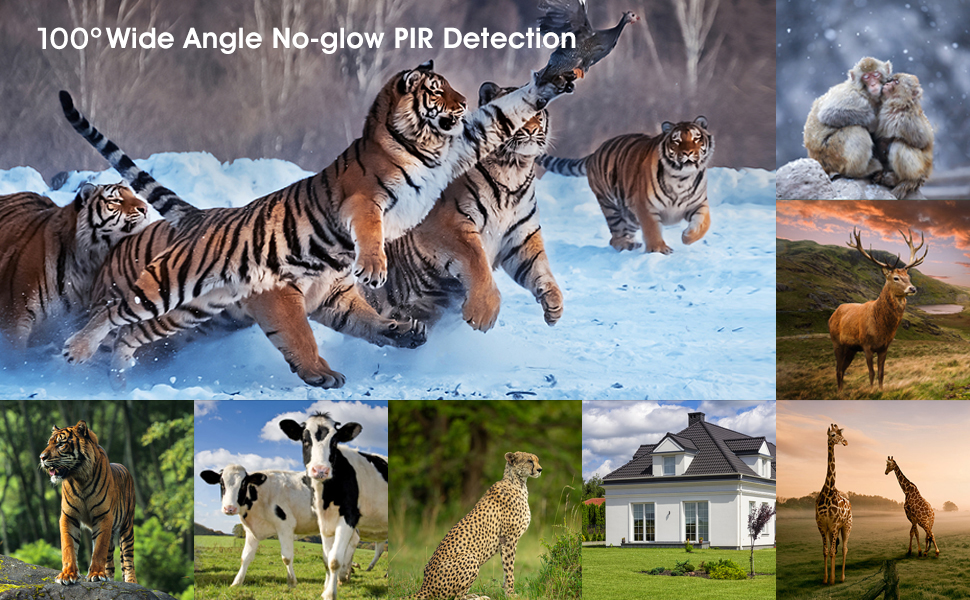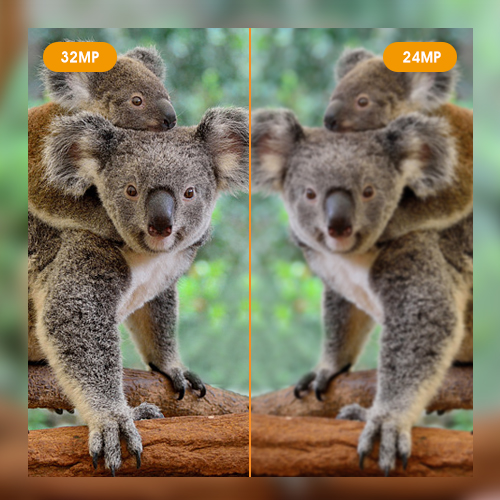 Multiple image Resolutions
This trail camera gets excellent quality pictures and videos around the clock.
Picture Resolution: 32MP, 20MP, 16MP, 8MP, 5MP
Night Resolution: 1080p video & 16MP photo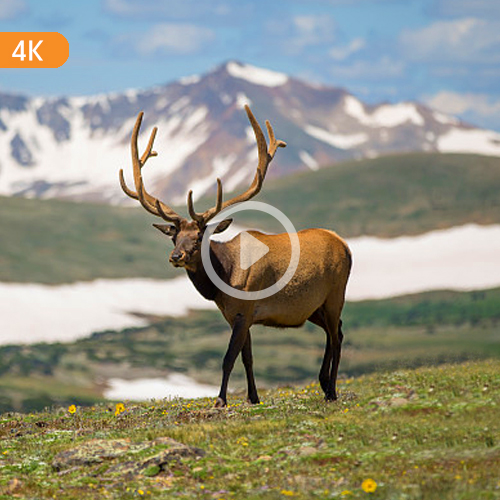 4K Continuous Loop Recording
his tracking camera can get high-quality audio videos around the clock.
Video Resolution: 4K 10fps, 2.7K 24fps, 1080PFHD(1920×1080) 30 fps, 720P HD (1280×720) 30fps
Night Resolution: 1080p video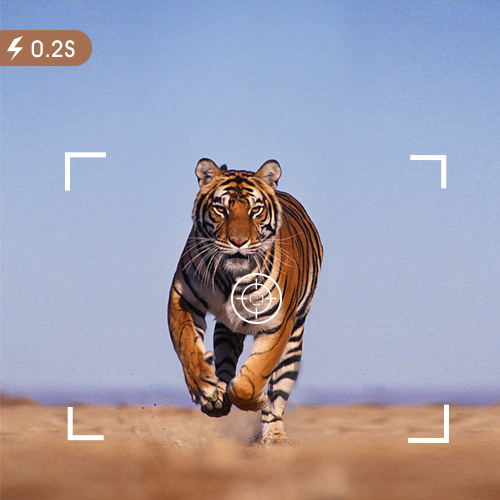 For the Mac System:
The game camera has a super-fast reflex trigger, a PIR sensor can respond quickly within 0.2 seconds within the detection range, and can easily adjust the three sensitivities to provide higher accuracy. Hunting cameras can capture every wonderful moment of wild animals for you.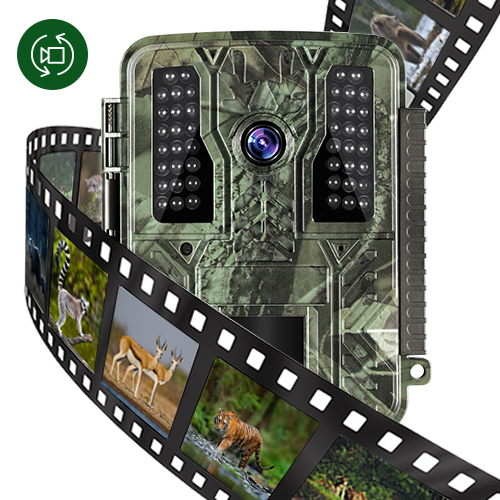 Continuous Cycle Storage
When the files in the SD card are full, the wildlife camera will automatically rewrite the old files, delete the old files first, and store the new files taken. This function means that you will not miss every new wonderful moment.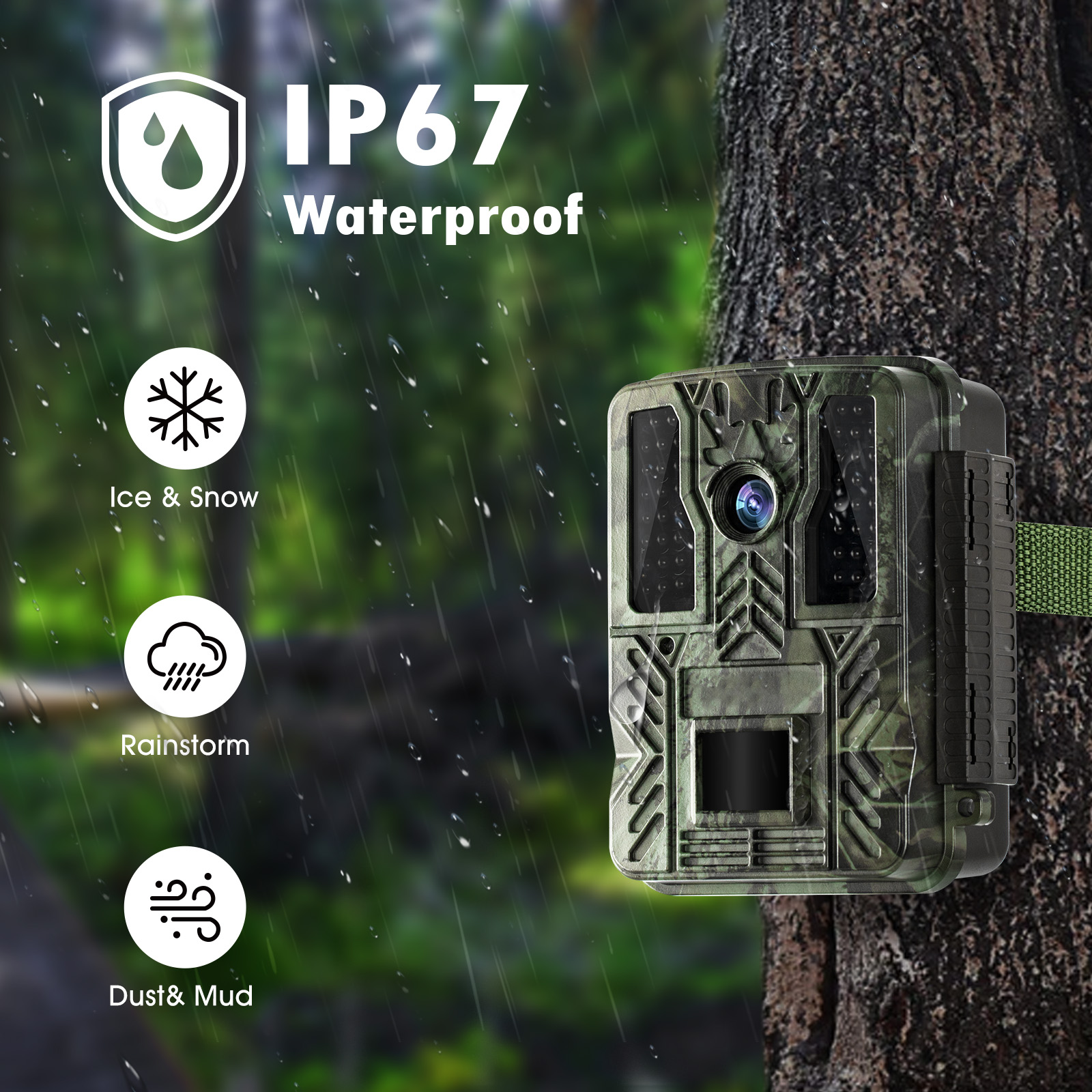 IP67 Waterproof
With IP67 waterproof camera body design, the hunting camera has a waterproof rubber ring and weatherproof plastic casing, allows the camera to tolerate the changing weather, so the conditions will not hinder the effectiveness of the camera. It can record for a long time even at -30℃~70℃.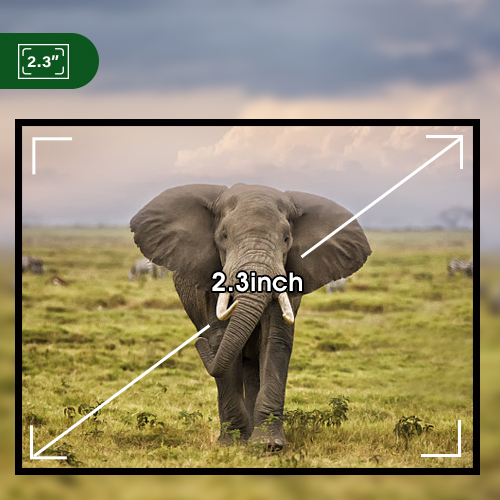 2.3'' LCD Color Display
The deer camera is equipped with a 2.3-inch LCD color display, which allows you to set menus and view ultra-clear images and audio videos directly on the camera.

All Reviews
Image

All Star

5 Star

4 Star

3 Star

2 Star

1 Star
Good!!
We bought a game camera for the first time. Since we live on the edge of a forest, we wanted to see what was "hanging around" at night, during the day we turned them off.
We followed the operating instructions exactly and set all the presets first. It was very easy - and very fast, since German is already set as the language.
We took a few test shots in the apartment - everything was fine.
The pictures are good and everything is clear and easy to see.
The camera and all the settings are very easy to use.
You can set the time you want a recording to take place, and we set it from 10:00 p.m. to 6:00 a.m. because we want to watch the night - we see it during the day anyway. The setting time is flexible/ variably adjustable. Also adjustable video, photo or even both
On the screen - if you open the camera - we could already look at it in small format - the SD card is inserted into the PC, the pictures are of course nice and big and everything is very easy to see.
The game camera works flawlessly, is easy to use and we are excited to see what else will happen with us. The price/performance ratio is good.
21/09/2023
Good product with a good price/performance ratio.
Order and shipment: Prompt and well packaged. The camera itself is packed in a small box with a high tactile quality. Equipment and service: Equipment is complete as described.
13/09/2023
No question, 5 stars!!! No doubt 5 stars!!!
This review will be written in German and English!This review will be written in German and English!English:The wildlife camera from Ctronics simply leaves nothing to be desired. But let's start with the basics. The operating instructions are excellently compiled in English, German, French, Italian and Spanish and you will find an easy-to-understand answer for every open question. All the connection cables you need are included and a strap to attach to the Baum.The camera itself is made of sturdy hard plastic and is compact and not too big. It is well made and all writing and connecting pins are made of high quality metal. It's waterproof, I haven't tested to what depth. ;) And that as a diver!!! There is even the possibility to screw it onto a tripod. A wall tripod is also included. The 20MP camera and the ability to record in 4K make the wildlife camera from Ctronics a very good alternative to the more expensive models from the brand leaders. The menu is simple and easy to understand and easy to adapt to use trigger speed of 0.2sec. 20m night vision and infrared flash are completely sufficient for every hunter. You need 8x AA batteries. And a remote control is also supplied. The best thing is to control it with the available mobile phone app. Simply download and set everything up conveniently with your smartphone. If you want to spend half the price for almost the same performance, you should go with this perfect price-performance offer. You won't regret it. For me clear 5 stars. This will certainly not be my only wildlife camera from Ctronics. I will write more reviews once I have tested them more thoroughly. So far just wonderful!!!English:The Wildlife Camera from Ctronics does not leave any questions unanswered. But let's start with the basics. The user manual is written in English, German, French, Italian and Spanish. If there is a question the manual will provide the answer in no time.All cables to connect to a computer or television are provided. A strap to fix the camera on a normal sized tree comes with it as well.The camera is made of a hard compound plastic and is super durable and waterproofed. All screws and hinges are of solid metal. You can screw it onto any regular tripod or to the delivered metal wall mount. The 20MP camera and the 4K video recording do challenge the more expensive versions available on the market.The menu is super easy to go through and easily changed when it comes to language and settings.The 0.2sec. Trigger Speed ​​and 20m Nightvision wit an Infrared Flash are absolutely sufficient for any hunter.You will need 8x AA Batteries to make it work. A remote control comes with it as well.On of the best features is the available mobile app. Just download it and feel free to adjust everything wit your smart phone.This camera is for everyone who wants to save money but with little to no losses in quality or handling.Definitely a 5 Star review. And I figure this won't be the only Wildlife Camera from Ctronics in my arsenal.I will write more reviews when I tested it further in the wilds!!! Up to now it is just gorgeous!!!
28/08/2023
Good overall package, good picture and little battery hunger
Recording quality: The best results are achieved with a recording distance of approx. 8-10 meters. According to my observation, differences only arise in the application or the setting of the cameras (releases etc.) as well as the built-in LEDs (here no glow) and the sensors . This is the heart of any useful Trail Cam.
13/08/2023
Very good photos even at night
I once set up the wildlife camera in a rape field. The camera triggers very well and also takes good photos and videos. The good quality is particularly evident at night and also in very bad weather (heavy rain and wind). The game is not disturbed by a recording. I have owned another game camera from a different manufacturer for years. But this camera is far better. I was able to purchase this camera for a very good price here on Amazon. Absolute purchase recommendation.
05/08/2023
Perfect.
I can't say much about the technical stuff now, I can only say one thing...perfect. The camera does what it's supposed to do, capture animals. I use it to watch the birds at the feeding place, it's quite interesting what else I feed along :) The app isn't that great, but the rating is for the camera and it's just great.
26/07/2023
Price performance and photo quality is 1st class
I used a wildlife camera to monitor various things in nature. After a long search I came across this wildlife camera and ordered it. First impression when unpacking: size nice and small, makes a very robust impression. So let's go outside to test it. The setup is very user-friendly, micro SD card in and off you go. The first photos were taken, so let's test the WiFi connection. This works really well with the app. Even had the connection from a relatively large distance. You can see all the photos that the camera has taken and can either download them all or individually. Here, however, I recommend only loading the necessary ones onto the mobile phone and the rest when reading out with the SD card, otherwise you sit in front of it a little longer. Summary: price Performance fits perfectly, photos are great,
08/09/2022
Good camera for hobby observers
Very intuitive operation. Good photos and videos (image quality)! Motion detection also works well and the infrared recordings are usable. The battery lasts a long time and the optional power connection is certainly perfect for long-term or time-lapse recordings. The camera is suitable for many purposes: home surveillance, nature photography (animals, plants in time lapse ...) and much more. The price-performance ratio is great!
22/08/2022
Perfect
I bought the wildlife camera because my car is dirty every morning from some animals and I'm now curious as to which animals are up to mischief here. The attached pictures are from the terrace where the camera was left overnight. Here you can see the comparison of the image quality at night and during the day. It's very dark in my garden, so I'd say the camera would perform well in the woods too.

5 stars from me because it fully met my expectations. Only batteries could still be included in the scope of delivery.
21/08/2022
very good
Very good camera. Fast release time, good quality and very easy to read with a smartphone.
30/07/2022
Trail Camera
Max. Storage
512GB
Image Resolution
32MP
Screen Size
2.4"
Video Resolution
4K/30fps
WIFI+Bluetooth
NO
Amount of infrared lamps
46pcs (940nm)
Amount of PIR SENSORS
1pcs
Detection Range of PIR sensors
100°
Trigger Distance
28m/90ft (night) 25m/85ft (day)
Trigger Speed
0.2s
Waterproof IP Rating
IP67
No Glow Night Vision
Yes