3PCS Solar Powered Wireless Security Camera 1080P with Audio & Light Alert Outdoor Home Security Camera Color Night Vision & 14400mAh Built in Battery
£244.19
£577.19
57% OFF
Inclusive of VAT
&FREE Shipping to United Kingdom,Ireland
Brand:

K&F Concept

Buy K&F Concept 3pcs solar powered wireless security camera 1080p with audio & light alert outdoor home security camera color night vision & 14400mah built in battery online, £244.19 free shipping to UK.

KF50.0001V3

SKU:

KF50.0001V3

244.19

https://www.kentfaith.co.uk/KF50.0001V3_3pcs-solar-powered-wireless-security-camera-1080p-with-audio-light-alert-outdoor-home-security-camera-color-night-vision-14400mah-built-in-battery-all-white
Features
* 【100% Wire-Free & Non-stop Power】This solar-powered wireless security camera features wire-free power. With a built-in 14400mAh battery and efficient solar power, the security camera features an extremely long standby time of up to 6 months. The surveillance camera runs on 2.4 GHz WiFi and stays fully charged with Solar Panel which realizes 100% wire-free security. Built-in 14400mAh 21700 battery, so you only need to connect the PTZ security camera to a WiFi network on the app, next you .
* 【Tilt Pan & PIR Motion Detection】K&F Concept surveillance camera's smart design enables it to rotate without obstacles, horizontally rotated 355°, vertical 120°, can achieve a wide panoramic field of vision, monitoring without blind spots, no dead angle panoramic shooting. Offer a full protection for your sweet home. The smart home security camera is equipped with a smart PIR motion detection chip. No false alarm. Optional setting of 5-10 meters to quickly identify the human body.
* 【Full HD 1080P & Color Night Vision】Infrared full-color night vision: The camera can automatically recognize day and night for mode switching. It adopts advanced night vision technology. In color night vision mode, two white lights exclusively designed will light up when detecting motion, providing lights for people at night and warning suspicious people.
* 【Two-way Audio & Multiple users Remotely Access】You can remotely speak to the person in front of the solar camera in real-time through the phone app, ward off would-be burglars when off-site. Easily share the security cameras with your families or friends just with a QR scan.
* 【Data Storage & After-sales Service】Use a Micro SD card (128G Max) to save local recordings, you can use APP to view historical recordings without paying any additional fees (SD Card NOT include). If you need longer data storage, you can also subscribe to a securely encrypted cloud Storage service, and can enjoy 7 days free storage discount.Please feel free to contact us if you encounter any problems.
Wireless battery secutity camera with solar panel
Built-in 14400mAh high-capacity battery, solar panel continuously replenishes power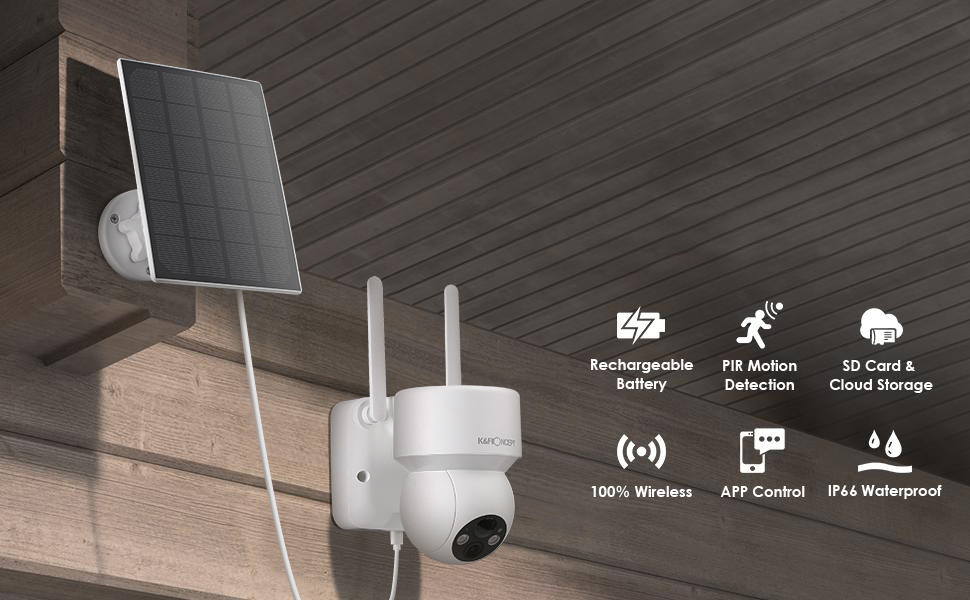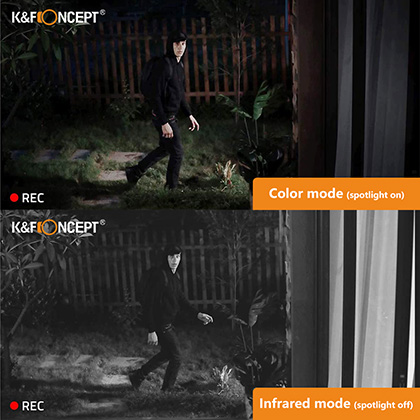 Smart Color Night Vision
The home security camera with 2 LED lights and HD lens enables sharp colorful night vision up to 33 feet in dark.Secure your family and property even in the dark always.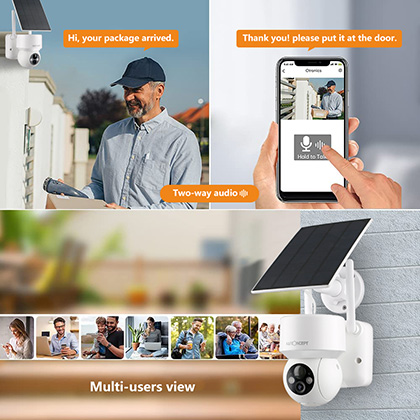 Two-way conversation and sharing
The K&F solar camera has built-in high-quality speakers and microphones. Even if you are not at home, you can communicate with people in the surveillance area and share with others.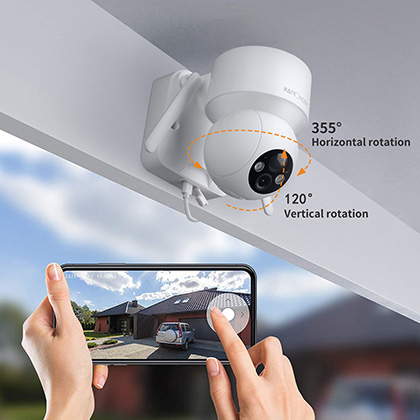 Horizontal and vertical rotation
Support remote control of the camera rotation through the PTZ function on the APP. You can move the camera left and right/up and down.(Rotate 355° horizontally and 120° vertically.)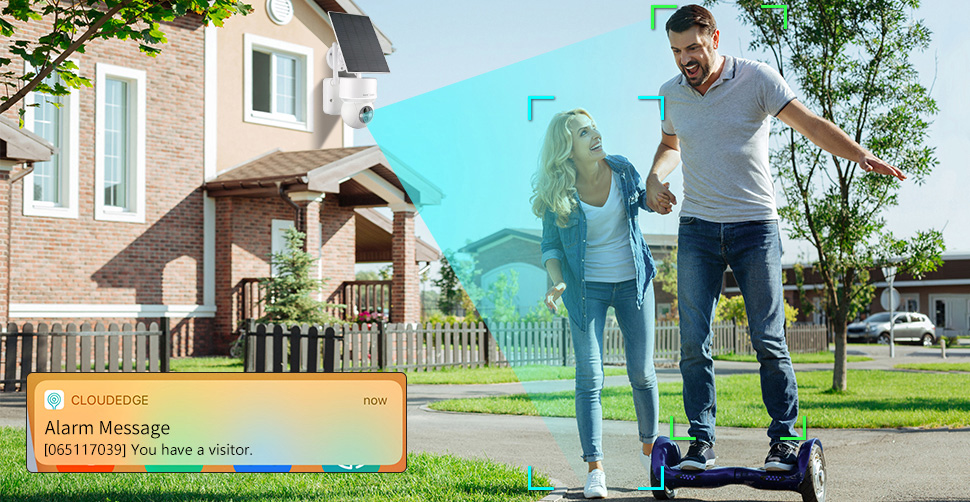 Alarm Detection
This PTZ battery-powered security camera uses a high-sensitivity PIR motion senso to reduce false alarms, wakes up quickly in 0.2 seconds and stably captures all human movements, significantly reducing false alarms caused by rain and insects. An excellent choice for home protection.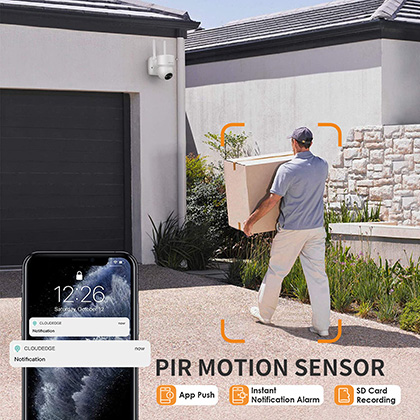 PIR motion detection
Outdoor solar cameras equipped with higher sensitivity PIR sensors can accurately capture human movement and reduce false alarms caused by bugs and leaves.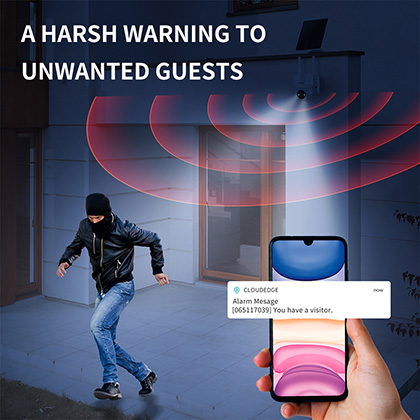 Sound-Light Alarm
With the help of AI algorithms, the camera can recognize movement faster, distinguish between people, cars, and pets, and push alarm information.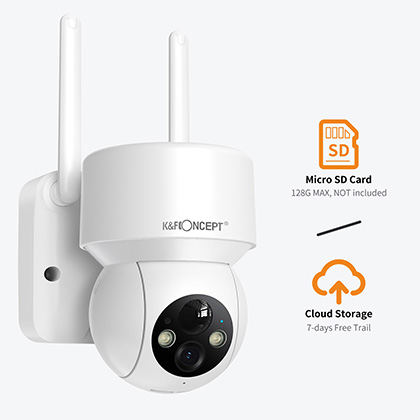 Cloud and SD Card Storage
The wireless outdoor camera supports memory and SD card storage (not included, maximum 128G), select one of them for recording and playback.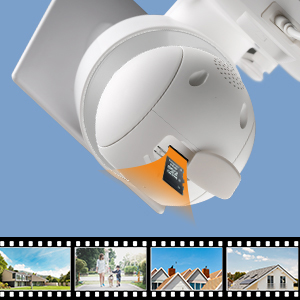 Supports SD Card and Video Playback
The outdoor camera supports a maximum of 128 GB micro SD card. When the SD card is full, the new recording will overwrite the old recording. You can also play your videos from the app and SD card.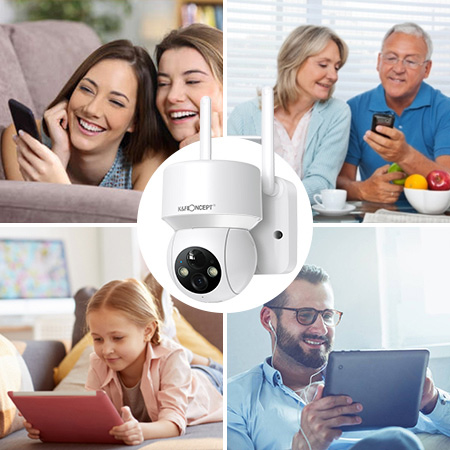 Get remote access anytime, anywhere
Use the free APP to view, playback and download manually recorded videos at any time. You can manage multiple cameras through the same application to easily share with others.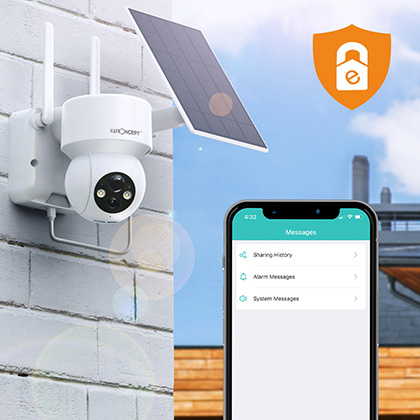 Data Security
If you need to save data for a longer period of time, you can also subscribe to a securely encrypted cloud service and enjoy a 7-day free storage discount.
| | |
| --- | --- |
| Resolution | 1920*1080 |
| Image Sensor | 1/2.9"CMOS,2MP(GC2063) |
| Video encoding | H.264 |
| Intercom | Built-in microphone, speaker |
| WIFI | 802.11 b/g/n |
| Product Size | 12.5*11.7*8.6cm |
| Package dimensions | 21.6*14.8*12.3cm |
| product weight | 619g |
| Package weight | 1200g |
| Package Contents | Camera*1, multi-language manual*1, installation kit*1, solar panel*1 |
Rating

7 reviews.

11 reviews.

7 reviews.

20 reviews.

12 reviews.

21 reviews.
Price

£577.19

£244.19

£147.26

£40.21

£139.86

£64.99

£124.00

£94.99

£141.19

£51.79

£89.79

£95.99

Model
KF50.0001V3
KF50.0005UK
GW50.0034
GW50.0005
GW50.0033
KF50.0002

Video Resolution

1080P
1080P
1080P
1080P
1080P
1080P

Built-in Battery Capacity

14400mAh
/
6700mAh
4800mAh
6700mAh
14400mAh

Storage

SD memory card (up to 128G/cloud storage)
SD memory card (up to 128G), and cloud storage
SD memory card (up to 128G/cloud storage)
SD memory card (up to 128G/cloud storage)
SD memory card (up to 128G/cloud storage)
SD memory card (up to 128G/cloud storage)

Motion Detection

PIR
PIR
PIR
PIR
PIR
PIR

Motion Detection Range

8m/26.2ft
10m/32.8ft
10m/32.8ft
12m/39.4ft
10m/32.8ft
8m/26.2ft

Waterproof IP Rating

IP66
IP66
IP65
IP66
IP65
IP66

Night Vision

Infrared Night Vision, Color Night Vision
Infrared Night Vision
Infrared Night Vision
Color Night Vision (optional)
Infrared Night Vision
Color Night Vision (optional)

Two-way Talk

√
√
√
√
√

WiFi Connectivity

2.4GHz wifi
2.4GHz wifi
2.4GHz wifi
2.4GHz wifi
2.4GHz wifi

Pan Tilt

×
Horizontal 355°/Vertical 120°
×
Horizontal 355°/Vertical 120°

Audio & Light Alert

×
/
×
Audio & Light Alert
Well worth the money
Great value and picture quality
17/11/2021
Excellent product with great customer support.
We'll manufactured product that works well with AIWIT APP provided, no problems whatsoever in setting up or viewing video filmed, good night vision capability and excellent overall performance, together . with excellent customer support and interaction.
10/11/2021
Superb quality value for money
Nice and dainty
31/08/2021
Good Camera
Good Camera with very clear pictures, day and night. Solar panel to recharge the battery is a brilliant idea. No cloud storage to pay for is a big plus and makes up for he only minus point. There is a slight time lag in getting the picture. But would certainly recommend as a moderate cost security system.
10/08/2021
Easy
Easy to set up . Connect quickly to your phone or iPad .Clear pictures
16/07/2021
Surveillance Cameras
Video Resolution
1080P
Power Supply
Solar / Built-in Battery
Built-in Battery Capacity
14400mAh
Storage
SD memory card (up to 128G/cloud storage)
Motion Detection
PIR
Motion Detection Range
8m/26.2ft
Waterproof IP Rating
IP66
Night Vision
Infrared Night Vision, Color Night Vision
Night Vision Range
10m/32.8ft
Two-way Talk
√
WiFi Connectivity
2.4GHz wifi