62mm Variable ND Filter, Fader ND2 to ND400 Adjustable HD Neutral Density Grey Filter with Cleaning Cloth for Camera Lenses
£18.99
£29.99
36% OFF
Inclusive of VAT
To
United Kingdom and Ireland
Expedited Free Shipping
3-5
business days
Photographer's New Year Wishlist 2022.K&F KV31 37mm ND2 to ND400 Variable ND Filter For Video Kit Includes: 37MM K&F Concept Filter Kit (ND2 to ND400) + Lens Cleaning Cloth

SKU0126

SKU:

SKU0126

18.99

https://www.kentfaith.co.uk/SKU0126_62mm-nd2-to-nd400-variable-neutral-density-nd-filter
Features
* 【ND Filter+Cleaning cloth】 K&F Concept 62MM Adjustable Neutral Density Professional Photography Filter ND2~400 + Professional Microfiber Lens Cleaning Cloth
* 【High Grade Glass & Microfiber 】 Variable ND Filter: Made by Completed Professional Optical Glasses instead of Optical Resin. Microfiber: This Professional Microfiber made by Japanese Raw Material, very soft and easy to cleaning lens, filters,glasses and mobile etc.
* 【Adjustable ND Filter function】Neutral Density (ND) filters can reduce the intensity of light without appreciably changing its color.
* 【Variable light reduction】Premium Japanese optical glass with nano-coating provides neutral colour balance, reduces lens flare, removes ghosting and better protection against scratches, dirt, and grime.
* 【Professional Design】 Using Super Slim Frame Design to Avoid Vignetting When You Taking Photo
Shipping
To
United Kingdom and Ireland
Expedited Free Shipping
3-5
business days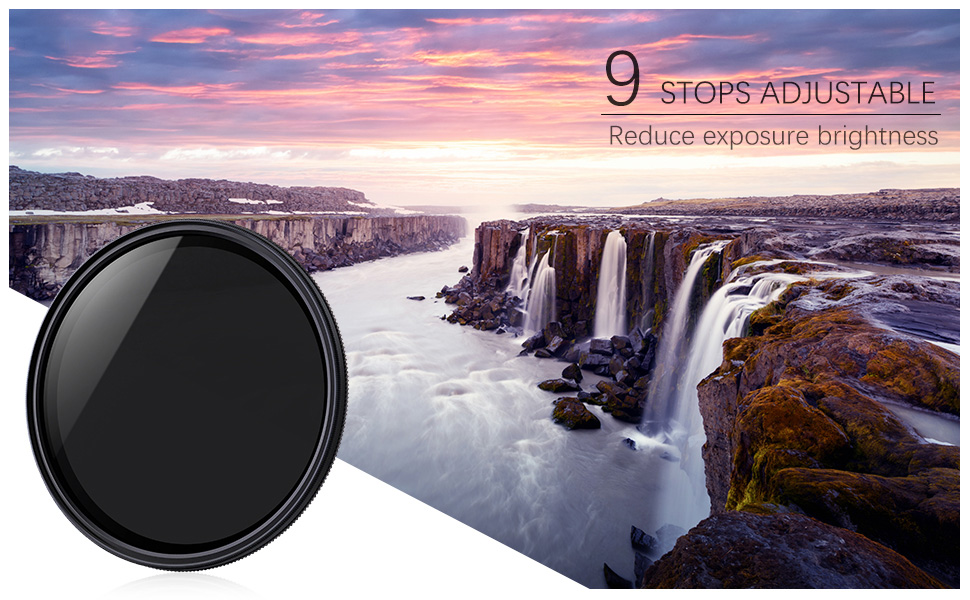 K&F Concept Variable ND2-400 Filter + Cleaning Cloth
Tips:
---
Please DOUBLE confirm your lens size before purchase via checking your lens thread size instead of camera model name,Your camera's lens thread size will be marked somewhere on the lens barrel. This number is always preceded by a "Ø" (diameter) symbol. Eg. Ø55mm=55mm thread size; some buyers only check their camera model instead of lens model, which may purchase wrong size
Explanation of "X" cross issues: "X" cross on images is a common issue with wide angle lenses and variable ND filters. Physics limit the capabilities of variable ND filters on wide angle lenses. When you enter the edge of the max range,the "X" issue may appear on your image.due to the particular angle of the two polarizers when approaching max density
Color Shift The color of the image may vary between warm and cold. This is a common phenomenon of all variable ND filters. You need to adjust your white balance accordingly when set the ND filter to different ranges
When to use Auto (AWB) or Custom White Balance If you have mixed light sources, such as tungsten light inside and some daylight from a window,then select AWB (auto white balance) and it will do a pretty good job of balancing them. You can also choose to set a custom balance. The short description of how to do that is: take a photo of something neutral (a white paper or a grey card) and tell the camera "use this as neutral" using the custom White Balance settings. Each camera is different, once again you'll need to consult your manual on how to do custom white balance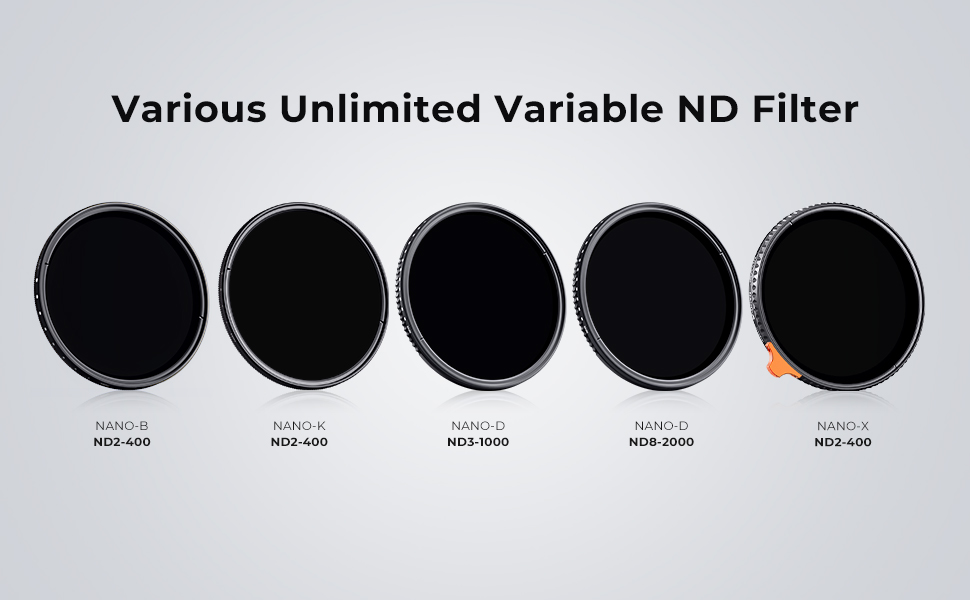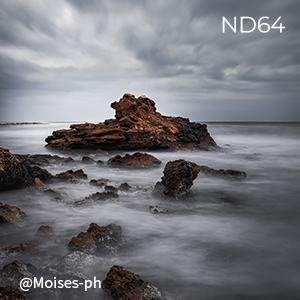 Buyer Image with Our Filter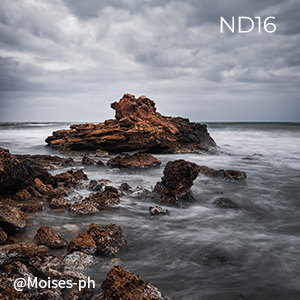 Variable ND & CPL Function 2-in-1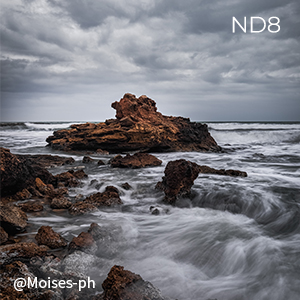 No "X" Cross on Images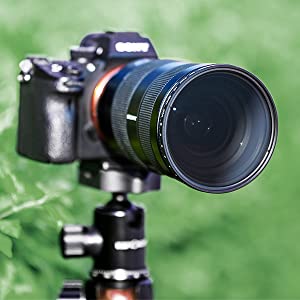 HD Optical glass
Neutral density can be adjusted from ND2 to ND400, Reduces the amount of light reaching the film without affecting the color.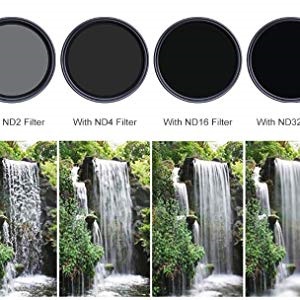 Extend exposure time
Try an ND, or neutral density, filter. ND filters reduce the amount of light entering the lens. This makes it easier to achieve effects such as a shallower depth of field or blurred motion. Create spectacular images of the ocean washing over rocks, waterfalls, rivers, surfers flying across the waves.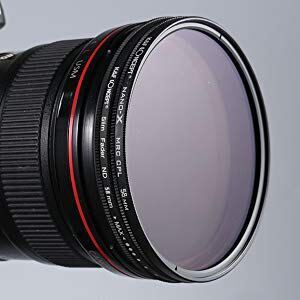 Double Threaded
For this series, front thread diameter is bigger than the back thread diameter:
---
For example:
---
Back thread diameter (attach to lens): 67mm
Front thread diameter (attach additional filter/other accessories): 72mm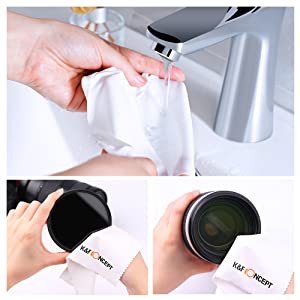 Microfiber Cleaning Cloth
Ideal for cleaning oil, fingerprints, smudges, and dirt off eyeglasses, laptops, tablets of all brands, smart phones, and any other LCD or touch screen.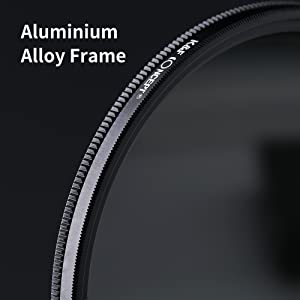 Slim Frame
Using Super Slim Original Design to Avoid Vignetting When You Taking Photo
Wider outer optic to help reduce vignetting at wide angles.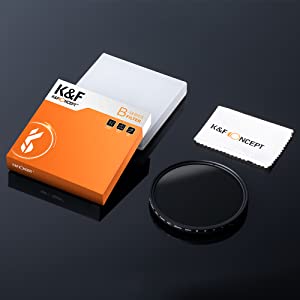 What's in Box
1* Variable ND Filter
1* Carrying Box( black and yellow box is sent randomly, with the same filter)
1* Cleaning Cloth
---
Any query will be replied within 24 hours

Rating

86 reviews.

94 reviews.

90 reviews.

33 reviews.

80 reviews.

113 reviews.
Price

£29.99

£18.99

£24.99

£89.99

£45.99

£79.99

£35.99

£59.99

£29.99

£89.99

£36.99

Model
SKU0126
KF01.1389
KF01.1462
KF01.1834
KF01.1270
KF01.1060

size

62mm
62mm
62mm
62mm

Filter Material

Japanese AGC Glass
Japanese AGC Glass
Japanese AGC Glass
Japanese AGC Glass
Japanese AGC Glass
Japanese AGC Glass

Multi-Coating

8
18
28
24
24
28

waterproof

/
/
√
√
√
√

scratch-resistant

/
/
√
/
/
√

HD

/
/
√
√
√
√

Screen

Nano-B series
Nano-K series
Nano-X series
Nano-D series
Nano-D series
Nano-X series

zoom range

Video Shooting/Landscape Photograhy
Video Shooting/Landscape Photograhy
Video Shooting/Landscape Photograhy
Video Shooting/Landscape Photograhy
Video Shooting/Landscape Photograhy
Video Shooting/Landscape Photograhy

Resolution

Light reduction effect
Light reduction effect
Light reduction effect
Light reduction effect
Light reduction effect
No X cross/Light reduction effect
Awesome; Must have for video
I had a smaller diameter of this product for a different lens, so when I got my new lens the first thing I bought was this ND filter. It is incredible. And this one had little dots along the edge, as well as text that read "Min" and "Max". This was super helpful. My only complaint about the smaller ones was that you couldn't tell how far was the maximum and minimum, and this model has solved that issue. I don't go anywhere without this filter. I will be buying a K&F Variable ND filter for every lens that I get from now on.
22/03/2022
Super useful, excellent product
Very easy to use, looks very good material. I love the result. Playing with the white balance you can get much better result. I have tested with ISO 100 f / 1.8 and 1/125 sec. when the sun does not let see anything in the camera, and this has allowed me to put it totally dark and also in a desired tone.
10/03/2022
Vintage Slower Shutter Speed Film Camera
Handy for older manual film camera with max 1000 or 500/ sec shutter speed to meter in sunny daylight, lens wide open. Metering can be adjusted by turning the ND to meet the correct light exposure at a set shutter-speed and choice DOF (f-stop) combination. Wonderful tool for needle metered or LED array camera where you see the progress of exposure as you turn.

Retractable Rubber hood is the best solution to attach a hood.
Lens cap for a 67mm will be 72mm. I will assume 1 size larger.
21/03/2022
Spectacular filter for the price!
I almost gave up on trying to invest in an ND filter because I wasn't ready to spend $200 or more on some waterfall shots. Came across this one and LOVED it. Took it on my trip to Italy, and it provided some phenomenal shots in full daylight. It worked great with both 30-second exposures of waterfalls and also when I just needed it to block out the haze from the rising sun at the top of St. Peter's Basilica. Sure, there might be a shadow around the edges, but the overall quality of the photos that this provides is well worth it.
16/03/2022
This filter is able to get stunning pictures at such a great price.
Long exposure. At first I hardly used it, now I'm a huge fan. I shopped around and found the perfect tripod (carbon-fiber Manfrotto, also great). When that arrived, I mentioned to my friend I was planning on getting waterfalls with a slow shutter speed, and he said, "You gotta ND filter, right?" I knew I had a trip up to Letchworth coming up that weekend. That evening I rushed onto Amazon, shopped around, and found this product. Perfect size for my Zeiss 50mm and 35mm!

I didn't really get the chance to mess with this ND filter until I arrived at Letchworth and wow was I blown away! The crisp rolling ring and the crisp shade of black make this such an incredible product. So worth the price! I'm blown away by how it doesn't degrade the quality of my captures my lenses can get.

I love long exposure now. With my lightweight tripod and my filter, I can only grow.

I included a picture of a covered bridge in Cuyahoga Valley National Park taken with this filter. It was a eight second shutter speed.
25/03/2022
Awesome Little Filter
Trying to shoot a long exposure photograph around sunset or sunrise with a standard ND filter can be a challenge. However, with this filter I was able to easily adjust to the changing light condition and keep my shutter speeds where I wanted them to be to ensure that I was able to capture the light trails of the cars in their entirety. The filter did not produce a color cast which is excellent for a filter in this price range. The team at K&F have a winner on their hands with this filter.
25/03/2022
Surprised with this Filter
Definitely a nice surprise! I expected an average filter for the price point, I am attaching a copy of one of the first 5 photos I took with it in the Smoky Mountains. The first 4 were just figuring out the shutter speed I wanted. Quite pleased, wife happy - can't ask for anything more. Looking forward to many pictures using this 82mm Variable ND Filter with my Tamron 24-70 lens (or a more wide angle when I can afford one) on my Nikon D-500.
24/03/2022
Nice, bright
This thing is ridiculous! Got it yesterday and took it out today for some waterfall pics in a small stream close by. This was around 5 in the afternoon. Nice, bright, sunny day. I was able to get 20 second shots with no problem and could have taken even longer ones. I did get a few nasty flares on a few of my pics but I think that was my bad as I was shooting towards the sun and it is not on all of my pictures. I'll have to try again and shoot with the sun to my back and see how it does. But for the price there is no reason not to have one for each of your lenses. Very happy with this. And it's nicely constructed of metal and screw in smoothly. 6 Stars!
21/03/2022
Great filter
Love it. Easy to use. Must use dots for correct alignment. Moving to the min/max mark will produce the "X" you see in some photos. That is purely user error. I've done it myself. What I love about the variable filter is I can put this filter on my lens on the lowest setting, set up my shot and focus and then twist it to the max setting to take my shot. No need to remove the filter to set up another composition.

Photo: nikon d7100/ sigma 18-250mm
Iso 100
shutter 1/6th sec
f/4.5 (I think)
Nd- highest setting

Rushed to take this shot as I was being eaten alive by black flies. So i messed my aperture up and kept bumping my shutter up instead to get an acceptable exposure. I also had some condensation on my lens when I was screwing on the filter so there is a haze towards the top of the image. Shoulda used f/11+ and a 1 second exposure, but the water still blended nicely.
18/03/2022
Absolute Necessity for Anyone Shooting Outdoors!
If you shoot photo (or specifically video) outdoors in the sunlight, you NEED a variable ND filter.

For video, if you're shooting 30 FPS, you need to keep your shutter speed at 1/60 (because of the 180 rule) for natural blur and smoothness. If you want a nice blurry background at f/2.8, even at ISO 100, there's a great chance your image will be horribly exposed. Your only options are to increase the shutter speed (and compromise the natural look with distracting "choppiness") or crank up to f/16, which will flatten your image and get rid of that blurry background you wanted!

In comes the variable ND filter. When applied, like variable sunglasses, it allows how much light passes through, kind of like an intimidating bouncer at a night club. So just twist the ring on the filter and you can achieve your shot perfectly!

With this specific filter, two small things bummed me out:
1. The ring doesn't have actual stops, just continuous rotation so you can't really keep track of the specific amount of light you're letting in.
2. When the filter is on my Tamron 28-75 2.8 lens, I can't put the lens cap on at the same time. Not a deal breaker, but annoying when you want to quickly take a picture or shoot some video.

But for the price, it's hard to argue this isn't a great purchase.
26/03/2022
These images belong to K&F Concept end users.
how to check your lens size
Do You Know How Your K&F Concept Filters be Produced? | One-day Tour in Production Line
Gimbal Stabilizers
Product
0.8%
Filter
size
62mm
Filter Material
Japanese AGC Glass
Multi-Coating
8
waterproof
/
scratch-resistant
/
HD
/
Transmittance
∕
Antireflection
Pattern
Filter Thickness
7.0mm
Shape
Circle
Ring Material
Aviation aluminum alloy
Microscope
Screen
Nano-B series
zoom range
Video Shooting/Landscape Photograhy
Resolution
Light reduction effect
light source
0.3 to 2.7(1 to 9 Stops)