K&F Concept Outdoor 4G LTE Surveillance Camera Wireless,Detachable solar panel,PIR Human Sensing +AI Human Shape Detection,Various Installation Structures,with 3m Extension Cable UK Version 4G Solar Camera
£149.99
£269.99
44% OFF
Inclusive of VAT
&FREE Shipping to United Kingdom,Ireland
Brand:

K&F Concept

Buy kentfaith 4g camera,30 Day No Reason Return, Fast Shipping From UK.Outdoor 4G LTE Security Camera Wireless,Solar and Battery Powered, PIR Motion Detection, 2-Way Audio,Detachable solar panel,Including Solar Panel and SIM Card, UK Ve

KF50.0020EU

SKU:

KF50.0020EU

149.99

https://www.kentfaith.co.uk/KF50.0020EU_kf-concept-outdoor-4g-camera-lte-surveillance-camera-wireless-pir-human-sensing-ai-human-shape-detection-various-installation-structures-with-3m-extension-cable-eu-version-4g-solar-camera
Features
* 【K&F Concept Outdoor 4G LTE Surveillance Camera Wireless】Solar and battery-powered, PIR motion detection, IP66 waterproof, 2K IR night vision, 2-way audio, product accessories include solar panel and installation extension cable, does not include micro SD memory card and micro SIM card.
* 【K&F Concept 4G Camera and Waterproof】Wireless solar security camera only for mobile cellular 4G network, TD-LTE, TD-LTE / LTE FDD TD-LTE / LTE-FDD standard and micro SIM card slot. Waterproof rating IP66. is a suitable solution for outdoor surveillance. No WiFi is required and WiFi connection is not supported
* 【Uninterrupted work and fixed monitoring range】 Solar security camera with solar panel, built-in high-capacity battery to provide uninterrupted power supply, no need to take down the camera from the roof to charge. 4X digital zoom viewing effect, the gun camera does not have the rotation function. You need to adjust the monitoring angle before installation to avoid not achieving the desired effect; App: Ubox APP
* 【2K Full HD and Spotlight Color Night Vision】The Solar Wireless Security Camera Outdoor comes with a 2.8mm lens that provides 2KP HD images and video. The built-in spotlight flashes brightly to switch to night vision mode, helping to view true color night vision in real-time and see through up to 98 feet of darkness even in very low light conditions.
* 【PIR Human Detection and Instant Alert】PIR sensors and AI human detection alarms help to detect the human body more accurately and reduce false alarms caused by light or insects. Supports instant alerts and recording. You can immediately see what is happening from your phone.
Shipping
&FREE Shipping to United Kingdom,Ireland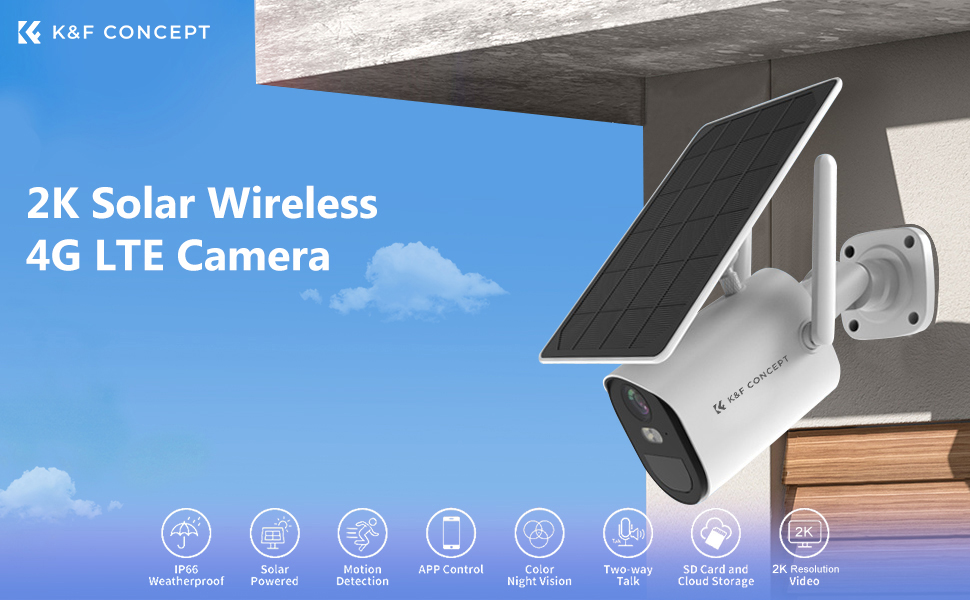 Works on 3G/4G network with SIM card no wifi required, perfect security solution for remote, large areas.
·100% Wireless 3G/4G LTE Camera with Color Night Vision
·Built-in PIR Human-AI motion detection technology
·Two-way audio (built-in speaker and microphone)
·Support Micro SD card (max 128G, not included in camera) and 7-day free trial cloud storage
·Weatherproof Outdoor Security Camera

The outstanding advantages of K&F 4G Solar Security Camera
1. 100% Wireless: The 4G solar camera is powered by solar panels, which means it can be placed anywhere without connecting cables to remote areas.
2. No WiFi required: A great option for those who want a security camera without a WiFi network requires. It runs on 3G/4G LTE that can be used anywhere there is a 3G/4G signal.
3. Motion sensitive: The built-in advanced PIR motion sensor will sensitively detect any movement in the area and send instant alerts to your phone.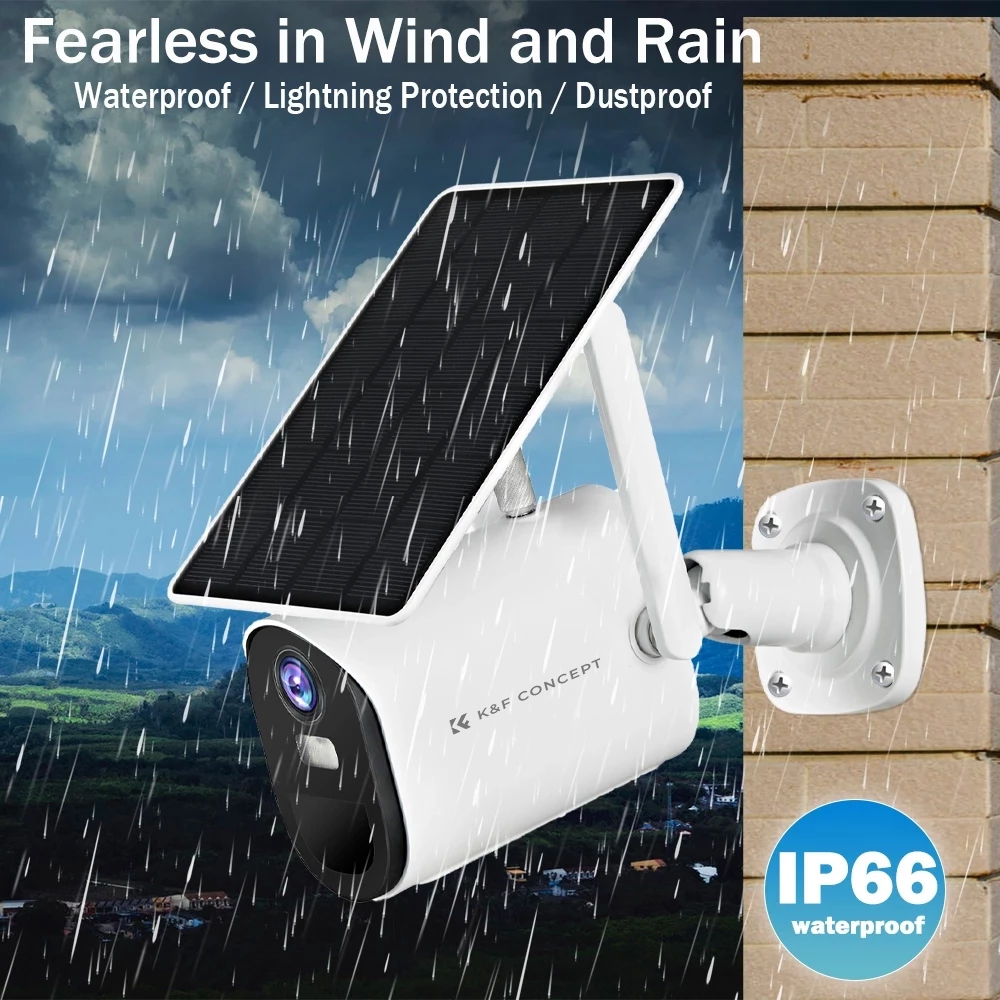 IP66 Waterproof
With IP66 waterproof performance, k&f outdoor security cameras can prevent water from penetrating the camera. It can withstand a temperature range of -20°C to 60°C to withstand rain, wind, snow and other harsh weather.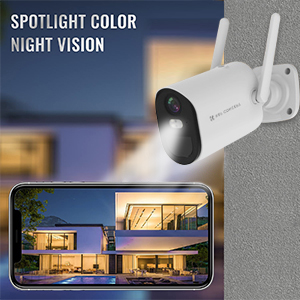 Color night vision and wide viewing angle
With built-in IR LEDs, the solar-powered camera has a night vision range of up to 32.8 feet/10 meters. Allowing you to capture more detail even at night, and providing vivid, clear video in color even in low-light conditions. A wider field of view can be covered and seen. Provides the ultimate security for your home and business.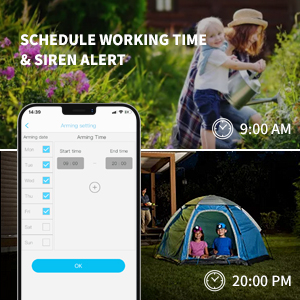 Custom working hours and instant alerts
You can set the camera to work only at certain times as needed. You'll get an alert message when motion is detected and be directed to the alerts video page to see what happens around you.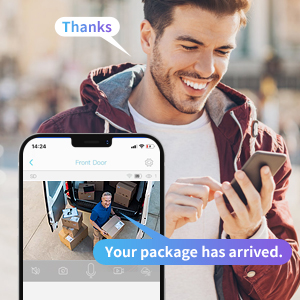 2-way talk and live view
The K&F 4G outdoor camera features a built-in speaker and microphone system for clear 2-way audio. It supports real-time chat with anyone in the camera's field of view, such as family, friends, or intruders.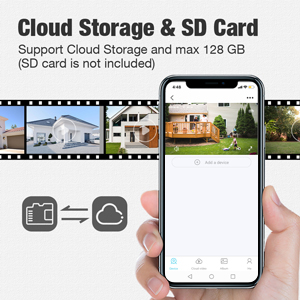 Cloud and local storage for playback
Motion clips can be securely recorded to a micro SD card (up to 128GB, not included) for local storage. Online backups are also available via the cloud.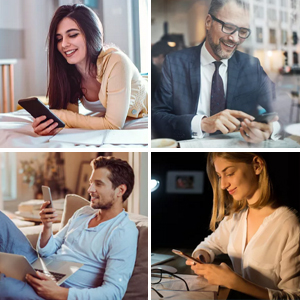 Share access with your friends or family
Outdoor cameras support sharing with up to 10 family members simultaneously, making it easy to share fun times with family and look after children or the elderly anywhere, anytime. To know what your kids are learning and what fun things are happening. it's a secure way to protect your property.

top camera
Very happy with the camera! It is easy to install, connects to WiFi without any problems. And you can easily see what's happening at home, wherever you are. I watch my dog ​​while I'm out and about, the camera has a motion detector where you get a message directly on your cell phone when there's movement. The quality in HD is very good. And you can, for example, monitor the whole room by controlling the camera from your phone and moving your phone in any direction. So really recommendable!!!!
08/08/2022
Provides 2K HD surveillance
This camera with its solar panel is completely self-contained. Just install it in a place that gets plenty of sunlight.
In summary, the procedure is very fast and efficient, even a beginner can easily achieve it.Installed to monitor a specific place in my house, the image on my smartphone is 1080P quality day and night. The PIR motion detection works well and the battery life is excellent with this particular solar panel. The big plus is the presence of the SD card, which works in the same way as cloud storage. We can therefore see the recorded videos remotely. However, you can subscribe for better monitoring.
This camera is ideal for monitoring your property from your smartphone or tablet anywhere if you have a sufficient network. The application is user-friendly and allows a wide range of settings (programming of alarms, notifications, recordings, possibility to set day/night sensitivity threshold). According to my settings, everything worked perfectly. And the next day after the detections, I had access to the videos. I had no idea there were so many cats in the neighborhood!
09/08/2022
Good camera for the price
The camera is very easy to set up! I needed exactly one camera that runs without electricity and here I ended up in the right place. Once the camera is set up very easily, it can be operated perfectly via smartphone. The picture quality is very good! There is even a two-way audio function, in which you can speak to the camera, which in turn emits the sound. Motion detection as well as infrared and light are also on board. The solar panel can be easily mounted on the camera, if the cable is not long enough, an additional cable is included in the scope of delivery. So far, the camera makes a very good impression and the WiFi signal is good and without interruptions. From my point of view, I can recommend the camera to anyone who wants to operate a surveillance camera without electricity.
12/05/2022
works very well
impeccable in wifi 4g very satisfied
really impeccable works wonderful so far I recommend this product it surpasses certain brands it's the best since I've tried wifi cameras
05/08/2022
I think I've found the ultimate security camera
I think I've found the ultimate security camera. Bought this camera after a friend of mine recommended this brand. He is a photographer and has used some of their products in the past and seemed very happy with them. After a few hours of research, this camera seemed to be the only one that had all the features I was looking for, so I figured I should give it a try.
Just like the specs, you get everything they claim. The camera has a built-in high-capacity battery, so you will never run out of power. This is also guaranteed by the solar panel that you bring together. Both are waterproof and suitable for outdoor use, which is amazing.

When it comes to storage you have a micro SD slot that supports up to 128GB or if you prefer you can store your footage via the cloud service. Obviously you would have to pay a monthly fee.

However, what I like the most is the pan/tilt/zoom feature, which allows you to control a very large area remotely from the mobile app. The footage is in 1080p, so it's very clear even with night vision. Another great feature is the PIR sensor, which is optimized to reliably detect humans and large pets, and you can change its sensitivity in the app too. Night vision is both black and white and color thanks to the floodlights installed on the front of the camera.

Connectivity is via your WiFi. So if you are planning to buy more than one camera, you need to make sure during installation that they are within your WiFi range and have a strong signal, otherwise they will not work properly. Or you can buy a WiFi extender.

The app that controls the device is very user friendly and easy to install for the less tech savvy. And you can basically control everything from within. You can share the device with other people, check the battery status and change the energy saving settings. Change Motion Detection Sensitivity You can take screenshots or record videos whenever you want. You can even set time periods for the camera to detect motion and record videos. Basically everything you can think of is in this app.

The only downside I could find is that it's a bit pricey. I've used a few RING cameras in the past and they've been really good and a bit cheaper. But none of them had all these functions. So if you're looking for a security camera that has it all and is willing to pay the price for it, this is probably your best bet.
06/08/2022
Very easy to set up and impressive image quality
We just placed this camera in my parents' driveway a few days ago and so far I'm very impressed with this little camera! It came in a tiny box packed with the solar panel, all the necessary cables and mounting hardware, and a comprehensive user manual. Setting up the camera was extremely easy and we were able to mount it beautifully in under an hour.

After the camera was mounted, we downloaded the CloudEdge app from the App Store. The app showed how to set up the camera and connect to WiFi with simple step-by-step instructions. Within 10 minutes we moved the camera with the joystick and changed the motion detection settings.

We were very impressed with the image quality, the camera is as good as a smartphone and the wide-angle lens covers a lot, so overall we're very happy with it. Even at night, although black and white, the image quality seems to remain just as sharp with the infrared camera.

I put a 16GB microSD card in the camera so it can store the footage. It's been running for a few days and has only used about 400MB of memory. I think it uses a very efficient video encoding format. There is also an option to save the videos in the cloud, I activated the 7-day trial, we'll see if I end up subscribing, but it would definitely make me a lot safer to have a backup of all the recordings in the Having cloud instead of just on the camera itself!

Overall I think this is an excellent package, the image quality is very impressive, the application has all the features you will ever need and the motion detection works flawlessly. The two-way audio is also a handy plus that we'll be using a lot!
05/08/2022
Exceeded my expectations
After unpacking all the items I was pleasantly surprised at the quality of this camera which was also packaged very well. The quick start guide was easy to navigate and the whole process took 5 minutes. I first noticed when trying to pair the camera to my WiFi that it only works on 2.4GHz and mine was a 5G network, but I could easily drop to 2.4GHz on my system as well. This does not come with a micro SD card and the maximum it will accept is 128G. The card can only be inserted one way and I can see people having trouble with it as there is no picture in the quick start guide, that it shows you. The app you download is basically your controller, love the PTZ mode, it gives you the ability to to move the camera in your phone app and also the motion detection function can be set for the days you are away from home which works perfectly for my situation. I was blown away by the image quality and the movement in live mode was super smooth. The solar panel has a decent cable length, which allowed me to position it south while living in the northern hemisphere, and the camera is recommended to be kept out of direct sunlight, which suits my positioning perfectly. I would strongly advise you to position your camera without fixation. You can then go inside and see the strength of the WiFi. Mine was listed at 80%, which was very good. Overall this camera ticks all the boxes for me, it has so many features that will be used at a later date, for the price this security camera is very competitive with other brands and I would not hesitate to recommend it. Finally I would like to add a time lapse feature to one of these, it would capture some amazing sunrise/sunset shots, just an idea from K & F Concept.
04/08/2022
Exactly what I needed
I love that this camera is solar powered and I don't have to worry about running power cords or charging anything. It has a motion detection light and a super loud siren to deter intruders, which you can turn on or off in the app. It sends notifications to my phone. It has a built-in microphone so you can talk to whoever is on the camera. You can view up to 4 cameras at once and share the camera feed with other people who have the app (if you want). It has amazing photo and video quality, even at night. The price is spot on and I couldn't be happier with this purchase.
03/08/2022
Camera easy to use and install
This small camera is a very important tool to improve home security. It is black in color, small in size and remains fairly discreet once installed. The camera is powered by a solar panel, which is very convenient.

On top of the camera are the lens and LEDs. The picture quality is very good. It can best be observed by installing the Producer application. Through the application you can communicate with people on the other side. The camera can also film at night thanks to the LEDs.

The device has a large-capacity battery, so it does not turn off at night without sunlight. I like this camera and the fact that you can view the image remotely through the application so I think it's quite good value for money.
02/08/2022
solar camera
I received this solar camera, big positive point
product as described, quality product that works well, easy to use.
The price is reasonable, I recommend this product.
01/08/2022
There are no faqs for this product.