82mm Magnetic Lens Filter Kit UV+CPL+ND1000+Magnetic Adapter Ring 4 in 1 Quick Swap System Nano X Series
£73.99
£159.99
53% OFF
Inclusive of VAT
To
United Kingdom and Ireland
Expedited Free Shipping
3-5
business days
Free Shipping. 30 Day No Reason Return. K&F magnetic filters feature optical glass, high definition, waterproof, scratch-resistant, sturdy structure.

SKU.1627

SKU:

SKU.1627

73.99

https://www.kentfaith.co.uk/SKU.1627_kf-82mm-magnetic-filter-mcuv-cpl-nd1000-waterproof-scratch-resistant-anti-reflection-green-film-with-magnetic-attachment-ring-and-case-bag
Features
* 【Magnetic Quick Swap System】Changing filters is now an easy one-handed operation with no more screwing! Using the Magnetic UV or empty adaper ring as the base, then you can add CPL and ND1000 Neutral Density Filters in 1 second.
* 【Germany HD Optical Glass】16 layers double-side coating with almost zero light distortion. Also effectively reduce filter surface reflection and ghosting while making the filter anti-scratch, water repellent, oil and dust resistant.
* 【Ultra Slim Filter Frame and Lightweight】Slim aluminum frame, maximum reduce impact on light and effectively avoid vignetting for wide-angle shooting.
* 【Filter Functions】Lens Filter FunctionUV filters: Absorb ultraviolet rays and provide protection to your lens. CPL: Featured with top level of filter function, effectively eliminate reflective light. Neutral Density filters: Used to reduce the quantity of light that reaches the sensor of the camera.
* 【What you will get】MCUV+CPL+10 stop ND+Magnetic Filter Adapter Ring+Waterproof Filter Pouch . Best gifts for photographers 2022 ..
Shipping
To
United Kingdom and Ireland
Expedited Free Shipping
3-5
business days
Magnetic Lens Filter Kit
Install the magnetic filter in one second!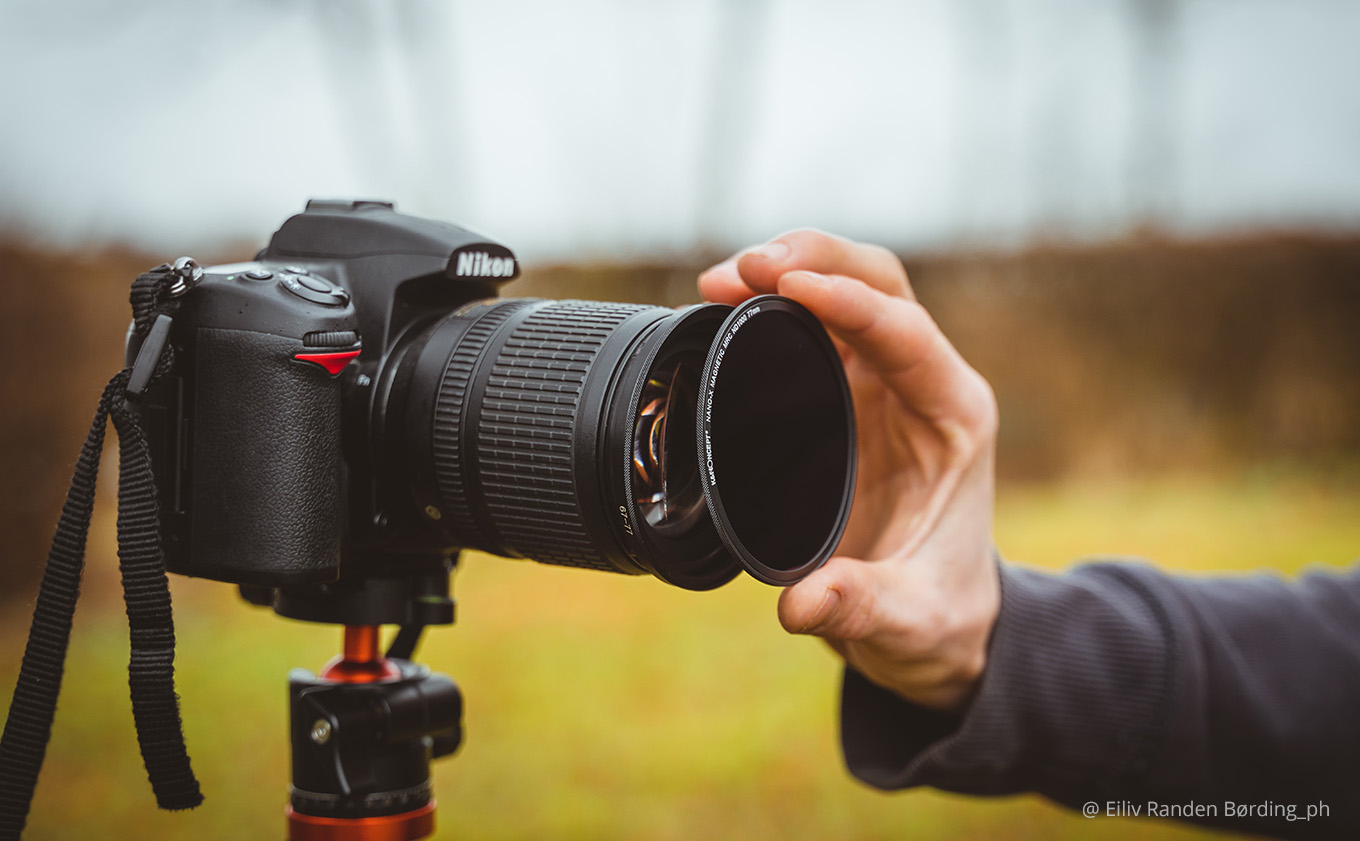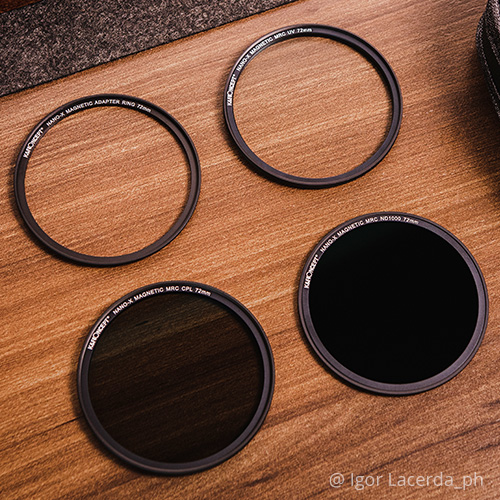 4 in 1 Filter Kit
Adapter Ring+ MCUV Filter + CPL Filter + ND1000 Filter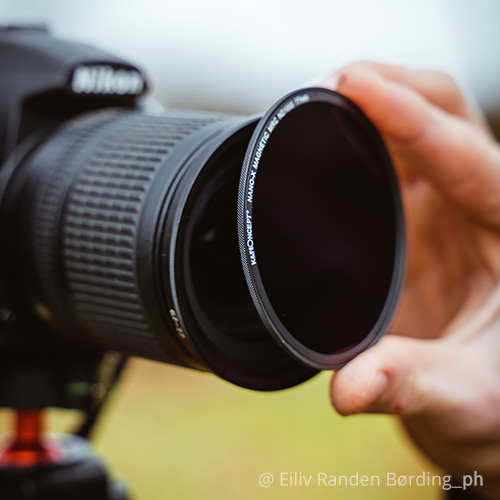 1s Installation
Quickly install and remove the filter, every second is important.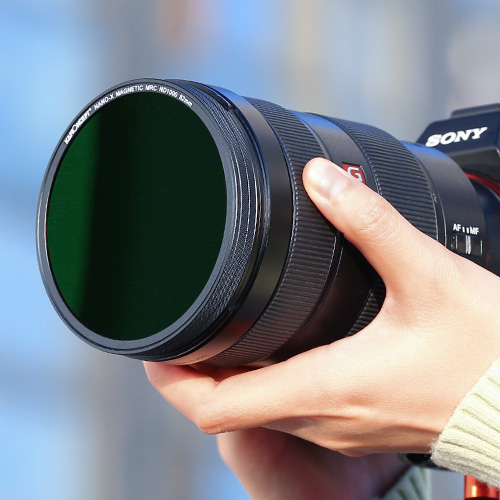 Superimposed use no vignetting
Simultaneous use of MCV+CPL+ND1000,at least 18mm wide-angle lens will not produce vignetting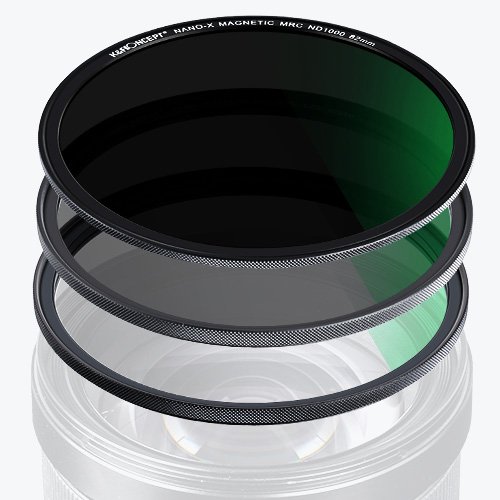 Combination method (1)
Magnetic Adapter Ring + CPL+ ND1000.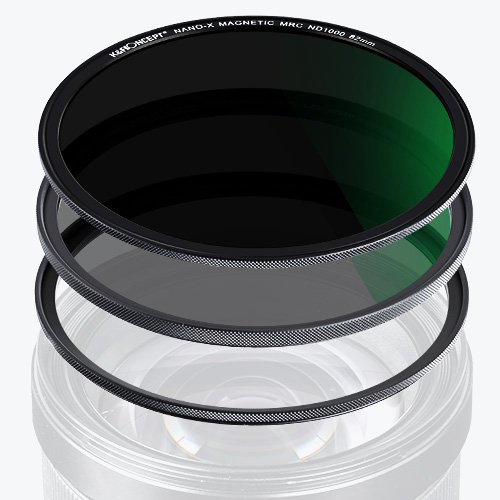 Combination method (2)
MCUV+CPL+ND1000.
Nanometer Coating
Waterproof,oil resistant,scratch resistant.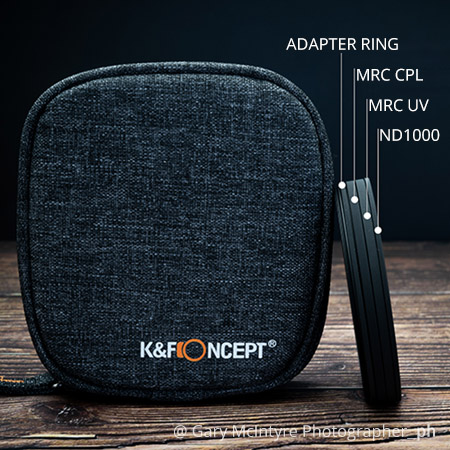 Filter Thickness
ND1000 (1.9mm), CPL (3.5mm), MCUV(3.3mm), Magnetic Adapter Ring(1.9mm).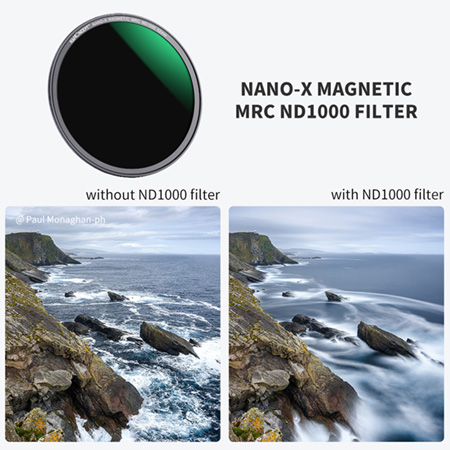 ND1000 Filter
Enables slow shutter speeds to be used to record movement in subjects such as waterfalls, providing a silky smooth affect to flowing water.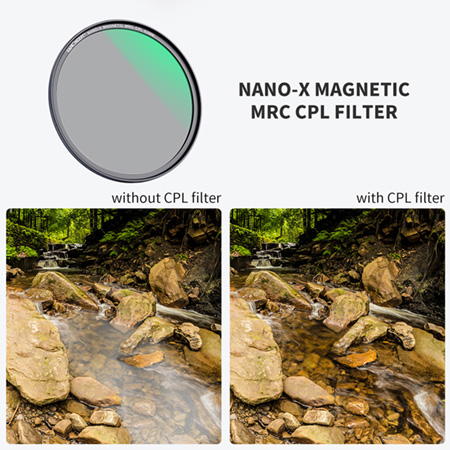 MRC CPL Filter
The CPL filter cuts the reflections caused by sunlight when taking pictures of landscapes with water.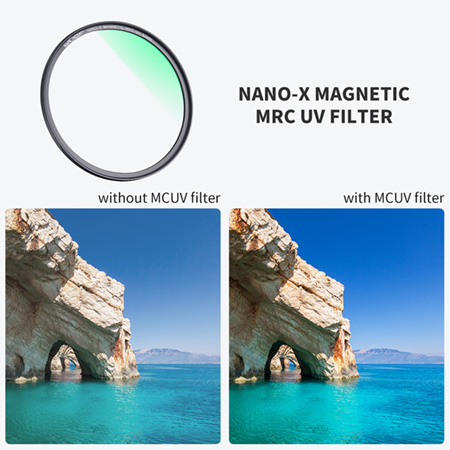 MRC UV Filter
Reduce ultraviolet rays to restore the most true colors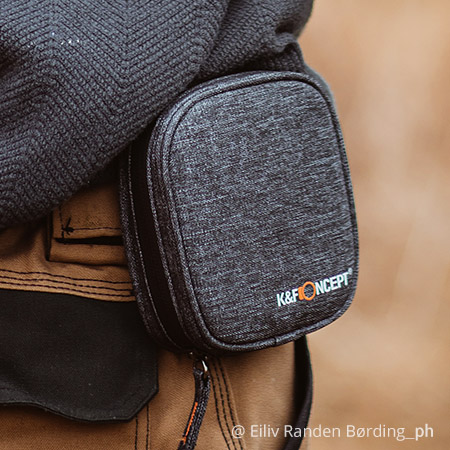 4-in-1 filter carrying case
Adsorbed on the waist, easy to carry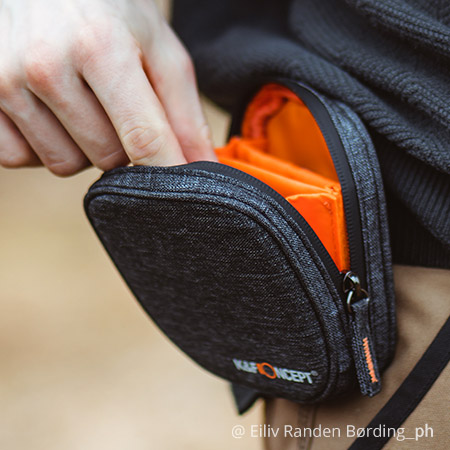 Easy to use
Quickly change the filter to take great photos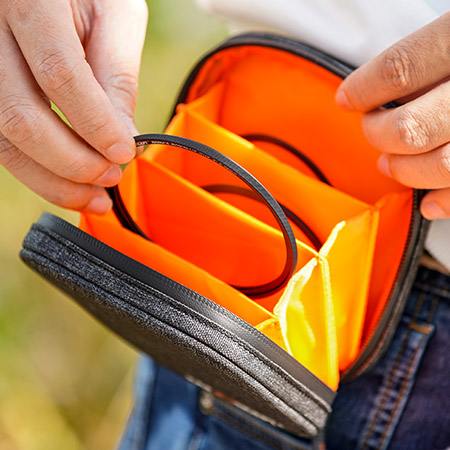 Layered partition
Each filter has its own position to avoid crushing by impact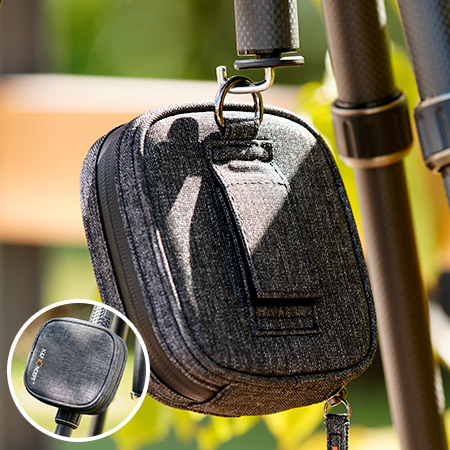 Hook and Velcro
Can be mounted on the tripod during shooting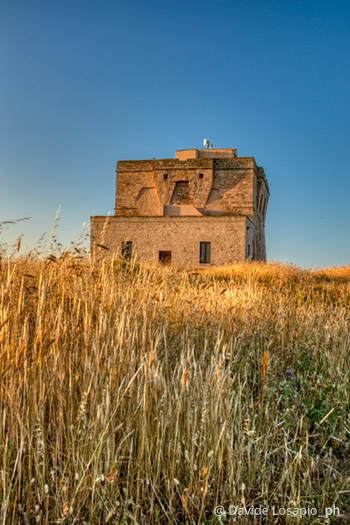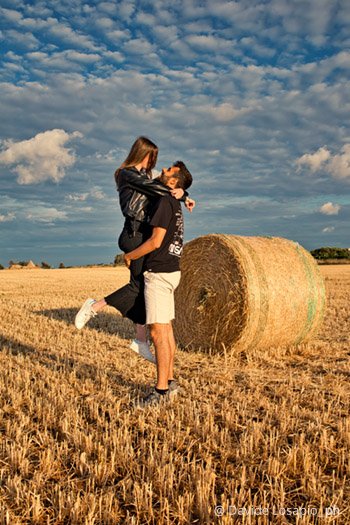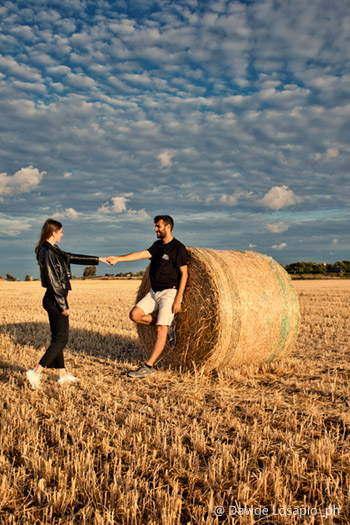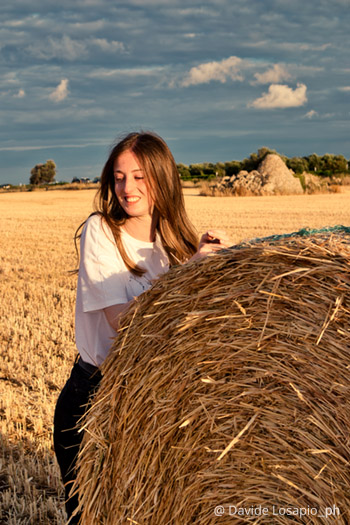 K&F Concept Magnetic Lens Filter Kit witness your happiness, photo taken by Davide Losapio
Rating

38 reviews.

23 reviews.

22 reviews.

20 reviews.

3 reviews.
Price

£159.99

£73.99

£129.99

£64.99

£89.99

£46.99

£70.99

£47.79

£66.00

£54.99

Model
SKU.1627
SKU.1636
SKU.1666
SKU1553
SKU1540

Filter Material

Japanese AGC Glass
Japanese AGC Glass
Japanese AGC Glass
Japanese AGC Glass
Japanese AGC Glass

Multi-Coating

28
28
28
24
24

waterproof

√
√
√
√
√

scratch-resistant

√
√
√
/
/

HD

√
√
√
√
√

Screen

Nano-X series
Nano-X series
Nano-X series
Nano-D series
Nano-D series

zoom range

All Scenes
Video Shooting/Landscape Photograhy
All Scenes
Video Shooting/Landscape Photograhy
Landscape Photograhy

Resolution

1s Switch/Protect Lens/Enhance Color & Contras
Light Reduction Effect
Protect Lens / Remove Glare / Enhance Color &
Improve color contrast/Light reduction effect
Improve color contrast/Light reduction effect
Easy to install filters
I'm a photographer and I love adding accessories to my kit. One piece of the "kit" that has been elusive to me is functional and easy to use filters. I have a great set of variable ND filters, but the only thing I struggle with is aligning them exactly to screw them into the lens. K&F Concept, a surprising and budget-friendly accessory maker, has a really cool set of magnetic lens filters. The set comes with a waterproof carrying case, adapter ring, MCUV filter, CPL filter and ND1000 filter. The idea behind this set is to screw on an adapter, leave it on the lens, then switch the filters on and off as you need them. You don't waste time pulling trying to align the filters just right. I think it's a great filtration system. The filters are well made and of high quality.
05/05/2021
I really like the convenience of this magnetic filter system. You only need to thread on the base ring and magnets do the rest. Makes it less likely to damage the threads of your lens if you don't have to keep putting on and removing a filter on every time you need to use it. I am using this with a 24-105mm full-frame lens and the base ring works with the lens cap and the hood although you probably need to remove the hood to snap on the filter because otherwise your fingers get in the way.
Each of the filters themselves are quite a bit heavier than the screw on K&F versions, probably because they need to make the filter ring out of a magnetic steel instead of aluminum. Whatever the reason, they feel a lot more premium than the regular K&F version.
In terms of performance, its a bit of a mixed bag. I don't have tremendous experience using CPL and ND filters (this is my first set) so I don't know what's considered good performance at a given price range. Lets start with the ND: It seems to be close to if not a full 10-stops which is great; the previous K&F screw-on 10-stop ND which I returned clocked in at only around 8-stops in practice. The ND does have a noticeable color cast (see: photos of the sea right out of camera). Bringing the raw files into Lightroom, the ND image had 26 more points of magenta tint and was 1000K warmer than the no-filter image. This cast was reasonably easy to correct although the colors weren't exactly the same. Less correctible was the vignette at 24mm which needs to be cropped out. At least on my lens, a quick crop test indicated at I was loosing about 1 mm of focal length to the vignette. Note that since the filter is magnetic, there is a small amount of float between the filter and the lens so the vignette may not always be symmetric or consistent from one use to the next.
Moving on, the CPL filter (photos looking out the window) has similar vignette to the ND filter at 24mm but appears to cut down quite a bit of reflections in my windows. Not much for me to point our here, it seems to do the job.
The set does come with a UV filter but I do not intend to use it unless I am in a rainy/dusty environment where my lens needs a bit more protection so I haven't tested it out yet.
For both the ND and the CPL filter, I did not detect any noticeable decrease in sharpness caused by using the filters. However due to the color cast with the ND filter, I suggest either shooting in RAW or setting your white balance before putting the filter on.
For the price ($110) I think the performance of these filters is acceptable. I am a little disappointed with the vignette but I have heard of much more expensive filters having similar issues so I don't want to be too hard on this set. All in all, for someone like me who does this for fun, I think its a great system to learn the basics until I can justify the move to something more premium. If you're a professional and make money off your photos, then maybe look at something more upmarket like Freewell or invest the time creating a preset to fix the color cast.
08/09/2021
Great quality
After post-processing, the pictures are really world class .... There are no false colors to be found at all. It can also be used in the wild, panning for gold. A tripod is highly recommended.
16/10/2021
Perfect ND filter for photo and video recordings
The filter is mounted directly on the lens. You can always take it, it's not difficult and you get great effects with it!
15/10/2021
I love the magnet system, it's very comfortable.
I love using filters, the polarizing filter in the forests or on the coast I find essential, also when there is harsh light, when there are low moving clouds and in rivers, waterfalls and coasts I likes to use the ND filter. In situations where a polarizing filter or ND filter is not required, I like to use Ultraviolet to protect the lens. The truth is sometimes cumbersome to wear them, especially in adverse situations where for example it is cold and you are wearing gloves, there is a lot of wind, you are very close to a waterfall and there is spray, etc. . It also happened to me once that I put the filter on the target for a while and then I had to take it out, so I found it interesting to try the K&F magnetic filters, I find that is a comfortable system with a good quality/price ratio. In the package comes a case with the 3 filters (a polarizer, a 10 step ND and UV) and a screw adapter, the case can be placed on the strap to always keep the filters at hand. The use is quite easy, just attach the thread adapter and place the filter on it, because it is magnetic immediately catches it and from there it does not move, if I want to change the filter is as simple as to take it off and put it on, you can watch the video where I record the simple process. The good thing about this system is that the adapter and filters are slim and you can also place two filters at once, for example the polarizer and the ND to remove moving clouds with polarized light avoiding unnecessary reflections. In summary, I loved the system of changing filters so quickly, when traveling or in uncomfortable situations, I will appreciate it.
31/05/2021
Just awesome. The quality is there at all levels.
As a photographer, I use filters, but it's not always easy to put on or take off depending on the situation. But with this system, it becomes so simple that it's almost instantaneous. The product is of very good construction quality and it comes with a 4-pocket pouch that is very well made and resistant against possible knocks. It can be attached to the belt with a Velcro. The kit is composed of two screw rings, one UV and one vacuum on which the CPL filter or the ND1000 can be fixed. I really wanted to go and test this new product. First with the CPL filter alone and then with the CPL filter + the ND1000 together. The results are just astounding. Here are the renderings with the CPL filter on the left and the CPL + ND 1000 on the right. With the filters it does there is no loss of sharpness, and color drift is almost nil. The CPL filter polarizes perfectly and the ND 1000 filter is very surprising in terms of its performance, it is very thin which limits vignetting, a plus. By using the two together, it is better to avoid ultra wide-angle focal lengths, but from 16mm, no worries, you can add them. In addition, they are compatible with my sun visor, I was able to put them on and take them off without having to take them off very easily because the magnetic force is perfectly dosed. Really very satisfied with this first outing, I hope others Intermediate magnetic filters with this system will be released soon to complete the offer. If there were magnetic lens caps, that would be great.
21/04/2021
Excellent, practical and light filters
The K&F Concept Nano Series magnetic filter kit is really extremely practical. The kit that contains the filters has a compact size, which allows us to carry it in our backpack, sacrificing very little space. The weight is extremely light, which is really useful for those who do long hikes where the weight of the equipment, after several hours, begins to be felt. Installing and removing filters is nothing short of lightning; in seconds you can easily mount the three filters and in as many seconds they can be removed. The grip of the magnets is really good and therefore there is no fear of ending up with filters falling off during the shooting or transport phase. WHO IS RECOMMENDED TO In conclusion, I highly recommend this value for money filter kit to: - anyone looking for a first filter kit to begin the creative experience; - those looking for an excellent relationship between quality, size and weight; - those looking for maximum practicality during filming and composition. PS The filter comparison photos have not been edited and therefore are the original file directly exported from the machine from RAW to JPG.
06/04/2021
Great Product!
Great image quality, no noticeable colour cast.
27/02/2022
Perfect
Very suitable for taking pictures of silky water. Good quality glass and threads are essential for any serious photographer.
26/10/2021
A
Now switch your filters in the seconds with K&F Concept Magnetic Quick-Swap Kit. As a photographer, you know all about the waiting game: those times when utmost patience is required to capture that once-in-a-lifetime image. Every second is important to you ,meanwhile, your heart is racing because you know you have just milliseconds to win your race against time or tide. K&F Concept has announced a magnetic camera filter kit to reduce the time it takes to swap out lens filters literally in seconds, never missing any wonderful moment.
A
Hi, the K&F Concept magnetic filter set can compatible with Kase , but also you can try it on Freewell system, thanks
how to check your lens size
4 in 1 82mm Magnetic Lens Filter Kit
Do You Know How Your K&F Concept Filters be Produced? | One-day Tour in Production Line
Gimbal Stabilizers
Product
0.2%
Filter
Filter Material
Japanese AGC Glass
Multi-Coating
28
waterproof
√
scratch-resistant
√
HD
√
Microscope
Screen
Nano-X series
zoom range
All Scenes
Resolution
1s Switch/Protect Lens/Enhance Color & Contras