Square Filter Holder System Pro Kit (Filter Holder + 95mm Circular Polarizer + Square ND1000 Filter + ND8 + ND64 + 4 Filter Adapter Rings) for Camera Lens
£239.99
£459.99
47% OFF
Inclusive of VAT
Terms
Coupon Terms
Save £40 with this coupon
Terms and Conditions:
Coupons are valid for a limited time only. Kentfaith reserves the right to modify or cancel coupons at any time.
You must purchase the qualifying items added to your Cart when the coupon is in effect for the discount to apply.
If you later modify or cancel the subscription or delivery date for the qualifying item, the discount will not apply.
The coupon applies only to qualifying items displaying the coupon offer.
If you buy more than one item from the same coupon, the maximum discount amount of the coupon will be equal to either the percentage discount off or the face value of the coupon on one eligible item. The coupon may only be used on www.kentfaith.co.uk.
The promotion is limited to one coupon per customer.
If you return any of the items purchased with a coupon, the coupon discount or value may be subtracted from the return credit.
&FREE Shipping to United Kingdom,Ireland
Free Shipping. 30 days return without reason. Nano X series 100mm system, Pro Square Filter System,67mm 72mm 77mm 82mm adapter rings. K&F Concept Pro Square Filter System was awarded the iF DESIGN AWARD!

SKU.1877

SKU:

SKU.1877

239.99

https://www.kentfaith.co.uk/SKU.1877_100mm-pro-square-filter-system-cpl-nd8-nd64-nd1000-filter-67mm-72mm-77mm-82mm-adapter-rings
Features
* The K&F Concept Pro Square Filter System won the iF Design Award and the Red Dot Design Award.
* Ultra-diameter ultra-thin: The bracket is 12mm thick and has a 91mm transparent opening. Effectively reduces the possibility of vignetting when using ultra-wide-angle lenses.
* Easy to take out, no light leakage: Two square filters can be stacked in one holder, and the CPL will rise when the filter holder cover is lifted.
* Everything you need to get started, including a 95mm CPL and a set of 4 adapter rings 67, 72, 77,82mm diameter.
* Nano-coating: ND8 (3rd grade), ND64 (6th grade) and ND1000 (10th grade) 28-layer nano-coated optical glass. Offers 10 stops of light reduction, dustproof, waterproof, stain-proof, scratch-proof.
Shipping
&FREE Shipping to United Kingdom,Ireland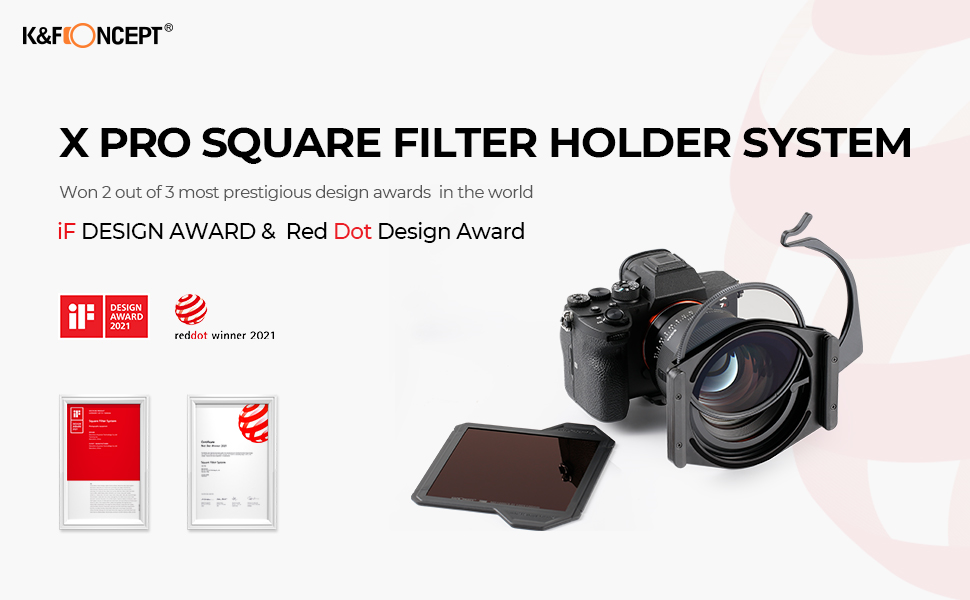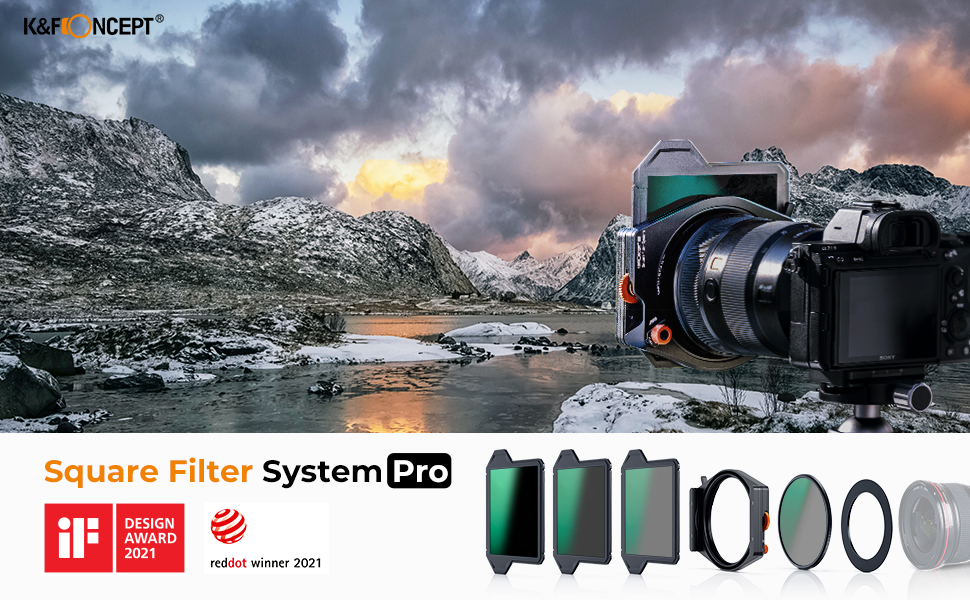 K&F Concept Square Filter Holder System Pro ( 95mm CPL Filter + Sqaure ND1000 Filter + ND8 + ND64+ 4 Filter Adapter Rings) for Camera Lens
Set inldudes: 95mm CPL + ND1000 + ND8 + ND64 + 4 * Adapter Rings (67mm/72mm/77mm/82mm)+ Leather Filter Bag Filter Material : Import Japanese AGC Glass ND Filter Function : Reduce the amount of light from ND8 (3 stops) / ND64 (6 stops)/ ND1000(10 stops). CPL Filter Function: Enhance the corlor and contrast( especially in blue sky and white clound) Filter Holder: Ultra slim(12mm thickness ) to avoid vignetting on wide-angle lens. Coatings : 28 multi-layer coatings with double side polishing technology.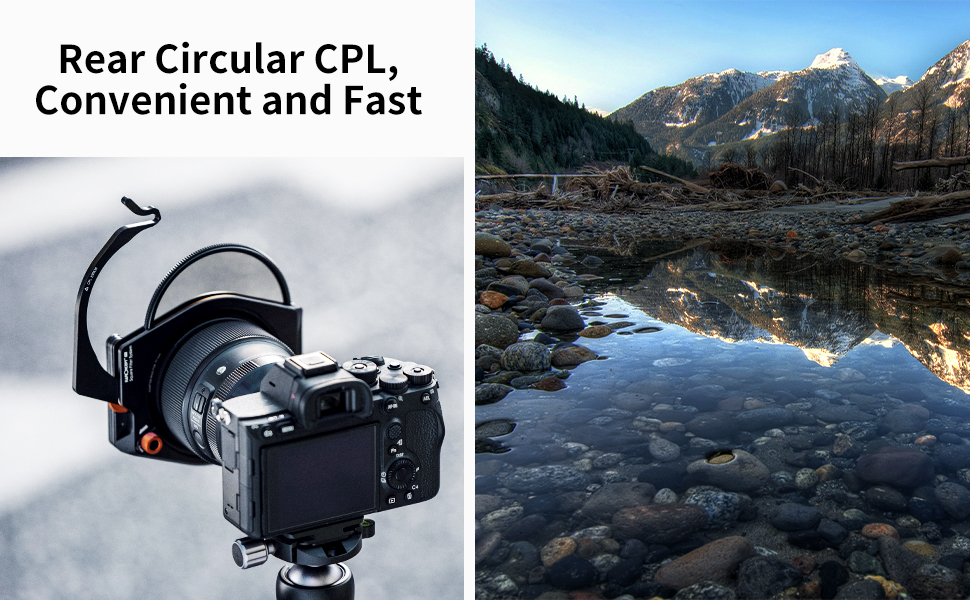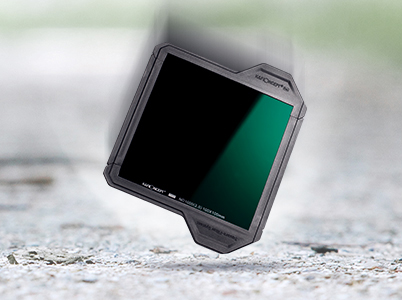 One More Protection,Reduce Accidents
Experimental test
The square filter frame can protect the lens from falling from a height of 1.5 meters to a flat ground without chipping.
Note: The frame cannot protect the lens from falling onto a sharp convex surface.
Way of Install the Square Filter Holder System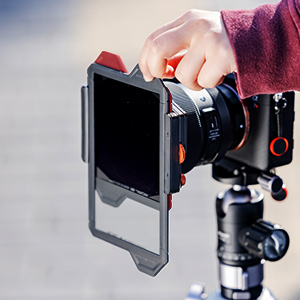 Square filter holder
Other than the CPL, you can install 2 K&F square filters. ( NOT suitable for square filter without our protective frame)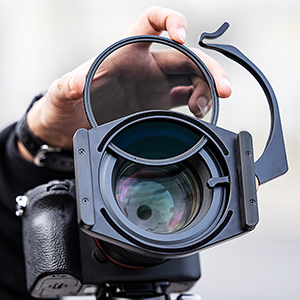 Rear CPL Slot
You can add CPL or take it out. In both cases, it is sealed and designed to prevent light leakage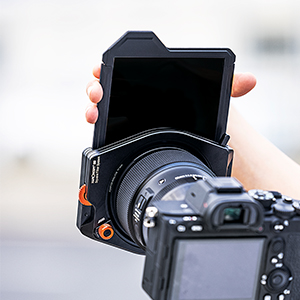 Protective Filter Frame
The square filter frame is helpful to protect the lens from accidentally falling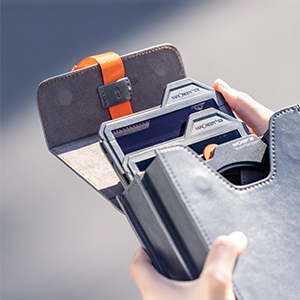 Filter Bag Included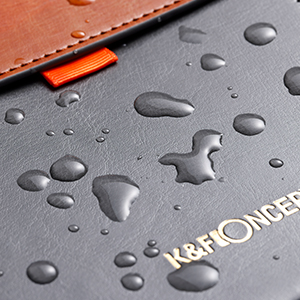 Waterproof Storage Bag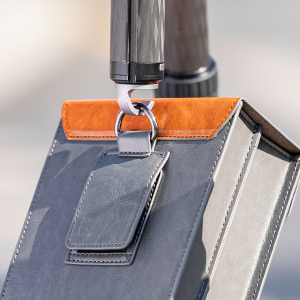 All In One Kit
Rating

92 reviews.

49 reviews.

49 reviews.

82 reviews.

22 reviews.
Price

£459.99

£239.99

£399.99

£249.99

£299.99

£129.99

£229.99

£105.99

£145.99

£98.69

Model
SKU.1877
SKU.1808
SKU.1878
SKU.1601
SKU.1600

size

/
/
/
100mm/150mm

Filter Material

Japanese AGC Glass
Japanese AGC Glass
Japanese AGC Glass
Japanese AGC Glass
Japanese AGC Glass

Multi-Coating

28
28
28
28
28

waterproof

√
√
√
√
√

scratch-resistant

√
√
√
√
√

HD

√
√
√
√
√

Screen

X-PRO series
X-PRO series
X-PRO series
X-series
X-series

zoom range

Landscape Photography
Landscape Photography
Landscape Photography
Landscape Photography
Landscape Photography

Resolution

Light Reduction Effect/Remove Glare
Light Reduction Effect/Remove Glare
Light Reduction Effect/Remove Glare
Light Reduction Effect
Light Reduction Effect
how to check your lens size
K&F Concept 100mm square filter system instructions by David CJ
A Brand New Pro filter system 7-IN-1 Suit from K&FConcept
Filter
size
/
Filter Material
Japanese AGC Glass
Multi-Coating
28
waterproof
√
scratch-resistant
√
HD
√
Microscope
Screen
X-PRO series
zoom range
Landscape Photography
Resolution
Light Reduction Effect/Remove Glare