Waterproof Camera Backpack,Alpha backpack 25L,Single and Double Shoulder Free Switch Photography Bag, 15.6 Inch Laptop Compartment Tripod Holder for DSLR/SLR With Raincover
£209.99
£369.99
43% OFF
Inclusive of VAT
Terms
Coupon Terms
Save £40 with this coupon
Terms and Conditions:
Coupons are valid for a limited time only. Kentfaith reserves the right to modify or cancel coupons at any time.
You must purchase the qualifying items added to your Cart when the coupon is in effect for the discount to apply.
If you later modify or cancel the subscription or delivery date for the qualifying item, the discount will not apply.
The coupon applies only to qualifying items displaying the coupon offer.
If you buy more than one item from the same coupon, the maximum discount amount of the coupon will be equal to either the percentage discount off or the face value of the coupon on one eligible item. The coupon may only be used on www.kentfaith.co.uk.
The promotion is limited to one coupon per customer.
If you return any of the items purchased with a coupon, the coupon discount or value may be subtracted from the return credit.
&FREE Shipping to United Kingdom,Ireland
Brand:

K&F Concept

Buy K&F Concept waterproof camera backpack,alpha backpack 25l,single and double shoulder free switch photography bag, 15.6 inch laptop compartment tripod holder for dslr/slr with raincover online, £209.99 free shipping to UK.

KF13.105

SKU:

KF13.105

209.99

https://www.kentfaith.co.uk/KF13.105_kf-concept-alpha-backpack-25L-camera-backpack-for-men-and-women-16inch-laptop-backpack-for-photographer
Features
* 【Large-Capacity】Dimension: 17.3" * 11.6" * 9.4" . The camera bag holds 2 Cameras + 4 Lenses + 15.6" laptop (Independent) +12.9" tablet (Independent)+ Tripod,and other essentials. Suspended top layer can hold the travel necessity like clothes, towel, or other personal stuffs.
* 【Customizable Space & Easy Access】Removable customize padded dividers can adjust the space according to the camera size and type of camera accessories you are carrying to protect the camera and accessories better. Multiple access points (Left/Right side access & Front access)allow you to set up your bag for quick camera retrieval when you have to be fast to get that shot. Use the entry points and dividers to customize the bag for your needs.
* 【Patented Movable Buckle】: The buckle can be swung left and right 45° to fit for different body shapes; the detachable shoulder strap can be freely to be as a shoulder bag or a camera backpack.
* 【Safety & Protection】: H-shaped flexible frame structure for more support with less weight. High-quality water-resistant material with an additional seam-sealed rain cover keeps your bag dry.
* 【Ergonomic Back Support 】: Padded Rear padded air mesh panel and ergonomic design increase airflow while hiking or traveling and distribute the weight evenly to add comfort and save energy, especially using this hiking camera backpack fully loaded on the go.
Shipping
&FREE Shipping to United Kingdom,Ireland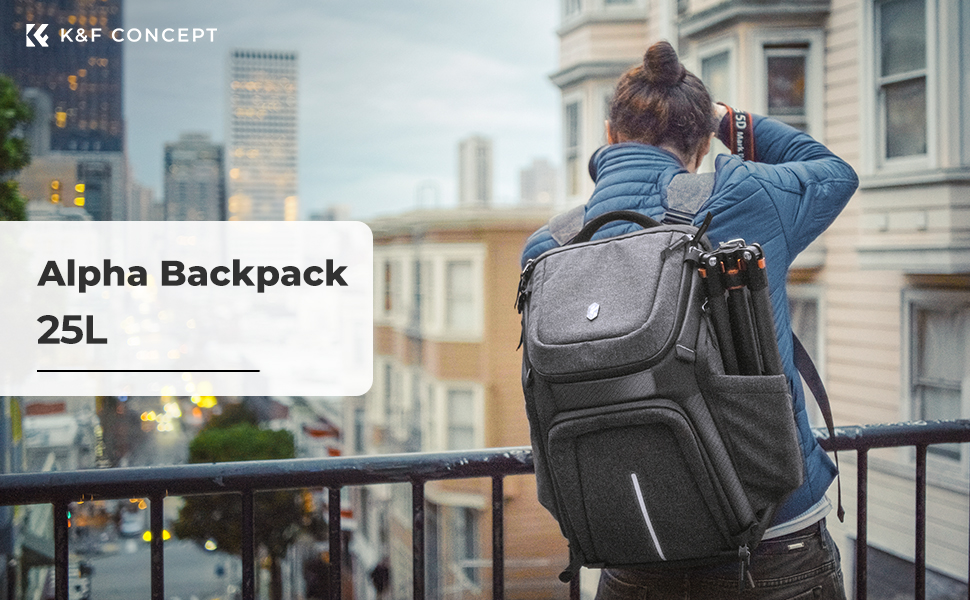 K&F Concept Alpha Camera Backpack 25L with Tripod Holder and 16 inch Laptop Compartment
Features:
• Multifunctional camera and laptop backpack for Photographers
• Dedicated camera compartment with removable padded dividers,free Combination;
fits 2 cameras + multiple lenses, more possibilities for you to explore
• Dedicated computer space fits up to 15.6 inch laptop
• 2 sides multiple point for hang things, can be used to hold stabilizers, tripods and bottle, etc
• Patented design with movable shoulder straps to suit different body types
• Detachable shoulder straps, single and double free shoulder switchable
• This camera backpack is made of waterproof material and comes with an additional rain cover to give your equipment double protection
• Dimensions & Weight: 17.3 x 11.6 x 9.4inches / 30 x 24 x 45cm, 4.63lb / 2.1kg
Package includes:
• 1 x Alpha Camera backpack
• 1 x Waterproof Raincover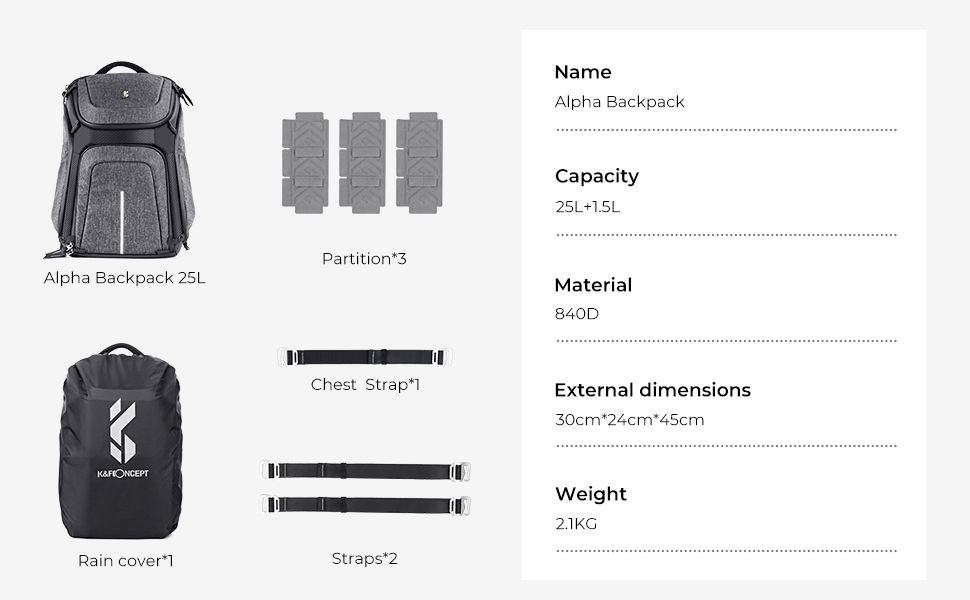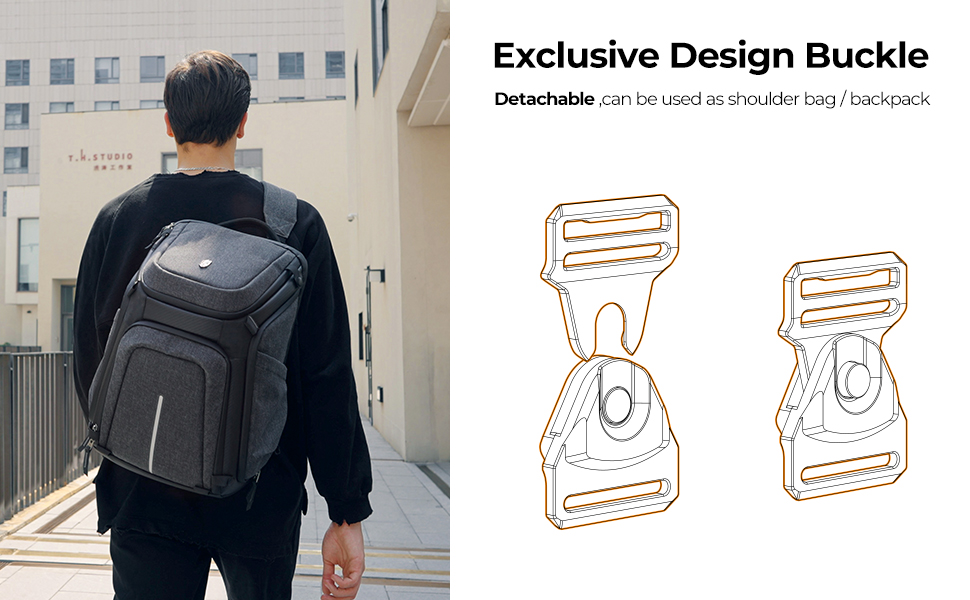 2 in 1 - Professional Camera Backpack
The detachable shoulder strap allows the bag to be switched freely between one and two shoulders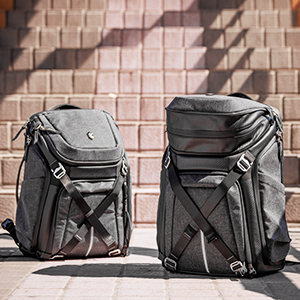 Magic top extension design
Expandable top for flexible storage and capacity at your fingertips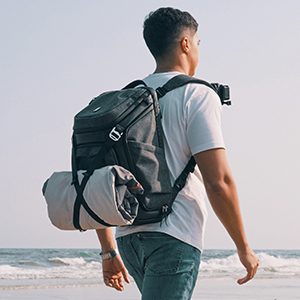 Back lightweight load-carrying system
The back can store blankets, Out shooting or picnics, take your pick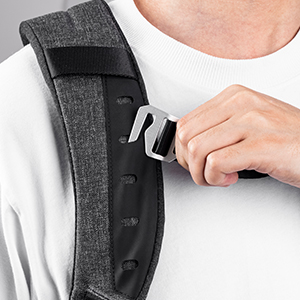 Chest clasp setting
The quick-access chest buckle takes the weight off your shoulders and allows you to move with less swaying
Thoughtful side pocket design
Side accessory bag easy to stored battery, lens cap, Data cables, SD card and some small items.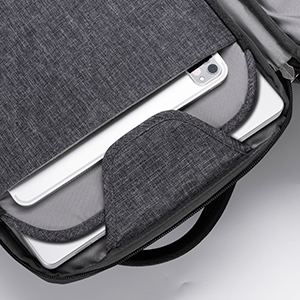 15.6" laptop compartment
Fits up to 15.6 inch thin laptop & 12.9 inch Ipad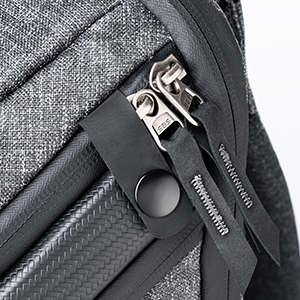 Anti-theft zip design
Anti-theft zips for better protection of our property and equipment, no more worries when travelling

Compact and sturdy
Here is my gear and it fits everything comfortably.
canon EOS 5D mark IV body
Canon 24-70mm f 2.8
Canon 85 mm f 1.8
Canon 50 mm f 1.8 w/ hood
Yongnuo flash unit
Battery packs
Business cards
3-4 memory cards
2 spare camera batteries
Tripod
Manual
Macbook pro and charger, wireless trackball mouse, portable hard drive

My back never hurts and I never had a problem finding any of my stuff through the bag. Very well designed.
03/04/2022
this bag works for me well
This is what i have been able to put in this bag , 2 Full frame bodies without the lense in the middle poocket. 70 -200 lens in the top pocket. and 2 lenses in the bottom pocket and a rode mic go with no problems . Like i said i work for me and im happy that is compact . and still can carry all that .
02/04/2022
Great photography backpack
I love the flexibility of internal compartments, I usually carry two lens, flash, camera body and filters. It is light works great as a backpack and the access points to access equipment works very well for me.
01/04/2022
Perfect for my needs
The size and organization of this backpack is perfect for my needs. I order two packs at the same time, this and the Thule Aspect bag.

The thing that really won me over on this bag - THE ZIPPERS. They are very very quick to use!

plus, there is a built in tripod sling on the bottom and a built-in waterproof cover.
31/03/2022
Is perfect for all my gear
This backpack does the job and it fits perfectly under the airplane seat! The only thing is that some of the removable dividers can't be properly placed without them flopping over after removing the camera or lens. It's not a deal breaker but a bit annoying.
29/03/2022
Beschoi XXL Camera Backpack is an excellent choice!!!
Well made backpack. Holds my OMD M1 Mark lll with HLD 9 battery grip installed, the 40-150 Pro lens attached and accessible through the side zipper door. The lower compartment will hold my 7-14 Pro, 40-150 Pro and 75-300 lenses at the same time with no problem. Besides the camera and attached lens, the middle compartment holds my 40-150 ED lens and MC14-1.4 Converter. The upper compartment holds an Olympus FL-36 Flash, an LM3 Flash, battery charger, batteries and cables. Lower side pocket holds cleaning fluid while the upper side pouch holds cleaning tissues and documentation. Not very heavy and great for a photographic adventure. All the equipment I would need to carry. Still room for a monopod or tripod if needed!!!
28/03/2022
Good, light bag
The holds my full frame dslr with medium length lens on it, speed light, extra lense, batteries, my keys, so cards and more. The best part is it's super light. There not a ton of "extra"space because everything is compartmentalized (think: can't shove a jacket in it) but. Don't have a light set up and every time I pick it up I have to double check my camera is actually in it because it's so light. It distributes the nicely. If you need a lot of lenses and gear, this isn't for you, but if you can get by with one body and some extras, this is good. I've had it for about 6 months and it's held up so far.
27/03/2022
Travel bag of the year!
I personally have a 15 inch Mac book pro, Sony a7s ii, 24-70 and 45mm lens with lots of extra equipment and a dji magic pro. Let me tell you... EVERYTHING MAGICALLY FITS IN THIS DAMN BAG!!!
26/03/2022
Fabulous Camera Backpack
This is, by far, the best camera backpack I have seen, or used for the money. Truely, if you can't fit it in this backback, you don't need it. The zippers are excellent and work very well. I could not be happier with this product!
26/03/2022
Bought for trip to Costa Rica
I bought this for a trip to Costa Rica - it was great! I hiked through the rainforest where it was pouring and my camer and gear all stayed dry with the rain shield in place. I love that it has a specific spot for the tripod - very handy. I do wish there was a little bit more room in the top pocket since this took the place of my purse or other backpack but overall I am extremely happy with my purchase!
26/03/2022
A
I carry my tablet in the full length compartment between the padded camera compartments and the padded back. It's safe and secure and there's plenty of give in the padding so I should think a slender laptop would be fine
A
Might be a bit snug using the side pocket with that set up but the interior has adjustable dividers and is quite roomy so the bag itself would accommodate
A
Yes there are 2 zips and they can be padlocked on each opening. In fairness if you really wanted to get in you could snap the zip loops but I'm sure that's the case with most bags. This is my everyday bag for my gear and I think it's a great bag, surprisingly comfy and looks decent too.
K&F 2022 New Soft Shell Functional Camera Bag
Let's see what the functional camera backpack KF13.105 can hold
Gimbal Stabilizers
Axis
28*22*42cm
Bag Compartment
Camera Support Strap
Yes
Camera Compartment
2
Lens Compartment
Multiple Lenses
Bag Exterior
Exterior Dimensions
30*24*45cm
Exterior Material
Polyester
Type of Closure
Metal buckle
Rain Cover
Yes
Bag Interior
Maximum Volume
25L
Weight
2.1kg